NEW PRODUCTS
A new series of multi-channel controllers that display all inputs on one screen and feature nine 10 Amp relays and a Modbus(r) RTU interface is being introduced by Precision Digital Corp.
Jan 1st, 2005
Multi-channel controller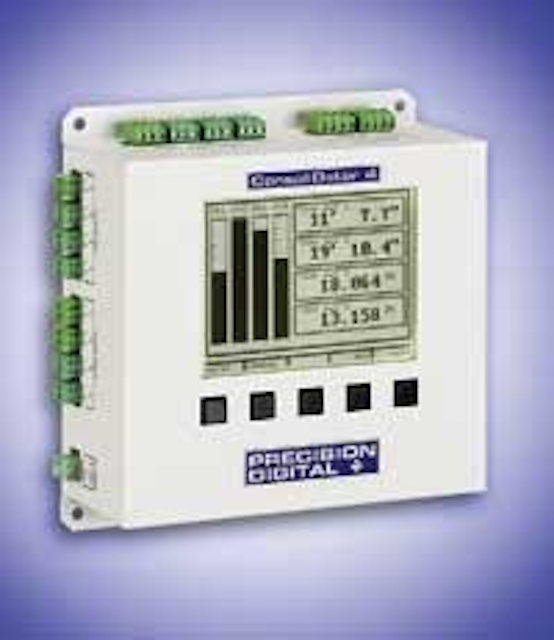 Click here to enlarge image
A new series of multi-channel controllers that display all inputs on one screen and feature nine 10 Amp relays and a Modbus(r) RTU interface is being introduced by Precision Digital Corp. ConsoliDator(tm) 4 & 8 Multi-Channel Controllers feature a backlit LCD that shows all inputs alphanumerically and as a bargraph on one master input screen; and have individual screens providing greater detail.
Precision Digital Corp.
Natick, MA
Tel: 800-343-1001
Web: www.predig.com
Flow monitor
ADS Environmental Services(r), a provider of networked flow monitoring and intelligence, has released FlowShark(tm), the newest in a line of flow monitors for the wastewater industry. The monitor offers wireless connectivity options, dual pipe measurement and two-year data storage with the same monitoring accuracy and reliability of the company's other products.
ADS Environmental Services
Huntsville, AL
Tel: 800-633-7246
Web: www.adsenv.com
Radar level meter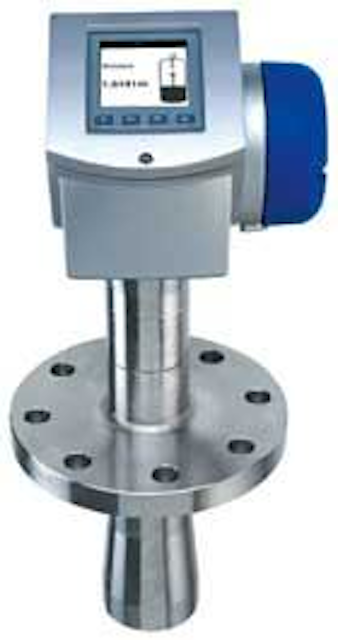 Click here to enlarge image
Krohne has introduced the new Optiwave 7300 C Radar Level Meter for measurement of distance, level and volume of liquids, pastes and solids. The level meter offers a maximum measuring range of 131 feet, which allows it to operate with a larger bandwidth, ensuring sharper resolution. This results in measurements that are more accurate as well as repeatable. The higher signal dynamics of the device allow the detection of the smallest level changes and clearer location of the product's true surface. In addition, objects such as struts, inlets, and ladders, and even an agitated surface or foam, have little effect on signal reduction. A set-up Wizard simplifies installation.
Krohne Inc.
Peabody, MA
Tel: 800-356-9464
Web: www.krohne.com
Pulsation dampeners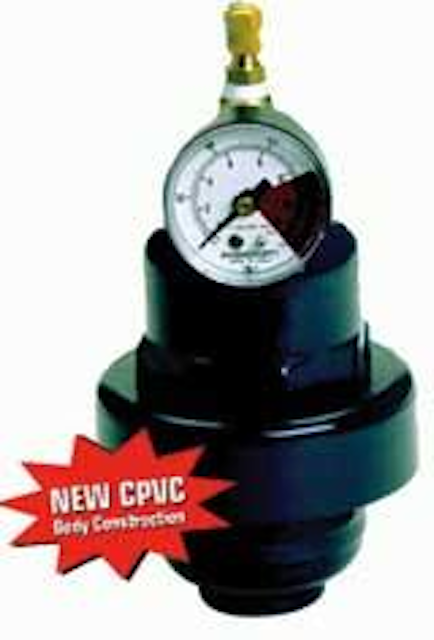 Click here to enlarge image
Blacoh's "Revolution" Pulsation Dampeners are now offered with CPVC threaded housings. The new design offers a higher temperature rating (180
Blacoh Fluid Control
Riverside, CA
Tel: 800-603-7867
Web: www.blacoh.com
Spray coating
Click here to enlarge image
Chemline has announced a new 100% solids, zero VOC, fast cure spray-coating, Chemthane 2240PW. The coating can be applied in a single coat directly to a prepared steel, iron or concrete substrate. No primers are necessary. The coating meets the requirements of NSF/ANSI 61 for potable water service. Application has been made easy with a 1:1 plural component mix ratio. Plus, the coating allows applicators to achieve film build of 15-70 mils in a single pass application. The coating also features a "cure-to-the-touch" time of 6-8 minutes. This is a dramatic improvement over cure times of conventional coal-tar epoxy.
Chemline Inc.
St. Louis, MO
Tel: 314-664-2230
Web: www.chemline.net
Solenoid valves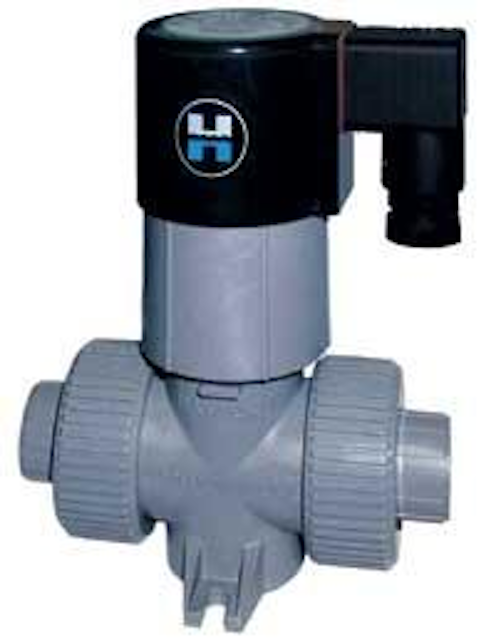 Click here to enlarge image
Hayward's corrosion resistant, all-plastic solenoid valves feature an innovative coil design for improved performance and service life. The special coil rectifies the AC current, used to power the valve, to DC current. This results in a very low coil operating temperature than would otherwise be possible and permits the coil to be rated for 100% continuous duty applications. This means that the valve can be powered in the opened position indefinitely or it can be cycled, open and closed, continuously with no coil damage.
Hayward Industrial Products
Elizabeth, NJ
Tel: 908-351-5400
Web: www.haywardindustrial.com
Vertical column pumps
A-C Pump, one of the fluid brands of ITT Industries, offers a series of vertical column and axial flow pumps for sewage, water supply, wastewater, storm water, and flood control. A-C vertical wet pit column pumps are designed to maximize pumping efficiencies over a wide range of capacities and heads. They are available in sizes up to 120" diameters, with capacities up to 500,000 gpm and heads to 600 feet. The horizontal axial flow pump design is for low head, high capacity pumping. The axially split casing allows inspection and maintenance without disturbing the piping.
A-C Pumps
Seneca Falls, NY
Tel: 800-734-7867
Web: www.acpump.com
Automation controllers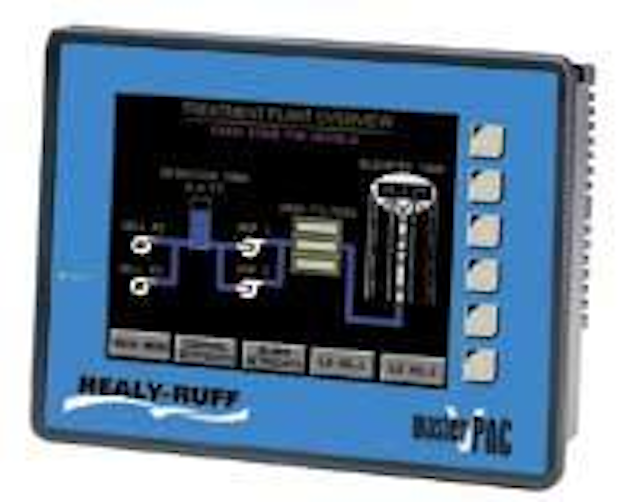 Click here to enlarge image
Healy-Ruff has expanded its Master V-PAC line of process automation controllers to include a variety of screen sizes. The screens are now available in color options of 6", 8", and 10" or a lower cost 6" monochrome version. The Master V-PAC provides controller, networking, I/O and operator interface capabilities in one unit using a master display screen.
Healy-Ruff
St. Paul, MN
Tel: 651-633-7522
Web: www.healyruff.com
Hydrant flusher
Hydro-Guard has unveiled its new portable HG-6 automatic hydrant flushing system. It features all the benefits of the company's traditional automatic and programmable flushing systems, but has been designed for temporary or emergency response applications. The new portable flusher was used recently to help Florida utilities with recovery efforts. The hydrant flushing system can be programmed for as many as six flushes per day with flush durations ranging from one minute to 12 hours.
Hydro-Guard
Naples, FL
Tel: 888-277-4520
Web: www.hydro-guard.com
Filter media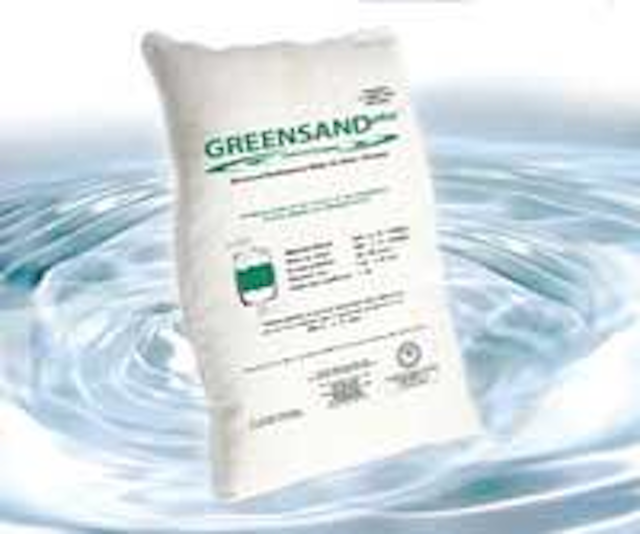 Click here to enlarge image
The Inversand Company has introduced GreendsandPlus - a new water treatment filter media. The new media is an enhanced version of the firm's Manganese Greensand, which removes iron, manganese, arsenic, radium and hydrogen sulfide. GreensandPlus has the same effective size, uniformity coefficient, density, weight, capacity, backwash and pressure drop curve. In addition, it is much more resistant to attrition from high differential pressure, and works well on waters that are low in silica, dissolved solids and total hardness. It can also be used in water over 70 degrees F without any degradation.
Inversand Co.
Clayton, NJ
Tel: 856-881-2345
Storm drain markers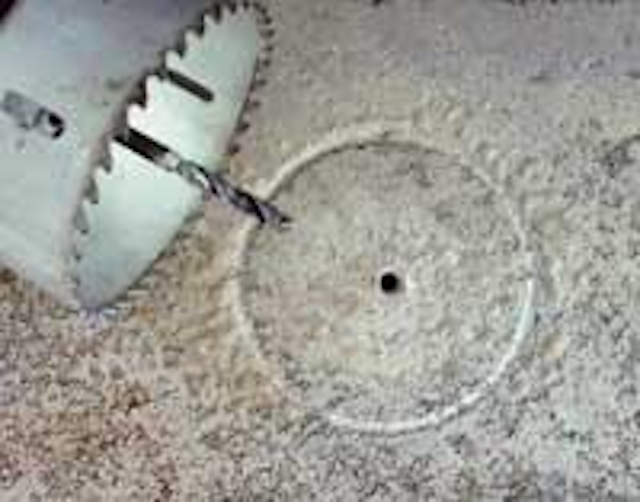 Click here to enlarge image
Almetek Industries, a manufacturer of storm drain markers, signs and ID marking systems, offers two new installation options for its stainless steel storm drain markers. Both methods make it difficult for the markers to be tampered with, removed or stolen. The first method involves drilling a hole into the mounting surface and then using a drive rivet or bolt and anchor system, inserted through the center of the marker, to securely fasten it. The second method uses a 4" carbide hole bit. The bit is used to drill 1/8" deep into cement, asphalt, concrete or metal.
Almetek Industries Inc.
Hackettstown, NJ
Tel: 908-850-9700
Web: www.almetek.com
Swing check valves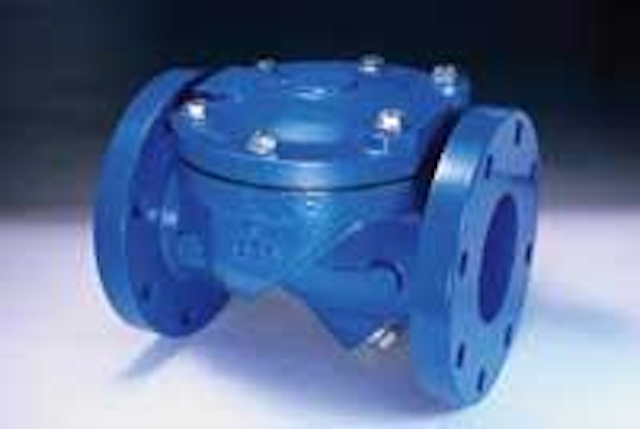 Click here to enlarge image
Danfoss Flomatic has introduced the latest addition to its Flo-Flex(tm) family of rubber disc swing check valves. The new model 745 swing check valve features a 45° seat with a steel/ductile iron valve reinforced rubber disc. The flange to flange lay length is according to ANSI/AWWA C508-01. The ductile iron 125# flanged body is fusion epoxy coated and can be used as pipe line cleanout. The new model is offered with a optional backflow device (Model 745BF), a valve disc position indicator (Model 745PI) and valve proximity switch (Model 745PS).
Danfoss Flomatic Corp.
Glens Falls, NY
Tel: 800-833-2040
Web: www.danfossflomatic.com
Thermal mass flow transmitter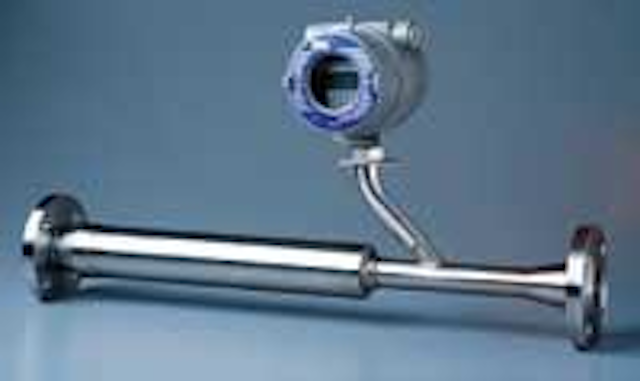 Click here to enlarge image
The Series 534FT is the newest addition to the Kurz family of In-Line Thermal Mass Flow Transmitters for industrial gases. The new design eliminates the need for field fabrication and assembly of inlet and outlet mating pipe sizes. Each model offers a choice of three line sizes to meet nearly all applications. The new series has eight basic models covering the mass flow range of 0 to 2350 SCFM, in line sizes from 1/2" to 8" pipe. The design uses special flow nozzles and flow diffusers to obtain flow disturbance immunity without the need for screens, honeycomb or vortex generators at an exceptionally low end-to-end pressure drop.
Kurz Instruments Inc.
Monterey, CA
Tel: 831-646-5911
Web: www.kurz-instruments.com
Level monitoring
EPG Companies has introduced the LevelMaster LMSA 500 Portable Liquid Level Monitoring System. The system is designed for sites that require only occasional monitoring and displaying of liquid levels in wells, tanks, sumps, reservoirs, and settling ponds. The monitor can be carried in the cab of a vehicle and operates from 12 volt DC power. The meter includes level meter memory, digital display and can be configured in any measurement increment.
EPG Companies Inc.
Maple Grove, MN
Tel: 800-443-7426
Web: www.epgco.com