WEFTEC 13 Products
Collection of new products for the municipal drinking water and wastewater markets that wall be at WEFTEC 13.

Sep 12th, 2013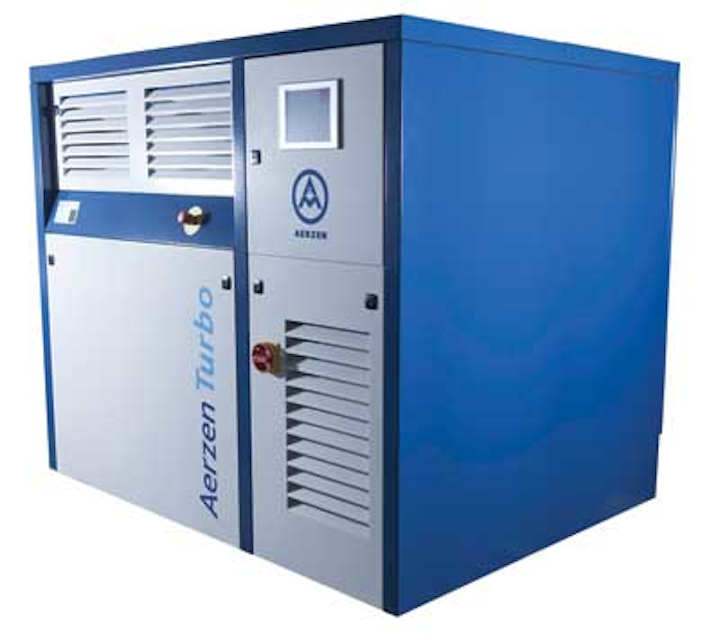 Turbo blowers
Aerzen Turbo Blowers are single-stage, high-speed radial turbo blowers designed to meet varying flow and pressure requirements in many different processes. This modern frequency controlled, gearless driven machine along with lubricant-free aerodynamic bearings, guarantees an economical, reliable and maintenance-free compressor operation.
Aerzen USA
www.aerzenusa.com
Hole-plug assembly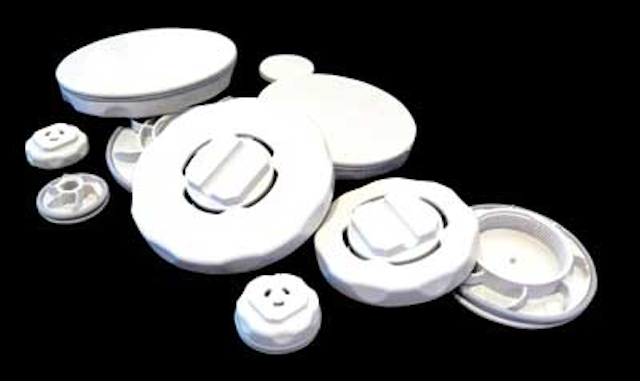 Allied Moulded Products has introduced a fast, easy and labor-saving solution for plugging unused holes in NEMA 4X metallic and nonmetallic enclosures - the ULTRAPLUG™ Hole Plug assembly. The ULTRAPLUG's patent-pending fin design creates a self-centering, anti-rotational plug that ensures a quick, one-person assembly and installation, plus no-tools tightening. The plugs fit a wide range of hole sizes ranging from 1/2" to 4 3/4" without the use of restrictive and unreliable plug centering spacers and is available in two material options: polycarbonate with a neoprene/EPDM gasket and polyester with a silicone gasket, for a wide range of chemical compatibility.
Allied Moulded Products Inc.
www.alliedmoulded.com
Manhole connector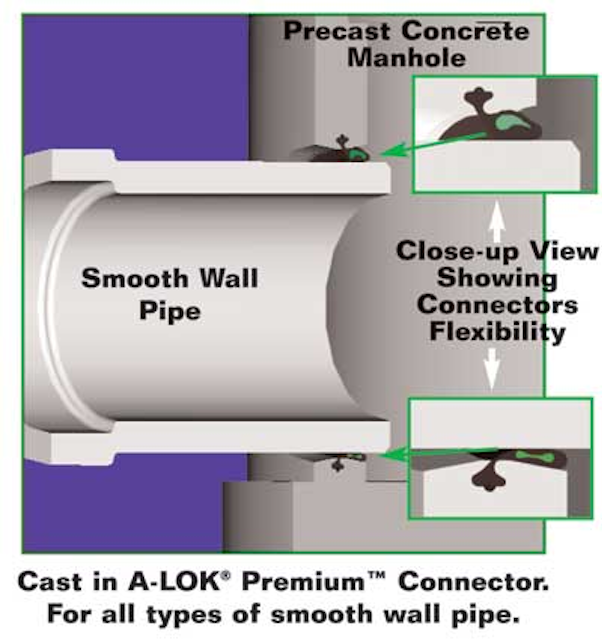 The unique design of the new A•LOK Premium flexible, rubber pipe to manhole connector guarantees sealing pressure under differential loading or pipe deflection. Inside the connector, a blend of fibers, binders, polymers, and congealing agents create a dynamic fluid. This liquid-filled core maintains the watertight connection under differential loading or pipe deflection, meeting ASTM C-923 and ASTM F-2510. Infiltration and ex-filtration is prevented in wastewater and stormwater systems. Installation of all types of pipe on the jobsite is faster and easier since no grouting is required: just bevel, lube, install, and backfill.
A•LOK Products Inc.
www.a-lok.com
Sensor cleaning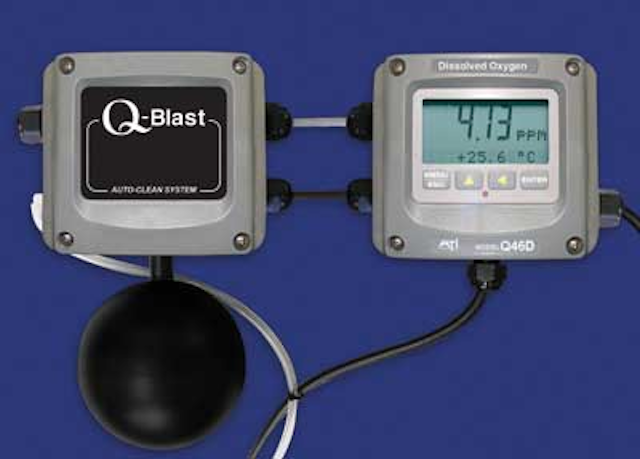 Analytical Technology's Q-Blast Auto-Clean D.O. System provides the ideal answer for automatic sensor cleaning. Employing a unique "air-blast" cleaning function, sensors can be cleaned as often as necessary without operator attention. Pulses of pressurized air remove accumulated solids from the critical sensing areas, resulting in a reliable D.O. signal for aeration control. There is a dedicated trouble alarm provided to alert operators should a problem develop in the air blast system. The Q-Blast Auto-Clean Package includes the monitor and the cleaner air supply in one convenient package for easy installation.
Analytical Technology Inc.
www.analyticaltechnology.com
Water optimizer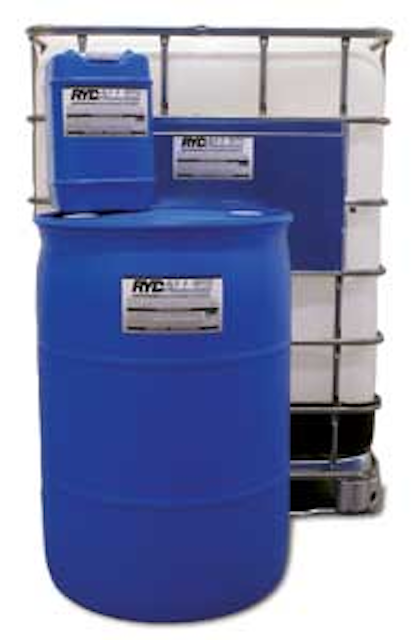 The RYDALL WO Water Optimizer from Apex Engineering is an environmentally beneficial solution for companies facing industrial wastewater treatment/pre-treatment and odor problems. RYDALL WO is a biocatalyst that contains a complex mixture of nutrients, vitamins and trace elements that reduce H2S, COD, BOD, FOG, TDS, and TSS. With no active bacteria or enzymes, this unique formula stimulates existing bacteria already prevalent in wastewater, enhancing the natural biological process. It is non-toxic to humans and non-corrosive to metals, concrete and plastics.
Apex Engineering Products Corporation
www.apexengineeringproducts.com
Cloth media filter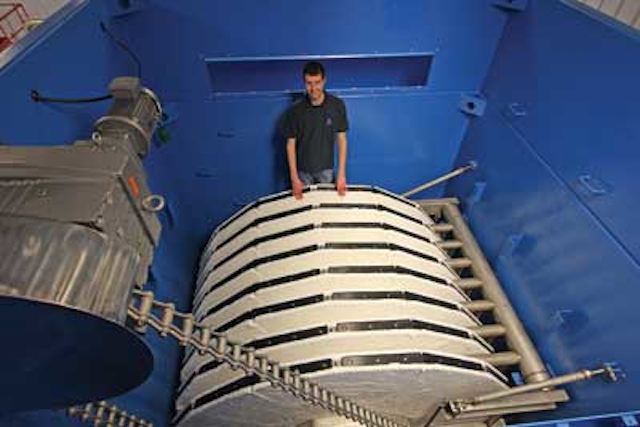 The Aqua MegaDisk™ cloth media filter is an addition to Aqua-Aerobic Systems' line of cloth media filters. This filter features 30% larger diameter disks and fewer mechanical components in a fraction of the space. The result is more hydraulic capacity and lower capital and O&M cost. The Aqua MegaDisk filter achieves low level TSS and NTU and accommodates high solids and hydraulic loading rates. It also offers low backwash rates, low energy consumption and has a fully automatic PLC control system. This filter is ideal for municipal reuse and phosphorus removal applications with limited land space, or deep bed filter retrofits.
Aqua-Aerobic Systems Inc.
www.aqua-aerobic.com
Cal-hypo system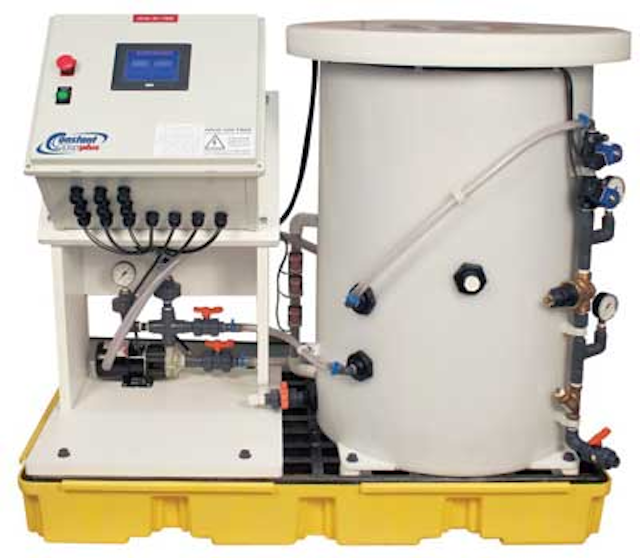 Arch Chemicals' new generation of Constant Chlor® Plus calcium hypochlorite briquette feed systems provide increased capacity and accuracy, plus new capabilities and features that further enhance operation, maintenance and safety. The model MC4-150 system retains all of the key features of the earlier system, such as optimum solution consistency and a small footprint, but its loading and feed rate capacities are much higher, allowing for service in larger treatment facilities. The new model features an HMI with touch screen for easier functionality. The feeder uses NSF Standard 60 listed dry calcium hypochlorite briquettes and patented spray technology to produce fresh liquid chlorine solution as needed.
Arch Chemicals Inc./Lonza
www.archchemicals.com
Vapor analyzer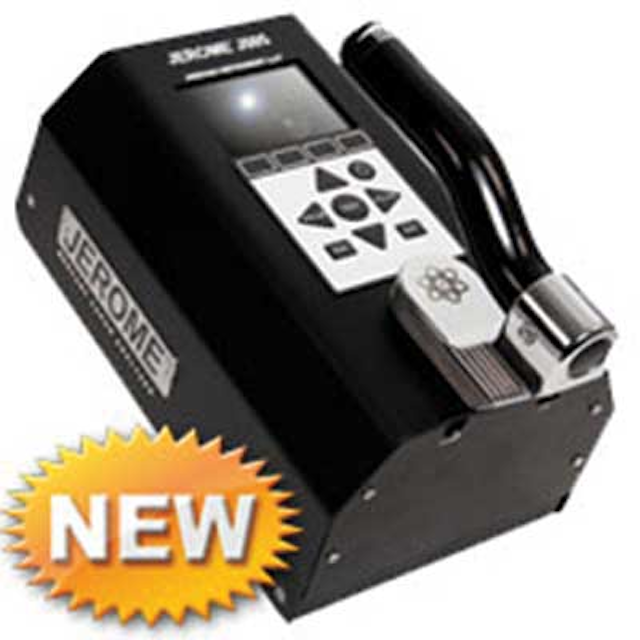 Arizona Instrument LLC is the exclusive manufacturer of the Jerome® line of stationary and portable Mercury and Hydrogen Sulfide gas analyzers. The instruments are utilized in ambient air analysis, leak detection, quality control, regulatory compliance and various other industries, and are designed to provide quick and accurate results. The new Jerome® J505 Mercury Vapor Analyzer is a portable fluorescence spectroscopy analyzer, which allows the detection cell to be simpler, smaller, lighter-weight, and more durable than competing spectroscopy instruments. The highly efficient optical cell requires less flow to purge the system, allowing the J505 to run at a lower flow rate minimizing sample dilution.
Arizona Instrument LLC
www.azic.com
Piping systems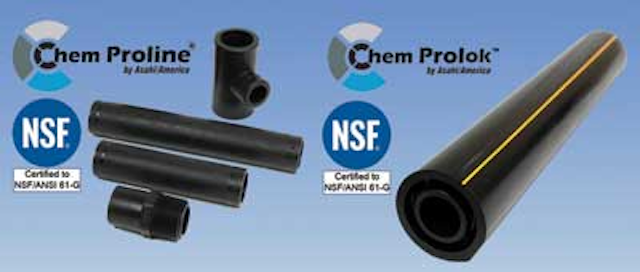 Asahi/America's Chem Proline® and Chem Prolok™ piping systems have been certified by NSF to NSF/ANSI Standard 61-G. Made from PE resin, Chem Proline® pipe and fittings possess the greatest resistance to slow crack growth. Stocked in pipe sizes up to 12" and available in sizes up to 88", Chem Proline® is ideal for use in water treatment and chemical process applications using a variety of chemicals including sodium hydroxide, sodium hypochlorite, caustic soda, and low concentration acids. Chem Prolok™ is a fabricated double-wall piping system manufactured from Chem Proline® single wall pipe. It provides a low-installed cost and safe, long-term, maintenance-free service. Chem Prolok™ is available in pipe and fitting sizes from 1" x 3" through 12" x 16" and is suitable for both above- and in-ground applications.
Asahi/America Inc.
www.asahi-america.com
Pressure transmitters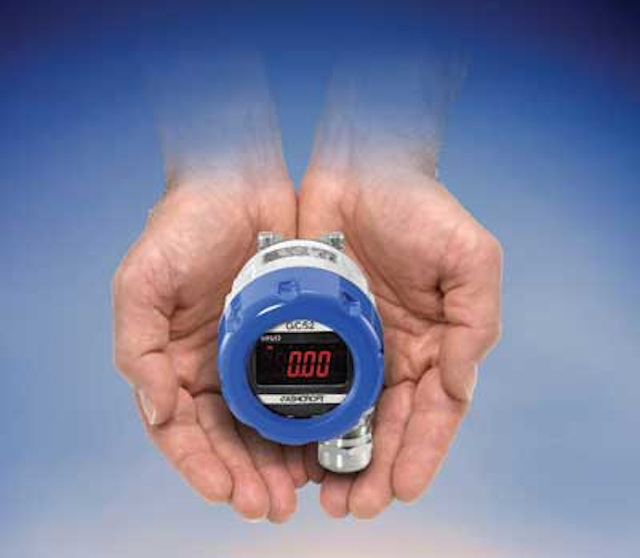 The Ashcroft® GC51 and GC52 gauge and wet-or-dry differential pressure transmitters offer an economical alternative to network process transmitters when a digital protocol is not required. An ultra-compact NEMA 4X/IP65 enclosure measures only 2.65" in diameter and includes an LCD display along with a 4-20 mA output for both local indication and remote signaling. Ashcroft® GC series transmitters are ideal for measuring fluid levels in tanks, water towers and differential pressures across membranes in water purification systems. In addition, Ashcroft® media isolators can be added for sludge or caustic media installations.
Ashcroft Inc.
www.ashcroft.com
Double wall tanks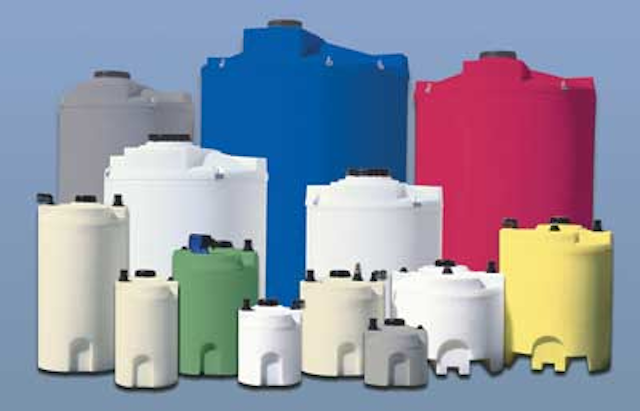 Assmann Corporation's cylindrical double wall tanks provide a heavier-top sidewall and dome to prevent dome collapse, while a primary inner tank and secondary outer tank ensure against chemical spills. Constructed of molded high-density cross-linked polyethylene, the tank's outer shell containment equals 120% of primary tank capacities. The inner tank dome interlocks with the outer tank's sidewall, sealing the secondary containment area and preventing debris from entering, making it ideal for outdoor storage.
Assmann Corporation of America
www.assmann-usa.com
Flow meters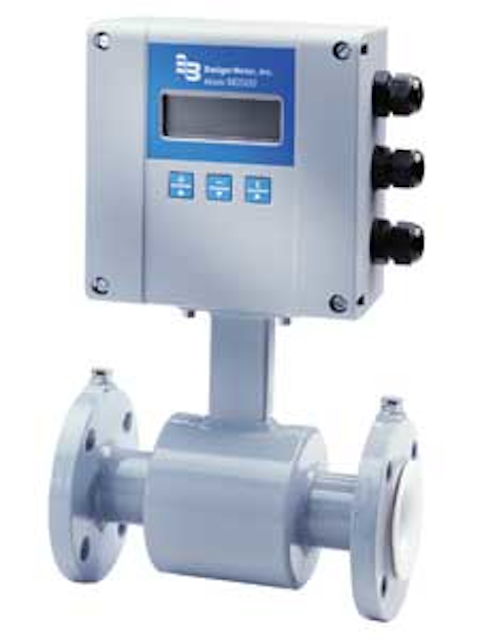 The Dynasonics TFX Ultra by Badger Meter requires no interruption of service or heavy equipment, and may be installed adjacent to a non-operational mag meter. TFX provides accuracy up to ±1% with the advantages of non-invasive measurement, with no moving parts to wear out. Badger also offers the M2000 electromagnetic flow meter that achieves an accuracy of ±0.25%, giving you precise flow measurement. Built without moving parts, the open tube design virtually eliminates pressure loss. Available feature kits include Data Logging, Store/Restore and a Firmware Upgrade, providing a more efficient way of storing, upgrading and transferring data.
Badger Meter Inc.
www.badgermeter.com
Ultrafiltration modules
BASF will feature its comprehensive range of innovative water solutions to address municipal and industrial customer needs such as water treatment, recycling and reuse. Its portfolio supports holistic water management, including products used for treating drinking, process and wastewater, desalination, ultrafiltration, and equipment preservation. One highlight will be the new T-Rack® 3.0 based on inge® ultrafiltration membrane technology. BASF will also unveil a next generation flocculant range that is especially effective for plants that use centrifuge, floatation and gravity belt thickener processes and offers a significant dosing reduction compared to the market standard.
BASF Corporation
www.basf.com
Flow control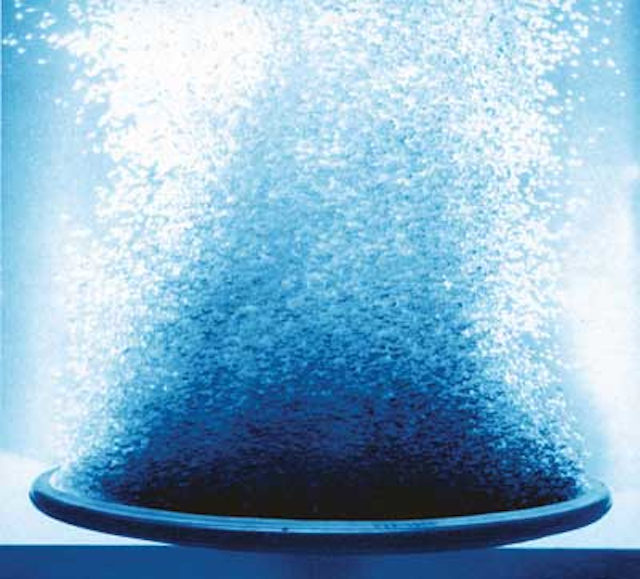 Bilfinger Water Technologies provides a wide range of flow-control technologies that include passive intakes that filter out large debris and provide optimal flow while protecting fish and other aquatic species; triton underdrains that optimize water and air flows leading to longer filter runs and reduced backwash cycles; headworks at the start of a water plant to safeguard more sensitive, downstream processes; channel penstocks for shutting-off, regulating and controlling water and effluent flows in a drainage system; and Airvac Vacuum Sewers that are a cost-effective, environmentally friendly alternative to traditional gravity sewers providing low maintenance, efficient and reliable sewage collection.
Bilfinger Water Technologies Inc.
www.bilfinger.com
Sludge dewatering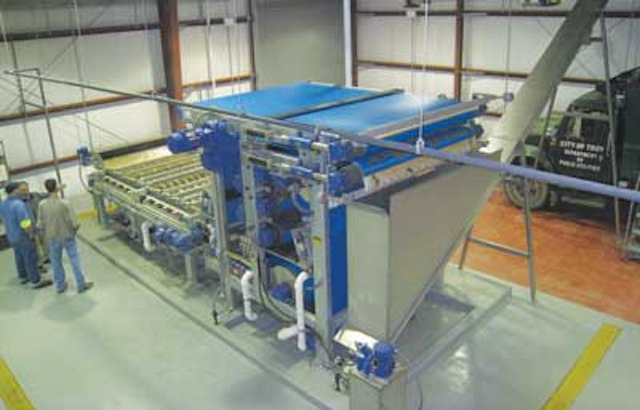 BDP Industries produces a range of high quality thickening and dewatering products and services including gravity belt thickeners, rotary drum concentrators, pulp and paper stock thickeners, process control panels, and in-vessel compost systems.
BDP Industries
www.bdpindustries.com
Metering pumps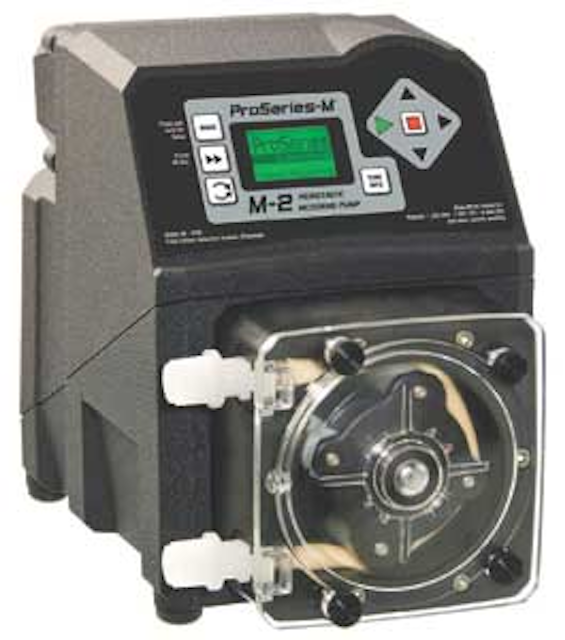 Blue-White will have demonstrations of its full line of Proseries-M™ Peristaltic Metering Pumps. Units are offered for small and large treatment applications. Proseries-M™ pumps provide solutions for treatment with aggressive and viscous chemicals. Units have quiet, smooth, low-velocity pumping action. The valve-less design provides close to continuous injection of chemical. Proseries-M™ are NEMA 4X, NSF STD 61 and backed by a 5-year warranty. Also displayed will be Blue-White's Sonic-Pro® Ultrasonic Flowmeters, Chem-Pro Diaphragm Metering Pumps and CHEM-FEED® Skid Systems.
Blue-White Industries
www.bluwhite.com
Pump split seals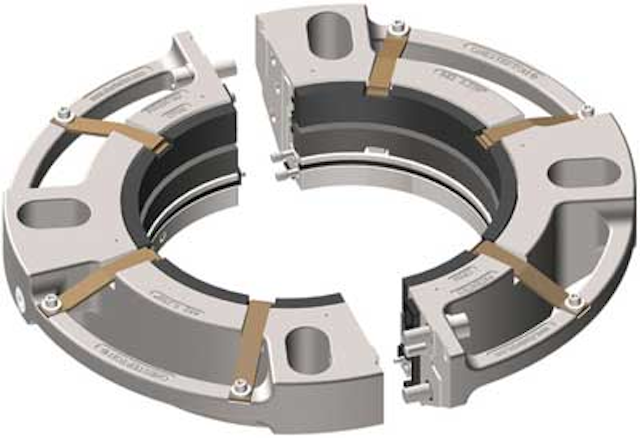 Chesterton has developed advanced split seals for large pumps that can eliminate wastewater and raw water leakage. Eliminating process leakage stops the problems created by it - premature bearing failure, collateral equipment damage, downtime and the need to disassemble the pump to install repair components. Sleeve wear associated with compression packing use is also eliminated. They are available in sizes up to 36" shaft diameter. They are NSF tested and certified and feature easy installation and no equipment disassembly.
A.W. Chesterton Company
www.chesterton.com
Sludge removal
Brentwood's SedVac™ is a cable-driven sludge removal system that cleans the sedimentation basin floor in drinking water plants. The SedVac's patent-pending technology stands out in an industry plagued by vacuum systems prone to clogging. By outfitting the system's triangular header wings with a 4-inch-high intake across the entire leading edge of each header, the opportunity for clogging is significantly reduced. The SedVac system provides an ideal solution for plants that need to increase capacity without building new tanks or making large-scale alterations. Not only can SedVac handle heavy solids loadings up to 3% but it can also handle varying levels of influent quality in plants up to 380' long.
Brentwood Industries
www.brentwoodindustries.com
Ultraviolet reactor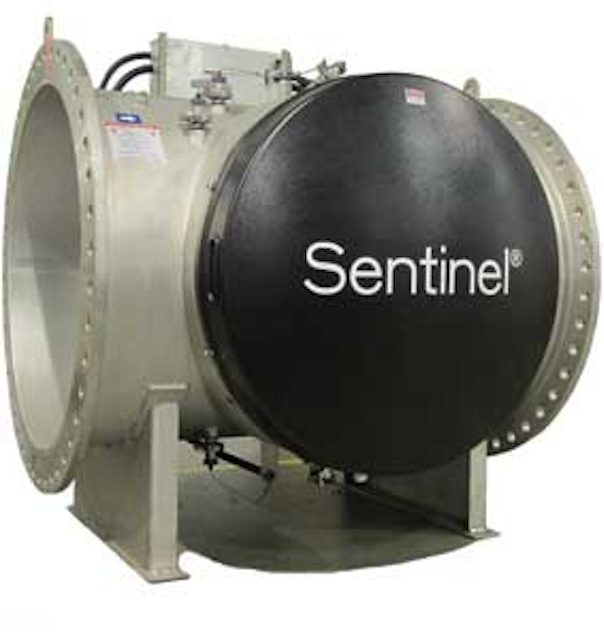 Calgon Carbon's 48" SENTINEL Chevron ultraviolet (UV) reactor is a validated, compact vessel with a lay length of 72", which can be configured with two to eighteen lamps to handle flows of 3 to 50-plus mgd, depending on water quality and treatment objectives. Manufactured in the U.S., the SENTINEL Chevron demonstrates Calgon Carbon's ongoing focus on the growing drinking water disinfection and taste and odor oxidation market. Calgon Carbon's SENTINEL line provides municipal drinking water disinfection along with organic contaminant destruction in drinking water.
Calgon Carbon Corporation
www.calgoncarbon.com
Flow meter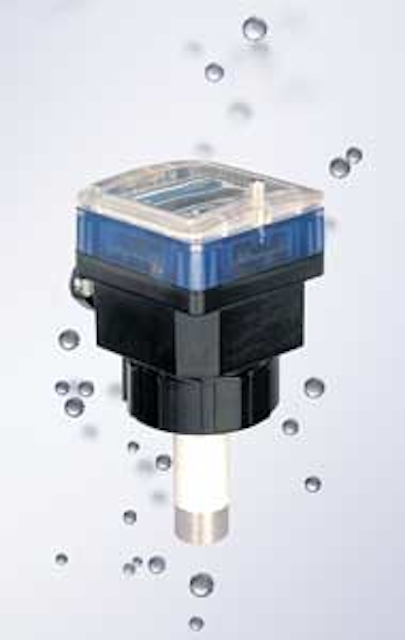 The Burkert Type 8045 is an insertion electromagnetic flow meter with analog output signal, digital outputs and input and display. The transmitter is suitable to measure aqueous solutions (conductivity more than 20 μS/cm or also with solids) without moving parts. Features such as flow measurement in both directions, adjustable low flow cut off, external control with digital input, backlit display, and status/diagnosis LED are making the device suitable for many applications for flow measurement and control up to 14" pipe diameters. Major customer benefits are easy commissioning, increasing cost effectiveness with bigger pipe sizes, easy mounting/installation and simple and quick Teach-In calibration.
Bürkert Fluid Control Systems
www.burkert-usa.com
Static mixers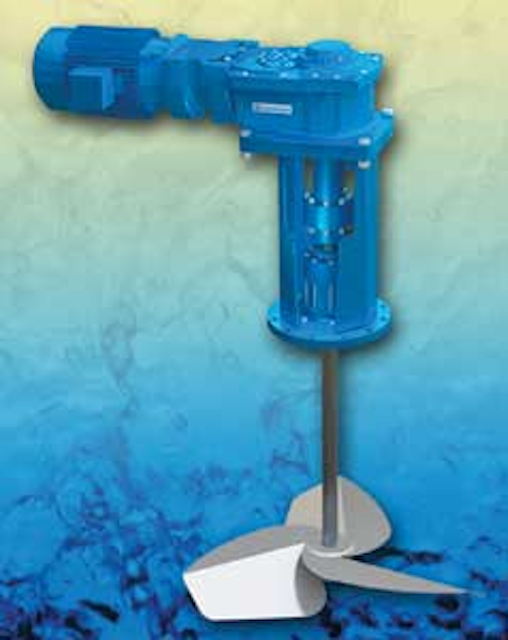 The Chemineer Model 20 HT/GT Mixers incorporate a modular design package that reduces the number of replacement parts that need to be carried in inventory by the customer. The wide range of speeds available provides improved process control and greater application versatility. The Model 20 HT/GT agitators are designed to meet AGMA, OSHA, ANSI, IEC, DIN, EU and ATEX standards and requirements. The Chemineer RL-3 Ragless Impeller is designed to prevent fibrous material build-up on the rotating impeller of the agitator. In blending and solids suspension applications where the fluid contains fibrous material typically found in the wastewater treatment industry, the resulting build-up on the agitator's impeller can deteriorate performance, increase energy costs and even damage the gearbox bearings and gears causing costly repair.
Chemineer Inc.
www.chemineer.com
Grinder pump station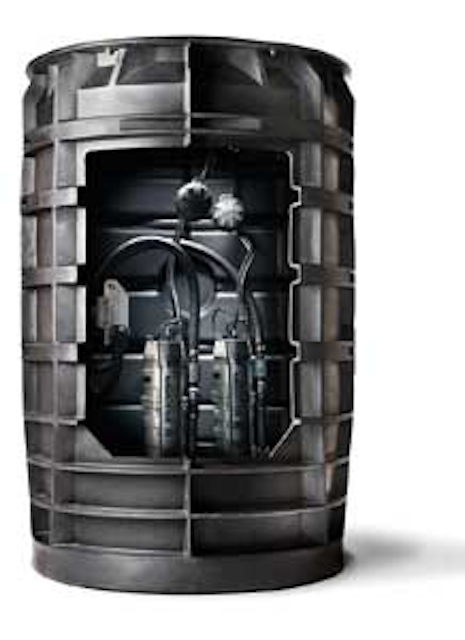 E/One Sewer Systems' W48 grinder pump stations for pressure sewer systems offer 480 gallons of capacity. The W48 is part of E/One's W-Series product line, which features an open wetwell design on the tank. One of E/One's largest-capacity stations, the W48 tank is constructed from tough, rotational molded polyethylene and is available with two, three or four E/One Extreme Series (1 hp) grinder pumps. The W48 stations are rated for 3,500 to 7,000 GPD, depending on the number of grinder pumps installed.
E/One, a brand of Precision Castparts Corp.
www.eone.com
Chemical feeder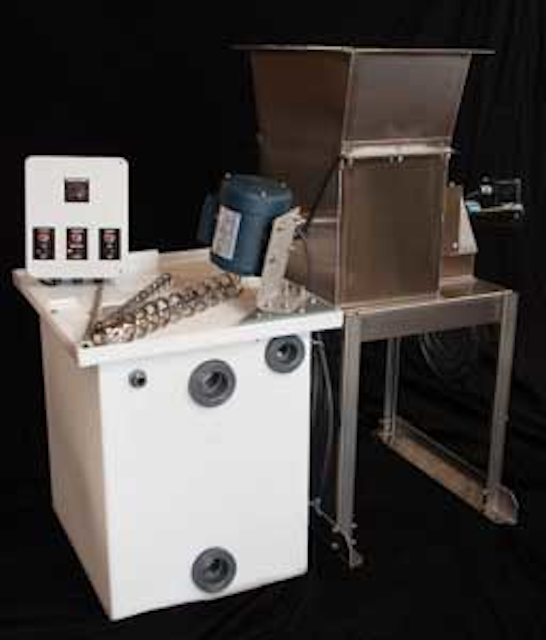 The rugged VF-100 dry chemical feeder by Eagle Microsystems is constructed of stainless steel and features a direct drive system for simple, reliable operation. There are many accessories and options available, including: solution tanks, wetting cones, dust collectors, custom controls, scales, extension hoppers, and much more. A wide range of feed rates are covered by SCR control, and Flex-Wall agitation keeps material feeding consistently and accurately.
Eagle Microsystems Inc.
www.eaglemicrosystems.com
Chlorine measurement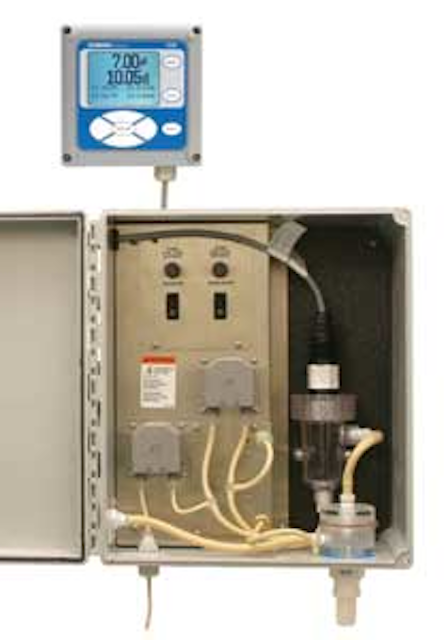 The Rosemount Analytical TCL from Emerson Process Management, a complete system for measuring total chlorine in water, employs low cost reagents that save significant money and time. The system requires reagent change only every two months, and uses a low flow rate (less than 6 gal/day), which is a real advantage in areas where drainage is limited and/or water usage is an issue. With no metal wetted parts, the TCL is ideal for measuring chlorinated seawater.
Emerson Process Management
www.emersonprocess.com
Rotating drum screen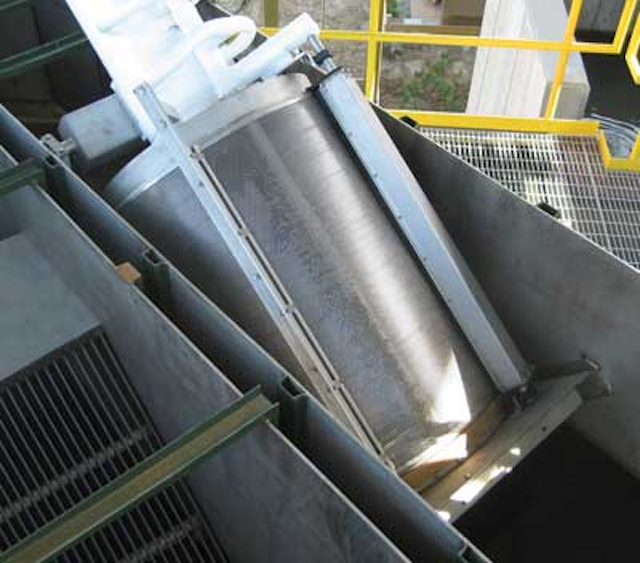 The Flo-Drum screen is one of five screens that Enviro-Care will have on display. Compare the features of five different screen designs. A Flo-PerfBelt Continuous Perf Media Screen will be the new screen introduction for 2013. Finally, "The Beast" septage receiving station will be back with operating footage from a U.S. installation. This installation is a fully integrated septage system that includes a Hauler Access Station and Enviro-Care's Flo-Logic™ data logging and security software.
Enviro-Care
www.enviro-care.com
Self-cleaning water filters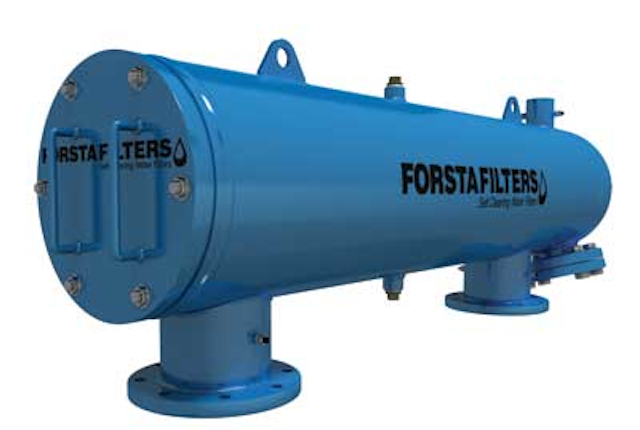 Forsta Filters offers self-cleaning water filters, which utilize system pressure for operation. A rigid cylinder screen strains particles from a water source, trapping debris on the inside. A controller monitors the filter and opens a flush valve when it senses adequate differential pressure. This creates rapid flow through the internal cleaning apparatus, which vacuums buildup from the screen and expels it. Forsta self-cleaning water filters are reliable, require low maintenance, have a short cleaning cycle, waste very little flush water, and do not interrupt main flow during the backwash cycle.
Forsta Filters Inc.
www.forstafilters.com
Swing check valves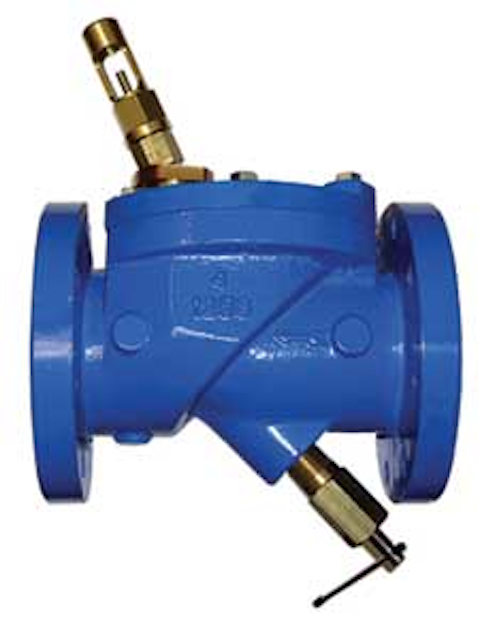 Flomatic introduces additions to the growing Flo-Flex™ family of its ANSI/AWWA C508-01 rubber disc swing check valves. The Model 745BF features a back flush device used to manually operate the valve in the field. Common applications for this would be back flushing, system testing, priming of the pump, draining the lines and system testing. This valve option can be ordered at the time of purchase or installed in the field at any time. The other addition is their new Model 745PI, which provides a valve disc position indicator that gives a distinct indication of the disc position during operation in the field.
Flomatic Corporation
www.flomatic.com
Cloth media filters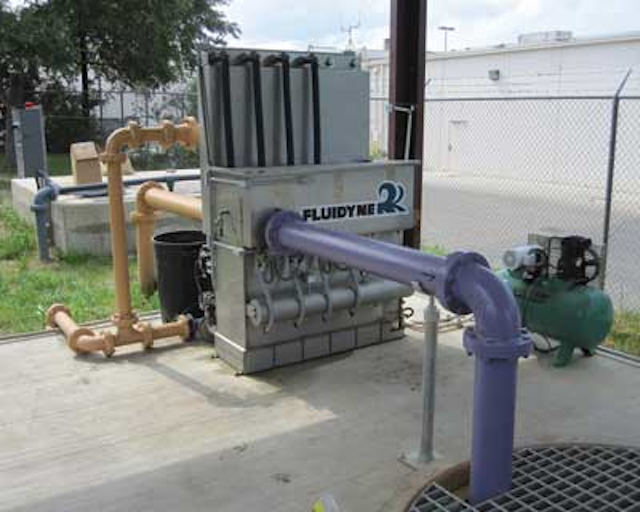 Fluidyne FFP™ Cloth Media Filters feature an innovated fixed panel design that uses simple gravity to produce filtration and backwash flow. This high performance, low-operating cost, tertiary cloth media filter is suitable for both large and small wastewater treatment applications. Packaged systems are available in fully-assembled, stainless-steel, free-standing units from 10 GPM to 2 MGD. Modular systems are available for larger flows or for new or existing concrete tanks. The unique design requires no moving parts, backwash pumps, manifolds or spray headers.
Fluidyne Corp.
www.fluidynecorp.com
Dewatering polymer monitor
The IBC TOTE SCALE™ from Force Flow allows operators to accurately monitor the amount of polymer used in the dewatering process when being fed from IBC type totes. Simply place tote on platform and monitoring begins. Systems prevent over and under feed conditions, allow optimization of feed, and also enable the documentation of amount fed. Available with the advanced Wizard 4000® Digital Indicator, the SOLO® G2 or the Century® Hydraulic Dial.
Force Flow
www.forceflow.com
Gravity sewer restraints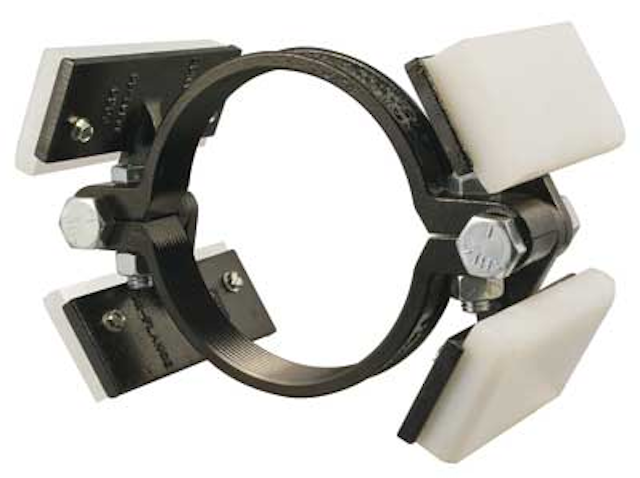 The Ford Meter Box Company is a leading manufacturer of pipe products for water utilities and water works contractors worldwide. Ford pipeline products include a comprehensive line of repair clamps, couplings, tapping sleeves, fabricated steel items and Uni-Flange® pipe restrainers and adapter flanges. The Ford line of Gravity Sewer Pipe Restraints features strength, quality and ease of installation. From the main to the meter, Ford Meter Box is your water works connection.
The Ford Meter Box Company Inc.
www.fordmeterbox.com
Centrifugal blower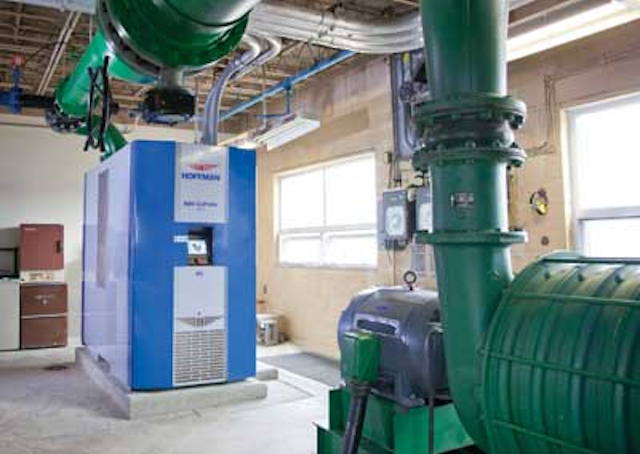 The Hoffman Revolution by Hoffman and Lamson delivers up to 45% energy savings, provides increased reliability with little or no maintenance, and is factory prewired and tested in an ergonomically-designed sound enclosure for plug-and-play operation. Technology improvements allow the footprint of the Revolution to be significantly smaller than traditional blowers, which reduces installation costs and enables the Revolution to function in places traditional blowers cannot.
Hoffman and Lamson, a brand of Gardner Denver Inc.
www.gardnerdenver.com Booth 1412
WEFTEC®.13 Booth No. 944
Transmitter
GF Piping Systems will feature the new second-generation Signet 9900 Transmitter with Batch Controller. The new Signet 9900 Transmitter (Generation II) supports multiple parameters that include flow, pH/ORP, Conductivity/Resistivity, Salinity, Temperature, Pressure, Level, and 4-20 mA Signals, and now also Batch Systems. The 9900 features an extra-large (3.90" x 3.90") auto-sensing backlit display that allows visibility at 4-5 times the distance of other transmitters. It is ideal for batch processes, filter backwash initiation, chemical addition, and canning and bottling. Other applications fulfilled by the 9900's multi-parameter capabilities make it ideal for water and wastewater treatment, reverse osmosis, deionization, chemical dosing and delivery, metal and plastic finishing, fume scrubbers, cooling towers, and all types of filtration.
GF Piping Systems
www.gfpiping.com
GIS software
The Esri platform is an integrated, multidepartment system composed of interoperable components. When you deploy Esri software you seize the power of location. You can use that power to manage, plan, analyze, map, monitor and communicate from one complete technology platform. The software can help you visualize information in the form of interactive, web-based maps, reports and charts; share select data with staff and stakeholders; analyze your data for planning, maintenance and compliance; and integrate data with other systems.
Esri
www.esri.com
Bypass station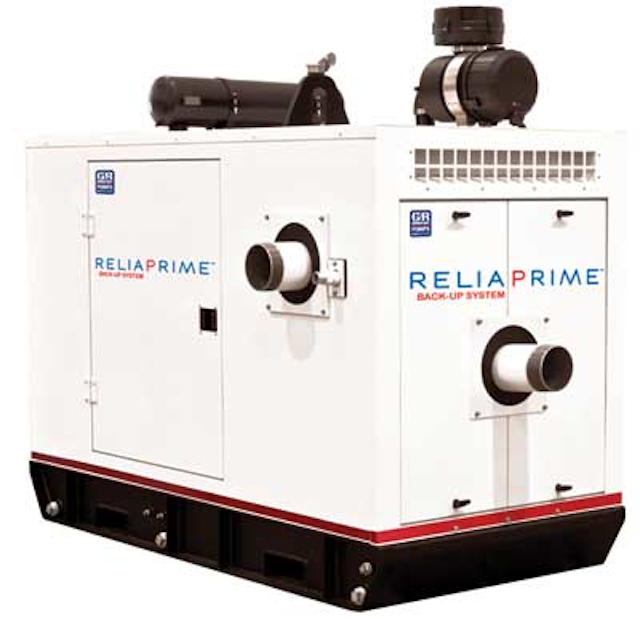 Gorman-Rupp's new emergency bypass station ReliaPrime® operates on natural gas, offering a quiet, efficient and environmentally friendly solution. This unit features a 6" Super T Series® pump capable of passing a 3" spherical solid and offers a soundproof, lightweight, aluminum enclosure. The enclosure has padlockable door panels and can be removed for maintenance of the pump or engine. This unit is a complete back-up package, ready for hook-up. ReliaPrime is a reliable bypass and backup for emergencies and power outages, primary pump repair and additional pumping capacity.
The Gorman-Rupp Company
www.grpumps.com
Ultrasonic flowmeters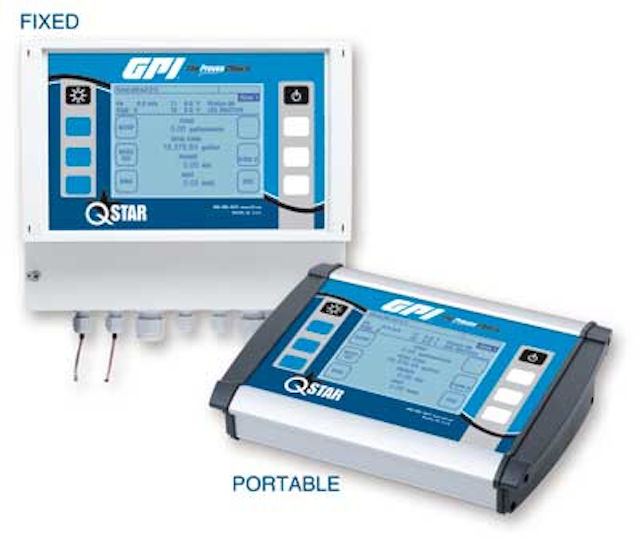 GPI has released two new QStar ultrasonic flowmeters, both fixed and portable models, using transit-time technology. These clamp-on flowmeters include a large, backlit LCD and provide accurate and drift-free measurement. Both models include integrated heat quantity measurement. Three sets of transducers are available covering pipe sizes from 1/2" to 240". Since the ultrasonic transducer does not come into contact with the fluid, the measurement is 100% contamination-free and hygienically safe. The QStar flowmeters include transmitter, transducer, mounting belts/chains, coupling grease, complete operating instructions, and technical support.
Great Plains Industries Inc.
www.gpimeters.net
Flowmeter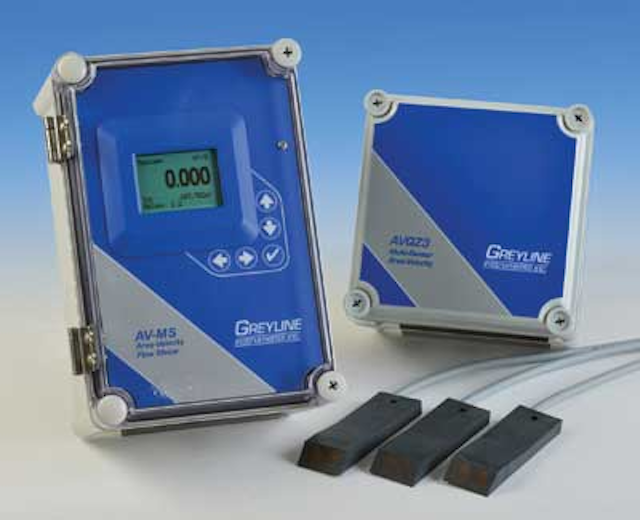 The Greyline AV-MS flowmeter uses three submerged ultrasonic sensors to continuously measure velocity at different points in the channel and provide an average velocity reading for flow monitoring. One of the three sensors can also monitor the water level, or a separate non-contacting ultrasonic level sensor can be used in the system. The AV-MS can be calibrated to channels of any shape. The sensors are resistant to fouling and corrosion. It measures forward and reverse flow, includes a backlit flow rate display, totalizer, three 4-20 mA outputs and two control relays. A built-in data logger is optional.
Greyline Instruments Inc.
www.greyline.com
Process analyzer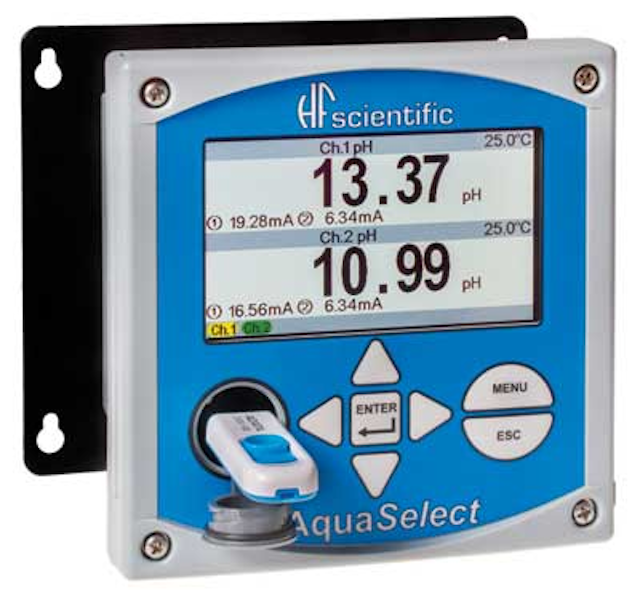 The New HF scientific AquaSelect Multi-Input Process Analyzer is a sophisticated and highly-flexible analysis platform for a wide range of process applications. With a user-friendly interface, easy-to-use menus and up to four inputs or parameters, the AquaSelect meets the needs of complex process operations. The AquaSelect is compatible with a wide range of analog and digital sensors including the HF scientific AdvantEDGE series of measurement probes.
HF Scientific, a brand of Watts Water Technologies Company
www.hfscientific.com
Ultrasonic sensors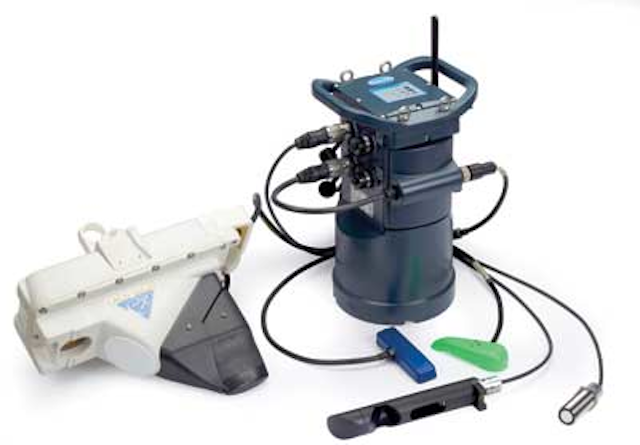 With the recent addition of two new ultrasonic sensors, the Hach US9001 In-Pipe and Hach US9003 Down-Looking, the Hach FL900 system offers level-only alarming and redundant-level functionality. In addition to the ultrasonic level sensor technology, the radar, electromagnetic, and acoustic Doppler velocity technologies are also available. The plug-and-play design of the Hach FL900 system allows for up to four sensor connections with auto-detection of sensor type, allowing users maximum flexibility for their Hach flow meter inventories. The two new ultrasonic sensors are also available with Hach's Data Delivery Services (DDS) Program. DDS uses wireless Hach FL900 Series loggers and sensors and provides real-time unedited flow data through FSDATA web-based software.
Hach Company
www.hach.com
Bar screen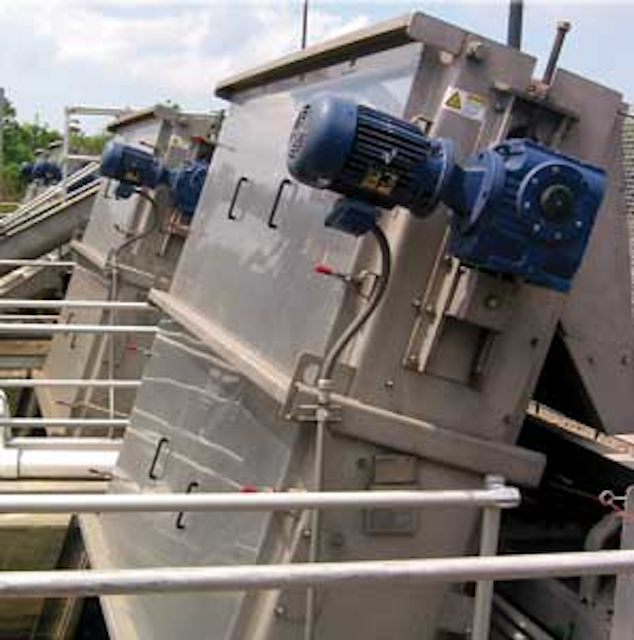 For over twenty years, the Headworks® Mahr® Bar Screen, an all stainless-steel, front raked, front return bar screen has set the benchmark in the industry for withstanding the toughest applications. Our dependable screening equipment operates automatically and with virtually no maintenance in tough and corrosive environments. The proof is in the plant with over 21,091,525 hours on the job, the Mahr Bar Screen has never had to be replaced.
Headworks International
www.headworksintl.com
Grit removal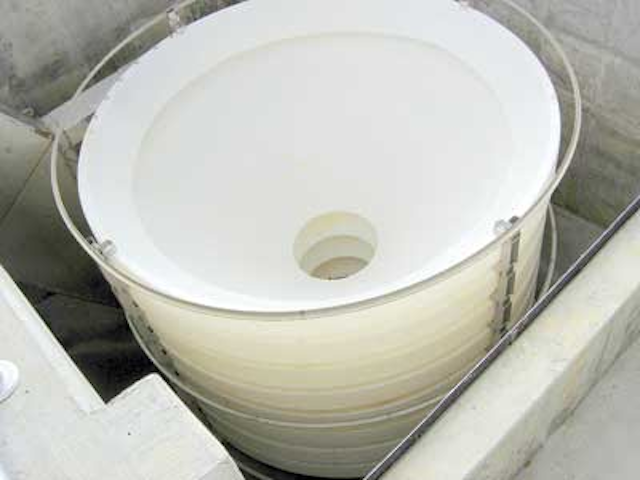 The Eutek HeadCell® stacked tray design provides the surface area required for outstanding performance with a small footprint. The Eutek HeadCell® is the ultimate grit removal solution for new plants as well as a cost-effective retrofit option for grit removal upgrades. The Eutek HeadCell® is the result of decades of research to identify and eliminate the inefficiencies of conventional forced vortex grit removal systems. The Eutek HeadCell can be designed to provide 95% removal of all grit 75 microns and larger with minimal headloss.
Hydro International
www.hydro-int.com
Polymer mortar piping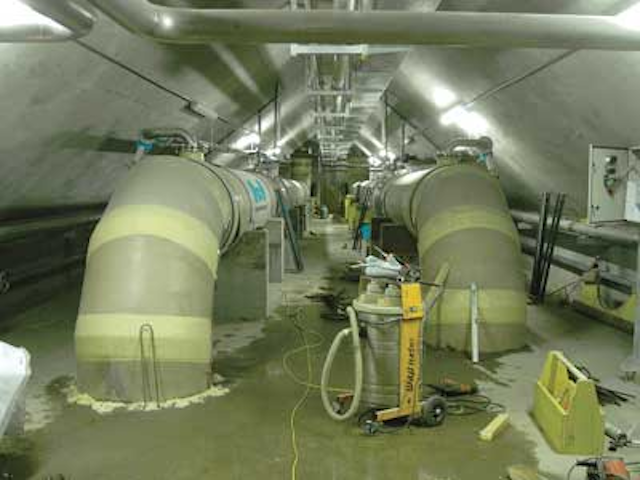 Industrial utilities can use HOBAS' centrifugally-cast, fiberglass-reinforced, polymer mortar pipe for new construction and rehab for critical installations. Its non-metallic construction provides inherent corrosion resistance without linings or coatings. It is widely used in corrosive environments such as industrial effluents, contaminated drainage and foul air, as well as cooling and circulating water lines. It is also approved for potable water. It can be installed in methods such as open cut, sliplining, jacking, micro-tunneling, two-pass tunnel, casing carrier, and above ground. The pipe can also be used with a wide range of pH factors, chemicals and temperatures. Non-pressure and pressure classes are manufactured in diameters from 18" to 126".
HOBAS Pipe USA
www.hobas.com
Utility chain saw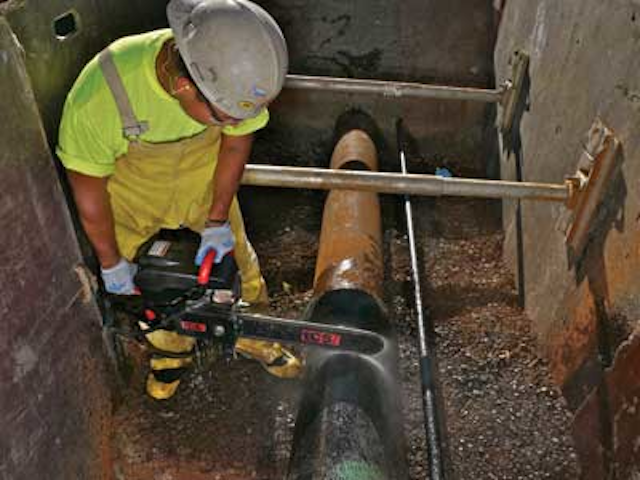 ICS, the world's leader in concrete chain saws and pioneer of Diamond Chain Technology™, proudly offers the Utility Chain Saw. Complete your next job SAFER, FASTER and EASIER with an ICS Utility chain saw. ICS addresses operator safety with a revolutionary grinding technology eliminating rotational kickback and allowing improved operator positioning when cutting pipe in the ground. Used by water and wastewater crews worldwide, this patented platform is designed to cut a variety of materials from ductile iron to plastic pipe with far less excavation.
Water quality tester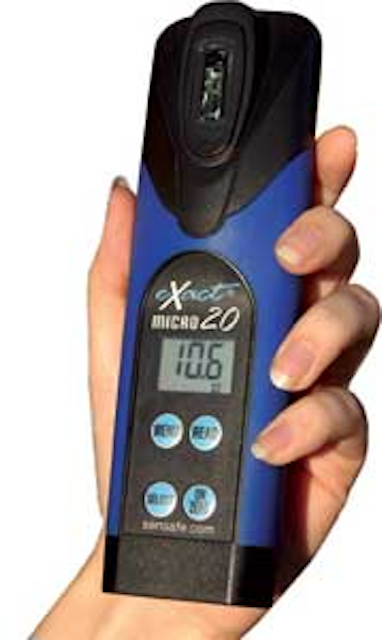 The eXact® Micro 20 dual wavelength photometer is the ultimate water quality tester delivering design and engineering with the latest patented technologies to deliver sustainable water testing solutions that cost less. The eXact® Micro 20 is waterproof (IP-67) and quickly does on-site testing for over 30 direct read water quality parameters without lookup tables. It features a narrow band wavelength filter for optimal accuracy, long-life LEDs and a built-in cell for ultra-performance. Each parameter stores the 20 previous results for a total of over 600. The unit automatically selects the optimal wavelength (525 nm or 638 nm) for each parameter. Compliance with EPA, ISO and DIN specifications for chlorine testing attests to the meter's quality.
Industrial Test Systems Inc.
www.sensafe.com
Pipeline renewal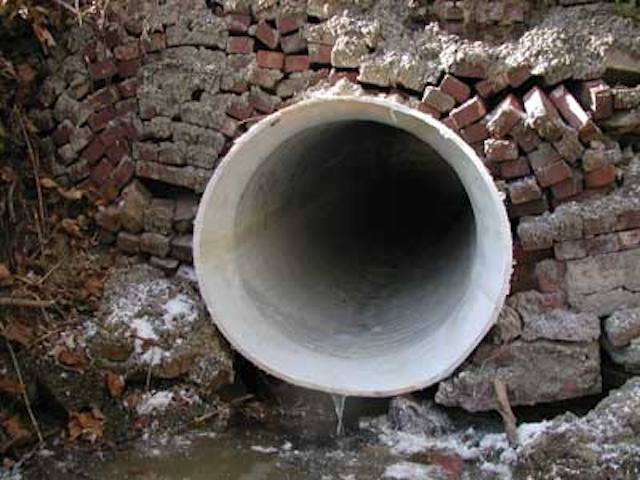 Inliner Technologies, a leader in cured-in-place pipe renewal, provides solutions for deteriorating pipes and culverts ranging in diameter from 4" to 120". Inliner's licensees are contracted by municipalities and industrial companies to renew storm, waste and process sewer piping that have been damaged by corrosion and/or structural deterioration. With its focus on superior customer service and innovation, Inliner has earned a reputation for unmatched integrity and quality - installing over 15 million feet of pipelining in the U.S. and Canada since 1989.
Inliner Tech., of Layne Christenson
www.inliner.com
Feed system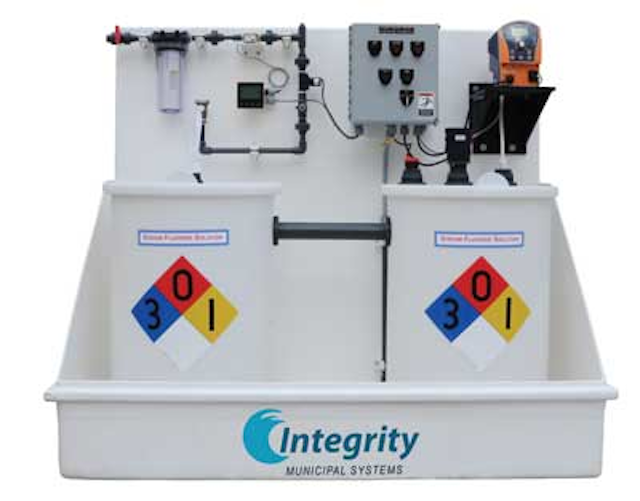 Integrity Municipal Systems offers a compact, modular Fluoride Upflow Saturator and Feed System for water processes. Systems are pre-assembled, piped, wired, and factory tested to ensure a quick, simple and low-cost installation. All systems are full contained, eliminating any risk of sodium fluoride solution entering floor drains. Compact design (5.5'L x 5.0'H x 2.5'W) requires a small footprint for installation and easy relocation. Superior upflow saturator design ensures complete saturation, high degree of reliability, and very low maintenance requirements. Saturator level controls are pre-set to allow smooth operation and the integrated control panel offers a single point of connection by the installer.
Integrity Municipal Systems
www.integrityms.net
Flow insert
The IPEX Vortex Flow Insert (VFI) is a revolutionary technology for eliminating odorous emissions and minimizing corrosion in vertical sewer drops. With no moving parts and requiring virtually no maintenance, VFIs have delivered significant cost savings in installations across North America. The VFI's patented spiral flow design eliminates odorous and corrosive gases in a unique way. It uses the wastewater's own flow energy to suppress the turbulence, which releases noxious gases. The spiral flow creates a downdraft, which traps airborne gases and forces air into the sewage flow to oxidize odorous gases. By installing a Vortex drop structure, municipalities can save thousands of dollars in monthly chemical feed, air-phase treatment and maintenance costs.
IPEX Management Inc.
www.ipexinc.com
Advanced metering pumps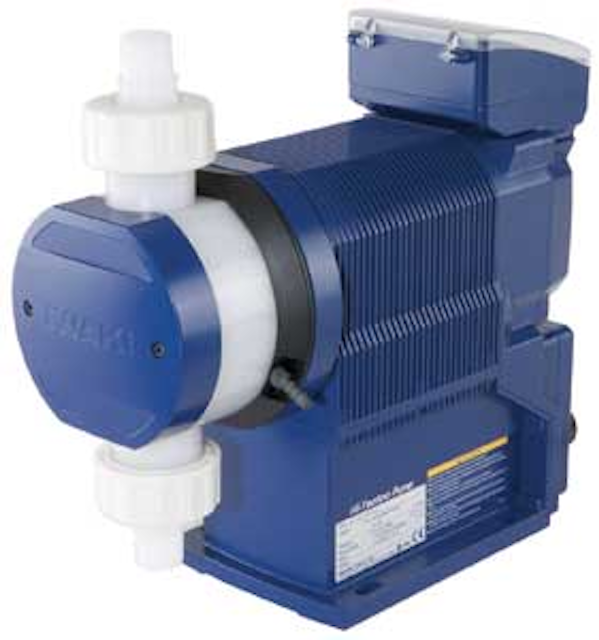 The IX Series of metering pumps from Iwaki America feature direct-drive, digitally-controlled metering pumps that combine both accuracy and flexibility into an energy-efficient design. Precise control is maintained over a wide output range, enabling one pump to satisfy a broad range of application flow rate requirements. The IX Series meets today's demands for automated chemical delivery in industries from wastewater treatment to chemical process. Average power consumption is only 62 watts. Helical gears and return springs reduce power consumption by up to 70% compared to conventional motor-driven mechanical metering pumps.
Iwaki America Inc.
www.iwakiamerica.com
Rake screening system

JWC Environmental is proud to introduce the new Bar Screen Monster™, the first self-contained reciprocating rake screening system designed to capture and transport large amounts of wastewater debris to the discharge point. Bar Screen Monster utilizes industry exclusive features such as a fully submersible, explosion proof brake motor that drives the rake along the tracking system. The unit consists of a fully replaceable, non-lube pin rack and tracking system for easy maintenance without removing the screen from the channel.
JWC Environmental
www.jwce.com
Digital pressure gauges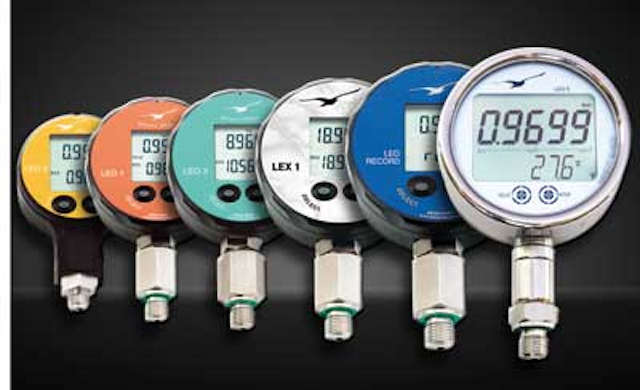 Keller digital pressure gauges are cost- effective solutions in any pressure monitoring applications where a local display is required. Several versions are available to ensure that your needs are met. Available features include min/max display, selectable units, 5 kHz scan rate for transient capture, oxygen use, and data recording.
Keller America Inc.
www.kelleramerica.com
Flowmeters, level transmitters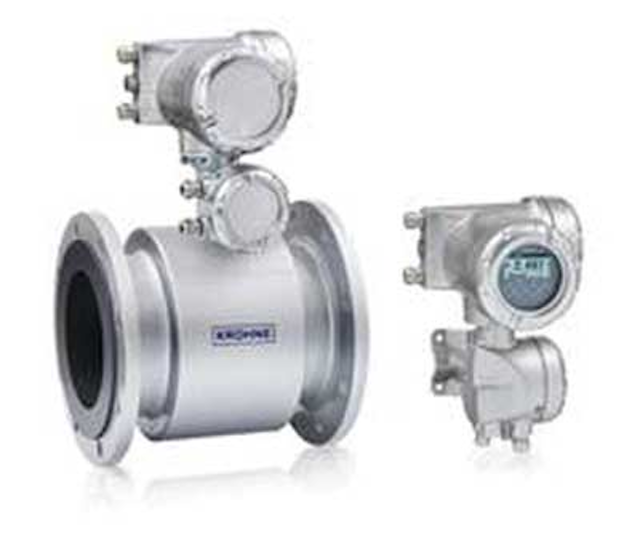 KROHNE will feature a complete line of products ideal for use in the water and wastewater industry including ENVIROMAG, OPTIFLUX, WATERFLUX, OPTISOUND VU30, and OPTISONIC 6300 P meters. New this year is the OPTIMASS 6400, the first Coriolis mass flowmeter to include advanced entrained gas management, which enables it to handle up to 100% entrainment. KROHNE will also introduce SMARTSENS, the first family of 2-wire loop powered analytical sensors with integrated transmitter technology. SMARTSENS significantly reduces the risk of failure from sensor to process control system.
Krohne Inc.
www.us.krohne.com
Sludge, biosolids disposal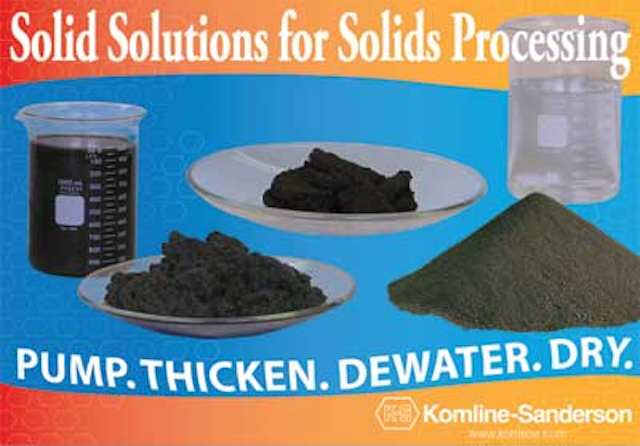 Komline-Sanderson's pumping, thickening, dewatering and drying technologies are used to help municipal wastewater (sewage) treatment plants reduce their sludge and biosolids disposal costs. Thickening greatly reduces the sludge volume for land application or improved digester performance. Belt press dewatering meets landfill disposal requirements for cake solids.
Komline-Sanderson
www.komline.com
Self-aspirating aerators
Kusters Zima offers a complete line of Fuchs self-aspirating aerators, which are used in industrial and municipal applications including lagoons, aeration basins, and oxidation ditches, and they can be retrofitted to existing systems. The precision shaft design uses extremely tight tolerances and eliminates the need for a lower guide or bearing. The result is a lubrication-free system with very low maintenance requirements. Each aerator can be installed on steel walkways, concrete walls, lagoon shores, or provided with pontoons as required to accommodate the aerator.
Kusters Zima Corporation
www.kusterszima.com
Aerator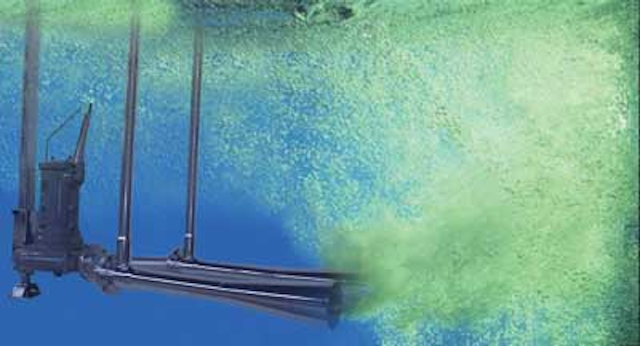 When solids concentration increases, traditional diffused air systems can struggle to achieve decent levels of oxygen transfer, but not Landia's AirJet. Typical of Landia's long-lasting pumps and mixers, AirJets continue to maintain aeration efficiency, whereas the oxygen transfer of diffused air systems severely decreases when they inevitably start to clog. The proven Landia AirJet is the only aerator on the market that utilizes a heavy-duty chopper pump as its driving force.
Landia Inc.
www.landiainc.com
Flow, level instrumentation
Magnetrol offers a comprehensive line of level and flow instrumentation including Eclipse® guided wave radar transmitters, Pulsar™ and Model R82 non-contact radar transmitters, buoyancy switches and transmitters, Echotel® contact and non-contact ultrasonic switches and transmitters, Thermatel® thermal dispersion switches and mass flow meters transmitters, CONTOUR™ acoustic volume mapping, POLARIS™ electromagnetic flow meter and, through its subsidiary Orion Instruments®, magnetic level indicators.
Magnetrol International Inc.
us.magnetrol.com
Aeration, ozone treatment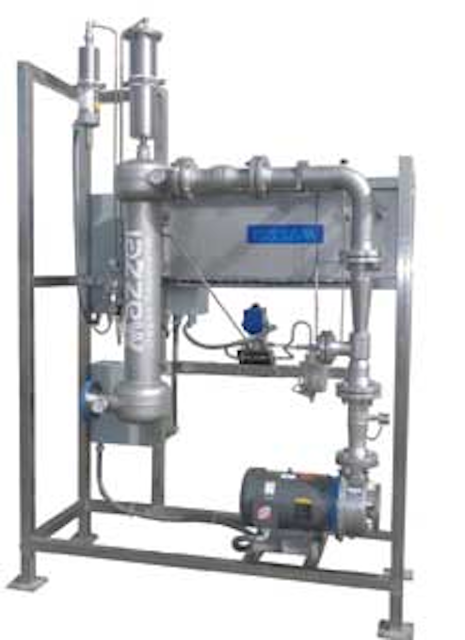 Aeration and ozonation of wastewater is a complicated process but Mazzei technologies make it easier, more efficient, less expensive and more reliable. Mazzei is a world leader is gas-liquid and liquid-liquid mixing and contacting systems, providing components and systems for chemical, aeration and ozone treatment to industrial and municipal water and wastewater industries. Mazzei's patented GDT® Process delivers maximum ozone mass transfer in custom compact designs and installations. Packaged ozone skids available. Other applications include air stripping, disinfection, advanced oxidation.
Mazzei
www.mazzei.net
Flow meter
McCrometer's latest innovations in flow meter technologies, including the FPI Mag™, are backed by ISO and CSA certifications. The FPI Mag is uniquely designed to deliver high-performance of a full bore meter, application flexibility and simple, low-cost installation. Available for line sizes from 4" to 138", the FPI Mag is ideal for capital or maintenance projects, retrofits and sites never before metered. Live demonstrations will feature the FPI's no hassle installation advantages.
McCrometer Inc.
www.mccrometer.com
Manhole cover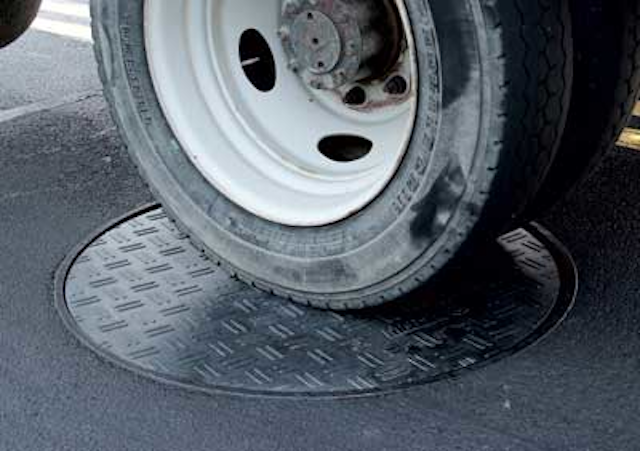 The FiberShield from McGard is a strong and durable security solution. Constructed of a durable, fiber-reinforced polymer material with multiple security points, the FiberShield is lightweight and easy to handle and transport. The FiberShield eliminates the lifting and dropping injuries caused by heavy, cast-iron manhole covers. Weighing 80% less than cast iron, the FiberShield exceeds an H20 traffic rating. It is installed in seconds and removed without bending over. It also requires a patented McGard key to operate.
McGard
www.mcgard.com
Electric mixers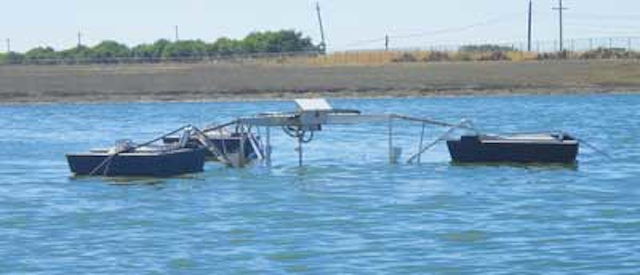 GridBee® GF Series electric mixers from Medora Corporation can each displace 30 to 50 horsepower of surface aerator mixing (run-time) in municipal and industrial wastewater applications, including activated sludge system basins, lagoon systems and water reuse ponds. With the GF Series performing the mixing, the aeration system can be dialed back to just provide the needed DO. At electric rates near $0.10 per kwh, savings per mixer is approximately $750,000 over 25 years.
GridBee, a brand of Medora Corporation
www.medoraco.com
Odor control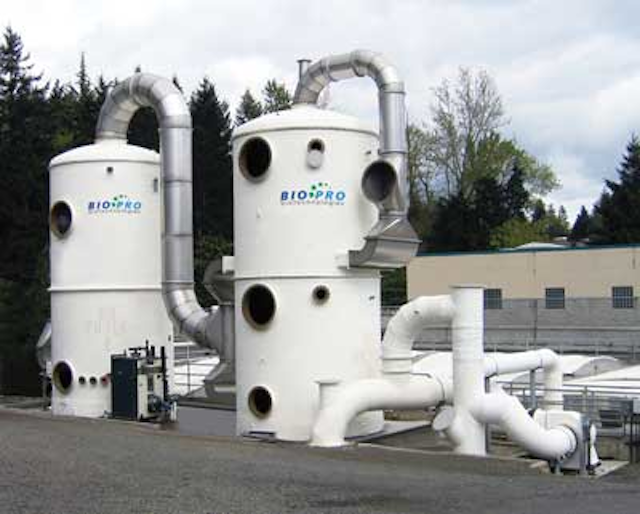 The BIO-PRO® biological odor control system has proven to be an excellent choice for removal of H2S and reduced sulfur compound (RSC) odors generated during the treatment of municipal wastewater at pump stations, headworks and dewatering applications. The BIO-PRO® system utilizes the patented Bio-AirSPHERE™ media technology, a unique combination of synthetic and organic medias, that provides the proper environment for promoting bacteria growth to eliminate odorous compounds. Key features include >99% removal of H2S and >90% of RSC. Various materials of construction are available, including PVC, DUALLast® FRP and concrete.
Met-Pro Environmental Air Solutions
www.mpeas.com
Self-healing membrane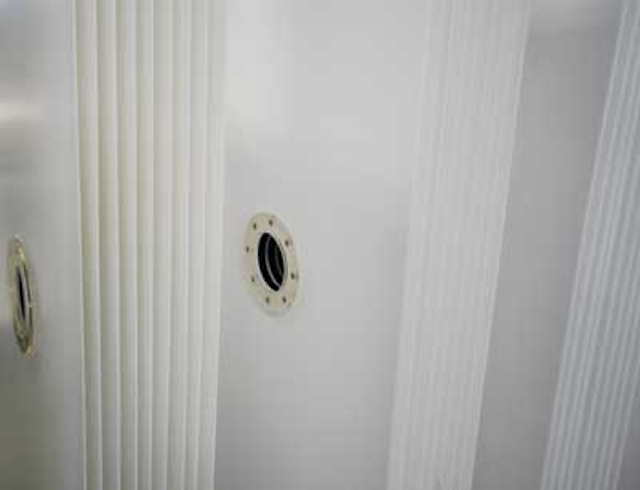 MICRODYN-NADIR is proud to announce that the unique BIO-CEL® sheet, which represents the core part of the company's BIO-CEL® MBR module, has a self-healing mechanism. Due to its sandwich-like and self-supporting structure, the membrane "heals" itself even though it might be damaged considerably (deep scratches, cut edges, etc.) and closes any scratch or cut immediately. Several tests have proven that, even under worst case conditions, such as very low MLSS concentrations and immense damages of the sheet, the BIO-CEL® module offers turbidity values that are compliant with existing international regulations for water reuse.
Microdyn-Nadir, a brand of Ovivo
www.ovivowater.com
Cavity pumps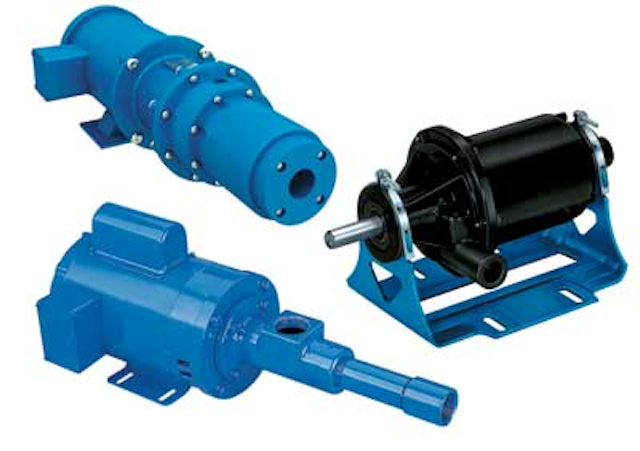 NOV Mono will exhibit its complete Moyno line of water and wastewater products including Small Pumps. The Moyno® Small Pumps are a cost-effective solution for applications from clean, clear liquids to abrasive and corrosive fluids and are ideal for water sampling, chemicals, oily water, slurries, drainage, and drum transfer among numerous other applications in the industrial and municipal water and wastewater treatment industries. The progressing cavity pumps include a metering pump, mag drive pump and general utility pump.
Moyno Inc.
www.moyno.com
Gas detector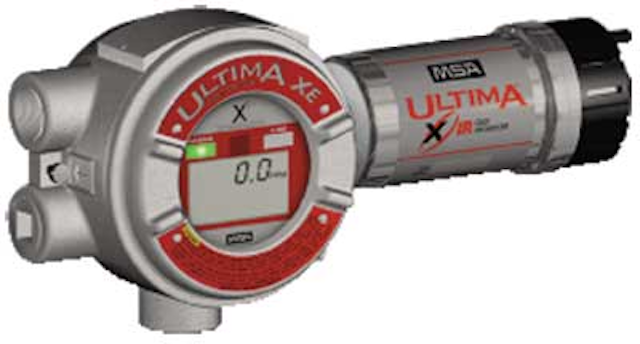 The Ultima® XIR Gas Monitor from MSA is a microprocessor-based, infrared-point gas detector for continuous monitoring of combustible gases and vapors. Based on dual-wavelength, heated optics technology, it provides definitive automatic compensation for temperature, humidity and aging effects, withstanding even the harshest environment. The IR technology offers excellent long-term stability and eliminates the need for frequent gas calibrations; a simple zero adjustment provides reliable accuracy and reduces the overall cost of ownership. It operates over extended temperature ranges, has a rapid response time and is immune to sensor poisoning.
MSA, The Safety Company
us.msasafety.com
Pinch valves
Onyx Pinch Valves are available with hand-wheel, pneumatic or electric actuators. They are ideal for on-off or throttling applications including sewerage, sludge and lime slurry. Onyx Isolator Rings reliably measure pressure or level on slurries and other hard-to-handle fluids and are ideal for pump protection applications. Guaranteed to never clog or plug, they are compatible with a wide array of gauges, switches and transmitters. Onyx Duckbill Valves are the ideal high flow/low friction check valve for applications including stormwater, tank overflow and anti-stagnation tank mixing systems.
Onyx Valve Company
www.onyxvalve.com
Metering pumps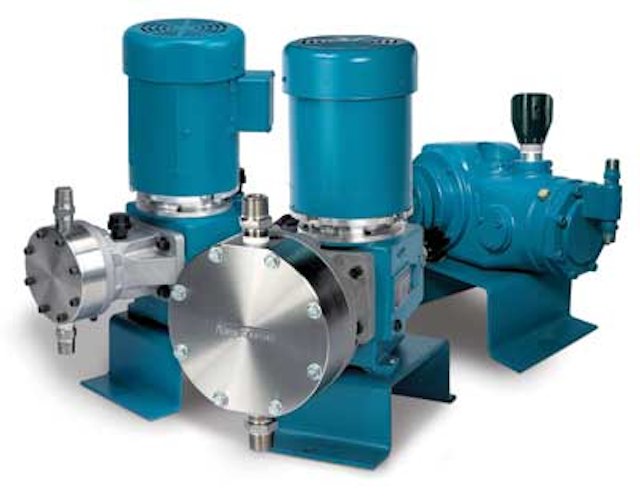 Neptune will be showcasing its Series 7000 mechanically actuated diaphragm metering pumps. Neptune's Series 7000 pumps have been specifically designed with water and wastewater applications in mind. The mechanical design of the Series 7000 eliminates the use of contour plates on the liquid side of the diaphragm while the simple, straight-through valve and head design allows for improved flow characteristics. The Series 7000 is self-priming, provides superior performance and has a maximum capacity range up to 300 gph (1,135 L/h) at 150 psi.
Neptune Chemical Pump Company
www.neptunepumps.com
Bleach purification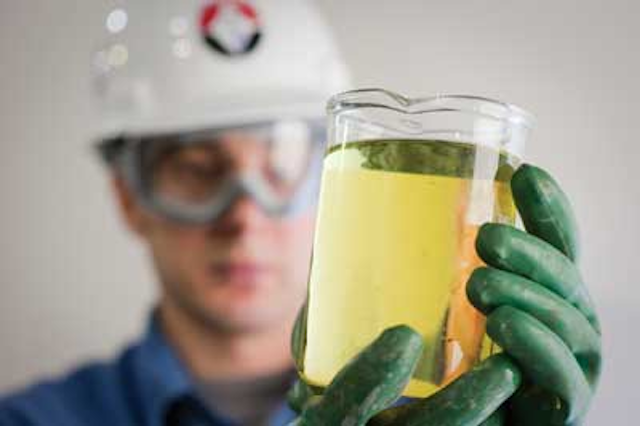 Olin Chlor Alkali Products will show water and wastewater treatment facilities the advantages of using delivered bleach from Olin for disinfection and purification. Delivered bleach is economical, reliable, effective, and worry-free. Bleach from Olin is certified to the quality standards of NSF/ANSI Standard 60 and meets the requirements of AWWA B300-10. Olin's manufacturing and distribution network can serve you virtually anywhere in the United States or Canada.
Olin Corporation
www.olinbleach.com
Odor control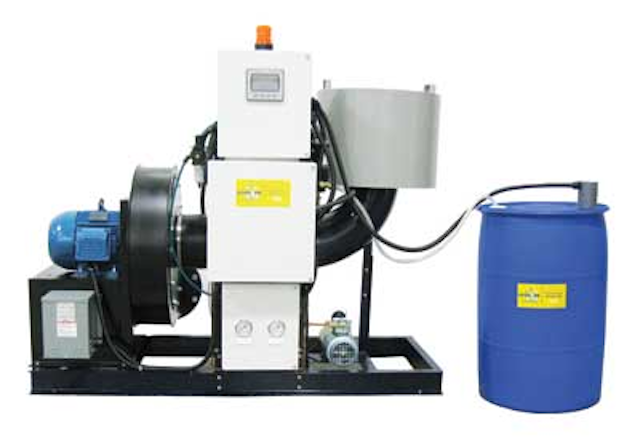 For controlling all odors common to industrial wastewater treatment plants, collection systems and processing, OMI Industries' Ecosorb® odor control solutions offer a non-toxic, biodegradable option for completely removing malodors. Natural Ecosorb odor control products can be delivered via methods including atomization and vapor phase, using existing hardware (e.g., scrubbers) or a custom solution designed to suit specific needs. Our new vaporizing dispersion systems now include PLC controls, which can be operated from a PC or phone.
OMI Industries
www.omi-industries.com
Multi-parameter controller
ProMinent introduces its latest multi-parameter controller, the Dialog DACa. Built on a new platform, the DAC offers a single or dual channel controller for the continuous measurement and control of process variables in water and wastewater applications. The large screen HMI allows for easy viewing of process events and changes color when faults occur. Data-logging and SD card storage allow the operator to keep valuable information for over a year. Packaged in a NEMA 4X enclosure, the DAC offers more flexibility for industrial and municipal projects by offering measurement of up to 14 process variables, pH and temperature compensation, feed forward, two analog outputs, and web access via LAN/WLAN.
ProMinent Fluid Controls Inc.
www.prominent.us
Fiberglass shelters
Orenco Systems is showing its pre-fabricated, fully-assembled Fiberglass Shelters. These strong, lightweight shelters safely house equipment, chemicals, controls, and workers. Standard sizes are 8' tall, 4-16' wide and up to 42' long. Standard features include foam-core fiberglass walls (2" to 4" thick); seamless, watertight structure; insulation value of R12 to R24; roof structure rated to 100 psf; wall strut system for mounting equipment; and high quality of construction and exterior finish. Numerous custom options are available.
Orenco Systems Inc.
www.orenco.com
Self-cleaning filters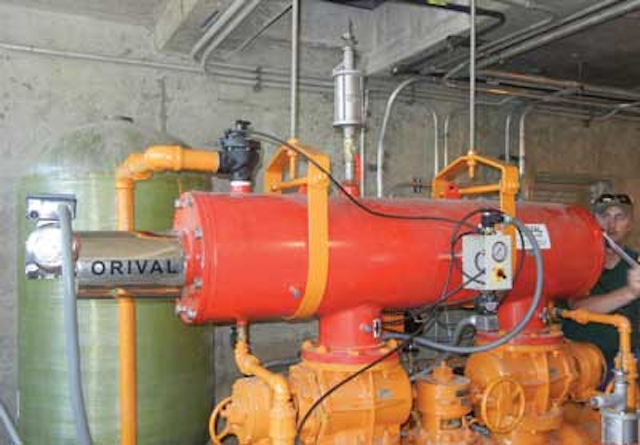 ORE/A Filters by Orival feature a unique drive mechanism for electric, automatic self-cleaning filters that's been developed, tested and put into production for critical filtration applications. Positive movement of the cleaning mechanism with simplification of the controls results in less maintenance and greater reliability. No limit switches, no reversing motor, no double contactors and no chance of crashing at the end of the stroke make the drive on this spot-focused suctioning dirt collector robust and long lasting.
Orival Inc.
www.orival.com
Cyber security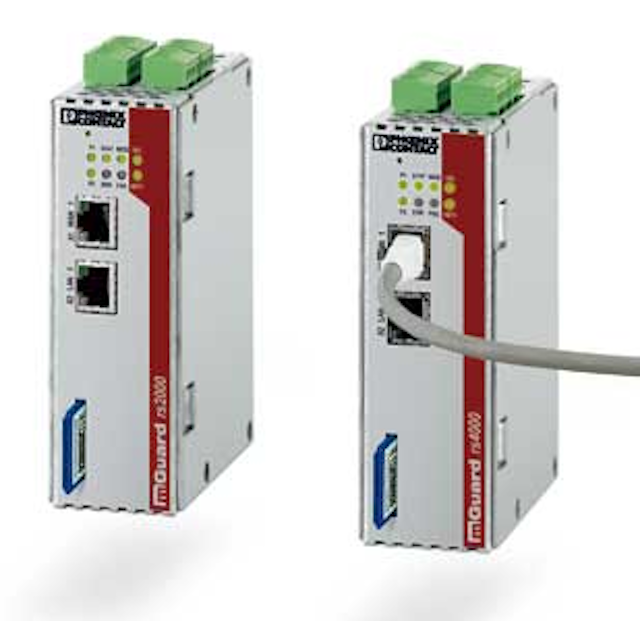 Phoenix Contact has introduced several new versions of the FL mGuard industrial security devices. With upgraded hardware and advanced configuration options, the mGuard RS2000 and RS4000 can provide defense-in-depth cyber security in more critical applications. Like the original mGuard products, the RS2000 and the RS4000 variants feature all-in-one firewall, virtual private network (VPN) and routing capability. Thanks to the new metal housing, the new mGuards can operate between -20 and +60˚C, compared with 0 to 55˚C for the original RS variants.
Phoenix Contact Inc.
www.phoenixcontact.com
Metering system

Primary Flow Signal's Sealed Metering System (HVT-SM) provides accurate and reliable measurement for contaminated applications while alleviating concerns for plugged impulse lines. The HVT-SM is comprised of a primary metering element (including some models with a highly polished interior), an in-place calibration assembly, and 2" or 3" sealed high and low pressure sensors, factory-connected to a smart DP transmitter with as much as 65' of shielded capillary. The HVT-SM is available in standard or special configurations, and is ideal for applications where confined space conditions exist. The HVT-SM delivers ±0.25% of actual reading or better based on hydraulic calibration.
Primary Flow Signal Inc.
www.primaryflowsignal.com
Check valves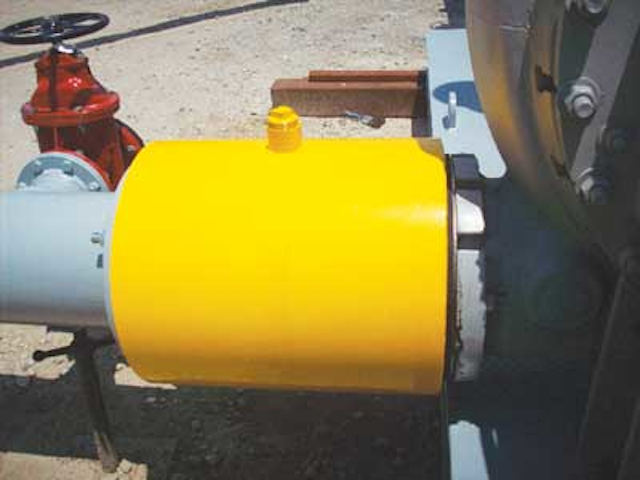 The PROCO Series 700 ProFlex™ Rubber Check Valve is a cost-effective way to control back pressures from sewage treatment plants, outfalls and tidal operations. The check valves are offered as direct replacements for ineffective and maintenance-ridden flap type check valves, commonly known to seize, rust and bind in unwanted positions. The Series 700 ProFlex rubber check valves provide backflow protection from sewage slurries; outfalls to ocean fronts from heavy rainfall activity; prevention from land erosion due to back flow conditions; and protection from saltwater to fresh water ponds, catch basins and numerous other water based applications.
PROCO Products Inc.
www.procoproducts.com
Algae, lime coating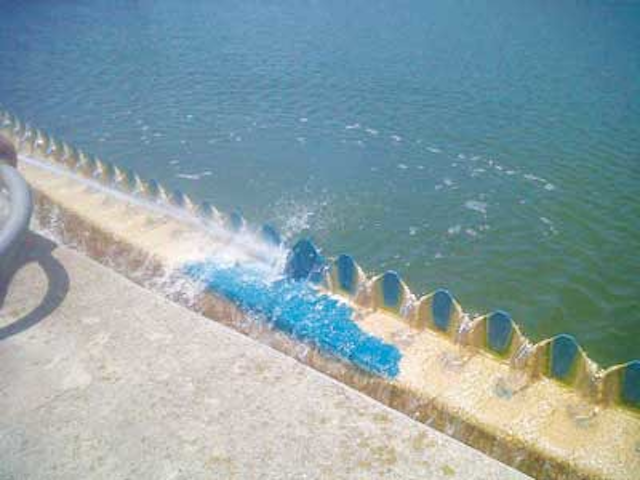 SIGMAGLIDE® 890 from PPG is a two- component, silicone-based finish for fouling release. Cleaning the accumulation of algae and lime becomes easy with SIGMAGLIDE® 890. Once applied, the coating produces a slick and slippery surface to which algae and lime find it difficult to adhere. Algae and lime may settle, but with a standard water hose and a soft bristle brush, the movement will easily remove any accumulation. The cleaning procedure can often be completed in a very timely manner while the tank is still in operation. SIGMAGLIDE 890 saves time and money, and greatly reduces operational downtime. In the end, superior color and gloss retention will prevail with minimal film degradation after long immersion periods. SIGMAGLIDE® 890 is Biocide Free.
PPG Protective & Marine Coatings
www.ppgamercoatus.ppgpmc.com
Flow switches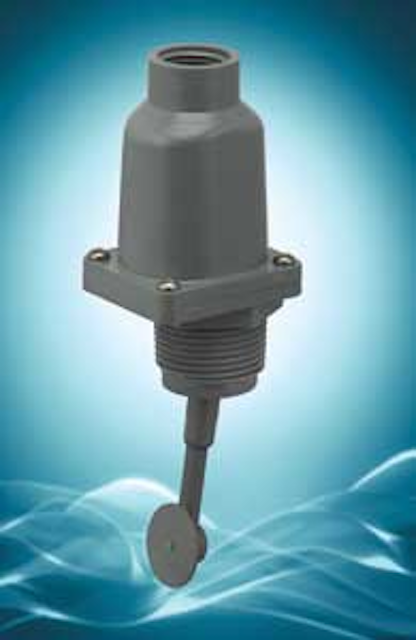 The New Series FSA NEMA 4 Flow Switches from Plast-O-Matic are adjustable for sensing flow from 8 to 1,900 GPM. Offered in PVC or CPVC, they have no wetted metals, and the switch mechanism is isolated from liquid by corrosion-resistant EPOCAP® epoxy. Adjustability is continuous during operation. Series FSA can be ordered with a 15 amp switch or dry PLC interface to fit pipe sizes 1" to 10".
Plast-O-Matic Valves Inc.
www.plastomatic.com
Split case pumps
The Horizontal Split Case is the heavy lifter in the Patterson H2O Works™ municipal pumps line. This field-proven design moves clear water or low-viscosity clear industrial process liquids at moderate heads more economically than any other type of pump. High volume, ample head and rugged, simple design combine to provide extended service life, reduced maintenance costs and minimum power consumption. The medium and high heads are offered for city water booster services, brine and hot water circulation, hot well and make up water services, low viscosity liquid handling and power plant condenser circulation. The split casing provides easy access to all rotating parts.
Patterson Pump Company
www.pattersonpumps.com
Current interceptor, launder cover
The optimized NEFCO DCB 2.0, which intercepts and dissipates density currents, significantly increases hydraulic clarifier capacity and reduces as much as 70% in Total Suspended Solids (TSS). Also, the patented NEFCO Launder Cover helps prevent algae from growing and airborne debris from entering the effluent, saving thousands of dollars per year and improving clarifier efficiency.
Pump drives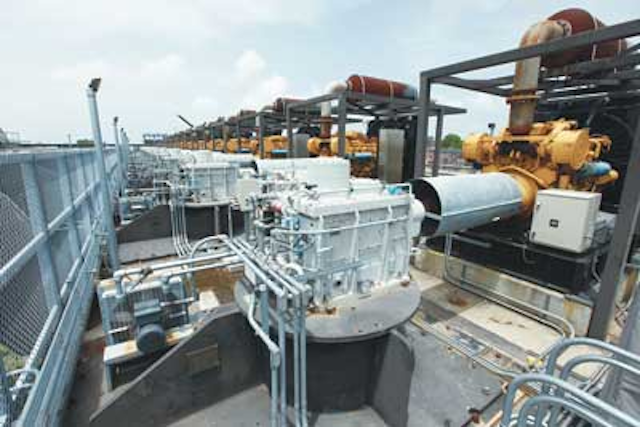 Philadelphia Gear has supplied drives for water management applications for over half a century, particularly in areas of the deep Southern United States, where the landscape is vulnerable to drainage problems. Driver base speeds are not generally compatible for the direct driving of these pumps, especially in trying to obtain optimal performance levels. Philadelphia Gear speed reducing or increasing gears allow the pump to be designed for the most efficient operating conditions. Shaft orientations may require the interface of horizontal drivers with vertical pumps or vice versa. Variable speed can be desirable if the viscosity or flow rates are subject to change.
Philadelphia Gear, a Brand of Timken Gears & Services Inc.www.philagear.com
Ultrasonic level measurement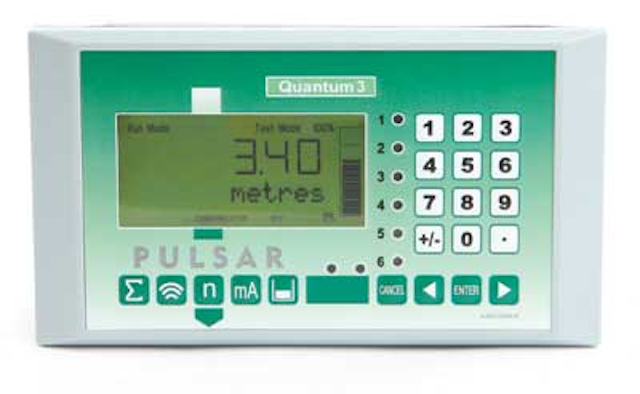 Pulsar's market-leading non-contact ultrasonic level measurement and control systems lie at the heart of the company's sophisticated pump station controllers, reducing labor and saving money within a modern pumping station control régime. Pulsar's Zenith introduced peak energy tariff avoidance to reduce energy costs, while Quantum and Quantum 2 added user-focused features including automatic pump reset, saving hours of staff time, and 'time to spill' and 'burst and block' alarms. Quantum 3 uses the measurements from the versatile and innovative Flow Pulse to provide warnings based on measured flow rather than a calculated flow rate derived from changes in level.
Pulsar Process Measurement Ltd.
www.pulsar-pm.com
Check valve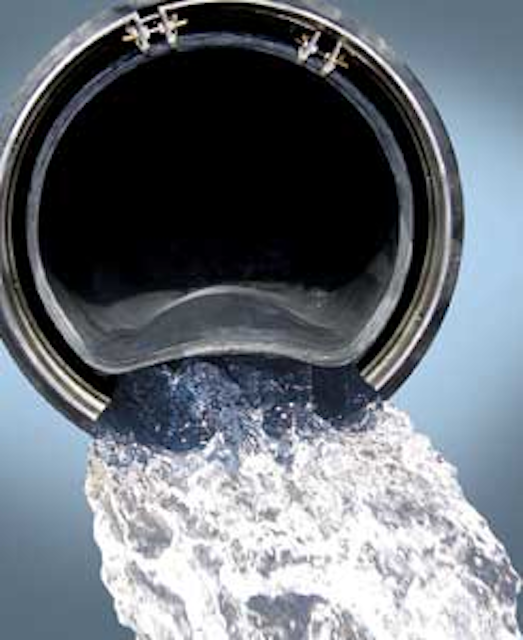 The CheckMate® Inline Check Valve is ideal for backflow prevention and odor mitigation. In outfalls, stormwater, CSO and SSO applications, the check valve's custom-engineered, all-rubber unibody design eliminates backflow from oceans, rivers and interceptors. Its elastomer fabric-reinforced design provides a proven record of maintenance-free performance and extremely low headloss. The valve can open to a near full pipe diameter, maximizing the flow capacity of the outfall.
Red Valve Co.
www.redvalve.com
Valve actuators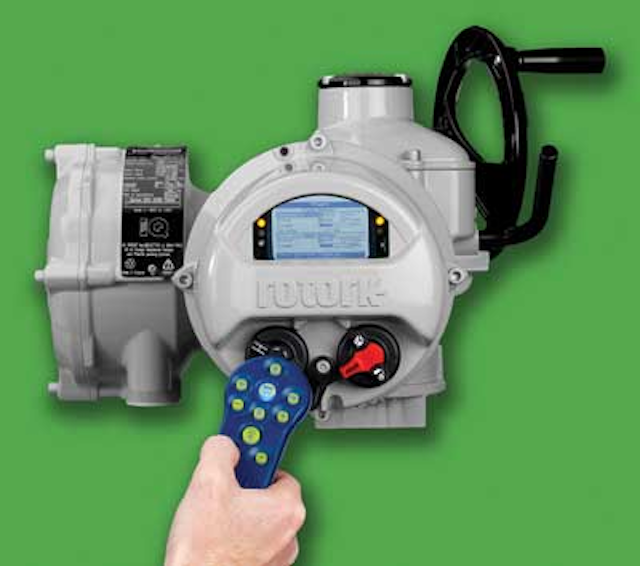 Rotork has introduced the third generation of its IQ range of intelligent, non-intrusive, heavy-duty electric valve actuators, ideal for use in many applications found throughout water and wastewater treatment plants. The new IQ3 actuators are designed to provide technologically advanced levels of functionality and asset management. Specifically, they provide enhanced operational, data-logging and ease-of-access capabilities. Features include a large, wide-angle local display that provides user-friendly displays and real-time asset management data; a new secure Bluetooth hand-setting tool for convenient set-up, configuration and commissioning as well as real-time data access.
Rotork Controls Inc.
www.rotork.com
Solids separation, sludge thickening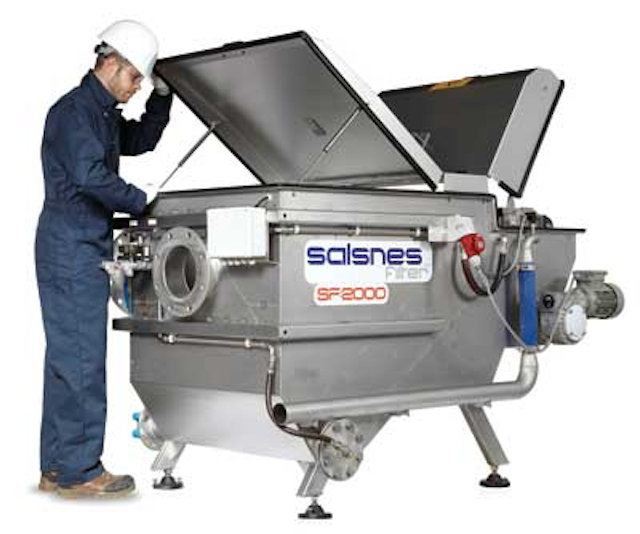 In a Salsnes Filter system, solids separation, sludge thickening and dewatering are performed in one compact unit, removing >50% TSS, >20% BOD and producing drier sludge (20% to 30% DM). The system can completely replace conventional primary treatment and does so in a fraction of the footprint and with reduced sludge handling, transportation and disposal costs. Today, Salsnes Filter systems are installed around the world in a variety of applications within municipal wastewater treatment plants and in challenging industrial solids separation applications. Cost-effective, compact, high-performing, chemical-free and sustainable, the Salsnes Filter system defines eco-efficient.
Salsnes Filter AS
www.salsnes-filter.com
Chemical scale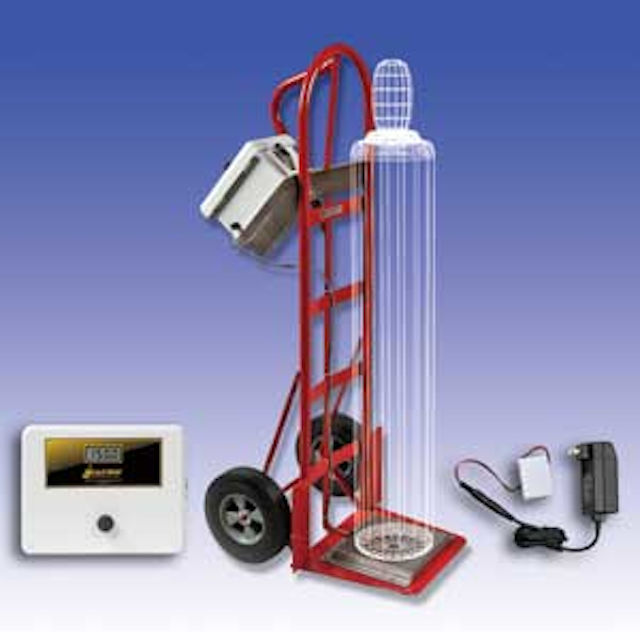 Scaletron Industries Ltd. has introduced the Model 2308CS™ Cylinder Cart Scale. The scale is designed to provide an economical solution for weighing chemicals in water and wastewater treatment applications where it is advantageous to have a single portable scale that can be used in multiple weighing locations. The scale features a 9x9x1" stainless-steel base and a digital 3.5" LCD display with a lbs./kg readout. 4-20 mA output is standard.
Scaletron Industries Ltd.
www.scaletronscales.com
Metering skid systems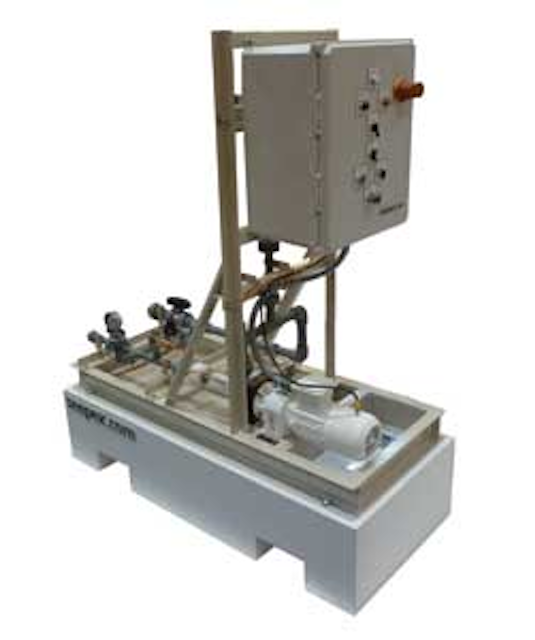 seepex offers pre-engineered sodium hypochlorite metering skid systems complete with controls and framework. Included are superior quality seepex Progressive Cavity Pumps, which ensure precise metering without pulsation or vapor lock and protection from dry run and overpressure to minimize operating and lifecycle costs. The system has turndown capability of 60:1 and accommodates flow rates from 10 mL/min to 100 gph up to 350 psi. Components of the skid include calibration column, pressure gauge, pressure switches, and flow meters. Components of the pumps such as valves, pressure switches, and flow meters, as well as materials of construction of pumps, such as elastomers, exotic metals, and plastics are custom designed to the application. An integrated vector drive with automatic (4-20 mA) or manual speed control also comes standard. seepex can build you a totally customized single unit skid system complete with all necessary components for chemical dosing.
seepex Inc.
www.seepex.com
Power quality, revenue meter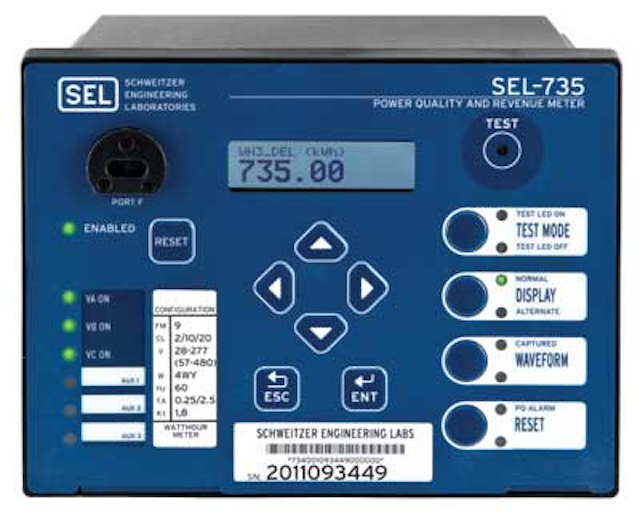 The SEL-735 Power Quality and Revenue Meter exceeds 0.2 Accuracy Class requirements with 0.06% accuracy guaranteed. Advanced load profile trending, compatible with Itron® MV-90®, DNP3, and Modbus® protocols, ensures integration with practically any billing system. In addition to a full set of revenue metering features, advanced power quality monitoring will report costly system disturbances. The SEL-735 adds improved ease-of-use and metering accuracy at a lower price. Full ANSI and IEC compliance far exceeds the most stringent metering accuracy requirements.
Schweitzer Engineering Laboratories, Inc.
www.selinc.com
Compressible media filer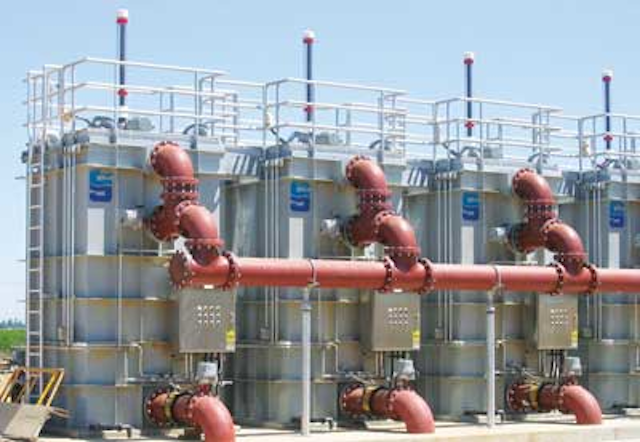 Schreiber's Fuzzy Filter is an innovative and cost-effective compressible media filter for water and wastewater treatment systems in industrial processes. Operating in an up-flow or down-flow design, the Fuzzy Filter achieves an exceptionally high rate of solids removal through the use of synthetic fiber spheres. With loading rates of 40+ GPM/ft2, the filter requires 20% of the space for sand filters.
Schreiber LLC
www.schreiberwater.com
Automated control
Singer Valve will be displaying its new 420-DC Automated Pilot Control. This provides a reliable, simple and cost-effective solution to automate water systems. This innovative pilot control is suitable for all (Singer) valve sizes, and offers programmable span and speed control via USB cable and software. Singer's new IP68 approved pilot control offers predictable accuracy, and quick troubleshooting and maintenance. Singer also will be showing its new SPI-MV Metering valve utilizing magnetic flow meter technology to provide an accurate and maintenance-free flow solution for control valves.
Singer Valve Inc.
www.singervalve.com
Lateral underdrains
TETRA® LP Block™ dual parallel lateral underdrains from Severn Trent Services offer lower installation costs, even air/water distribution and maximum uplift resistance. The LP Block features the patented GroutGrip™ and Anchor-Rite® designs. GroutGrip is a unique dovetail wedge design that delivers maximum uplift resistance, while Anchor-Rite securely bolts the underdrain to the floor. Operating costs are drastically lowered due to the LP Block's uniform distribution of backwash air/water. LP Blocks are suitable for retrofit or new filter underdrain applications.
Severn Trent Services
www.severntrentservices.com
Corrosion epoxy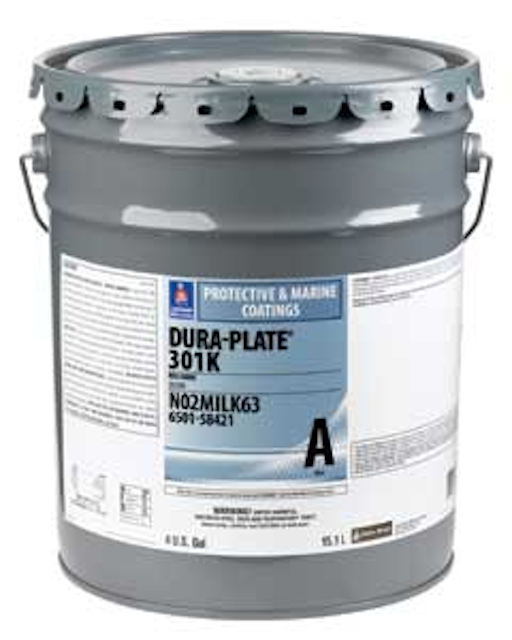 Dura-Plate 301, a solvent-free, surface and humidity tolerant two-pack modified epoxy, can be applied over damp steel surfaces without dew point restrictions in wastewater treatment facilities with pipe galleries. In these galleries, corrosion from condensation is a recurring problem, creating a need for regular maintenance, which is costly and time-consuming. Dura-Plate 301 protects sweating pipes from corrosion, and also eliminates odor associated with coatings that contain high levels of solvent. Dura-Plate 301 is suitable for marginal surface preparation, which prevents damage to equipment such as wastewater treatment pumps and motors that can be affected by abrasive blasting.
The Sherwin-Williams Company
www.protective.sherwin-williams.com
Ballasted treatment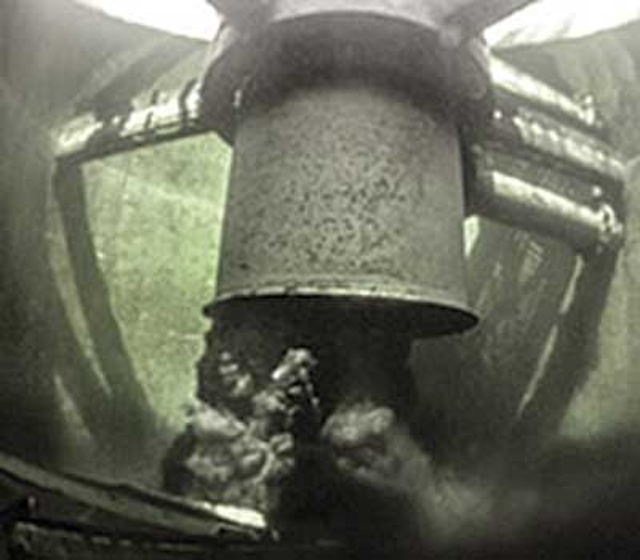 The BioMag™ and CoMag™ Systems from Siemens infuse magnetite into conventional biological and chemical floc making it heavier and dramatically improving settling. The BioMag™ System is applied to activated sludge systems. It increases capacity up to 300% without new tankage, provides control over secondary sludge blanket depth, and enables nutrient removal below 3 mg/L TN and 0.2 mg/L TP. The CoMag System is a perfect technology for tertiary treatment and CSO and stormwater management. It routinely delivers TP <0.05 mg/L, TSS <2.0 mg/L, and Turbidity < 1 NTU.
Siemens Water Technologies
www.water.siemens.com
High-head pump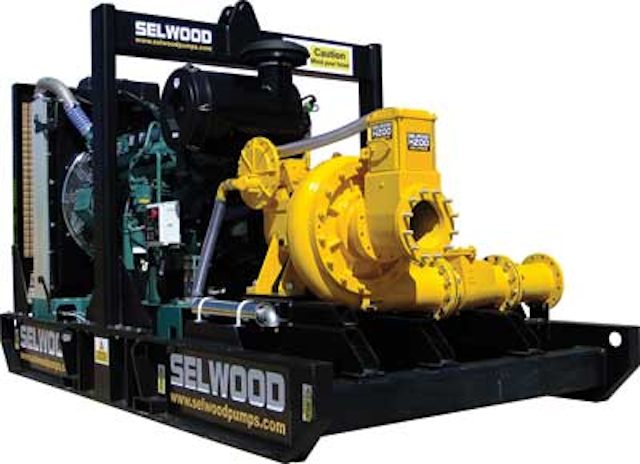 Selwood is bringing low emission engines to the high-head pump market with the introduction of the H200 pump. It can achieve flow rates up to 750 m³h, total heads of 160 m with solids handling of 45 mm. Designed for use in large quarries and opencast mines, the H200 is powered by a Stage 111/Tier 4 Interim compliant Volvo D16 engine delivering 603 hp. The engine uses a diesel particulate filter (DPF) and a diesel oxidation catalyst (DOC) in combination with selective catalytic reduction (SCR) to meet the latest emissions regulations.
Selwood Limited
www.selwoodpumps.com
Grit removal system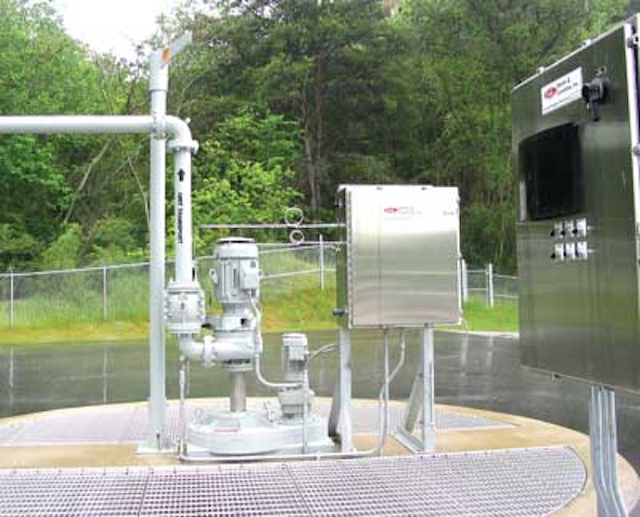 The Smith & Loveless Pista® 360™ grit removal system with patented V-Force Baffle™ captures 95% of grit particles down to 140 mesh/105 microns. The system design increases velocity during low-flow periods while maintaining consistent grit capture during surges. Its baffle, uniquely positioned within a 360-degree, flat-floor grit chamber, helps comprise a patented hydraulic design within the chamber. The integral baffle design also serves as a water level control device, often eliminating the need for downstream flow control devices like weirs. By integrating the water elevation settings with the baffle, the overall outlet footprint requirements decrease as much as half the typical distance.
Smith & Loveless Inc.
www.smithandloveless.com
Impeller-shaft assembly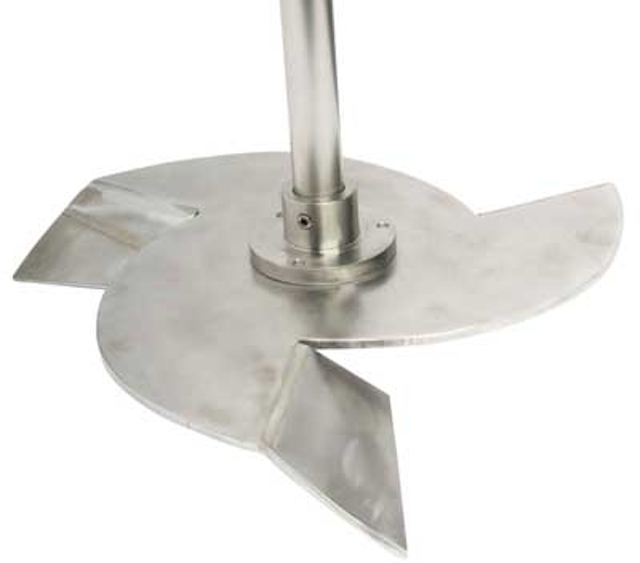 SPX announces a complete solution to a "dirty, rag-full problem" in industrial treatment services. SPX introduces the Lightnin Clean Edge Impeller-Shaft assembly for use in all services where a non-ragging mixer impeller is either indicated or needed. Specifically designed for this critical and rigorous service, the assembly sheds all fibrous debris while delivering superior hydrofoil impeller performance. Lightnin includes the additional, patent pending, Shaft Guard Design, which eliminates any build-up that would collect on any solid shaft attachment. No part of the wetted parts is a "rag-collector."
SPX Corporation
www.spx.com
Surface protection, coatings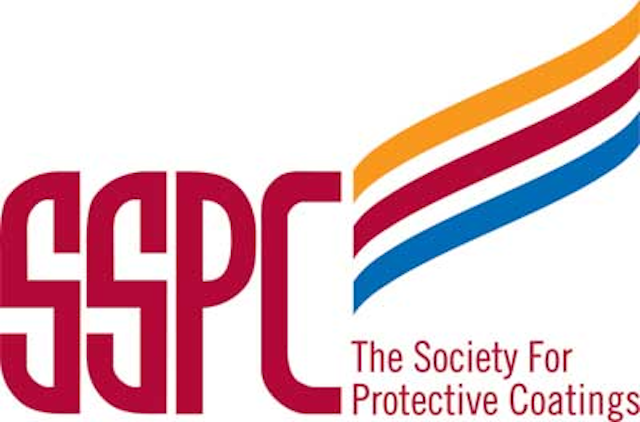 The Society for Protective Coatings is the leading source for information, training, and certification for surface preparation, coating selection, coating application, environmental regulations, and health and safety issues for the protection and preservation of concrete, steel and other industrial and marine structures and surfaces.
The Society for Protective Coatings
www.sspc.org
Static mixers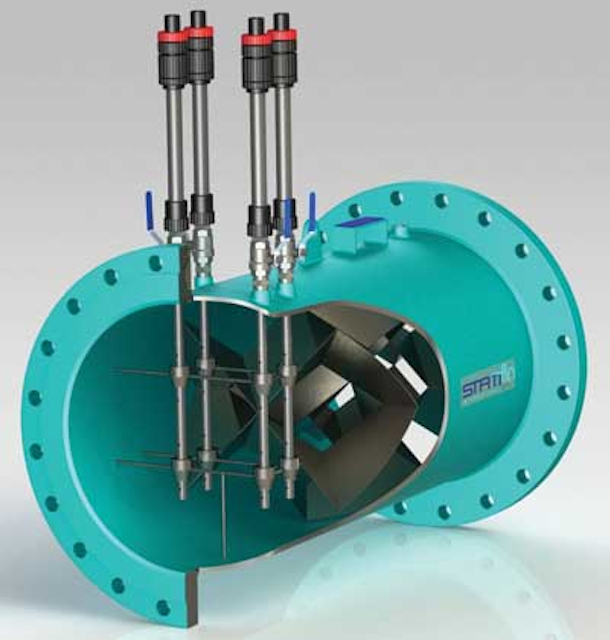 Statiflo is the world's leading company for the development and application of static mixing technology for the water industry. Products include pipeline and channel mixers, plus a totally new concept in static mixing enabling, for the first time, efficient mixing of chemicals into raw sewage or sludge without the risk of blocking. Statiflo Gas Dispersion Systems are globally recognized for reliable, high efficiency dispersion of ozone for water treatment and the company has unparalleled experience in the ozonation of wastewater. Statiflo has supplied locally produced mixers throughout the U.S. via its extensive distributor network and regional headquarters in MA for a wide range of applications including pH control, coagulation, blending and general chemical dosing.
Statiflo International
www.statiflo.net
Valve control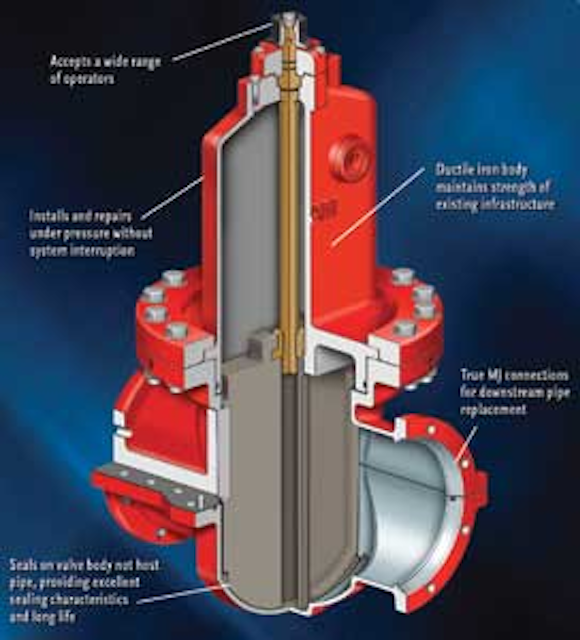 The Team InsertValveTM provides valve control today and pipe replacement tomorrow. Therefore, an 8" InsertValve™ can be installed on an existing 6" pipe, resulting in immediate valve control. Team's 8" InsertValve has Mechanical Joint connections, allowing for downstream pipe removal and replacement. Mirror the process on the other side when capital improvement is scheduled in that direction. This feature takes the InsertValve out of the realm of fluid control and launches the company into the capital improvement arena at a most opportune time, considering undersized systems were installed 80 to 120 years ago.
Team Industrial Services
www.teamindustrialservices.com
Flow meters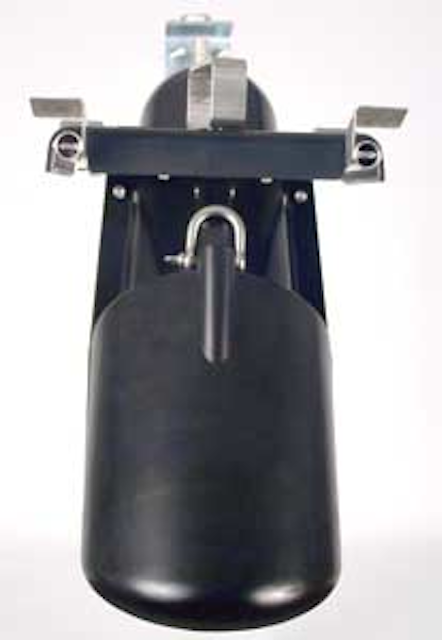 Teledyne Isco manufactures a wide range of products for professionals working in water pollution monitoring and abatement, engineers and managers involved with wastewater process control, and scientists involved in field and laboratory work. Our products are engineered and built to increase the productivity of professionals in the field, factory, and in the laboratory. Teledyne will be displaying its 5800 Refrigerated Sampler, LaserFlow Non-Contacting Area Velocity Flow Meter, the Signature Flow Meter and its brand new AQ 700 Series Multi-parameter Water Quality Probes.
Teledyne Technologies
www.teledyne.com
Davit cranes
Thern will be introducing its new Ensign Series Davit Cranes Models 5PA5 (500 lb. capacity) and Model 5PA10 (1,000 lb. capacity). This series of davit cranes was designed specifically for the water/wastewater industry. Thern's engineering team worked to incorporate new concepts and customer input into the Ensign crane family. The result is a crane with a hook height and reach more suitable to wastewater applications along with two new key features: a new boom adjustment system and reduced rotational effort, which is ideally suited for servicing pumps and mixers.
Thern Inc.
www.thern.com
Turbocompressors
Sulzer Pumps' ABS Turbocompressor HST 20 comes with built-in inlet and outlet air silencers (less than 70 dBA). Features the best wire-to-air efficiency (advanced permanent magnet motors and digitally- controlled magnetic bearings), an intuitive human-machine interface (HMI), advanced magnetic bearings and bearing control coupled with a self-diagnostic control system, which optimizes performance and results in overall lower operating cost.
Sulzer Pumps
www.sulzer.com
Priming system

Thompson Pump offers a revolutionary priming system with OVT (oil-less vacuum technology). The groundbreaking OVT priming system offers multiple improvements to the traditional vacuum priming system. While both allow for a basic pump to prime automatically, the OVT does this more efficiently with no oil lubrication, lower maintenance and higher air handling for faster priming. In addition, the OVT system's non-contacting rotors eliminate internal wear, which increases longevity and provides the reassurance of no decrease in performance over time.
Thompson Pump & Manufacturing
www.thompsonpump.com Booth 3812
Ion exchange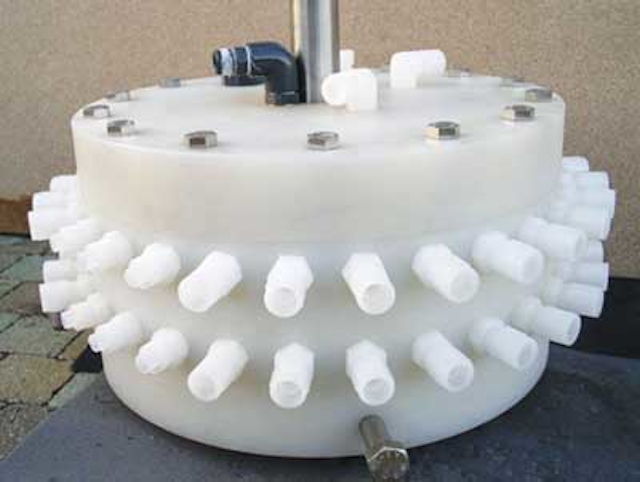 The Tonka Water Pur-IX™ system provides a revolutionary ion exchange solution for potable water systems and incorporates a series of ion exchange vessels, which are continuously cycled through water treatment and regeneration modes with a multi-port valve. The system provides cost- effective results for hardness removal, and treating nitrates, organics, color, uranium, sulfates and other compounds. Benefits include reduced brine usage and waste volumes, reduced waste volumes, simple, proven design, continuous regeneration, and compact footprint.
Tonka Water
www.tonkawater.com
Pulsed cell technology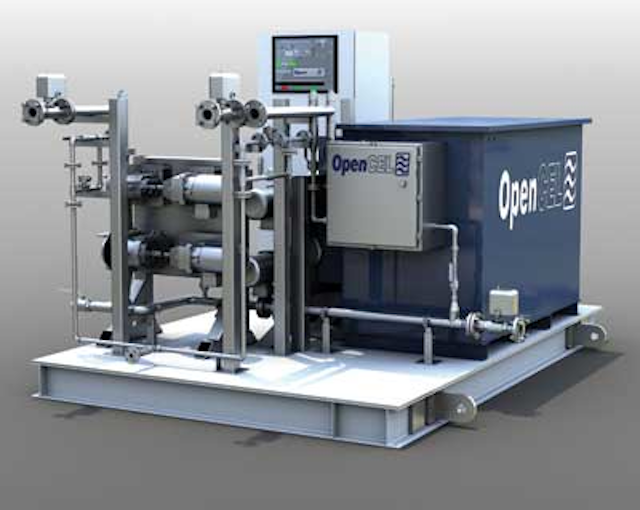 OpenCEL is a focused pulsed cell lysis technology used primarily in two applications in wastewater pre-treatment: enhanced anaerobic digestion and biological nutrient removal (BNR). The OpenCEL system has reduced biosolids 30%, increased gas production 60%, and eliminated the need for external supplemental carbon for denitrification. Other sludge pretreatment systems may break up flocs, but low percent increases in gas production signal that they may not be opening cells. When OpenCEL treated material was used to replace methanol as a carbon source, it proved it had to be opening the cell, for only then would carbon be liberated.
Open CEL LLC, of Trojan Technologies
www.opencel.com
Ultraviolet disinfection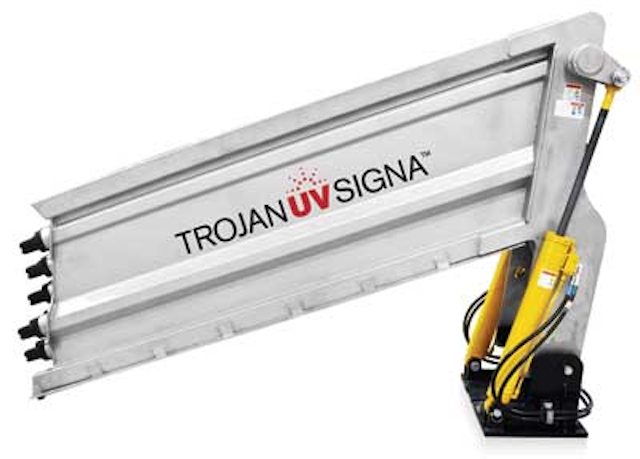 The TrojanUVSigna™ is ideal for those municipalities wanting to upgrade their wastewater disinfection system or convert from chlorine. The system provides high UV output, high electrical efficiency and the lowest lamp count (thanks to TrojanUV Solo Lamp™ Technology). It's also easy to operate and maintain. Quartz sleeves are automatically cleaned with ActiClean™. Lamp replacements are simple. And if you need to lift a bank from the channel, just activate the Automatic Raising Mechanism.
Trojan Technologies
www.trojanuv.com
Sulfide control
US Peroxide's patented Peroxide Regenerated Iron Sulfide Control (PRI-SC®) improves collection system sulfide control and maintains plant phosphorus removal while reducing the amount of iron salts used in the collection system. US Peroxide provides all applications and field support to implement the PRI-SC process technology along with a turn-key service program consisting of hydrogen peroxide supply, double-walled chemical storage system, dosing equipment, remote telemetry monitoring, data collection, dose rate adjustment, applications support and reporting.
US Peroxide, of Trojan Technologies
www.h2o2.com
Valves, gates, actuators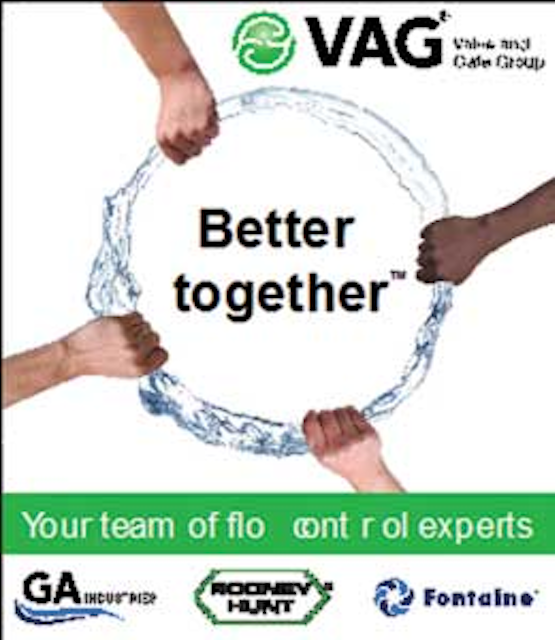 Three of the best known names in the flow control market - Rodney Hunt, Fontaine and GA Industries - have partnered to form one organization under the banner of the Valve and Gate Group. This union represents the broadest product offering of valves, gates, and actuation systems in the marketplace. Together, the group embodies a combined 300+ years of expertise, and is bringing better solutions, better service, and better value to its customers. Rodney Hunt, GA Industries, and Fontaine will still have their separate brand identities but can now provide you with a full range of flow control solutions to meet your application needs.
The Valve and Gate Group
www.vag-usa.com
AGS couplings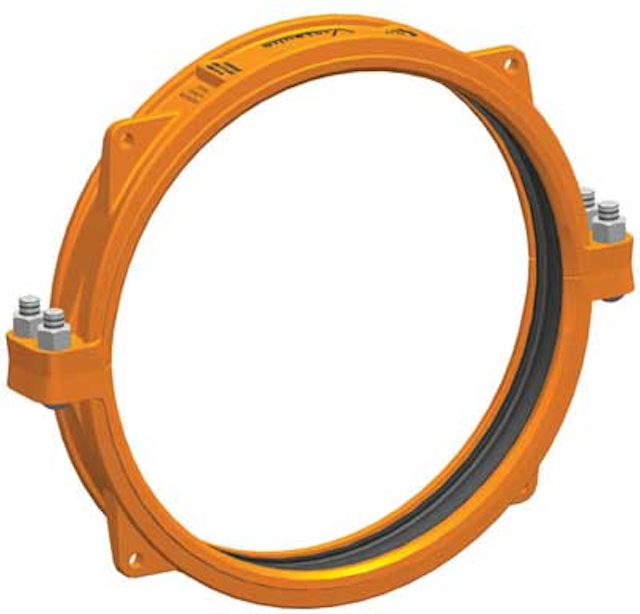 Victaulic has extended its line of patented Advanced Groove System (AGS) couplings for faster and easier installation of large-diameter piping systems. Featuring rigid and flexible couplings for pipe up to 60" (1,525 mm) in diameter, AGS technology is ideal for water industry applications such as pipelines, including buried applications, and full mechanical plant piping. A typical large-diameter joint that requires several hours to weld can be installed easily in less than an hour using Victaulic AGS couplings. With a two-piece housing and a wedge-shaped groove that delivers pressure ratings up to 350 psi (2,400 kPa) depending on the pipe size and wall thickness, Victaulic AGS couplings offer exceptional assembly speed and reliability.
Victaulic Company
www.victaulic.com
Thermoplastic systems
Those who are responsible for handling and/or transferring corrosive or abrasive fluids in the environmental water industry are encouraged to visit the Vanton Pump and Equipment Corp. exhibit. The company will display its line of thermoplastic pumps and systems that are custom-engineered to handle specific effluents. Company representatives will be on hand to answer visitors' questions and to provide product literature and technical data.
Vanton Pump and Equipment Corp.
www.vanton.com
Pump range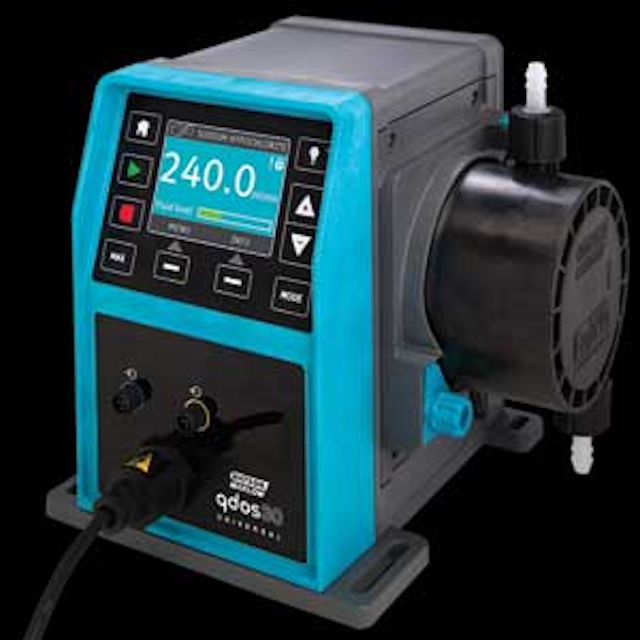 Watson-Marlow will showcase its turnkey peristaltic chemical metering systems and Qdos30 pump range. Building on over 50 years of experience, its systems combine pumps, gauges, columns, and other system accessories into a complete, robust metering solution. The Qdos30 pump range was developed in response to extensive industrial customer feedback for improved chemical metering.
Watson-Marlow Pumps Group
www.watson-marlow.com
Wireless solutions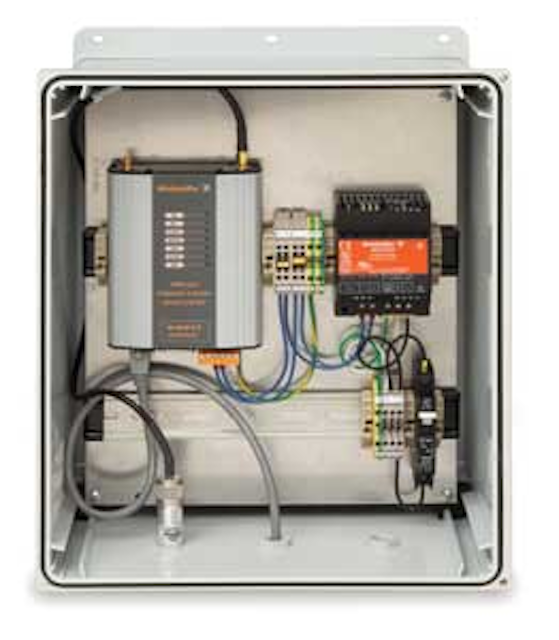 Weidmuller's engineered and assembled Wireless Enclosure Solutions feature NEMA 4X outdoor rated stainless steel or plastic enclosures with either Wireless Ethernet (WiFi) or Radio Frequency (RF) Transmitters/Receivers. The Ethernet solution features a Weidmuller wireless Ethernet (WiFi) 2.4 Ghz modem, which can function as an access point, bridge, client or router. The I/O solution can transmit and receive two digital and one analog signal over a range of several miles. The two pre- assembled plastic enclosures each house a matched transmitter and receiver. Ethernet and I/O versions are pre-installed with a power supply, circuit protection, surge protection, terminal blocks, ground blocks, antenna, antenna connection cables and network and power connections.
Weidmuller
www.weidmuller.com
Oxidation ditch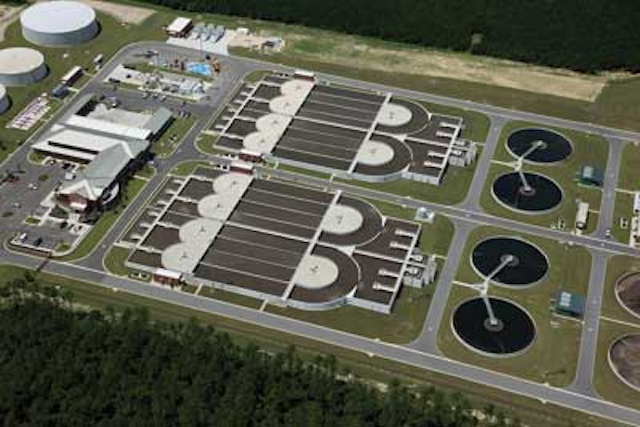 The OxyStream™ Oxidation Ditch from WesTech Engineering has proven to be the ideal equipment for biological wastewater treatment applications throughout the world. It combines vertically mounted, low-speed surface aerators with an oxidation ditch design to maximize oxygen transfer efficiency while maintaining the greatest flexibility for power turndown. In addition, the OxyStream™ has greater side water depths and fewer required aerators than a conventional brush rotor or disc rotor oxidation ditch. The vertical slow-speed surface aerator eliminates maintenance-prone horizontal shafts, pillow block bearings, and drive units near the water surface. Above all, the OxyStream™ Oxidation Ditch provides energy savings and produces predictable, high-quality effluent.
WesTech Engineering Inc.
www.westech-inc.com
Smart sensors
YSI, a Xylem brand, introduces MultiLab IDS, a new line of laboratory instruments and smart sensors for the water and wastewater market. The MultiLab IDS line offers a unique multi-parameter feature. Just one meter can measure three parameters at a time - any three of pH, ORP, BOD, or conductivity, or even three of the same parameters. No other competitive product on the market can do that. The YSI MultiLab IDS line includes the MultiLab 4010-1 (one channel), MultiLab 4010-2 (dual channel), and the MultiLab 4010-3 (three channel) as well as smart digital probes for optical based BOD5, pH, ORP and conductivity measurement.
YSI, a Xylem brand
www.ysi.com
Grinder pumps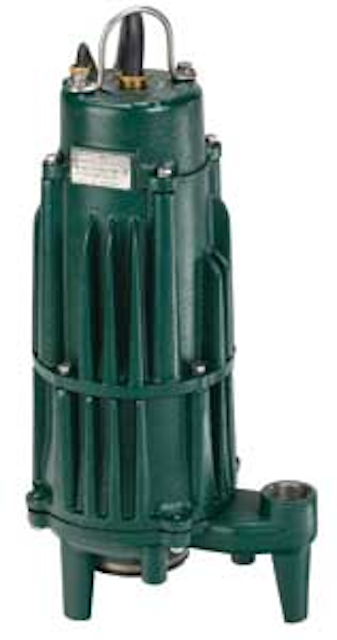 With models available from 1 to 7 1/2 HP, Zoeller Engineered Products offers one of the broadest lines of grinder pumps in the industry. Cool run design technology effectively disperses heat, promoting longer service life. The units are available with multiple discharge configurations and wet end designs, providing unequaled selection flexibility. Some models feature the unique Zoeller reversing cutter design, preventing cutter jams. The hardened SS star cutter rarely requires replacement. Models are available with either standard or explosion proof motors.
Zoeller Engineered Products
www.zoeller.com
Automated water samplers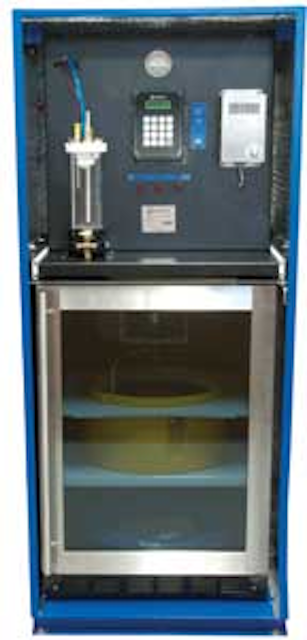 Over a year ago, Campbell Scientific added a line of automated water samplers to our research grade weather stations, water level and water quality sensors. This line provides excellent samplers for both indoor and outdoor applications. The samplers use an external vacuum pump to draw water through intake tubing instead of the traditional peristaltic pumps that induce flow by squeezing flexible tubing. The vacuum pump method features faster sampling rates, longer sampling distances, increased sample volume accuracies, and less maintenance. Because the vacuum method disturbs the water sample less, each sample better represents the original water solution, especially if it contains high concentrations of suspended solids.
Campbell Scientific Inc.
www.campbellsci.com
Automatic flushing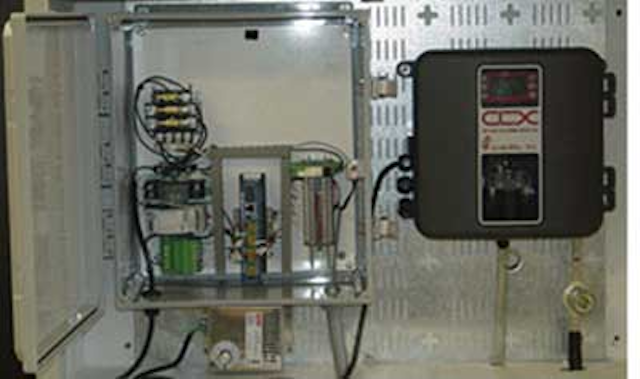 Hydro-Guard's S.M.A.R.T. Automatic Flushing System can flush water mains automatically with precise timing and frequency to maximize results with less water. The system offers two-way communication over secure web link or existing SCADA. Operators can receive real-time updates and residual analysis results remotely without fielding personnel. An available option on units for warm or cold climates, atmospheric or directed discharge.
Mueller Co.
www.hydro-guard.com
Level indicator

As a leading manufacturer of Magnetic Level Indicators (MLIs), Orion Instruments offers a cost-effective level gauge solution for the industrial pre-treatment, water and wastewater markets. The Vector Magnetic Level Indicator is rugged, reliable and suitable for a wide variety of liquid level applications. Vector is built to the highest quality standards and is equipped with a high-visibility visual indicator, which has a shatter-resistant viewing window. The Vector MLI virtually eliminates maintenance and is a great replacement for hard-to-see, leaky, sight and gauge glass indicators.
Orion Instruments
www.orioninstruments.com
Biological air treater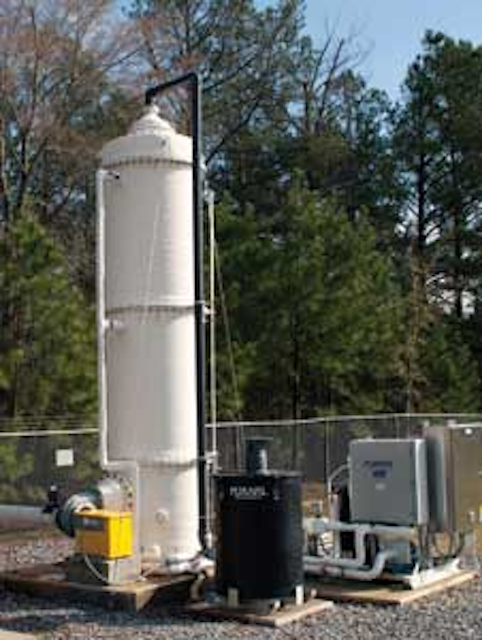 Purafil is a single-source manufacturer of filters, systems and instrumentation for preventing odors, protecting critical electronics from corrosion and eliminating the risk of toxic gas releases. Proven in various odor control applications over the past 15 years, Purafil's biological air treater (BAT) features the most advanced natural bio-trickling microbial process. The proprietary mixture of specially formulated cubes and spacers prevents plugging and channeling, providing a lower pressure drop and requiring little maintenance.
Purafil Inc.
www.purafil.com
Valve shutoff system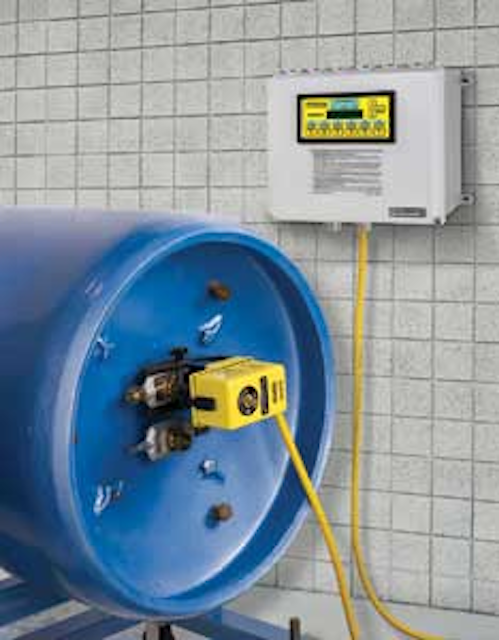 The Hexacon Model III control system has a new OLED Information Display and an optional programmable Relay Interface Module that provides clear, timely informational outputs. The new optional second battery allows quicker and more reliable valve closures. The microprocessor system measures and applies a torque of 30 to 50 foot-pounds for test or emergency valve closures for cylinder and ton container valves. All fire codes recognize and approve the "automatic-closing fail-safe shutoff valve" system in lieu of a scrubber. With a SCADA option, the system provides actuator closure status and error codes to analyze problems to allow for quick corrective action.
Halogen Valve Systems Inc.
www.halogenvalve.com
Rotary fan press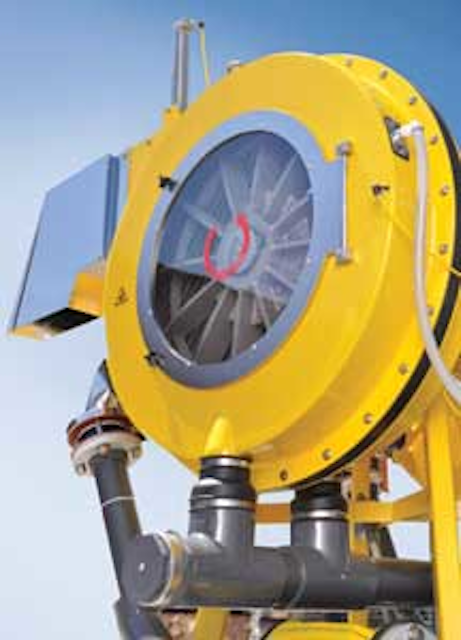 Serving many industrial processes, the Prime Solution Rotary Fan Press® is an enclosed, continuous, slow-moving (<1 rpm), low-maintenance, semi-automatic operating dewatering process utilizing low pressure differentials to separate the liquids from the solids. Further, it produces high cake solids and capture rates while using very little space/energy and operator time to complete the task. Various models are available to accommodate flow rates for all size plants, with each RFP Skid System pre-wired and pre-plumbed, ensuring a simple and successful installation.
Prime Solution Inc.
www.psirotary.com
Water level datalogger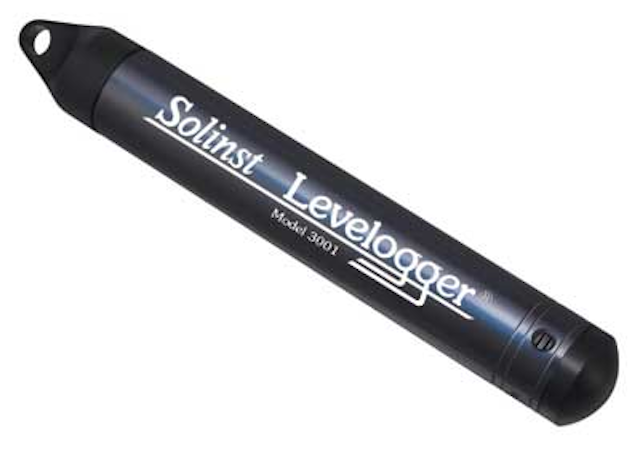 With absolute precision, the Levelogger Edge can record up to 120,000 water level and temperature data points, using a linear sampling mode compression algorithm. The Levelogger Edge features accurate temperature compensation, quick thermal response times, a 10-year battery, and a corrosion-resistant titanium based PVD coating. The durable Hastelloy pressure sensor provides 0.05% FS accuracy and can withstand 2 times over-pressure without permanent damage.
Solinst Canada Ltd.
www.solinst.com
Feed systems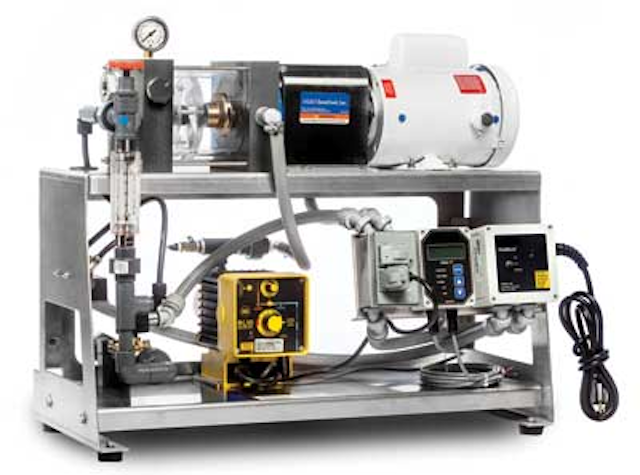 UGSI ChemFeed possesses over 100 years in water treatment, manufacturing and supporting myriad products including: Encore® 700 metering pumps; PolyBlend® liquid and dry feed polymer systems; Wallace & Tiernan Dry Chemical Feed Systems; and Varea-Meter® flowmeters. Serving the needs of municipal, industrial, and commercial customers worldwide, W&T ChemFeed helps customers conserve, protect and manage the world's limited water resources. With names you recognize, including the trusted Wallace & Tiernan chemical dosing products and PolyBlend polymer activation systems, our proven product lines are designed to meet your most rigorous demands in virtually any water application.
Underground Solutions Inc.
www.undergroundsolutions.com
Operations software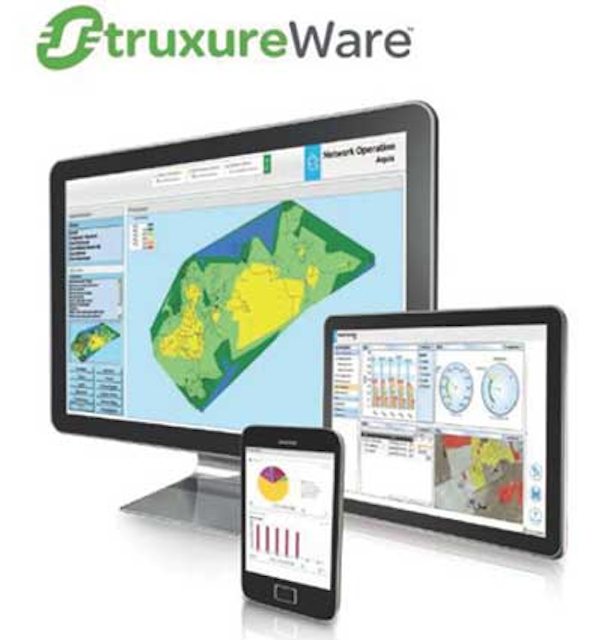 StruxureWare for Water is a unique suite of software applications that provide full visibility into the complete water supply, collection and treatment system, while delivering process control and energy efficiency. StruxureWare for Water is part of Schneider Electric's innovative StruxureWare software platform. The integrated software applications help customers maximize business performance and become more efficient and sustainable. Open and scalable, StruxureWare for Water helps utilities make informed decisions and reach operational excellence across the full water cycle, while reducing energy consumption and total cost of ownership. The solution seamlessly integrates all process control in the water or wastewater infrastructure.
Schneider Electric
www.schneider-electric.com
Air valves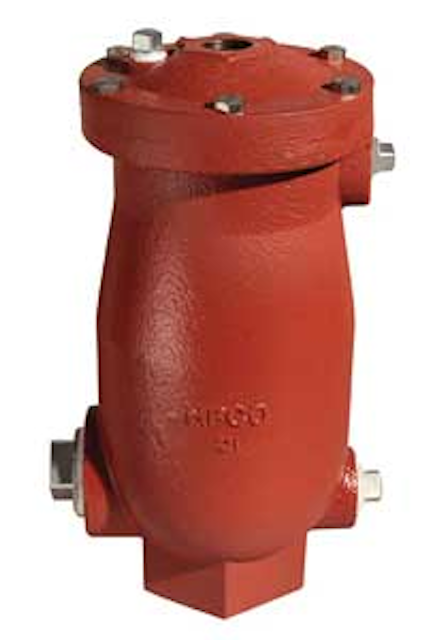 Henry Pratt announces a new industry professional standard in air valve design with its new AirPro Max® Air Valve line. These superior air valves have advanced features that provide the best solution for the design engineer whose critical concerns are reducing costs of pumping system construction, energy usage, and pipeline repair. AirPro Max wastewater valves are specially engineered to resist clogging. The AirPro Max float/linkage design is suitable for higher pressures. Seat leakage and float mechanism failures do not occur with this robust design, which features close-tolerance machined parts, stainless trim, and hoods or threaded caps as standard.
Henry Pratt Company
www.henrypratt.com
Multi-channel transmitters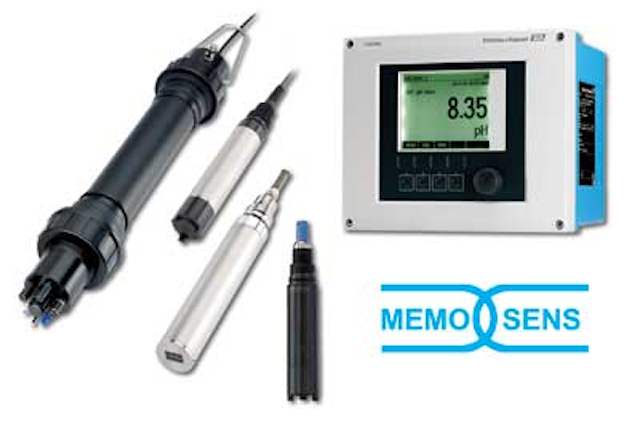 Endress+Hauser's Liquiline cm44x multi-channel transmitters can accept inputs from up to eight Memosens digital sensors including nitrate, spectral absorption coefficient (SAC), pH, ORP, conductivity, dissolved oxygen, turbidity, free-chlorine, and ion-selective electrode sensors - making it an ideal solution for monitoring and controlling processes in water and wastewater applications. Easily swap or mix-and-match any combination of sensors, and the cm44x transmitter recognizes the sensor and will begin operating immediately. Memosens sensors are pre-calibrated, and sensor-specific data is stored in the sensor.
Endress+Hauser Inc.
www.us.endress.com
Water, wastewater construction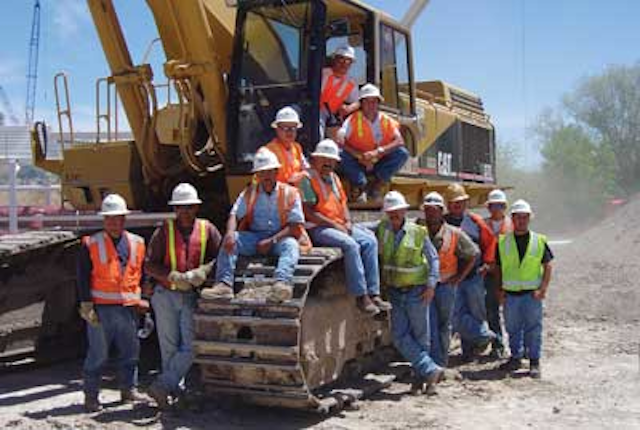 Garney Construction has more than a half century of wide-ranging experience in the construction of water and wastewater pipelines and treatment facilities servicing the public, private and industrial markets. As a 100% employee-owned company, our staff members have a vested interest in providing the best customer service in the industry. Garney is recognized as a national leader in water and wastewater construction and is proud of its history of safe, successful, and quality projects built throughout the country. Garney's 800 employee-owners generated more than $494 million in revenue in 2012 while maintaining an EMR of 0.61.
Garney Construction
www.garney.com
Manhole lids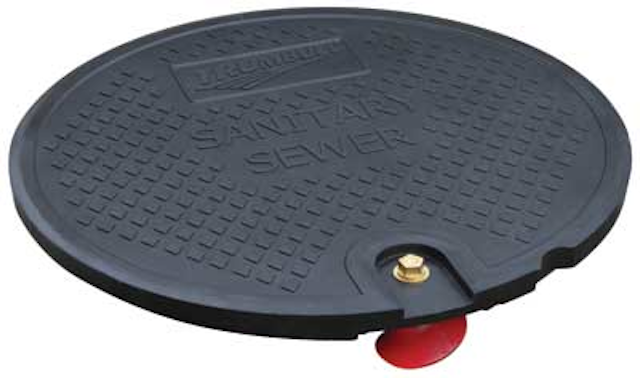 Trumbull polymer manhole lids are today's smart choice for highway use in place of cast iron lids. They have been successfully tested to a 40,000# proof load per AASHTO M-306, H-20. Polymer lids have no scrap value, deterring theft common to iron lids. They are much lighter than cast iron lids, yet are rated for traffic loads. Use polymer lids to avoid back and finger injuries associated with cast iron lids. Lids also have a slip-resistant surface.
Trumbull Industries
www.trumbull.com
UV lamps, IR-emitters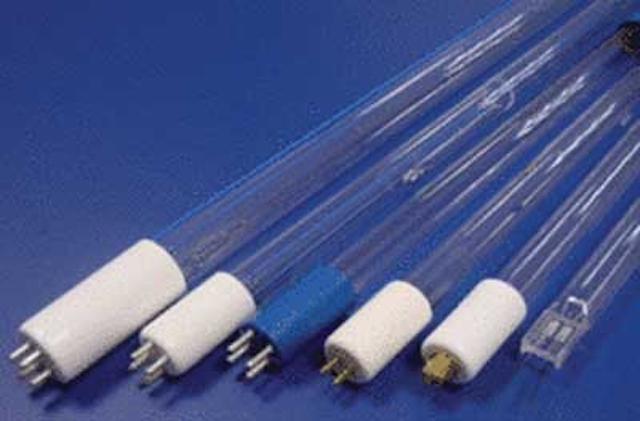 UV-Technik, a manufacturer of UV-lamps and IR-emitters located in Wolfsberg, Germany, has for many years offered trend-setting component solutions for water and air treatment systems. The company will present a wide range of customized products for the air and water treatment market, which can also be used in highly automated production lines. The main focus is on assemblies in drinking water, wastewater and ballast water installations. Another highlight: digital sensors for monitoring UV power and process temperature. Up to 255 sensors can be assembled in a single data bus with tailor-made calibrations, resulting in customization at the highest level.
UV-Technik Speziallampen GmbH
www.uvtechnik.com
Manhole chimney seals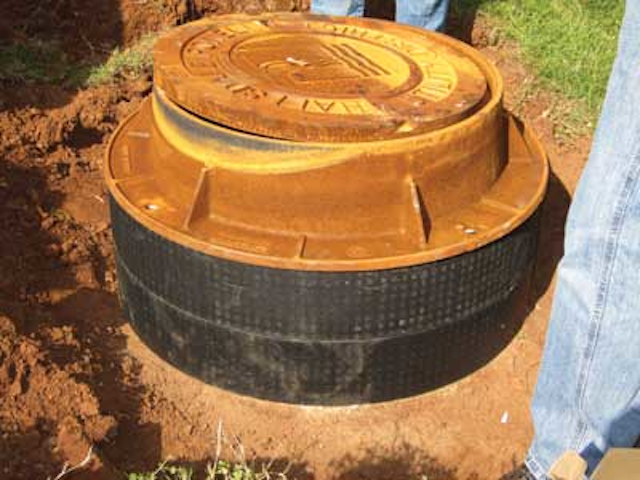 For over 32 years, Cretex has been providing Flexible Mechanical Internal Manhole Frame-Chimney Seals for use on sanitary sewer manholes. Cretex Manhole Chimney Seals stop manhole frame-chimney inflow, the single largest public sector source. Cretex also provides other manhole products such as external manhole Chimney Seals, Internal Spray Applied Chimney Sealant, External Manhole Joint Wraps, Internal Manhole Barrel Joint Seals, Internal Pipe Joint Seals, Inflow Dishes and Lid Sealing products. Cretex also provides PRO-RING™, a manhole grade adjustment system produced from expanded polypropylene plastic.
Cretex Specialty Products
www.cretexseals.com
Wastewater storage tanks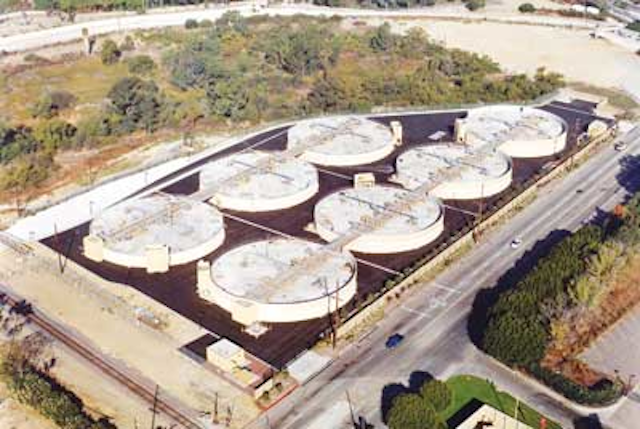 DN Tanks designs and constructs all types of wastewater storage and process systems containment with a proven performance record of digesters, primary and secondary clarifiers, sludge storage tanks, equalization tanks and more. A DN Tanks pre-stressed concrete tank is an ideal solution for wastewater systems, providing long-term service with minimal maintenance and downtime. Partnering with engineering and construction firms and municipalities around the world, DN Tanks develops solutions to meet even the most complex wastewater needs.
DN Tanks
www.dntanks.com
Water line renewal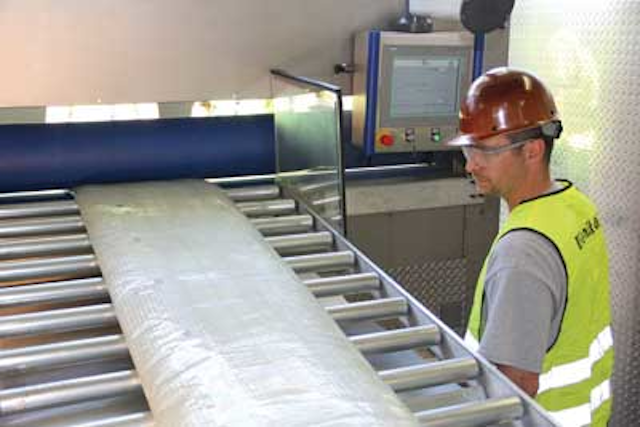 Inland Pipe Rehabilitation, the nation's largest privately owned trenchless solutions provider, will be featuring the NSF 61 certified RS BlueLine® CIPP system for water line renewal. IPR has aligned itself with RS Technik and Dow® to form "The Power of Three" marketing alliance to provide the best combination of resin technology, advanced equipment and installation experience to deliver a reliable and safe CIPP system for drinking water lines.
Inland Pipe Rehabilitation LLC
www.teamipr.com
Online analyzers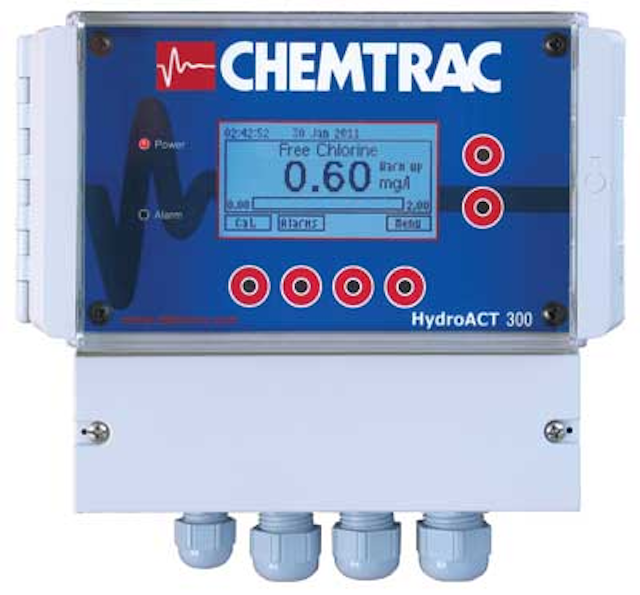 The HydroACT series of online analyzers from Chemtrac are extremely versatile and can employ a variety of measurement sensors: free chlorine, total chlorine, chlorine dioxide, ozone, ORP, pH with temperature, conductivity, and dissolved oxygen. Analog outputs and Modbus communications are available, as is PID control for maintaining proper chemical feed rates. The LCD displays and local keypads allow for easy setup and calibration.
Chemtrac Inc.
www.chemtrac.com