ACE Exhibitor Products
Collection of ACE Exhibitor Products products and services.
May 1st, 2013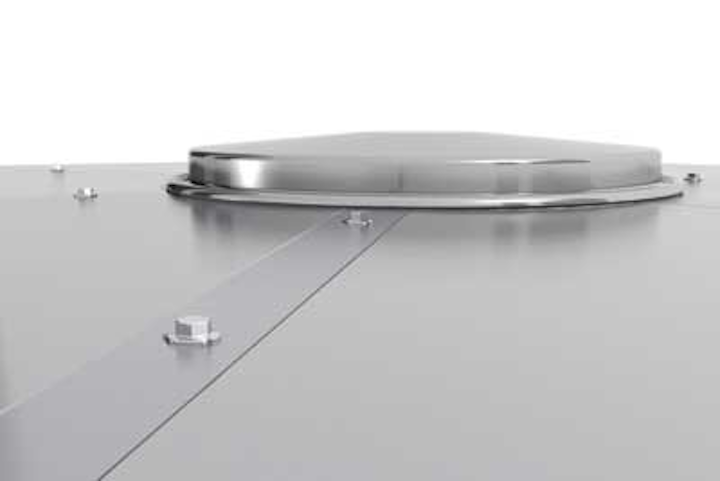 Tanks, covers
A dynamic combination of coated steel tank and aluminum cover companies, CST is home to world class brands including Aquastore® and Columbian TecTank from CST Storage. Its new OptiDome™ is an innovative flush batten aluminum geodesic dome, built upon the premium features of CST Covers' aluminum domes and the heritage of the Temcor and Conservatek brands. Applications include potable water, wastewater, industrial process water and wastewater, and fire suppression water.
CST Industries
www.cstindustries.com
---
Streaming current monitor
The Hach AF7000 Streaming Current Monitor was designed for optimization of coagulation processes in drinking water. Partnering a simple layout with an optional automatic flush feature, the monitor allows for easy access to perform routine maintenance, while maximizing uptime and keeping readings accurate. The monitor's heavy-duty construction and fast response allows for accurate 24/7 monitoring of source water and helps utilities control their chemical dosing.
Hach Co.
www.hach.com
---
Utility chainsaw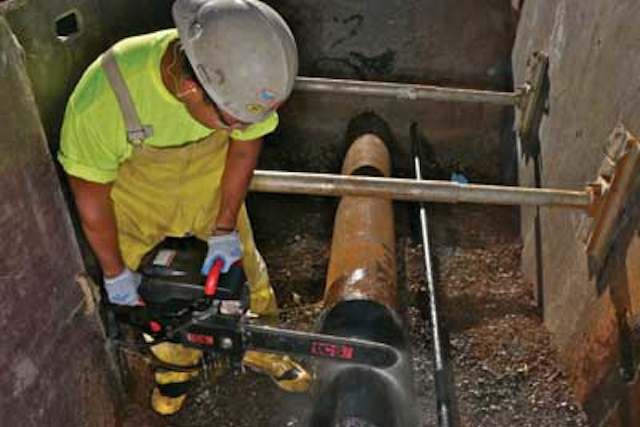 The ICS Utility chainsaw has addressed operator safety with its revolutionary grinding technology which eliminates rotational kickback and offers improved operator positioning when cutting pipe. Used by public and private water and wastewater departments worldwide, this patented platform, exclusively from ICS, is designed to cut a variety of materials from ductile iron to plastic pipe with far less excavation. The ability to cut up to 24" pipe completely from one side radically reduces the difficulty of the job.
ICS |Blount International Inc.
www.blount.com
---
Smart water metering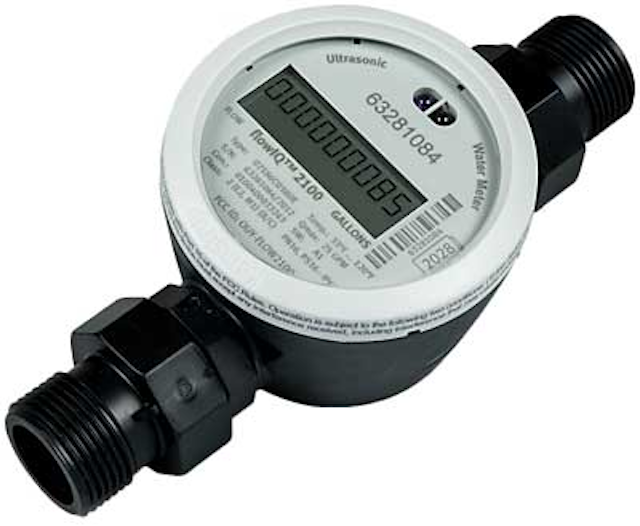 flowIQ™ is a new smart water meter for residential and industrial applications available from Kamstrup. Based on ultrasonic measuring technology, it keeps accurate track of water consumption. For improved customer service and troubleshooting, the system features a data logger that stores information about consumption and events like reverse flow and tamper. The system can improve business performance by facilitating administration, minimizing water loss and securing revenues.
Kamstrup A/S
http://flowiq.com
---
Metering systems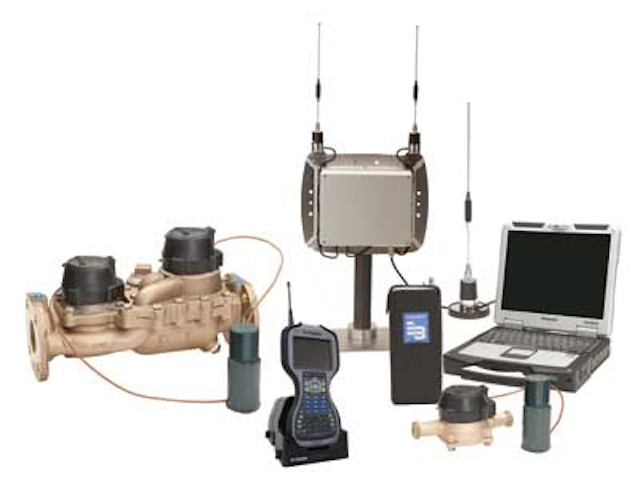 From its Advanced Metering Analytics (AMA) solution to a comprehensive line of water meters and encoders, Platinum ACE13 sponsor Badger Meter will feature a range of metering technologies at the convention. Focused on helping water utilities operate at optimum efficiency, the company is committed to excellence and support at every step, including development of innovative flow measurement products, installation, testing, and field support. The company will showcase its AMA solution, which combines secure analytics-based software (ReadCenter® Analytics) with a two-way fixed network (Orion® SE) to collect, organize and analyze meter data. Other product highlights will include ReadCenter Analytics and Analytics Mobile.
Badger Meter
www.badgermeter.com
---
Metering pumps
Neptune™ Chemical Pump Co. will be exhibiting its metering pump technologies at ACE13. The company will be showcasing the Series 7000 mechanically-actuated diaphragm metering pump and Series 500 hydraulically-actuated metering pump. The mechanical design of the Series 7000 eliminates the use of contour plates on the liquid side of the diaphragm while the simple, straight-through valve and head design allows for improved flow characteristics. The unit is self-priming and has a maximum capacity range up to 300 gpm at 150 psi. The Series 500 pumps feature Eze-Clean™ valve cartridges that can be removed for cleaning without disturbing the piping to the pump and a Variable Oil By-pass™ stroke adjustment that allows for better valve performance than traditional variable linked designs.
Neptune™ Chemical Pump Co.
www.neptune1.com
---
Concrete tanks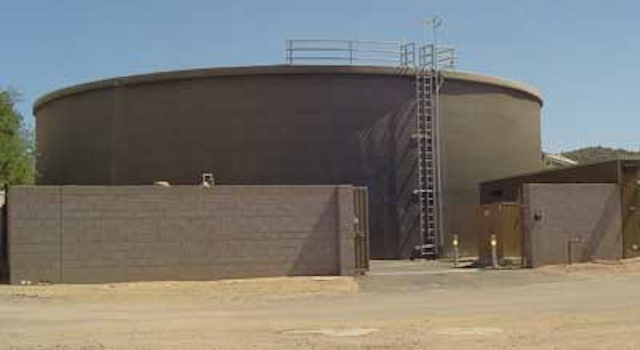 DN Tanks, the parent company of DYK Inc. and Natgun Corp., specializes in the design and construction of AWWA D110 prestressed concrete tanks used for potable water, wastewater, chilled water, and other liquids. With over 130 years of combined experience and over 2,500 tanks ranging in capacity from 40,000 gallons to 40 million gallons, DN Tanks offers expanded construction capacity and proficiency in multiple types of proven tank designs. The company can provide customized liquid storage solutions. Its tanks are designed to meet varying project requirements with the ability to withstand seismic activity, extreme climates and severe site conditions.
DN Tanks
www.dntanks.com
---
Water quality monitoring
Innovyze has released QualWatch, an early warning network monitoring and water quality event detection software that can help water utilities combine real-time water quality data with geospatial network modeling and predictive analytics to detect and manage accidental, deliberate or natural contamination of drinking water distribution systems. Designed for real-time applications with existing SCADA systems, online water quality sensors and network modeling, QualWatch automatically reads and analyzes incoming water quality measurement data, compares it with expected and historical values, and uses advanced mathematical and statistical techniques to rapidly detect contamination and accurately assess when, where and how utilities need to respond.
Innovyze
www.innovyze.com
---
CCFRPM pipe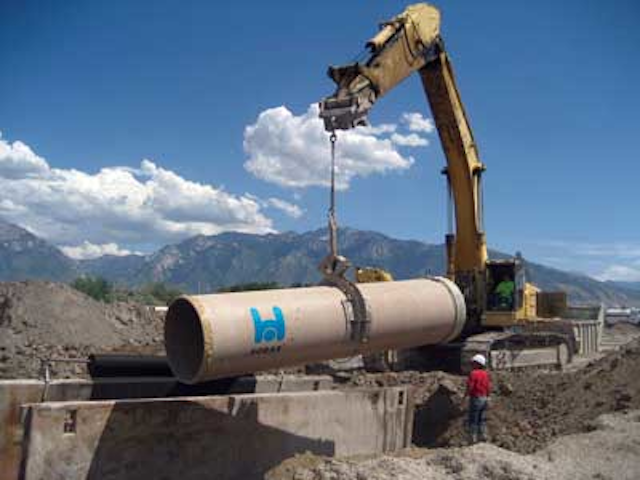 Hobas pipe is suitable for virtually every installation method of new construction and rehab. The centrifugally-cast, fiberglass-reinforced, polymer mortar (CCFRPM) pipe is inherently corrosion resistant and lasts 100 years or more. Leak-free, push-together joints reduce installation time and costs. Key applications are potable water, sanitary and storm sewers and other corrosive environments. Benefits include superior hydraulics and high strength. Because of its light weight, smaller and less expensive equipment can be used to lift large diameter 20-foot sections. Installation methods include open cut, sliplining, jacking, microtunneling, two-pass tunnel, casing carrier, and above ground. Sizes range from 18"to 126" for both pressure and gravity applications.
Hobas Pipe USA
www.hobaspipe.com
---
Valve systems
Triton Rubber Seated Butterfly Valves by Henry Pratt are commonly used in the water and wastewater industries and conform to AWWA C504 requirements. They are available in sizes ranging from 24" through 162" in flanged and mechanical joint ends. Henry Pratt provides a variety of valve products to the water distribution, water treatment, nuclear, fire protection, and power generation markets. Butterfly, ball and check and plug valves are among its core products. A new line of valves will be introduced at ACE13.
Henry Pratt Co.
www.henrypratt.com
---
THM removal system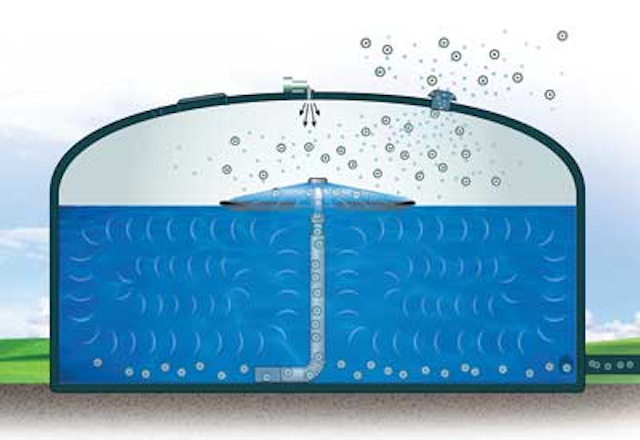 The GridBee® THM Removal System with floating spray nozzle from Medora Corp. removes trihalomethanes (THMs) from potable water storage tanks and clearwells (0.2 MG to 150 MG). Scalable systems start at just $25,000. Four standard sizes are offered, and they install through a 24" hatch. The patented long-life nozzle and intake treat all incoming water and minimize THM formation downstream. Performance is guaranteed.
Medora Corp.
www.medoraco.com
---
Mag meter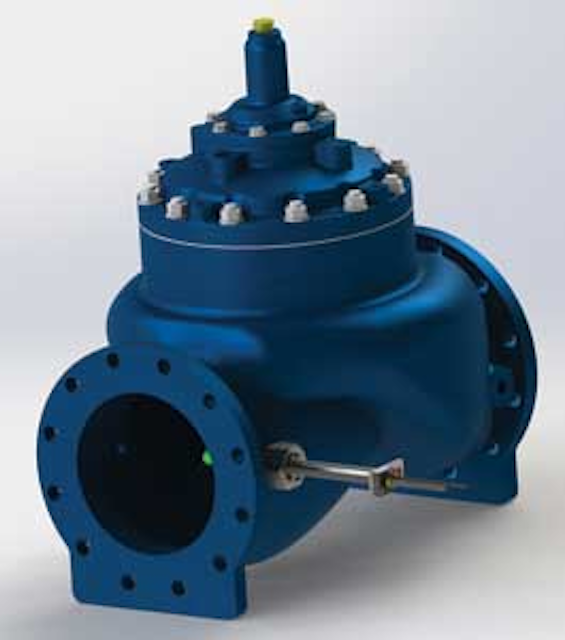 The Singer Model 106-SPI-MV is a Single Point Insertion Electromagnetic Flow Meter, installed and calibrated in conjunction with a Singer Valve to provide an accurate flow rate. This cost effective flow meter option is available for valve sizes from 4" to 36". With no moving parts and a single-piece design, the SPI Mag's sensor contains nothing to wear or break and is generally immune to clogging by sand, grit or debris. The meter is profiled for the valve body, further enhancing its measurement accuracy by allowing precise determination of mean velocities.
Singer Valve
www.singervalve.com
---
Check valve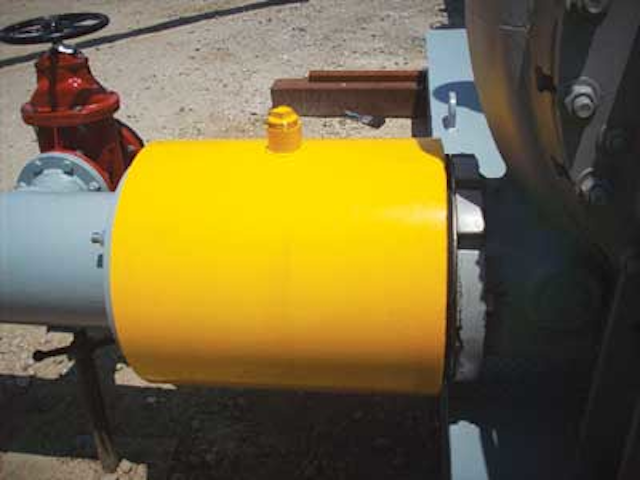 The ProFlex™ 750 manufactured by Proco Products is designed to be the answer to enclosed body check valve requirements for slurry applications. No external power sources are required. The unique advantage of the valve is its ability to offer zero valve slam often found in slurry pump discharge. The flexible design of the internal sleeve allows the media to flow through without significant head losses.
Proco Products
www.procoproducts.com
---
Ultrasonic flowmeter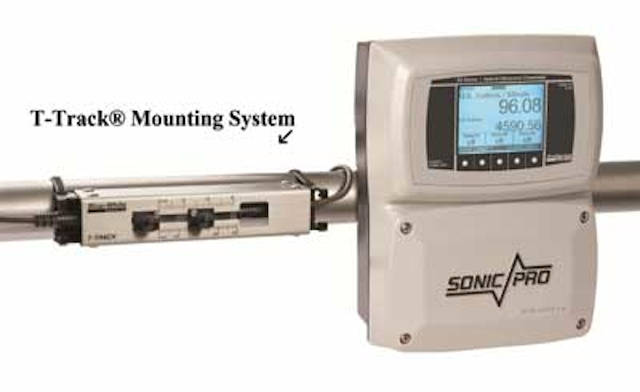 Blue-White® will introduce its new T-Track Mounting System for Sonic-Pro® Ultrasonic flowmeters at ACE13. The mounting system has small pipe capability down to 0.5" and large pipe capacity up to 100". The T-Track Mounting System features NEMA 4X quick disconnects. Patents are also pending on this design. Sonic-Pro flowmeters have non-invasive, clamp-on transducers. This hybrid works with dirty or clean fluids and is factory-configured for simple installation and setup.
Blue-White Industries
www.blue-white.com
---
Chemical scale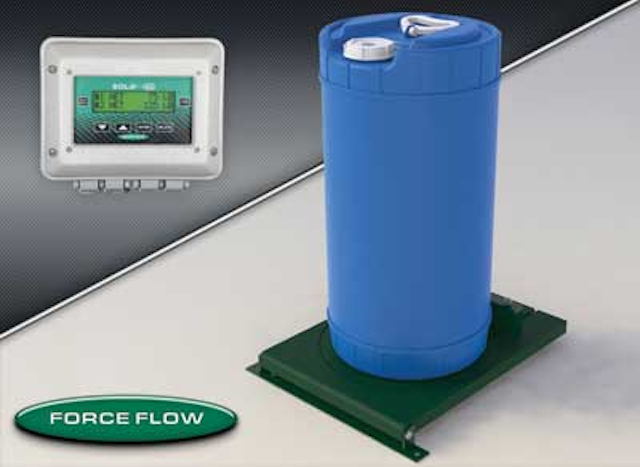 The Carboy-Scale™ from Force Flow allows operators to accurately monitor how much chemical is being used in their treatment process. The scale platform is 100% PVC plastic, making it immune to corrosion. The SOLO G2® digital weight indicator displays the remaining chemical in increments as small as 1/10 lb. Three platform sizes are available to accommodate drums from 5 to 55 gallons.
Force Flow
www.forceflow.com
---
Turbidity monitoring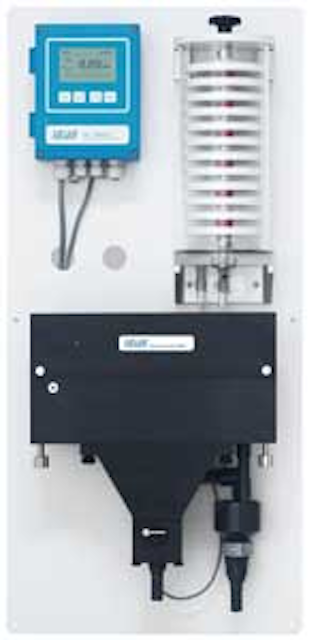 Swan Analytical's AMI Turbiwell is a non-contact nephelometric system for the automatic and continuous measurement of turbidity in potable water, surface water and effluent. It offers a measuring range of 0.000-200 FNU, with an accuracy of ±0.003 FNU or 1% of the reading. Optical elements are not in direct contact with the sample, so there is no fouling. The complete system is mounted on panel, ready for installation and operation. The systems are factory calibrated with formazine.
Swan Analytical USA
www.swan-analytical-usa.com
---
NOM removal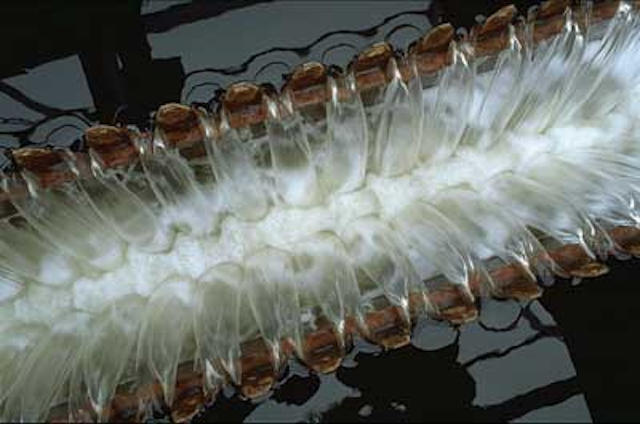 Kruger offers the Actiflo® Carb process to enhance the removal of natural organic matter (NOM), taste and odor compounds, endocrine disruptors and pesticides with the combined benefits of ballasted clarification and the adsorption capacities of powdered activated carbon (PAC). The process can be applied to both drinking water and wastewater applications and provides improved performance in a small footprint.
Kruger Inc.
www.krugerusa.com
---
Pipeline flash reactor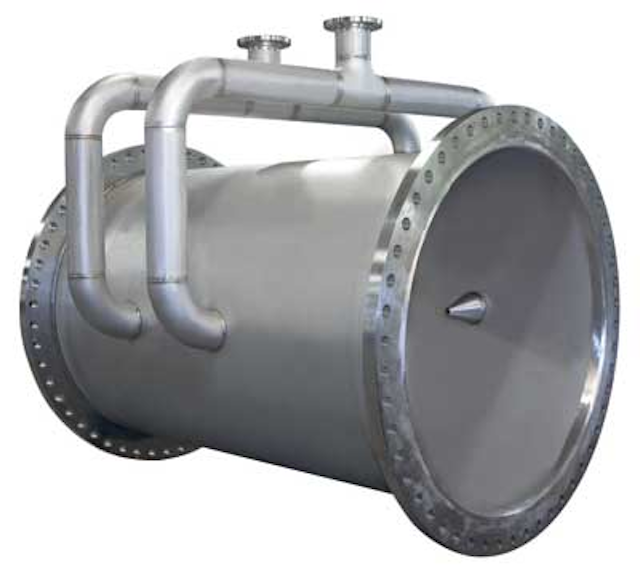 Mazzei's Pipeline Flash Reactors™ (PFRs) solve both water and wastewater problems. In municipal water treatment plants, they can be used to transfer ozone into a water stream, solving water quality issues ranging from disinfection to purification to aesthetics to problems of taste and odor. In wastewater applications, PFRs provide rapid oxygen or air transfer within a compact footprint. The need for additional basins required by other wastewater treatments is eliminated.
Mazzei Injector Co.
www.mazzei.net
---
Lining systems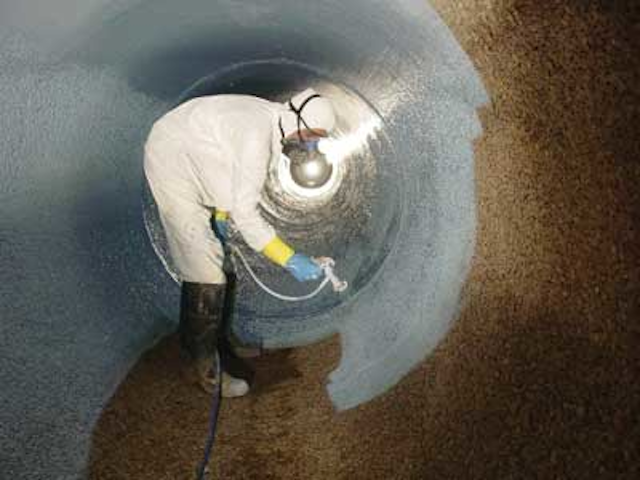 A long-term solution for protecting against corrosion and rehabilitating America's deteriorating infrastructure is Raven Lining System's 405 ultra high-build epoxy. The product's high physical strength allows it to be designed as a structural lining in manholes, pipelines, tanks, and other deteriorated structures. It has a broad range of chemical resistance but specifically protects against the hydrogen sulfide and sulfuric acid.
Raven Lining Systems
http://ravenlining.com
---
Automated metering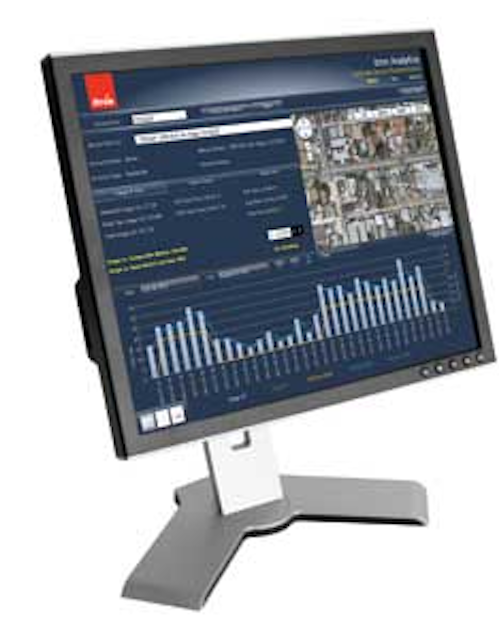 Itron's comprehensive water meter reading systems leverage proven, secure AMI technology and analytics to trend consumption patterns, listen for leaks and protect revenue. The company helps utilities turn meter data into actionable intelligence to improve utility operations, enhance customer service and support conservation programs. And with Itron's 100W water communication module and integrated leak sensor, utilities can monitor their entire distribution system around the clock, acoustically surveying the integrity of the system to prevent non-revenue water.
Itron Inc.
www.itron.com
---
Insertion mag meter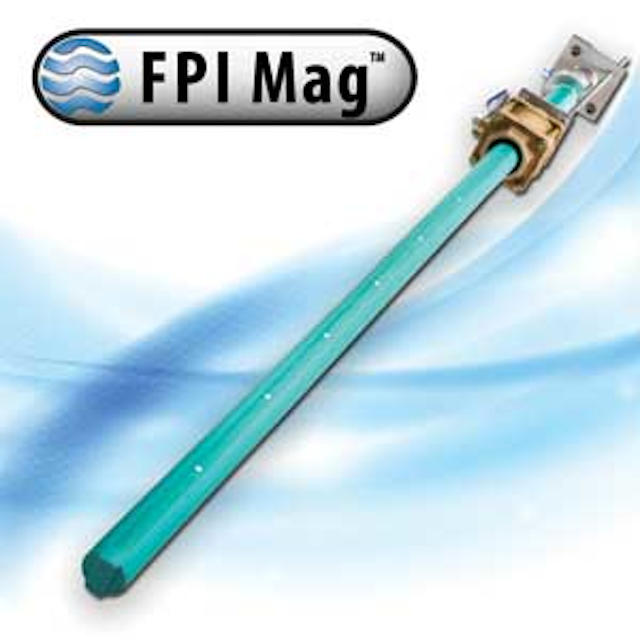 McCrometer, provider of municipal flow solutions for almost 60 years, announces the next generation FPI Mag™ Full Profile Insertion Mag Meter, which features greater accuracy, a new converter and quick connect, allowing for faster and more affordable detection of non-revenue water loss. The FPI Mag offers simple, hot tap installation without service interruption across a wide range of pipe sizes. The multi-electrode full profile design delivers a high degree of accuracy without the costs associated with installing a full pipe meter.
McCrometer Inc.
www.mccrometer.com
---
Batch controller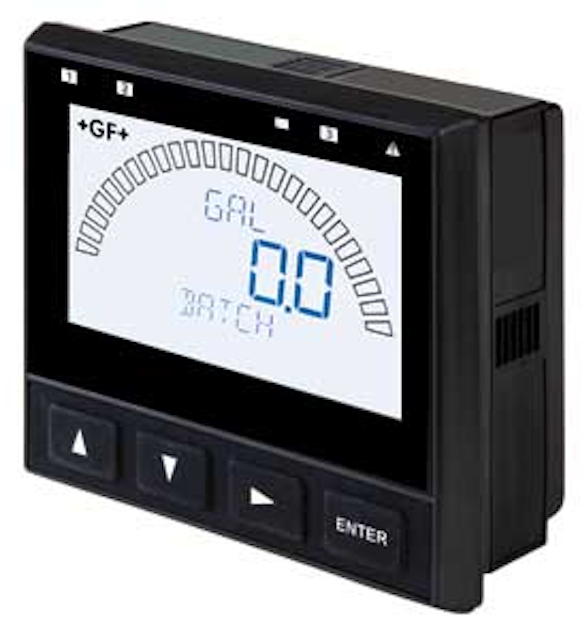 GF Piping Systems has introduced the second generation Signet 9900 Transmitter featuring a batch controller option along with all the features of the original model. The generation II transmitter supports multiple parameters that include flow, pH/ORP, conductivity/resistivity, salinity, temperature, pressure, level, 4-20 mA signals, and now also batch systems. Customers can convert their second generation 9900 Transmitter into a batch controller system by simply plugging in the new batch module and relay module, thereby maintaining the product's original intent of consolidating multiple platforms as one while increasing their service level and reducing inventory.
GF Piping Systems
www.gfpiping.com
---
GIS software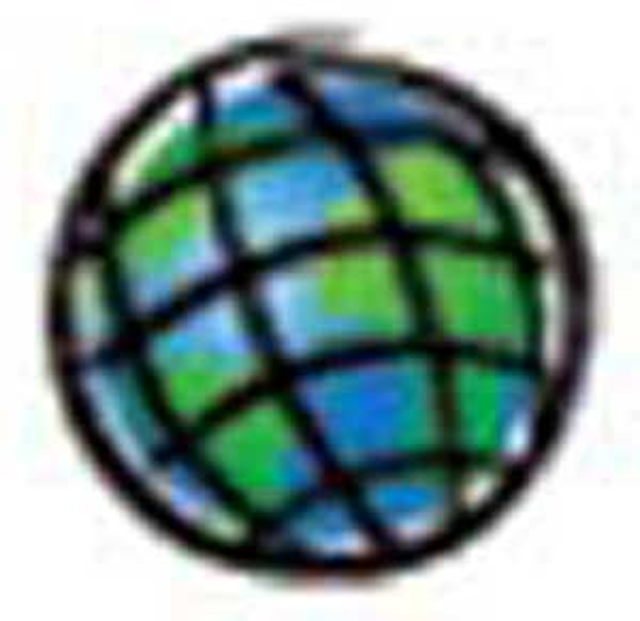 ESRI is the dominant GIS software provider worldwide for water and wastewater utilities. The ESRI platform is an integrated, multidepartment system composed of interoperable components. The power of location data allows users to manage, plan, analyze, map, monitor, and communicate from one complete technology platform. The company's software can help utilities visualize information in the form of interactive, web-based maps, reports and charts, as well as share select data with staff and stakeholders.
---
Valve systems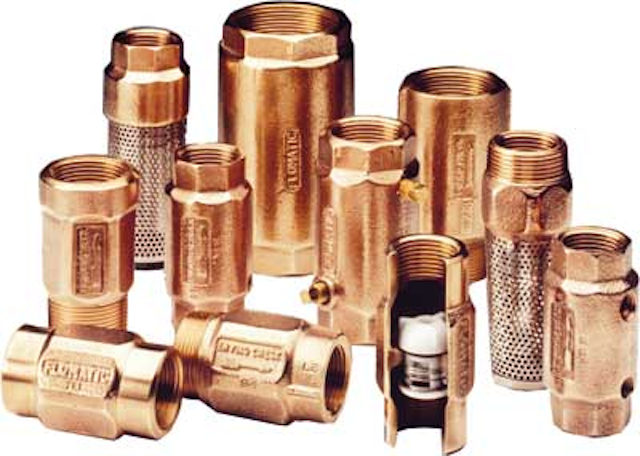 Flomatic Corp. products are compliant with the new Reduction of Lead in Drinking Water Act that will go into effect Jan. 4, 2014. There is no need for new part numbers or special ordering of compliant unleaded valves since Flomatic has remained compliant for several years. The company introduced the industry's first unleaded bronze, Enviro-Check®, in 1996. It has been recognized as an acceptable material for California Prop 65. For more detailed information on the company's lead free valves or to obtain a copy of the 2012 condensed valve catalog, visit the company's website.
Flomatic Corp.
www.flomatic.com
---
Digester gas metering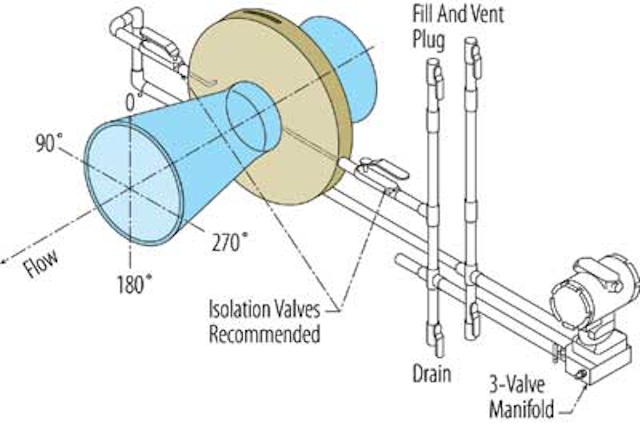 Primary Flow Signal's Digester and Bio-Gas (HVT-DG) flow metering system is a customizable, insertable venturi meter that is engineered to deliver accurate and reliable measurement of low or irregular pressure in dirty, wet gas environments. This meter is suitable for measuring any type of gas, including digester gas generated in municipal wastewater treatment facilities in the normal processing of sewage, as well as a wide variety of biogas applications. The HVT-DG meter is available in a standard configuration, as well as special configurations designed for any line size and for the specific conditions of each application.
Primary Flow Signal
www.primaryflowsignal.com
---
UF membranes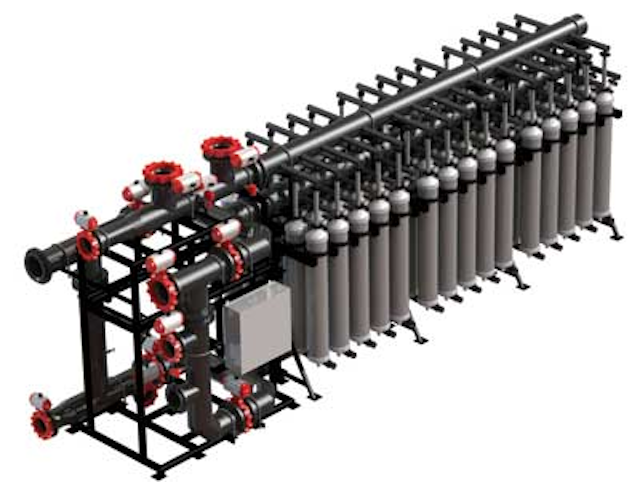 The Targa™ II hollow fiber ultrafiltration systems from Koch Membrane Systems are ideally suited to meet stringent regulations and offer cost-effective compliance for drinking water treatment. Designed with the Safe Drinking Water Act and World Health Organization guidelines for drinking water in mind, the membrane systems provide greater than 4-log removal of bacteria, viruses, cryptosporidium, and giardia. Membrane fibers have smooth inner core morphology and small pore size which allows viruses and bacteria to be more easily removed and swept away. These products are also certified by UL under ANSI/NSF 61 Drinking Water System Components.
Koch Membrane Systems
www.kochmembrane.com
---
Dry chemical feeder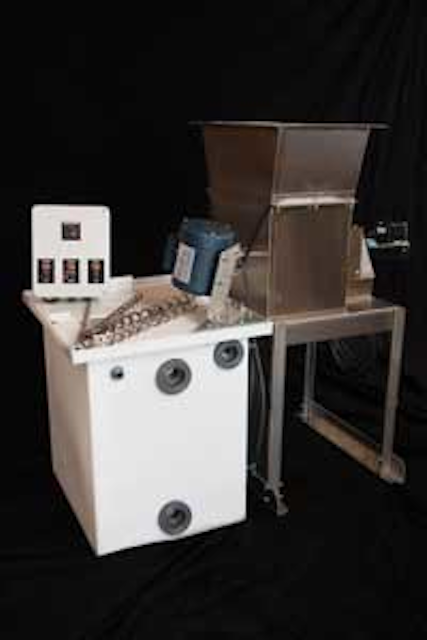 The Eagle Microsystems Precision Dry Chemical Feeder is constructed of stainless steel and uses a rugged direct drive to ensure performance and durability in the harsh chemical feed environment. With no external gears, pulleys, chains, belts, or lubrication required, the VF-100 is user-friendly and low maintenance. The feeder is available with a wide range of options and accessories to meet any job requirement. Feed rates are controlled by electronic SCR speed control for increased accuracy and control.
Eagle Microsystems
www.eaglemicrosystems.com
---
Wireless monitoring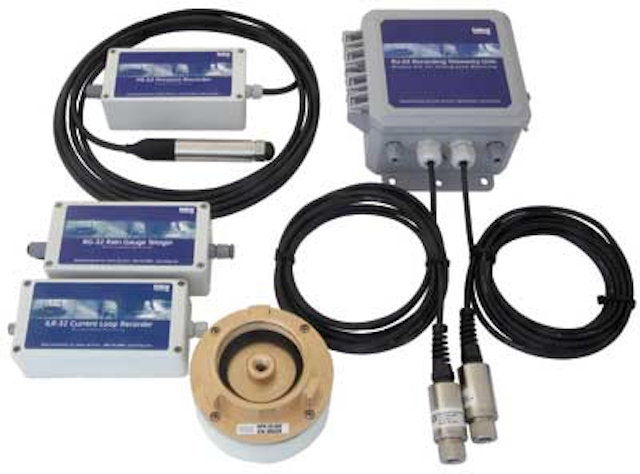 Telog has introduced a comprehensive family of battery-powered, environmentally-rugged wireless monitoring solutions assembled specifically for the water distribution industry. The remote data acquisition system begins with Telog's 32 Series Recording Telemetry Units. Each RTU includes an embedded, low power cellular modem for transmission of data from the field to the utility's central computer system. The RTU runs on a single D cell lithium battery, which can operate the recorder for more than five years while making more than 4,000 cellular calls to the utility's central computer system.
Telog Instruments Inc.
www.telog.com
---
Gas shutoff system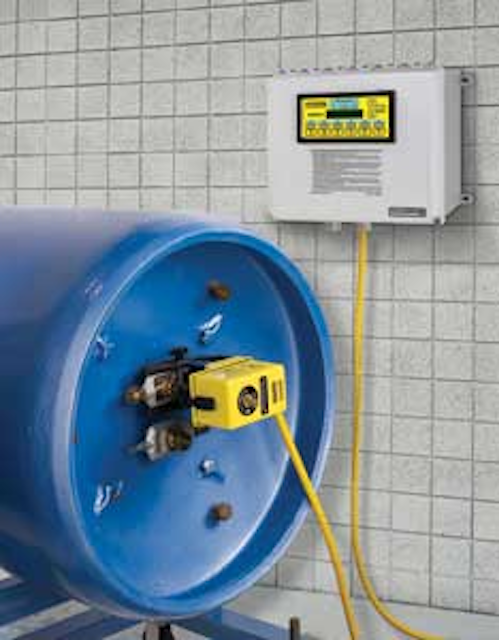 The new Hexacon Model III control system is a toxic gas multi-actuator valve controller. It offers an optional programmable relay interface module and SCADA informational output to provide active and timely notifications. The new optional second battery provides for quicker and more reliable valve closures. The microprocessor system applies a torque of 30 foot-pounds or 50 foot-pounds for test or emergency valve closures for up to 6 cylinder and ton container valves. All fire codes recognize and approve the "automatic-closing fail-safe shutoff valve" system for use in lieu of scrubbers.
Halogen Valve Systems
www.halogenvalve.com
---
Ball valve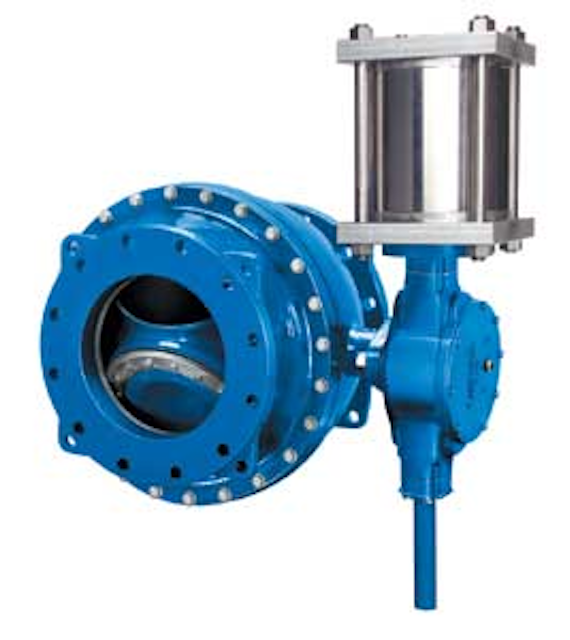 Val-Matic's Ener•G® Rubber Seated Ball Valve is designed for tight seating, energy savings and long life. The valve's Tri-Loc™ seat retention system uses technology that has been proven in the field for over 35 years. Both single and double-seated valves are available for sealing in one or two directions with the resilient seat completely out of the flow stream when fully open. When fully open, the valve provides 100% flow area equal to the pipe size and represents a significant savings in pumping costs compared to other pump control valves.
Val-Matic Valve & Manufacturing
www.valmatic.com
---
Treatment system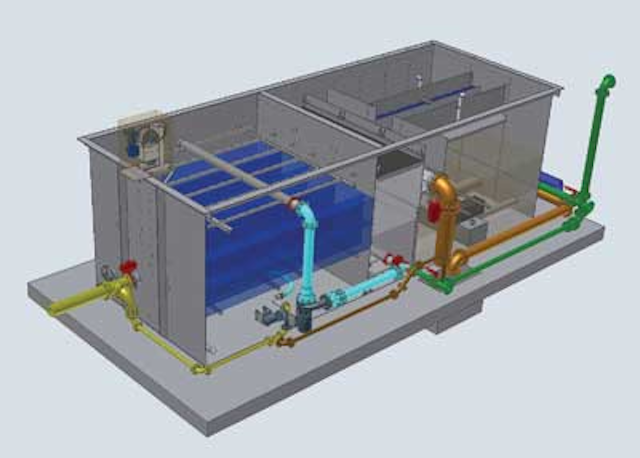 The Trident® HS package treatment system, offered by WesTech, provides multi-barrier protection for difficult-to-treat surface water, groundwater, industrial process water, and tertiary wastewater. The system's design consists of packaged high-rate settling, adsorption clarification, mixed media filtration, and UV disinfection. These innovations allow the packaged system to handle very high raw water turbidity and solids loading and to achieve TOC reductions of up to 70% or more.
WesTech Engineering
www.westech-inc.com
---
Scales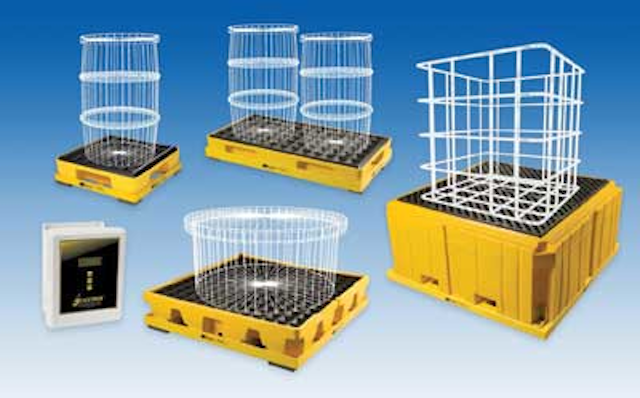 Scaletron is a manufacturer of corrosion resistant electronic and mechanical scales and accessories. Scales are designed for weighing and monitoring the usage of corrosive chemicals and/or materials in water treatment, wastewater treatment and industrial applications. The company offers a complete line of scales including 150 lb. cylinder and ton cylinder scales; drum, tank and platform scales; and IBC tote and spill containment scales. Scales feature a low profile platform design, capacities from 30 lbs. to 30,000 lbs. and a five year warranty.
Scaletron™ Industries, Ltd.
www.scaletronscales.com
---
Trench drains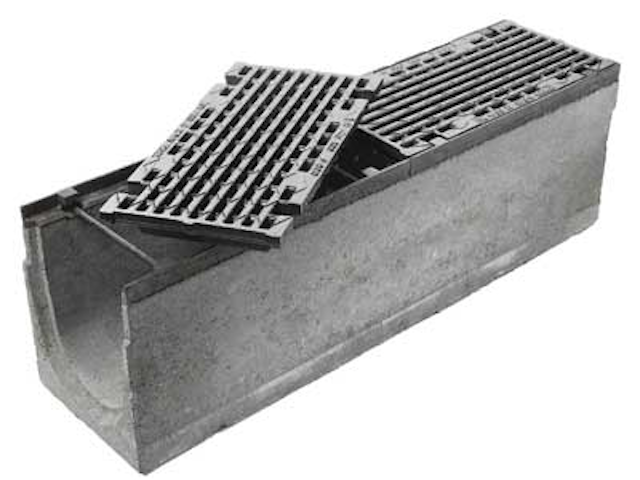 Sigma's new Hydrotec trench drains offer significant advantages over previous generations of drainage channels. The drains offer more durability, simpler installation and a patented locking mechanism that simplifies cleaning and maintenance. Comprised of fiber-reinforced concrete, they are more durable than polymer concrete. The drains also respond to changes in temperature and moisture the same way that their surroundings do, so they are considered a lower risk for environmental structural damage.
Sigma Co.
www.sigmaco.com
---
Colorimeters, reagents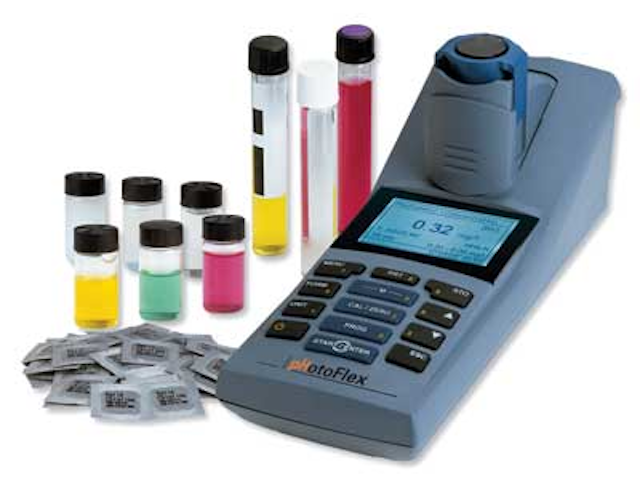 YSI, a Xylem brand, is launching new single and multiparameter colorimeters, thermal reactors and a complete line of reagents. YSI is introducing the pHotoFlex multiparameter colorimeters along with the YSI 900 chlorine and 910 COD colorimeters. Included in this launch are a complete new line of powder packs and liquid reagents for water analysis which can be used with the new YSI colorimeters or with other brands of colorimeters. The new lab/field colorimeters are rugged and waterproof.
YSI, a Xylem brand
www.ysi.com
---
AMI host software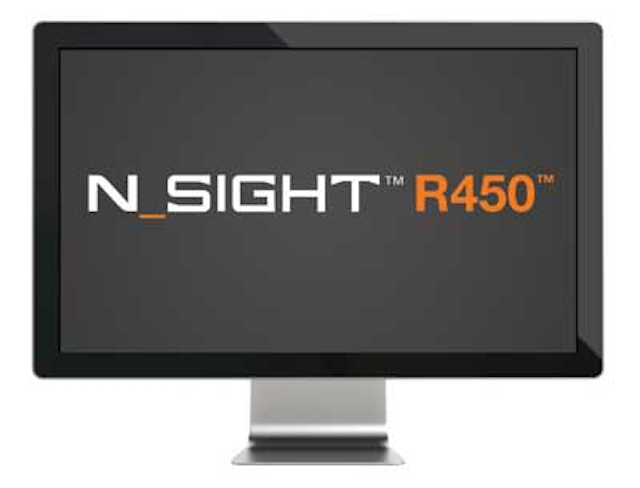 Use Neptune's N_SIGHT™ R450™ metering software suite to view critical system conditions across all service areas with Esri® GIS mapping. Configure priority alarms that email personnel reverse flow and continuous leak alerts. Get the most recent reads for move-ins/move-outs without truck rolls. Use time-synchronized reads to calculate Non-Revenue Water and grouping to compare consumption among similar accounts.
Neptune Technology Group
www.neptunetg.com
---
Chlorination systems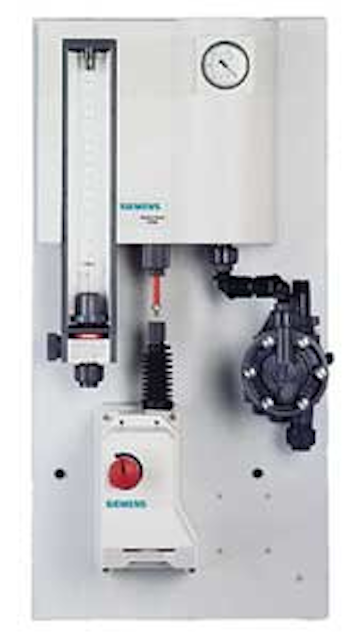 The V2000™ and V10K™ chlorinators, ammoniators and sulfonators from Siemens are designed with an all-vacuum operation principal and with V-notch flow technology that provides a wide range of control and high repeatability. Siemens MFC analyzers and controllers are integral to the chlorination system and uniquely provide for the selection of up to four distinct disinfection measurements and the simultaneous control of two measures. This ensures that water treatment facilities can meet the latest regulatory requirements for Disinfectants and Disinfection Byproducts (D/DBP).
Siemens Industry Inc.
---
Engineering calculator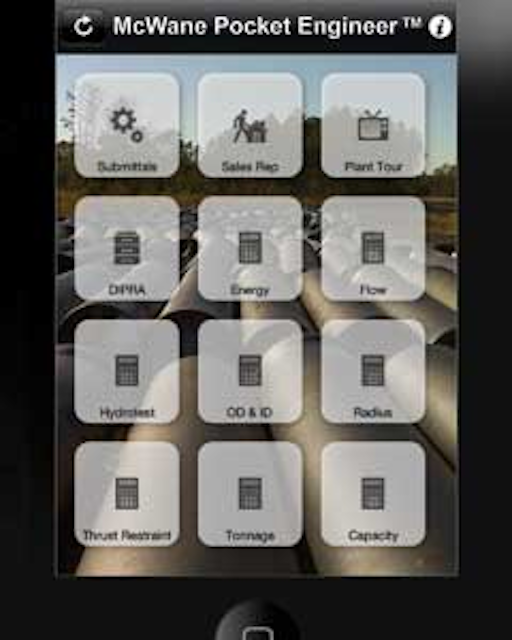 Created to help engineers with the complex calculations in their daily workload, the McWane Pocket Engineer™ is accessible for free as both a smartphone application and an online website for use in the field and in the office. Users have access to calculations that are essential in the field and would otherwise take valuable time to compute. With the touch of a button on their automatic calculator of choice, users are able to retrieve pertinent technical statistics on a wide spectrum of ductile iron pipe products. In addition to calculations like energy, flow, radius, tonnage, and capacity, users can access marketing pieces, submittal data, manufacturing videos. and sales contact information.
McWane Inc.
http://pe.mcwane.com
---
Sludge collector
Meurer Research's low-profile Hoseless Cable-Vac™ Sludge Collector is designed for energy efficient, low maintenance sludge removal. This patented system removes settled solids end-to-end. The hoseless design eliminates problems caused by hose hang-ups, priming and guide rails. Energy consumption is dramatically reduced by a ¼ horsepower AC motor, variable frequency drive for precise control and custom-built controls to meet plant needs. Patented end scrapers, flow-balancing ring and tangential orifice blocks remove sludge containing a higher percentage of solids with lower head loss.
Meurer Research, Inc.
www.meurerresearch.com
---
Rotary cutters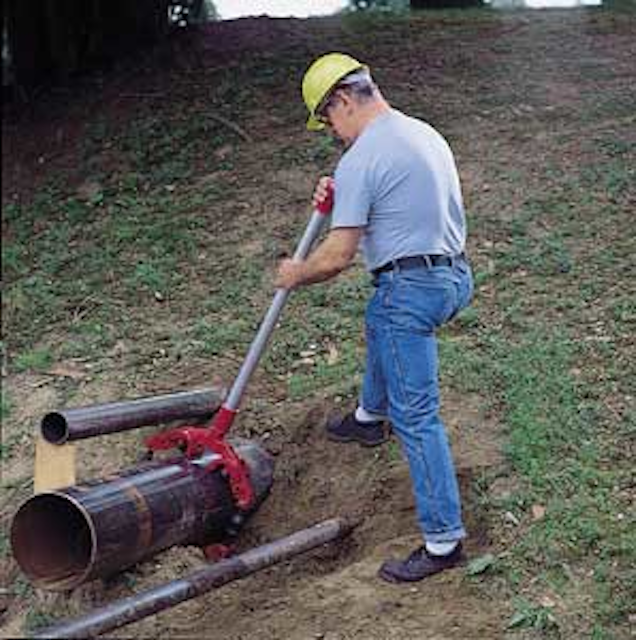 Utilities can cut pipe quickly and with minimal digging using Reed Low Clearance Rotary™ Cutters. The low profile design of the LCRC models needs only 4" clearance for up to 16" pipe diameter. The manual-operated cutters cold cut large diameter steel, most stainless steel, ductile, and cast iron pipe in close quarters. The cutters are supplied with a slip-on handle that is used to turn and tighten the cutter. With good leverage from the tool's long handle, pipe snaps off squarely before the cutter wheels penetrate halfway through the pipe. The tool provides a square cut and can be used in close quarters anywhere - in the ditch, underwater, in noise-free zones, over head, in racks of pipes, etc.
Reed Manufacturing
www.reedmfgco.com
---
Restraint coupling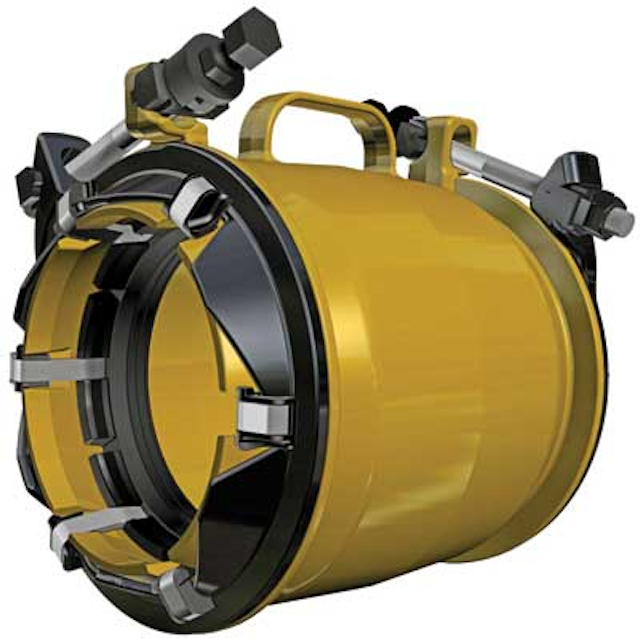 Romac has introduced the Alpha, a wide range, ductile iron coupling that also provides restraint. The one-piece coupling accommodates most common pipe materials. With two torque-off bolts on top, it installs in about three minutes without having to use a torque wrench. The coupling's wide range covers ductile iron through IPS PVC pipe diameters.
Romac Industries Inc.
www.romac.com
---
Ethernet remote I/O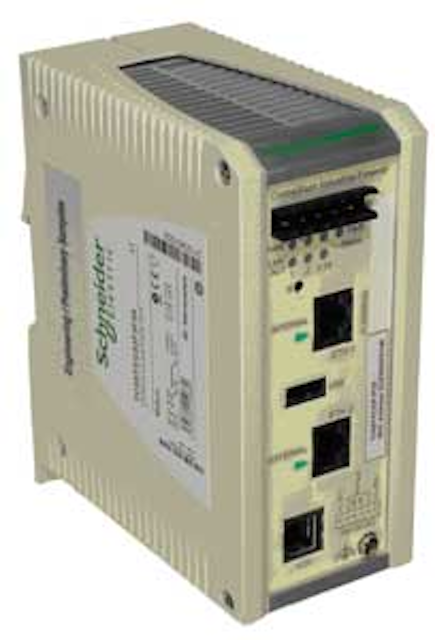 Schneider Electric's Modicon Quantum Ethernet Remote I/O brings determinism to critical industrial processes that require precise control. The network architecture is a self-healing daisy chain loop that can recover from one break in the network in 50 ms or less. If the remote I/O racks are no farther than 100m from their neighboring devices, Ethernet switches are not required, reducing the investment required to implement the solution. Using Ethernet for remote I/O communications eliminates proprietary networks and the additional time and resources required to maintain them.
Schneider Electric
www.schneider-electric.us
---
Chemical metering pump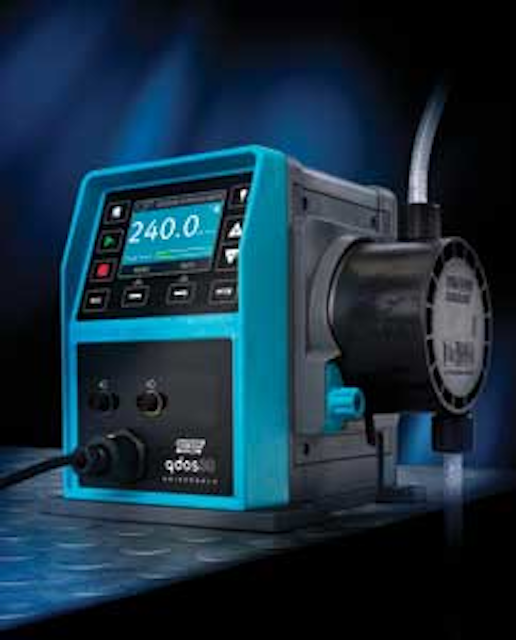 Watson-Marlow Pumps Group will display its Qdos 30 pump range at ACE13. Developed in response to extensive industrial customer feedback for improved chemical metering, the pump eliminates ancillary equipment, enhances productivity and reduces chemical waste through more accurate, linear and repeatable metering than typical solenoid or stepper driven diaphragm metering pumps.
Watson-Marlow
www.wmpg.com
---
Water treatment systems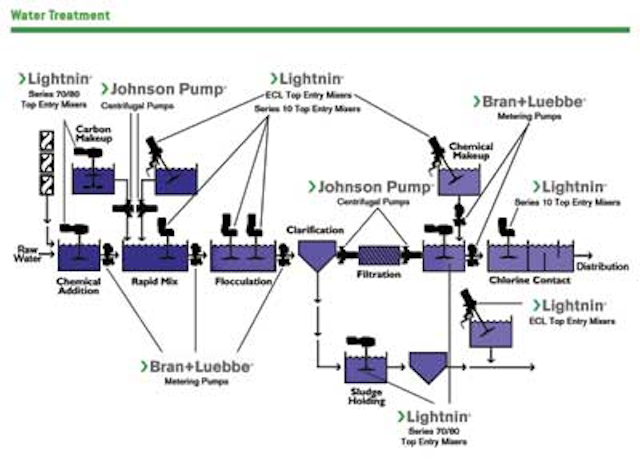 SPX's Flow Technology segment designs, manufactures and markets engineered solutions and products used to process, blend, meter, and transport fluids. Recognized for its leading brands and turnkey system capabilities, SPX offers a full range of equipment for water and wastewater applications including chemical makeup and storage, flocculation, reservoir supply, drinking water, cooling water, irrigation, metal processing, and many more. Its team of engineers provides solutions to meet specific requirements in the water and wastewater industries.
SPX Flow Technology
www.spx.com
---
UV disinfection
Reducing maintenance requirements while incorporating the most efficient technologies available, the TrojanUVTorrent™ is designed for large-scale drinking water disinfection. New TrojanUV Solo Lamp™ Technology has been incorporated, thus enabling lower power consumption, low lamp count and reduced environmental impact. System maintenance is simplified thanks to ActiClean™ - an automatic, dual-action lamp sleeve wiping system that minimizes fouling without interrupting disinfection.
TrojanUV
www.trojanuv.com
---
Dechlorination chemicals
Integra Chemical's Vita-D-Chlor tablets use vitamin C chemistry. They are 100% soluble and 100% organic. Unlike tablets made with sulfur compounds, they do not contain ingredients toxic to fish and other aquatic life. One tablet is capable of neutralizing approximately 8,500 gallons of water with 1 ppm chlorine.
Integra Chemical Co.
www.integrachem.com
---
Trenchless rehab
The fully structural CIPP liner Nordipipe™, offered by SPR (Sekisui Pipe Renewal) Americas, is available for installation lengths up to 1,000' and diameters up to 48". The liner enables tailor-made drinking water pipe lining that meets AWWA Class IV and NSF 61 standards. After inversion, the liner is cured to a statically-self-supporting pipe within a pipe.
SPR Americas
www.sekisui-spr.com
---
Solids handling pumps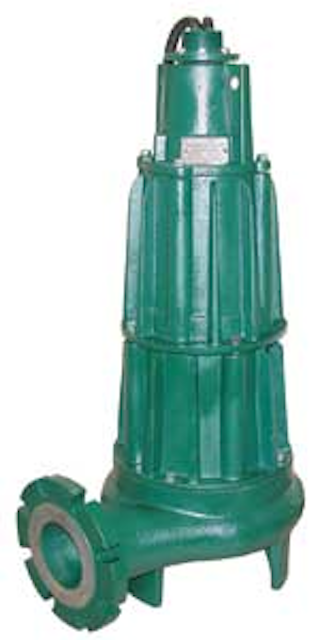 Zoeller Engineered Products offers a broad selection of submersible solids handling pumps in sizes from 1 to 100 hp. Their finned castings, oil-filled housings and non-overloading windings enable the motor to maintain a low operating temperature when facing the harshest of conditions. These pumps are available with a 2.5", 3" or 4" solids handling capacity and can use a semi-open, enclosed or vortex impeller. The discharge sizes range from 3" to 6". The pumps are available with standard or explosion proof motors, all having an inverter duty option.
Zoeller Engineered Products
www.zoellerengprod.com
---
Sludge removal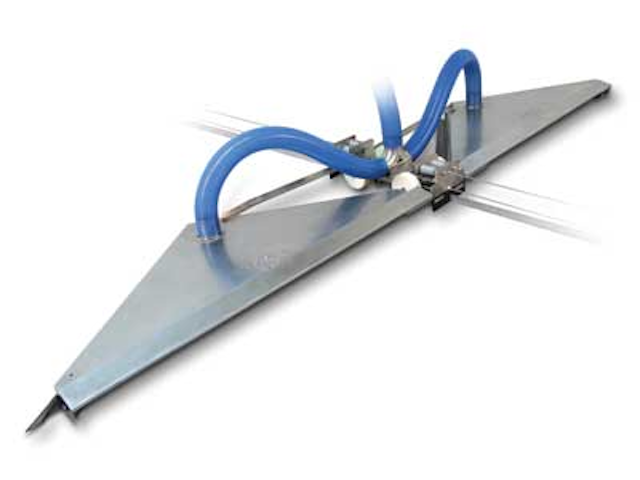 Brentwood's SedVac™ sludge removal system for drinking water plants cleans the sedimentation basin floor, removing solids without clogging, through various levels of influent quality. Unlike traditional vacuum systems with orifices that tend to clog, SedVac's patent-pending header is designed to engulf and funnel the sludge blanket to the discharge hose. Powered by cable-drive technology along a guide track anchored to the basin floor, the vacuum is capable of operating daily or continuously in plants up to 380 ft. long, eliminating costly downtime associated with manual cleaning.
Brentwood Industries
www.brentwoodindustries.com
---
Locking manhole cover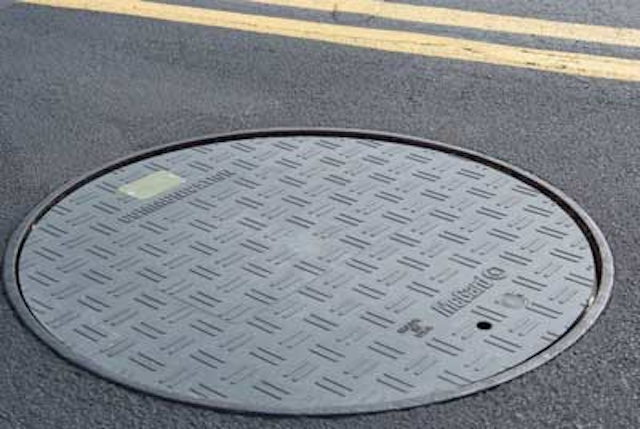 The FiberShield from McGard is constructed of a durable, fiber-reinforced polymer material with multiple security points. It is lightweight and easy to handle and transport. The locking manhole cover eliminates the lifting and dropping injuries caused by heavy, cast iron manhole covers. Weighing 75% less than cast iron, it exceeds an H20 traffic rating. The cover is installed in seconds and removed without bending over.
McGard LLC
www.mcgard.com
---
Meter box
The Mueller® Adjusta-Coil™ Meter Box is adjustable without added parts. The box is adjusted using the company's Thermal-Coil™ design. Installers set the box in place then twist its top, reposition it to the new grade level, then twist it again to permanently and securely set the adjustment. No more adjustment rings or shoveling are required. The boxes offer an adjustment range of 6" or 12", with a standard maximum depth of 60".
Mueller Co.
www.muellercompany.com
---
Water treatment systems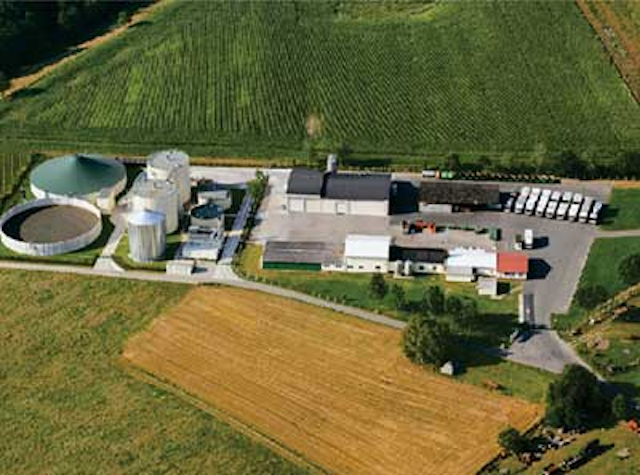 Layne's experts collaborate across divisional, functional and geographic lines to deliver total solutions for some of the world's toughest water, mineral and energy challenges. The company's solutions give clients a single point of accountability for even the most complex projects. The company operates throughout North America and South America, as well as Africa, Australia and Europe. Its customers include government agencies, investor-owned utilities, industrial companies, global mining companies, consulting engineering firms, heavy civil construction contractors, oil and gas companies, power companies, and agribusinesses.
Layne
www.layne.com
---
Online analyzers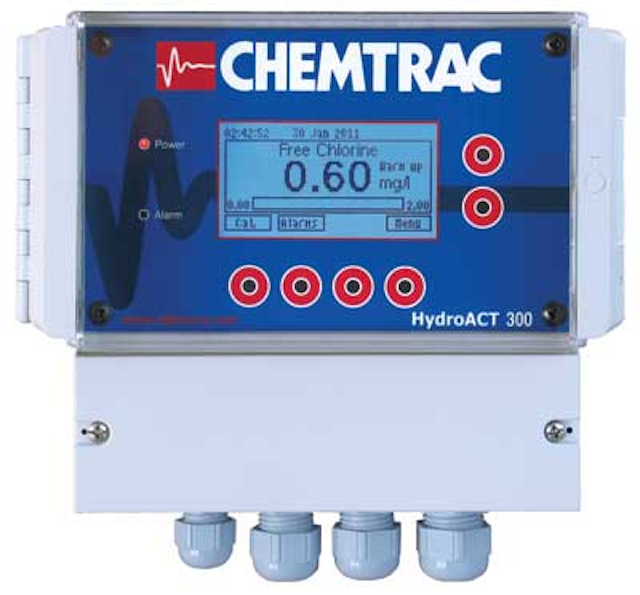 The HydroACT series of online analyzers from Chemtrac are extremely versatile and can employ a variety of measurement sensors: free chlorine, total chlorine, chlorine dioxide, ozone, ORP, pH with temperature, conductivity, and dissolved oxygen. Analog outputs and Modbus communications are available, as is PID control for maintaining proper chemical feed rates. The LCD displays and local keypads allow for easy setup and calibration. The HydroACT 300 is the basic model and will accept up to three individual measurement probes. The HydroACT 600 can use up to 6 sensors, offering data-logging capability and on-screen graphical trending.
Chemtrac Inc.
www.chemtrac.com/hydroact
---
Flow, level switches
Plast-O-Matic Valves will be introducing a series of all-plastic liquid flow and level switches at ACE13. Designed for corrosive or ultra-pure applications, the switches will be offered in PVC or CPVC with no wetted or exposed metal parts. Standard, adjustable and custom models will be offered.
Plast-O-Matic Valves Inc.
www.plastomatic.com
---
Valve products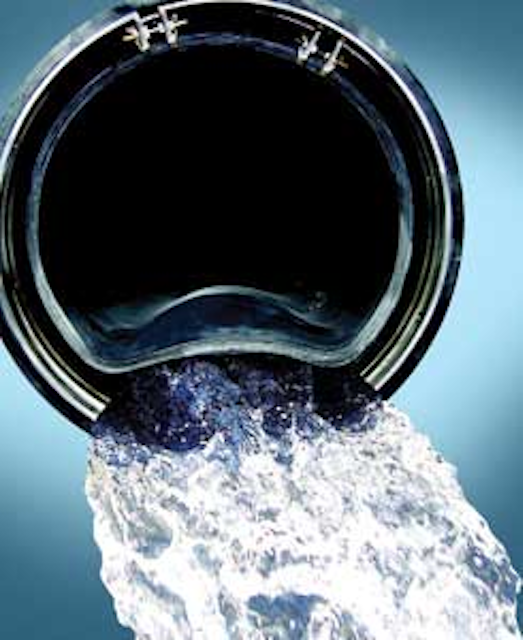 Red Valve and Tideflex® Technologies offer a variety of valve products and engineering services designed for the toughest municipal and industrial applications. Their advanced elastomer technology is engineered into every pinch valve, slurry knife gate valve, pressure sensor, expansion joint, and Tideflex® Check Valve. Today, Red Valve Company and Tideflex® Technologies are the largest manufacturers of pinch and check valves worldwide.
Red Valve Co. & Tideflex® Technologies
www.redvalve.com
---
Handheld photometer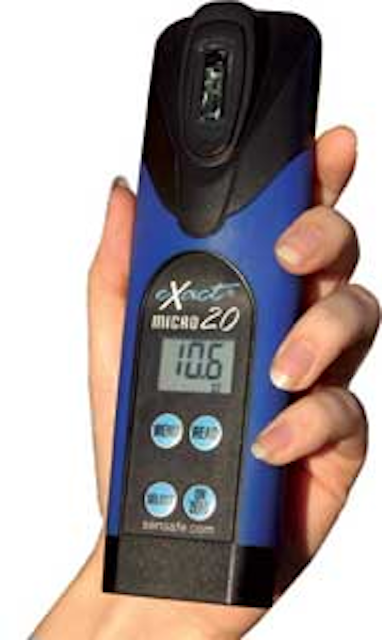 The new handheld eXact® Micro 20 dual wavelength photometer from Industrial Test Systems does on-site testing for over 35 direct-read water quality parameters without lookup tables and provides lab-quality accuracy. It features a narrow band wavelength filter, long-life LEDs, and a built-in cell. Each parameter stores the 20 previous results. The unit self-calibrates (no returning it to the manufacturer) and automatically selects the optimal wavelength for each parameter. Incorporated into the testing procedure is the company's patented EZ-3™ Reagent Delivery Method for streamlined testing for technical and non-technical users. The photometer is packaged in a portable carrying case with reagents.
Industrial Test Systems
www.sensafe.com
---
Smart water network
The Sensus AquaSense™ smart water network combines the power of advanced metering technology, software and services with the FlexNet™ communications network. The system is scalable to fit the needs of large and small utilities alike. It offers a short-term payback and technology that can grow with the utility. The system can help water utilities account for every drop and turn water into revenue through enhanced leak detection and data acquisition.
Sensus
www.sensus.com
---
Fluorimeter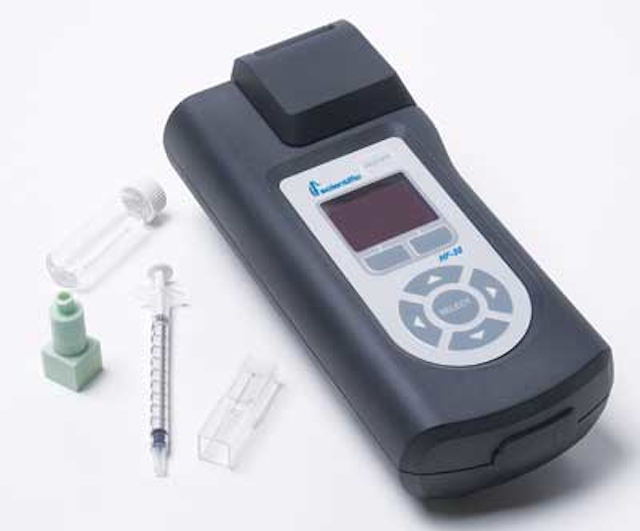 The new HF scientific HF-38 Fluorimeter is an extremely sensitive, hand-held, ruggedized instrument designed for field testing of toxic heavy metal contaminates in water supplies. It requires no special skill or knowledge of chemistry to operate. The instrument is designed for use with HF heavy metal sensors. Through the use of DNA sensors, a reaction that fluoresces in the presence of a target contaminate substance, such as lead, is measured to determine the concentration of the target heavy metal and is reported in parts per billion (ppb).
Watts Water Technologies
www.hfscientific.com
---
Pipe fusion machine
McElroy's TracStar® 28 is now available with a larger tracked chassis powered by diesel fuel. Named the "Super 28," the machine is designed for fusing 2" IPS to 8" DIPS polyethylene pipe. The TracStar machines are self-contained, self-propelled, track-mounted vehicles that can handle grades up to 30%. The four-jaw fusion carriage can be removed for in-ditch fusion. For tight installations, the outer fixed jaw of the carriage and the skid can be removed from the carriage, converting the unit to a three-jaw carriage.
McElroy Manufacturing
www.mcelroy.com
---
Water management

The Octave Water Management System from Master Meter is specifically designed for large commercial and industrial metering applications. Typically more than 70% of a utility's revenue is produced by C&I meters. Octave serves to heighten the visibility of unaccounted-for-water common in C&I meter deployments. The system offers transit-time ultrasonic measurement science with "sing-around" technology, which records more flow and identifies more leaks, across the widest flows. The metering system meets the Safe Drinking Water Act's lead-free requirement and is ideal for replacing older, non-compliant turbine, compound and fire service products.
Master Meter Inc.
www.mastermeter.com
---
Water purification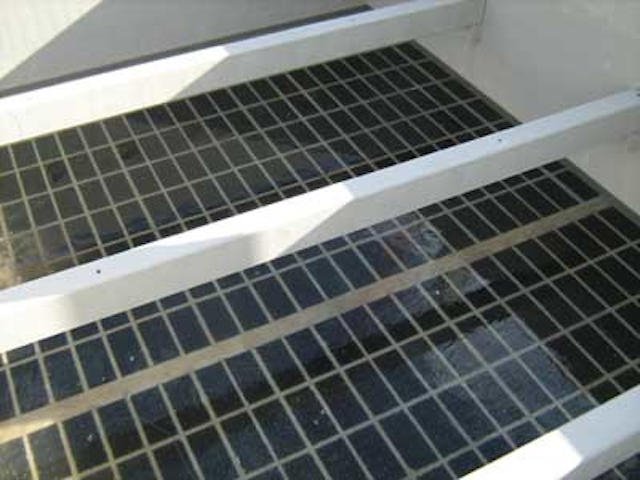 Severn Trent Services will be showcasing its Tetra® LP block dual parallel lateral underdrain technology featuring the patented GroutGrip™ and Anchor-Rite® designs. The new MicroDynamics® OCS721 open channel microwave UV technology will also be featured. The system offers long lamp life with more cost savings in a smaller footprint. Also on display will be systems for pH adjustment and the efficient removal of arsenic, iron and manganese and nitrate. The company will showcase ClorTec® on-site sodium hypochlorite generators and Capital Controls® gas feed disinfection solutions.
Severn Trent Services
www.severntrentservices.com
---
Railing systems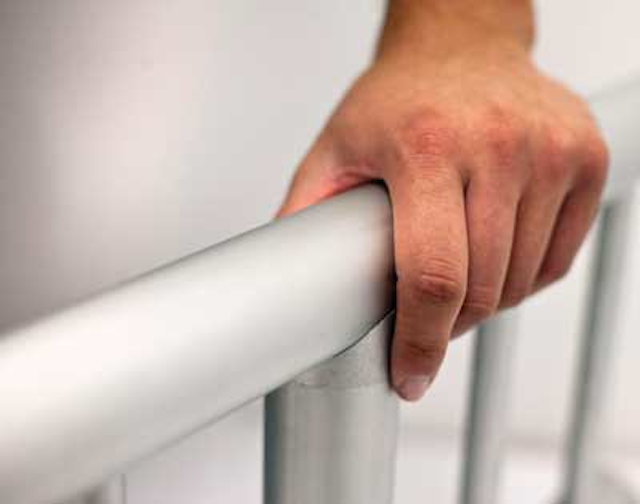 Kee Safety has introduced its Kee Lite® Smooth safety railing systems for water and wastewater treatment facilities. Constructed of corrosion-resistant aluminum that provides strong yet lightweight components, the new railing systems are pre-assembled to minimize installation time and costs. Designed specifically to meet the requirements of the U.S. Water Industry, the railing system complies with OSHA 1910.23 as its posts do not interrupt the continuation of the top rail at any point, and the top railings can withstand a 200-lb. load applied at any point from any direction.
Kee Safety Inc.
www.keesafety.com
---
Surge protection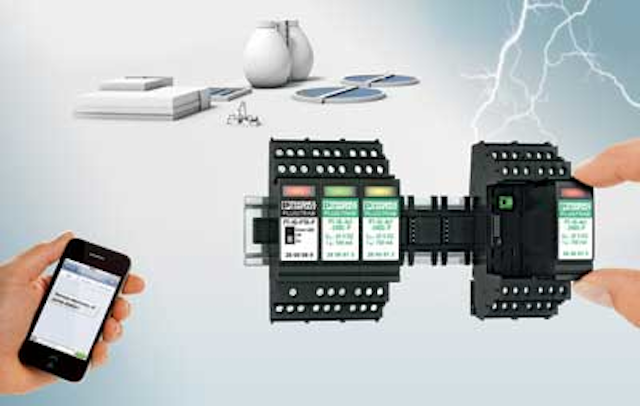 Phoenix Contact's PT-IQ surge protection device offers multi-stage remote monitoring, ideal for SCADA systems typical in water and wastewater systems. It provides proactive functional monitoring for signal interface surge protection devices. The system informs the user if a plug replacement is needed long before the components fail due to overload.
Phoenix Contact
www.phoenixcontact.com/water
---
Water treatment systems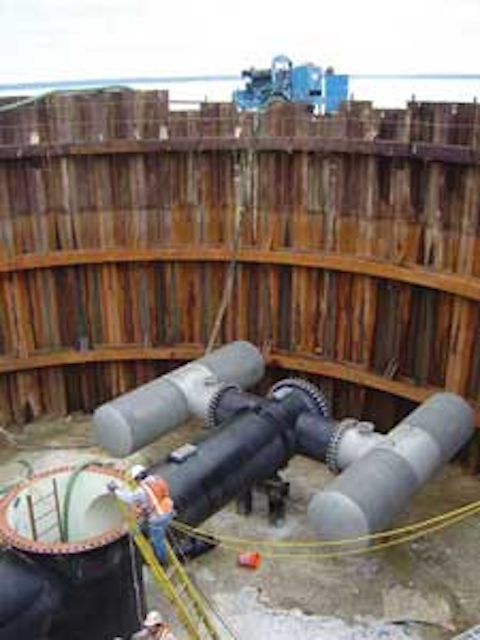 Bilfinger Water Technologies is a provider of components and services in nearly all areas of water and wastewater treatment. The group of companies within the BWT portfolio are Passavant Geiger, Roediger, Diemme Filtration, Airvac, and most recently Johnson Screens. Systems include: Passive intakes that filter out large debris and provide efficient flow while protecting fish and other aquatic species; Triton underdrains that optimize water and air flows leading to longer filter runs and reduced backwash cycles; and Headworks for water and wastewater plants to safeguard more sensitive, downstream processes.
Bilfinger Water Technologies
www.bilfinger.com/en/water-technologies
---
Process management
Emerson offers process control, liquid analysis and measurement solutions for sustainable water applications. The company's Ovation™ control systems seamlessly integrate liquid analytical and flow monitoring data and diagnostics to provide enhanced facility availability and regulatory compliance. The company provides liquid analysis for all phases of treatment: pH, chlorine, ozone, or turbidity monitoring. The Rosemount 3051S Series of instrumentation can help utilities optimize operations in four critical areas: production, quality, energy efficiency, and safety and environment.
Emerson Process Management
www.emersonprocess.com
---
Denitrification system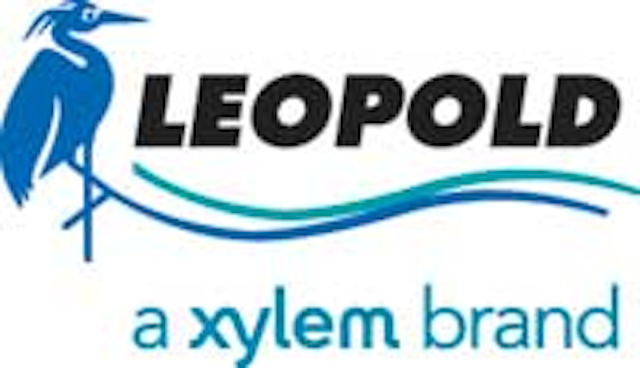 The Leopold elimi-NITE® 2.0 denitrification system is a gravity, deep bed, mono-media sand filter designed to remove nitrate and phosphorous to meet stringent effluent discharge water requirements without increasing the Total Suspend Solids (TSS) and Biochemical Oxygen Demand (BOD). As a part of the denitrification system, Leopold has developed and implemented a proprietary gas release cycle that automatically determines the optimum time to release the nitrogen gas from the filter. At the same time, phosphorus, in solid form, is removed along with other solids. In a recent performance test at a Maryland wastewater treatment plant, the system demonstrated the ability to achieve filter effluent nitrate <0.5 mg/L, phosphorus <0.2 mg/L and TSS <5.0 with no increase in BOD at design loading rates.
Leopold, a Xylem brand
www.fbleopold.com
---
Contaminant removal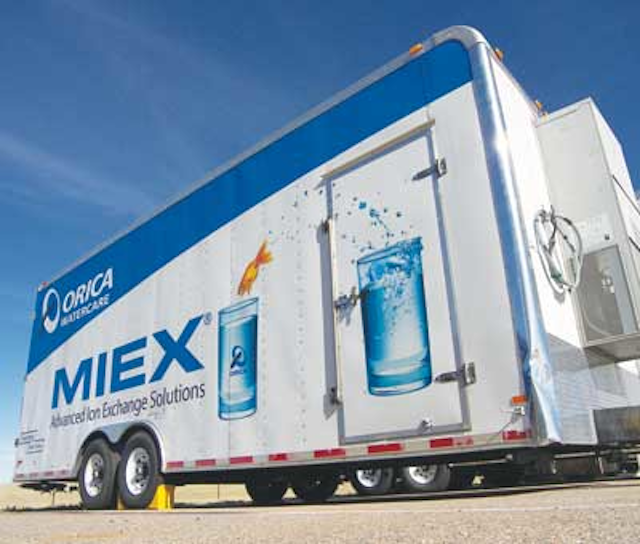 Orica Watercare has announced the new MiCo (MIEX® Co-removal) Process which uses multiple resins, both cationic and anionic, to remove a multitude of contaminants in the same fluidized bed. One proven application is to soften and reduce DOC and sulfide simultaneously. The process has been piloted at several municipalities with challenges including sulfide removal, switching from chloramines to free chlorine and maintaining DBP compliance. The results yield DOC reductions of 60% or greater while achieving hardness reductions of 30-45%, demonstrating that multiple resins fluidized simultaneously can remove multiple contaminants in one solution.
Orica Watercare
www.miexresin.com
---
Chlor alkali products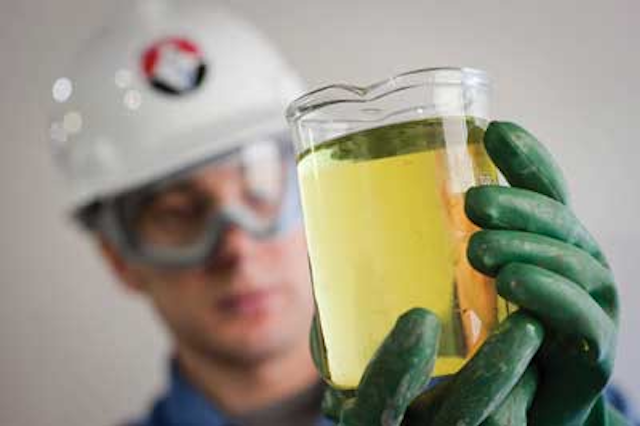 Olin Chlor Alkali Products will showcase its delivered bleach for disinfection and purification. Bleach from Olin is certified to the quality standards of NSF/ANSI Standard 60 and meets the requirements of AWWA B300-10. The company's manufacturing and distribution network can serve utilities virtually anywhere in the U.S. or Canada.
Olin Chlor Alkali Products
www.olinbleach.com
---
UV reactor

Wedeco's reliability and energy efficiency come together to form the Spektron Series Closed Vessel UV Reactor. EPA and DVGW compliant, upgraded features of the system include the patent pending OptiCone™ flow diverter and optional automatic wipers for high fouling/scaling water. These additions create optimum hydraulic conditions inside the reactors, resulting in enhanced flow capacity per lamp and reduce needed maintenance.
Wedeco, a Xylem brand
www.wedeco.com/us
---
Insertable valves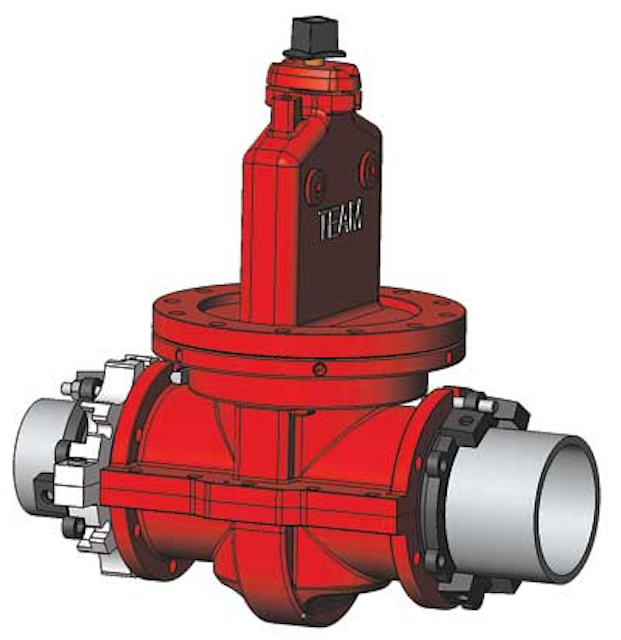 The InsertValve™ from Team Industrial Services provides "valve control today and pipe replacement tomorrow." Therefore, an 8" valve can be installed on an existing 6" pipe, resulting in immediate valve control. If the long-term plan is to increase the pipe to 8", there is no logic in installing a 6" valve on a line that is to be abandoned. The insertable valves offer mechanical joint connections, allowing for downstream pipe removal and replacement.
Team Industrial Services
www.teamindustrialservices.com
---
Hydraulic products

Stanley Hydraulic Tools offers a variety of products designed for the municipal water industry. Highlighting the portfolio is the full line of Stanley sump and trash pumps. For cutting pipe, its DS12 chainsaw provides easy access with less excavation for cutting ductile and cast iron pipe. The company also offers its upgraded breaker line with a new look and simple-to-follow weight classes ensuring the right breaker for the right job.
Stanley Hydraulic Tools
www.stanleyhydraulic.com
---
Pipe products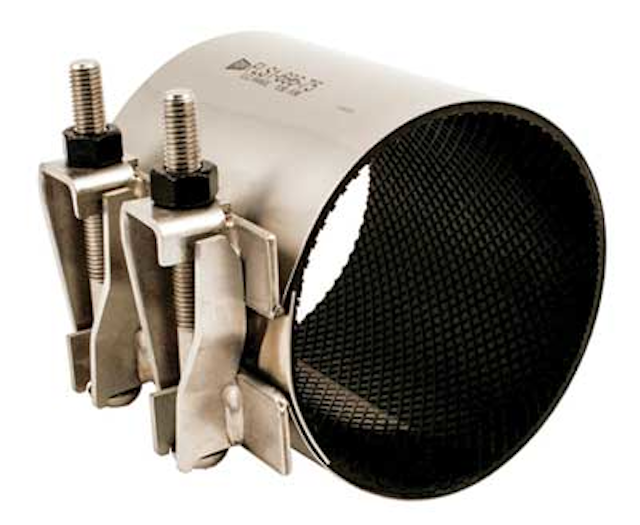 The Ford Meter Box is a leading manufacturer of pipe products for water utilities and water works contractors worldwide. Its products include a comprehensive line of repair clamps, couplings, tapping sleeves, fabricated steel items, and Uni-Flange® pipe restrainers and adapter flanges. Featured at this year's ACE, the Ford line of stainless steel products feature strength, quality and durability.
Ford Meter Box Co.
www.fordmeterbox.com
---
Submersible level transmitters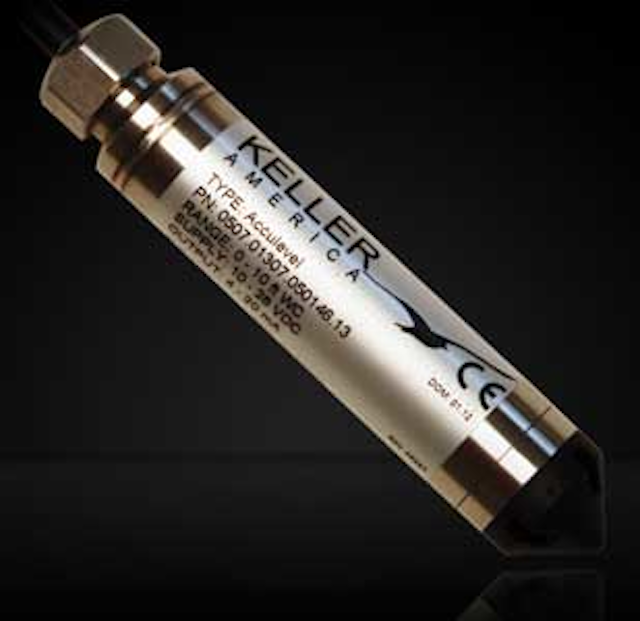 Keller America offers a complete lineup of submersible level transmitters. The transmitters are built to order in the U.S. with a three-day lead time. In addition, several models include guaranteed lightning protection at no additional cost.
Keller America
www.kelleramerica.com
---
Water storage tanks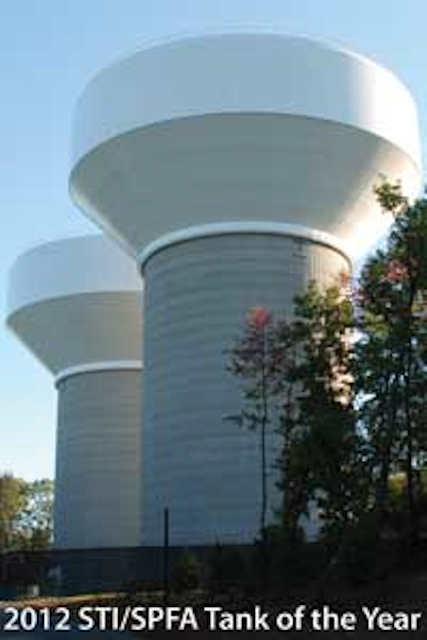 Caldwell has been building custom water tanks throughout North America since 1887. The company provides expert consultation regarding location, shape, size, and tank type to fit the customer's and community's needs. The company offers all types of elevated and ground storage, field-erected tank construction, including welded steel, prestressed concrete and steel bolted tanks. All tanks are constructed in compliance with the applicable AWWA and ACI standards. In addition to new tank design and construction, Caldwell offers professional tank maintenance, inspection, repair, and the TAP-APP mixing system which ensures each tank an indefinite service life.
Caldwell Tanks Inc.
www.caldwelltanks.com
---
Surge protection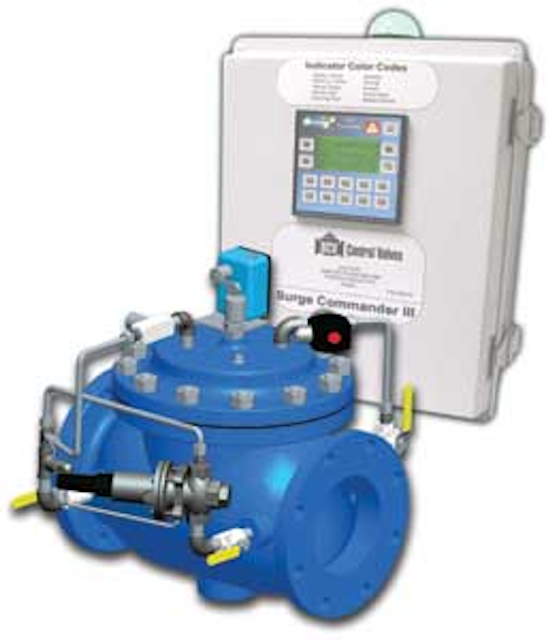 In addition to protecting systems against power surges and pump failures, the OCV Model 118-4 control valve operates in conjunction with the Surge Commander III, which functions via solid state circuitry. The valve offers features such as a charged battery backup, multiple control options and indicator lights that monitor and communicate the valve's activity at all times. The efficient design also saves space and operates on a lower electrical usage. Adding extra protection, the Model 170 High Pressure Filter guards the pilot system in applications where the fluid being controlled has a relatively high percentage of suspended solids in a high pressure or corrosive environment.
OCV Control Valves
www.controlvalves.com
---
Pipe restraint products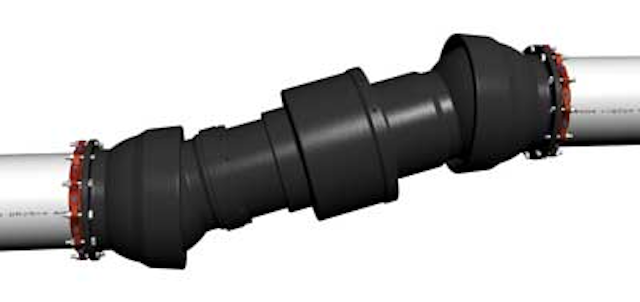 The two newest products from EBAA Iron are the Mega-Stop PVC Bell Protection System and Series 1900 PVC Restraint Systems. The bell protection device facilitates proper assembly of PVC pipe joints. It reduces damaging stresses in pipe joints caused by over-insertion and incorporates an ERS to allow for pipe expansion and contraction. The PVC restraint systems are engineered to accommodate the increased pressure ratings for C900 and C909 PVC pipe. They effectively restrain pipe in a variety of applications - above or below ground, residential or industrial. EBAA's other products include the Force Balanced Flex-Tend flexible expansion joint.
EBAA Iron
www.ebaa.com
---
Cal hypo system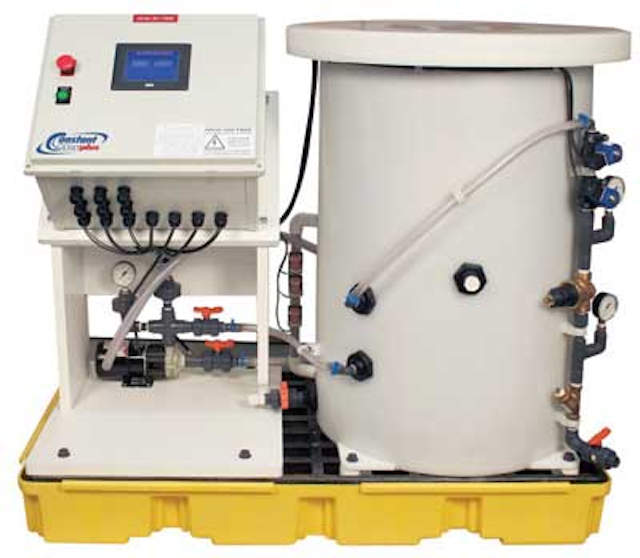 Arch Chemicals, now part of the Lonza Group, produces the new generation Constant Chlor® Plus calcium hypochlorite briquette feed systems that provide increased capacity and accuracy that exceeds its first generation system, plus new capabilities and features that further enhance operation, maintenance and safety. The model MC4-150 system retains all of the key features of the earlier system, such as optimum solution consistency and a small footprint, but its loading and feed rate capacities are much higher, allowing for service in larger treatment facilities. The new model features an HMI with a touch screen for easier functionality.
Arch Chemicals Inc.
www.archchemicals.com
---
AMR digital register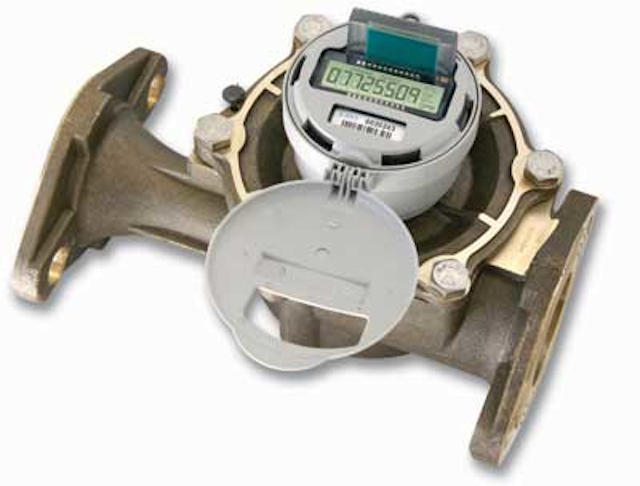 The new innov8 universal register from Transparent Technologies can add years of service to existing water meters while extending low flow accuracy beyond new meter specifications. The register can be installed on most brands of water meters, and by eliminating the magnetic drag in typical encoded register designs, it brings water meters back to life. The register includes the company's M2 two-way AMR radio that monitors and stores 32,000 data points in intervals as low as 1 minute.
Transparent Technologies
www.transparenttech.com
---
Consumer engagement
Aclara's consumer-engagement for water presents current and historical data to customers in ways that help them understand how and when they use water, as well as make it easy to conserve and save money. Real-time data comes directly from the utility's advanced metering infrastructure system and can help customers identify periods of high and low usage. Cost and consumption information for the current billing period enables customers to make important changes to consumption habits to reduce costs. When correlated with temperature data, daily usage graphs provide a more complete picture of how weather impacts water use.
Aclara Technologies LLC
www.aclara.com
---
Polyethylene encasements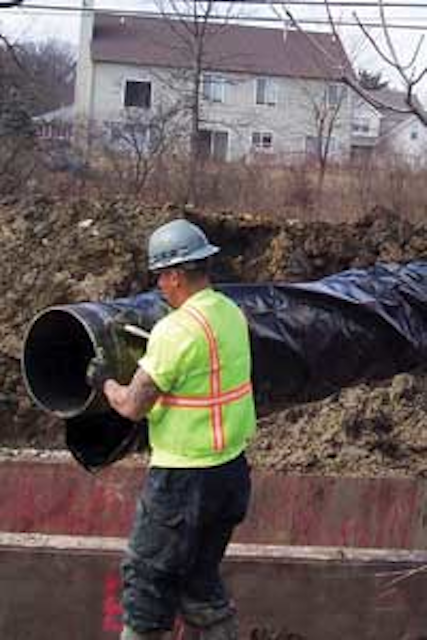 AA Thread's polyethylene encasements are an economical and effective way to provide corrosion protection for ductile iron pipe, valves and fittings. Its encasements meet or exceed specifications set by ANSI/AWWA C105/A21.5. They are also manufactured in the U.S. using domestic resins so they meet "ARRA" and "Buy American" requirements. The company carries a vast quantity of products in stock so they can offer same day or next day shipping on most items. It can supply 8 MIL Linear Low Density, 4 MIL Cross Laminated High Density and the new 10 MIL Joint Wrap.
AA Thread Seal Tape Inc.
www.aathread.com
---
TOC analysis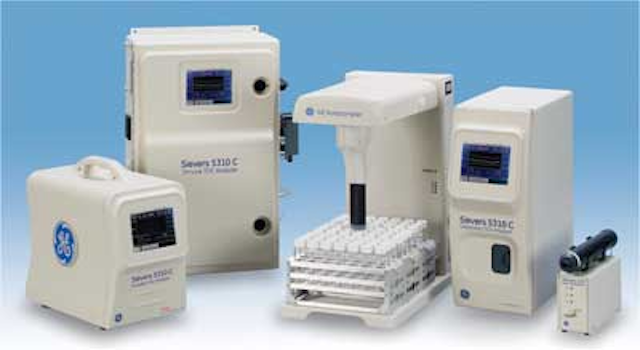 The Sievers 5310 C Total Organic Carbon (TOC) analyzers simplify TOC monitoring of raw and finished drinking water for USEPA compliance reporting and plant optimization. Because coagulant dosage is a function of TOC concentration, the monitoring of TOC can help utilities optimize treatment practices and chemical addition, resulting in less waste and sludge, as well as lower chemical and sludge removal costs. The 5310 C requires minimal operator training and can be set up to analyze samples in under 1 hour. It requires no high-purity gases, toxic catalysts, external reagents, or ultrapure gas generators, simplifying operations and minimizing cost of ownership.
GE Analytical Instruments
www.geinstruments.com
---
Fusible PVC pipe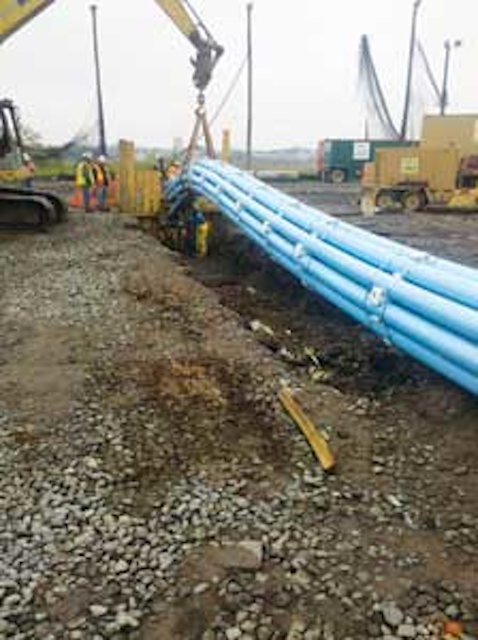 With over 1,000 miles of Fusible PVC™ pipe installed, fused PVC pipe is one of the fastest growing infrastructure technologies in North America. Available in nominal diameters from 4" to 36", the pipe provides both trenchless and open-cut projects with economical solutions. The benefits of having no mechanical couplings or bells and possessing a thinner wall for given pressure class versus other thermoplastic pipes, ensures that the pipe maximizes flow and reconnects easily to ductile iron or bell and spigot lines.
Underground Solutions Inc.
www.undergroundsolutions.com
More WaterWorld Issue Articles
WaterWorld Articles Archives