NEW PRODUCTS
Central Plastics Company develops, manufactures and supplies system joining products, including Molded Polyethylene Fittings, Electrofusion Fittings and Polypropylene Compression Fittings.
Sep 1st, 2006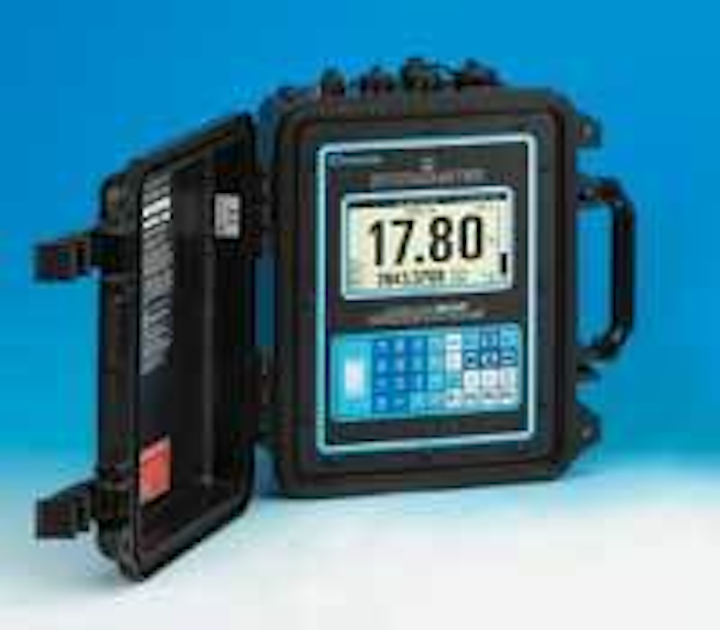 Plastic couplings, fittings
Central Plastics Company develops, manufactures and supplies system joining products, including Molded Polyethylene Fittings, Electrofusion Fittings and Polypropylene Compression Fittings. Products include tees, couplings, elbows, corps saddles, caps, flange adapters, and more. The company also offers PE to steel transition fittings.
Central Plastics Co.
Shawnee, OK
Tel: 800-654-3872 Web: www.centralplastics.com
Radium removal
Hungerford & Terry has introduced a process that removes radium from municipal drinking water supplies at significant cost savings compared with standard ion exchange. With this new process, there is no regeneration step or any waste regenerant. An additional cost saving is also realized with a substantial reduction in the volume of resin required.
Hungerford & Terry Inc.
Clayton, NJ
Tel: 856-881-3200 Web: www.hungerfordterry.com
Eccentric plug valve
APCO Valve and Primer has introduced its new Series 500 Eccentric Plug Valve. The valve is manufactured standard in ductile iron with stainless steel bolts. Fusion bonded epoxy is also standard. The resilient faced ductile iron plug is encapsulated in EPDM. The plug seals against a raised nickel seat welded into the valve body. The seal is drop tight at the rated pressure.
APCO Valve and Primer Corp.
Schaumburg, IL
Tel: 847-524-9000
Web: www.apcovalves.com
Portable flowmeter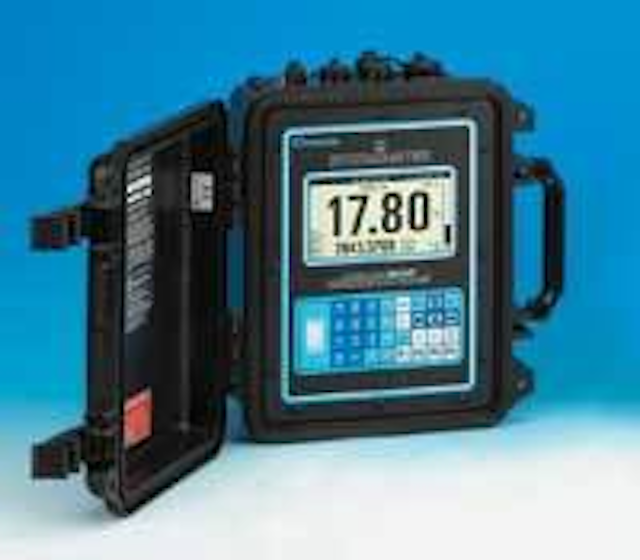 Click here to enlarge image
System 1010WP Portable Clamp-On Hybrid Flowmeter, housed in a watertight enclosure, uses either Transit-Time or Reflexor™ operation mode to allow operation on virtually all full pipe liquid applications. Pipe sizes range from ¼" to 360". Options include a pipe wall thickness gauge and single or dual channel or path operation. A datalogger provides long-term storage of measured variables. Standard data inputs/outputs are included and supported. The meter is ideal for almost all water and wastewater measurement applications, including potable water, chemicals, raw sewage, sludges, liquids with medium to heavy suspended solids and temporary measurements during storm events.
Controlotron Corp.
Hauppauge, NY
Tel: 800-275-8479
Web: www.controlotron.com
Oil skimmers
Oil Skimmers Inc. can customize its existing products for customers' specialized needs. Based on the customer's use of either the Model 6-V or the Model 5-H, the company can modify the existing products or create an entirely new unit per the customer's request. Options include a different mounting system, a longer boom or a larger tank, to name a few.
Oil Skimmers Inc.
Cleveland, OH Tel: 800-200-4603 Web: www.oilskim.com
Pump controller
Devar has introduced the 3660 Pump Controller, which can provide monitoring, alarming and control for a variety of analog input applications requiring contact closure control. The controller has three independently set relay controls allowing for simplex, duplex or triplex operating modes. The auxiliary relay may be used as an alarm, control relay or level-within-limits (window) alarm.
Devar Inc.
Bridgeport, CT Tel: 800-566-6822 Web: www.devarinc.com
Enterprise software
Miner & Miner, a Telvent company, has released ArcFM™ Solution version 9.1.2, an enterprise software system for editing, modeling, maintenance and management of facility information. ArcFM Viewer for ArcGIS® Engine has been enhanced and simplifiedting and direction tool, support for GPS, an overview window, a measure tool, map tab synchronization, and a map export tool have all been added. Support for gestures is also included.
Miner & Miner, a Telvent company
Fort Collins, CO Web: www.telvent.com/miner
Ethernet radio
Phoenix Contact's new industrial Wireless Ethernet Radio products provide secure wireless communication. The 802.11 a/b/g industrial radios are the first of their kind to feature 802.11i/WPA2 security with AES-CCMP and 802.1x, the most advanced security measures available. The embedded software allows any network PC with a web browser and proper identification the ability to configure the devices. Because the software is embedded, there is no software installation required, eliminating the learning curve.
Phoenix Contact
Middletown, PA
Tel: 800-322-3225
Web: www.phoenixcon.com
Geomembrane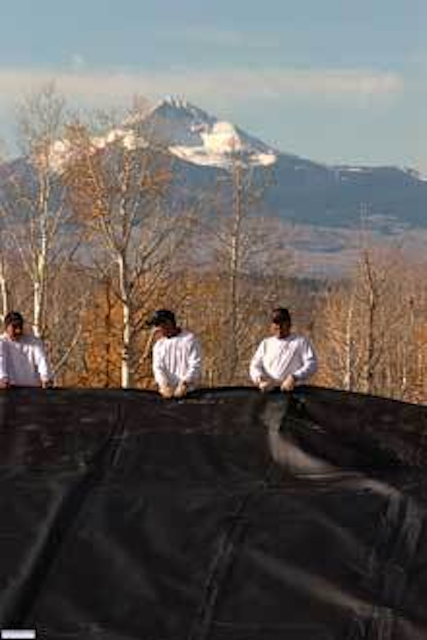 Click here to enlarge image
Firestone Specialty Products recently announced the introduction of MultiLiner RPP Geomembrane, a flexible, heat-weldable polyester reinforced membrane, ideal for installers seeking another environmentally friendly option for industrial and municipal liners, floating covers and water conservation applications. The liner offers chemical resistance, as well as resistance to UV rays, ozone and oxidation.
Firestone Specialty Products Co.
Indianapolis, IN Tel: 800-428-4442 Web: www.firestonesp.com
Blower hose
Flexaust Co. offers a flexible blower hose that is designed for moving high volumes of air using any blower. The Flexaust® Sto-Sack® features a flexible, single-ply PVC laminated poly-ester fabric blower hose supported by helical steel wire that compresses at a 10:1 ratio and fits into a self-contained storage sack. Ideal for moving large volumes of air, smoke, or fumes using positive pressure blowers, this hose is flame retardant and has a belted cuff end that fits onto any blower. Mildew-resistant, the hoses come in 6" to 24" I.D. sizes and standard 15' and 25' lengths. Special lengths and commercial and military colors are offered.
Flexaust Co.
Warsaw, IN
Tel: 800-343-0428
Web: www.flexaust.com
Communication module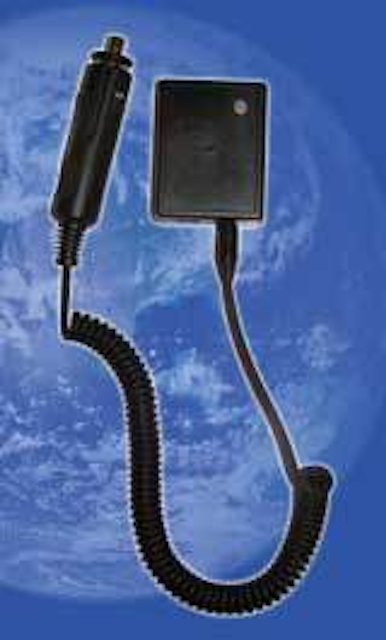 Click here to enlarge image
PLC-232, available from Saelig Co., is a new module for serial communication that transmits and receives RS232 serial information over office or factory power wiring systems by modulating and demodulating the data at high frequencies. Fully compatible with a PC's serial COM port, PLC-232s are sold in pairs. Each module has a DB-9 serial port on one end and a 110/220V power cable slot on the other. Communication takes place over existing power lines already built into almost all buildings. Users simply plug the device into an available electric outlet, either 110v or 220v. Capable of transmitting data to 500 meters at up to 230 kbps, the device offers secure 56-bit DES data encryption for RS232 signals, including all modem signal line controls. The high frequency signals from modules have no effect on the performance of any electric device on the power network.
Saelig Co.
Pittsford, NY
Tel: 585-385-1750
Web: www.saelig.com
Water level logger
Forestry Suppliers offers the Onset® HOBO Water Level Logger, a pressure-based water level recording device. The logger operates as a stand-alone unit and does not rely on vent tubes and desiccant packs for operation, simplifying deployment and eliminating many maintenance issues. The device is suitable for recording water levels and temperatures in wells, streams, lakes, wetlands, and tidal areas.
Forestry Suppliers Inc.
Jackson, MS Tel: 800-360-7788 Web: www.forestry-suppliers.com
Bird repellant
Bird-Proof bird repellent compound, available from Bird-X, discourages birds from alighting and nesting for a year or more, even under extreme weather conditions. The chemical compound has a tacky, uncomfortable feeling that birds avoid, yet is harmless, odorless, nonpoisonous and environmentally friendly. Two formulations - gel and liquid - serve all applications and can be applied to any surface: Gel is applied in beads, using a standard 10" caulking gun, to any surface where birds roost or perch: window sills, air conditioners, roof perimeters, ledges, cornices, ornamental copings, rafters and beams. Liquid is applied with a pressure sprayer or paint brush to hard-to-reach areas, trees or shrubs. The product dries semi-clear in minutes, so it is nearly invisible.
Bird-X Inc.
Chicago, IL
Tel: 800-662-5021
Web: www.bird-x.com
Thermometer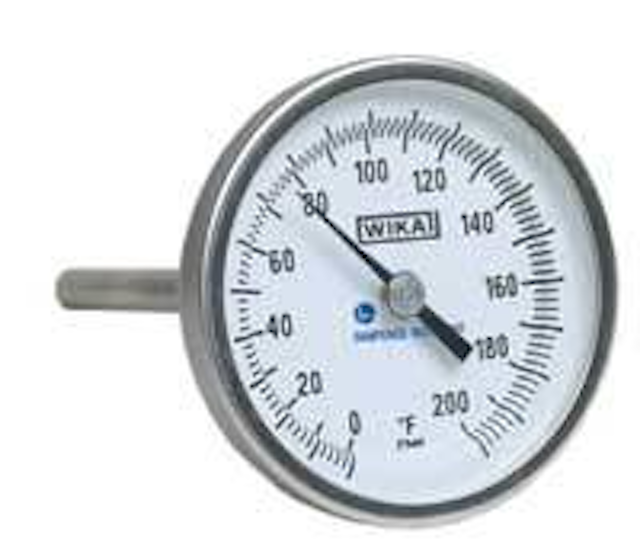 Click here to enlarge image
WIKA Instrument Corp. has been awarded a US Patent for its Dampened Movement Bi-metal Thermometer. The silicone-free thermometer achieves the effect of silicone fill, but in a dry case. It offers temperature ranges that are not possible with a case fill and has an accuracy within 1% of full scale (ASME B40.100 Grade A).
WIKA Instrument Corp.
Lawrenceville, GA
Tel: 888-945-2872
Web: www.wika.com
Manhole protection
Allegro Industries offers a line of equipment for working around manholes, including the 42" Manhole Guard Rail, designed to protect an area 33" x 33". The strong tubular steel construction is powder-coated safety yellow and weighs only 34 lbs. Simple one-piece construction makes for a tools-free assembly. Users can attach flags, lights, the Allegro Manhole Sign, or the Guard Rail Winch to the railing. Designed to raise and lower equipment, the winch is portable and has a 300 lb. capacity. The company also offers a 12" High Impact Polymer Manhole Shield, which surrounds a manhole opening to protect workers from street level water and mud that can flow into the work area. The inflatable shield ensures a watertight seal, and with four-outrigger support gussets, offers stability and protection.
Allegro Industries
Garden Grove, CA
Tel: 800-622-3530
Web: www.allegrosafety.com
Oil skimmer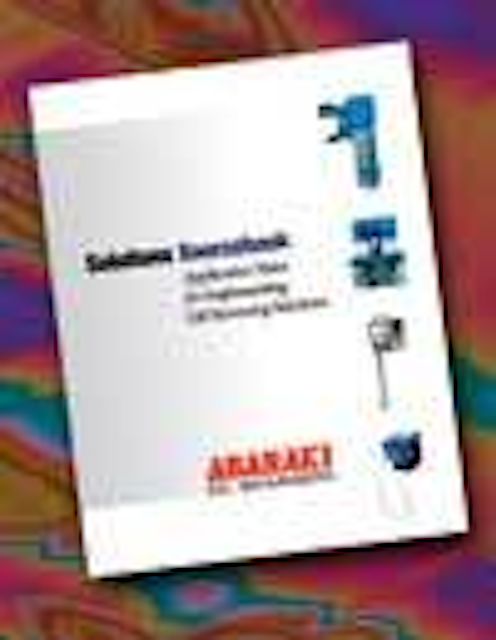 Click here to enlarge image
Abanaki has redesigned its Tote-It® portable oil skimmer to include a new removable trough that simplifies clean up and oil disposal. The new design also allows customers to upgrade to wider belt sizes, as their oil removal volumes expand, without replacing the entire oil skimmer unit. The skimmer removes up to 12 gph of free-floating oil from water. The single assembly unit, weighing just 36 pounds, is easy to move around a facility and can be hand carried to any indoor or outdoor application. It can also be used in permanent installations in limited access areas.
Abanaki Corp.
Cleveland, OH
Tel: 800-358-7546
Web: www.abanaki.com
DO measurement
The waterproof Extech ExStik® II, available from Forestry Suppliers, stores up to 25 data sets of dissolved oxygen and temperature measurements. Oxygen level readings can be displayed as % saturation or concentration (mg/L [ppm]), and a convenient analog bar graph indicates trends. The meter also features adjustable altitude compensation (0 to 20,000 ft. in 1,000 ft. increments), self-calibration, adjustable salinity compensation from 0 to 50 ppt, data hold, auto power off, and low battery indicator. Select an optional extension cable, available in 3 ft. or 16 ft. lengths, for additional measuring flexibility.
Forestry Suppliers Inc.
Jackson, MS
Tel: 800-360-7788
Web: www.forestry-suppliers.com
Vibration monitors
New loop-powered transmitters available from Metrix Instrument Co. convert machine vibration to a 4-20 mA signal. The simple two-wire transmitter can be wired directly to a PLC or DCS to provide early warning of impending problems. The ST5484E vibration transmitters can be applied to motors, compressors, pumps and engines among other applications. They are mounted on the machine case and record vibration in units of velocity. The transmitter features an Independent Polarity Terminal (IPT)TM circuit to eliminate sensor wiring errors. The transmitters have built-in protection against shock, cross axis interference and "ski slope" issues.
Metrix Instrument Co.
Houston, TX
Tel: 713-461-2131
Web: www.metrix1.com
Rail systems
Freeflo™ brand 1.25", 1.50", 2", 3", and 4" BERS (base elbow rail systems), available from Conery Mfg., are made from ductile cast iron and powder coated for protection. All models come standard with stainless steel accessories. They are designed for simple installation and removal of nearly any vertical or horizontal discharge pump. The design allows for pump service without the need to enter the basin. Models are available with non-sparking bronze flanges or ball check valve flanges.
Conery Mfg Inc.
Ashland, OH
Tel: 419-289-1444
Web: www.conerymfg.com
Water temperature logger
Onset Computer Corp. has introduced the HOBO® Water Temp Pro v2, a new data logger for tracking water temperatures in a broad range of applications, from coral reef studies to stream habitat research. The new logger features a polypropylene housing that is able to withstand years of use in fresh or salt water up to 50°C, and can measure and record water temperatures for more than one year before reaching memory capacity. The loggers are compatible with the company's Waterproof Shuttle for convenient data transport and are depth rated for up to 400 feet. For plotting and analyzing water temperature data, Onset offers HOBOware® software, a graphing and analysis software package for PC and Mac computers. The software provides a graphical user interface and enables users to plot, analyze and print data files, as well as export data to spreadsheet programs.
Onset Computer Corp.
Bourne, MA
Tel: 800-564-4377
Web: www.onsetcomp.com
Pump bearings
Goulds® magnetically driven process pumps now offer Dry Guard bearings. The bearings feature a diamond-like coating, are designed to significantly reduce the coefficient of friction, enabling longer periods of safe operation under dry run conditions. The bearings are available in pump models 3296 Ezmag, ICM and 3298 series. The Ezmag is an ANSI metal magnetic drive process pump with a sealless design. It is ideal for difficult liquids, such as corrosives, pollutants, ultra-pure liquids, toxics and hard to seal liquids. It has three patented features that maximize the product's life cycle and make it easier to maintain. The ICM model is the ISO version of the 3296 Ezmag, which includes all of the same features for tough applications worldwide. The 3298 series pumps are lined magnetic-drive pumps designed to handle moderate to severe corrosives. The pumps feature a Tefzel® lining and are available in frame mounted, close-coupled, in-line and self priming models.
Goulds Pumps
Seneca Falls, NY
Tel: 315-568-2811
Membrane elements
FILMTECTM membrane elements from FilmTec, a subsidiary of Dow Chemical, are guaranteed to withstand a pH range of 1-13 for membrane cleaning solutions, leading to increased efficiency in the cleaning process. The extended pH range increases the efficacy of foulant removal from the membranes and leads to longer operating time between cleanings and longer membrane lifespan. The higher pH limit of 13 improves the removal of biofouling and organic fouling from the membranes, while the lower pH limit of 1 increases the efficiency of calcium carbonate removal.
FilmTec Corp.
Midland, MI Web: www.dow.com/liquidseps
CIS software
Advanced Utility Systems offers a new real-time interface between CIS Infinity®, the customer information and billing software offered by Advanced, and Microsoft's Dynamics GP 9.0 product (formerly Microsoft Business Solutions-Great Plains). The new interface is available to all clients as part of Version 2 of CIS Infinity. The new interface features real-time integration, from a centralized server, using the Financial Transaction Manager form in CIS Infinity. The form uses eConnect, a Microsoft development tool, to update Great Plains data for General Ledger (G/L), Accounts Payable (A/P) and bank deposits. The integration includes drill down capability from the G/L module in Great Plains directly to the CIS Infinity database. Since CIS Infinity is fully integrated with the Great Plains G/L module there is no need for users to manually import data into Great Plains or reconcile the data transfer.
Advanced Utility Systems Corp.
Toronto, Canada
Tel: 888-355-7772
Web: www.advancedutility.com
Utility locator
The new Ridgid® SeekTech® ST-305 transmitter from Ridge Tool is designed to be used with the SeekTech SR-20 utility locator, which traces underground utility lines. The transmitter has a fully adjustable power output, transmits at up to five watts of power and has four frequencies - 1, 8, 33 and 262 kHz. It is able to transmit two frequencies at the same time, providing more versatility for diagnosing complex locates. Compact and rugged, the transmitter is small enough to be stored in an SR-20 case and is water-resistant. The transmitter weighs only 2.5 lbs. (with six alkaline or rechargeable C-cell batteries) and is only 4.7" by 7.75" by 3". A shoulder strap gives users more portability and convenience.
Ridge Tool Co.
Elyria, OH
Tel: 800-769-7743
Web: www.ridgid.com
Control valve
Danfoss Flomatic has extended the Automatic Control Valve Model C line up thru 36", with unique features and excellent flow characteristics. The fusion epoxy coated internal and external bodies come standard with copper tubing and have a valve trim of unleaded bronze on sizes 1"-10" or stainless steel on 12" and 36" They also come standard with control tubing, valves, gauge cocks, body drain plugs and EZ off Jack screw for covers and valve seat rings.
Danfoss Flomatic Corp.
Glens Falls, NY
Tel: 800-833-2040
Web: www.flomatic.com
Groundwater monitoring
Schlumberger Water Services has released the Mini-Diver, Micro-Diver, Baro-Diver and Cera-Diver to the lineup of Diver groundwater dataloggers. Diver dataloggers are used to measure and record groundwater levels, and are engineered in a compact and durable housing. They feature direct plug-and-play capabilities using the new Pocket-Diver software and offer a complete suite of data analysis and visualization software tools. The Micro-Diver is hermetically sealed in stainless steel and is only 18 mm in diameter.
Waterloo Hydrogeologic Inc.
A Schlumberger Company
Waterloo, Ontario, Canada
Tel: 519-746-1798
Web: www.waterloohydrogeologic.com
Waterproof photometer
Palintest has introduced a new fully featured portable photometer for water analysis. The Photometer 7500 replaces the successful 7000, which is extensively used in the water utility industry and in industrial pollution monitoring. The 7500 includes improved optical technology developed for the 8000 and is waterproof, rugged, floats, and features an adaptable tube holder and USB connection for simple PC connection. It is easy to use and provides quick test results. Up to 500 results can be stored and downloaded for trend monitoring and report production. The photometer is built around the Palintest range of water test reagents which uses light to measure color changes in water samples treated with a reagent. It is accurate to ±0.005 at 0.3 absorbency units (au) and resolution is 0.001au.
Palintest USA
Erlanger, KY
Tel: 800-835-9629
Web: www.palintestusa.com
Belt press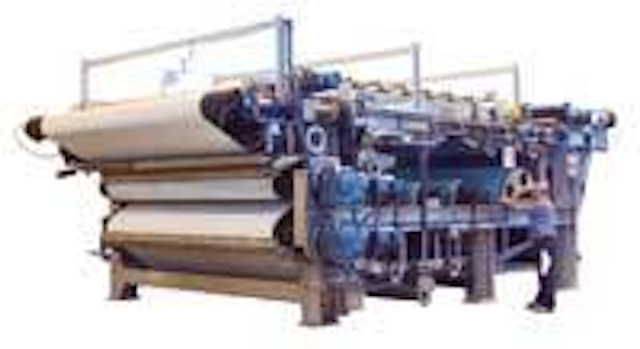 Click here to enlarge image
The Static Radial Wedge (SRW) belt press from USFilter is offered in a variety of configurations to meet almost every dewatering requirement. The radial design of the wedge zone allows the press to provide more throughput per meter than conventional wedge designs, and the modular frame offers the flexibility to add additional pressure rolls even after the press has been installed and put into operation. The frame is pre-drilled for the additional rollers, and the rollers can be added without altering the footprint of the belt press. The open architecture of the frame allows for access to all bearings, belts and other critical components, which lowers O&M costs. The belt press, manufactured under license from Sernagiotto Technologies S.p.A., is available in 1.0, 1.5 and 2.0 meter belt widths.
USFilter Dewatering Systems
Holland, MI
Tel: 800-245-3006
Web: www.usfilterdsg.com
Electromagnetic flowmeter
Exclusively from Omega, the new FMG600 series electromagnetic flow meters are designed for measurement of conductive liquids with virtually no pressure loss. With no moving parts and a PTFE lining, they can handle applications involving wastewater and slurries. Standard outputs include analog, frequency, and RS485 communications. Optional sanitary tri-clamp mounting allows use of the meters in applications not previously open to magmeters.
Omega Engineering Inc.
Stamford, CT
Tel: 203-359-1660
Web: www.omega.com
pH meter
Thermo Electron has added the Orion 2-Star benchtop pH meter to its Orion Star Series, a line of meters, electrodes, accessories and solutions for electrochemistry measurement. This latest offering from Thermo Electron's Water Analysis Instruments division extends the capabilities of the series by offering a more affordable alternative for general purpose pH measurement without sacrificing the accuracy or ease of use.
Thermo Electron Corp.
Beverly, MA
Tel: 617-275-6516
Web: www.thermo.com
Solar, wind power
In areas where AC power is either unreliable or nonexistent, the RoyPak™ PowerPak™ can provide remote water treatment solutions. Using Green alternative energy sources, the stand-alone unit offers a variety of packaged water treatment solutions featuring Milton Roy and LMI Pumps and accessories powered by solar and wind energy. pH/ORP and Conductivity meters can also be installed as part of the PowerPak to provide closed loop treatment when required.
Milton Roy
Ivyland, PA
Tel: 215-441-0800
Web: www.miltonroy.com