New Products
Aqua-Aerobic Systems has introduced the latest addition to its line of cloth media filter systems - the AquaDiamond®.
Dec 1st, 2006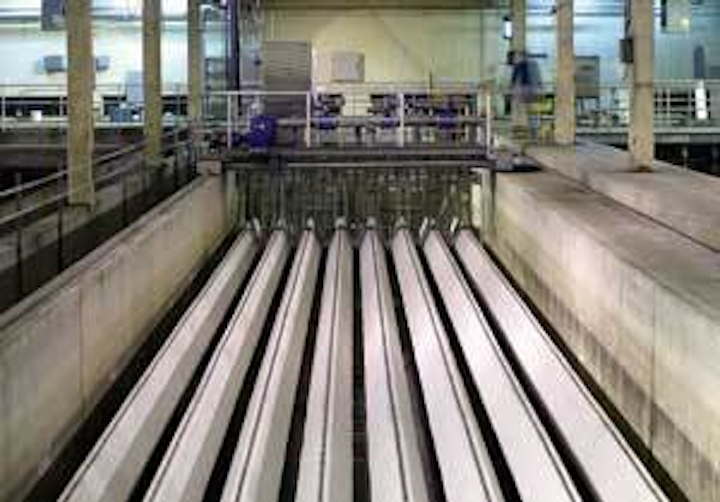 Cloth media filters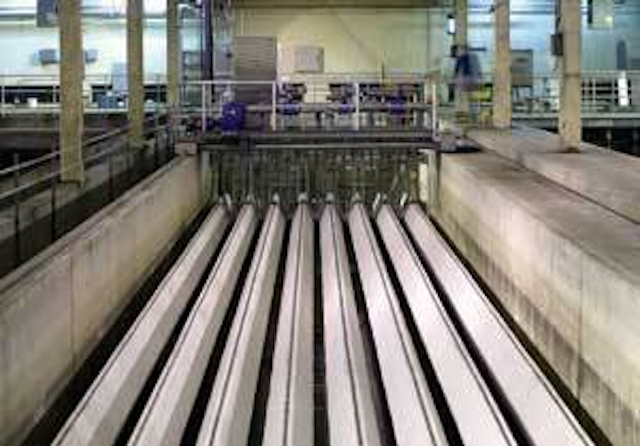 Click here to enlarge image
Aqua-Aerobic Systems has introduced the latest addition to its line of cloth media filter systems - the AquaDiamond®. The unique shape and design of this filter allows users to take advantage of the inherent characteristics of cloth media technology with the added benefit of treating three times the flow capacity of a traveling bridge filter with an equivalent footprint.
Aqua-Aerobic Systems Inc.
Rockford, IL
Tel: 815-654-2501
Web: www.aqua-aerobic.com
COD reagent recycling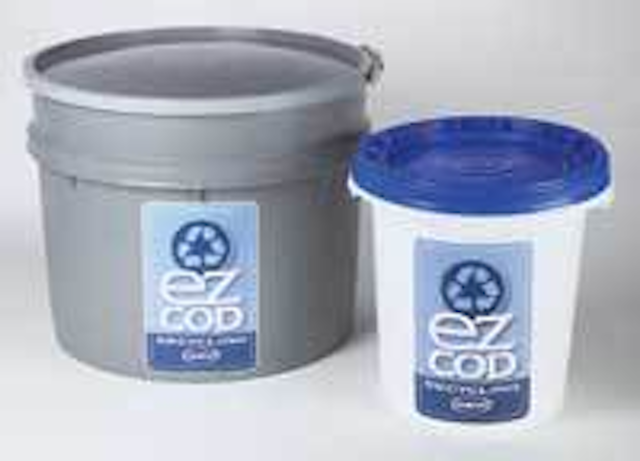 Click here to enlarge image
Wastewater treatment facilities and testing laboratories relying on Hach Chemical Oxygen Demand (COD) Reagent are being offered a COD recycling service. The program is for Hach's US customers only. The company provides a DOT-approved recycling container, prepared documents, and pre-paid transportation to a recycling facility for environmentally sound reagent recycling.
Hach Co.
Loveland, CO
Tel: 800-227-4224
Web: www.hach.com
Wet-prime pumps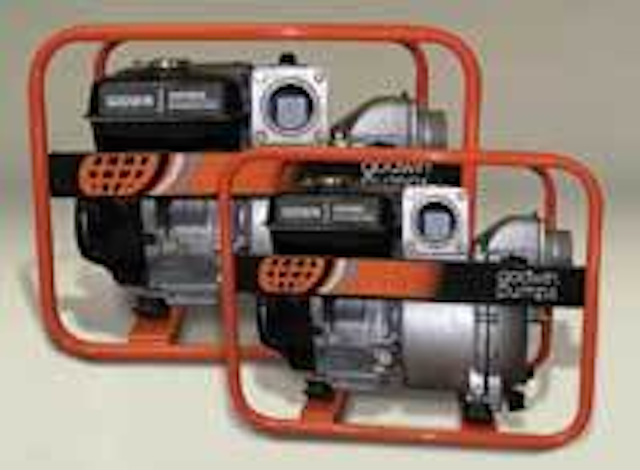 Click here to enlarge image
Godwin Pumps has developed a new line of portable, gasoline-powered Wet-Prime Pumps. They are available in dewatering, trash, plastic, diaphragm and pressure models with Honda® engines. With solids handling diameters from 1 to 2 inches, the company's trash pumps can handle trash-laden water typically found in stream/pond dewatering and septic tanks and manholes.
Godwin Pumps
Bridgeport, NJ
Tel: 856-467-3636
Web: www.godwinpumps.com
Peristaltic pump

Click here to enlarge image
Larox Flowsys has introduced the new LPP-D peristaltic pump, offered in ½", ¾" and 1" sizes. Flow rates are 2.6 gpm, 4.4 gpm and 8.8 gpm, respectively. The pumps have a rolling design different from other peristaltic pumps on the market. The pump has a higher flow per compression, enabling smaller pump selection. The low-friction roller design compresses the hose only once per revolution, which provides for 2x-5x the hose life vs. conventional hose pumps.
Larox Flowsys Inc.
Linthicum, MD
Tel: 888-356-9797
Web: www.larox.fi
Secure hatch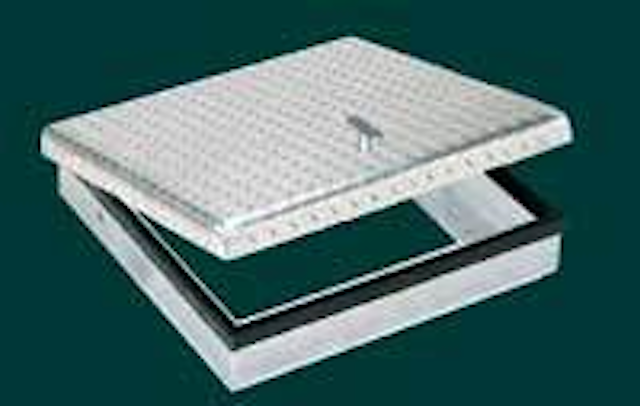 Click here to enlarge image
U.S.F. Fabrication has introduced its new SRR Security Reservoir Hatch. The hatch is designed to provide secure access to pump, valve and meter enclosures that do not require a flush hatch installation. It has an overlapping, gasketed cover which effectively sheds rainwater and prevents sand and debris from entering the enclosure. The hatch comes with a reinforced aluminum cover and frame, and 316 stainless steel hardware.
U.S.F. Fabrication Inc.
Hialeah, FL
Tel: 800-258-6873
Web: www.usffab.com
Odor control
Officials of ADAPCO Environmental Solutions (AES) have introduced VulchurTM, a new chemical product for the wastewater industry that can control both odor-causing bacteria and corrosion in wastewater systems. The product is designed to remove hydrogen sulfide and mercaptans from wastewater systems. It also reacts to form a corrosion inhibitor for concrete and metal infrastructure and equipment.
ADAPCO Environmental Solutions
Sanford, FL
Tel: 800-920-1001
Web: www.vulchur.com
Flow meter
Click here to enlarge image
With its self-cleaning purge ports, the Model GF90 Flow Meter from Fluid Components International (FCI) maintains optimum flow measurement performance while reducing maintenance costs in applications where dirt, grit and grime are present in the fluid or gas. In many plants, technician access to flow meters for inspection or maintenance can be problematic due to their location.
Fluid Components International
San Marcos, CA
Tel: 800-854-1993
Web: www.fluidcomponents.com
Manhole riser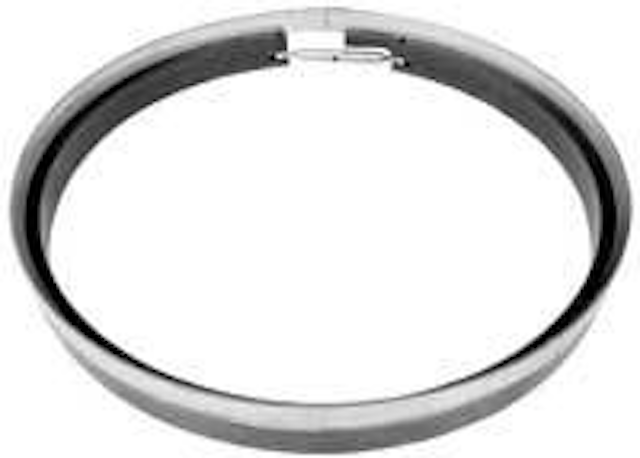 Click here to enlarge image
American Highway Products' Manhole Riser is used to streamline the adjusting of utilities to the new grade when paving a road. Its pivoted turnbuckle linkage ensures a pressed-in bearing fit when installed. The pressed-in fit enables installation before paving the road. The Pivoted linkage will contract and expand the riser by ½", giving a full 1" diametric variance, thus allowing the flexibility to work on different diameter frames.
American Highway Products Inc.
Bolivar, OH
Tel: 888-272-2397
Web:: www.ahp1.com
Facility monitoring
The Sensaphone® 1800 protects water and wastewater treatment facilities by monitoring all equipment and environmental conditions within the facility: flow meters, water levels, timers, temperature, power failure, and alarms. Its enhanced features include the ability to sense and issue alarms on ultra-low temperatures down to -85 degrees Celsius. When the system detects a problem, it automatically issues an alarm so action can be taken to avoid damage to a facility.
Sensaphone
Aston, PA
Tel: 877-373-2700
Web: www.sensaphone.com
Powder coating
Sherwin-Williams Chemical Coatings has a wide range of powder coatings that meet the requirements of the National Sanitation Foundation (NSF) Standards and the American National Standards Institute (ANSI) including ANSI/NSF-51 for food contact and ANSI/NSF-61 for potable water. Powdura NSF-61 coatings provide a high gloss, smooth finish with excellent hardness and outstanding chemical resistant properties.
Sherwin-Williams Co.
Berea, OH
Tel: 800-524-5979
Web: www.sherwin-williams.com/oem
Solar powered monitoring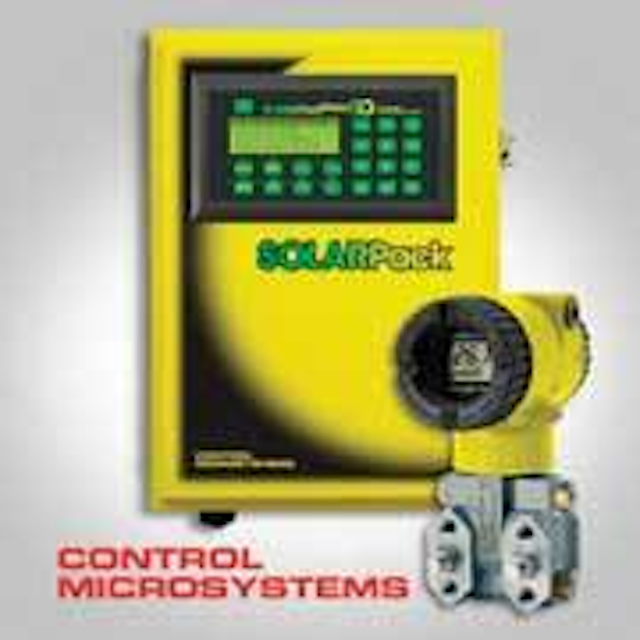 Click here to enlarge image
Control Microsystems has released its SolarPackTM, an integrated solar power control and communication system designed for harsh environments. The system combines solar power technology with an intelligent battery charger that prevents hydrogen generation due to overcharging. Designed for use at remote sites where the environment is extreme and power is hard to come by, the solar system uses spread-spectrum communication to transmit information.
Control Microsystems
Ottawa, ON
Tel: 888-267-2232
Web: www.contromicrosystems.com
Reporting software
SyTech, provider of automated report generation and data analysis software, has released XLReporter Professional Version 7.0. The updated version offers unique ways to automatically produce reports in Microsoft Excel from live process data as well as historians and relational databases. Completed reports are automatically sent to printers, e-mail, fileservers and web servers.
Walpole, MA
SyTech Inc.
Tel: 508-660-0124
Web: www.thereportcompany.com
Chemical inventory management
Labtronics has released the NEXXIS Chemical Inventory Manager (CIM) version 2.1. The new version offers improved system performance and enhanced scalability for the enterprise environment. Additionally, it now includes integration methods allowing it to seamlessly interact with customer specific applications in addition to standard NEXXIS application modules like qELN, the Balance Data System, Sample Tracker and the Calibration Manager.
Labtronics Inc
Guelph, ON
Tel: 519-767-1061
Web: www.labtronics.com
Portable dewatering pump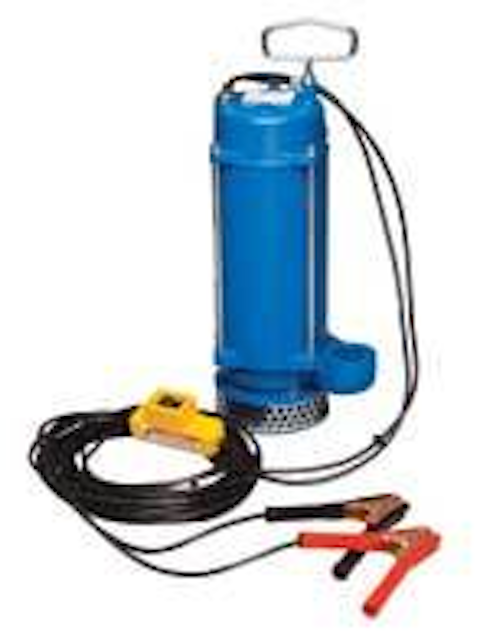 Click here to enlarge image
Warren Rupp now offers the PortaPump®, a centrifugal, fully submersible pump used for general dewatering applications. The portable pump is equipped with a jumper cable connector allowing the unit to be operated from any 12 vDC battery. It weighs only 33 lbs. and can fit into openings as small as 10" diameter.
Warren Rupp Inc.
Mansfield, OH
Tel: 419-524-8388
Web: www.warrenrupp.com
Pressure instruments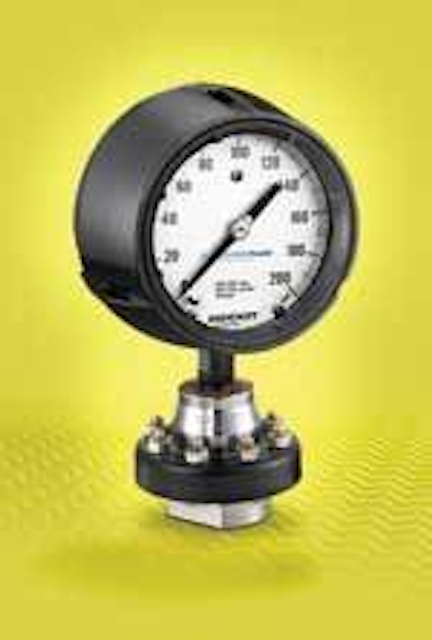 Click here to enlarge image
Ashcroft® pressure instruments can be configured with media isolators specifically engineered for harsh wastewater installations. Whether the measuring device is a dial gauge, switch, digital gauge or transmitter, there is an Ashcroft® diaphragm seal or other isolation device that can be mated for complete media protection. The seals are available in a wide variety of sizes, wetted materials and configurations including capsule type, welded or bonded and clamped designs with threaded, flanged and flushing connections.
Ashcroft Inc.
Stratford, CT
Tel: 800-328-8258
Web: www.ashcroft.com
Data management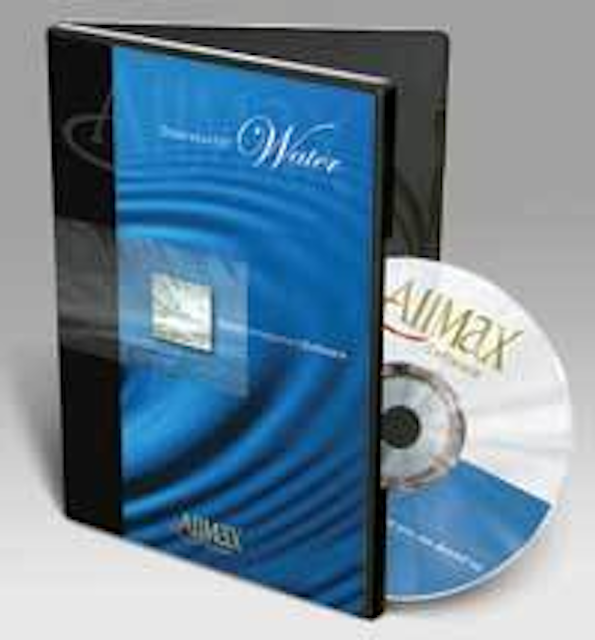 Click here to enlarge image
The new Operator10® v8.16 water, wastewater and pretreatment data management software is easier to use and can be set up for single, multi-user or client server, for any plant or facility. The applications are network ready, with many new and improved features. A new Sampling Event section tracks information that would appear on chain of custody and lab bench sheets, as well as location, sampler number, EPA method number, lab certification and analyst numbers.
AllMax Software Inc.
Tel: 800-670-1867
Web: www.allmaxsoftware.com
Industrial computers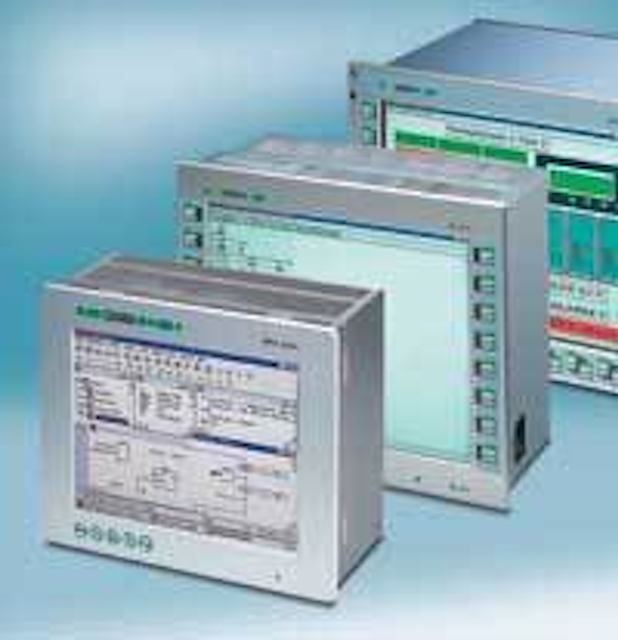 Click here to enlarge image
In response to the growth of PC-based control and the growing need for increased processing power, Phoenix Contact has added new high-performance CPU options and additional screen size choices to its industrial PC product family. A new slot-based CPU allows for the use of the latest high-performance Celeron M and Pentium M processors.
Phoenix Contact
Middletown, PA
Tel: 800-322-3225
Web: www.phoenixcon.com
Power factor correction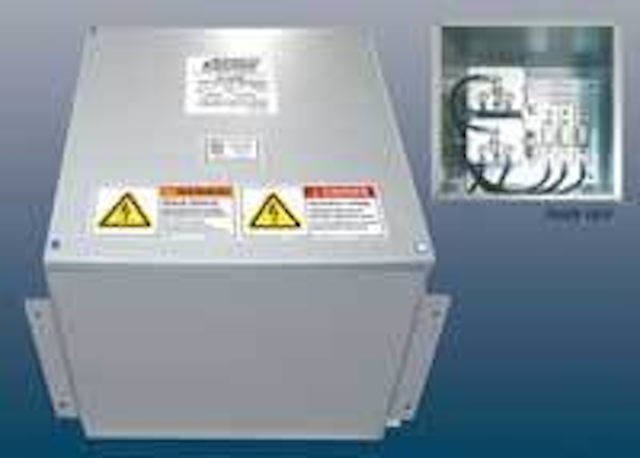 Click here to enlarge image
The new StacoVAR ML line of fixed capacitor assemblies from Staco Energy provides power factor improvement for applications from 2 to 200 kvar. They are ideal for locations using induction motors or where small multiple loads require reactive compensation. A standard line of low-voltage (240-480-600 vAC) products simplifies ordering and improves "off-the-shelf" availability. Standard NEMA 1 enclosures include flanges for mounting on floor, wall, or equipment (motor bracket, top of motor control center, etc).
Staco Energy Products Co.
Dayton, OH
Tel: 866-261-1191
Web: www.staco-news.com
Solenoid valve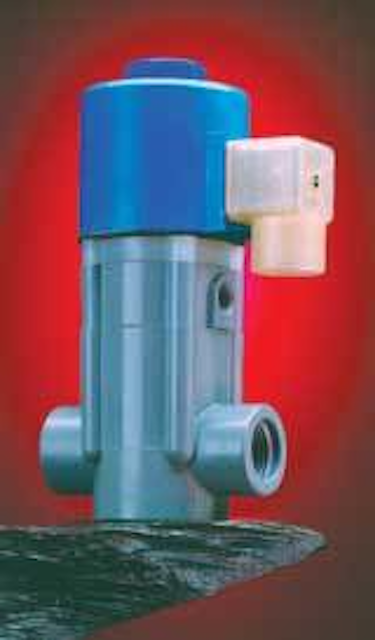 Click here to enlarge image
Plast-O-Matic Valves has released a new all-purpose PTFE Bellows Solenoid Valve which eliminates leaking of fugitive emissions to the atmosphere. The thermoplastic valves can be used with virtually all types of fluids, including acids, caustics, solvents, and chlorine solutions. A PTFE bellows, barrier-type, dynamic seal replaces the elastomer packing of conventional valves. The bellows flex to provide bubble-tight sealing of hazardous fluids, and since PTFE is not subject to chemical attack, a working life of over 2,000,000 cycles is normal.
Plast-O-Matic Valves Inc.
Cedar Grove, NJ
Tel: 973-256-3000
Web: www.plastomatic.com