NEW PRODUCTS
F.B. Leopold has introduced its new Clari-DAF™ system, a high-rate dissolved air flotation system...
Jun 1st, 2006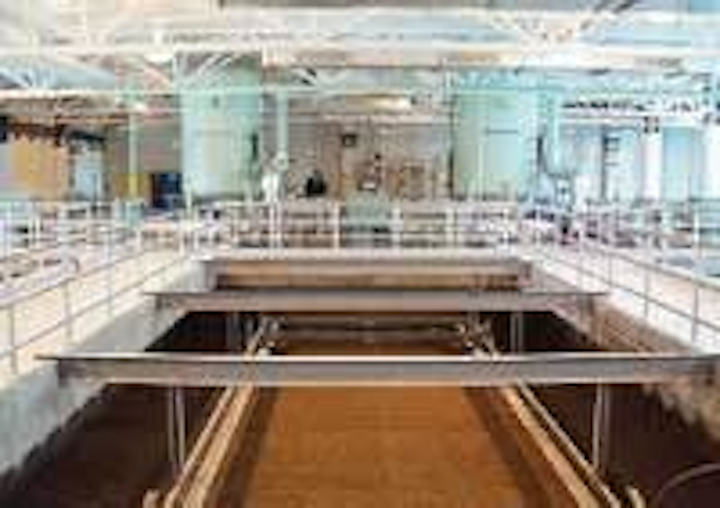 High-rate DAF system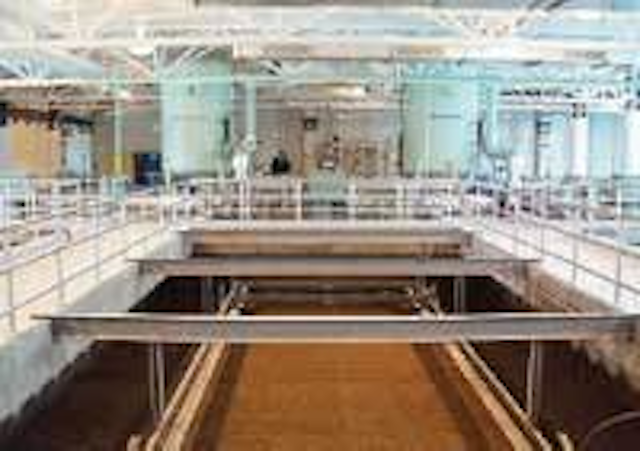 Click here to enlarge image
F.B. Leopold has introduced its new Clari-DAF™ system, a high-rate dissolved air flotation system that can be used in a variety of applications. As the next generation in dissolved air flotation, the system improves clarified effluent water quality, improves solids handling and lowers the total cost of operation in the smallest footprint available. It has been used for removing turbidity, insoluble metals, color, TOC, algae, and associated taste and odor.
F.B. Leopold Co.
Zelienople, PA Tel: 724-452-6300 Web: www.fbleopold.com
Gas detection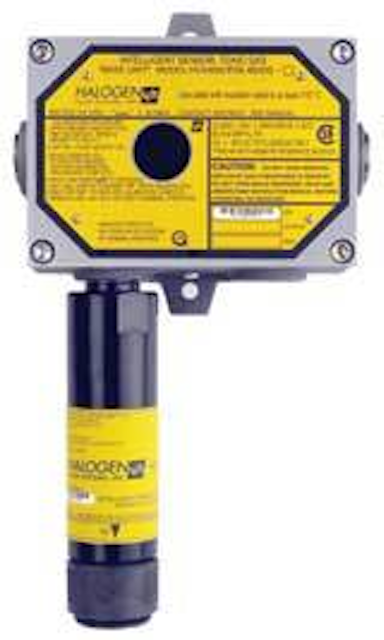 Click here to enlarge image
Halogen Valve's Jupiter gas detection system (Model HVS4000) monitors and reports information about hazardous and toxic gases to SCADA monitoring systems. Its features include a sensor life indication, two (250 vAC - 8 amp) settable relays, a three-digit display, dual MODBUS connections and 4-20 mA proportional gas level output.
Halogen Valve Systems Inc.
Irvine, CA Tel: 877-476-4222 Web: www.halogenvalve.com
Custom tags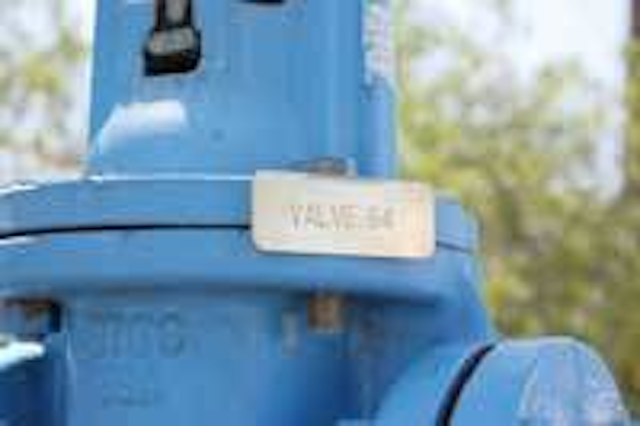 Click here to enlarge image
Assured Flow's Hydra-Tag is a custom tagging system for valves. This durable identification system is made from corrosion resistant brass. Custom numbering or lettering is available on any size order. The tags attach securely to the bolts on valves for a virtually tamper proof installation.
Assured Flow Sales Inc.
Sarasota, FL
Tel: 800-388-0678
Web: www.gradelok.com
Cloth media filter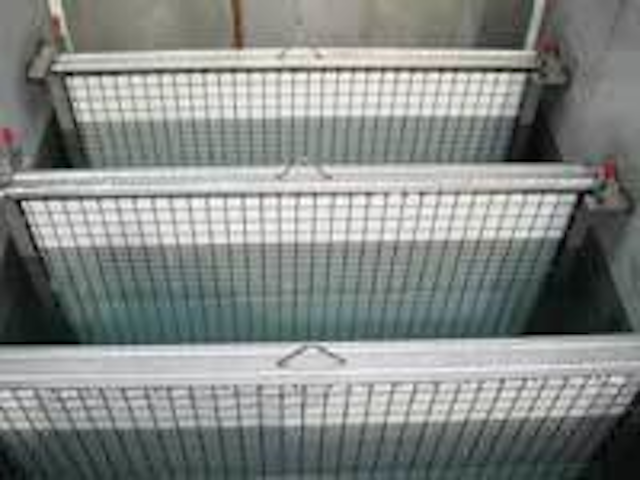 Click here to enlarge image
Municipal Filtration Co. has introduced the Muni-DiskTM cloth media filter. The filter is designed to follow municipal activated sludge and SBR facilities, providing tertiary wastewater treatment in a compact, efficient package. The systems use a combination of differential head and a series of simple open-close valves to provide wastewater filtration and backwash flow control.
Municipal Filtration Co.
Madison, WI
Tel: 608-240-8987
Web: www.municipalfiltration.com
Data management
Click here to enlarge image
Eurotherm has announced its latest family of data recording solutions. The 6000 series initially consists of two advanced graphical (paperless) recorder models supported by a wide range of hardware and software options. It replaces the company's earlier 5000V series, with full software compatibility and interchangeability.
Eurotherm
Leesburg, VA
Tel: 703-669-1324
Web: www.eurotherm.com
Suspended solids analyzer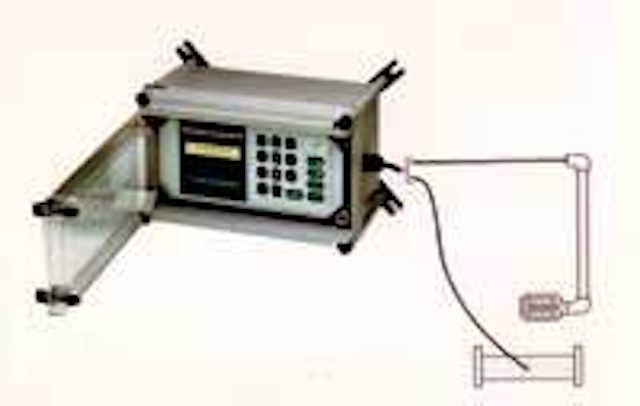 Click here to enlarge image
The Markland Model 502 Suspended Solids Meter can be used to measure slurries that are too thick for optical meters. It can be used in open top tanks or pipelines. The meter uses ultrasound to measure the concentration. Markland also offers free testing of materials. The testing saves utilities time and money by proving the meter will work in their particular application.
Markland Specialty Engineering Ltd.
Toronto, Ontario
Tel: 416-244-4980
Web: www.sludgecontrols.com
Wireless networking
Microwave Data Systems, a provider of wireless networking systems, has announced the acceptance of several of its products by the U.S. Department of Agriculture's Rural Utilities Services Program. The RUS Program provides financial, technical and other support functions to help rural communities in America expand and keep their technologies current.
Microwave Data Systems
Rochester, NY
Tel: 585-241-5539
Web: www.microwavedata.com
PLC, radio module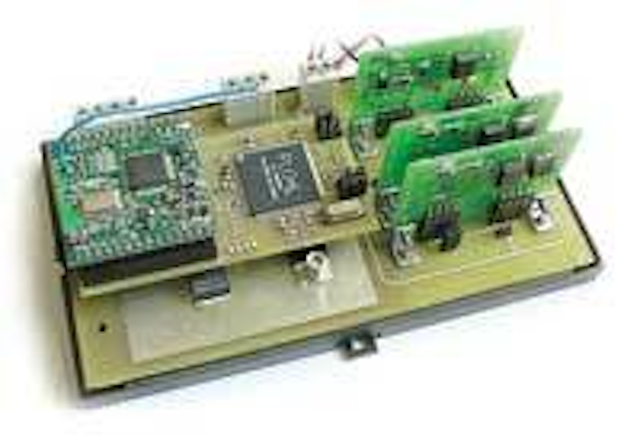 Click here to enlarge image
Industrial Telemetry Inc. has introduced SCADAMESHTM, which combines a patent pending PLC on a ChipTM with an on-board processor and memory, mounted on the same 12-24 vDC line-powered board with a patented RealMESHTM radio, in an industrial DIN housing. The system supports 4-20 mA in and out, 0-5V in and out, and 0-10V in and out.
Industrial Telemetry Inc.
Collinsville, OK
Tel: 918-371-7200
Web: www.industrialt.com
Tapping tee
The new UNI-TTM tapping tee from Hancor is designed for any project that requires tapping into corrugated HDPE main line pipe. The tapping tee accomplishes this through its patented spacer ring system that contains five removable rings. Before this device, five separate items were required to make the connection between a given size service pipe and 12" through 60" corrugated high density polyethylene (HDPE) main line pipe.
Hancor Inc.
Findlay, OH
Tel: 888-367-7473
Web: www.hancor.com
Pressure instrumentation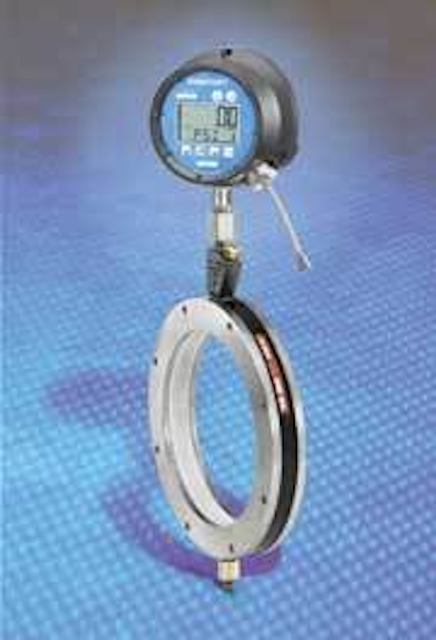 Click here to enlarge image
Ashcroft® pressure instruments can be configured with media isolators specifically engineered for harsh wastewater installations. Whether the measuring device is a dial gauge, switch, digital gauge or transmitter, there is an Ashcroft® diaphragm seal or other isolation device that can be mated for complete media protection. The seals are available in a wide variety of sizes, wetted materials and configurations including capsule type, welded or bonded and clamped designs with threaded, flanged and flushing connections.
Ashcroft Inc.
Stratford, CT
Tel: 800-328-8258
Web: www.ashcroft.com
Datalogger
Click here to enlarge image
Campbell Scientific's CR3000 Micrologger® retains the versatility of its predecessor, the CR23X Micrologger®, yet provides increased memory, faster processing, and more measurement channels for SCADA and other water resource applications. The logger's flexibility allows measuring with most commercial sensors, using minimal 5V to 12V power, and multiple telemetry options. It makes available several sensor options such as SDI-12 and analog.
Campbell Scientific Inc.
Logan, UT
Tel: 435-753-2342
Web: www.campbellsci.com/cr3000
Wireless gateways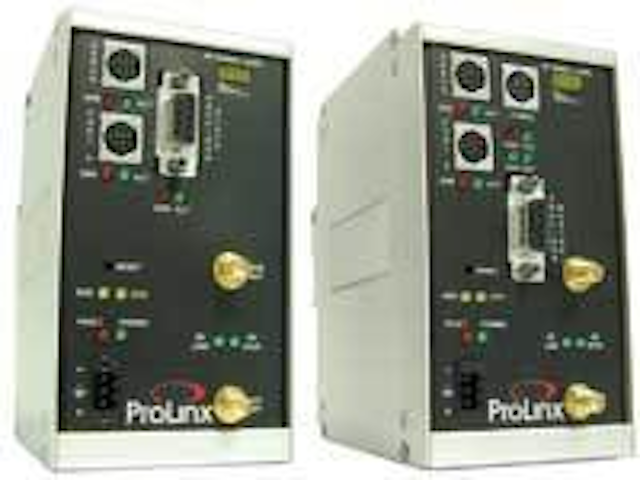 Click here to enlarge image
Connect various PROFIBUS field devices and share data between these devices using ProSoft Technology's new ProLinx Wireless Gateways. ProSoft Wireless Protocol (PWP) allows sharing data "over-the-air" between different industrial networks and protocols. The gateways allow heterogeneous networks to share process and status data wirelessly. The ProLinx module contains an internal database that consists of areas for application data, status information, and configuration information, which is shared between all application ports and is used as a conduit to pass information from a device on one network to one or more devices on other networks.
ProSoft Technology Inc.
Bakersfield, CA
Tel: 661-716-5257
Web: www.prosoft-technology.com
Process pump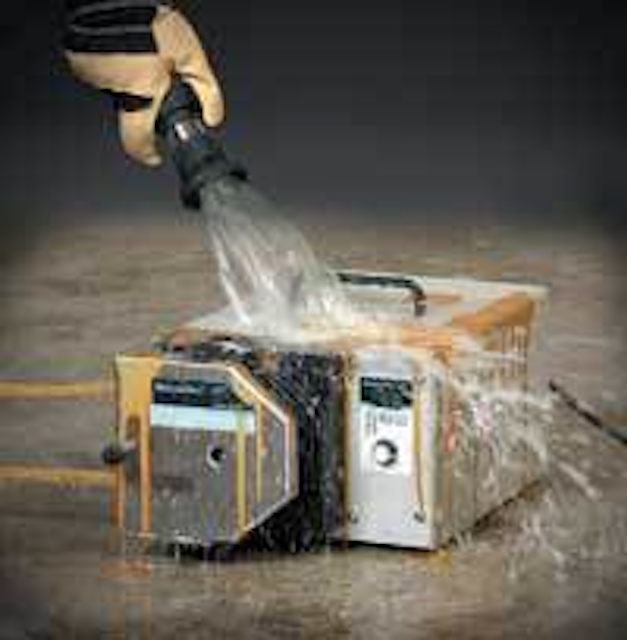 Click here to enlarge image
The Masterflex® I/P Process Pump System from Barnant features a 1/3-hp PWM brushless motor drive, roller and ball bearing construction and a non-chip epoxy-coated IP55 washdown steel enclosure, making it well-suited for 24-hour continuous-duty operations.
Barnant Co.
Barrington, IL
Tel: 800-637-3739
Web: www.barnant.com
Level sensor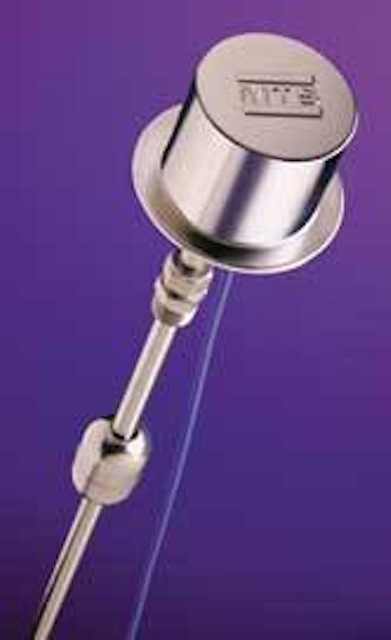 Click here to enlarge image
MTS Systems Corp. Sensors Division's MC420 Liquid-Level sensor has simplified the process of implementing a liquid-level sensor for applications such as water treatment. Part of the M-Series, the sensor is available in a limited variety of pre-determined lengths, is packaged with its own float, and is shipped with its own magnet to allow for two-step calibration. Standard calibration can also be completed using the HART® interface. Like all M-Series sensors, the MC420 uses a magnetostrictive design and has only one moving part: the float.
MTS Systems Corp.
Cary, NC
Tel: 919-872-8172
Web: www.mtssensors.com
Fabric covered buildings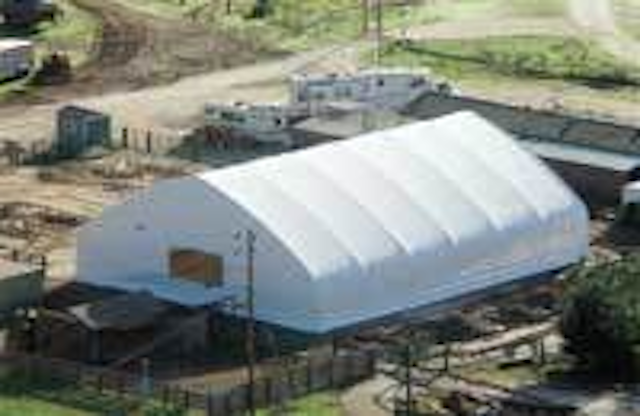 Click here to enlarge image
Cover-All Building Systems, a manufacturer of steel-frame fabric-membrane buildings, is launching a new building design that has a cleaner exterior design, a unique shape and a lower roof line in sizes from 30 feet to 70 feet wide and to any length. The Meridian Building series is a hybrid between the company's Titan and Legend building designs. The exterior shape of the building follows a traditional building shape with a one piece outer fabric-membrane.
Cover-All Building Systems
Saskatoon, Saskatchewan
Tel: 306-657-2796
Web: www.coverall.net
Air filters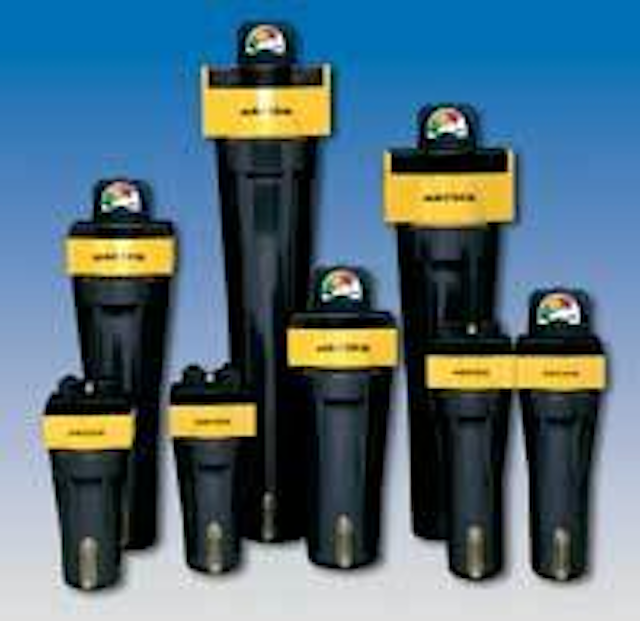 Click here to enlarge image
All compressed air systems contain contaminants. Whether removing water droplets, dust and dirt, oils or hydrocarbon mist and vapors, Kaeser Compressors has a complete line compressed air filters to meet even the most stringent air requirements. Available in sizes from 20 scfm to 21,250 scfm, the filters can be installed in any air system and are designed for simplified operation and maintenance. A 96+% void space provides larger flow area and minimizes pressure drop, while maintaining high capture rates and filtration efficiencies across a wide flow range.
Kaeser Compressors Inc.
Fredericksburg, VA
Tel: 800-777-7873
Web: www.kaeser.com
Plastic pipe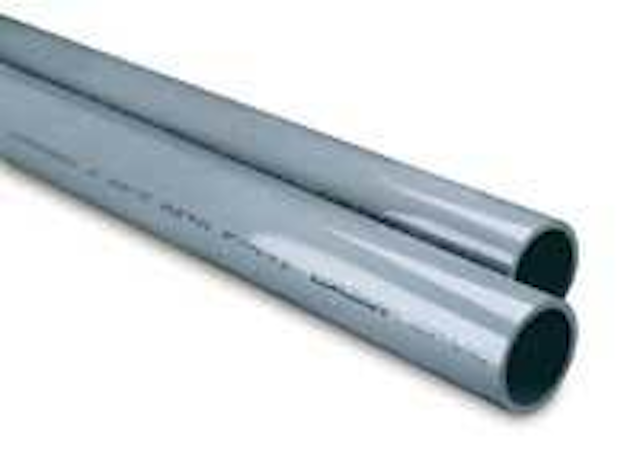 Click here to enlarge image
Corzan® piping systems offer improved corrosion resistance, mechanical strength and excellent life-cycle economics. The pipe is chemically inert to most mineral acids, bases and salts, as well as aliphatic hydrocarbons. In addition, these systems are not subject to galvanic corrosion. The piping systems can replace traditional materials and provide a longer service life, lower maintenance costs, and help ensure environmental compliance. The pipe is pressure rated for up to 200 degrees Fahrenheit and can maintain pressure-bearing capabilities for 50 years with a safety factor of 2.
CorzanTM Industrial Systems
Cleveland, OH
Tel: 888-234-2436
Web: www.corzancpvc.com