Products & Services: Pumps
Pre-engineered package lift stations available from Romtec Utilities feature components from the industry's leading manufacturers...
Oct 1st, 2006
Package lift stations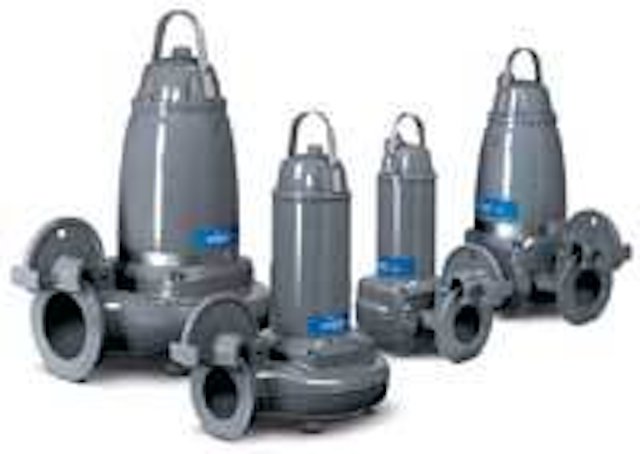 Click here to enlarge image
Pre-engineered package lift stations available from Romtec Utilities feature components from the industry's leading manufacturers, including duplex or triplex submersible pumps from ITT Flygt. Integrated systems include 6-foot and 8-foot diameter pre-cast concrete wet wells to 30 feet overall depth. Systems also include pump disconnect panel, liquid level sensing probes, UL-listed control panel (from basic to full SCADA), pre-assembled valve vaults and Cummins/Onan standby generators.
Romtec Utilities Inc.
Roseburg, OR
Tel: 541-496-9678
Web: www.romtecutilities.com
Wet-prime pumps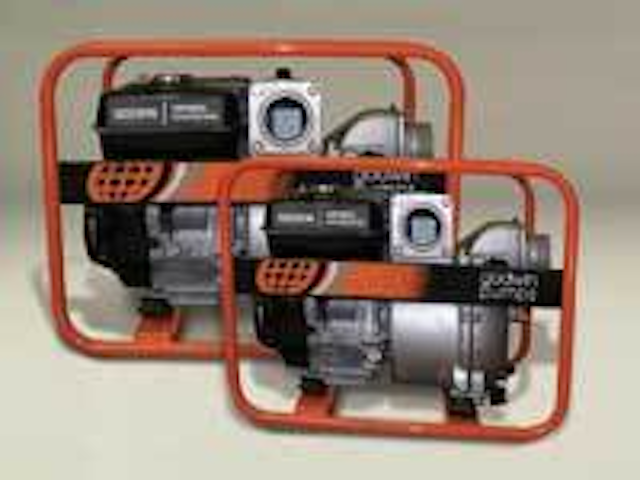 Click here to enlarge image
Godwin Pumps® offers a new line of portable, gasoline-powered Wet-Prime pumps. Available in dewatering, trash, diaphragm, plastic, and pressure models, the pumps are capable of maximum heads to 285' and maximum flows to 425 gpm. Ideal for applications including construction dewatering, the line is backed by the same parts and service availability as the company's Dri-Prime®, Heidra®, and Sub-Prime® lines.
Godwin Pumps
Bridgeport, NJ
Tel: 856-467-3636
Web: www.godwinpumps.com
Metering pump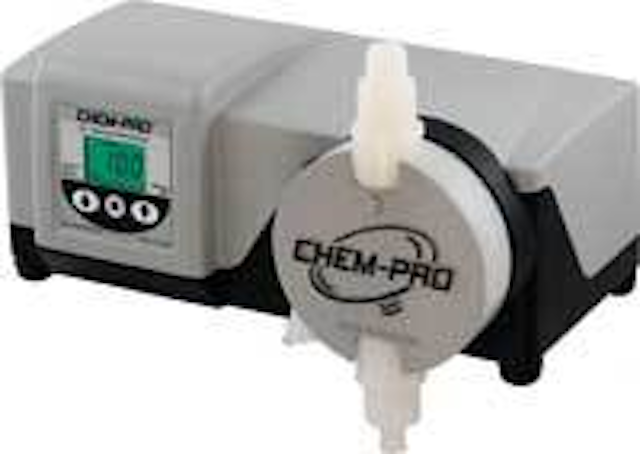 Click here to enlarge image
Blue-White Industries is rolling out a new line of products beginning with the Chem-ProTM C3 Series Metering Pump. The new pump has output/feed capability of up to 39.5 gph. The maximum working pressure is 175 psig. Pump features include: A PVDF pump head with PVDF pump head adapters and PVDF ball valves; a digital touch pad control with a back-lit LCD display; a variable speed motor that can be adjusted from 1 - 100% in 1% increments, and a brush life of up to 3,400 hours.
Blue-White Industries
Huntington Beach, CA
Tel: 714-893-8529
Web: www.bluwhite.com
Metering pump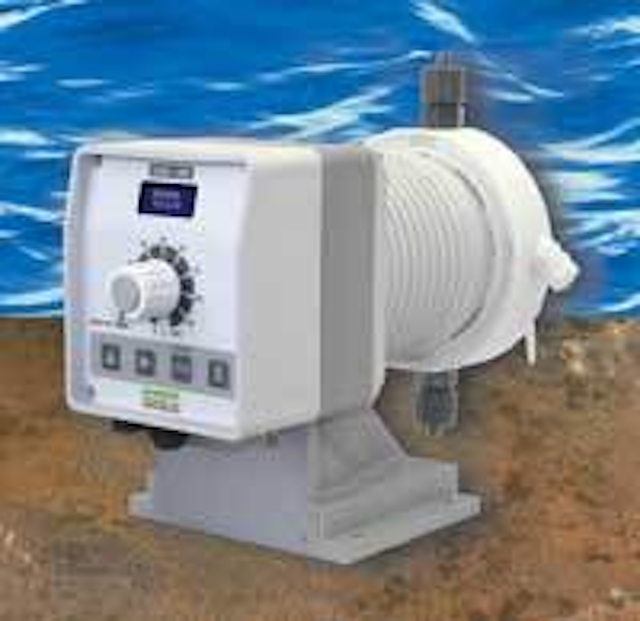 Click here to enlarge image
EMEC Americas has introduced a new microprocessor controlled metering pump that automatically calculates the Parts Per Million of required chemical concentration based on the flow rate received from an inline meter. Because the calculation of ppm is not static to flow, the new MF Series Metering Pump increases the accuracy of critical chemical injection applications by dynamically adjusting the dosing as the flow rate changes.
EMEC Americas
Ashby, MA
Tel: 800-998-3632
Web: www.emecamericas.com
Rental pumps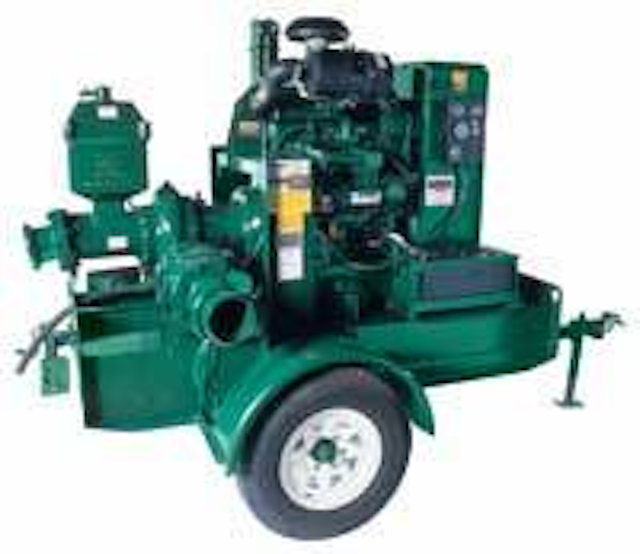 Click here to enlarge image
Baker Pumps' rental fleet of large priming-assisted pumps is capable of handling sewer bypass applications that require flow rates of up to 100 mgd. The pumps operate more efficiently as they require less fuel to pump each gallon of water.
Baker Pumps
Chicago, IL
Tel: 866-786-7712
Web: www.bakerpumps.com
Pump diaphragms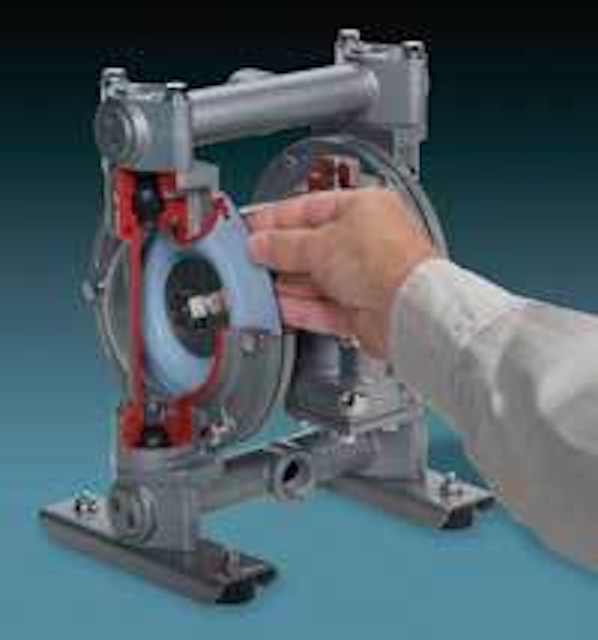 Click here to enlarge image
GoreTM One-Up® pump diaphragms from W. L. Gore & Associates offer a solution in high-pressure pumping applications involving corrosive or caustic media. Made from a proprietary PTFE design, the diaphragms are stronger and offer greater flex life than typical PTFE diaphragms.
W.L. Gore & Associates
Elkton, MD
Tel: 800-654-4229
Web: www.gore.com/sealants
Plunger pumps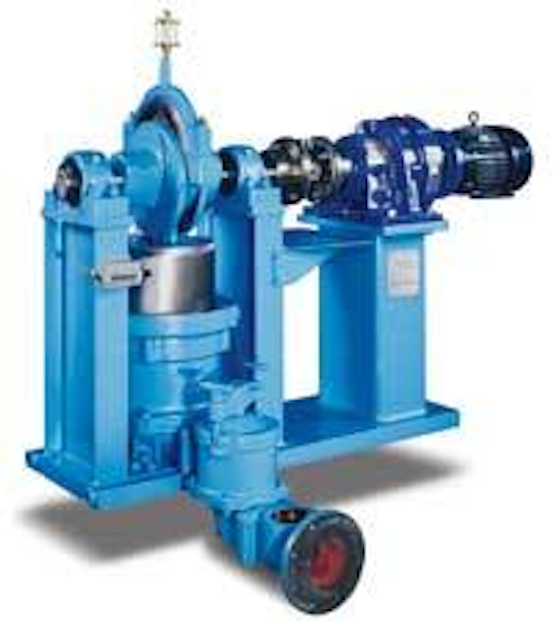 Click here to enlarge image
Komline-Sanderson has manufactured plunger pumps for over 50 years. The self-priming pumps handle heavy solids-laden sludges typically found in municipal wastewater treatment plants. The company recently redesigned the pump base to make it structurally stronger and ease maintenance. The K-S 2"-thick base plate design virtually eliminates shimming, ensuring a proper alignment every time the pump shaft is disturbed. The pumps also feature the company's "Leak Free"TM packing, replaceable eccentric liners, high efficiencies, easy clean out and anti-backlash drives.
Komline-Sanderson
Peapack, NJ Tel: 800-225-5457 Web: www.komline.com
Thermoplastic pumps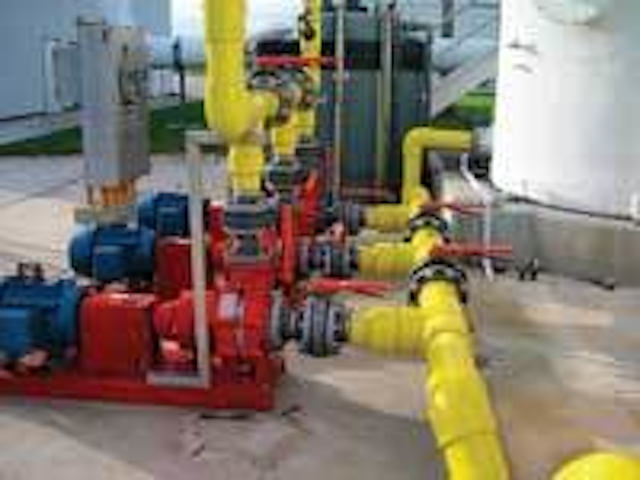 Click here to enlarge image
Vanton offers a line of thermoplastic pumps. Its Flex-i-Liner® Pumps offer a flexible liner. They are sealless, self-priming peristaltic rotary pumps for transfer and dosing with flows to 40 gpm at temperatures to 250°F. Its Chem-Gard® horizontal thermoplastic centrifugal pumps offer flows to 3000 gpm, heads to 400 feet at temperatures to 275°F and include ANSI, DIN, Mag-drive, close-coupled and self-priming models. The company's Sump-Gard® vertical centrifugal pumps are for sumps to 50 feet, flows to 3000 gpm, heads to 245 feet, at temperatures to 275°F.
Vanton Pump & Equipment Corp.
Hillside, NJ
Tel: 908-688-4216
Web: www.vanton.com
Double suction pumps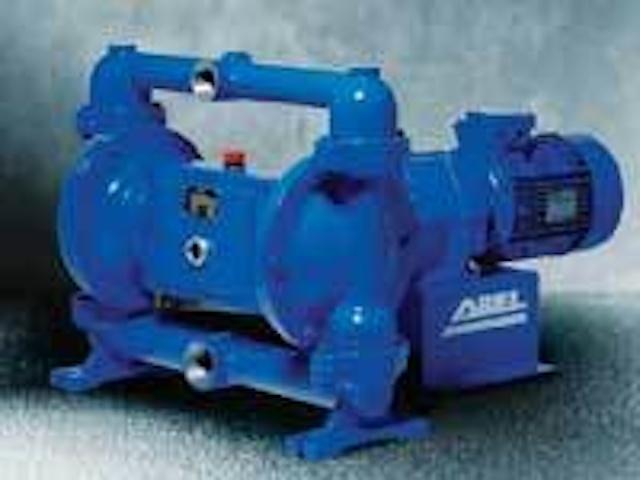 Click here to enlarge image
ITT A-C Pump (formerly Allis Chalmers Pump Co.) offers a line of single stage, double suction pumps. The pumps are designed for a wide range of municipal applications, including high flow, low lift, raw water and wastewater. The 8100, 9100, and 9800 Series feature double suction impellers to assure hydraulic axial balance and low thrust bearing loads. In-line suction and discharge flanges in the lower half casing simplifies piping.
ITT A-C Pump
White Plains, NY Tel: 800-734-7867 Web: www.acpump.com
AC drives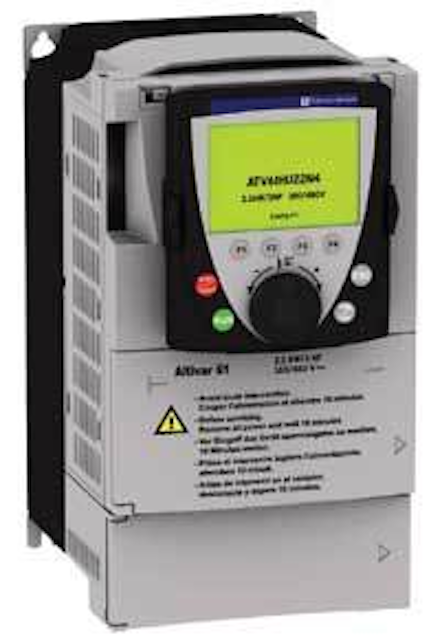 Click here to enlarge image
Schneider Electric has introduced the latest in its line of Telemecanique® Altivar® variable speed AC drives - the Altivar 61 drive. With a wide range of functions for centrifugal pumps and fans, the drive is the company's second generation of AC drives to achieve under-voltage ride-thru qualified to SEMI F47 standards. The drive has the ability to reduce energy costs by adjusting motor speeds to match the required flow.
Schneider Electric
Palatine, IL Tel: 847-397-2600 Web: www.us.schneider-electric.com
Hydraulic submersible pumps
Thompson Pump has developed an automatic start/stop system for hydraulic submersible pumps. Typical hydraulic power units require manual start and stop, manual needle valve adjustment and manual speed adjustment. The company's automatic start/stop system energizes and de-energizes the hydraulic circuit while automatically adjusting the speed of the hydraulic power unit.
Thompson Pump
Port Orange, FL
Tel: 800-767-7310
Web: www.thompsonpump.com
Solids handling pumps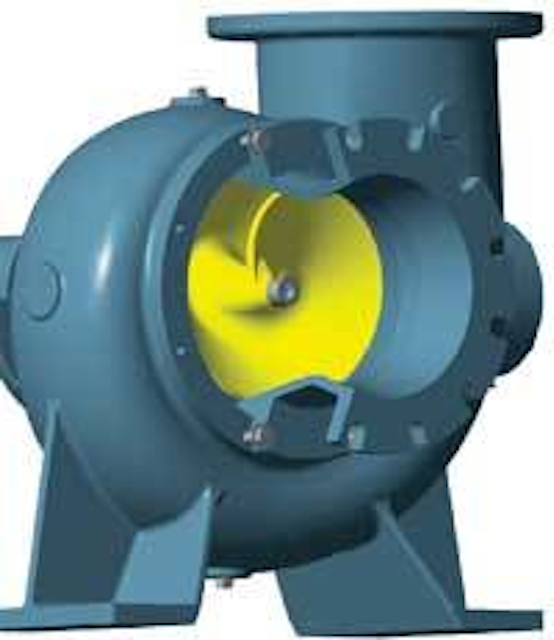 Click here to enlarge image
Fairbanks Morse Pump has introduced the 5600 Series HydroScrewTM Solids-Handling Pump line, which combines the efficiencies and solids-handling characteristics of the single screw impeller with the existing volute and bearing frame of the company's standard solids-handling pump designs. The pump consists of a ductile iron (optional A-532 III high chrome cast iron 450 Brinell) screw impeller, running in an all cast iron (optional chrome cast iron 450 Brinell) cone. Applications include raw sewage, return activated sludge, waste activated sludge, mixed liquids, digester recirculation and primary sludge.
Fairbanks Morse Pump
Kansas City, KS
Tel: 913-371-5000
Web: www.fmpump.com
Pump control
Click here to enlarge image
Flowserve Corp. now offers the IPS TempoTM, a pre-engineered intelligent pump optimization, control and protection system that improves performance, lowers total cost of ownership, reduces power consumption up to 50 percent, and improves Mean Time Between Repair (MTBR). The system can help eliminate downtime and repairs caused by dry running, blocked lines, pump overloads, closed suction or discharge valves, cavitation, and excessive wear or rubbing.
Flowserve Corp.
Dallas, TX
Tel: 800-728-7867
Web: www.flowserve.com
Metering pump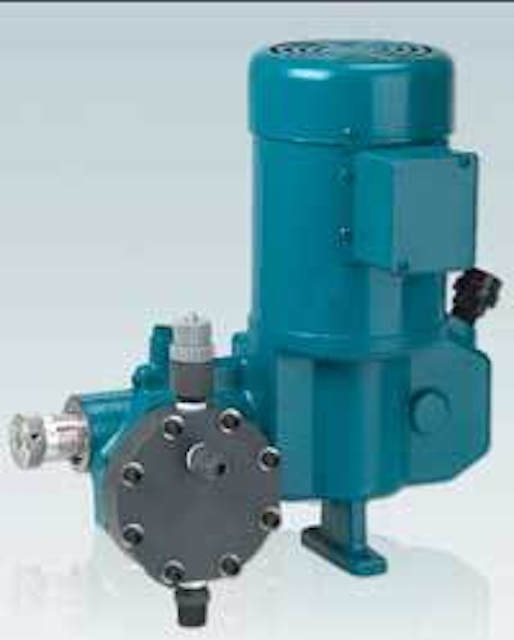 Click here to enlarge image
Neptune Chemical Pump Co. has introduced the 500AR Series hydraulic diaphragm metering pump. The pump is designed with an automatic air release valve to be used in sodium hypochlorite service or with other chemicals that off-gas at room temperature. It features a PVC head design that minimizes internal space, eliminating areas where gas can accumulate. All ports slope upward to vent gas through the top of the pump and away from the diaphragm.
Neptune Chemical Pump Co.
Lansdale, PA
Tel: 215-699-8700
Web: www.neptune1.com
Chemical feed pump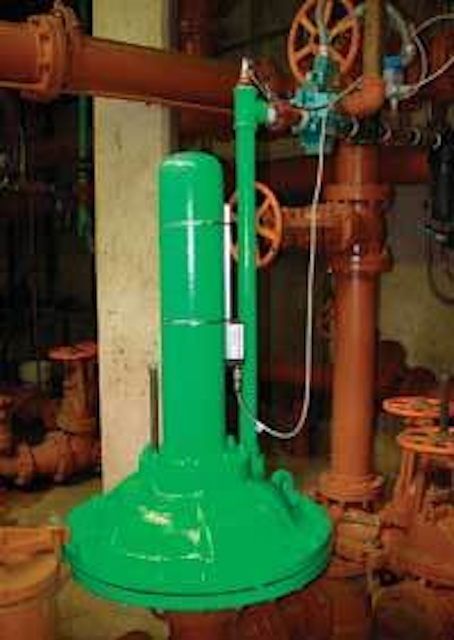 Click here to enlarge image
Dorr Oliver Eimco has developed a 1" ODS® Air Operated Diaphragm Pump as a chemical feed pump for the water and wastewater industries. It can be used for ferric chloride, sodium hypochlorite, sodium hydroxide, lime slurry, alum slurry and similar chemical feed applications. The pump will not air bind, can handle high percent crystallized solids, can run dry indefinitely, and has no seals or tubes to wear out.
Dorr-Oliver Eimco Inc.
Orillia, Ontario
Tel: 705-325-6181
Web: www.glv.com
Grinder pump station
The new E/One Squat grinder pump station is designed for residential sewage collection. Featuring a corrosion resistant low-profile polyethylene tank and gusseted for maximum strength in a reduced weight design, the station even fits inside failing septic tanks, minimizing disruption to homeowners during the transition to pressure sewer from septic. The series also provides for minimal retained sewage after pumpdown while providing maximum peak flow storage capacities.
Environment One Corp.
Niskayuna, NY
Tel: 518-346-6161
Web: www.eone.com
Diaphragm pumps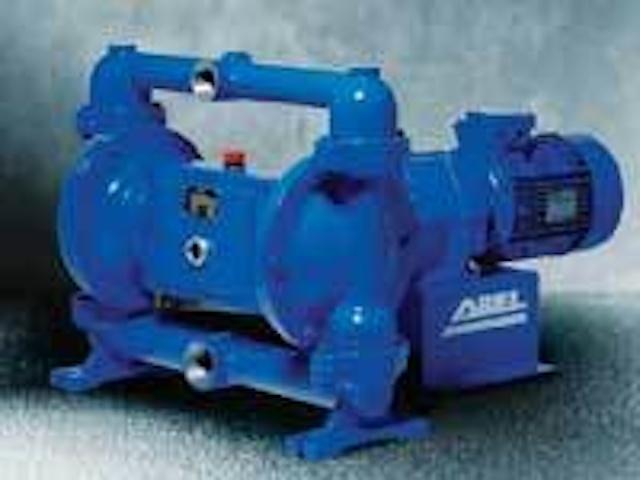 Click here to enlarge image
The Abel Electro-Mechanical Membrane, Positive Displacement Pumps (Model EM) are 90% energy efficient, seal-less, self-priming, capable of running dry and deliver constant flow over their entire pressure range. The double-acting membrane pumps feature pressures up to 90 psi and capacities up to 275 gpm.
Abel Pumps L.P.
Sewickley, PA
Tel: 412-741-3222
Web: www.abelpumps.com
Sludge pump

Click here to enlarge image
seepex has developed a new open hopper pump to transport extremely viscous products and dewatered sludge cake. This pump can transport materials up to three million cPs and municipal wastewater sludge with over 50% solids. The new BTHE design uses a feed auger that operates separately from the pump rotor shaft, allowing the auger to operate concentrically.
seepex Inc.
Enon, OH
Tel: 937-864-7150
Web: www.seepex.com
Peristaltic pumps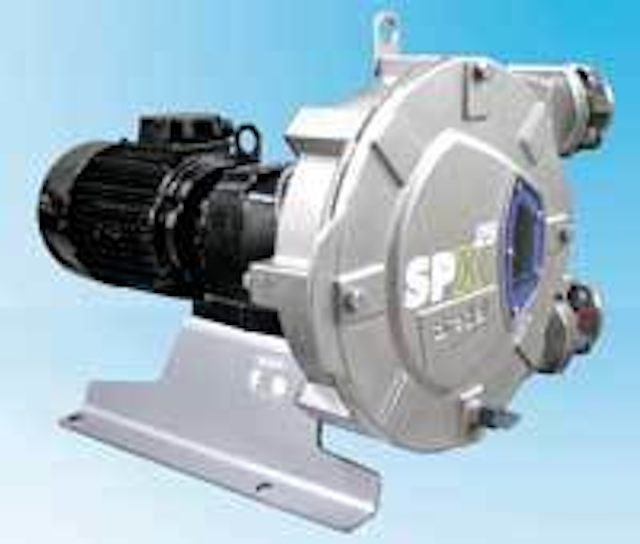 Click here to enlarge image
Watson-Marlow Bredel offers the SPX DuCoNite® peristaltic pump, which uses a high-tech surface-protection method to resist chemical attack. It is able to handle a variety of harsh materials, such as sodium hypochlorite, sulfuric acid, sodium bisulfite, alum, fluoride, ferric chloride and caustic. The company's hose pumps are virtually maintenance free with no seals to replace, no check valves to clog and no rotors and stators to wear out. Unlike other pump types, pump life is unaffected by the highly corrosive nature of water and wastewater treatment chemicals. The self-loading design simplifies hose replacement.
Watson-Marlow Bredel Pumps
Tel: 800-282-8823
Web: www.watson-marlow.com
Pump station control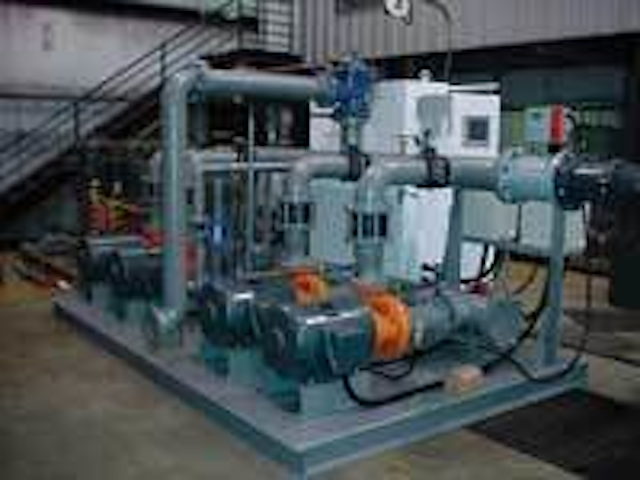 Click here to enlarge image
National Pump Co. offers a multi-pump booster system using the latest Control Logix from Allen Bradley with complete Ethernet communication, allowing for integration with existing software and control protocols. The control system is suited for booster pump applications where volume demands can vary from small to large in short time periods. The pressure control system allows for one or more variable frequency drives to start and ramp up to set point depending on the volume demand.
National Pump Co.
Olive Branch, MS
Tel: 866-668-4914
Water, wastewater pumps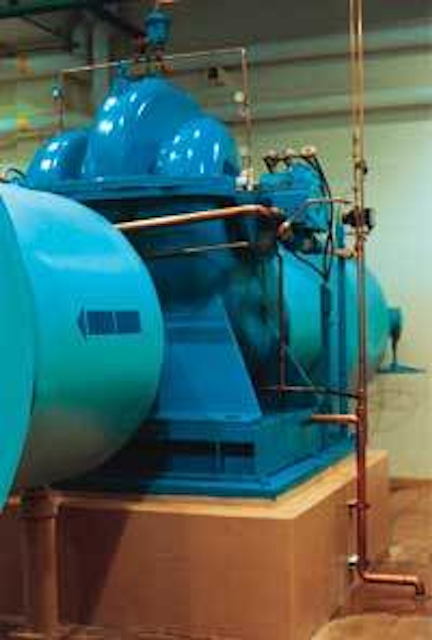 Click here to enlarge image
Patterson Pump offers a line of high-performance pumps for water and wastewater duties. Its Type "A" Horizontal Split Case Pumps are engineered, built and tested to move clear water or low viscosity clear liquids at moderate heads. Their rugged design contributes to extended service life, reduced maintenance costs and minimum power consumption.
Patterson Pump Co.
Toccoa, GA Tel: 706-886-2101 Web: www.pattersonpumps.com
Sludge pumps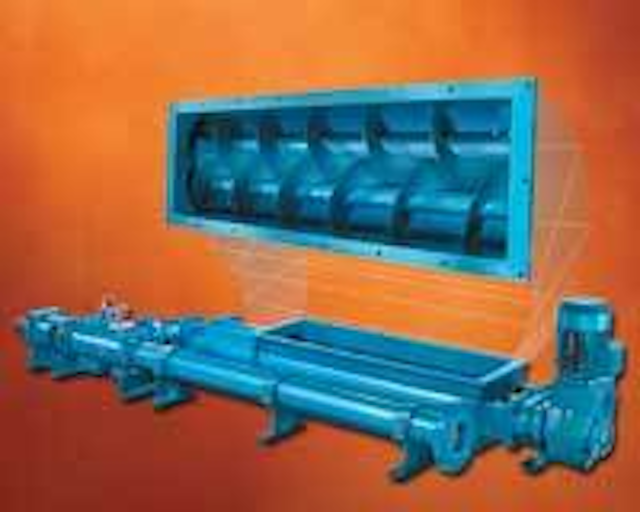 Click here to enlarge image
The Moyno® 2000 HS System features an integral hopper with a twin-screw auger feeder and G4 PC pump that handles semi-dry, high solids, dewatered municipal sludge to over 50% solids. The system can pump filter cake further distances with higher volumetric efficiencies than most other progressing cavity pump. Its twin-screw feeder supplies a constant, pressurized feed rate to the pump resulting in a 100% pump cavity fill rate.
Moyno Inc.
Springfield, OH Tel: 877-486-6966 Web: www.moyno.com
Bypass pump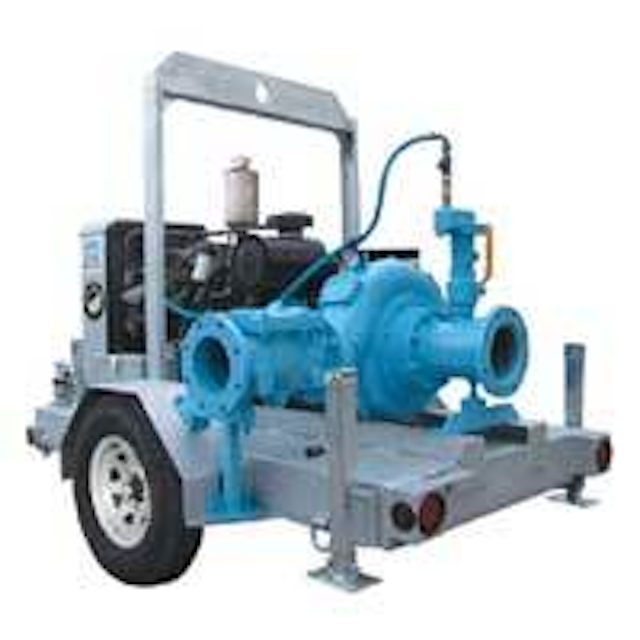 Click here to enlarge image
Rain for Rent's new 8" DV-200c pump is designed for bypass pumping and dewatering operations. It offers improved fuel efficiency, increased hydraulic efficiencies up to 81% and solids handling to 3.375". The galvanized trailer resists corrosion, eliminating repainting costs. The pump can handle flows up to 4,500 gpm and heads up to 260 feet.
Rain for Rent
Bakersfield, CA
Tel: 800-742-7246
Web: www.rainforrent.com
Pump controller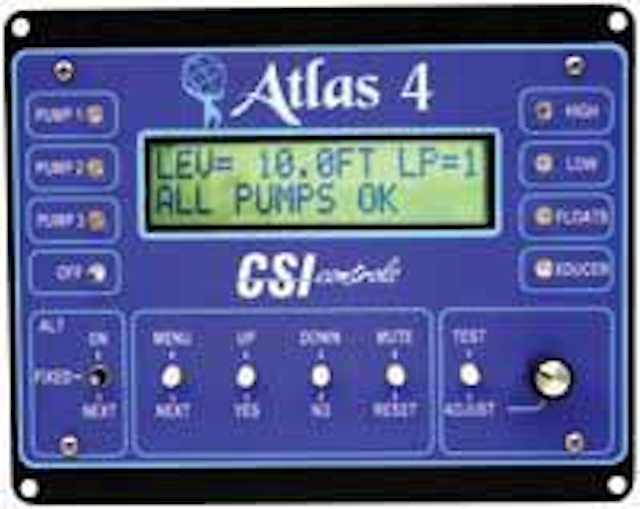 Click here to enlarge image
The Atlas 4 is the latest in a series of pump controllers from CSI Controls. It is designed for 1-3 pumps in pump up or down applications and accepts 4-20 mA signals from level transducers to measure liquid level. Features include selectable alternation with a lead selector switch, adjustable time delays for pump starts & stops, seal fail and over temperature inputs with built in indicators, relay outputs for both high and low level alarms, built in elapsed time meters for all pumps, and much more.
CSI Controls
Ashland, OH
Tel: 800-363-5842
Web: www.chandlersystemsinc.com
Axial, mixed flow pump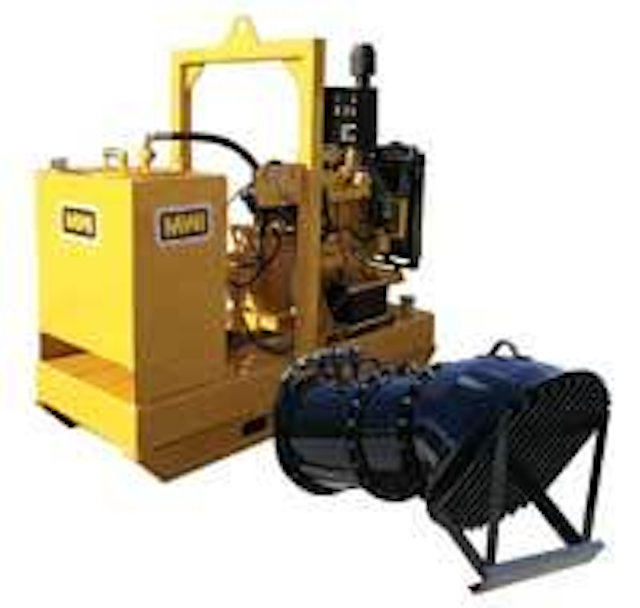 Click here to enlarge image
MWI's HydraFlo, a hydraulically driven axial or mixed flow pump, has been updated and re-engineered. The pumps range in size from 8" to 60", pumping over 100,000 gpm at low to medium heads. The redesign dramatically decreased the size of the hydraulic tank, installed radiator-mounted hydraulic coolers, and moved to cast iron pump heads for smaller pumps.
MWI Corp.
Deerfield Beach, FL Tel: 954-426-1500 Web: www.mwicorp.com
Grinder pump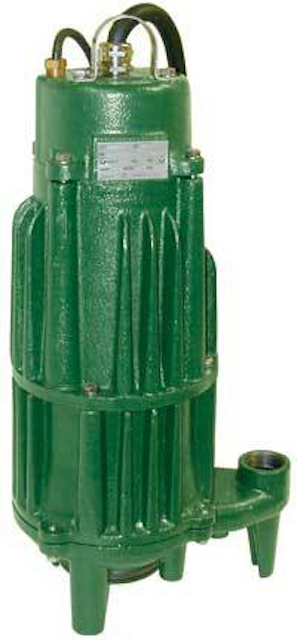 Click here to enlarge image
With its reversing feature the 6840 Shark grinder pump from Zoeller can tackle the most adverse applications. The system automatically alternates direction, enhancing cutter efficiency, reducing hang-ups which in turn reduces service calls. Standard features include 1¼" discharge, corrosion resistant powder coat finish, heat dispersing fins, hardened stainless steel cutter and dual mechanical seals with leak detection. The pumps can handle flows to 45 gpm and heads to 105'. They can be used in lift stations, housing developments, or pressure sewers.
Zoeller Engineered Products
Louisville, KY
Tel: 800-928-7867
Web: www.zoeller.com