PRODUCTS & SERVICES — VALVES
The Mueller 2300 Series Resilient Wedge Gate Valve incorporates a symmetrical design with refinements to enhance reliabiltiy and service life.
Feb 1st, 2006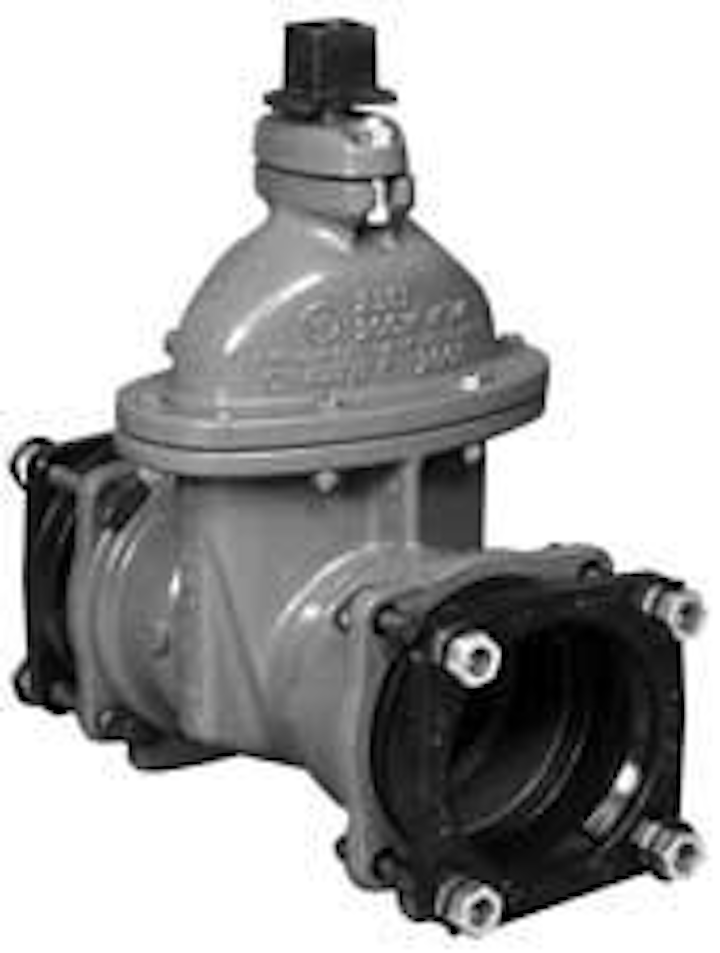 Gate valves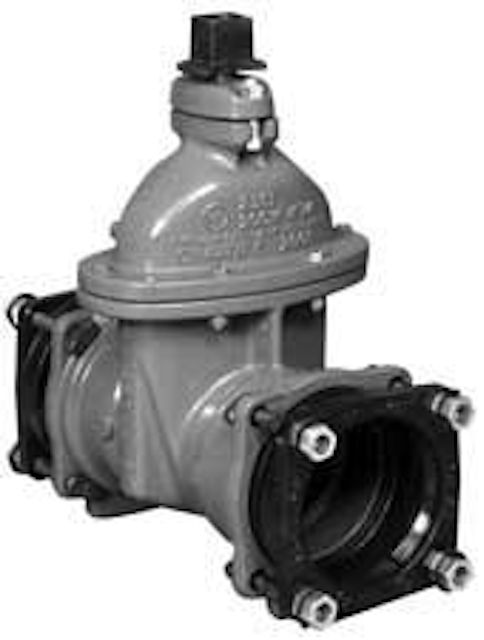 Click here to enlarge image
The Mueller 2300 Series Resilient Wedge Gate Valve incorporates a symmetrical design with refinements to enhance reliability and service life. Special features such as triple O-ring stem seals, extra-long wedge guides, polymer guide cap bearings, and an epoxy coating inside and out protect critical areas of the valve from damage, wear and corrosion. The valve operates at 250 psig and is hydrostatically shell tested at 500 psig.
Mueller Co.Decatur, ILTel: 800-423-1323Web: www.muellercompany.com
null
Flushing device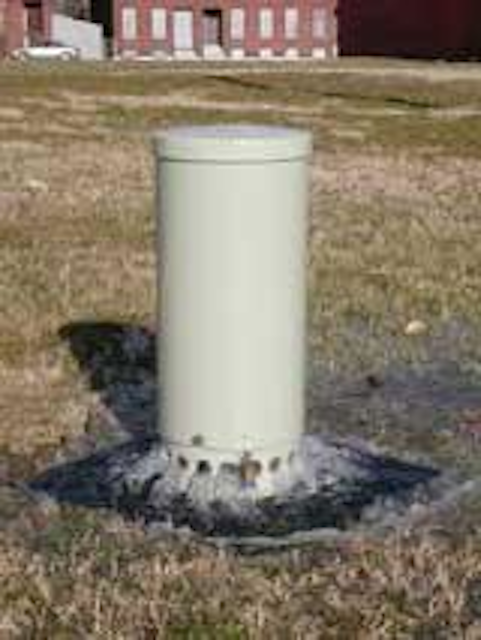 Click here to enlarge image
Kupferle has introduced the new #9400 automatic flushing device designed for maintaining water quality at permanent dead-ends. Each device has its own controller, capable of flushing nine times per day, with each flush being up to four hours each. A 9-volt battery powers the device and each unit drains to prevent freezing. A UV-resistant, locking domed cover keeps all components protected.
Kupferle Foundry Co.St. Louis, MOTel: 800-231-3990Web: www.hydrants.com
null
Pinch valves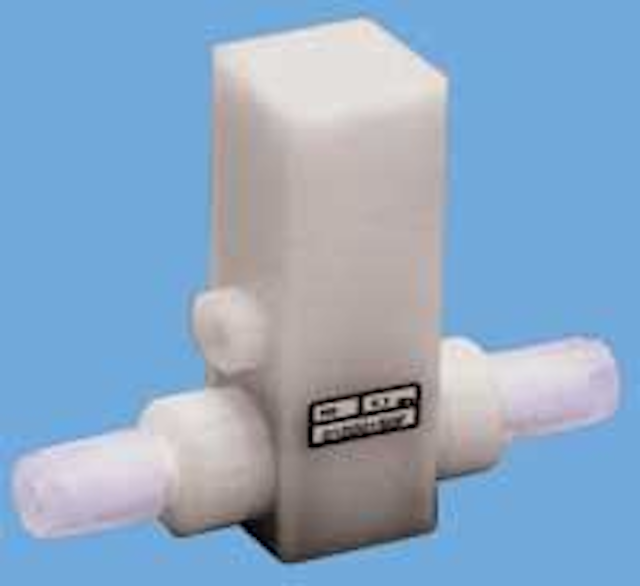 Click here to enlarge image
Asahi/America has introduced a series of Pinch Valves for CMP slurry applications. The Dymatrix PV Series offers a cycle life of over 2 million cycles without degradation of functionality such as pressure resistance and slurry coagulations - problems typically associated with diaphragm valves in slurry applications. The Series' compound tube is resistant to vacuum operation and will not collapse when exposed to limited vacuum service.
Asahi/America Inc.Malden, MATel: 877-242-7244Web: www.asahi-america.com
null
Easy-clean valves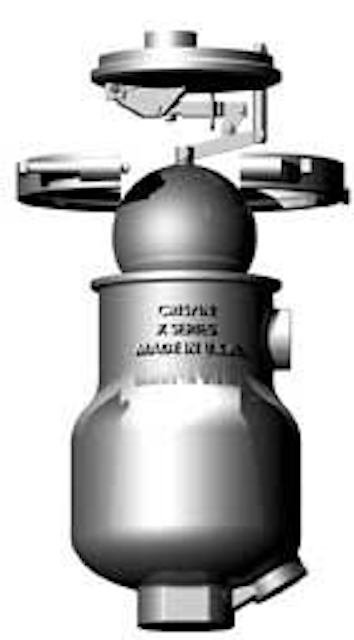 Click here to enlarge image
Cleaning the Crispin X Series involves use of one wrench and removal of two bolts and a clamp. Available in Air & Vacuum, Pressure Air Release and Combination assemblies, the valve features the company's Head Exchange System, with its head-fixed stainless steel valve internals. To clean, simply loosen the head assembly, which is sealed in place by a sanitary stainless clamp fitting. Pull out the original head, which weighs less than 10lbs, and pop in a spare. Then clean the original internals at your leisure.
Crispin ValveBerwick, PATel: 800-247-8258Web: www.crispinvalve.com
null
Swing check valves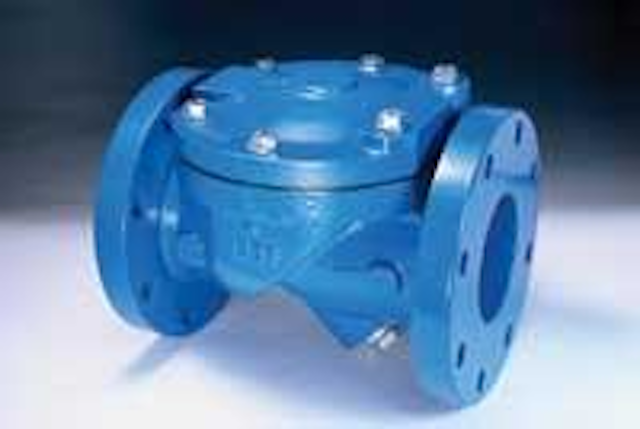 Click here to enlarge image
Danfoss Flomatic has introduced the latest addition to its Flo-Flex™ family of rubber disc swing check valves, the new model 745. The swing check valve features a 45° seat with a steel/ductile iron valve reinforced rubber disc. The ductile iron 125# flanged body is fusion epoxy coated and can be used as a pipe line cleanout. The new heavy duty Model 745 is offered with a optional backflow device (Model 745BF), valve disc position indicator (Model 745PI) and valve proximity switch (Model 745PS).
Danfoss Flomatic Corp.Glens Falls, NYTel: 800-833-2040Web: www.danfossflomatic.com
null
Valve selection software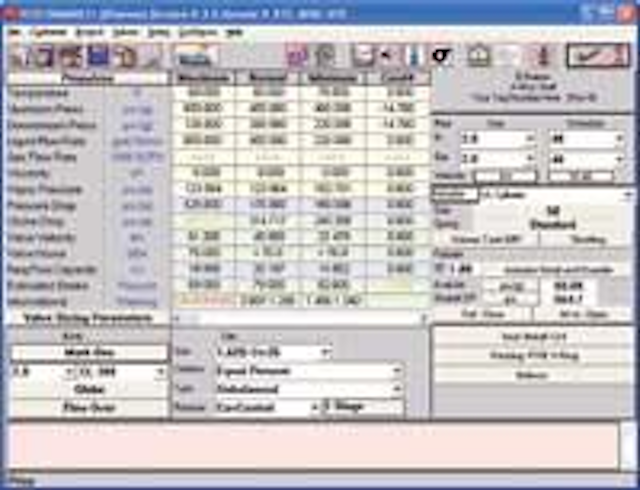 Click here to enlarge image
Flowserve has launched the 9.3.0 release of Performance!™, the company's control valve sizing and selection software. The software employs industry-standard ISA sizing equations, among other measures, to specify Flowserve control valves and similar competing valve products. Among the new features are additions to the program's product and options database, as well as improvements to the software engine to increase its speed and ease of use.
Flowserve Corp.Irving, TXTel: 972-443-6500Web: www.flowserve.com
null
Ball valves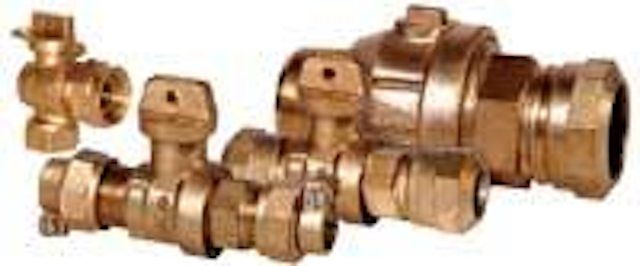 Click here to enlarge image
Ford Meter Box ball valves are engineered to withstand water pressure up to 300 PSI and still maintain a watertight seal. The valves can be used as inlet and outlet valves and are available in straight and angle configurations. There are also a wide variety of inlet and outlet connections available. Pack Joints, Grip Joints, Quick Joints, Copper Tube Nuts, MIP or FIP threads make the ball valve suitable for any service line material.
Ford Meter Box Co.Wabash, INTel: 260-563-3171Web: www.fordmeterbox.com
null
Ball valves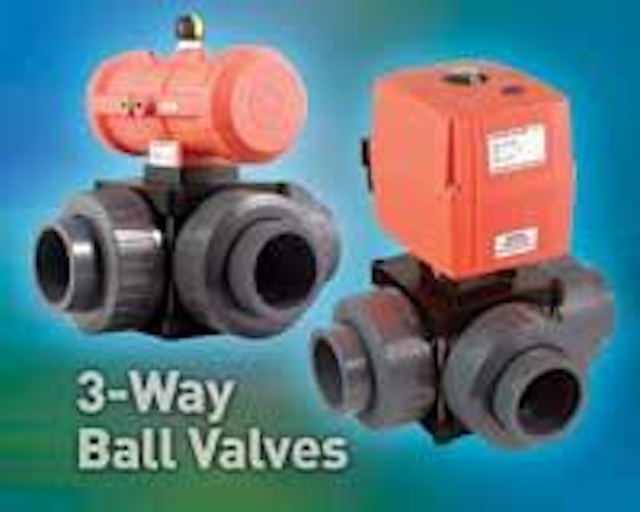 Click here to enlarge image
George Fischer has introduced a new generation of 3-way actuated ball valves: the Electrically Actuated Ball Valve Series Type 175/176/177/178 and the Pneumatically Actuated Ball Valve Series Type 275/276/277/278. Offering stability and excellent flow characteristics, the valves incorporate the new EA 21 electric actuator and PA21 pneumatic actuator. The new actuators are designed with housings made of PP-GV 30 for chemical resistance.
George Fischer Inc.Tustin, CATel: 800-854-4090Web: www.us.piping.georgefischer.com
null
Emergency valve shut-off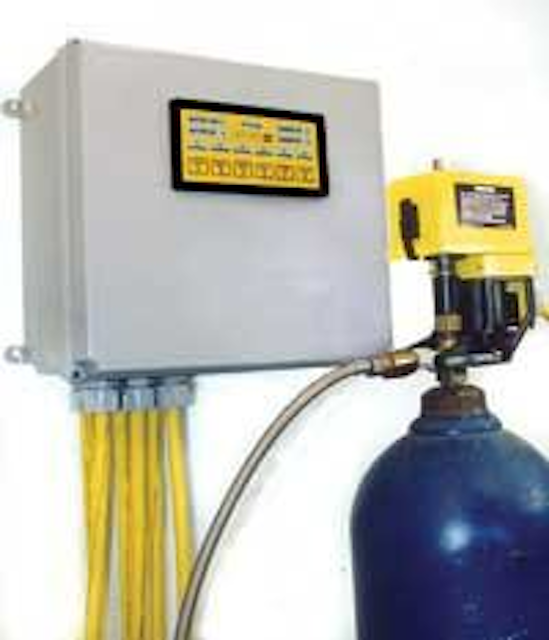 Click here to enlarge image
The Hexacon™ Model II control system closes up to six Eclipse™ actuators on toxic gas cylinder and ton container valves when activated by panic buttons or remote gas sensors. The newly designed Model II computer system applies 30 foot-pounds of torque for test closures and 50 foot-pounds of torque for emergency closures of the cylinder valve. With the system, a SCADA network can be provided with actuator closure status and error codes to quickly analyze any problems and take the appropriate corrective action.
Halogen Valve SystemsIrvine, CATel: 877-476-4222Web: www.halogenvalve.com
null
Butterfly valves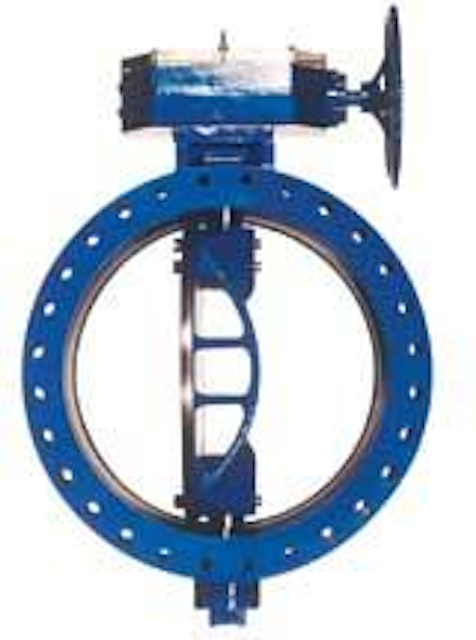 Click here to enlarge image
Henry Pratt designs and manufactures valves for fluid service in the wastewater industry. The company's butterfly valves are used to regulate the flow of fluid in piping systems. The unique seat-in-body design reduces seat failure due to corrosive buildup in the valve and pipeline. A symmetrical lens-shaped disc or flow through disc (on 30" and larger) provides more strength and higher Cv/lower head loss resulting in energy savings.
Henry Pratt Co.Aurora, ILTel: 630-844-4000Web: www.henrypratt.com
null
Knife gate valves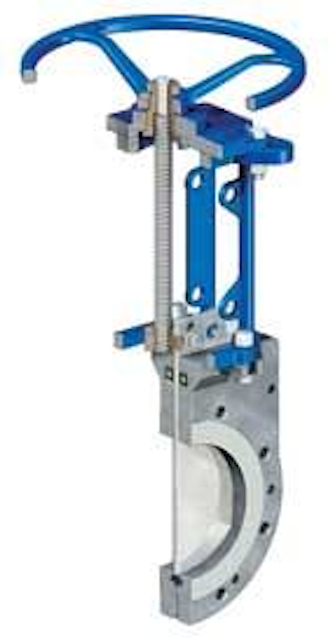 Click here to enlarge image
The Fabri-Valve XS150 Knife Gate Valve, available from ITT, is now available in 14"-24" sizes. The knife gate's design eliminates the leakage paths at the transition point between the perimeter seal and the chest seal, a problem that is common to other high performance knife gate valve designs. The new sizes join the existing line of valves that are tailored toward more demanding municipal wastewater installation conditions.
ITT Industries Engineered Valves GroupLancaster, PATel: 800-366-1111Web: www.engvalves.comBrass relief valve
null
Brass relief valve
Norman Noe offers a brass relief valve designed to solve the problem of pumping water directly into a water system when a water storage tank is off line during emergencies or maintenance. The valve is installed on a fire hydrant and is preset at 65 psi but can be adjusted from 1-120 psi. The valves have a brass body, 2 ½" ASE brass fire hydrant adapters and a pressure gauge.
Norman Noe Co.Nineveh, INTel: 317-933-2274Web: www.normannoewatertankinspection.com
null
Rubber check valves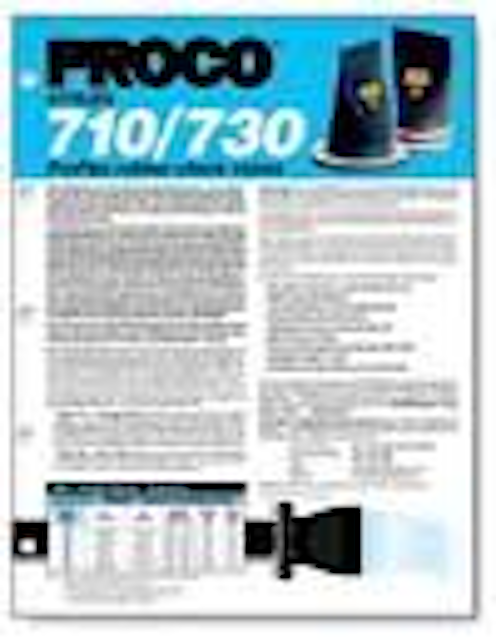 Click here to enlarge image
Proco Products has released the ProFlex series 700 Check Valve. The valve is manufactured completely from rubber resistant to fungicides and barnacles. It is impervious to rust, freezing, corrosion and seizing often found in the check valve industry. The valves are also available with NSF61 approved materials for use with potable water applications.
Proco Products Inc.Stockton, CATel: 800-344-3246Web: www.procoproducts.com
null
Spill control system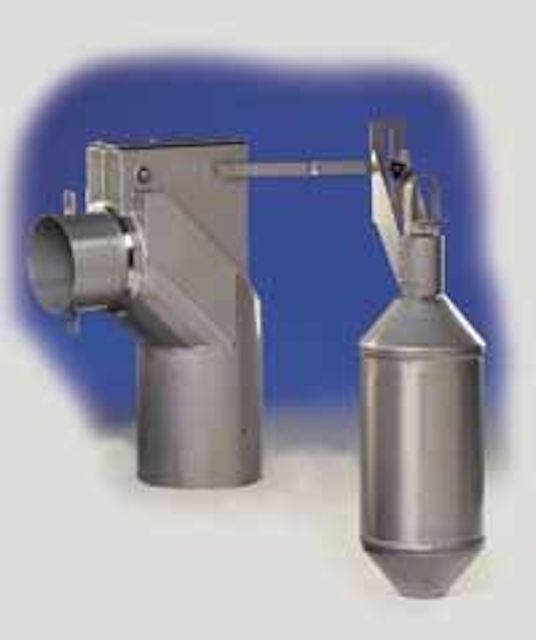 Click here to enlarge image
The ecoStop Spill Control System, available from Royal Environmental Systems, is designed for any facility or site where the potential for a petroleum spill exists. A spill situation engages an automatic shut-off valve, maintaining the spill on site where it can be contained and preventing the discharge of free oil to municipal sewers or direct discharge outlets.
Royal Environmental Systems Inc.Stacy, MNTel: 800-817-3240Web: www.royalenterprises.net
null
Pinch valves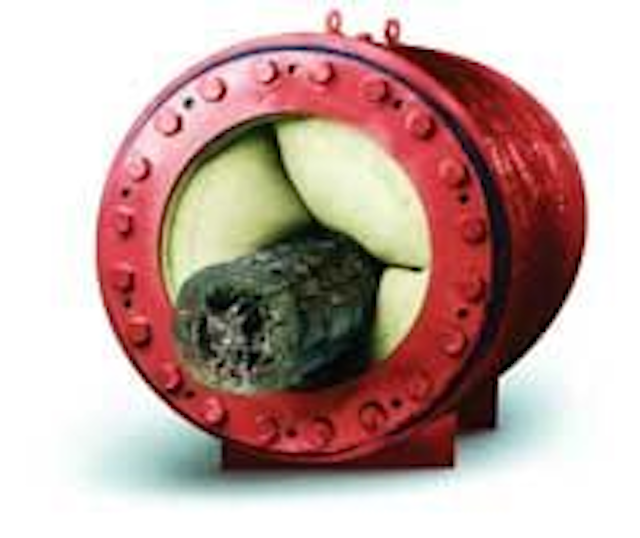 Click here to enlarge image
Type A Megaflex Pinch Valves from Red Valve are suitable for influent control, with a full-port opening, no moving parts and no external actuator. Available in sizes to 84", the valves save money through lower pumping costs, zero maintenance and increased reliability because they do not clog. The company offers a full line of pinch valves, check valves, knife gate valves, pressure sensors, air diffusers and rubber products.
Red Valve Co.Carnegie, PATel: 412-279-0044Web: www.redvalve.com
null
Check valve
The new 2"-12" Val-Matic Dual Disc check valve offers a ductile iron body with bronze discs and is designed for cold working pressures up to 250 psi. The valve is listed with both UL and FM and is designed for low head loss and minimal maintenance. It is available in wafer, PN10, PN16 and grooved-end configurations. Series 8800 continues to be available in sizes 14"-60" with cast iron body and aluminum bronze discs.
Val-Matic® Valve and Mfg. Corp.Elmhurst, ILTel: 630-941-4672Web: www.valmatic.com
null
Valve box riser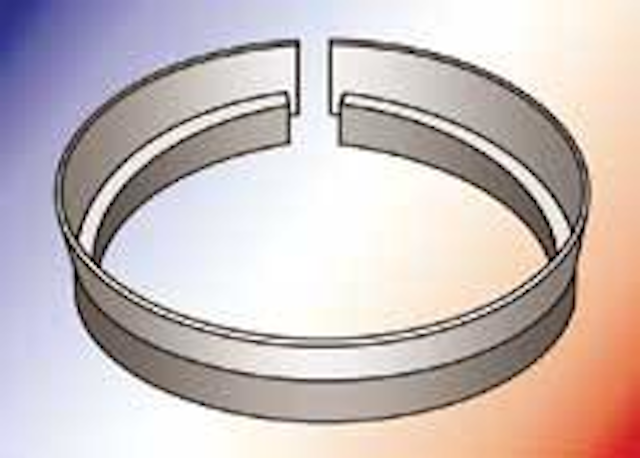 Click here to enlarge image
American Highway Products Ltd. Water/Gas Valve Compression Riser is used to reduce cost and streamline the adjusting of utilities to the new grade when paving a road. Its compression design ensures a pressed-in bearing fit when installed, allowing for installation before paving the road. The riser is compressed during installation and the residual stress holds it in place. The risers start at 1/2" rise and go up in 1/8" increments.
American Highway Products Ltd.Bolivar, OHTel: 888-272-2397Web: www.ahp1.com
null
Pilot valve actuator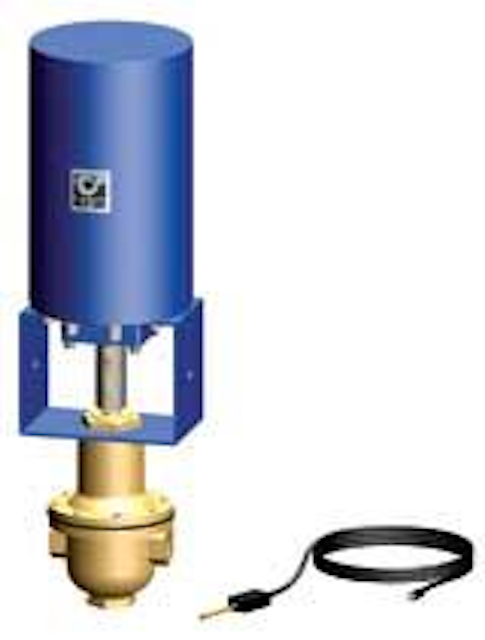 Click here to enlarge image
Cla-Val, a manufacturer of automatic control valves, recently released the latest product in its line of electronic accessories − the 32 Series Remote Control Pilot Actuator. Designed and manufactured by the company, the submersible actuator maintains constant system pressure or flow rate with a set point that can be changed remotely. In the event of a power or signal failure, the valve continues to maintain accurate control, regardless of system fluctuations.
Cla-Val Automatic Control ValvesNewport Beach, CATel: 800-942-6326Web: www.cla-val.com
null
Valve actuators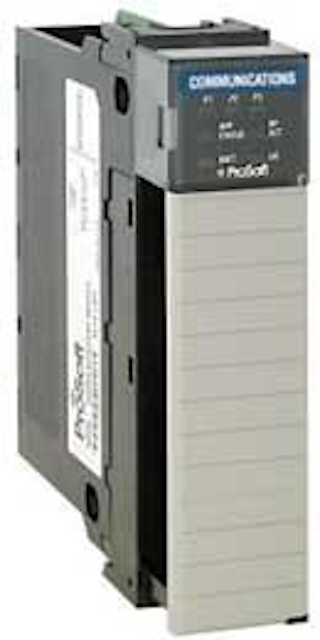 Click here to enlarge image
ProSoft Technology has introduced the Limitorque Valve Actuator Master Modules (LTQ) for Allen-Bradley's 1771, 1746 and ControlLogix platforms. The LTQ modules allow Allen-Bradley processors to interface with Limitorque protocol compatible devices. These single slot solutions communicate directly over the backplane with the respective Allen-Bradley processors.
ProSoft Technology Inc.Bakersfield, CATel: 661-716-5100Web: www.prosoft-technology.com
null
Automatic degassing Valve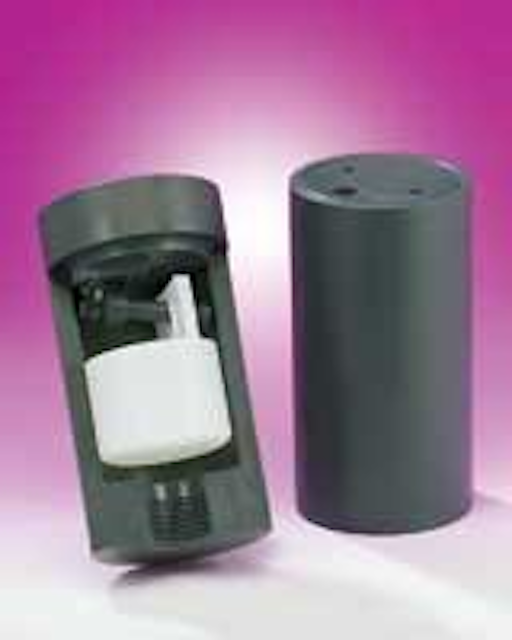 Click here to enlarge image
Plast-O-Matic Valves has developed an all-thermoplastic, automatic, continuous degassing valve. The Series DGV was developed specifically for corrosive applications subject to outgassing, such as sodium hypochlorite, hydrochloric acid, and ozone systems. The normally open valve has an internal float that pivots an arm and seal assembly as it rises and falls. When liquid fills the system, the float rises and the valve closes.
Plast-O-Matic Valves Inc.Cedar Grove, NJTel: 973-256-3000Web: www.plastomatic.com/dgv.html
null
Electric valve actuators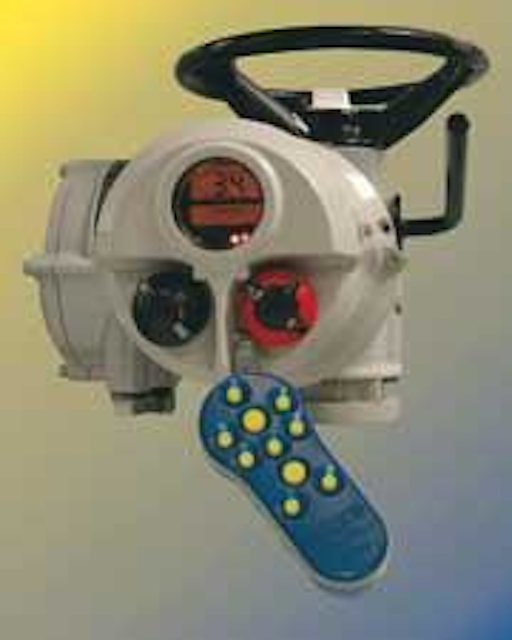 Click here to enlarge image
Rotork Controls has a new line of IQ PRO intelligent electric valve actuators as well as a compatible IQ PRO setting tool with advanced downloading capabilities. The actuators provide enhanced text displays, performance monitoring information, and data logging with valve torque signature profiles. The setting tool enables an intrinsically safe and convenient way to download actuator data without the need to carry a laptop or PDA into the field. Standard features of the actuator include a new large display with traditional Rotork indication icons and text displays for status and monitoring diagnostics.
Rotork Controls Inc.Rochester, NYTel: 585-247-2304Web: www.rotork.com
null
Sewer flow regulator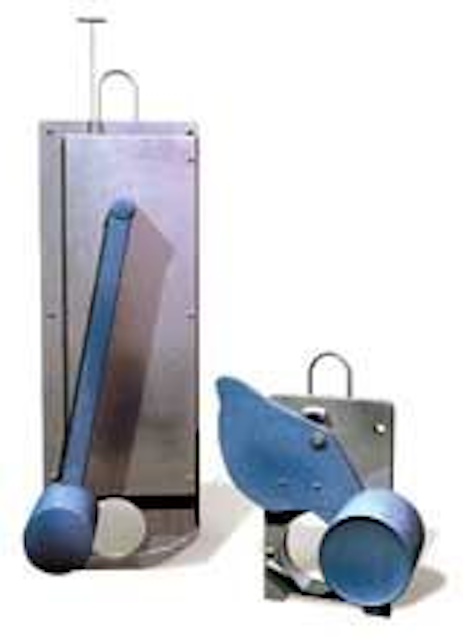 Click here to enlarge image
The CDS Technologies Hydroslide constant flow regulator has proved effective for regulating sewer flows in thousands of installations. The regulator is approximately vertical, providing a near constant flow characteristic, versus the "S" shape of a vortex flow regulator which produces a continuously variable flow characteristic. The constant flow regulator incorporates a float-activated mechanism to maintain a constant discharge without the use of an external energy source.
CDS Technologies Inc.Winter Park, FLTel: 800-848-9955Web: www.cdstech.com
null
Valve positioner

Click here to enlarge image
The TZIDC electro-pneumatic positioner from ABB Instrumentation mounts to pneumatic linear or rotary actuators. This positioner for 4-20 mA control systems offers a compact design and modular construction. The positioner automatically adapts its control settings to final control elements such as valves, offering optimal control behavior. Modularity permits future enhancements by various optional retrofits and plug-ins.
ABB InstrumentationWarminster, PATel: 800-922-2475Web: www.abb.us/instrumentation
null
Diaphragm valves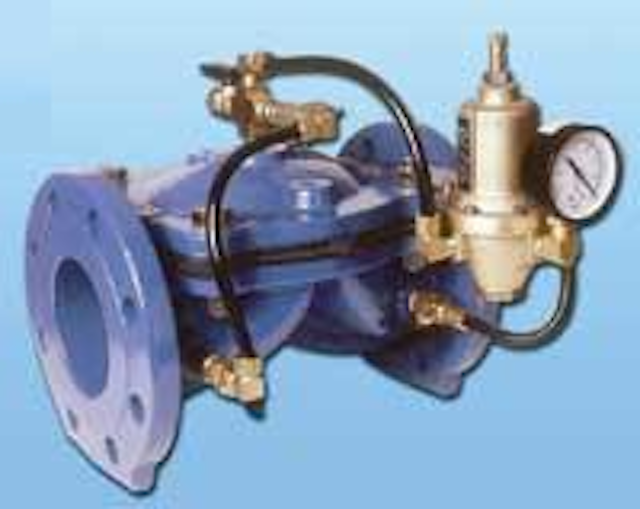 Click here to enlarge image
Amiad's Raphael "No Spring" Diaphragm Valve ensures even distribution of pressure on the sealing area, prevents diaphragm deformation and provides longer service life. The valve contains a minimum number of moving parts and requires minimal maintenance. The patented rib-style diaphragm has several advantages: valve opening and closing is gradual and eliminates risk of water hammer, vibration and noise; it provides accurate pressure regulation at flow rates; full valve opening is obtained at a very low pressure; and one diaphragm controls the whole pressure range.