AWWA ® EXHIBITOR PRODUCTS
GE Water & Process Technologies will showcase its desalination systems, including seawater reverse osmosis (SWRO) and brackish water reverse osmosis (BWRO).
May 1st, 2006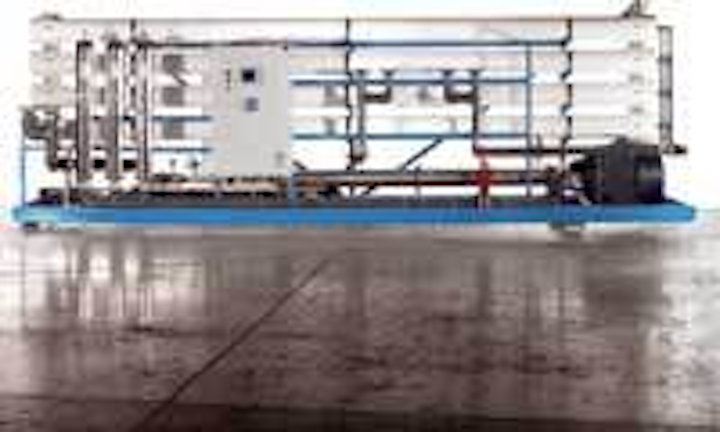 Membrane filtration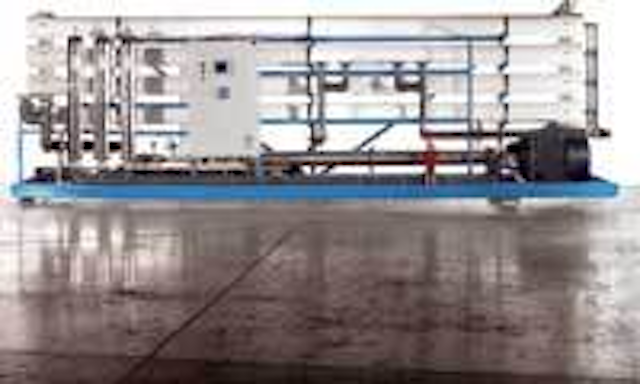 Click here to enlarge image
GE Water & Process Technologies will showcase its desalination systems, including seawater reverse osmosis (SWRO) and brackish water reverse osmosis (BWRO). The SWRO systems are designed to recover 25-35% of the feed as purified water, which keeps the concentration factors low. SWRO systems produce a feedwater quality up to 45,000 ppm TDS. The BWRO membrane technology converts previously unusable water to resources for drinking water by removing dissolved minerals and salts from the brackish water supply. It also reduces the TDS and total hardness and removes arsenic, color, perchlorate, and radium.
GE Water & Process Technologies
Trevose, PA
Web: www.gewater.com
Arsenic removal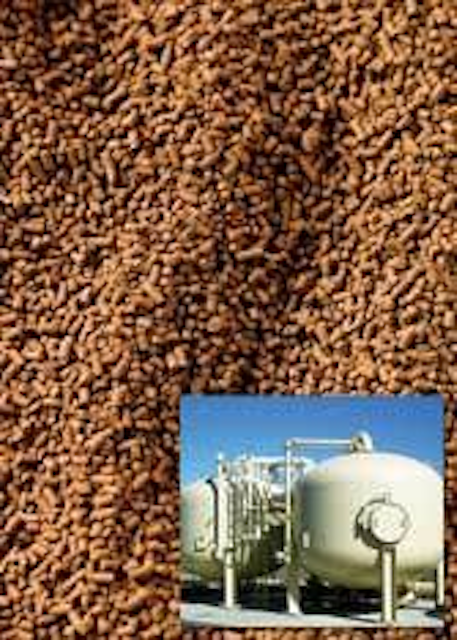 Click here to enlarge image
Severn Trent Services has introduced Bayoxide® E33P, a pelletized version of the granular Bayoxide® E33 arsenic removal media. The new media has the same high capacity for arsenic removal as the original media, which has been proven to remove arsenic to below 4 ppb. The pellet composition has a more uniform and sharper pore configuration, which improves product handling. As a result, pressure drop is reduced across the media bed requiring less frequent backwashes. The pelletized media can also be loaded into the vessel in the dry state and creates minimal dust.
Severn Trent Services
Tampa, FL
Tel: 800-364-3931
Web: www.severntrentservices.com
Data management software
Operator10® operations data management software includes features and options for the most complex facility to the most basic user. The new v8.15 upgrade can be customized to the needs and requirements of a plant or facility, and allows users to concentrate data in one location for simplified access, manipulation and flexibility. The applications are even easier to navigate, provide more functions, with key features that include an audit trail, expanded field sizes, data permissions, improved scheduling, undo/redo functions, intermittent DataViews and an improved interface for linking to any SCADA system and other applications. The report section has been completely redesigned. Once calculations are performed, the software shortens reporting time by providing federal, state-specific forms and operating reports that satisfy reporting requirements for almost every state and agency.
AllMax Software Inc.
Kenton, OH
Tel: 800-670-1867
Web: www.allmaxsoftware.com
Level, pressure transducer
Click here to enlarge image
Blue Ribbon's level and pressure transducer with integral diaphragm protection is designed to provide level measurement in highly viscous wastewater environments. The Blue Ribbon Birdcage is CE/FM approved, offers 0.25% static accuracy; custom level ranges; optional temperature measurement; and optional HART communication
Blue Ribbon Corp.
Winter Park, Fl
Tel: 877-677-8899
Web: www.blueribboncorp.com
Gas detector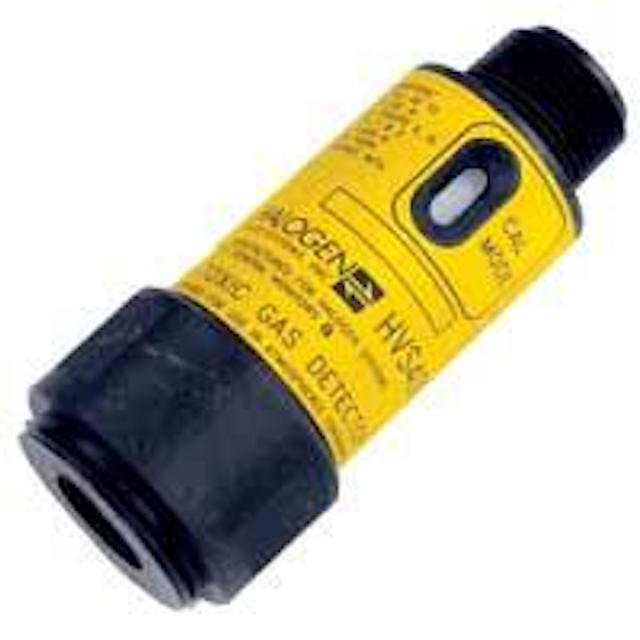 Click here to enlarge image
The Satellite gas detector, Model HVS400, monitors and reports a variety of hazardous and toxic gases to a SCADA system or other electronic monitoring equipment. Available from Halogen Valve, the detector's features include an LCD status indicator, one-person calibration, magnetic tamper-free switching, and a 4-20 mA analog gas level output.
Halogen Valve Systems Inc.
Irvine, CA
Tel: 877-476-4222
Web: www.halogenvalve.com
Valve key

Click here to enlarge image
Endeavor Tool's Gator Grip Gate Key is designed to loosen damaged or worn valve nuts. Using stainless steel rods, the wrench automatically adjusts to grip and turn valve nuts of every shape and condition. With a 3" inside diameter, it fits all standard 2" by 2" and smaller valve operating nuts.
Endeavor Tool Co.
W. Boylston, MA
Tel: 877-835-9992
Web: www.gatorgripgatekey.com
Butterfly valve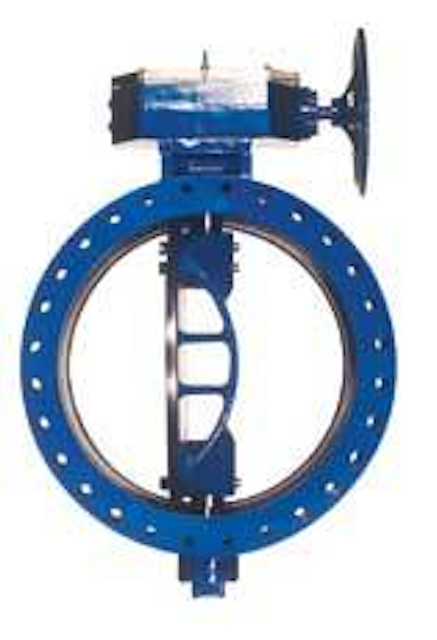 Click here to enlarge image
The Pratt Triton® Butterfly Valve has a rubber seat located in the body that reduces performance problems related to corrosive buildup in the valve body and pipeline. The E-Lok® seat can be adjusted and/or repaired in the field without dewatering the pipeline or removing the valve from the line. The flow-through disc design allows more strength, less weight, and greater free flow area. Higher CV and lower head loss result in energy savings.
Henry Pratt
Aurora, IL
Tel: 877-436-7977
Web: www.henrypratt.com
Union valve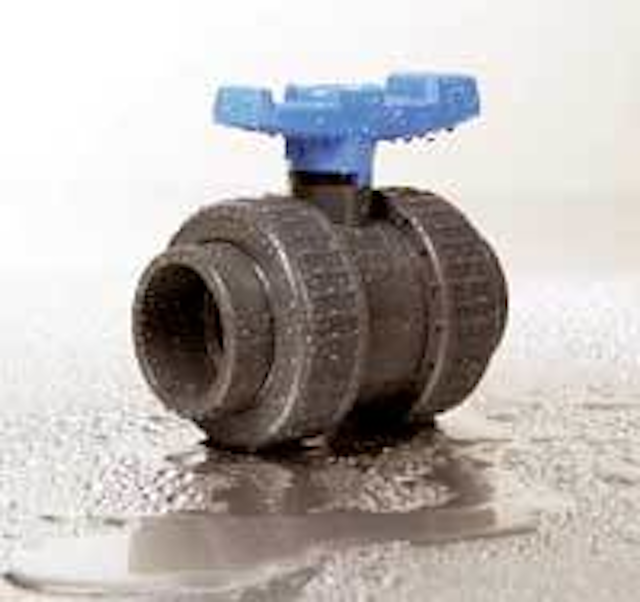 Click here to enlarge image
GF Piping has introduced the economical H2O Type 374 Valve designed specifically for water applications. NSF 61 certified, the true union valve offers a number of safety and convenience features in a compact size. Available in sizes 3/8"- 4", the valve is manufactured with a PVC body and PTFE/Polyethylene blended ballseat, offering corrosion resistance.
George Fischer Inc.
Tustin, CA
Tel: 800-854-4090
Web: www.us.piping.georgefischer.com
Magnetic flowmeter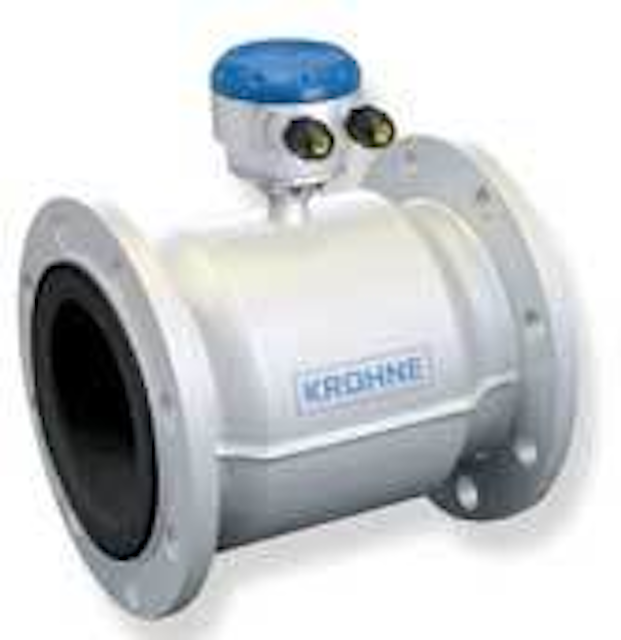 Click here to enlarge image
Krohne offers the Enviromag 2000 magnetic flowmeter for municipal water and wastewater treatment applications. The meter offers simple commissioning and has no mechanically moving parts. Its design incorporates a polyurethane liner with field-replaceable HC4 Hastelloy electrodes. The meter has a 2000:1 turndown with specified measuring accuracy. It offers a rapid response time with no obstructions and is suitable for applications with process temperatures up to 176° F and pressures up to 580 psig.
Krohne Inc.
Peabody, MA
Tel: 800-356-9464
Web: www.krohne.com
Filtration media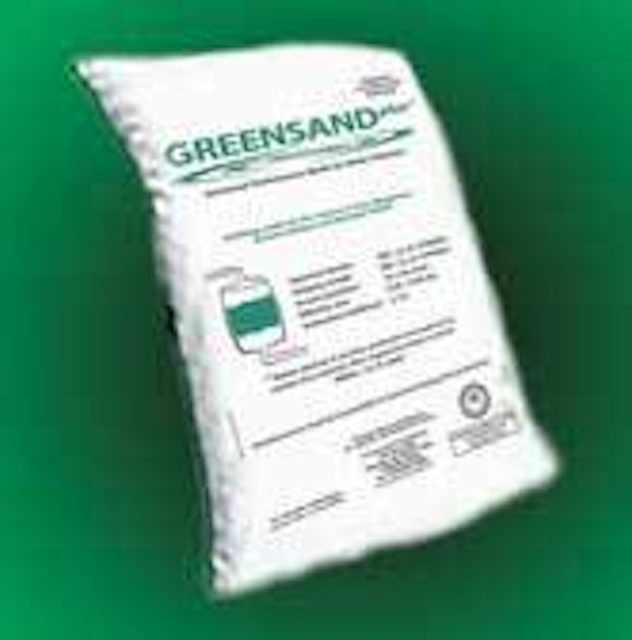 Click here to enlarge image
The Inversand Co. offers GreensandPlus for water treatment and filtration. The new product is an enhanced version of the firm's Manganese Greensand. The Manganese Greensand filtration process removes iron, manganese, arsenic, radium and hydrogen sulfide in water treatment applications. The new filter media has all the properties of the original media, plus some improvements. It has the same effective size, uniformity coefficient, density, weight, capacity, backwash and pressure drop curve.
Inversand Co.
Clayton, NJ
Tel: 856-881-2345
Flow monitoring service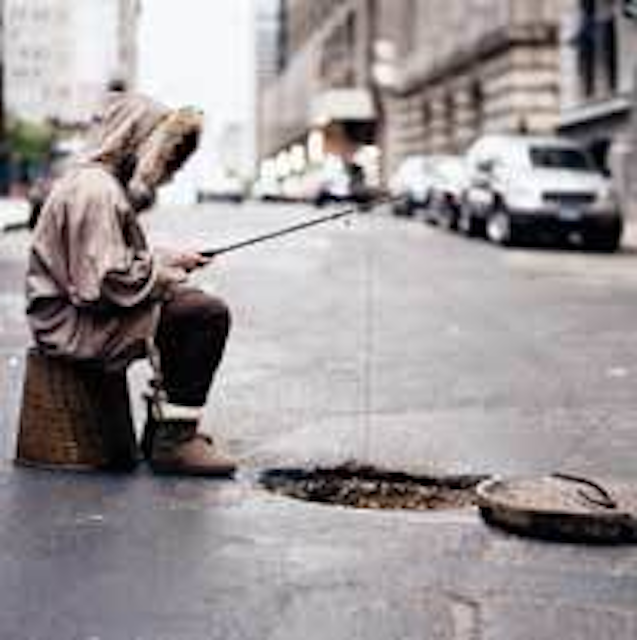 Click here to enlarge image
Marsh-McBirney has introduced a new approach to sewer flow monitoring − Data Delivery Services (DDS). With DDS, customers receive the benefits of the company's Flo-Dar flowmeter without the up front capital expense associated with a flowmeter purchase. A monthly fee includes unlimited flow data from a web-enabled Flo-Dar flowmeter.
Marsh-McBirney Inc.
Frederick, MD
Tel: 800-368-2723
Web: www.marsh-mcbirney.com
Sound data logger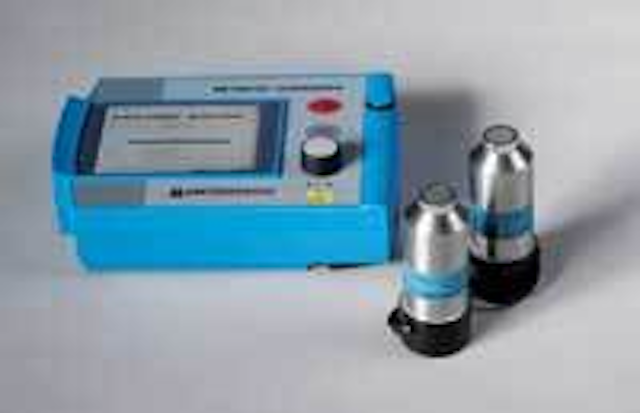 Click here to enlarge image
Metrotech has released a new digital sound data logger system, the HL 7000™ Metrolog. Designed for acoustic zone monitoring, it combines sound level and frequency loggers with radio transmission for monitoring pipeline networks. The system can be used on all pipe materials. The system is compact in size, has a large graphic display with acoustic sound capabilities and has a battery life of five years.
Metrotech Corp.
Santa Clara, CA
Tel: 408-734-1400
Web: www.metrotech.com
Taste, odor control
Applied Process Technology has announced the availability of HiPOx Plus, a waste-free Advanced Oxidation Process (AOP) that targets taste and odor issues in drinking water. The system combines ozone and hydrogen peroxide to form hydroxyl radicals, aggressive oxidants that react chemically with taste and odor compounds. The process simultaneously removes a wide range of volatile organic compounds (VOCs) and micro-contaminants as well.
Applied Process Technology Inc.
Pleasant Hill, CA
Tel: 888-307-2749
Web: www.aptwater.com
Multi-parameter analysis
The redesigned Ultrameter II 6P multi-parameter analysis instrument from Myron L includes new features and improved performance. The instrument can analyze for six parameters including conductivity, resistivity, TDS, pH, ORP and temperature. New features include data download capabilities via infrared port; increased memory to 100 locations with time and date stamp; clock; improved accuracy; waterproof to three feet; and a full four-digit LCD display.
Myron L Co.
Carlsbad, CA
Tel: 760-438-2021
Web: www.myronl.com
Pipe penetration seals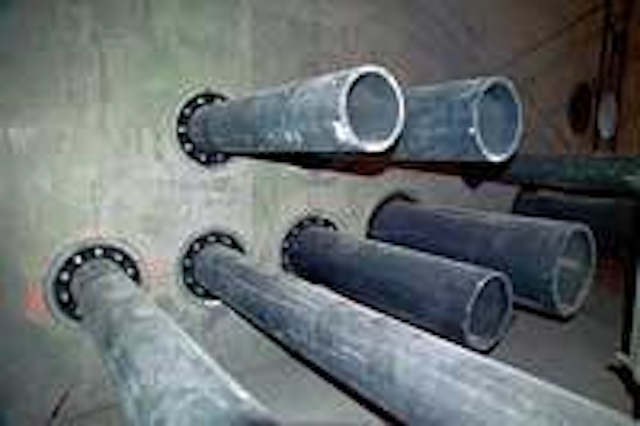 Click here to enlarge image
PSI-Thunderline offers the Link-Seal® pipe penetration seal lineup with 15 sizes. The wastewater/water Hydronic seal holds 20 psig of pressure (40 feet of static head) using standard carbon steel bolts with both a zinc dichromate coating and an organic coating that passes a 1,470 hour (ASTM B117-97) salt spray test. The modular seals use 316 stainless steel hardware.
PSI-Thunderline/Link-Seal
Houston, TX Tel: 800-423-2410 Web: www.linkseal.com
Dechlorination sys., chemicals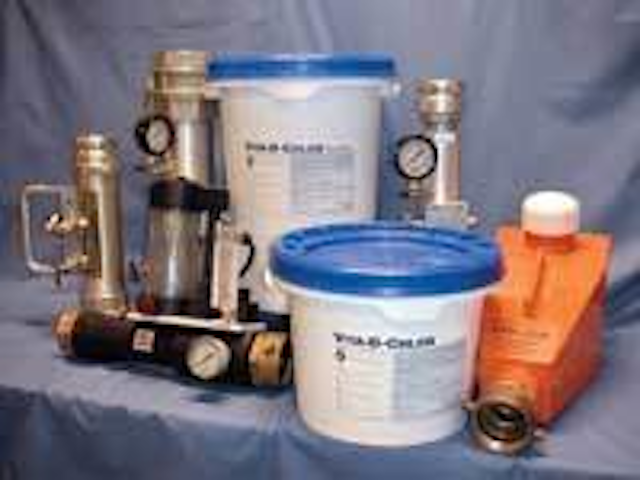 Click here to enlarge image
Integra Chemical Co. will exhibit its Vita-D-Chlor™ dechlorination systems and chemicals. Using ascorbic acid (vitamin C) chemistry, the system is the only NSF certified dechlorination product which is 100% organic, completely soluble, and provides a safe and rapid method of dechlorination. The product meets the new EPA regulations for dechlorinating water prior to flushing into streams, rivers and lakes.
Integra Chemical Co.
Renton, WA
Tel: 800-322-6646
Web: www.vita-d-chlor.com
Mobile clarification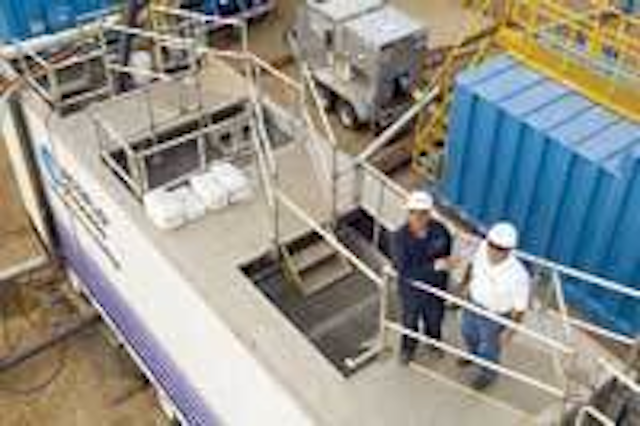 Click here to enlarge image
USFilter now offers municipal customers a mobile clarification system using the Actiflo® ballasted clarification process from Kruger Inc. Turbidity problems caused by flood events, when existing clarification and/or filtration units fail or are removed from service for periodic maintenance/replacements can best be addressed with mobile clarification systems. The self-contained system provides a 1,000 gpm design that also includes automation and control, chemical feed skids and monitoring equipment.
USFilter, a Siemens Business
Tel: 800-525-0658 Web: www.usfilter.com
Disinfection, oxidation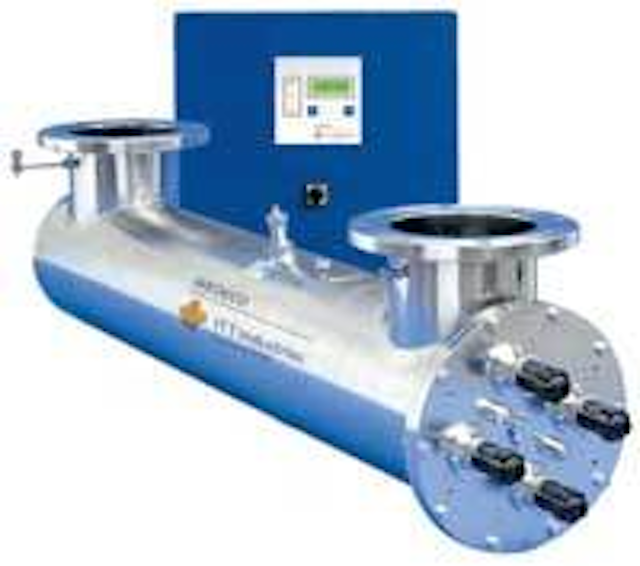 Click here to enlarge image
WEDECO, a unit of ITT Industries, manufactures ultraviolet disinfection and ozone oxidation systems for drinking water treatment. From very small municipalities to some of the world's greatest cities including Vancouver, Stockholm, and more, the company's BX and K Series ultraviolet disinfection units have been selected to deliver non-chemical disinfection.
ITT-WEDECO
Charlotte, NC Tel: 704-716-7600 Web: www.wedeco.com
Nitrate removal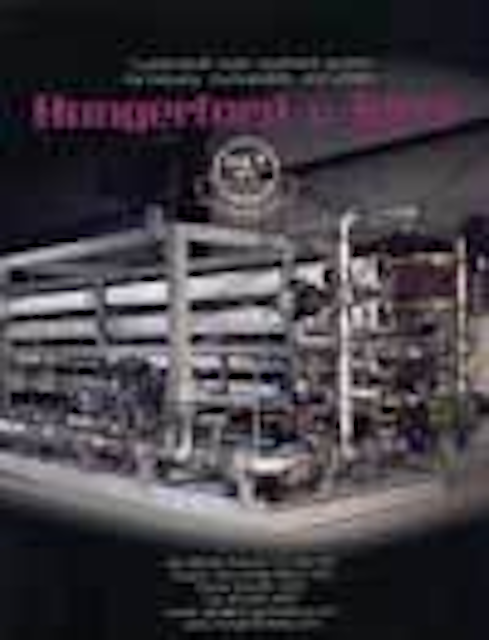 Click here to enlarge image
Hungerford & Terry offers two nitrate removal systems that reduce the concentration of nitrates in water to levels well below EPA's 10 mg/L standard. Its countercurrent removal system is best for most facilities because it is the most efficient in design and operation. For small systems where capital costs are of greater concern, the company recommends its cocurrent nitrate removal system.
Hungerford & Terry Inc.
Clayton, NJ Tel: 856-881-3200 Web: www.hungerfordterry.com
MBR modules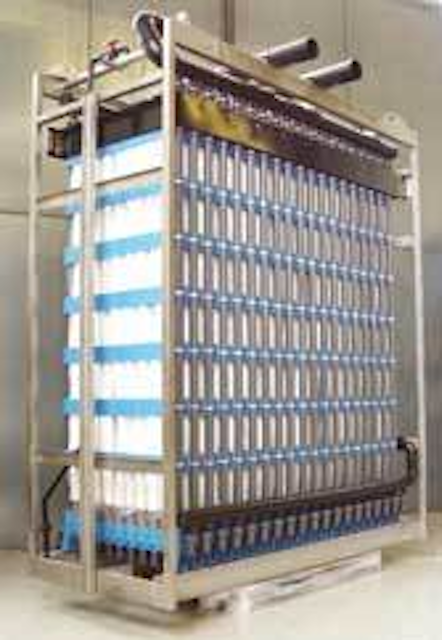 Click here to enlarge image
Koch Membrane Systems will exhibit Puron™ submerged membrane modules for membrane bioreactor (MBR) treatment of wastewater. The modules can improve water quality while using less space than conventional alternatives. Hollow fiber membranes are bundled in a single header at their lower end. Each individual fiber is sealed at the upper end and allowed to float freely. Water flows from the outside to the inside of the filters.
Koch Membrane Systems Inc.
Wilmington, MA
Tel: 888-677-5624
Web: www.kochmembrane.com
Progressive cavity pump

Click here to enlarge image
seepex metering progressive cavity (pc) pumps are now available in designs for metering aggressive chemicals like sodium hypochlorite, calcium hypochlorite, ferric chloride, potassium permanganate and strong acids and bases. A pc metering pump on NaOCl will usually have HDPE body parts with titanium rotating parts and seals.
seepex Inc.
Enon, OH
Tel: 937-864-7150
Web: www.seepex.com
Data recorders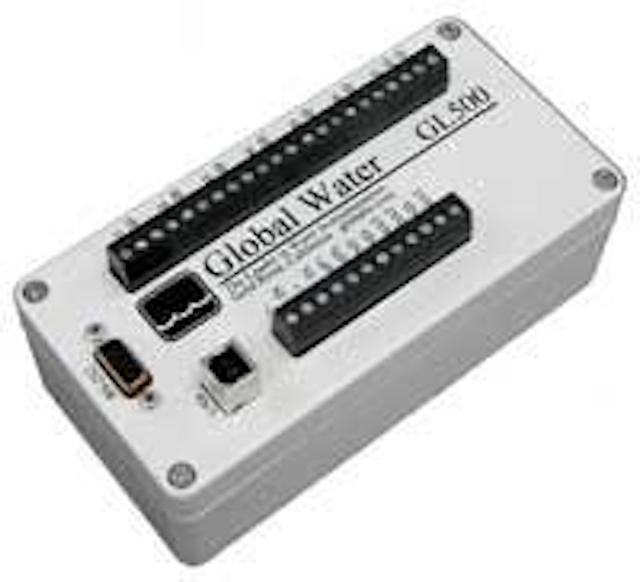 Click here to enlarge image
Global Water has announced its new EZLog line of data recorders including the Water Level Logger, the Sewer Logger, the Flow Sampling System, the Pump Runtime Logger and the Water System Pressure Logger. All these systems feature low battery power operation, environmental rugged enclosures and EZLog software with either serial or USB interface.
Global Water Instrumentation
Gold River, CA Tel: 800-867-1172 Web: www.globalw.com
Automatic flushing device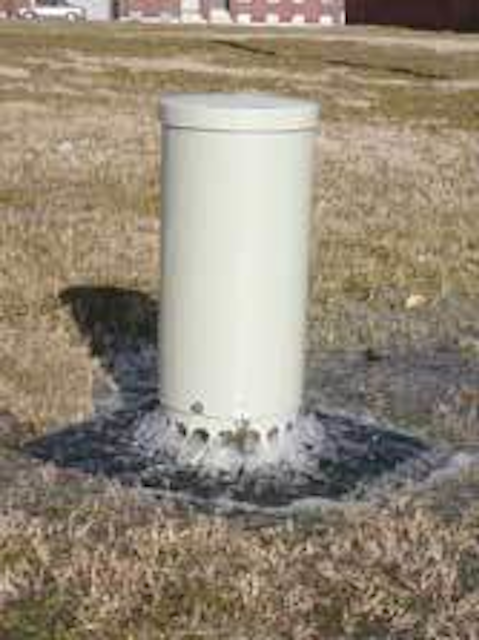 Click here to enlarge image
Kupferle Foundry has introduced its new #9400 automatic flushing device designed for maintaining water quality at permanent dead-ends. Each device has its own controller, capable of flushing nine times per day, with each flush being up to four hours each. A 9-volt battery powers the device and each unit drains to prevent freezing.
Kupferle Foundry Co.
St. Louis, MO Tel: 800-231-3990 Web: www.hydrants.com
Bulk water dispensing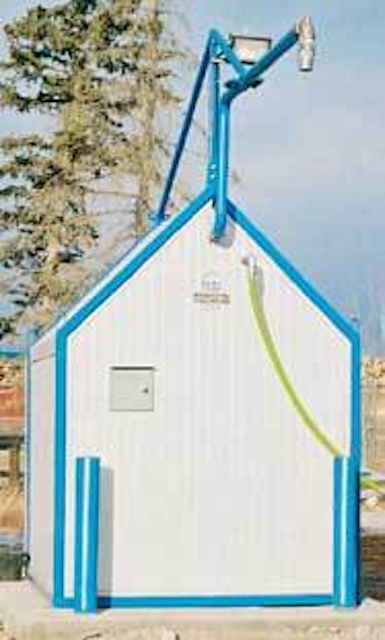 Click here to enlarge image
Municipal Solutions provides Access Security and Automated Billing for bulk water dispensing facilities. Customers can upgrade their existing system to automated control or install one of the company's pre-packaged, turnkey bulk water truck fill stations or portable hydrant stations. Users can customize their collection options with any either prepaid or credit card accounts.
Municipal Solutions
Denver, CO
Tel: 877-655-5585
Web: www.municipal-solutions.com
Tablet chlorination system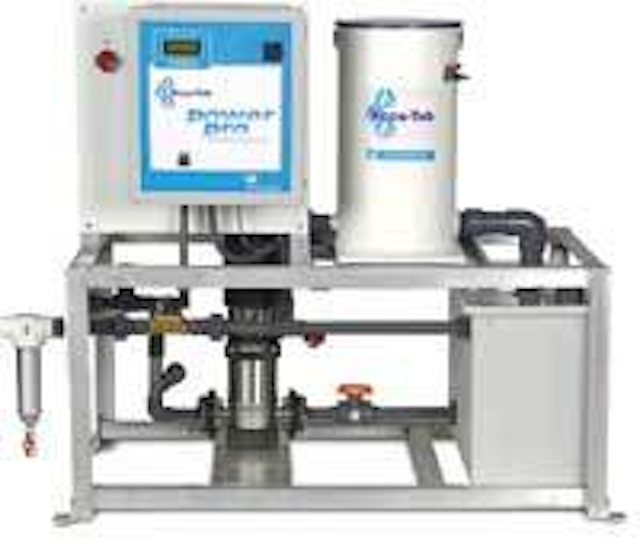 Click here to enlarge image
PPG Industries has introduced the newly designed PowerPro® chlorination unit incorporating the Accu-Tab® chlorinator and tablets. The Accu-Tab System's patented chlorinators and unique 3-inch calcium hypochlorite tablets together allow for consistent and controllable chlorine dosages. The tablets are specifically formulated for controlled erosion. The PowerPro chlorination units are designed specifically for use with the Accu-Tab tablets and chlorinators. The units provide a compact, turnkey system.
PPG Industries Inc.
Monroeville, PA
Tel: 800-245-2974
Web: www.ppgaccu-tab.com/ind
Pipe locators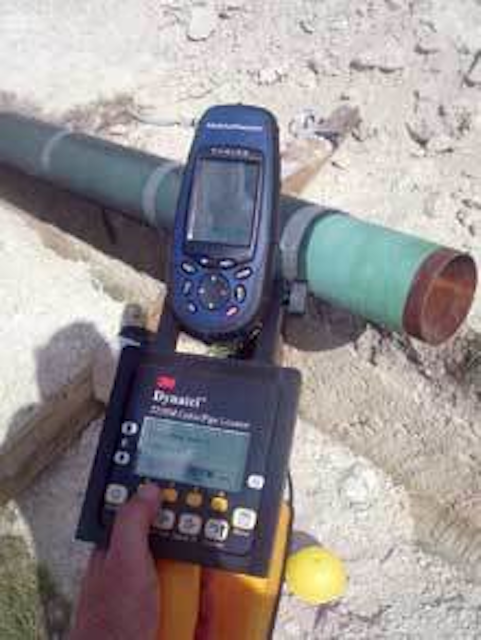 Click here to enlarge image
The Dynatel pipe/cable/fault locators 1420, 2250M-iD and 2273M-iD from 3M are now compatible with select GPS/GIS field mapping instruments for real-time mapping of underground facilities. This integrated solution from Dynatel simplifies the mapping process and allows a generalist field technician to perform real-time mapping with sub-meter accuracy. The locators, combined with 3M electronic marking system (EMS) markers, provide a solution for mapping critical buried assets using GPS/GIS and a simple process for identifying them.
3M Co.
Tel: 800-426-8688
Web: www.3M.com/dynatel
Mobile AMR
AMCO Automated Systems offers the Trace Virtual Real Time mobile AMR system, which is capable of delivering a month of daily readings on any reading day. On the normal read, operators can take three readings to cover move-out, move-in and the normal billing cycle read. Saving two off-cycle truck rolls alone can pay for the system. System benefits include time-of-use registers, programmable leak detection and tamper/theft alarms.
AMCO Automated Systems
Raleigh, NC
Tel: 919-250-5551
Web: www.amcoas.com
Mechanical joint restraint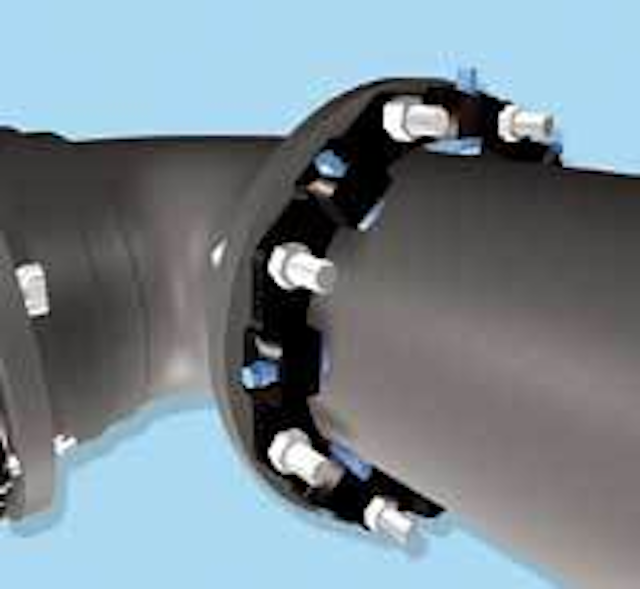 Click here to enlarge image
EBAA's Megalug® Series 1100 products restrain ductile iron pipe connections above or below ground. The restraints are available in sizes from 3" to 48". The gripping wedges provide resiliency to pipeline design. Other features of this American-made product include heavy-duty thick wall design, traceability, unique protective coating, and a quicker, safer, more economical installation. The company's Series 2000PV is designed for restraining PVC pipe to mechanical joints.
EBAA Iron Inc.
Eastland, TX
Tel: 800-433-1716
Web: www.ebaa.com
RO, NF systems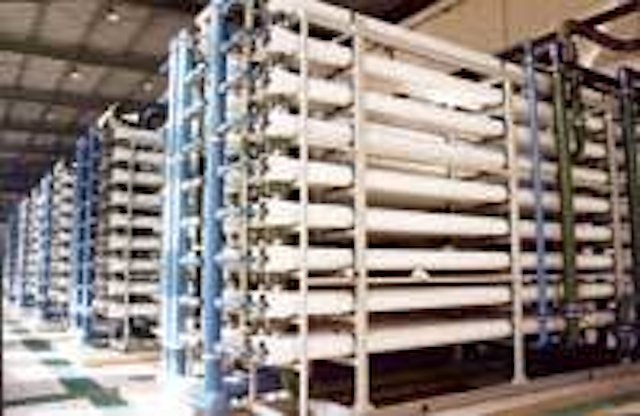 Click here to enlarge image
ITT-Aquious designs, manufactures, installs and commissions seawater and brackish water reverse osmosis (RO) and nanofiltration (NF) systems for municipal drinking water supplies. Reference plant capacities range from 9,000 gpd to 30 mgd, with scopes of supply extending to include intake, pre-treatment, desalination and post disinfection. The company's systems can be offered as standard package plants through to custom engineered, turn-key solutions, with process guarantees being offered across the range as required.
ITT-Aquious/WET
Boynton Beach, FL
Tel: 561-684-6300
Web: www.aquious.itt.com
Disinfection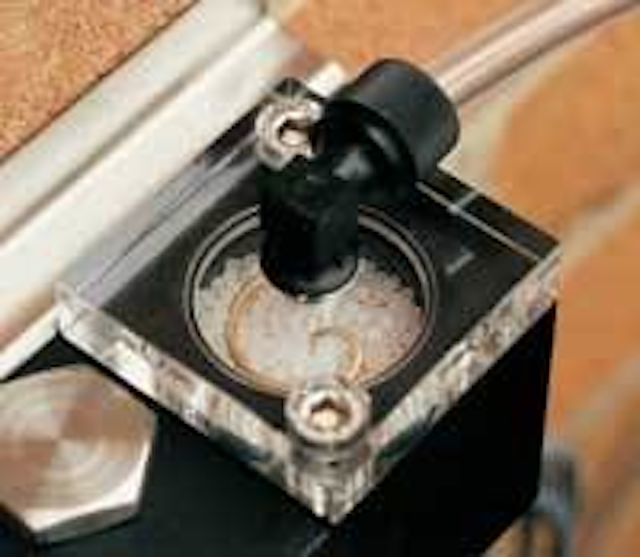 Click here to enlarge image
ITT-Portacel offers gas and liquid vacuum dosing products and systems for the disinfection of drinking water and wastewater. The company's product range encompasses manual and automated gas and liquid dosers, residual chlorine analyzers, evaporators, change over systems, ejectors, vacuum regulators, gas header systems and ancillaries, gas detection systems, and package disinfection systems.
ITT-Portacel
The Woodlands, TX
Tel: 281-363-2091
Web: www.portacel.com
Water treatment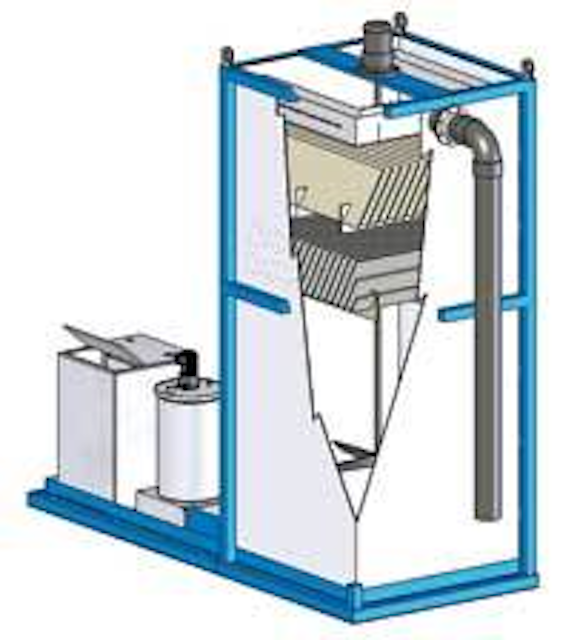 Click here to enlarge image
The Magnapak™ High Rate (HR) System from Orica Watercare is designed to meet EPA disinfection by-product (DBP) standards by using a continuous ion exchange process using MIEX® Resin. Prior to disinfection, the process removes dissolved organic carbon (DOC) - a precursor to DBP formation - and other anionic contaminants thus allowing water treatment systems to improve effluent water quality and come into regulatory compliance.
Orica Watercare Inc.
Watkins, CO
Tel: 877-414-6439
Web: www.miexresin.com
Filtration system components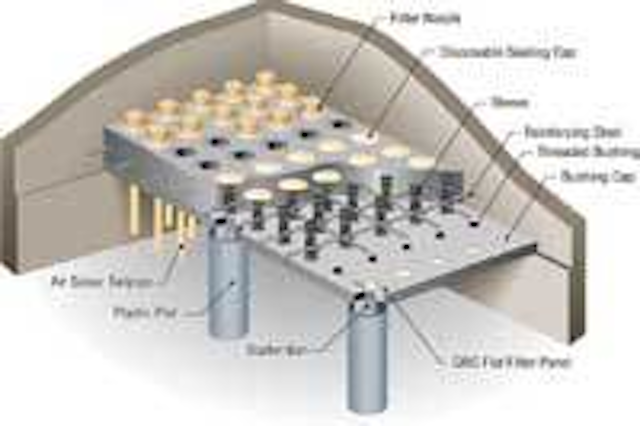 Click here to enlarge image
Orthos Liquid Systems will display a variety of filter nozzles/strainers and filtration systems. The company offers a range of nozzles/strainers for retrofit underdrain systems, particularly where filter upgrades are required, as well as nozzles for new false plate, pipe header/lateral and concrete floor installations.
Orthos Liquid Systems Inc.
Bluffton, SC
Tel: 843-987-7200
Web: www.orthosnozzles.com
Tapping machine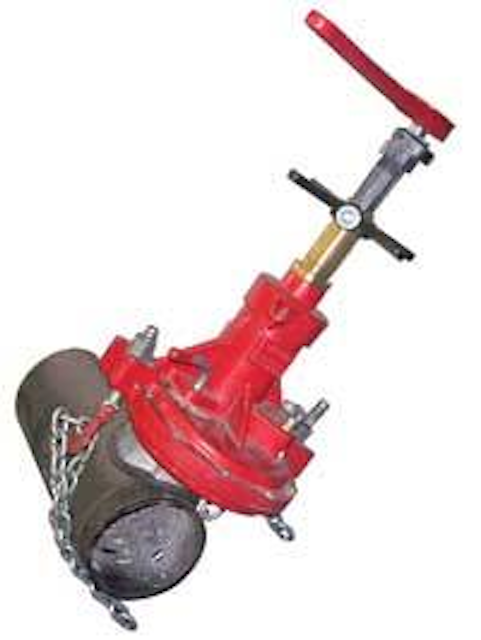 Click here to enlarge image
Reed's™ 1100 tapping machine is used to drill and tap water mains while under pressure, then to install ¾" or 1" corporation stops in a 2-step operation. The machine covers 4" - 48" cast or ductile iron and C-900 PVC with the use of saddles and chain extensions. It is user-friendly with a low profile and new "flip clamp" feed system.
Reed Manufacturing Co.
Erie, PA
Tel: 800-666-3691
Web: www.reedmfgco.com
Fluoride monitor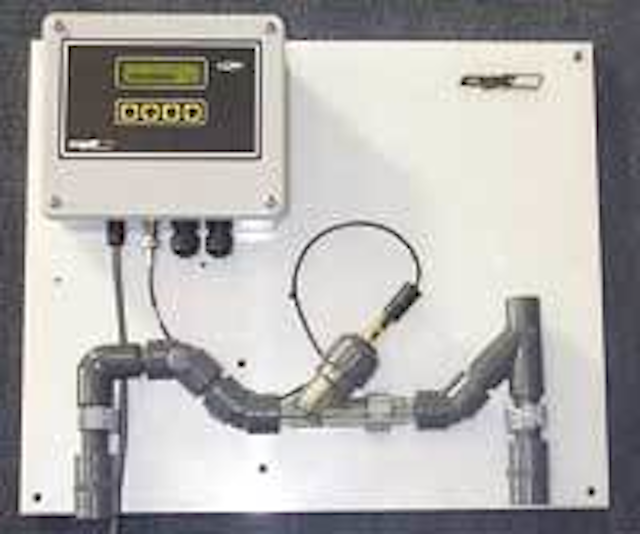 Click here to enlarge image
Eagle Microsystems has introduced the new Model PFC-1000 Fluoride Monitor for water treatment applications. The unit is designed for wall mounting with a specific-ion electrode mounted in a transparent flow-through assembly. The standard unit is ranged for 0-2 ppm with other ranges available.
Eagle Microsystems Inc.
Pottstown, PA
Tel: 800-780-8636
Web: www.eaglemicrosystems.com
Leak noise correlator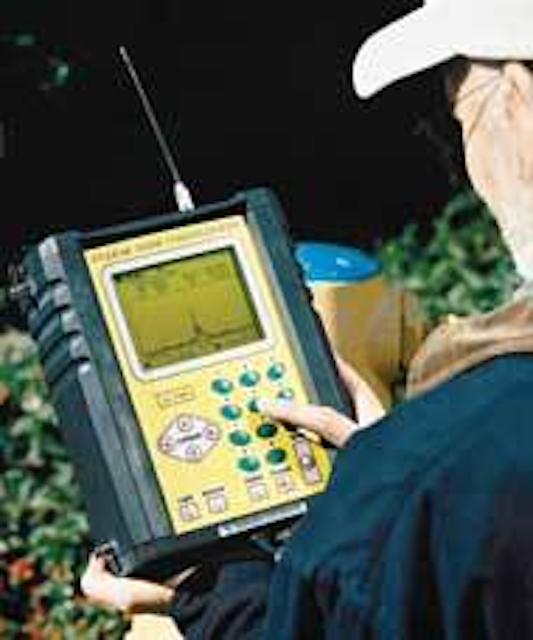 Click here to enlarge image
The new LC-2500 Leak Noise Correlator from SubSurface Leak Detection is an improvement on its predecessor, the LC-2100. The new unit correlates four times faster, and the radio transmitters are four times more powerful, transmitting up to 3500 feet to the main processor unit and traveling over hills and around tall buildings. The main processor unit, which weighs less than 7 lbs., has a temperature-compensated LCD display to improve visibility in very cold and very hot temperatures.
SubSurface Leak Detection Inc.
San Jose, CA
Tel: 408-249-4673
Web: www.subsurfaceleak.com
IBC tote scale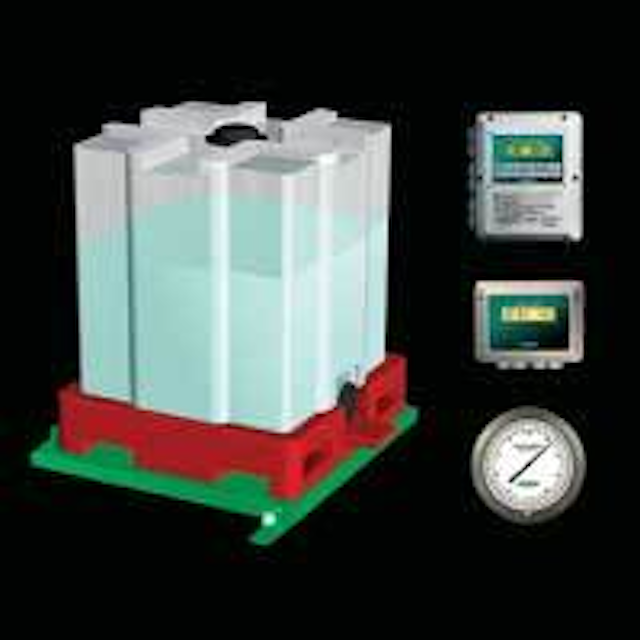 Click here to enlarge image
The Tote Bin Scale™ from Force Flow allows operators to accurately monitor chemicals fed from IBC type totes. Users simply place a tote on platform and monitoring begins. Systems can help prevent over and under feed conditions and also enable the documentation of amount fed. The scales are available with the Wizard 4000® Digital Indicator, the Solo® 1000 or the Century® Hydraulic Dial.
Force Flow
Concord, CA
Tel: 800-893-6723
Web: www.forceflow.com
Electronic control valve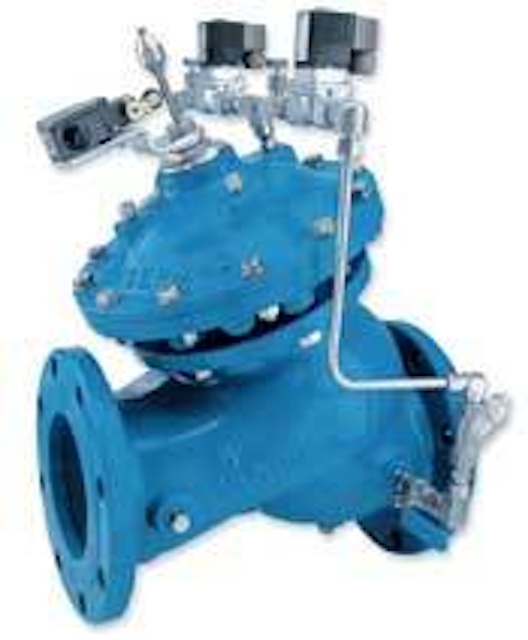 Click here to enlarge image
Bermad's Model 718-03 Electronic Control Valve combines the advantages of a modulating, line pressure driven hydraulic control valve with the sophistication and control possibilities of programmable electronic control. The valve responds to signals from an electronic controller to provide pressure, level, flow, and/or temperature control. It is suited to leakage control applications where the valve and controller continuously corrects the set point of the pressure reducing valve to provide the minimum required pressure at the critical point.
Bermad Inc.
Anaheim, CA
Tel: 800-821-6825
Web: www.bermad.com
Single-jet meters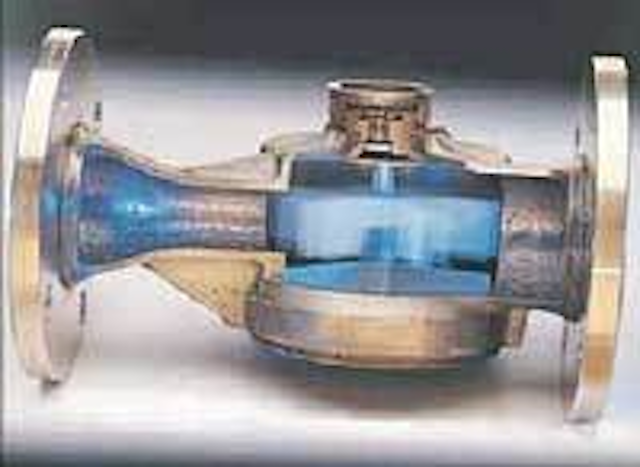 Click here to enlarge image
The Spectrum Single-Jet Meter from Metron Farnier is the widest range single measuring element meter available to US utilities. The meters have been designed to replace compound type and turbine type meters for commercial services. The meters feature a 1000:1 turndown ratio and superior low flow registration. They are unaffected by sand or small debris in the line and have no straight pipe requirements upstream or downstream of the meter.
Metron Farnier Inc.
Boulder, CO
Tel: 800-763-8766
Web: www.metronfarnier.com
Adsorbent media
Engelhard water treatment technologies offers solutions to the most challenging water conditions. Its adsorbent media and activated alumina technologies remove heavy metals such as arsenic, lead, fluoride, mercury and radionuclides without pre-treatment in a wide range of pH conditions. Recently introduced, the company's cooling water biocide is an easy-to-use tablet delivering chlorine dioxide gas for the control of bacteria, fungi, algae and biofilm growth in cooling tower systems.
Engelhard Corp.
Iselin, NJ
Tel: 732-205-6140
Web: www.engelhard.com/watertreatment
Membrane filtration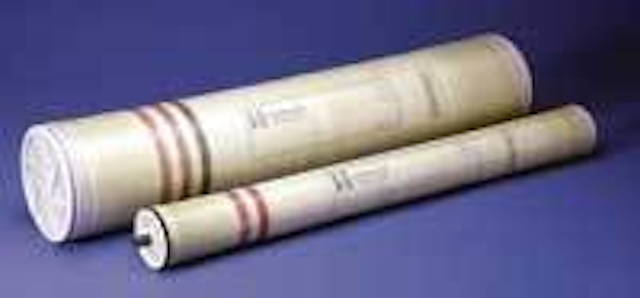 Click here to enlarge image
Hydranautics' newest membrane developments include: ESNA1-LF2, ESPA2+, LFC3-LD, ESPA-B, and SWC5. The new ESNA1-LF2 is designed to provide high rejection of natural organic materials and moderate rejection of total hardness, while running below 100 psi.
Hydranautics
Oceanside, CA
Tel: 760-901-2500
Web: www.hydranautics.com
Curb markers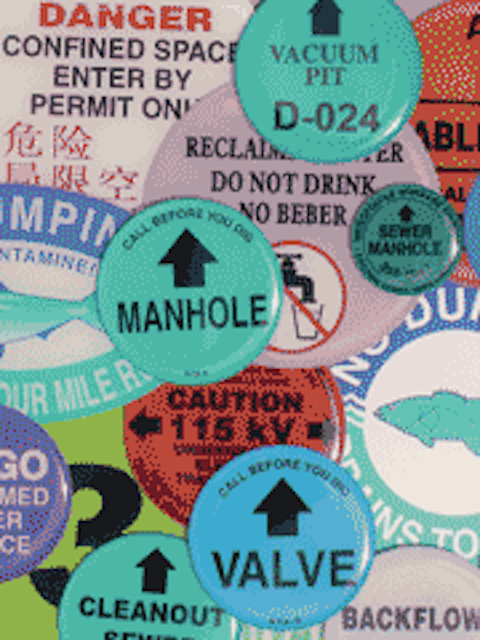 Click here to enlarge image
das Curb Markers are used to permanently mark equipment locations, as an aid to location and damage prevention. Permanently mark valves, meters, manholes, stormwater inlets, etc. The markers can be applied to most flat surfaces including concrete, asphalt and cast iron. Over 50 stock markers are available. Custom markers can be manufactured in just about any size or shape.
das Manufacturing Inc.
Valrico, FL
Tel: 800-549-6024
Web: www.dasmanufacturing.com
Water monitoring
Click here to enlarge image
Hach's Event Monitor™ Trigger System is a water distribution monitoring system with the ability to detect, alert, classify, and learn real-world events such as water main breaks and caustic overfeeds. The system allows water utilities to reduce maintenance costs, improve water quality and customer satisfaction, and ultimately protect against intentional or accidental contamination.
Hach Homeland Security Technologies Div
Loveland, CO Tel: 800-604-3493 Web: www.hach.com
Concrete tanks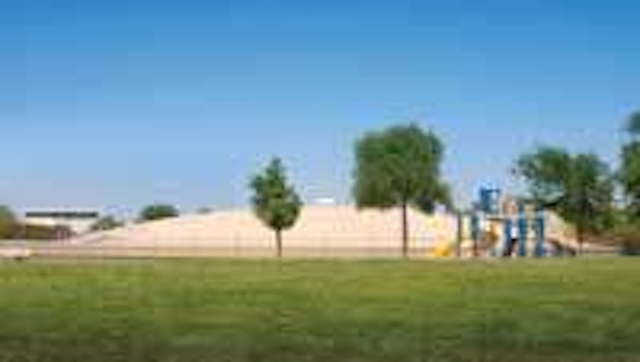 Click here to enlarge image
Preload has completed the construction of a 3.0 MG prestressed concrete water storage tank for the community of Richardson, TX. The tank measures 170' ID x 17.9' SWD. Its low profile was designed to position the tank near a children's playground at Point North Park. Built to the AWWA D110, Type III Standard for Circular Wire-Wound Prestressed Concrete Water Tanks, the company's tanks require no routine maintenance or repainting.
Preload Inc.
Hauppauge, NY
Tel: 888-773-5623
Web: www.preload.com
Water meter endpoint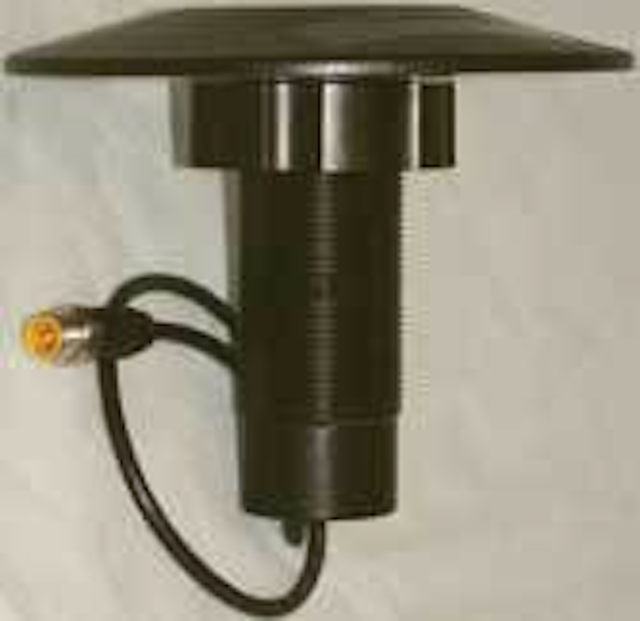 Click here to enlarge image
The W6000 series Cellnet Water Endpoint (CWE) is a compact, battery-powered AMR device designed to collect meter-usage data from encoders and pulse-counting water meters/registers. The endpoint uses the company's RF technology and protocol to transmit data over the Cellnet fixed network, in the unlicensed 902-928 MHz band, using direct sequence spread spectrum technology.
Cellnet
Alpharetta, GA
Tel: 678-258-1456
Single jet meter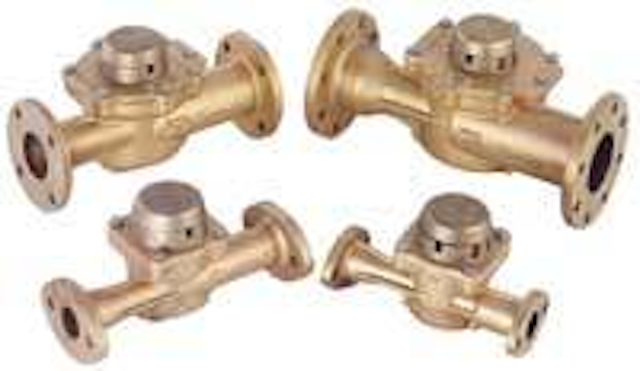 Click here to enlarge image
Actaris Metering Systems has introduced Flostar, a single jet meter designed specifically for the measurement challenges facing North American water utilities. Designed to meet the AWWA C712-02 standard, the meter incorporates the latest developments in single jet metering technology. The patented design uses a hydrodynamically balanced turbine and ball bearing pivot to provide improved low flow capability and endurance.
Actaris Metering Systems
Greenwood, SC Tel: 800-833-3357 Web: www.actaris.com
Membrane package plant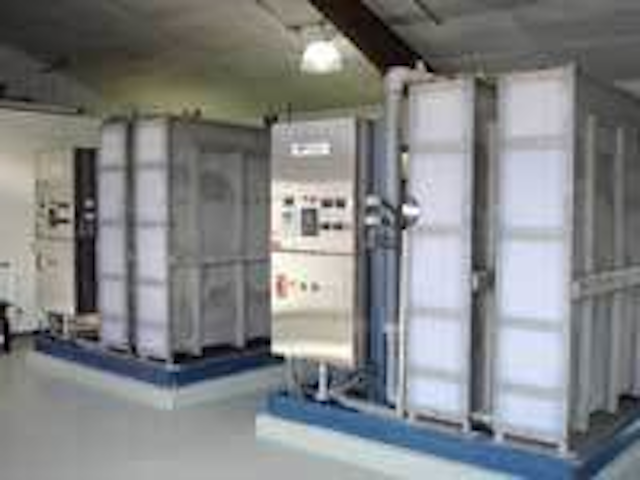 Click here to enlarge image
Memcor Axia®, available from USFilter, is a submerged membrane system in a packaged configuration ideal for capacities ranging from 100 gpm to 400 gpm. Fully pre-engineered and skid mounted, the system is easy to install since it has a minimum of connections. Its design includes a side door to simplify installation and servicing of membrane modules, significantly reducing ceiling height requirements at the site.
USFilter, a Siemens Business
Sturbridge, MA Tel: 508-347-4583 Web: www.usfilter.com
Flushing systems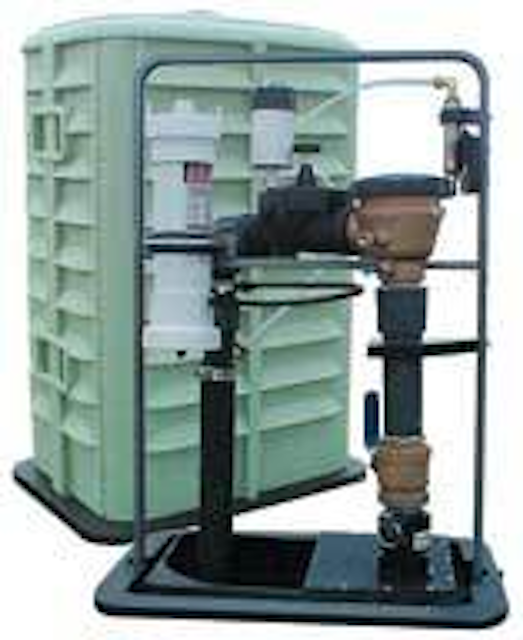 Click here to enlarge image
Due in part to the recent introduction of the Stage 2 Disinfection By-Products Rule, Hydro-Guard® has seen a significant increase in the sales of its automatic and programmable flushing devices. The flushing devices are available in both atmospherically or direct discharge styles and can reduce labor expense related to maintaining water quality. And, as required by the Stage 2 Rule, utility personnel can test for DBPs using the sample valves that are standard equipment on most models.
Hydro-Guard
Naples, FL
Tel: 877-864-8500
Web: www.hydro-guard.com
Concrete water tanks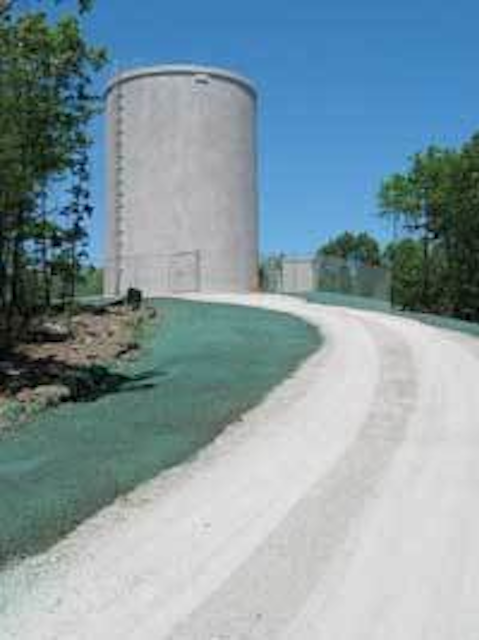 Click here to enlarge image
All Natgun concrete water storage tanks conform to AWWA Standard D110, Type III, a design standard proven in thousands of installations across the country. The tanks feature a continuous, watertight steel diaphragm embedded in the wall and multiple layers of bonded prestressed wire which hold the tank in permanent compression. The tanks never need to be repainted.
Natgun Corp.
Wakefield, MA
Tel: 800-662-8486
Web: www.natgun.com
Socket wrenches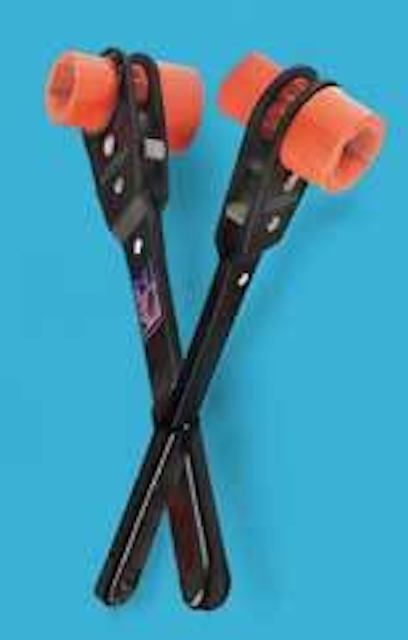 Click here to enlarge image
Lowell's line of U.S.-made Hi-Vis Double Shot™ Ratcheting Socket Wrenches have bright orange sockets that make the tools hard to lose and easy to find in dark toolboxes and on utility, pipeline, maintenance, and construction work sites. Among specific applications for the wrenches are mechanical joints, repair clamps, sleeves, service saddles, tapping sleeves, flange bolts, and couplings.
Lowell Corp.
Worcester, MA
Tel: 800-456-9355
Web: www.lowellcorp.com
MBR package plant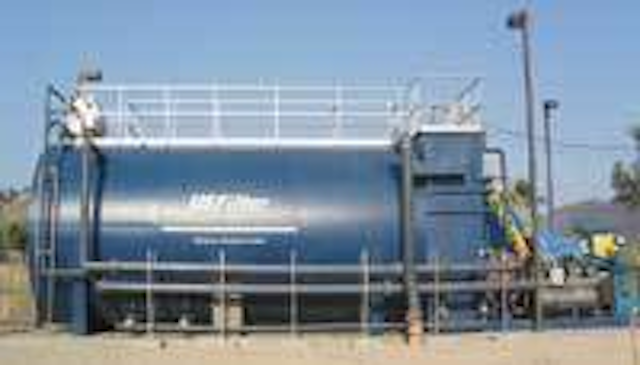 Click here to enlarge image
MEMCOR® Xpress provides membrane bioreactor (MBR) technology in a compact design. This fully pre-engineered, skid mounted system allows small communities to gain the benefits of MBR technology. The system can produce effluent quality with TSS <1 and turbidity <0.2 NTU, making it suitable for most reuse applications. Examples include land development, golf course and park irrigation, salt intrusion barriers in coastal communities, aquifer storage and recovery and indirect potable reuse.
USFilter, a Siemens Business
Tel: 206-937-1444
Web: www.usfilter.com
Static mixer
The Westfall Model 2900 Variable Flow Static Mixer is suitable for any fluid handling system and optimizes mixing while minimizing head loss. The mixer uses two in-line wafer-type static mixers: One fixed and one that adjusts incrementally to adapt to changing flow conditions. Featuring automatic modulation to maintain 3 psi, regardless of the flow rate, this static mixer levels head loss at maximum flow, while providing consistent mixing over a 20:1 turndown ratio.
Westfall Manufacturing Co.
Bristol, RI
Tel: 888-928-3747
Web: www.westfallmfg.com
AMR wireless RF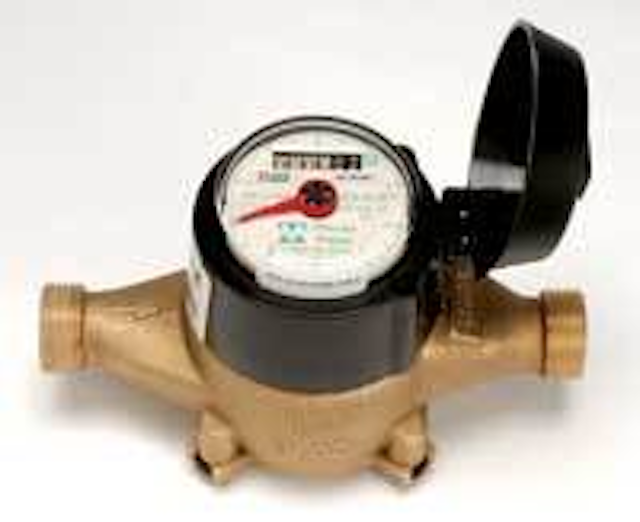 Click here to enlarge image
Master Meter's Dialog DS Wireless RF™ Extended Drive-By System features data logging with a field-programmable capacity of 7000 reads; leak, tamper and backflow detection; no external wires or antennas; and is self activated with the start of water flow. The new system is compatible with two new meter lines from the company: Dialog MMPD is the first member of the Positive Displacement family of meters developed with 3D modeling and flow simulating design tools from a "clean page approach."
Master Meter Inc.
Mansfield, TX
Tel: 800-765-6518
Web: www.mastermeter.com
Backflow prevention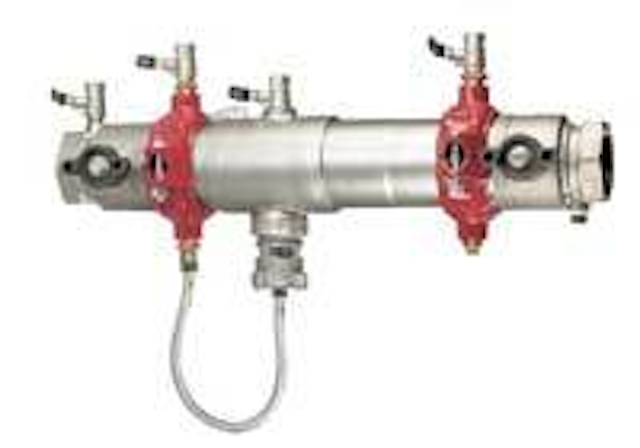 Click here to enlarge image
Watts Regulator and Ames Fire & Waterworks offer a variety of backflow prevention products, including Double Check Detector Assemblies; Double Check Valve Assemblies; Dual Checks/Dual Checks with Atmospheric Vent; plus accessories and enclosures. Also on display will be the Ames ACV product line, which includes a line of ductile iron and stainless steel control valves for potable and reclaimed water applications.
Watts Regulator Co.
North Andover, MA
Tel: 978-689-6260
Web: www.watts.com
Tank mixing system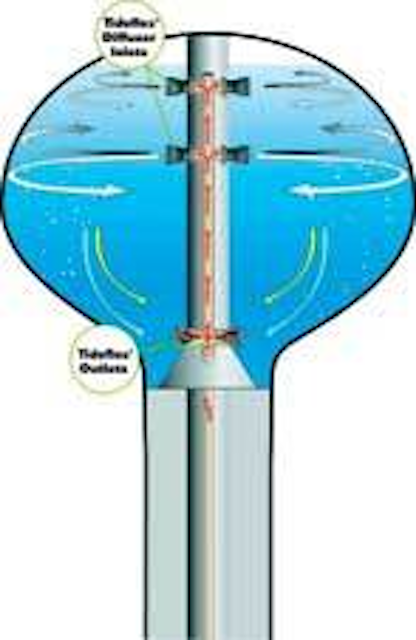 Click here to enlarge image
Tideflex Technologies' Tideflex® Mixing System (TMS) can improve the quality of drinking water in finished water storage reservoirs. The TMS is a combination of patented Tideflex® Check Valve technology and a piping manifold that separates the inlet and outlet. It can be installed in new or existing water storage tanks of all shapes and sizes to eliminate stagnation and short-circuiting.
Tideflex Technologies
Carnegie, PA
Tel: 412-919-0919
Web: www.tideflex.com
Coagulant charge analyzer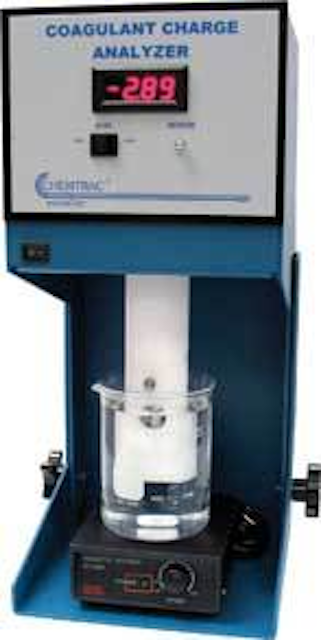 Click here to enlarge image
Chemtrac's Coagulant Charge Analyzer (CCA3100) uses a fast, simple titration procedure to correlate "best jar" with a quantified, repeatable charge value resulting in optimized plant performance. Once this correlation is established, jar tests usually become less frequent, or unnecessary.
Chemtrac Systems Inc.
Norcross, GA
Tel: 800-442-8722
Web: www.chemtrac.com
Metering systems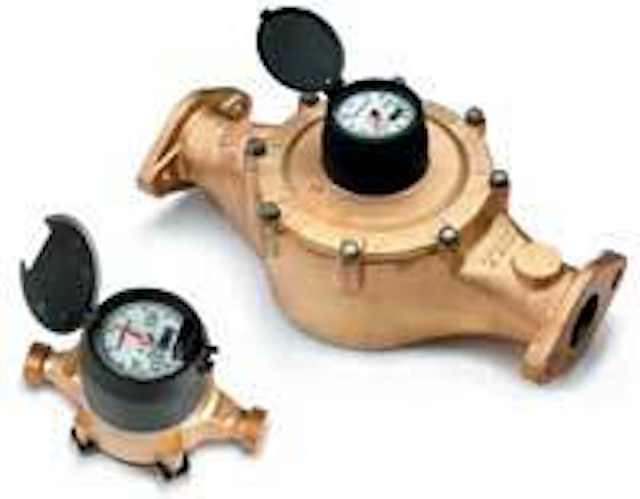 Click here to enlarge image
AMCO Water Metering Systems offers utilities a total-system approach to water metering, providing 5/8" to 2" positive displacement, 1 ½" to 12" turbine and 2" to 8" compound meters and electronic commercial flowmeters complemented by state-of-the-art reading systems. Solutions are designed with maximum flexibility in mind, ensuring a seamless replacement/upgrade transition.
AMCO Water Metering Systems
Ocala, FL
Tel: 800-874-0890
Web: www.amcowater.com
Level, pressure measurement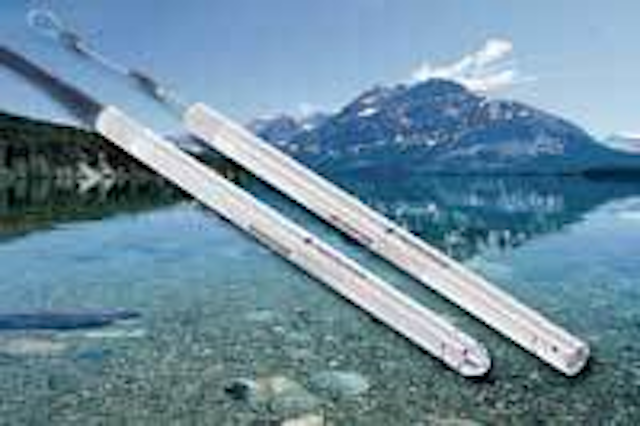 Click here to enlarge image
Pressure Systems, an Esterline Co., is a producer of level and pressure transducers, electronic pressure scanners and pressure acquisition systems. Product lines include KPSI™ Level and Pressure Transducers and Quartzonix™ Pressure Standards. Pressure Systems is the originator of KPSI level and pressure transducers, a broad line of transducers, available in pressure ranges from 0-2 through 0-300 psig, with a variety of analog output signals (4-20 mA, 0-5 vDC, 0-100 mV) and digital output protocols (SDI-12 and Modbus®).
Pressure Systems
Hampton, VA
Tel: 800-328-3665
Web: www.pressuresystems.com
Enclosures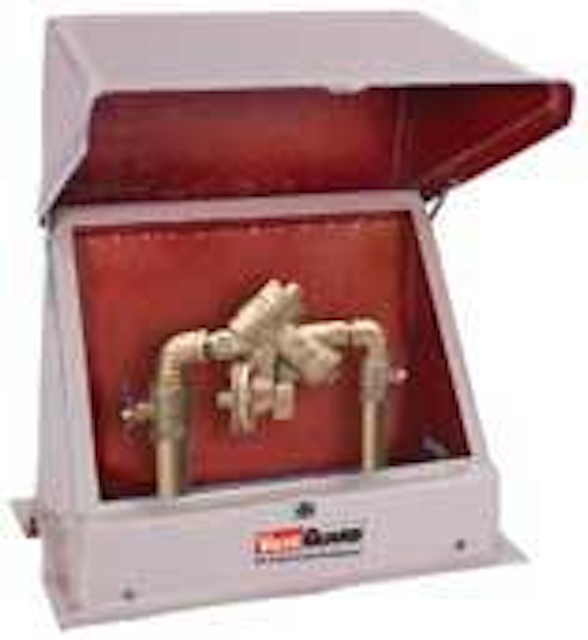 Click here to enlarge image
Hot Box manufacturers a varied line of enclosures for the water industry. The enclosures are designed primarily to house backflow preventers, but also are used to house pumps, meters and other industry objects. Available products include decorative "rocks" and "tree stumps", fiberglass enclosures in any color, and aluminum enclosures of almost any size. The company provides ASSE 1060 certified enclosures with heat that provide freeze protection to -30°F.
Hot Box
North Jacksonville, FL
Tel: 800-736-0238
Web: www.hot-box.com
On-site disinfection systems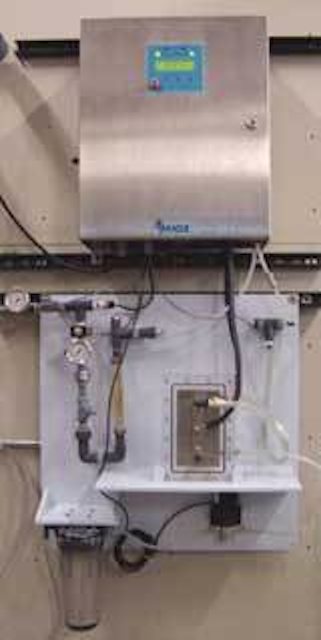 Click here to enlarge image
MIOX on-site generators for water disinfection eliminate hazardous chemicals and the need for Risk Management Plans, yet leave a durable chlorine residual in distribution. The technology is based on a proprietary electrolytic cell that uses brine, water and electricity to produce a liquid stream of either hypochlorite or mixed oxidants, depending on the product line.
MIOX Corp.
Albuquerque, NM Tel: 888-646-9426 Web: www.miox.com
Water meter testing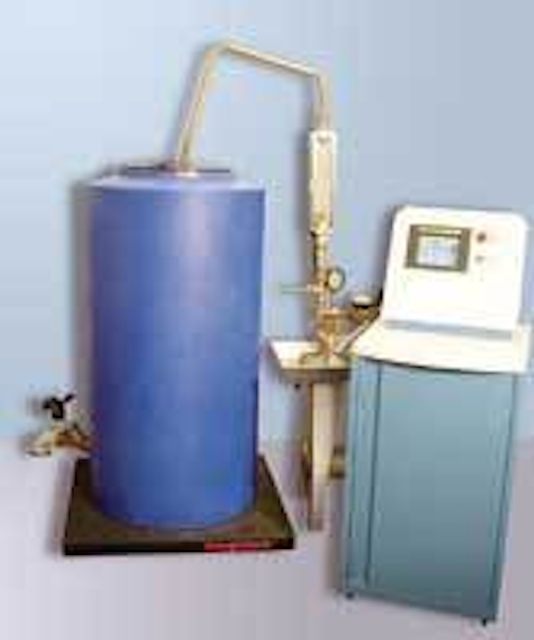 Click here to enlarge image
Ford Meter Box announces the availability of the Automated Measuring System, AMS. The system combines the method of weighing metered water with computer automation to ensure accurate measurements. Weighing metered water eliminates possible problems with optical, mechanical or volumetric measuring devices.
Ford Meter Box Co.
Wabash, IN Tel: 260-563-3171
Flow recorder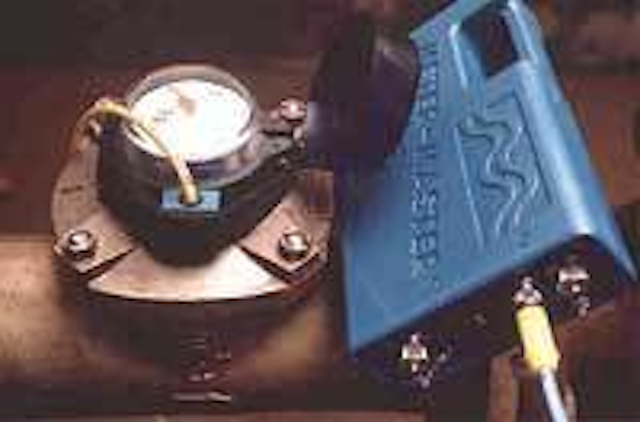 Click here to enlarge image
The submersible, portable Meter-Master Model 100EL Flow Recorder, available from F.S. Brainard, uses a magnetic sensor to digitize a meter's magnetic drive signal and then logs the pulse count into memory. No electrical or mechanical connection is required. It is compatible with large and small water meters worldwide and small enough to fit inside most residential meter boxes. A standard pulse input capability enables logging from meters which offer a pulse output capability.
F.S. Brainard & Co.
Burlington, NJ
Tel: 888-388-3569
Web: www.meter-master.com
Storage tanks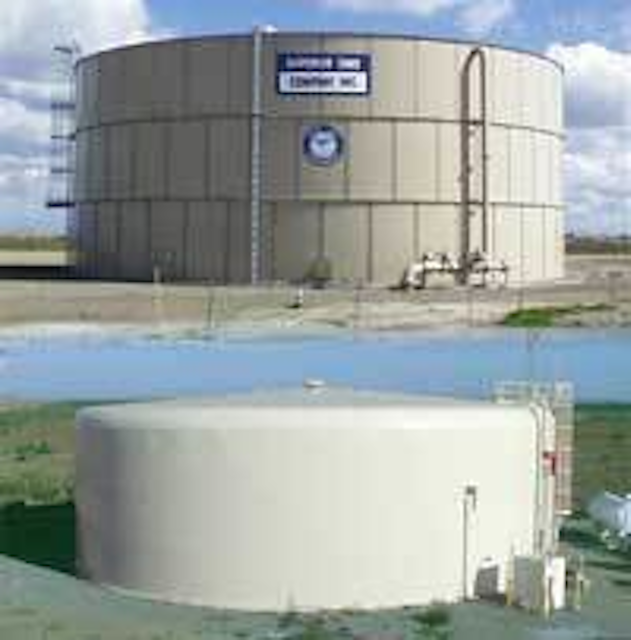 Click here to enlarge image
Superior Tank Co. has over 50 years experience in the fabrication and erection of bolted and welded steel storage tanks. The tanks are constructed per AWWA D103-97 & D-100, respectively, NFPA and Factory Mutual (FM) Specifications. Bolted tanks are available with hot dipped galvanized or electrostatically applied fusion bonded powder coatings. Stainless steel bolted tanks are also available. Bolted tanks can be shipped around the world via ocean containers.
Superior Tank Co.
Rancho Cucamonga, CA
Tel: 909-912-0580
Web: www.superiortank.com
Online vibration data collection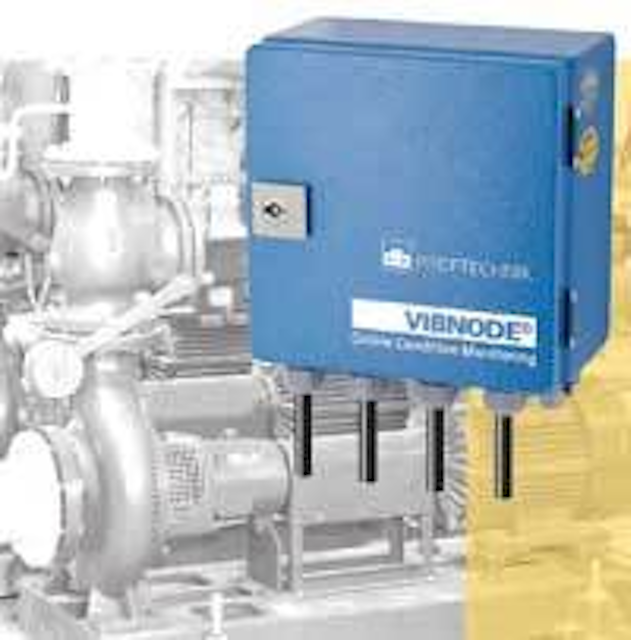 Click here to enlarge image
Ludeca's Vibnode® is an entry-level online vibration monitoring system that allows the end-user to access customized spectrums from a remote location. Its functionality includes scanning 6 or 12 channels, making it ideal for replacement of switchboxes or new installations. It also can be linked to previously installed vibration sensors. The system is configured with the Omnitrend® software for set-up, storage and analysis of spectrums.
Ludeca Inc.
Doral, FL
Tel: 305-591-8935
Web: www.ludeca.com
Video surveillance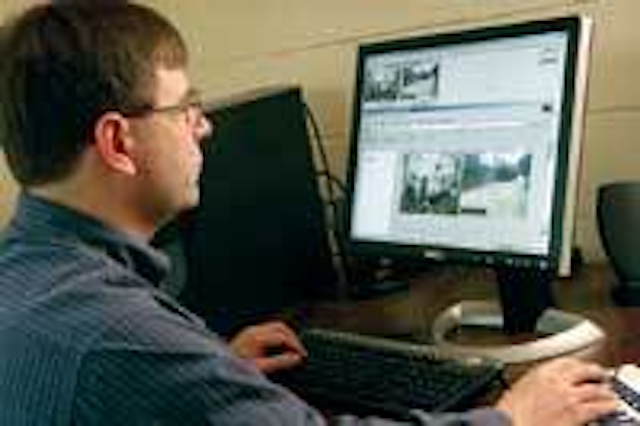 Click here to enlarge image
The Longwatch Video Surveillance System provides operators with the visual information they need to monitor and manage remote facilities, like well fields, pumping stations, and water towers. Operators receive automatic video alarm notification that can be used to verify if an intrusion warrants immediate action, no response, or is a false alarm. Unlike traditional stand-alone security systems that use closed-circuit or broadband networks for video transmission, the Longwatch system can use existing SCADA low-bandwidth communications networks to transmit video.
Longwatch
Norwood, MA Tel: 781-255-7400 Web: www.longwatch.com
Detector assemblies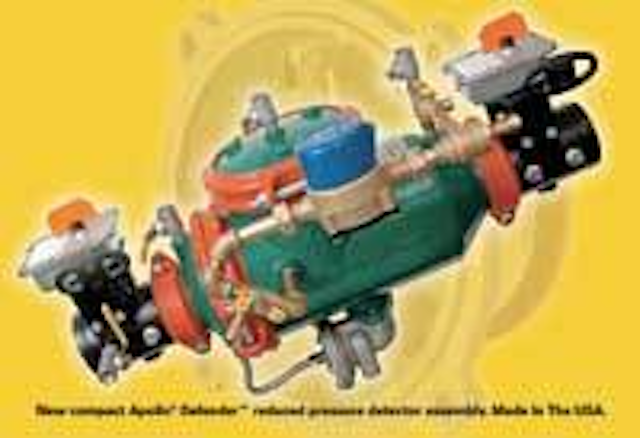 Click here to enlarge image
New compact Apollo® Defender™ reduced pressure detector assemblies (RPDAs), available from Conbraco, are designed for simplified installation and maintenance. Designated the 4D-700 Series, the new assemblies are available in 2½", 3", 4", 6", 8" and 10" sizes.
Conbraco Industries Inc.
Matthews, NC
Tel: 704-841-6000
Web: www.conbraco.com
AMR system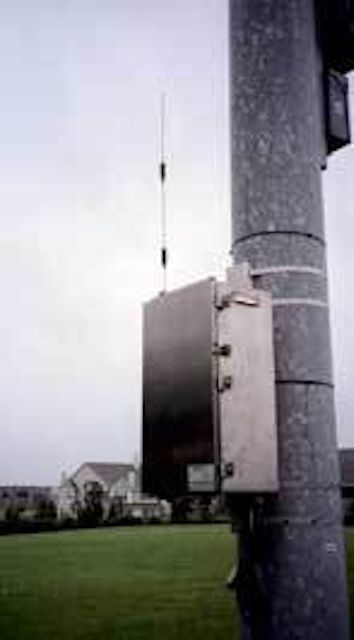 Click here to enlarge image
The Hexagram STAR Fixed Network AMR System provides fully automatic meter reading. The use of licensed radio channels ensures reliable performance throughout the life of the system. The system provides two or more daily readings from every meter within the system. The system software facilitates proactive customer service. Customer Service staff can access meter readings for any given day.
Hexagram Inc.
Cleveland, OH
Tel: 216-896-8541
Web: www.hexagram.com
Online turbidity system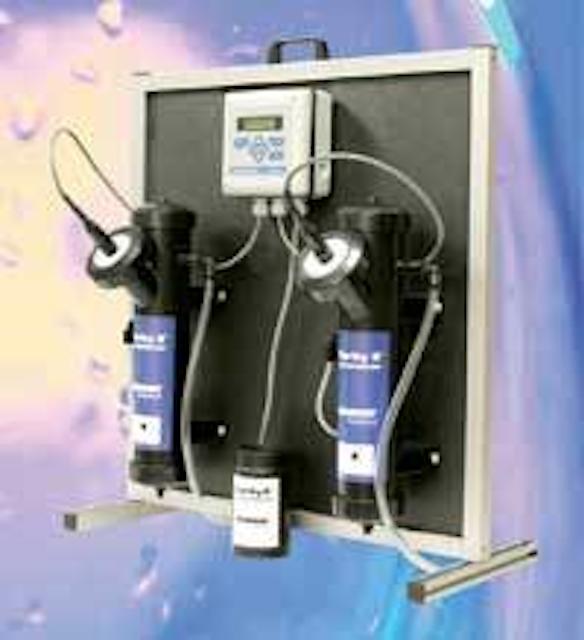 Click here to enlarge image
The Rosemount Analytical Clarity II Online turbidity system from Emerson Process Management allows drinking water and wastewater treatment facilities to comply with U.S. EPA and international ISO regulations for measurement of water clarity. The system includes a single or dual sensor input analyzer, an optical sensor; a debubbler chamber and all accessories for complete installation and operation.
Emerson Process Management
Rosemount Analytical
Irvine, CA
Tel: 800-854-8257
Web: www.raihome.com
AMR system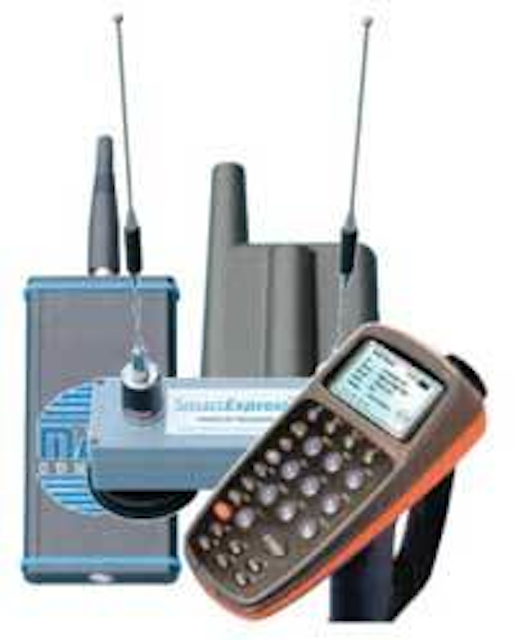 Click here to enlarge image
The MARS Co. now offers an introductory Automatic Meter Reading (AMR) package that includes 50 radios, one drive-by receiver, one programmer and one route system software package. And, the company will build a trial route from the utility's data free of charge. The radios and receivers includes the latest generation of AMR technology and are compatible with all meters on the market including pulse meters.
MARS Co.
Ocala, FL
Tel: 800-782-5268
Web: www.marswater.com
Water quality meters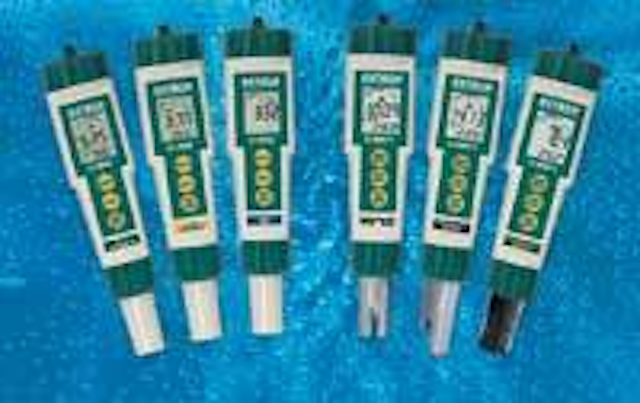 Click here to enlarge image
Extech Instruments, a supplier of test and measurement equipment, will showcase its waterproof ExStik® II Series of "stick style" water quality meters at AWWA 2006. The series includes three multi-parameter models, EC400, EC500 and DO600, for testing pH, conductivity, TDS, salinity, temperature and dissolved oxygen.
Extech Instruments
Waltham, MA
Tel: 781-890-7440
Web: www.extech.com
Water efficiency programs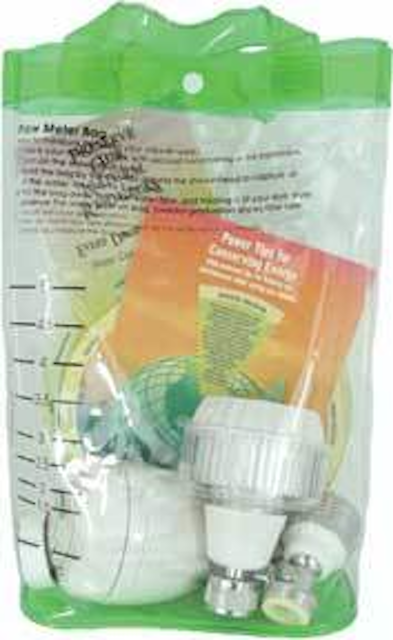 Click here to enlarge image
Niagara Conservation Corp. offers turnkey water-efficiency programs and services. Water utilities can reduce high bill complaints with the company's customized, water-efficient conservation kit program. The kits can reduce water usage up to 50%, and make great giveaway items to enhance community relations. The company takes the hassle out of conservation programs by running them for water providers, while working with utilities to customize a program designed to meet their specific needs.
Niagara Conservation Corp.
Cedar Knolls, NJ
Tel: 800-831-8383
Web: www.niagaraconservation.com
Valve exerciser
Wachs' Automated Valve Equipment (WAVE™) handheld exerciser is lightweight and designed for hard-to-reach valves and emergency shutdowns. Requiring only one operator, this powerful (800 lb-ft) tool reduces operator fatigue and potential for injury. Digital readouts and adjustable torque limit enable detailed torque charting while preventing valve damage. The company's VITALS™ (Valve Information Tracking And Logging System) integrates with the handheld exerciser, allowing operators to capture and analyze critical information on valve performance and position, on-site, instantly.
E.H. Wachs Co.
Wheeling, IL
Tel: 800-323-8185
Web: www.wachsco.com
Photometer system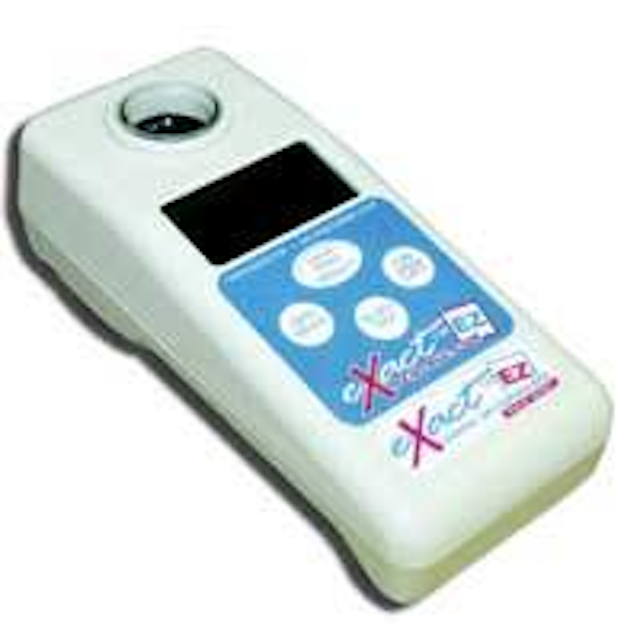 Click here to enlarge image
Industrial Test Systems' eXact EZ waterproof photometer has the sampling cell sealed/built into the meter, eliminating the cumbersome task of handling cells or cuvettes. It is EPA-Compliant for both Free and Total Chlorine testing, features 0.01 ppm resolution, measures 16 different parameters, and is ideal for all regulatory testing purposes.
Industrial Test Systems Inc.
Rock Hill, SC
Tel: 800-861-9712
Web: www.sensafe.com
Tube settler systems
Brentwood provides engineered tube settler systems, including various size tube settlers, supports, baffles, troughs and weirs, and protective surface grating. Tube settlers can be used to upgrade existing water treatment plant clarifiers and sedimentation basins to improve performance. Clarifiers/basins equipped with tube settlers can operate at two to four times the normal rate of clarifiers/basins without tube settlers.
Brentwood Industries Inc.
Reading, PA
Tel: 610-236-1141
Web: www.brentwoodprocess.com
PE fusion datalogger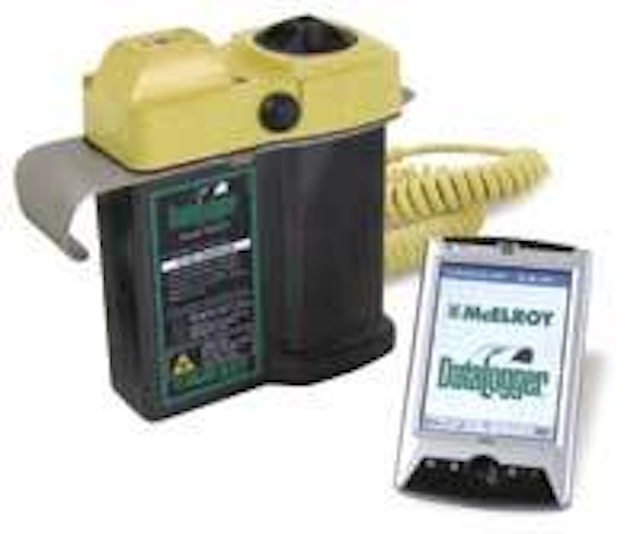 Click here to enlarge image
The McElroy DataLogger® is used to record and document the key parameters of the polyethylene pipe fusion process. The device can be used to verify that proper procedures have been followed prior to installation. The datalogger consists of a Pocket PC as the recording device and is connected via wireless to a rugged data collection device.
McElroy Manufacturing Inc.
Tulsa, OK
Tel: 918-836-8611
Web: www.mcelroy.com
Automatic meter reading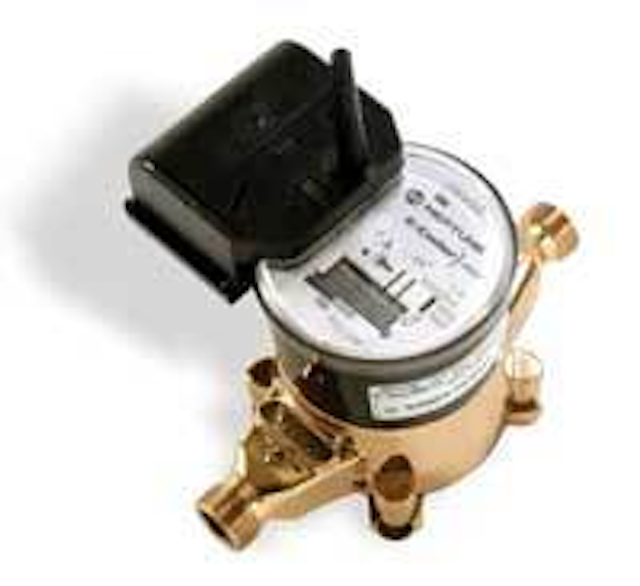 Click here to enlarge image
Neptune has combined the R900™ radio frequency meter interface unit (RF MIU) with its solid-state absolute E-Coder™ into an integrated package that will be referred to as E-Coder)R900i™. The design goal of the new package was to offer customers a single wireless automated meter reading solution that provides accurate readings, leak and backflow detection, and easy installation.
Neptune Technology Group Inc.
Tallassee, AL
Tel: 800-633-8754
Web: www.neptunetg.com
Paint, coatings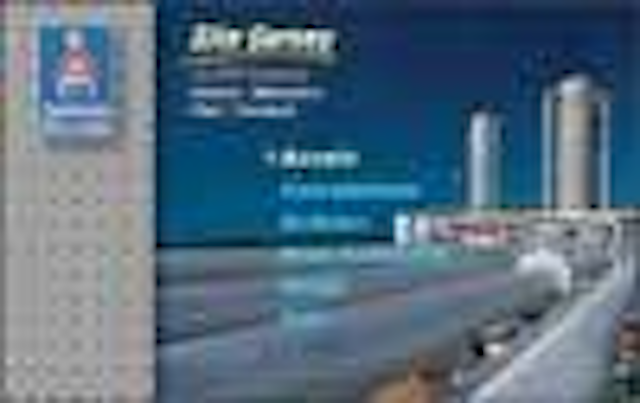 Click here to enlarge image
Sherwin-Williams Industrial and Marine Coatings is equipping its corrosion specification specialists with a comprehensive software program, Site Survey™, designed to enable plant maintenance decision-makers to maximize their investment in plant assets and minimize plant maintenance costs. The program is used to improve maintenance painting planning by providing long-term budgetary analyses of on-site plant survey data.
Sherwin-Williams Co.
Cleveland, OH
Tel: 800-524-5979
Web: www.sherwin-williams/im.com
Level transmitters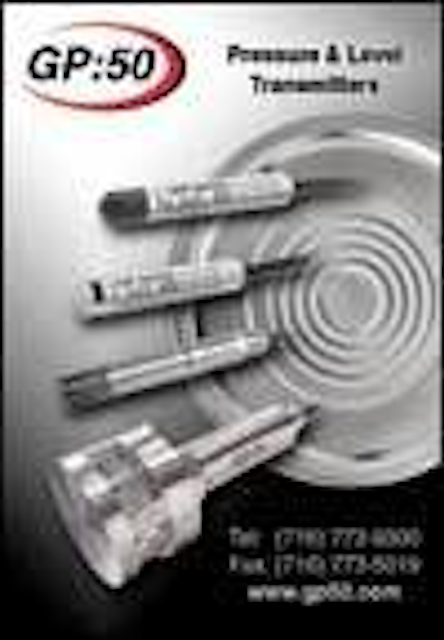 Click here to enlarge image
GP:50 offers a line of submersible level transmitters specifically designed to withstand the hazards of water and wastewater treatment plants. The Model 311-M351 submersible level transmitter is designed to give accurate level measurement in lift station wet wells while the models 313S & 1103 are designed for clear water levels such as weir and pond levels. The 3 ½" diameter open-faced sensor on the Model 311-M351 eliminates clogging in lift station wet wells where sludge, grease and grime cause most level sensors to give erroneous readings or fail completely.
GP:50
Grand Island, NY
Tel: 877-774-4751
Web: www.gp50.com
Electronic cylinder scales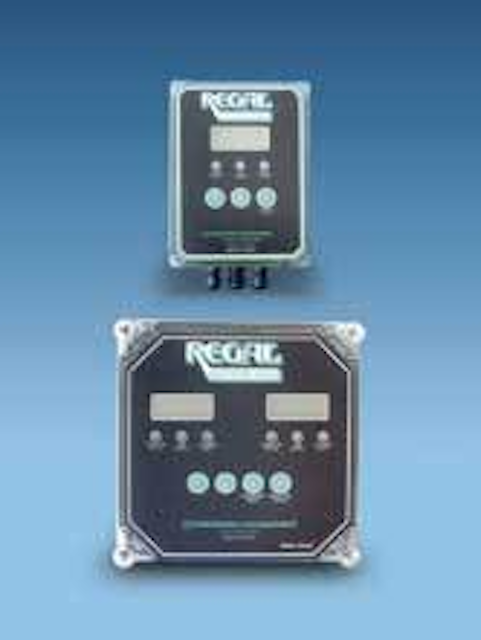 Click here to enlarge image
Chlorinators Inc. recently introduced the Regal Series ECS (Single and Dual Electronic Cylinder Scales.) The scales offer a low-profile base and solid PVC platforms with centering posts for exact positioning of cylinders. They can accommodate chlorine, sulfur dioxide, or ammonia cylinders. The scales feature stainless steel electronic strain gauge load cells, LCD displays, event annunciators and an auto-zero feature with backup keypad button.
Chlorinators Inc.
Stuart, FL
Tel: 800-327-9761
Web: www.regalchlorinators.com
Analog sensors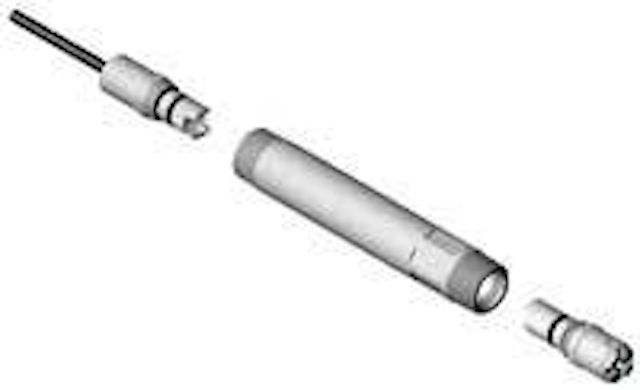 Click here to enlarge image
AquaSensors offers a line of analog sensors that communicate over Fieldbus Networks, eliminating analog wiring and field calibration. The DataStick enables programmable controllers, industrial PCs, and commercial PCs to perform in a wide range of applications that in the past could only be done with Distributed Control Systems (DCS) or process instruments. These applications can now be accomplished with 24 bit analog data resolution by simply communicating to the sensors directly over industrial networks.
AquaSensors LLC
Brookfield, WI
Tel: 262-255-4459
Web: www.aquasensors.com
Test gas generator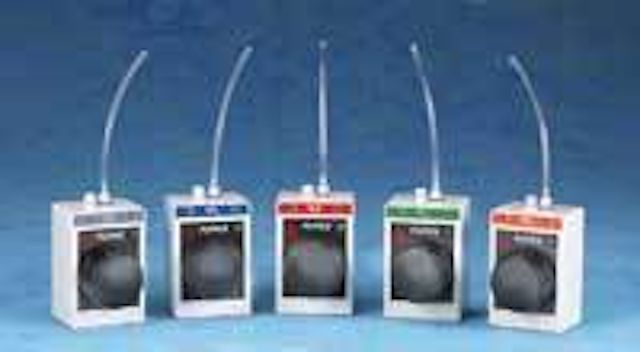 Click here to enlarge image
ATI has just introduced the New Series A24 "Puffer" Test Gas Generator. The device was designed to fill the need for bump testing both portable and fixed gas detectors by generating a small puff of gas. The Series A24 is now available for five different gases: Cl2, NH3, H2S, SO2 & CO and operates on a 9v battery. ATI will exhibit its complete line of gas detectors and water quality instrumentation at the AWWA show.
Analytical Technology Inc.
Collegeville, PA
Tel: 800-959-0299
Web: www.analyticaltechnology.com
Pipe products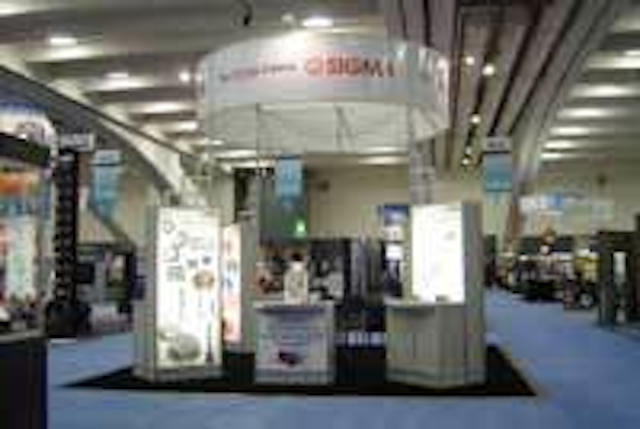 Click here to enlarge image
Sigma Corp. will be exhibiting its wide range of products for the waterworks industry. The company's booth will be divided into four product areas: Ductile iron pipe fittings: mechanical joint, flanged, and push on; Municipal Construction Castings, such as valve boxes, meter boxes, manhole covers, and frames and grates; Pipe and Fitting Restraint Products such as the contoured wedge design One Lok and the serrated restraint PV-LOK; and Extended Products such as pipe lube, detection tape, flanged accessory packs, and more.
Sigma Corp.
Cream Ridge, NJ
Tel: 800-999-2550
Web: www.sigmaco.com
Arsenic removal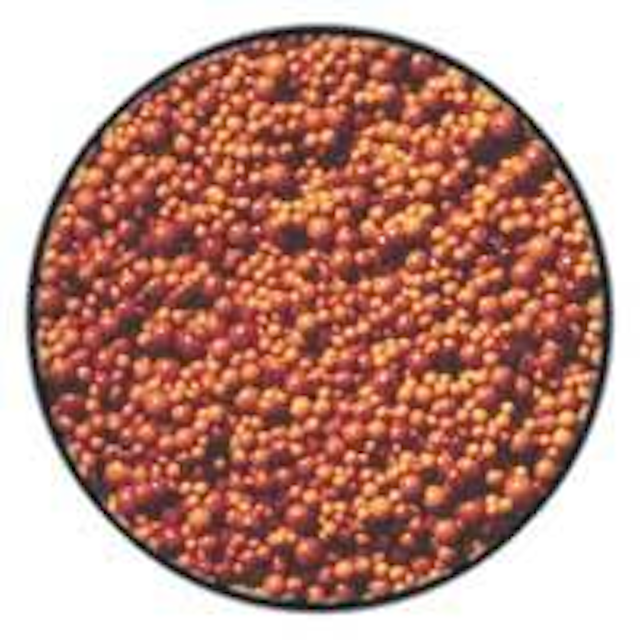 Click here to enlarge image
Purolite's new ArsenX-NP adsorptive media for arsenic uses a patent-pending process for deposition of nano-particles of iron within an ion exchange resin matrix. The product removes both trivalent and pentavalent arsenic and is suitable for municipal, community, POE and POU markets. No backwashing is needed during service, making it ideal for wellhead treatments in remote locations with minimum operator attention or in densely populated locations with limited footprint space.
Purolite Corp.
Bala Cynwyd, PA
Tel: 800-343-1500
Web: www.puroliteusa.com
Polymer mortar pipe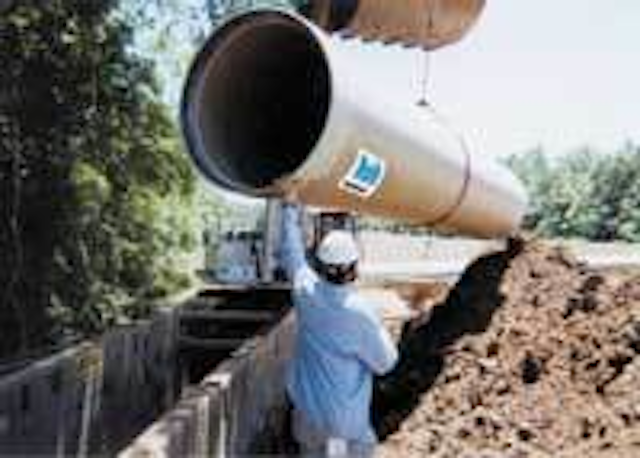 Click here to enlarge image
Most U.S. municipalities have installed Hobas pipe in new construction and rehab for critical applications, and its use is growing. The pipe is ideal for open cut, sliplining, jacking, microtunneling and above ground installation. The centrifugally cast, fiberglass-reinforced, polymer mortar pipe is inherently corrosion resistant with a life expectancy of 100 years or more. Leak-free, push-together joints reduce installation time and costs.
Hobas Pipe USA
Houston, TX
Tel: 800-856-7473
Web: www.hobaspipe.com
Residual chlorine monitor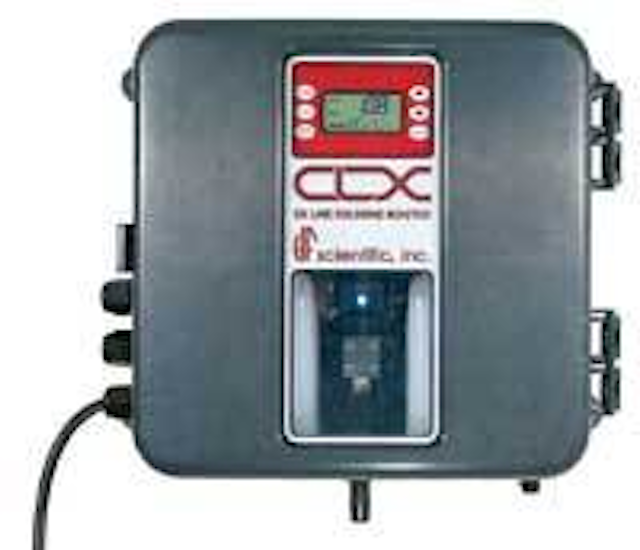 Click here to enlarge image
The HS scientific CLX OnLine Residual Chlorine Monitor has a precision range of 0-6 mg/l (displayed to 10mg/l) and is based on proven Colorimetric DPD Chemistry. It is designed for processes that require continuous monitoring of residual Free or Total Chlorine levels. User selectable cycle times (90 seconds - 10 minutes), 4-20 mA and RS-485 Modbus outputs that can be used to control feed pumps and user selectable alarms allow complete manual or automatic control of chlorine dosing.
HF scientific Inc
Fort Myers, FL
Tel: 239-337-2116
Web: www.hfscientific.com
IDSE monitoring
MWH Laboratories provides comprehensive analytical support for IDSE monitoring, including high capacity analysis for both HAA and THM. The service is designed to ensure utilities can have their sampling done when needed to meet the "highest DBP month" sampling requirement. The company offers a secure online database to allow utilities to quickly spot trends by location.
MWH Laboratories
Monrovia, CA
Tel: 626-386-1125
Web: www.mwhlabs.com
Mixing system
A video detailing the use of a SolarBee mixing system in potable water applications is available online at www.solarbee.com/potable.shtml. The solar-powered mixing system is a high flow near laminar long distance impact circulator that can be installed inside a reservoir/tank with the solar panels mounted on the outside. The units require no regular maintenance.
SolarBee® Div. of Pump Systems Inc.
Westminster, CO
Tel: 877-469-4001
Web: www.solarbee.com
Rubber check valves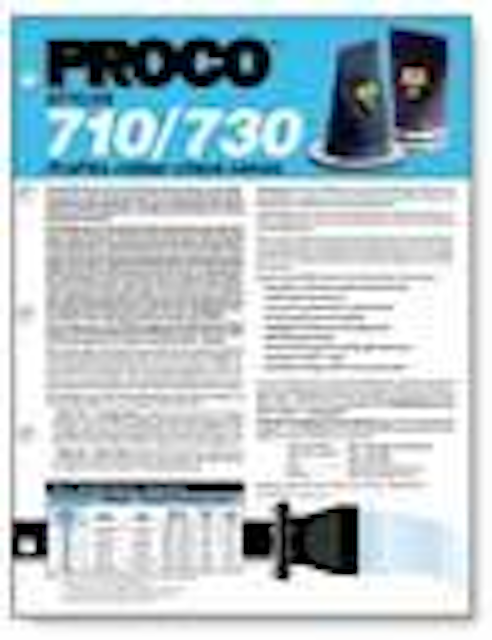 Click here to enlarge image
Proco Products has introduced the ProFlex series 700 Rubber Check Valve. The valves are manufactured completely from fungicide- and barnacle-resistant rubber. They are impervious to the daily operational vulnerability affiliated with the water and sewage industry such as rust, freezing, corrosion and seizing. The valves are available with NSF61 approved materials for use with potable water applications.
Proco Products Inc.
Stockton, CA
Tel: 800-344-3246
Web: www.procoproducts.com
Electronic control valves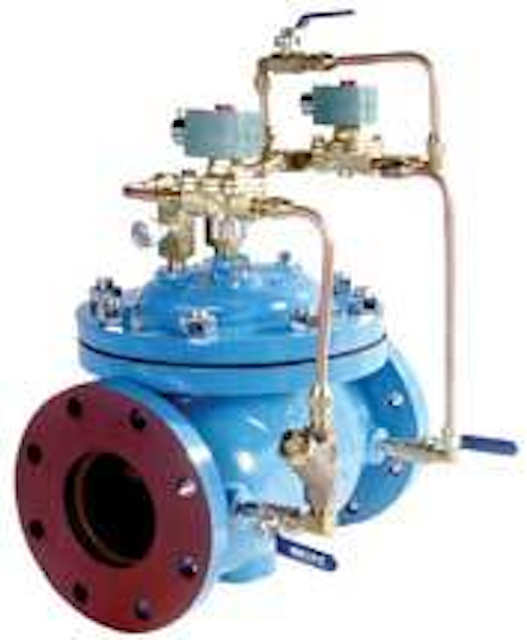 Click here to enlarge image
OCV Control Valves manufactures a variety of control valves for use in water systems. Both of the company's Digital Electronic Control Valve Series 22 and 88 are specifically designed to interface with high level SCADA systems. They are easily managed, offer substantial control, operate from line pressure and may be used to control virtually any process variable.
OCV Control Valves
Tulsa, OK
Tel: 888-628-8258
Web: www.controlvalves.com
Prestressed concrete tanks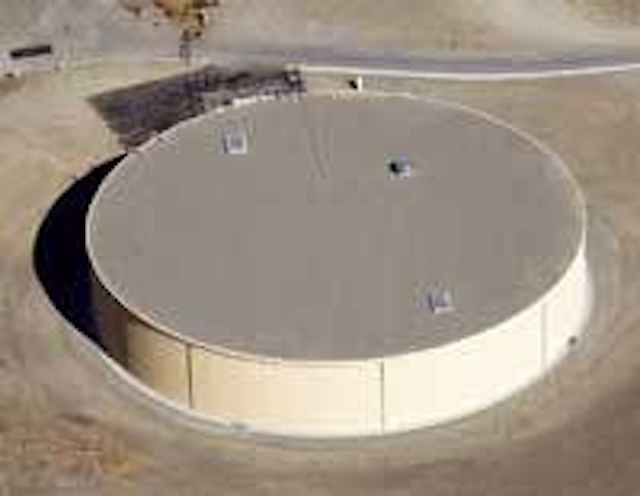 Click here to enlarge image
DYK provides prestressed concrete liquid storage tanks. The company has extensive combined expertise in the design, prestressing and construction of buried or architecturally enhanced water and wastewater storage tanks. The company's engineering and planning produces strong, attractive tanks with greater seismic reliability and a long lifespan. Over the past 40 years, the company has worked with clients in well-known municipal and private facilities worldwide to complete the storage of over 3 billion gallons of liquid storage in individual tank sizes ranging from 80,000 gallons to 35 million gallons.
DYK Inc.
El Cajon, CA
Tel: 800-227-8181
Web: www.dyk.com
Mapping software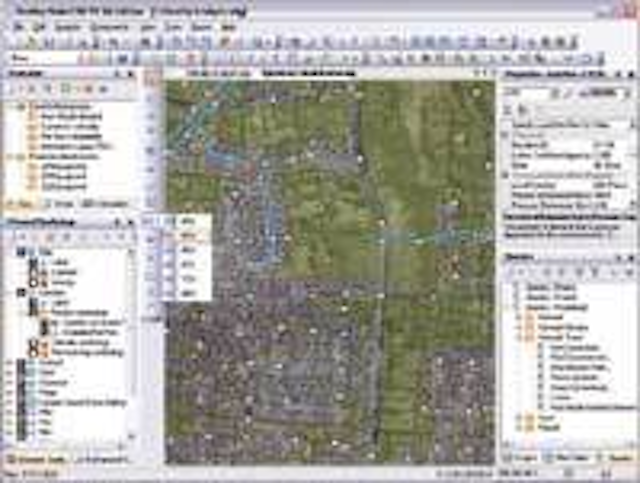 Click here to enlarge image
Available now for early adopters and as a downloadable upgrade for select subscribers - V8 is the most recent WaterCAD and WaterGEMS release from Bentley. Built from the ground up using the latest .NET Microsoft technology, WaterCAD and WaterGEMS V8 are designed for speed, interoperability, and usability. The new release is faster, has more functional interfaces, and features new hydraulic modeling, asset management, operations analysis, and mapping utilities.
Bentley Systems Inc.
Watertown, CT
Tel: 610-458-5000
Web: www.bentley.com/watergems
Water testing system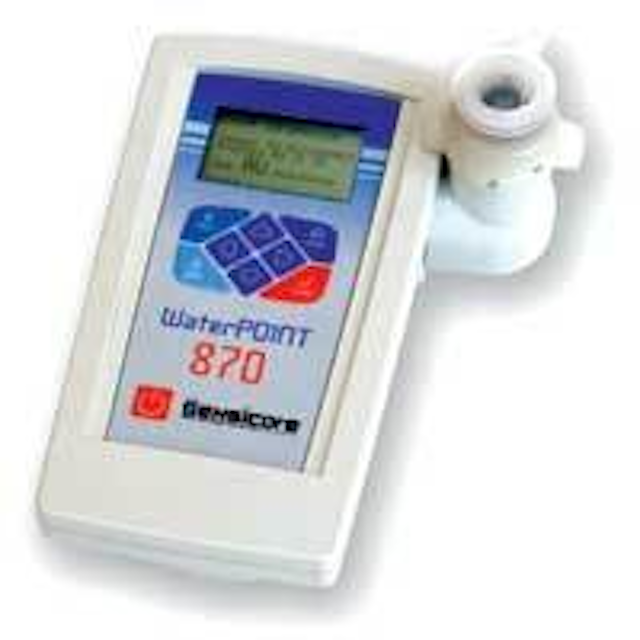 Click here to enlarge image
Sensicore has released the WaterPoint 870, it's second generation hand-held water testing system. The hand-held wireless device uses a smart sensor chip to calculate 14 different water parameters in just four minutes.
Sensicore
Ann Arbor, MI Tel: 734-528-6344
Web: www.sensicore.com
Meter locking system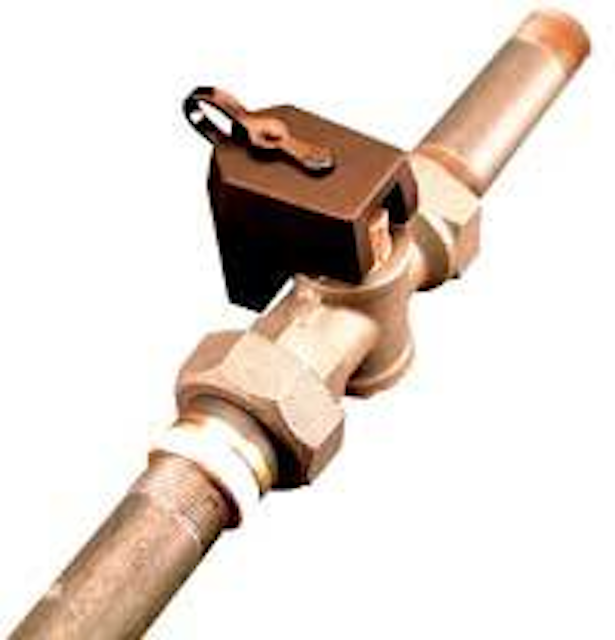 Click here to enlarge image
The Viper Lock from McGard Special Products Division offers protection against meter tampering and theft of service, 24/7. It can be installed with no modifications to the meter. A weather resistant housing ensures no problems from the elements. The company offers a full line of water security products including Fire Hydrant Locks, Nozzle Locks, Valve & Coupling Locks and Manhole Locks.
McGard LLC
Orchard Park, NY Tel: 888-888-9192 Web: www.mcgard.com
Ethernet radios
Microwave Data Systems (MDS) has introduced the newest addition to its family of Ethernet radios. The MDS iNET-II provides a transmission rate of up to one megabit and provides excellent receiver sensitivity translating into a longer range than traditional wireless LAN devices.
Microwave Data Systems Inc.
Rochester, NY
Tel: 585-242-9600
Web: www.microwavedata.com
SCADA security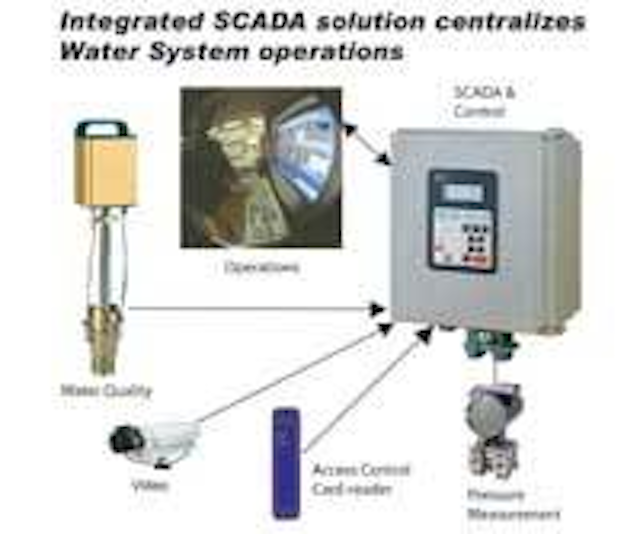 Click here to enlarge image
Bristol Babcock offers a pre-packaged SCADA security system with video archive and collection and replay. This integrated solution includes ControlWave Micro, enclosure, optional video camera, and interface to motion detectors, intrusion detection and alarms as well as integrated facility access control.
Bristol Babcock Inc.
Watertown, CT Tel: 860-945-2200 Web: www.bristolbabcock.com
Flow meter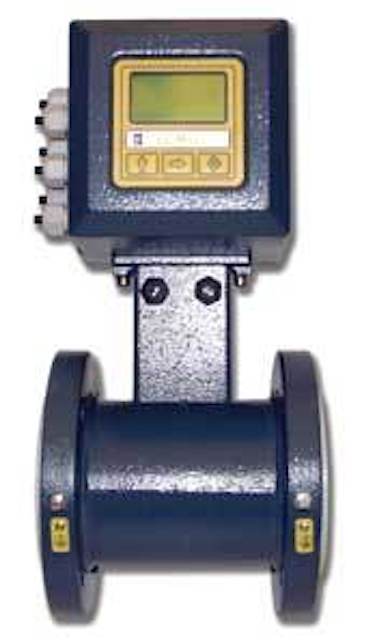 Click here to enlarge image
The LCMag™ flow meter from Liquid Controls is designed to meet almost any metering application in the water and wastewater market. HMS-series flow sensors and HML-series converters are available with a variety of end connections, liner materials, electrode choices and outputs.
Liquid Controls
A Unit of IDEX Corp.
Lake Bluff, IL
Tel: 800-458-5262
Web: www.lcmeter.com
Programmable logic controller
Control Microsystems' SCADAPack2 combines high-performance 32-bit processing with high speed LAN and USB communications and advanced power-saving features. It has an integrated power supply, 12-24 DC converter, analog and digital I/O, serial communication and turbine flow meter counter inputs.
Control Microsystems
Kanata, Ontario Tel: 888-267-2232 Web: www.controlmicrosystems.com
Data retrieval device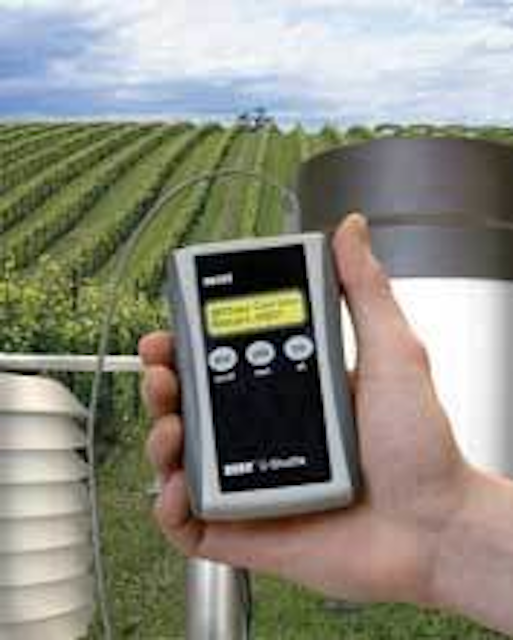 Click here to enlarge image
Onset Computer Corp. has introduced the Hobo® U-Shuttle, a new data transport device for use with the company's Weather Stations, Micro Stations, and U-Series data loggers. The new device allows users to offload weather stations and data loggers in the field and safely transport the data back to a PC or Mac computer for analysis.
Onset Computer Corp.
Bourne, MA
Tel: 800-564-4377
Web: www.onsetcomp.com
Pipe products
American Cast Iron Pipe Company (ACIPCO) will showcase the American 64" ductile iron pipe and 96" spiral-welded steel pipe. Also included will be a motorized directional drilling display of the company's Flex-Ring Ductile Iron pipe that demonstrates the articulation available in that particular joint for HDD installations.
American Ductile Iron Pipe
Tel: 800-442-2347
American Flow Control
Tel: 800-326-8051
Web: www.acipco.com
Solenoid valves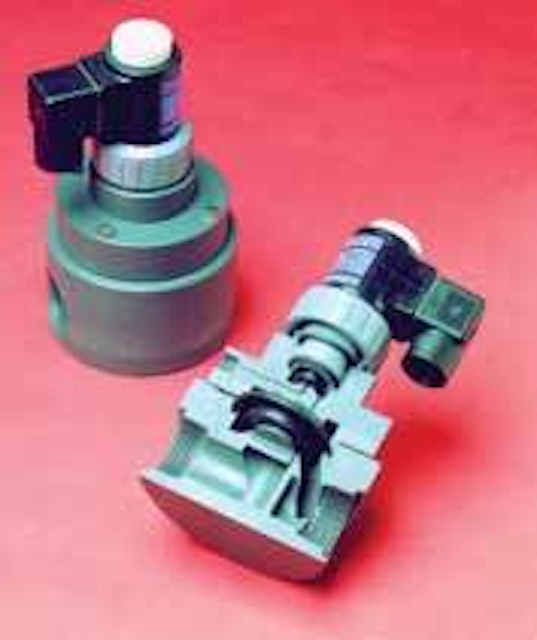 Click here to enlarge image
Plast-O-Matic Valves' "PS" line of high-pressure and high-flow Pilot Operated Solenoid Valves is now available in an extended range of sizes and materials. With a PTFE bellows seal, pressure ratings to 140 PSI and CVs to 80, the PS series is designed for water purification and wastewater treatment systems. The valve is now offered in PVC, CPVC, Polypropylene, and PVDF in ½" through 3" sizes.
Plast-O-Matic Valves Inc.
Cedar Grove, NJ Tel: 973-256-3000 Web: www.plastomatic.com
AMR systems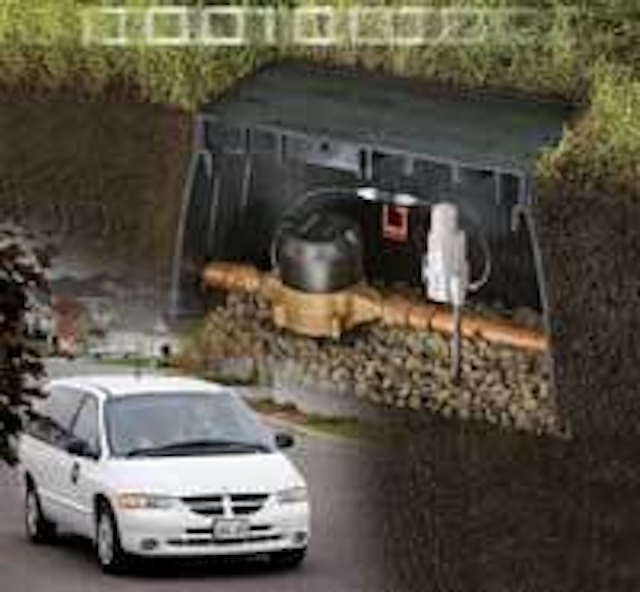 Click here to enlarge image
Advancing technologies, such as Itron's 60W Water Endpoint and its Mobile Field Collector, are making it easier and more cost-effective for water providers to enjoy the benefits of automated meter reading (AMR) solutions. The 60W endpoint is compact, requires no field programming and is suited for pit installation. It provides advanced leak, reverse-flow and tamper detection, as well as a 20-year battery life.
Itron
Spokane, WA
Tel: 800-635-5461 Web: www.itron.com
Portable electrochemical meters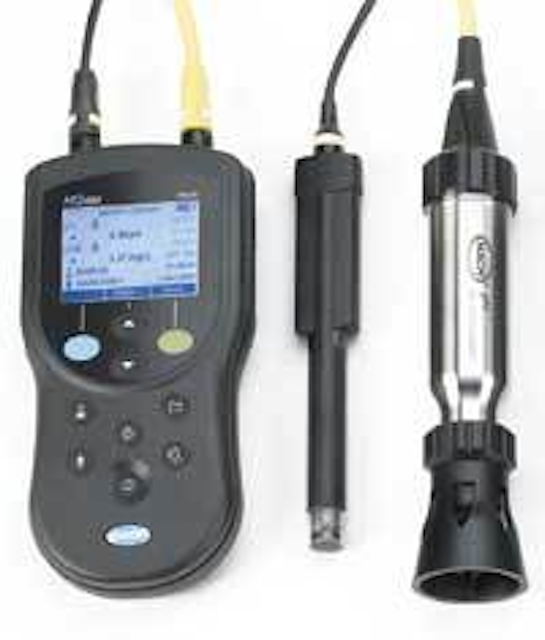 Click here to enlarge image
Hach recently introduced the HQd-series of portable electrochemical meters and IntelliCAL™ probes, which feature "plug and play" digital technology. The HQd-series can take up to two simultaneous measurements of pH, conductivity, LDO®, and ORP with a single meter. It's the first instrument for field and laboratory use that does not require the user to predetermine parameters.
Hach Co.
Loveland, CO
Tel: 800-227-4224
Web: www.hach.com
Drinking water treatment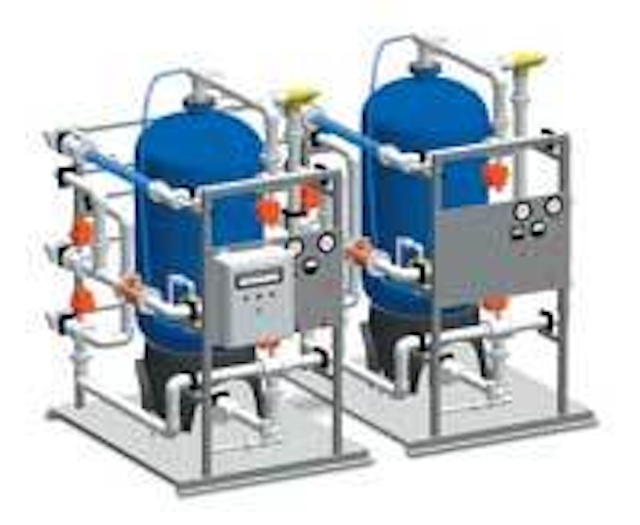 Click here to enlarge image
Targeted to small to medium-sized municipalities, the CalSystems™ product line from Calgon Carbon features versatile equipment and controls designed to remove a variety of inorganic and organic contaminants from water. The equipment, coupled with the company's CalRes™, CalMedia™ and carbon product lines of media, can remove the latest contaminants of concern including arsenic, radium, perchlorate, hexavalent chrome, selenium and volatile organic compounds.
Calgon Carbon Corp.
Pittsburgh, PA Tel: 800-422-7266 Web: www.calgoncarbon.com
Portable electrochemical meters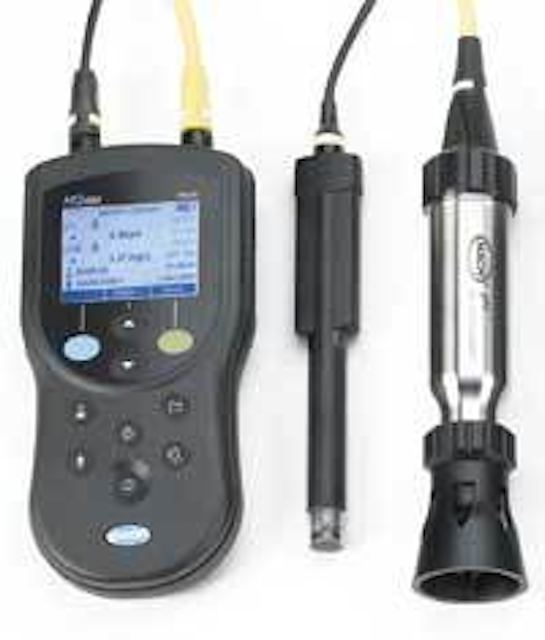 Click here to enlarge image
Hach recently introduced the HQd-series of portable electrochemical meters and IntelliCAL™ probes, which feature "plug and play" digital technology. The HQd-series can take up to two simultaneous measurements of pH, conductivity, LDO®, and ORP with a single meter. It's the first instrument for field and laboratory use that does not require the user to predetermine parameters.
Hach Co.
Loveland, CO
Tel: 800-227-4224
Web: www.hach.com
Metering system
Advanced Metering Data Systems (AMDS) will display a secure water meter solution at the upcoming AWWA show. Reliability is achieved using a patented, FCC-licensed, long range fixed based wireless network and by overlapping receiver coverage of metering end-points, utilizing data/message redundancy and fail-over backup provisions.
Advanced Metering Data Systems
New Orleans, LA
Tel: 800-770-7213 Web: www.amdswireless.com
Cartridge filters

Click here to enlarge image
Amiad offers the new MT-44, a 200 gpm, 3 micron, automatic, self-cleaning, string-wound cartridge filter. The filter was developed using the same thread, plastic material and overall dimensions of the previous cassette. However, this release is made of a stronger construction and a denser thread stacking, which has reduced the diameter of the pores and improved its filtration capabilities.
Amiad Filtration Systems
Oxnard, CA
Tel: 805-988-3323
Web: www.amiad.com
Flow meter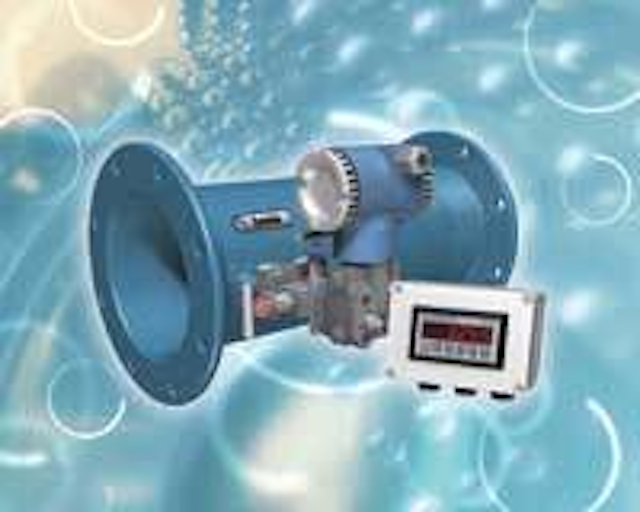 Click here to enlarge image
With its advanced differential pressure flow technology, the new V2 System™ Flow Meter from McCrometer features built-in flow conditioning for improved accuracy and requires minimum upstream/downstream straight-run piping when installed.
McCrometer Inc.
Hemet, CA
Tel: 800-220-2279
Web: www.mccrometer.com
Eccentric plug valve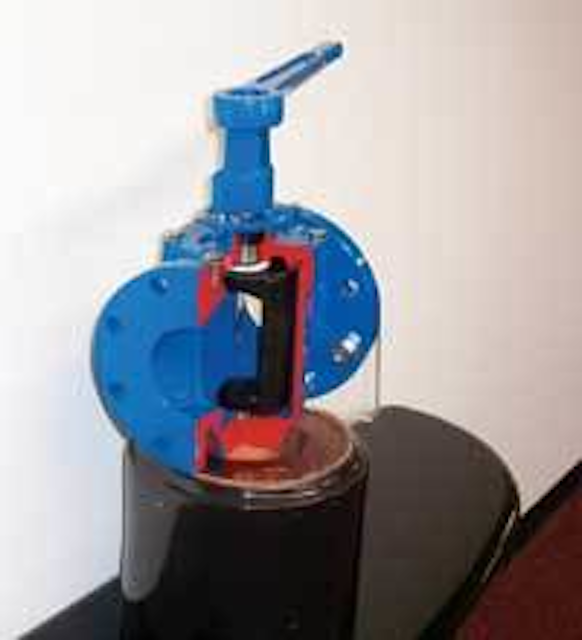 Click here to enlarge image
APCO Valve and Primer has introduced the Series 500 Eccentric Plug Valve. The valve is manufactured standard in ductile iron with stainless steel bolts. Fusion bonded epoxy is also standard. The resilient faced ductile iron plug is encapsulated in EPDM.
APCO Valve and Primer Corp.
Schaumburg, IL
Tel: 847-524-9000
Web: www.apcovalves.com
FRP products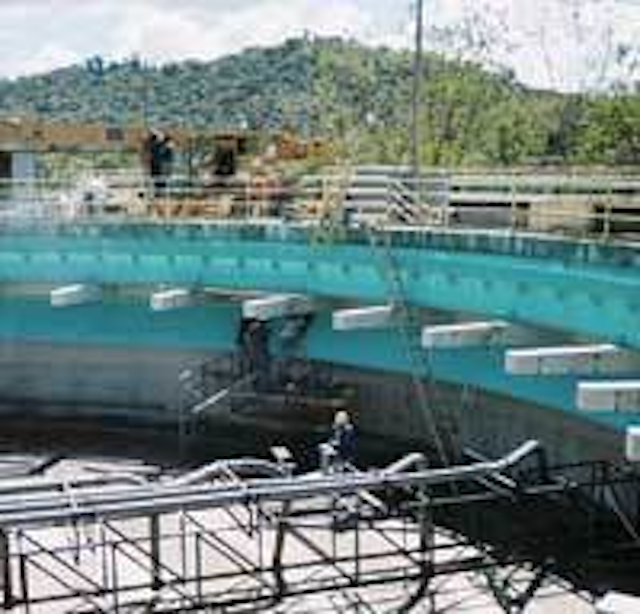 Click here to enlarge image
MFG Water Treatment Products Co. specializes in fiberglass-reinforced plastic (FRP) products, which are strong, light and corrosion-resistant. The company can supply individual components or a complete package solution for projects large and small. Its products come in both standard and custom shapes and sizes, and include Weirs and Baffles, Launder and RBC Covers, Troughs, Density Current Baffles, and Parshall Flumes and Flat Sheets.
MFG Water Treatment Products Co.
Union City, PA
Tel: 814-438-3959
Management software
SPL Enterprise Asset & Work Management is a software solution from SPL WorldGroup that is designed to optimize capital resources for asset intensive industries. It enables water service organizations and municipal water and wastewater departments to optimize asset performance, resource allocation and cost effectiveness; streamline maintenance processes; improve supply chain performance; and increase safety and regulatory compliance.
SPL WorldGroup
Walnut Creek, CA
Tel: 925-658-1000
Web: www.splwg.com
Resins, membranes
Dow Liquid Separations will be exhibiting its Dowex™ ion exchange resins and Filmtec™ reverse osmosis (RO) and nanofiltration (NF) elements. Dowex ion exchange resins offer solutions for trace contaminant removal, including nitrate, perchlorate, uranium, radium, organics, chrome and emerging contaminants.
Dow Chemical Co., Liquid Separations
Midland, MI Tel: 800-447-4369 Web: www.dowex.com
Electrolyzer unit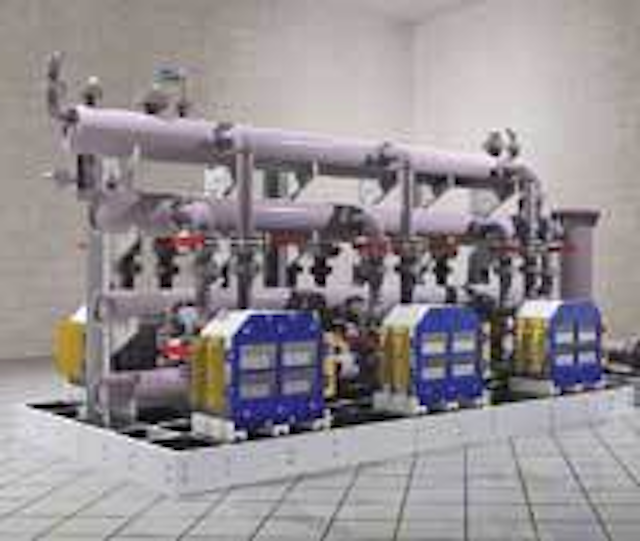 Click here to enlarge image
Klorigen™ modularized generators, available from Electrolytic Technologies, produce elemental chlorine gas, sodium hydroxide and sodium hypochlorite with output volumes ranging from 100 to 20,000 lbs per day. The systems can meet NSF 60 standard NaOCl at 12% concentration for less than $0.24 per gallon. The systems can be used to replace pressurized chlorine gas to the eliminate potential for toxic release.
Electrolytic Technologies Corp.
North Miami Beach, FL
Tel: 305-655-2755
Web: www.electrolytictech.com
Peristaltic pumps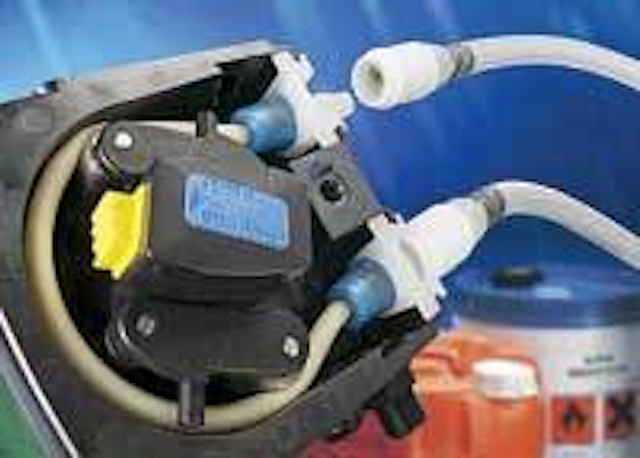 Click here to enlarge image
Watson-Marlow Bredel will showcase its environmental processing solutions, including its 520/620 NEMA, SPX and 520RE LoadSure™ Elements peristaltic pumps. The 620 and 520 pumps are ideal for chemical metering applications, such as sodium hypochlorite, ferric chloride, alum and polymers. The new 520RE LoadSure™ Elements range of peristaltic pumps, designed for increased overall performance and pressure capabilities, can handle pressures up to 100 psi.
Watson-Marlow Bredel Pumps
Tel: 800-282-8823
Web: www.watson-marlow.com
Electronic locks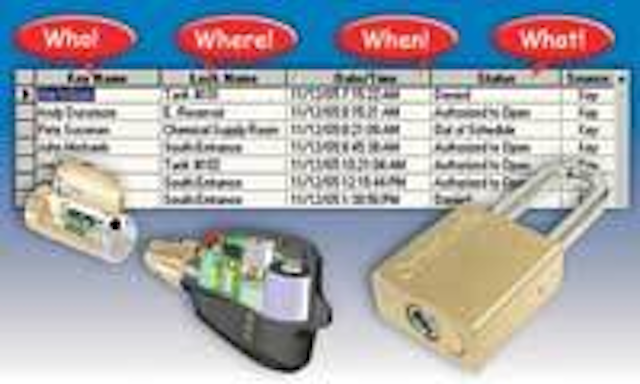 Click here to enlarge image
Videx manufactures CyberLock electronic cylinders that install into existing mechanical lock hardware to restrict and audit access to doors, padlocks, cabinets, and more. The cylinders cannot be picked, and the keys cannot be duplicated. A record of all events is stored in both the locks and the keys, providing a comprehensive audit report that details who, where, when, and what.
Videx Inc.
Corvallis, OR Tel: 541-758-0521 Web: www.videx.com
Insertable Valve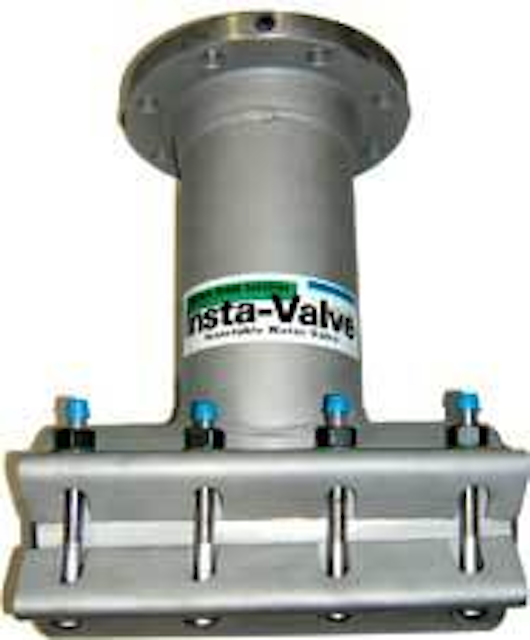 Click here to enlarge image
Hydra-Stop's Insta-Valve, available from Severn Trent Services, is an insertable valve. Installation involves installing a fitting, making the tap, then inserting the valve. Once installed, the valve operates with a standard valve key. The valve can reduce pipe strength loss and helps utilities avoid service disruptions. The valve can be used with existing Hydra-Stop equipment or as a stand-alone system.
Severn Trent Services
Alsip, IL Tel: 800-538-7867 Web: www.severntrentservices.com
Membrane package plants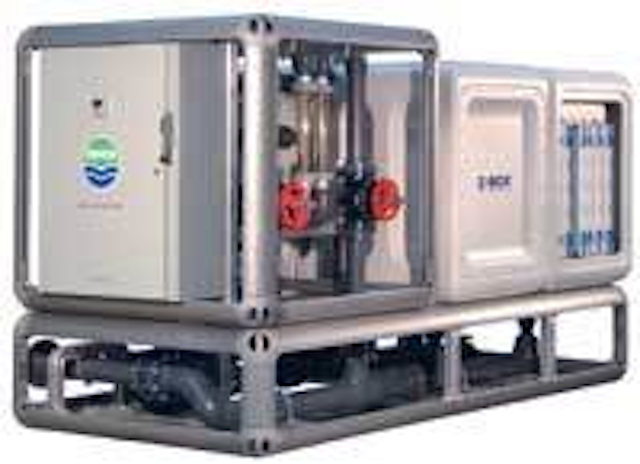 Click here to enlarge image
Z-Box™ Package Plants from Zenon are pre-engineered, skid-mounted potable water treatment systems that enable small communities to benefit from large-plant performance in a compact, plug-and-play system. A single-train system can treat up to 380,000 gallons of water per day and multiple units can be linked together to treat over 1 MGD. At just under six feet in height, the Z-Box™-S model has one of the industry's lowest ceiling height requirements and features a side-loading membrane door to minimize overhead clearance.
Zenon Environmental Inc.
Oakville, Ontario
Tel: 905-465-3030
Web: www.zenon.com
Water quality monitoring
Emerson Process Management has announced that the performance of the Rosemount Analytical Model WQS water quality monitoring system has been verified by the U.S. Environmental Protection Agency (EPA) Environmental Technology Verification program. The multiparameter water quality monitoring system was evaluated along with four other water monitors. Not only was the performance of the model WQS verified by the evaluation, but the system required no scheduled operator maintenance during the testing. The complete "plug and plumb" panel system is designed to withstand the rigors of a real-world distribution environment. The system enables plants to establish a baseline for critical measurements including turbidity, conductivity, pH, ORP, free chlorine, monochloramine, dissolved oxygen, ozone, temperature and particle counting, so that when changes in these measurements are detected, plants are alerted to these changes and can respond accordingly.
Emerson Process Management
Irvine, CA
Tel: 800-854-8257
Web: www.emersonprocess.com