NEW PRODUCTS
Norman Noe offers a brass relief valve designed to solve the problem of pumping water directly into a water system when a water storage tank is off line during emergencies or maintenance.
Mar 1st, 2006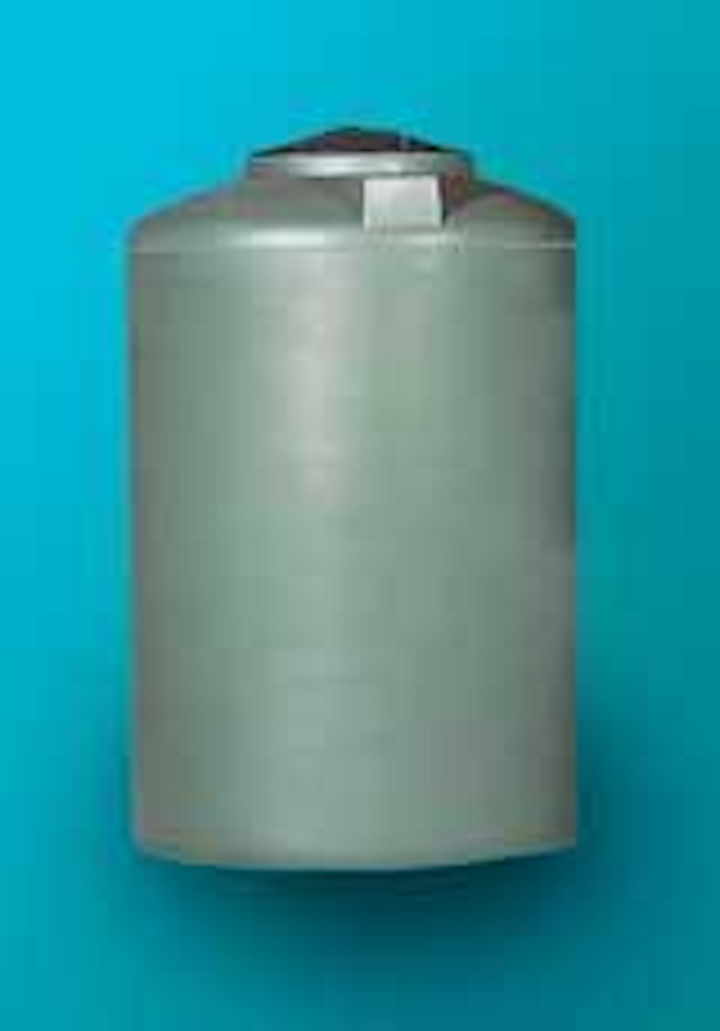 Brass relief valve
Norman Noe offers a brass relief valve designed to solve the problem of pumping water directly into a water system when a water storage tank is off line during emergencies or maintenance. The valve is installed on a fire hydrant and is preset at 65 psi but can be adjusted from 1-120 psi. The valves have a brass body, 2 ½" ASE brass fire hydrant adapters and a pressure gauge. The pumps feature a close-coupled design with modular construction and individually replaceable parts, allowing simple maintenance and lower cost of ownership.
Norman Noe Co.
Nineveh, IN
Tel: 317-933-2274
Web: www.normannoewatertankinspection.com
Water storage tanks
Chem-Tainer offers vertical water storage tanks in sizes from 45 to 1500 gallons. The tanks are constructed of green polyethylene resin and comply with FDA regulation 21CFR 177.1520 (1) 3.1 and 3.2 for storage of potable water. The tanks come complete with threaded inlet/outlet and a vented twist entry. The tank's green resin color helps reduce algae growth and blends with the environment. The PE resin is UV stabilized for outdoor use and is impact resistant.
Chem-Tainer Industries
West Babylon, NY
Tel: 800-275-2436
Web: www.chemtainer.com
Pump, blower repair
PRO Services, an ITT Industries Company, offers integrated service solutions for pumps, blowers, compressors, or any rotating or reciprocating equipment. An eight-page brochure is available on the company's website. The company's experienced engineers and technicians provide field service, and are available to respond to emergency needs 24/7, 365 days a year. Also, because the company is part of ITT, service centers have expertise in all areas of mechanical and hydraulic design, metallurgy and the latest manufacturing technologies and processes.
Pro Services
Seneca Falls,
Tel: 800-335-6350
Web: www.ittproservices.com
Chemical process pumps
Iwaki America is offering a free trial pump program for its MDM magnet drive chemical process pump line. To apply, visit www.iwakiamerica.com and complete the on-line application form. The MDM product line is a wide-ranging line of chemical process pumps with models that exceed ANSI hydraulics with flows to 360 gpm and heads to 350 ft. The design features standard construction materials of ETFE for handling of most aggressive chemistries, and PFA for added temperature capabilities and high purity applications. Available bearing systems of carbon and high purity alumina ceramic, or alpha sintered silicon carbide, ensure process integrity.
Iwaki America Inc.
Holliston, MA
Tel: 508-429-1440
Web: www.iwakiamerica.com
Control system communication
Control system users who want to expand their communication capacity while improving overall performance have a new option from Rockwell Automation. The Allen-Bradley 1756-CN2 module and the 1756-CN2R media redundancy module each allow Allen-Bradley ControlLogix Programmable Automation Controller (PAC) users to double networking capacity.
Rockwell Automation
Milwaukee, WI Tel: 800-23-5354 Web: www.rockwellautomation.com
Single-gas detector
The Altair Single-Gas Detector from MSA features three sensor options: carbon monoxide, hydrogen sulfide and oxygen. Carbon monoxide and hydrogen sulfide versions can operate for over two years. The design offers improved dust and water protection and high resistance to RFI. The instruments feature a rubberized housing, one-button operation and a triple-alarm system that includes two LEDs, an audible alarm, and a vibrating alarm.
MSA Instrument Division
Pittsburgh, PA Tel: 800-672-2222 Web: www.msanet.com
Electronic diaphragm pumps
Neptune Chemical Pump Co. has introduced the PZiG Series electronic diaphragm pumps, extending the capacity of the PZ Series of "smart" pumps. PZ Series pumps are designed for accurate injection of a wide variety of liquids, including moderate-viscosity and highly corrosive substances. The company offers the PZiG pump in four sizes from 5 gph @ 145 psi to 20 gph @ 30 psi. The unit is available with PVC and Kynar liquid ends to handle viscosities to 50 cps; an optional PVC liquid end can handle up to 1000 cps. The pumps feature a control panel with large buttons and a 2-stage display LCD screen. The pumps accept multiple inputs for either pulse proportional control with multiplication and division function, or 4-20 mA input for proportional control that will operate directly from pH, residual chlorine or flow meters without a separate PID controller. Pump outputs include batch signal and pulse.
Neptune Chemical Pump Co.
Lansdale, PA
Tel: 215-699-8700
Web: www.neptune1.com
Sound level meters
Monarch offers new Sound Level Meters and Analyzers designed to help with OSHA compliance for noise control. The meters have a 140 dB dynamic range and provide ANSI/IEC Type 1 and Type 2 accuracies. Other features include the ability to datalog information; provide real-time Octave and 1/3 Octave Band measurement; and provide simultaneous A, C and Z weighted measurements.
Monarch Instrument
Amherst, NH
Tel: 800-999-3390
Web: www.monarchdirect.biz
Motor starter control
A new soft start family from Schneider Electric provides starting and stopping control for motors in a compact footprint. The Telemecanique® Altistart® 01 soft start comes in three different performance levels to match the needs of a wide range of fractional and low horsepower (¼ to 75 hp at 110 to 575 volts) single-phase and three-phase asynchronous motors. Most models of the starter are just 45 mm wide, the standard width for IEC low horsepower motor starters.
Schneider Electric
Palatine, IL
Tel: 800-392-8781
Web: www.us.telemecanique.com
Biological treatment
PMSL's HALO System incorporates four separate technology choices to optimize the biological treatment of municipal wastewater. By offering brush rotor, diffused air, directional aeration, and low-speed surface aeration, the system includes all major forms of aeration. Using the HALO Matrix, engineers are able to evaluate the benefits of each aeration method. Then the HALO Builder software models a true plant representation prior to construction.
Philadelphia Mixing Solutions
Palmyra, PA
Tel: 800-956-4937
Web: www.philamixers.com
Metering injector
The Flexflo® A-100NE Series peristaltic metering injector, with Pulse Input Batching and Time Interval Control, has a variable speed motor. Plus, it is now equipped with Blue-White's patented Tube Failure Detection System. The TFD System will detect many chemicals (chlorine, acids, etc.). If non-compatible chemical is detected in the pump head, the injector shuts off. The problem chemical must be cleaned from the pump head before the injector will restart.
Blue-White Industries
Huntington Beach, CA
Tel: 714-893-8529
Web: www.bluwhite.com
Fine bar screen
Franklin Miller has introduced the ScreenMaster® ST fine screen. The unit employs European "step bar" technology. As solids accumulate into a mat on the screen, a level sensor is activated and the unit is energized. The motor then reciprocates the bars, incrementally moving the material up the bar screen steps. When they reach the top, the solids fall off into a bin, washer or conveyor. The unit automatically stops in the home position. The screening system is fully constructed in stainless steel and is available in a variety of widths, heights and screen openings to meet specific application requirements.
Franklin Miller Inc.
Livingston, NJ
Tel: 973-535-9200
Web: www@franklinmiller.com
Refrigerated autosamplers
Sigma All Weather Refrigerated Autosamplers now can be ordered from the Hach Co. web site. The automated samplers assure dependable collection regardless of operator workload, schedules, or weather conditions. A patented design locates the sampler compressor at the top of the unit to minimize corrosion and keep heat away from the refrigeration unit.
Hach Co.
Loveland, CO Tel: 800-227-4224 Web: www.hach.com
Catch basin insert
Stormwater360 recently introduced the EnviroPod™, a catch basin insert that removes a significant portion of trash, debris and other pollutants from water entering the storm drain. The insert is designed to fit curb inlet or flat-grate catch basins with the option of several mesh screen sizes. Using low-cost passive screening with oil-absorbent media, it can be customized to meet site-specific requirements.
Stormwater360
Portland, OR Tel: 800-548-4667 Web: www.Stormwater360.com
Safety railing kit
Kee Industrial Products has introduced its new Kwik Kit® safety railing kit featuring pre-assembled uprights to reduce installation time. The safety barrier system is used around machinery and equipment or in other areas where personnel access should be restricted because of safety concerns. The kit complies with OSHA and BOCA standards, and includes 1.9" O.D. pipe that is powder-coated in an attractive, safety yellow finish.
Kee Industrial Products Inc.
Buffalo, NY
Tel: 800-851-5181
Web: www.keeklamp.com
Flood forecasting
Wallingford Software's FloodWorks, a real-time flood forecasting and flood warning system, now supports internet publishing of results. With this development, FloodWorks version 5.0, released at the end of 2005, can automatically publish flood forecasts on a website for viewing by remote users via a standard web browser. The software provides real-time simulation and forecasting of hydrological and hydraulic conditions within river basins, drainage systems and the coastal zone.
Wallingford Software
Fort Worth, TX
Tel: 817-370-2425
Web: www.wallingfordsoftware.com
Sample bags
Isco ProPak® simple containers are now available for 2 gallon composite sampling as well as 1 liter sequential samples. ProPak is a patented system for collecting and handling wastewater samples in single-use sample bags contained in reusable holders. The system is more cost-effective than conventional sample bottles, and does not require any changes to current sampling practices. Users simply install a bottle liner into the polyethylene holder, and place it in the sample base. Sizes include 1,000 ml for direct compatibility in samplers with 1,000 ml wedge-shaped plastic bottles, as well as 2 gallon bags for composite sampling applications.
Teledyne ISCO
Lincoln, NE
Tel: 402-64-0231
Web: www.isco.com
Portable generators
Godwin Pumps introduces a new line of Godwin Power generators. From 20 to 350 kW, these diesel-powered portable generators include a programmable control panel with remote starting capabilities and automatic warning and shutdown features to monitor, protect and control engine and generator operations. The units also feature an oversized generator for providing maximum power for single motor starting kVA and longer bearing and insulation life. For power settings, a voltage selector switch allows power to the lugs to be set in single phase or various three-phase settings and incorporates a padlockable switch for safety.
Godwin Pumps of America Inc.
Bridgeport, NJ
Tel: 856-467-3636
Web: www.godwinpumps.com
Bird repellant
Bird-B-Gone has introduced the Bird Chase Super Sonic, a system which features distress and predator bird sounds of over 22 types of birds. This is a low cost solution for targeting pigeons, crows, starlings, swallows, gulls, woodpeckers, sparrows, grackles, cormorants and many other birds that can contaminate water sources. It protects areas up to one full acre, and is adaptable with "pro pack" attachments to cover up to six acres.
Bird-B-Gone Inc.
Mission Viejo, CA
Tel: 800-392-6915
Web: www.birdbgone.com
Air strippers
Indusco Environmental Services acquired certification in December 2005 from NSF International to NSF/ANSI Standard 61. This certification means it can supply a complete one-source fabricated packed-bed air stripper system with storage vessels all under the strict materials safety requirements for equipment in contact with potable water.
Indusco Environmental Services Inc.
Atlanta, GA
Tel: 770-739-5929
Web: www.induscoenviro.com
Level transmitters
Keller America, a unit of Keller A.G. of Switzerland, has introduced an optional lightning protection package for the Acculevel™ and Levelgage™ submersible liquid level transmitters, and Preciseline™ and Valueline™ pressure transmitters. Transmitters carry a lifetime warranty against damage from voltage surges, including from nearby lightning strikes.
Keller America
Newport News, VA Tel: 877-253-5537 Web: www.kelleramerica.com
Pump packing
GFO® fiber for pump packing from W.L. Gore & Associates, the makers of Gore-Tex® sealant products, is a high performance composite material designed and engineered specifically for use as a compression packing. With a 20+ year history of trouble-free performance, fiber packing applications include sealing shafts on high-speed pumps, mixers, agitators, or any other equipment with rotating or reciprocating shafts.
W.L. Gore & Associates Inc.
Elkton, MD Tel: 800-654-4229 Web: www.gore.com/sealants
Peristaltic pump
Wanner Engineering's new Vector Series 3005 peristaltic pump is capable of continuous duty pumping of harsh liquids up to 200 psi. This rugged industrial pump features a lubricant-filled cavity for constant lubrication, and a unique "roller and shoe" design requiring less starting torque that creates less abrasion than typical straight shoe designs.
Wanner Engineering Inc.
Minneapolis, MN Tel: 612-332-5681 Web: www.vectorpump.com
Corrosive gauge guard
Plast-O-Matic Valves Inc. has developed an all-thermoplastic, compact gauge guard for corrosive liquids. Series GGME is a compact, 1-3/8" high seal that isolates gauges and other instruments from a chemical process. The barrier seal transmits pressure with an accuracy of ±4%.
Plast-O-Matic Valves Inc.
Cedar Grove, NJ
Tel: 973-256-3000
Web: www.plastomatic.com/dgv.html
Fluid bed dryer
Schwing America's Material Handling Division recently introduced fluid bed drying systems for municipal applications. This indirect-heated, closed-loop system for granulation, drying and cooling of municipal biosolids produces a Class 'A' reusable product. It operates at an energy-saving 185°F for all materials.
Schwing America Inc.
White Bear, MN
Tel: 651-429-0999
Web: www.schwing.com
BOD/nitrogen removal
The AGAR process, marketed by USFilter, a unit of Siemens Water Technologies, increases the treatment capacity of an existing wastewater treatment plant without requiring additional aeration basins to be built. The novel process provides a high BOD removal rate and intensive nitrogen removal. The integrated fixed-film activated sludge (IFAS) process can be used to expand or upgrade existing wastewater treatment plants and to efficiently treat bio-degradable industrial wastewater in a small footprint.
USFilter
Warrendale, PA
Tel: 715-355-3206
Web: www.usfilter.com