PRODUCT SHOWCASE
The ChopX Series pumps from Hayward Gordon are designed to simultaneously chop and pump the most difficult solids, eliminating the need for grinders and comminutors.
Jan 1st, 2006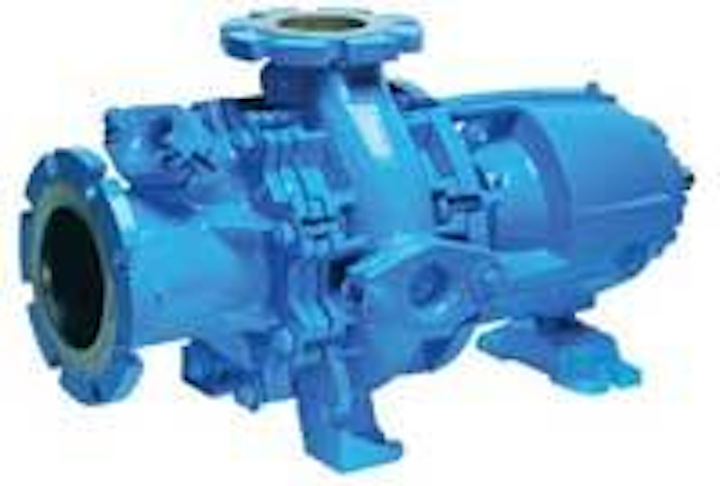 Chopper pumps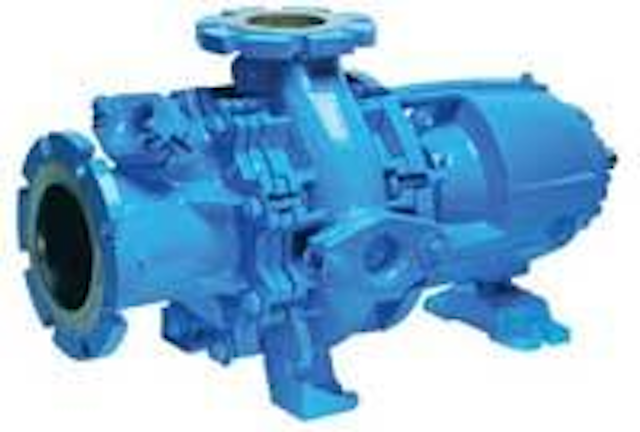 Click here to enlarge image
The ChopX Series pumps from Hayward Gordon are designed to simultaneously chop and pump the most difficult solids, eliminating the need for grinders and comminutors. The pump's impeller features cutting edges on both the front and back to allow for the reduction of solids passing though the pump, while eliminating clogs due to solids build up. A disintegrator blade can be added at the inlet to further assist in the break-up of solids. Two blade and four blade impellers are available depending on the application requirements, making the pump ideal for scum pit, digester recirculation or digester scum blanket applications. For abrasion and corrosion resistance, the pump is available in a range of materials, including Ni-Hard, High Chrome Iron, hardened alloy steels, stainless steel and other corrosion resistant metals.
Hayward Gordon Ltd.
Mississauga, Ontario
Tel: 905-567-6116 Web: www.haywardgordon.com
Backflow protection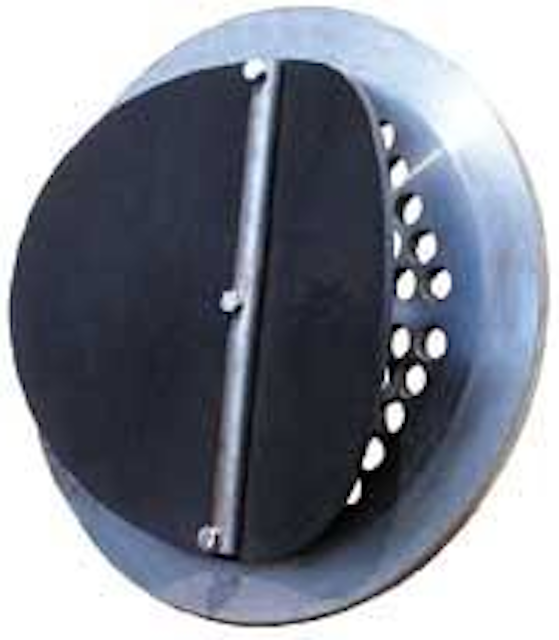 Click here to enlarge image
Tideflex Technologies' Waterflex® Check Valve features a wafer design that provides low headloss in high pressure potable water applications. It operates solely on line pressure and backpressure, no outside energy source is required. Forward hydraulic pressure folds the elastomer disk away from the perforated plate to allow flow. Reverse pressure seals the disk against the perforated plate to prevent backflow.
Tideflex Technologies
Carnegie, PA
Tel: 412-919-0919
Web: www.tideflex.com
Digital display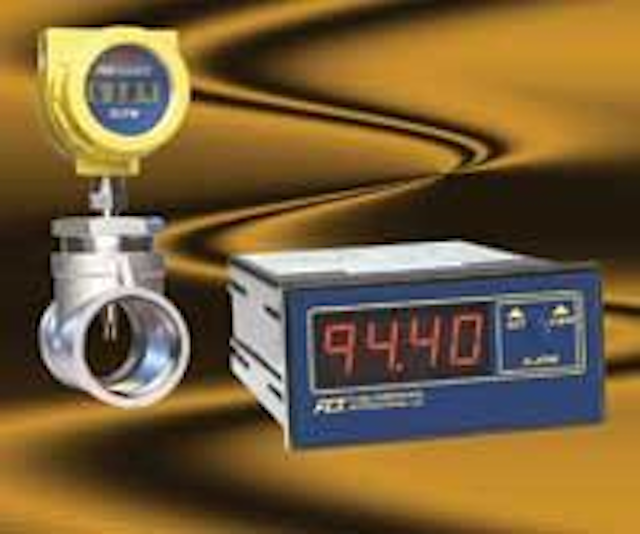 Click here to enlarge image
The new DM 15 Digital Display from Fluid Components International (FCI) serves as a remote digital display that indicates flow rate or temperature readings using FCI's ST and GF Series thermal-dispersion mass flow meters. Offering user flexible in terms of input and display, the unit is a DC input indicator that also offers a hi/low alarm set-point option that can be set to any point plus-or-minus within its measurement range. The display is an AC-line powered meter with a bright red LED readout. It features a push-button scalable +9999 digit display and will accept either 4-20 mA or 0-10 vDC output signals from FCI flow meters. It is ideal for a wide range of air, gas and fluid process control applications where accurate flow measurement is essential to the integrity of the process.
Fluid Components International
San Marcos, CA
Tel: 800-854-1993
Web: www.fluidcomponents.com
Electronic control valves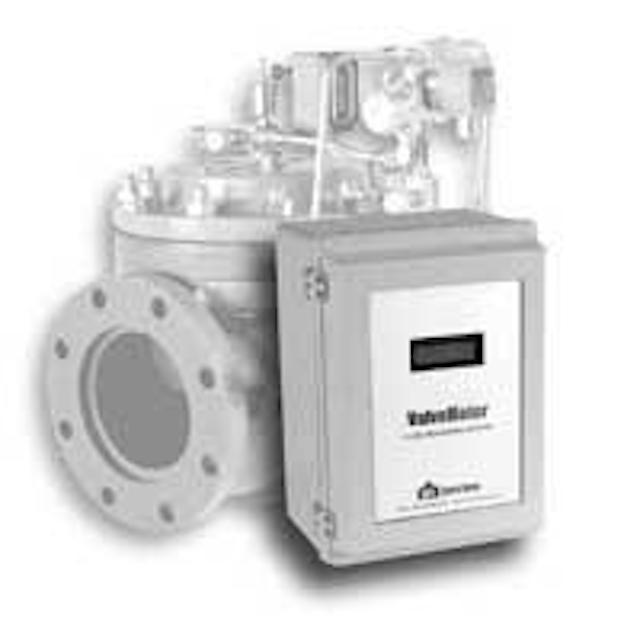 Click here to enlarge image
OCV Control Valves manufactures a variety of control valves for use in water systems. The company's Digital Electronic Control Valve Series 22 and 88 are specifically designed to interface with high level SCADA systems. They are easily managed, offer substantial control, operate from line pressure and may be used to control virtually any process variable. Both the 22 and 88 are designed to "stand alone" and are stable over a wide range of flows. They are useful in situations requiring a frequently changing or remote set point.
OCV Control Valves
Tulsa, OK
Tel: 888-628-8258
Web: www.controlvalves.com
Arsenic treatment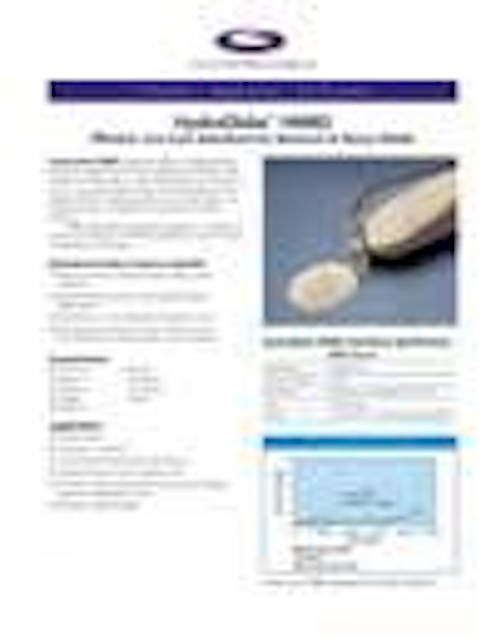 Click here to enlarge image
HydroGlobe™ a division of Graver Technologies, has announced availability of its patent-pending MetSorb™ HMRG (Heavy Metal Removal Granules) for adsorption of both Arsenic III and V, and a wide variety of heavy metals including lead, cadmium, antimony, uranium, mercury, and zinc from contaminated drinking water and process streams. Targeted for use in point of entry and point of service systems, the product can be used in municipal water treatment.
HydroGlobe, Division of Graver Technologies
Glasgow, DE
Tel: 800-249-1990
Web: www.hydroglobe.com
AC drives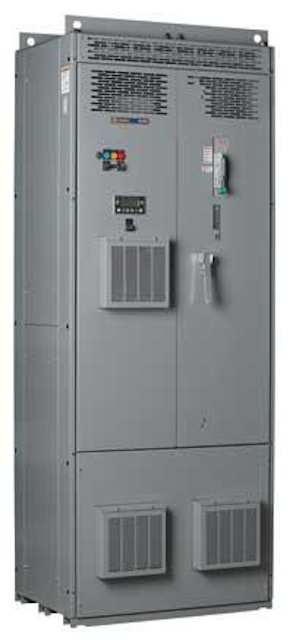 Click here to enlarge image
Cleaner power for AC drives installations from 50 to 500 hp is now possible with the release of the Class 8839 CPD PowerGard™ 18-Pulse Enclosed AC Drive from Schneider Electric brand Square D®. The drive is designed to provide water/wastewater facilities with a packaged solution to comply with clean power guidelines such as IEEE 519-1992 via patented, second-generation 18-pulse converter technology.
Schneider Electric
Palatine, IL
Tel: 800-392-8781
Web: www.us.squared.com
Water level indicators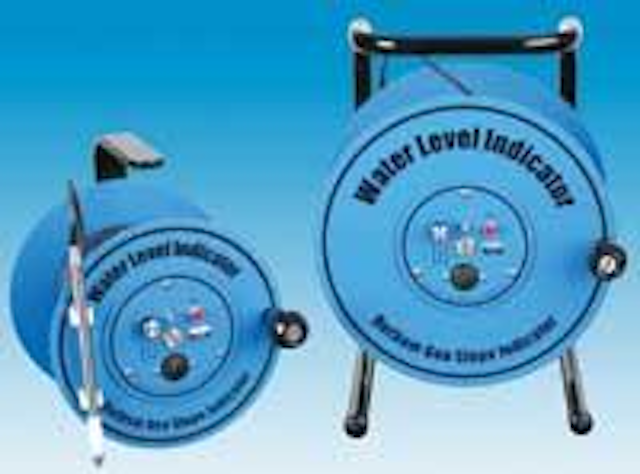 Click here to enlarge image
Upgrading its line of water level indicators, Durham Geo Slope Indicator (DGSI) has announced the immediate availability of laser-marked cable shipping with new units and as a replacement for standard cables on previous water level indicators. The water level indicators employ graduated cables rather than tapes. Cables are easier to reel in and out and they don't kink like tapes. The steel conductors inside the cables also provide excellent dimensional stability. Now, the cables are laser-marked resulting in clear, high contrast inscriptions that are a permanent part of the cable jacket.
Durham Geo Slope Indicator
Stone Mountain, GA
Tel: 770-465-7557
Web: www.dgsi.info
Digital flowmeter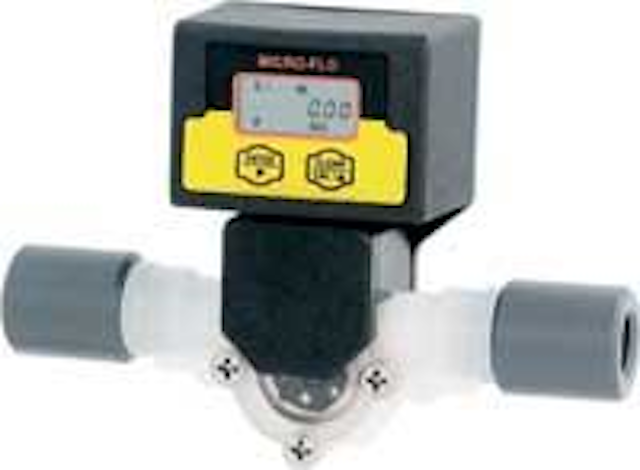 Click here to enlarge image
Blue-White has introduced the New Micro-Flo Digital Flowmeter. The new meter is ideal for measuring flow on most metering pumps. Programmable units of measure are: gallons (U.S.); liters; ounces; and millimeters. Programmable time units are measured in: minutes, hours, or days. The six digit LCD display has up to four decimal positions. Both rate of flow and total accumulated flow are displayed. The flowmeter features non-volatile programming and accumulated flow memory. The total reset function can be disabled to prevent tampering. Additional features include a clear PVC viewing lens or PVDF chemical resistant lens; weather resistant Valox PBT enclosure, and a NEMA 4x rating. Three model variations are offered: FS = Sensor mounted display; FP = Panel mounted display (includes 25' cable); FV = No display, sensor only, 5 vDC current sinking output (includes 25' cable).
Blue-White Industries
Huntington Beach, CA
Tel: 714-893-8529
Web: www.bluwhite.com