NEW PRODUCTS
Saelig's Ki-8818 is a new immersible temperature data logger which can collect up to 8000 sample readings for liquids or packages in transit or process measurements.
Jan 1st, 2006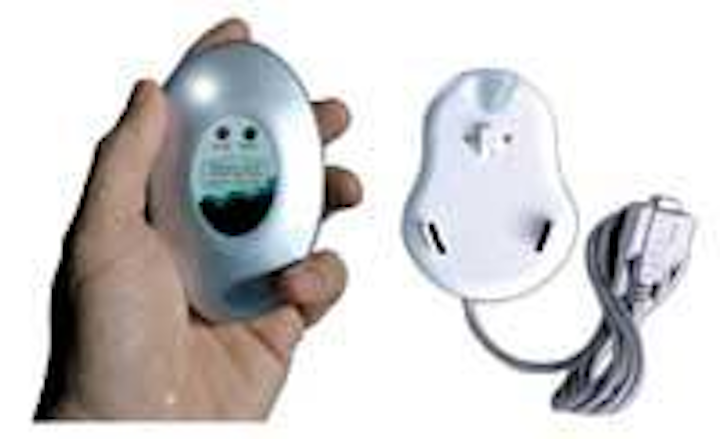 Data logger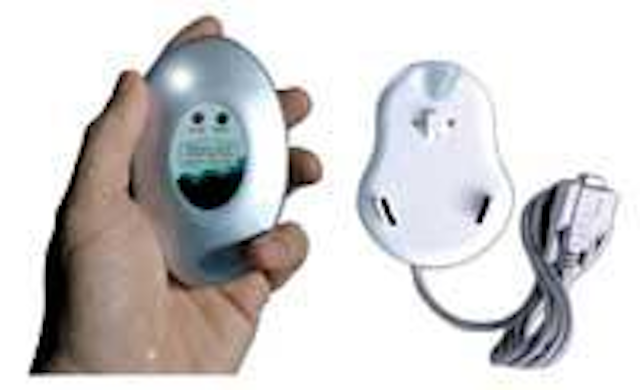 Click here to enlarge image
Saelig's Ki-8818 is a new immersible temperature data logger which can collect up to 8000 sample readings for liquids or packages in transit or process measurements. The standalone logger can be programmed to log ambient temperature every one second to every two hours, placed in a package or vessel, retrieved, placed on the serial interface and data can be uploaded and data displayed on a PC.
Saelig Co. Inc.
Pittsford, NY.
Tel: 585-385-1750
Web: www.saelig.com
Monitoring service
Sensaphone has introduced a new web-based status and data-logging tool - the My StationSitter Web Service - available with the StationSitter™ Remote Monitoring and Alarm Notification System. The web service collects data from monitored locations and, at a predetermined time, automatically uploads the information to a secure web site. That site can then be accessed via the Internet, allowing users to track historical data and alarm responses. Designed exclusively for the water and wastewater industries, the automatic web page includes features like automatic input configuration, integrated pump control, and user acknowledgement alarm tracking.
Sensaphone
Aston, PA
Tel: 877-373-2700
Web: www.sensaphone.com
Water meters
Severn Trent Services has introduced an addition to its line of SmartMeter™ fluidic oscillation water meters. The new SM700 offers users two battery options: a replaceable battery that provides up to 10 additional years of use with each new battery, reducing the meter's whole life cost; or an encapsulated battery that performs in submersed pits or other underwater applications. The SM700 features a potted LCD register.
Severn Trent Services
Fort Washington, PA
Tel: 215-646-9201
Web: www.severntrentservices.com
Level transmitter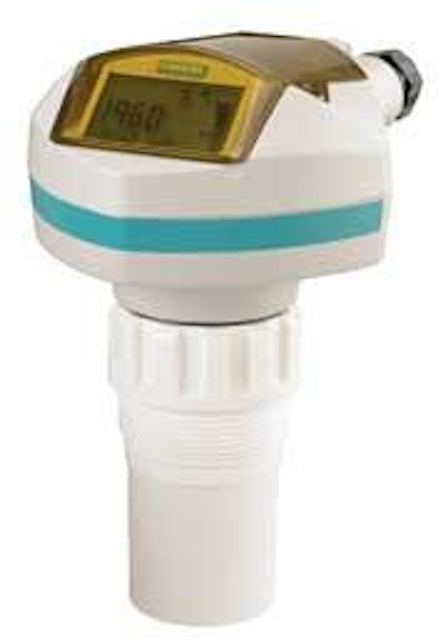 Click here to enlarge image
Siemens Energy & Automation's has added the Sitrans ® Probe LU ultrasonic level transmitter with Profile 3, Class B connectivity to PROFIBUS networks. PROFIBUS is the Fieldbus for complete process production connectivity in plants across all industry sectors. The new instrument is also available with HART® communications. The user can configure the instrument with a hand-held programmer or Simatic® PDM software.
Siemens Energy & Automation Inc.
Alpharetta, GA
Tel: 215-646-7400
Web: www.sea.siemens.com
Harmonic filters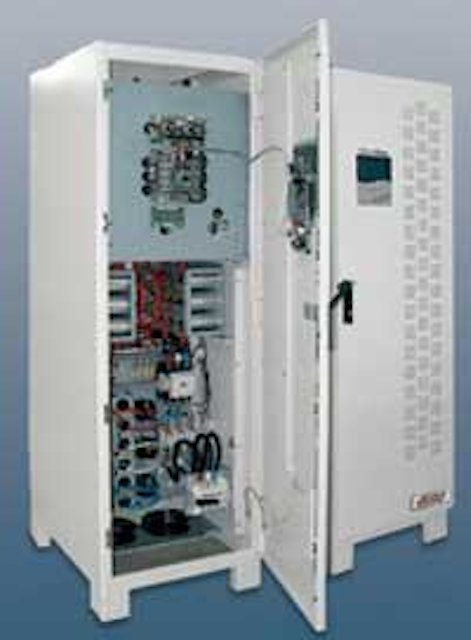 Click here to enlarge image
The new line of StacoSine® Active Harmonic Filters dynamically correct a wide spectrum of harmonic orders present in most water treatment plants (due to the presence of multiple motors and pumps). The filters use power electronics to monitor a non-linear load and dynamically correct every harmonic order from the 2nd to the 31st. Through an injection and cancellation process, the sine wave is restored and distortion is reduced to less than 5% THD, meeting stringent IEEE 519 standards.
Staco Energy Products Co.
Dayton, OH
Tel: 866-261-119
Web: www.stacoenergy.com
Effluent diffuser valves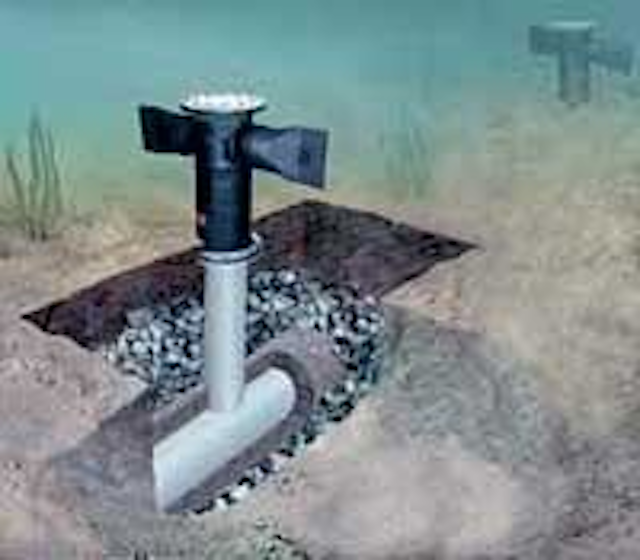 Click here to enlarge image
The custom engineered Tideflex® Effluent Diffuser Valves, with an all-elastomer "duckbill" design, prevent intrusion of saltwater and sediment into a marine outfall system and keep the outfall operating at peak hydraulic capacity and dilution efficiency. The valves can be installed in new outfall systems or retrofitted to existing pipelines on diffusers that discharge to oceans, estuaries and bays, which face severe clogging problems due to strong currents, waves, tides, sediment transport and boat traffic.
Tideflex Technologies Inc.
Pittsburgh, PA
Tel: 412-919-0919
Web: www.tideflex.com
Monitoring service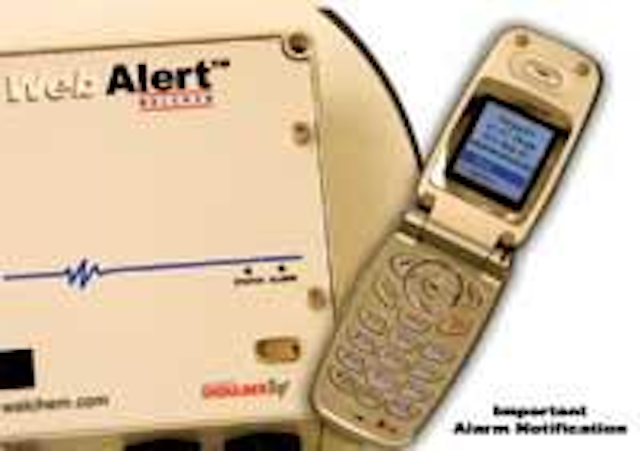 Click here to enlarge image
Walchem's WebAlert™ is an Internet-based monitoring service based on the company's patented ShoulderTap® Technology. It provides data logging, auto-reporting and auto-alarming and will provide notification via email, cell phone text message, or via local alarm enunciator. Emails may be sent via modem, Ethernet or cell modem connections. Data logs, which can be stored and sent via email, monitor all inputs and are invaluable for troubleshooting and reporting.
Walchem Corp.
Holliston, MA
Tel: 508-429-1110
Web: www.walchem.com
Flowmeters

Click here to enlarge image
Blue-White's F-400 Series Flowmeters have new calibration options. Air Flow Calibrations of 0.75 to 7.5 SCFM/1-10 M3/HR; 0.2 - 2.0 SCFM/.4-3.2 M3/HR; 1-12 SCFM/2-20 M3/HR; 2-20 SCFM/4-34 M3/HR are now offered on units with ³/8" Female NPT, and ½" Female NPT pipe connections (F-400N Series). Air Flow Calibrations of 4-45 SCFM/8-80 M3/HR; 5-75 SCFM/10-125 M3/HR; 10-80 SCFM/20-140 M3/HR are now offered on units with ¾" Female NPT and 1" Female NPT pipe connections (F-410N Series).
Blue-White Industries
Huntington Beach, CA
Tel: 714-893-8529
Web: www.bluwhite.com
Gas detector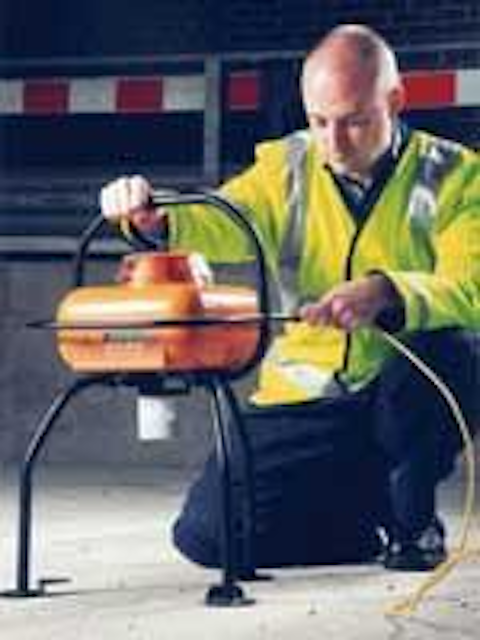 Click here to enlarge image
The Detective from Crowcon is a free-standing, transportable gas detector and alarm unit which provides protection wherever there are short-term hazards, such as during annual maintenance turn-a-rounds. The detectors can be used individually or in groups to monitor up to four gases at once. Sensors are available for oxygen, flammable gas and all toxic gases commonly encountered in industry. If a dangerous gas level is detected, the unit warns with a wailing 101-decibel siren and flashing, high intensity LED beacons visible from any direction.
Crowcon Detection Instruments
Milford, OH
Tel: 859-957-1039
Web: www.crowcon.com
Grease, oil skimmer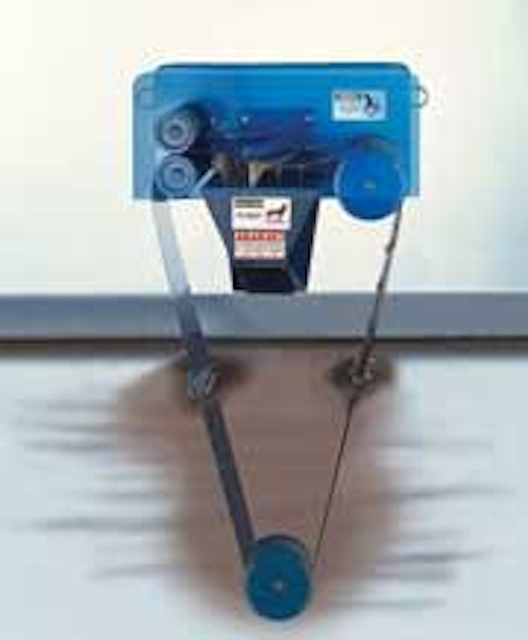 Click here to enlarge image
Abanaki has added a number of engineering advances to its Grease Grabber®, a patented system designed specifically to pick up heavy grease and oil under the harshest conditions - freezing temperatures, fluctuating levels, even turbulent liquids. The company has integrated a standardized single-phase electrical supply system with a push-button-start that eliminates automatic restarts.
Abanaki Corp.
Cleveland, OH
Tel: 440-543-7400
Web: www.abanaki.com
Air demand analysis program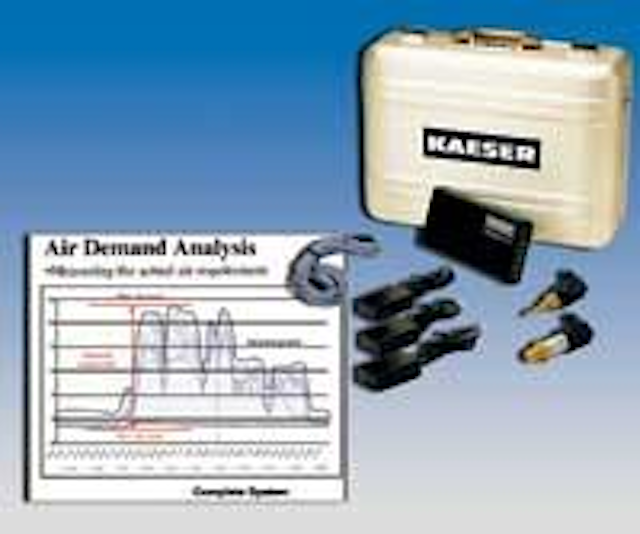 Click here to enlarge image
Kaeser's Air Demand Analysis program is used to perform a compressed air system audit. It uses data loggers and precision sensors to create a detailed air usage profile for each specific facility. The program monitors and charts air flow, power consumption, system pressures and air quality during normal operating hours over a period of 10 days. Available for systems large and small, the analysis creates a complete picture of air requirements including the relationship between peak and base load compressors and each compressor's duty cycle.
Kaeser Compressors Inc.
Fredericksburg, VA
Tel: 800-777-7873
Web: www.kaeser.com
Pipe maintenance software
Advantica announces the introduction of Mains Replacement Prioritization (MRP) Water, an intuitive asset management application that helps water distribution companies develop replacement and rehabilitation programs to meet regulatory and strategic guidelines. MRP Water provides comprehensive, measured analysis results to demonstrate regulatory compliance and enables system managers and operators to make cost-effective and accurate decisions concerning pipe repair and replacement.
Advantica
Carlisle, PA
Tel: 717-243-1900
Web: www.advantica.biz
Control valve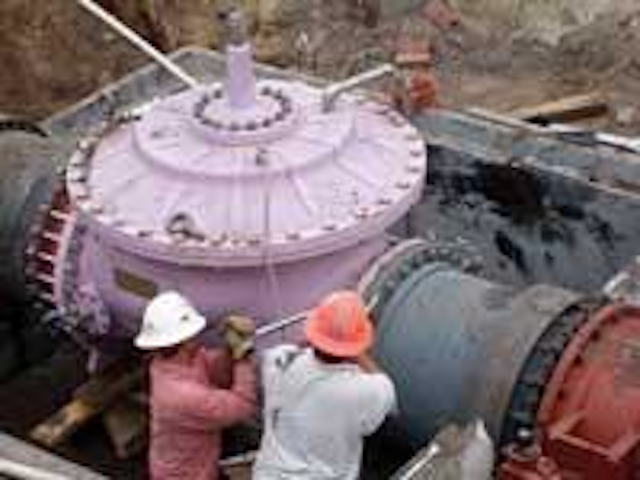 Click here to enlarge image
Danfoss Flomatic has introduced an extended Automatic Control Valve Model C line up through 36". These fusion epoxy coated internal and external bodies come standard with copper tubing and have a valve trim of unleaded bronze on their sizes 1"-10" or stainless steel on 12" and 36". They also come standard with control tubing, valves, gauge cocks, body drain plugs and EZ off Jack screw for covers and valve seat rings.
Danfoss Flomatic Corp.
Glens Falls, NY Tel: 800-833-2040 Web: www.flomatic.com
Emergency shutoff systems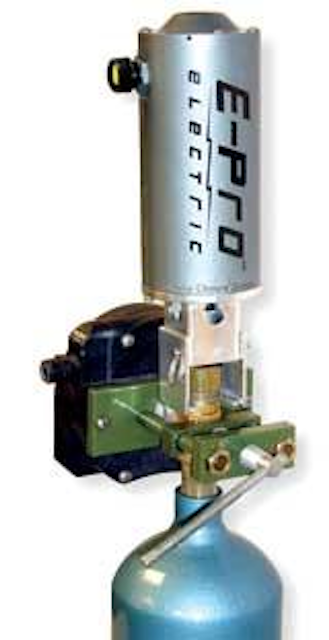 Click here to enlarge image
Powell Fabrication & Manufacturing has developed an electric emergency valve closure system for use in municipal facilities with pressurized 1-ton and 150-pound cylinders of chlorine, sulfur dioxide, ammonia and other hazardous gases on site. The E-Pro™ Electric Valve Closure System is designed especially for applications where electric operation is a practical alternative to a conventional air- or nitrogen-driven system.
Powell Fabrication & Manufacturing Inc.
St. Louis, MI Tel: 989-681-2158 Web: www.powellfab.com
Injection fitting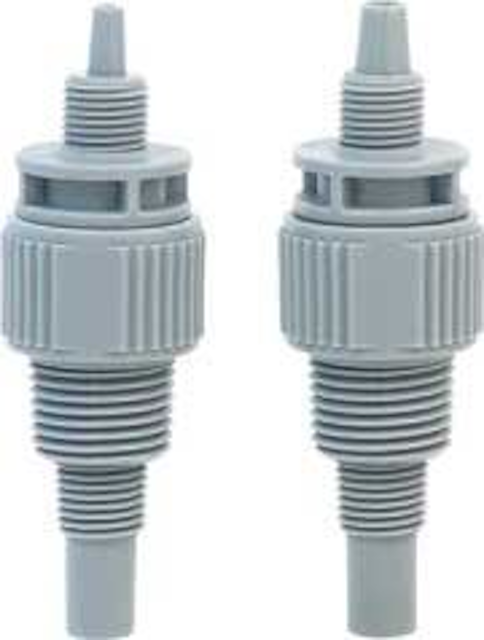 Click here to enlarge image
Blue-White Industries' newly designed Heavy Duty Injection Fitting features a double seal ceramic ball check valve, and duckbill type flapper valve. The duckbill feature will resist solids forming chemicals (calcification). The overall size of the injection fitting has been increased by 25% for added strength.
Blue-White Industries
Huntington Beach, CA
Tel: 714-893-8529
Web: www.bluwhite.com
UF systems
GE Water & Process Technologies (W&PT), a unit of General Electric, provides ultrafiltration (UF) systems for a range of municipal applications such as surface water treatment for the production of potable water. Other applications include pretreatment for seawater reverse osmosis (SWRO) systems and water reuse applications. The company's UF systems use hollow fiber UF membranes.
GE Water & Process Technologies
Trevose, PA
Web: www.gewater.com
Ultrasonic leak detector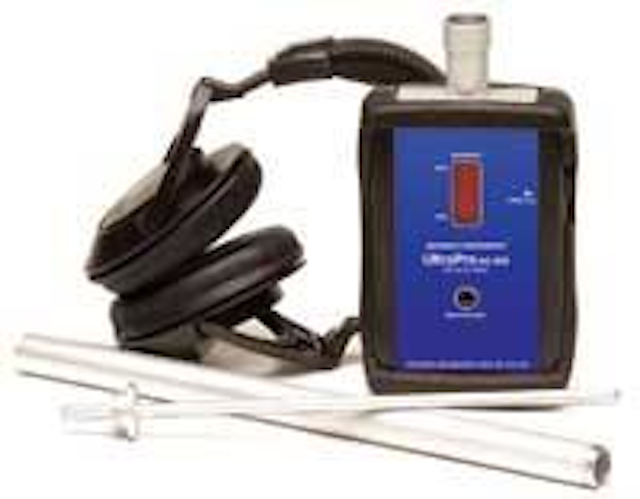 Click here to enlarge image
The UltraPro AG500, available from Monarch Instruments, is an ultrasonic leak detector and electronic stethoscope for use wherever leak detection or diagnostics are required. The detector features an Automatic Gain Control which automatically filters the signal to provide the best signal-to-noise ratio, suppressing background noise and pinpointing leaks.
Monarch Instruments
Amherst, NH
Tel: 800-999-3390
Web: www.monarchinstrument.com
Gas detector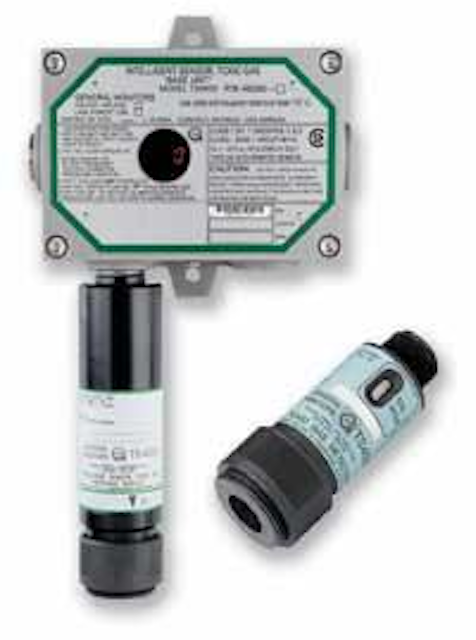 Click here to enlarge image
With a breakthrough in electrochemical cell sensor technology, the new TS Series Hydrogen Sulfide Gas Detectors from General Monitors now provide advanced protection against hydrogen sulfide gas for a wide range of applications. The series includes two models: the TS4000 and the TS400. They both sense H2S over a range from 0 to 100 ppm.
General Monitors
Lake Forest, CA Tel: 800-330-9161 Web: www.gmitoxics.com
Variable frequency drives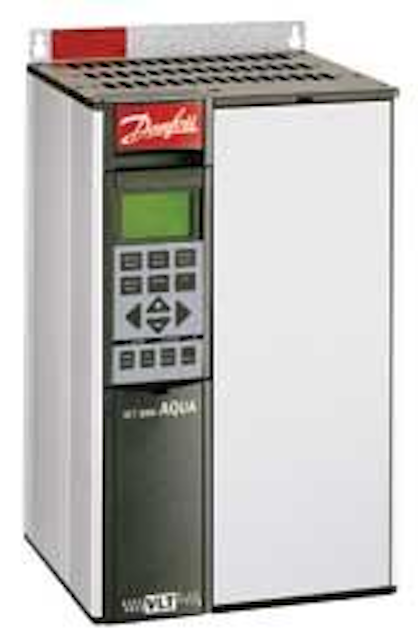 Click here to enlarge image
The VLT® 8000 AQUA Series variable frequency drives from Danfoss Water and Wastewater now provide Enhanced Sleep Mode with the capability to detect run-dry conditions in open loop operation. Users need only enter two sets of values for power and frequency (minimum and maximum) at zero flow. The drive then automatically calculates all data in between those two sets of values and generates a frequency/power curve for no flow.
Danfoss Water & Wastewater
Milwaukee, WI Tel: 800-621-8806 Web: www.namc.danfoss.com
Multi-gas monitor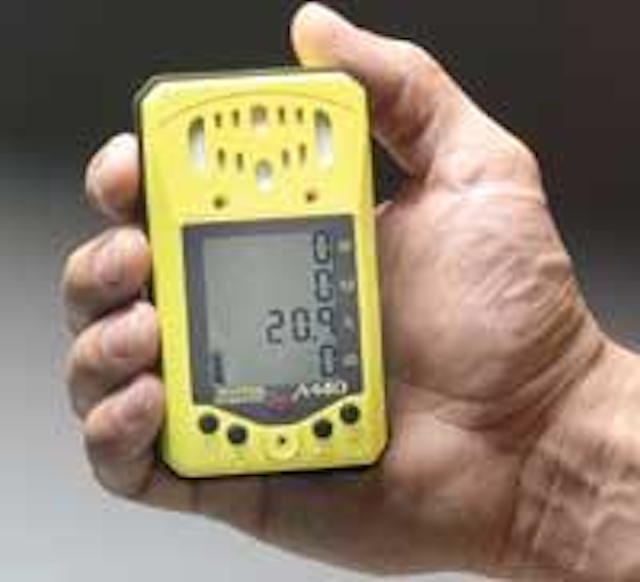 Click here to enlarge image
The M40, Industrial Scientific's newest multi-gas monitor, is designed to continuously detect any combination of up to four gases including combustible gas, oxygen, carbon monoxide or hydrogen sulfide. Housed in a compact package, the monitor includes four discrete sensors, a large LCD readout, a lithium ion battery for up to 18 hours of continuous operation, audible, visual and vibrating alarms, and a operating system that features Quickcal calibration, Peak/Hold functions, STEL and TWA readings and a continuous black box datalogger.
Industrial Scientific Corp.
Oakdale, PA
Tel: 800-338-3287
Web: www.indsci.com
Pump efficiency software
Process Energy Services has introduced Pump & Systems Basic and Pro Software, which was created to assist facility operators and engineers optimize existing and new pump systems to improve efficiency and reduce energy costs. This software is capable of identifying simple no-cost pump system control adjustments that can immediately save 10% to 20% for facilities, but is also sophisticated enough to evaluate energy savings of applying variable speed drives - and pumps operating in parallel at different speeds.
Process Energy Services
Londonderry, NH
Tel: 603-537-1286
Web: www.processenergy.net