ACE16 Product Showcase
Collection of new products of special interest to the municipal water and wastewater markets from the ACE16 Conference
May 1st, 2016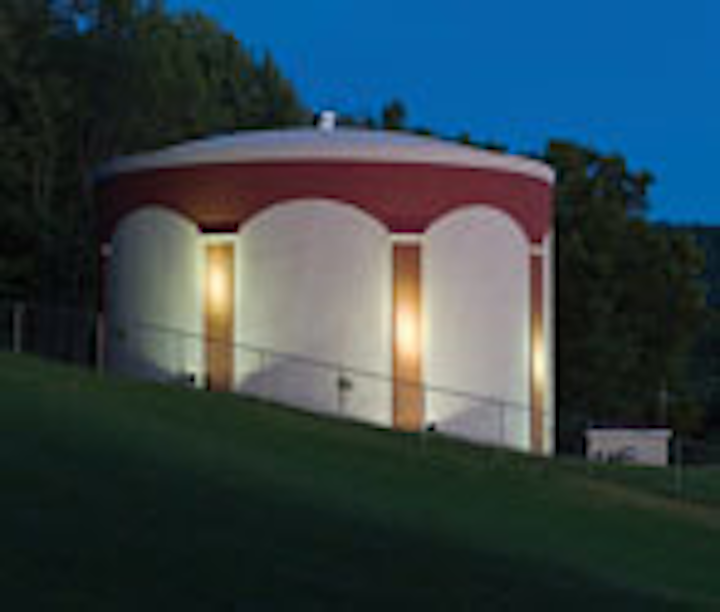 Prestressed concrete tanks
DN Tanks specializes in the design and construction of AWWA D110 prestressed concrete tanks used for potable water, wastewater, chilled water and other liquids. With over 130 years of combined experience, and nearly 3,000 tanks ranging in capacity from 70,000 gallons to 40 million gallons, DN Tanks offers expanded construction capacity, unmatched technical expertise and proficiency in multiple types of proven tank designs to provide customized liquid storage solutions. Our tanks are designed to meet varying project requirements with the ability to withstand seismic activity, extreme climates, and severe site conditions.
DN Tanks
Ammonia monitoring
The Q46N Free Ammonia Monitor is designed for the continuous measurement of free ammonia, total ammonia, and monochloramine in potable water. It is intended for monitoring chloraminated water to minimize the amount of excess ammonia in the system. The Q46N provides continuous, real-time updates for better process control. Systems come complete with monitor, chemistry module, sensor membranes and electrolyte, reagent bottle brackets, reagent pickup tubing assemblies, and a spare parts kit.
Analytical Technology Inc.
Intelligent monitoring station
Kupferle's Eclipse i-Series 9800i GENESIS Series of Intelligent Monitoring and Flushing Stations allow water quality managers to keep water safe for consumers by programming chlorine residual parameters (for either free or combined chlorine) into a PLC. Once the parameters are sent, the utility can then schedule sampling times where the station will sample water, determine the Cl level and flush water below the programmed minimum until the Cl level reaches the desired level. All information on flushing and residuals is captured and can be transmitted to a SCADA system. Additionally, with a built-in water turbine and battery bank, the station uses the kinetic energy of the flushed water to power the station.
Kupferle Foundry
Advanced metering analytics
BEACON® AMA from Badger Meter combines the intuitive BEACON AMA software suite with proven ORION® AMI technology giving water utilities greater visibility and control over utility management. BEACON AMA uses a managed solution approach - plus fixed and cellular networks - to deliver a simple yet powerful end-to-end solution. Built-in infrastructure management services and flexible system design eliminate maintenance and technology concerns.
Badger Meter
Prevent water loss
OCV Control Valves are designed to get the most out of resources without wasting a drop. Design advantages such as a rectangular-shaped, soft seat seal that provides a drip-tight Class VI closure and throttling seat retainer that creates flow and pressure stability are standard on all control valves, preventing water loss and system damaging surges. Electronic control valves offer even more precise control and monitoring and the company's Model 140 Water Detection Probe detects leaks and provides contact closure, checking for leaks every 500 milliseconds.
OCV Control Valves
Chlorine emergency shutoff
The Hexacon III Chlorine Emergency Shutoff System adds a new level of safety to a chlorine feed system. Stop a chlorine leak within seconds of detection by automatically closing the ton container or cylinder valve. The actuator quickly mounts to the valve without the use of any tools, and still allows the valve to be manually opened or closed. Halogen Valve Systems are the only systems that confirm that the valve was torqued closed to the institute-recommended standard, and all fire codes recognize and approve the shutoff system as an alternate to a scrubber.
Halogen Valve Systems
Industry education
The Ductile Iron Pipe Research Association (DIPRA) provides accurate, reliable and essential engineering information about iron pipe to water and wastewater professionals. Ductile iron pipe is an ideal answer to America's water infrastructure needs, and DIPRA's mission is to help others appreciate its advantages.
DIPRA
Online THM analyzer
Aqua Metrology Systems' online THM Formation Potential analyzer, the THM-100-FP™, provides real-time predictions of future THM levels in distribution networks. The THM-100-FP performs six online samples daily, a combination of TTHM and THM FP. Benefits include: early characterization of THM FP of water quality leaving the treatment plant, early prediction of future THM levels at critical points in distribution system, improved management of the treatment process and mitigation of compliance risk. Online THM monitors contribute to effective design, project validation and process control across water and wastewater utilities. Real-time environmental quality data drives smart decisions.
Aqua Metrology Systems
Integrative platform
The Type 8905 Online Analysis System is a modular system for monitoring all important water parameters on one platform. It is a multichannel, multifunction unit for the Bürkert sensor cubes and electronic modules from the efficient device integration platform (EDIP), which allows for high flexibility by using modularity in the hardware as well as in the software of the system. Type 8905 is the device for continuous measurement of high-priority water parameters such as: pH value, chlorine for disinfection purposes, conductivity indicator for dissolved content/minerals, ORP value parameter for oxidation or reduction characteristics of the water, turbidity indicator for undissolved content, and temperature.
Bürkert Contromatic Corporation
Mobile software
Clevest provides smart grid mobile software for workforce automation and smart grid/AMI operations exclusively for utilities. Products enable utilities to transform their field operations by rapidly automating and optimizing any field work activity or process to reduce the cost of service plus improve response time, safety and effectiveness. Additionally, the company provides scalable solutions, including AMI deployment and post-deployment activities on a single handheld computer.
Clevest
Hydro power generation
Hydrospin's Hydro-Generator is a standalone unit, available at various pipe diameters, that generates low power from the flow within water distribution pipes to support a wide range of applications such as flow and pressure instruments, water quality analyzers, control and actuation systems, 24/7 telemetry units and data loggers. The Hydro-Generator operates with a proprietary swing mechanism to maintain low head loss anytime, making it the most reliable and safe power source replacing batteries, alternative power sources, and costly electrical connections, turning any water distribution network to a smart water network, through a simple and cost-effective installation.
Hydrospin Monitoring Solutions Ltd.
Pipe range
Total Piping Solutions is a manufacturer of a wide range of high-performance products for both the water and wastewater industries. Products include: Triple Tap Tapping Sleeve and Line Stop Fittings, the Quick Cam Repair Clamp, and Quick Sleeve Bell Encapsulation Sleeves, Quick Cam Hot Tap Saddles and Line Stops, T3 Service Wide Range Service Saddle and more. All products are proudly made in the USA in state-of-the-art manufacturing facilities. Contact Total Piping Solutions for specific information regarding your repair and pipe joining needs.
Total Piping Solutions
Tablet dechlorinator
The Zde-Chlorinator unit from Integra Chemical Co. is a tablet dechlorinator for hydrant flushing and other tasks. It is compact and lightweight, made of 6061-T6 high-strength aluminum. Holding up to 4 Vita-D-Chlor tablets, it can dechlorinate the average 30-minute hydrant flush. It is available with a permanent diffuser or a removable flushing elbow that directs water safely. The flushing elbow comes with a removable secondary screen for low flows, high flows of 200 to 1,000 gpm and 2.5-inch NST, providing versatility to connect the coupler for a hose, gate valve, diffuser or flow/pressure testing kit.
INTEGRA Chemical Co.
Hypo, fluoride, polymer monitoring
The Drumm-Scale™ from Force Flow is a simple and reliable way to accurately monitor the amount of chemical fed from your day tank and enables accurate compliance with government required documentation of chemical use. The low-profile Tuf-Coat™ steel platform permits easy on and off loading of tanks without the need to pit-mount the scale. The Drumm-Scale is available with any of our indicators including the economical SOLO® G2, the advanced multi-channel Wizard 4000® and the rugged Century® hydraulic dial.
Force Flow
Applied engineering
Aqua-Aerobic Systems (A Metawater Company) specializes in applied engineering and provides advanced water and wastewater treatment technologies for both municipal and industrial applications. The company's core products include biological processes, cloth media filtration, membrane systems and process control. Visit Booth 335 to learn more about these and other treatment solutions including Aqua MultiBore® ceramic and polymeric membrane systems, OptiFiber® cloth media filtration and ozone generation systems.
Aqua-Aerobic Systems Inc.
Integrated water meter
Sensus ally™ is the industry's first integrated water meter that lets you remotely turn service on/off and reduce flow. The company's FlexNet® communication network securely transmits and receives water distribution data. The Smart Gateway sensor interface allows users to remotely manage and control more applications in near real-time. Additional features include pressure tracking, water level insight, and event alarms.
Sensus
Rubber duckbill check valve
Proco Products' ProFlex® 700 Series rubber duckbill check valve features greatly reduced operational costs, backflow prevention, and low head loss. The ProFlex® valve is manufactured with top quality fungicide and barnacle-resistant rubber and is also available with NSF 61 certified elastomers. All Proco ProFlex Rubber Duckbill Check Valves have been tested at an accredited facility.
Proco Products Inc.
Drilling & tapping machines
Mueller® offers a complete selection of drilling and tapping machines, including the industry standard B-101, for installing water services and extending mains on virtually every type and size of pipe. Air, electric and hydraulic powered operators are also available, as well as accessories such as cutting grease, shell cutters, pilot drills, center hubs, and adapters.
Mueller Water Products
Location services
ArcGIS is designed for better, smarter decision making and a more efficient organization. Just about every problem and situation has a location aspect. ArcGIS helps you collect, manage, and analyze geographic information, enabling you to see relationships and trends in your data not visible in a table or chart. You can then solve problems and make better decisions because you are looking at your data in a way that is quickly understood and easily shared.
ESRI
Pipe wraps
AA Thread Seal is a supplier of polyethylene encasements and corrosion protection for ductile iron pipe, detectable tapes, pipe wrapping tapes, and PTFE thread seal tapes and sealants. All products meet or exceed industry regulatory standards.
AA Thread Seal Tape Inc.
Tank design
Tank Connection's Bolted RTP (rolled, tapered panel) tank design features exact manufacturing tolerances and the top-rated LIQ Fusion 7000 FBE™ powder coat process available for bolted tank construction worldwide. Geodesic dome covers offered by Tank Connection are constructed entirely of aluminum utilizing a proprietary component fabrication. Tank Connection domes are corrosion resistant, maintenance free and designed for extended service life.
Tank Connection
Precision scales
Eagle Microsystems specializes in the design and manufacturing of precision scales for drums, ton cylinders, small cylinders and carboys. The company also manufactures dry chemical feeders for PAC, lime, fluoride, alum, and many other dry chemicals. Eagle Microsystems also manufactures hazardous gas detectors, ultrasonic level monitoring devices, residual analyzers, and process control equipment.
Eagle Microsystems Inc.
Chemical analyzer
The 5500sc Ammonia Monochloramine Analyzer provides all the information you need to eliminate nitrification events and taste and odor issues, giving you total confidence in your process. This analyzer offers a low-maintenance solution with a pressurized reagent delivery system, easy-to-change reagent bottles, a simple troubleshooting menu, and PROGNOSYS predictive diagnostics. You'll always know if your analyzer is doing its job, so you can do yours.
Hach
Activated carbons for treatment
Jacobi Carbons' AquaSorb™ range of activated carbons and Resinex™ ion exchange resins are designed to help customers achieve their drinking water treatment goals. Solutions are available whether the driver for treatment is aesthetic (taste and odor, hardness), regulatory (VOCs, disinfection byproducts, heavy metals), or emerging (pharmaceuticals, endocrine disruptors, or cyanotoxins).
Jacobi Carbons
Pipe cutter
The ICS® 701-A air saw cuts ductile iron pipe and concrete safely without the kickback of cut-off saws. Without fumes or electricity, the 701-A is safer for workers in trenches or confined spaces. Best of all, workers can work around obstacles like roads, concrete, and other pipes with the ability to plunge cut up to 20 inches. From deep plunge cuts to perfect corners and single cut access from one side, the 701-A is a versatile tool ready to help with everyday tasks as well as irregular shapes in water and wastewater applications.
ICS
Wireless hydrant pressure recorder
Effectively address customer pressure complaints with Telog's HPR-32 hydrant pressure recorder. This recorder is a low-profile, rugged unit that is easily installed by one person on a standard 2.5" hose nozzle outlet. The recorder enables monitoring of system pressures and trends, min, max and average pressure history at any user interval. Data is internally recorded and wirelessly transferred to your host computer on a schedule or in response to pressure faults or transients. Once installed, data is immediately available via Telog software.
Telog, A Trimble Company
Guaranteed micro-bore level transmitter
At only 0.63" diameter, the Keller Microlevel is ideally suited for liquid level measurement applications that demand small size and high performance. It offers outstanding Total Error Band (TEB) standard accuracy, analog and digital outputs, custom pressure ranges up to 900 ftWC, 3-day lead time, and now features guaranteed lightning protection.
Keller America Inc.
Centrifugal pumps
The 6500 Series™ line of solids and clean liquid-handling end suction centrifugal pumps features sizes from 3" to 16", flows to 15,000 GPM, total dynamic head to 530' and solids handling capabilities up to 4", for applications in wastewater treatment plants, industrial facilities, construction, mining and agricultural uses. The line comes standard with oversized bearings, atmospheric vent, side access inspection port (on solids-handling models), indexable Smart Scroll discharge locator, and a 5-year factory warranty.
Gorman-Rupp Company
Wire-wound prestressed concrete tanks
Preload's wire-wound prestressed concrete tanks meet the water storage and wastewater treatment needs of thousands of communities and businesses worldwide. Preload offers custom design and construction of tanks in a shape, size and architectural style to complement any environment and storage requirement. Tanks are designed and constructed to meet or exceed the AWWA D110 Standard and ACI 372 Report and are virtually maintenance free, ensuring a long service life and a superior return on investment.
Preload
Analytics platform
AssetWise Amulet is a user-driven platform employing industrial analytics to provide predictive solutions to help you gain operational intelligence across your whole organization with real-time predictive and operational analytics. Optimize your organization's operational performance with improved production, reduced operational costs, and smarter decision making by predicting performance, threats, and business opportunities.
Bentley Systems Inc.
Tanks & covers
CST's aluminum domes, flat panel covers and reservoir covers are versatile enough to permit a wide range of accessories important to the water and wastewater industry. They provide the strength, durability, odor control and protection characteristics unavailable in steel, plastic, fabric or any other materials of construction. CST tanks are available in bolted and welded designs, capacities of 4,000 to 6,000,000+ gallons, and in-ground, standpipe or elevated configurations. CST Industries has installed over 350,000 tanks and 18,000 covers in over 125 countries.
CST Industries Inc.
Peristaltic metering injector pump
The Flex-Pro® A3 Peristaltic Metering Injector Pump is designed to handle the demands of mid-range to large volume water and wastewater treatment applications, as well as other applications where precise chemical injection is required. A3 has a broad range of feed rates, a 2500:1 turndown ratio, and is capable of injecting a comprehensive spectrum of chemicals. A3 is fitted with Blue-White's exclusive pump tube assembly, Flex-A-Prene®, which provides extended tube life and excellent chemical compatibility. A3 can be finely tuned for a custom fit in a number processes, and for use in multiple applications at a single facility.
Blue-White Industries
NSF 61 & NSF 372 Certified mud valves
Trumbull cast iron and stainless steel Mud Valves have been tested and certified for compliance with both NSF 61 and NSF 372. This certification provides you assurance that there are not unsafe levels of lead that could leach into the public water supply. Trumbull Mud Valves carry certification markings confirming compliance with both NSF 61 and NSF 372, for both the United States and Canada.
Trumbull Industries Inc.
Low clearance rotary cutters
Cut pipe quickly and with minimal digging using Reed Low Clearance Rotary Cutters. The low profile design of the LCRC models needs only 5" clearance for up to 16" pipe diameter. These manual-operated cutters cold-cut large diameter steel, most stainless steel, ductile, and cast iron pipe in close quarters. With good leverage from the tool's long handle, pipe snaps off squarely before the cutter wheels penetrate halfway through the pipe. Provides a square cut and can be used in close quarters anywhere - in the ditch, underwater, in noise-free zones, overhead or in racks of pipes.
Reed Manufacturing Co.
Protective coatings
Sherwin-Williams Protective & Marine Coatings experts provide assistance regarding surface preparation and selecting the correct system to combat corrosion, extend service life, prevent interruptions, and preserve water quality. The company's INFINITANK tank preservation program for steel and concrete showcases products that improve life cycle performance and their Poly-Cote™ polyurethane coatings deliver rapid throughput featuring a field repair kit for easy repair and maintenance.
Sherwin-Williams Protective & Marine Coatings
www.protective.sherwin-williams.com
Valve solutions
Control valves from Singer Valve can handle extreme pressures, accurately control flows and pressures, and even provide back-up control to eliminate costly system failures. From an award-winning in-valve flow measuring meter, to a single-process electronic control panel, Singer offers real solutions for simple and complex valve application challenges. Applications include: solutions for water loss management, water conservation, water distribution systems, and more.
Singer Valve
In-field communications app
Collect detailed data logging information and provide charts of water consumption to homeowners in the field with Neptune's NGO™ app. NGO can help your utility save truck rolls, improve customer service, and reduce non-revenue water. Benefits include the ability to analyze data at the source and improve customer service, view and share data logging graphs and data in the field, and test-read R900s in the field or before installation to obtain reading and E-Coder flag events.
Neptune
Mixing components
Mazzei, a leader in gas/liquid and liquid/liquid mixing and contacting technologies, provides systems and components for ozone, aeration and chemical treatment for the industrial and rural and urban municipal water and wastewater sectors. Applications include ozone mass transfer, disinfection, advanced oxidation, air stripping, iron and manganese removal, aeration, chemical injection and tank mixing. Aeration and ozonation are complicated procedures, but Mazzei patented technologies make these processes easier, more efficient, less expensive and more reliable. Turn-key systems are available in compact designs for rent or purchase.
Mazzei
AWWA Class butterfly valves
Val-Matic American-BFV® Butterfly Valves are offered in 150B and 250B AWWA Classes with flanged end connections in sizes from 3"to 144" and mechanical joint end connections from 4"to 48". Wafer Style Butterfly Valves are designed with ANSI 125 flanges or ISO PN10 and PN16 flanges in sizes 4"-12". The valve fully complies with AWWA C504 and C516, certified NSF/ANSI 61 for drinking water and NSF/ANSI 372 Certified Lead-Free. Features include standard epoxy interior, continuous uninterrupted seating, and the Tri-Loc™ seat retention system allows for field adjustment/replacement without the need for special tools or epoxies. The valve's disc is constructed of ductile iron for improved head loss characteristics and added strength.
Val-Matic Valve & Manufacturing Corp.
www.valmatic.com/butterflyvalves.html
Secure cloud VPN
Phoenix Contact's mGuard Secure Cloud (mSC) is a free web-based service that allows FL mGuard users to securely communicate with and support industrial equipment over the Internet. The mSC provides a secure, easy and cost-effective way to access and troubleshoot remote assets in just a few clicks. Because smaller water utilities and system integrators do not always have the resources to implement, host and support their own VPN, Phoenix Contact essentially acts as their IT department. This helps the user eliminate the hardware and installation costs of an in-house VPN. It also reduces travel expenses incurred from service visits to remote sites.
Phoenix Contact
Carbon analyzer
OI Analytical's 9210p Online Total Organic Carbon Analyzer is an accurate, easy-to-use, cost-effective system for real-time monitoring of Natural Organic Matter (NOM) levels in influent and effluent water streams. Fully compliant with USEPA methods 415.3 and SM 5310C, the analyzer enables facilities to easily adjust and more precisely control the coagulation, flocculation, and disinfection steps to minimize formation of disinfection byproducts and save money. With data that is comparable and consistent with grab samples analyzed with a benchtop system, the 9210p directly measures TOC in a wide variety of complex and ever-changing matrices.
OI Analytical, a Xylem brand
Through-the-lid antenna
Aclara lets you choose how to install communications modules in meter pits. You decide whether to reuse current metal lids or replace them with lids made of composite materials that radio-frequency signals can penetrate. Modules installed with the through-the-lid antenna provide equivalent communications performance to those mounted under composite-material lids. Features and benefits include: reaches 100% of meters, installs easily into drilled lids, integrates seamlessly to the STAR network, provides the highest read rates in the industry, allows reuse of current metal lids, complies with Americans with Disabilities Act requirements, and delivers road-rated performance.
Aclara
Bluetooth-enabled pocket testers
Myron L® Company announces the release of a new product line, the UltraPen™ PTBTx™, Bluetooth® enabled Pocket Testers for use with Apple iOS 6 and iOS 7 mobile devices. These instruments are designed to be extremely accurate, fast and simple to use in diverse water quality applications. Advanced features include automatic temperature compensation; highly stable microprocessor-based circuitry; user-intuitive design; and waterproof housing. The PTBTx Pocket Testers are easy to calibrate and easy to use.
Myron L Company
More WaterWorld Current Issue Articles
More WaterWorld Archives Issue Articles