Products & Services: Valves
Collection of valve related equipment products and services.
Feb 1st, 2017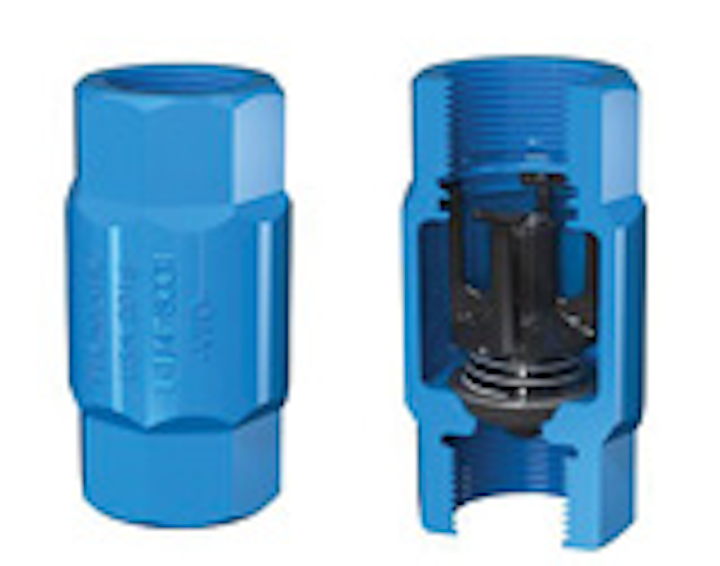 Submersible pump check valve
The 1" and 1 1/4" Model 80DI VFD patented submersible pump check valves from Flomatic for use with variable-frequency drive control submersible pumps are designed to minimize flow losses and hydraulic shocks in the pumping system. Standard check valves will "chatter" and be noisy when a VFD goes to low flow, causing premature wear and eventual failure. This unique valve features a standard epoxy-coated, (NSF®-approved powder) ductile iron body to support deep set pumps. The radiuses of the valve seat allow a self-cleaning "one point swiping action" by the radius-edged, custom-molded rubber seal disc. Corrosion-resistant internal parts.
Flomatic
Pressure relief valves
A.Y. McDonald has added 100 PSIG pressure relief valves to its line of relief valves in 3/4", 1" and 1 1/4". The line currently includes 1/2" through 2" pressure relief valves factory-set to open at 30 PSI, 1/2" through 1" valves set to open at 75 PSIG, and 1-1/4" through 2" valves set to open at 65 PSIG. Accidental sticking of the pressure switch can cause the pump to develop pressure that could burst the tank but with the installation of an A.Y. McDonald pressure relief valve, this scenario is no longer a concern.
A.Y. McDonald
Wastewater air valves
Val-Matic's full line of Wastewater Air Valves perform two important functions in a piping system: they maintain system design efficiency and provide system protection. Exhausting and admitting air keeps the system from restricted flow, reducing pumping costs and the potential for destructive surges and water hammer that can collapse a pipeline. Wastewater Air Valves have unconditionally guaranteed 316 stainless steel floats and internal trim, fusion-bonded epoxy coating to minimize the buildup of sewage, and a non-clog design with a 2" clean out connection to facilitate the passage of solids for reduced maintenance.
Val-Matic
Electro-hydraulic actuator
Rotork's Variable Speed Drive (VSD) provides a high response rate and stable control with minimal overshoot. Rotary and linear versions enable the operation of part-turn valves, globe valves, and dampers. Fail-in-place or failsafe open/close options are available. Positional accuracy is < 0.1% with repeatability < 0.1% of full stroke. A wide range of status, alarm, and input/output signals can be configured with parameters stored in non-volatile memory. Linear thrust outputs are from 2,000 to 100,000 lbs and rotary torque outputs are from 2,000 to 300,000 lbf-in. The control enclosure is available with NEMA 4X and NEC Class 1, Division 1 ratings.
Rotork Controls
NSF-certified butterfly valves
Bonomi North America is introducing a new series of NSF-certified butterfly valves with factory-installed electric or pneumatic actuators for potable water applications with high flow requirements. The new N500 Series wafer and N501 lug body valves feature ductile iron body construction with EDPM rubber seats. They are available with stainless steel disc (N500S/N501S) or nylon-coated disc (N500N/N501N). All are approved to NSF/ANSI 61 and 372. Sizes range from 2 inches through 12 inches. Their longer-lasting two-piece stem is designed for critical automation applications. They are rated for 200 psi working pressure with high flow coefficient (Cv).
Bonomi North America
Valve island
The Type 8647 AirLINE SP valve island from Bürkert is compatible with the Siemens I/O system SIMATIC ET 200SP for maximum process reliability. It can be mounted in the control cabinet together with different Siemens modules for controlling up to 64 valve functions. It features pressure sensors and an LCD, which displays detailed status information directly at the device. Maximum system availability is achieved by means of the pneumatic valves in the supply channel: they are hot-swap capable, so they can be replaced during operation. Check valves in the exhaust duct ensure that pilot valves and actuators operate reliably by preventing pressure peaks.
Bürkert Fluid Control Systems