ACE Exhibitor Products: Part 2
May 1st, 2011
Bearing heaters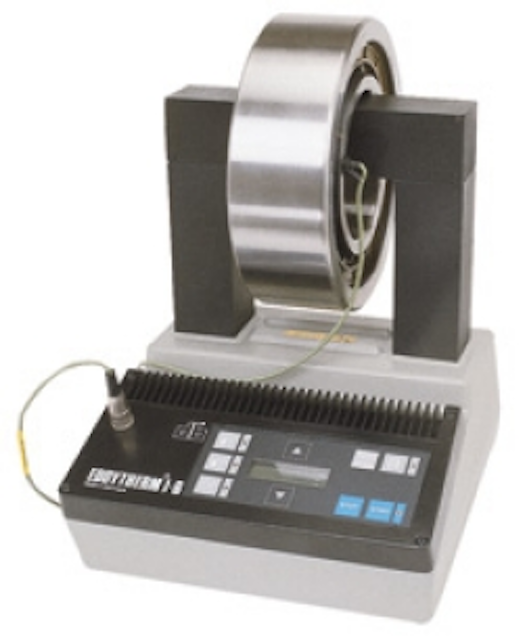 Ludeca's Eddytherm® system is a microprocessor controlled Induction Heater for bearings that allows precise setting of time or temperature to prevent premature bearing failures due to overheating. A temperature probe continuously measures and displays actual temperature. A "Stand By" feature permits holding temperature at a pre-set level for an indefinite time. The system automatically demagnetizes bearings after heating. A light and buzzer signals termination of the heating/demagnetizing cycle. Three models available.
Ludeca Inc.
Tel: 305-591-8935
Web: www.ludeca.com/heater
Booth 1259
Circle No. 286 on Reader Service Card
---
Check valves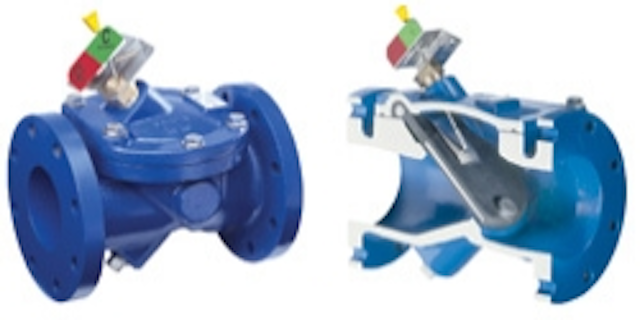 Val-Matic's Swing-Flex® and Surgebuster® Check Valves have received certification to NSF/ANSI 61 for Drinking Water System Components. The Water Quality Association provided certification of the product lines after completion of all testing and verification of data. The check valves offer simplified maintenance, low headloss and non-slam characteristics. These valves are designed to meet AWWA C508 and provide improved performance when compared to traditional swing-checks.
Val-Matic Valve & Mfg. Corp.
Elmhurst, IL
Tel: 630-941-7600
Web: www.valmatic.com
Booth 429
Circle No. 290 on Reader Service Card
---
Meter installation
Vanguard Utility Service is a nationwide installation provider to the water works industry. The company has experience installing all brands of meters, AMR devices and solutions. Its history and in-house certifications assure a properly installed and managed project. Services include water meter exchange and retrofits; AMR installation of all types; DCU installation; software integration; full electronic work order systems; and in-field test and recalibration services.
Vanguard Utility Service Inc.
Tel: 866-691-4646
Web: www.vusinc.com
Booth 852
Circle No. 287 on Reader Service Card
---
Meter box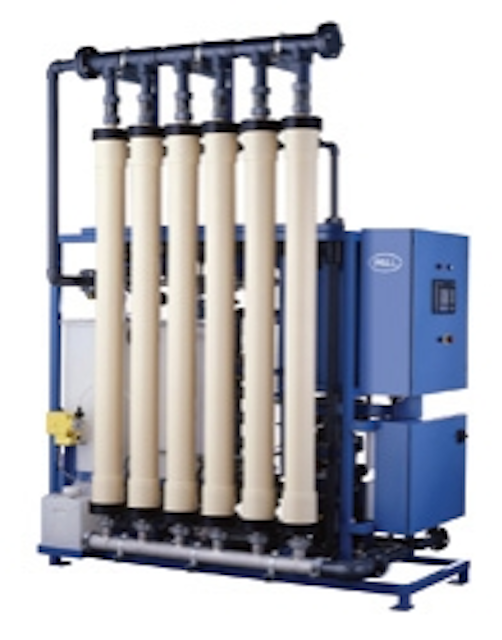 The new Mueller® Adjusta-Coil™ Meter Box adjusts to different grade levels without adjustment rings. Simply twist the top of the box to unlock it, lift or lower to the new grade level and twist again to lock it in place. Boxes are available that adjust in 1" increments over a standard range of 36"-42" and 48"-60" as well as others. Stainless steel parts in the adjustment mechanism support heavy loads for a secure installation.
Mueller Co.
Chattanooga, TN
Tel: 423-209-4816
Web: www.muellercompany.com
Booth 1923
Circle No. 291 on Reader Service Card
---
Filtration systems
Amiad offers an array of filtration technologies for drinking water applications, ranging from protecting membranes from fouling to improving transmissibility in UV disinfection systems, reducing disinfection byproducts (DBPs), protecting media filtration systems from biological buildup, and removing Cryptosporidium and Giardia cysts. Products include the company's automatic self-cleaning screen filters, Arkal automatic disc filters, and the Automatic Micro Fiber (AMF) filtration systems.
Amiad Filtration Systems
Oxnard, CA
Tel: 800-969-4055
Booth 615
---
Water dispensing systems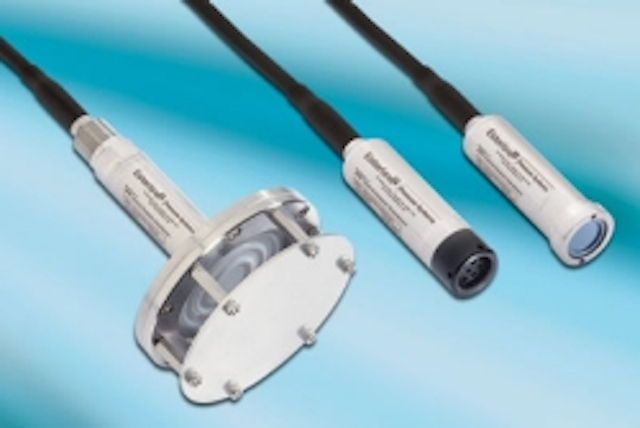 The Water General water dispensing system from Municipal Solutions is suited for curbside loading locations and ideal for all weather climates. The company's turn-key solutions are pre-engineered, self contained, insulated and maintenance friendly. All stations can be heated, cooled or both and come complete with a supply valve, reduced pressure backflow prevention device, stainless steel piping, meter, drain valve, access terminal and field terminal box.
Municipal Solutions
Denver, CO
Tel: 877-655-5585
Web: www.municipal-solutions.com
Booth 1843
Circle No. 288 on Reader Service Card
---
Water treatment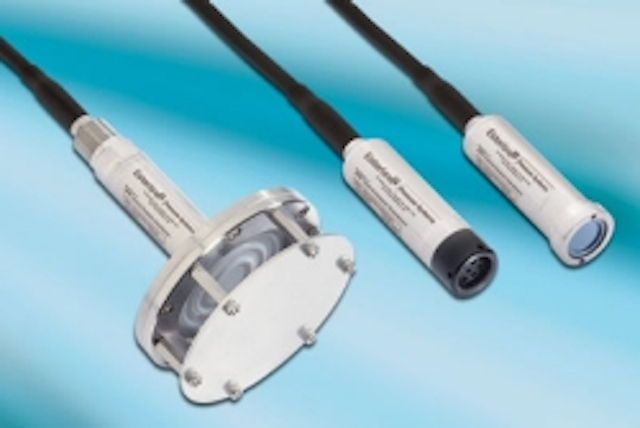 Pristine Water Solutions provides proprietary water treatment programs for municipal, industrial and commercial water systems. Technologies include municipal drinking water treatment programs, corrosion and sterilization programs, cleaners, commodity chemicals, polymer applications, and boiler and cooling tower applications. The company's Aquadene™ products have long been industry standards for reduction of iron and manganese and for maintaining lead and copper levels below national requirements.
Pristine Water Solutions Inc.
Waukegan, IL
Tel: 800-562-1537
Web: www.pristinewatersolutions.com
Booth 1145
Circle No. 292 on Reader Service Card
---
Water control products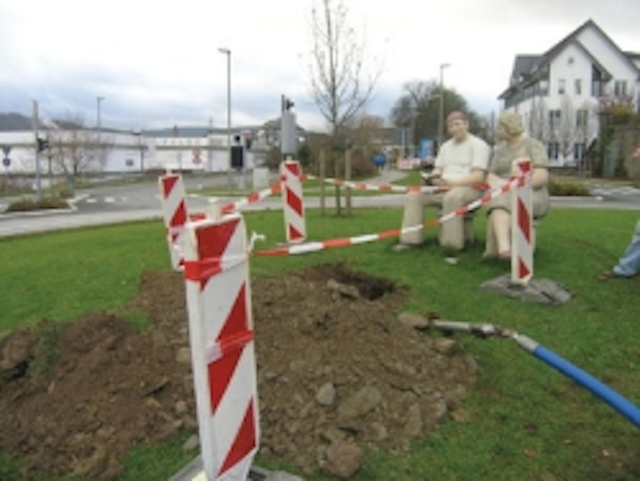 Rodney Hunt Co. and Fontaine Industries offer a wide range of design and manufacturing capabilities, encompassing one of the most flexible and comprehensive casting, metal fabrication, machining, and testing operations in North America. If a project requires standard AWWA gates or valves — or complex applications needing specific engineered solutions — the companies work from conception, construction, and commissioning to ensure the complete success of each installation.
Rodney Hunt Co.
Web: www.rodneyhunt.com
Fontaine Industries
Web: www.hfontaine.com
Booth 704
Circle No. 294 on Reader Service Card
---
Locking manhole cover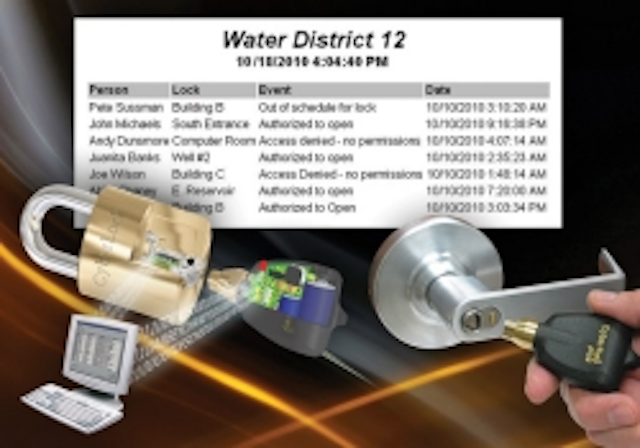 The FiberShield locking manhole cover from McGard is constructed of a fiber reinforced polymer material with multiple security points. The cover is lightweight and easy to handle. It eliminates the lifting and dropping injuries caused by heavy, cast iron manhole covers. Weighing 80% less than cast iron, the cover exceeds an H20 traffic rating. It is installed in seconds, and removed without bending over.
McGard LLC
Tel: 888-888-9192
Web: www.mcgard.com/security
Booth 1500
Circle No. 295 on Reader Service Card
---
Turbidity meter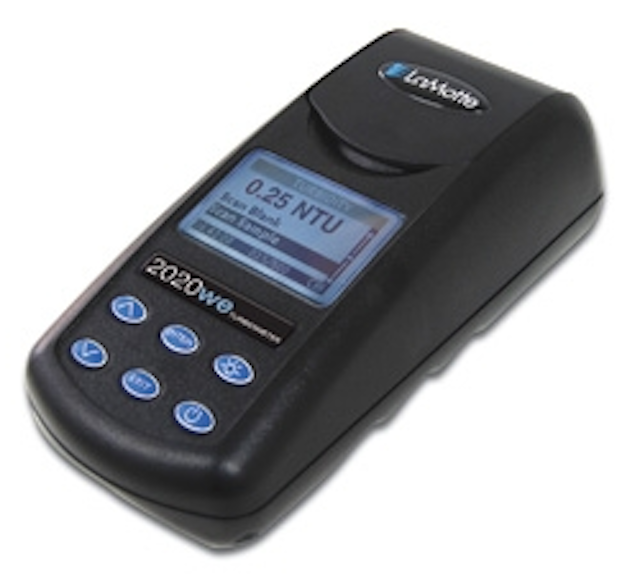 LaMotte has introduced the waterproof version of its 2020 Turbidimeter. The new 2020we is a portable handheld that can be used in the field or lab. The unit is rated waterproof to IP67 and features lithium rechargeable batteries, a backlit display, USB port and seven language options. The meter complies with the EPA 180.1 standard using a tungsten light source protected by a unique waterproof chamber with a removable cup.
LaMotte Co.
Chestertown, MD
Tel: 800-344-3100
Web: www.lamotte.com
Booth 1310
Circle No. 297 on Reader Service Card
---
Vehicle tracking
Radio Satellite Integrators designs, manufactures and implements vehicle tracking and mobile data systems for water and other utility fleets using GPS, wireless communications, and ESRI GIS Mapping technology. The RSI AVL Mapping application is based on ArcGIS Server from ESRI. Users can track and generate a variety of reports for their vehicle fleet according to time, location, and status criteria, such as mileage, speed, idle time, etc.
Radio Satellite Integrators Inc.
Torrance, CA
Tel: 310-787-7700
Web: www.radsat.com
Booth 1460
---
Leak detection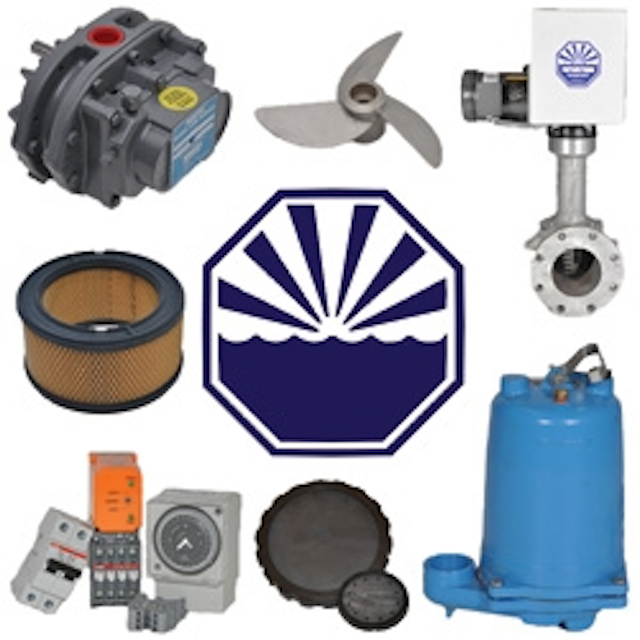 The new ADS Enigma®-hyQ Leak Correlating Logger System is a non-intrusive leak correlating system optimized for leak location over long distances in large diameter and non-metallic water distribution pipes. It is designed for both real-time and pre-programmed, unassisted night-time operation when pressure is the highest and usage the lowest. The system uses high-sensitivity hydrophones to directly detect the leak noise through the water, not the pipe wall. The hydrophones are installed on existing fixtures (hydrants, PRVs, and ARVs) to place them in contact with the water for leak noise detection and recording.
ADS LLC
Huntsville, AL
Tel: 800-633-7246
Web: www.adsenv.com
Booth 703
Circle No. 296 on Reader Service Card
---
Filtration media
Fairmount Water Solutions, a division of Fairmount Minerals, provides the media and expertise to help optimize filtration performance in a wide array of water treatment applications. The company will highlight its Macrolite® Engineered Ceramic Media and its line of Best Sand® silica filtration products. Macrolite is designed with higher flux, lower turbidity and increased phosphorus reduction to improve filtering efficiency.
Fairmount Water Solutions
Chardon, OH
Tel: 800-237-4986
Web: www.fmwater.com
Booth 1101
Circle No. 298 on Reader Service Card
---
UF membranes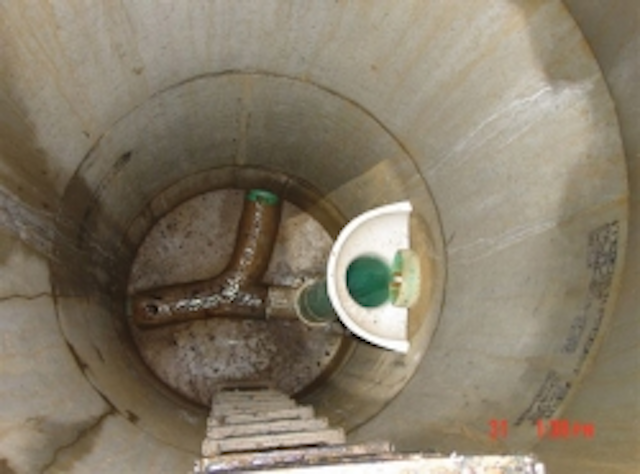 Toray will showcase its Hollow Fiber UF membrane products. The membrane modules, available as pressured and submerged, effectively remove suspended solids and particulate matter including Viruses, Giardia Oocysts and Cryptosporidium Oocysts. The membrane fibers were fabricated with a newly developed TIPS (Thermally Induced Phase Separation) spinning method to create one of the strongest fibers available on the market.
Toray Membrane USA
Poway, CA
Tel: 858-218-2390
Web: www.toraywater.com
Booth 2566
---
Desalination pretreatment
ITT introduces Leopold® DPS – Desalination Pretreatment Solutions, a choice of custom-designed process solutions to fit particular RO Membrane plant's needs. The system removes harmful algae blooms and lowers the Silt Density Index to acceptable levels to provide the cleanest influent to feed RO filters. The system consists of a choice of Leopold FilterWorx Gravity Media Filters, Leopold Clari-DAF Systems, a combination of the two, or two-stage FilterWorx Filters. The DAF system is designed to remove color, low density solids, free oil and organics, and reduce the number of backwashes in downstream processes.
ITT Water & Wastewater, Leopold Products
Zelienople, PA
Tel: 724-452-6300
Web: www.fbleopold.com
Booth 1625
Circle No. 301 on Reader Service Card
---
Metering pumps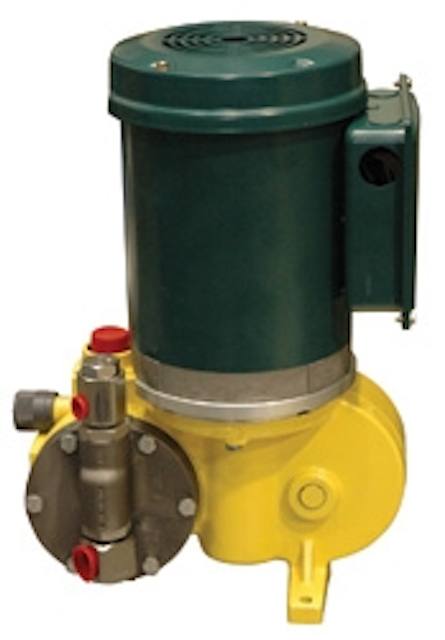 Milton Roy's mRoy Series pumps are provided with an advanced powder coat system for durability in the harshest conditions. The pump series features a 30 year design life drive, 96,000 hour diaphragm design life, and capacities between 0.4 gph and 170 gph with improved turndown flexibility. Models are available for pressures up to 3,000 psi.
Milton Roy Co.
Ivyland, PA
Tel: 215-441-0800
Web: www.miltonroy.com
Booth 1703
Circle No. 300 on Reader Service Card
---
Chemical injection
Saf-T-Flo specializes in manufacturing chemical injection quills and sampling probes for chemical feed systems in the municipal, industrial, and commercial water treatment industries. The company customizes each injection assembly to fit the needs of the individual application.
Saf-T-Flo
Tel: 800-957-2383
Web: www.saftflo.com
Booth 2607
Circle No. 303 on Reader Service Card
---
PRV Monitoring system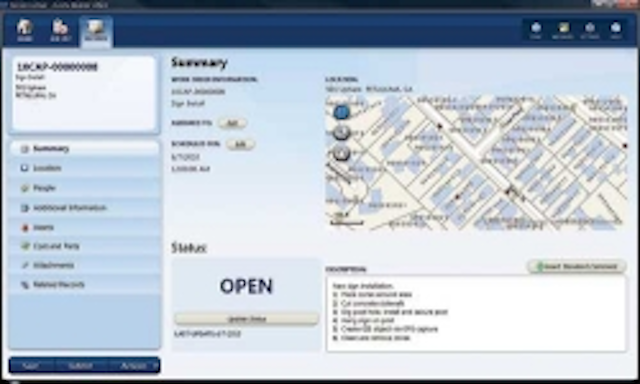 Telog's PRV monitoring system provides early detection of a valve's improper operation. The system includes an RU-33 Recording Telemetry Unit, a sensor and the company's data management software. It records PRV input/outlet/differential pressure, valve position sensor and computed flow, transferring data as often as needed. The system alerts users to high or low pressure events via an alarm message to a cell phone.
Telog Instruments Inc.
Victor, NY
Tel: 585-742-3000
Web: www.telog.com
Booth 1810
Circle No. 304 on Reader Service Card
---
Free chlorine monitoring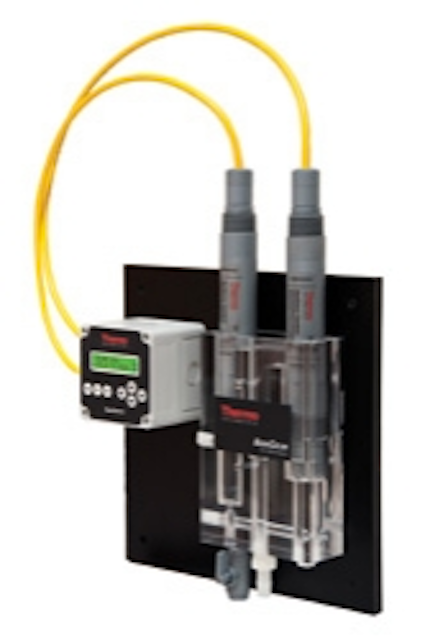 Thermo Scientific offers the AquaChlor™ Free Chlorine Measurement System for monitoring free chlorine in drinking water distribution. Its reagent-free amperometric design is compliant with EPA Method 334.0 for online drinking water monitoring and is available with either manual or automatic pH compensation. It is temperature compensated and supplied with pre-calibrated, plug & play sensors using AquaSensors DataStick™ technology.
Thermo Fisher Scientific Inc.
Tel: 800-225-1480
Web: www.thermoscientific.com
Booth 504
---
Low range turbidimeter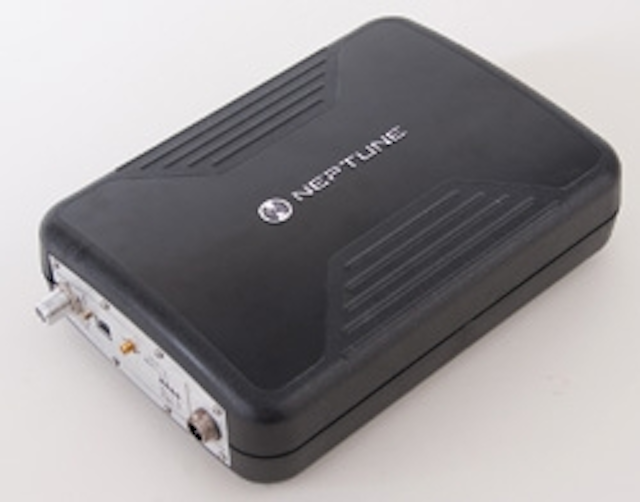 The AquaClear turbidimeter uses a Thermo Scientific DataStick™ sensor with pre-calibrated optical detector. The sensor is inserted in the sample chamber facilitating the nephelometric design for turbidity measurements. This compact online turbidimeter meets or exceeds USEPA method 180.1 requirements for drinking water monitoring. It is designed to perform best in low turbidity ranges typical in membrane filtration applications. The unique sample chamber makes this system easy to calibrate, clean and maintain.
Thermo Scientific Orion
Beverly, MA
Web: www.thermoscientific.com/water
Booth 504
Circle No. 306 on Reader Service Card
---
Check valve
The CheckMate® Inline Check Valve is ideal for backflow prevention and odor mitigation. In outfalls, stormwater, CSO and SSO applications, the valve's custom-engineered, all-rubber unibody design eliminates backflow from oceans, rivers and interceptors. Its elastomer fabric-reinforced design provides extremely low headloss. The valve can open to a near full pipe diameter. This maximizes the flow capacity of the outfall, which is particularly beneficial in low-lying areas where limited driving head is available. The valves are available in 4" to 72" sizes.
Tideflex Technologies
Carnegie, PA
Tel: 412-279-0044
Web: www.tideflex.com
Booth 523
Circle No. 309 on Reader Service Card
---
Mixing systems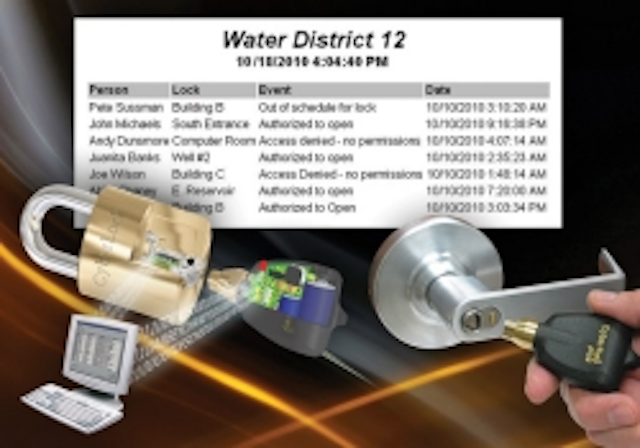 The Westfall Model 2800 Wafer Style Static Mixer has a computer-designed orifice with bent tabs that generate complete mixing through a combination of alternate vortex shedding and intense shear zone turbulence. The mixer offers low headloss, short laying length, low maintenance and simple installation.
Westfall Manufacturing Co.
Bristol, RI
Tel: 888-928-3747
Web: www.westfallmfg.com
Booth 437
Circle No. 307 on Reader Service Card
---
Pipe couplings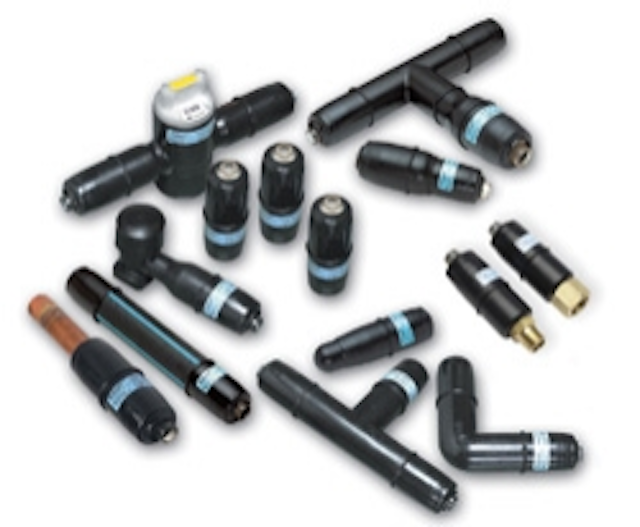 Elster Perfection's Hydrosert® 1 ½" CTS and 2" CTS couplings are non-corrosive and feature a "no stress" design that separates and optimizes both the gripping and sealing areas of the fitting. Once assembled, the fitting is free to rotate on the pipe without affecting the water tight seal. This unique connection method results in dependable, leak-proof performance. The fittings are pressure rated to the design pressure of the piping to be connected, up to 200 PSIG.
Elster Perfection
Cleveland, OH
Web: www.elster-perfection.com
Booth 1106
Circle No. 308 on Reader Service Card
---
Scales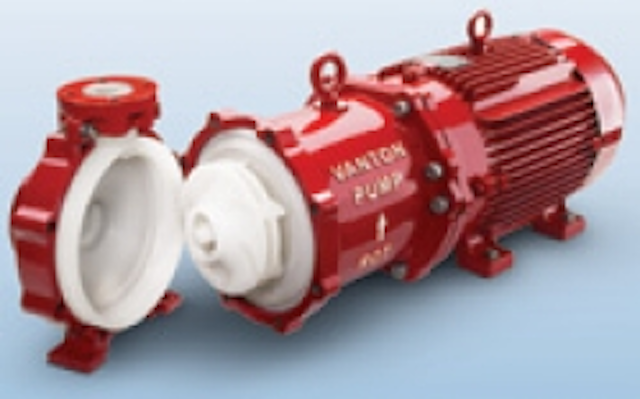 Scaletron is a manufacturer of corrosion resistant electronic and mechanical scales and accessories. Scales are designed for weighing and monitoring the usage of corrosive chemicals and/or materials in water treatment, wastewater treatment and industrial applications. The company offers a complete line of scales including 150 lb. cylinder and ton cylinder scales; drum, tank and platform scales; IBC tote and spill containment scales. Scales feature a low profile platform design, capacities from 30 lbs. to 30,000 lbs., and a five year warranty.
Scaletron™ Industries, Ltd.
Plumsteadville, PA
Tel: 800-257-5911
Booth 908
Circle No. 310 on Reader Service Card
---
Particle counter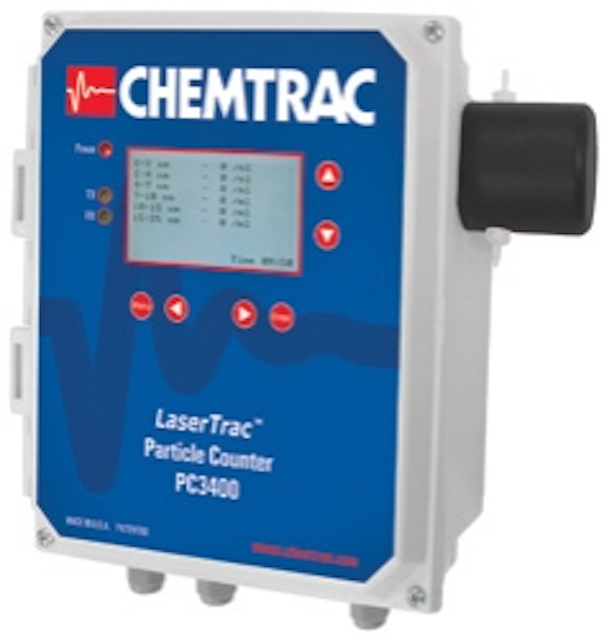 Chemtrac's PC3400 Particle Counter offers such new features as auto calibration, data logging, and plotted graph trends on the local display. Significantly smaller in size than its predecessor, it still boasts a much larger LCD screen that simultaneously displays results for eight size ranges. The front panel keypad allows settings to be changed locally without the need for computer software. Optional features include multiple communication protocols, 4-20 mA I/O, and alarm relays.
Chemtrac Inc.
Norcross, GA
Tel: 800-442-8722
Web: www.chemtrac.com/pc3400
Booth 2112
Circle No. 311 on Reader Service Card
---
More WaterWorld Current Issue Articles
More WaterWorld Archives Issue Articles