NEW LITERATURE
A new two-page flyer highlighting the USFilter Centrapac centrifuge dewatering system is now available.
Nov 1st, 2004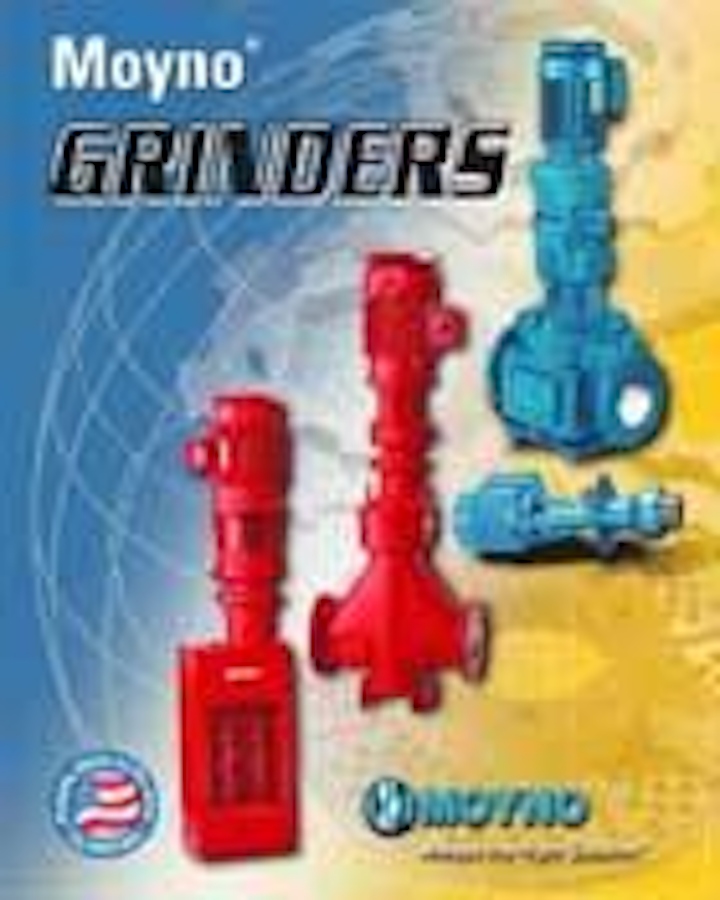 Centrifuge dewatering system
A new two-page flyer highlighting the USFilter Centrapac centrifuge dewatering system is now available. The full-color brochure lists the dimensions of the different models, illustrating the small footprint of this compact system. The pre-assembled dewatering package features the company's Centramax™ centrifuge on a skid with all necessary ancillary equipment. All piped and wired, from feed pump to cake transfer, the system is pre-engineered and ready to go, with minimal on-site installation requirements.
USFilter
Holland, MI
Tel: 800-245-3006
Web: www.usfilter.com
Pump application guide
seepex has introduced version 2.0 of its application CD. More pump drawings and curves are included, as are several new pump selection programs. New videos of its chopper pump and metering pumps are included. New O&M manuals are included for most pump types and several gear drives and the new metering pumpdrive.
seepex Inc.
Enon, OH
Tel: 937-864-7150
Web: www.seepex.net
Grinding equipment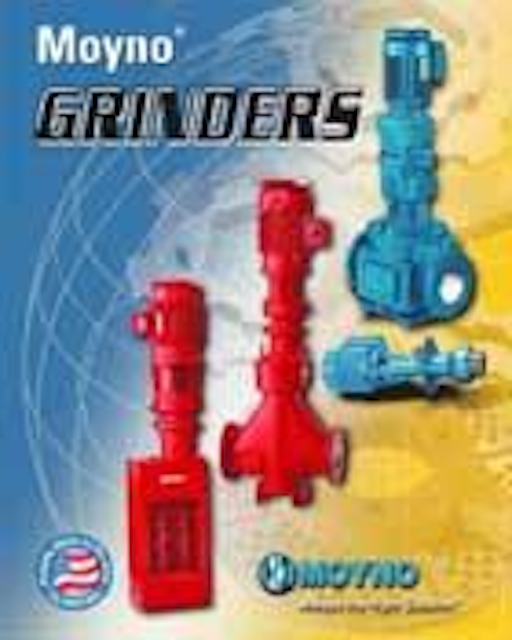 Click here to enlarge image
Moyno, a unit of Robbins & Myers, recently released a new brochure featuring the company's expanded line of grinding equipment for solids reduction or waste conditioning. The products covered include the Annihilator™ Grinder - a twin shaft solids reduction unit with patented spacer cutters that double the cutting capacity while decreasing the particle size processed through the unit.
Moyno, Inc.
Springfield, OH
Tel: 877-486-6966
Web: www.moyno.com
FOG software
Linko Data Systems is distributing software for FOG control programs at no cost to qualified wastewater treatment plants. The free package, called FOG-EZ™, is fully functional database software for managing business information in a FOG control program. The software comes stocked with built-in reports, mail merge capabilities and the ability to electronically import data. Users can manage inspection schedules and store trap cleaning reports.
Linko Data Systems Inc.
Lakewood, CO
Tel: 303-275-9968
Web: www.linkoweb.com
Actuation, control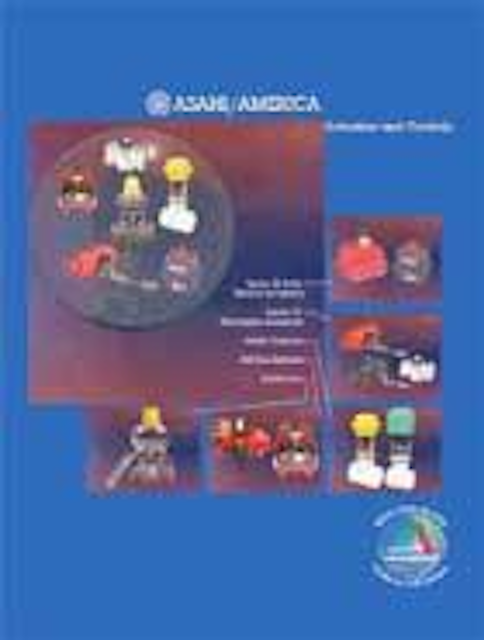 Click here to enlarge image
Asahi/America has published a new 38 page color Actuation and Control Catalog. Featured products include the company's Pneumatic and Electric Actuators, ASI Bus systems and Positioners. The catalog includes schematic drawings, technical specifications and overviews of the company's actuators and controls. In addition, it features helpful troubleshooting tips and provides part number charts.
Asahi/America, Inc.
Malden, MA
Tel: 781-321-5409
Web: www.asahi-america.com
SCADA products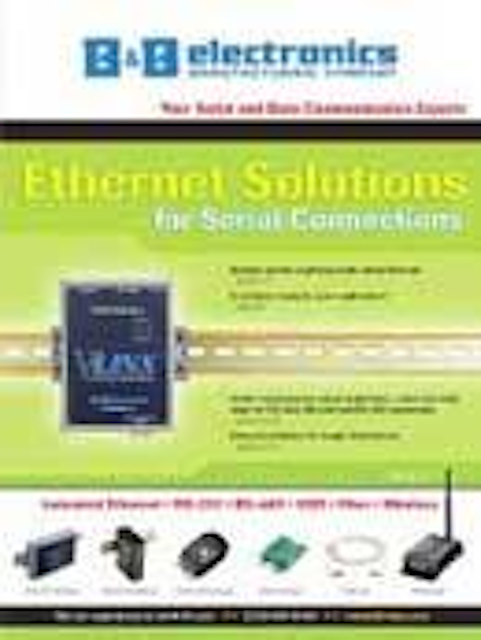 Click here to enlarge image
The 802.11x, Bluetooth®, ZigBee™, Wi-Fi® and proprietary radio modem wireless products are just some of the products featured in the new Catalog 37 from B&B Electronics Mfg. Other products in the catalog are Industrial Ethernet converters, switches and hubs, and serial to fiber, Palm, PLC, USB, current loop, PCMCIA converters. A new section explains the availability of custom variations of their products. The 64-page book also shows how to keep equipment safe with dataline optical isolators and surge protectors.
B&B Electronics Mfg. Co.
Ottawa, IL
Tel: 815-433-5100
E-mail: catrqst@bb-elec.com
Sweeper, vacuum systems
New literature is now available that includes basic specifications for products from Elgin Sweeper and Vactor Manufacturing. These guidebooks, similar to roadmaps, serve as a tool for helping customers choose the machine that best suits their needs. Elgin sweepers use all variations of today's sweeping technology – mechanical, pure vacuum and recirculating air. The Vactor line includes sewer, catch basin and surface cleaning as well as hydroexcavation. The two companies are part of Federal Signal's Environmental Products Group.
Elgin, Vactor Co.
Elgin, IL
Web: www.elginsweeper.com, www.vactor.com
Safety products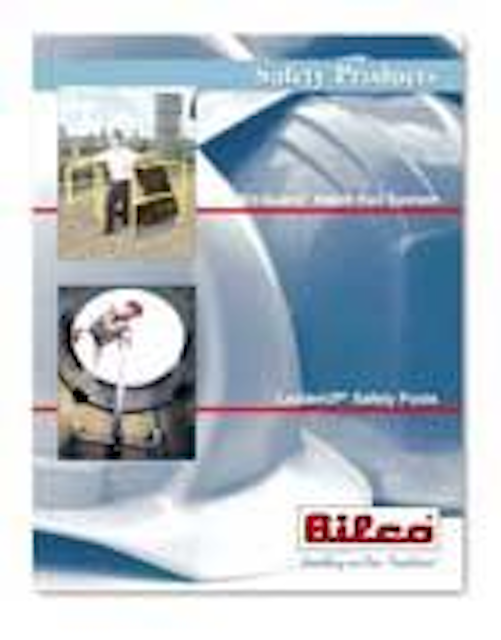 Click here to enlarge image
Bilco is now offering a new brochure with complete information on its architectural safety products, Bil-Guard Hatch Railing System and LadderUP Safety Post. The brochure includes features and benefits, product specifications, model information, and application images. Meeting OSHA fall protection standards (29 CFR 1910.23), Bil-Guard is a fixed railing system that provides a permanent means of fall protection for hatch openings.
Bilco Co.
West Haven, CT
Tel: 203-934-6363
Web: www.bilco.com
Gas detecting, monitoring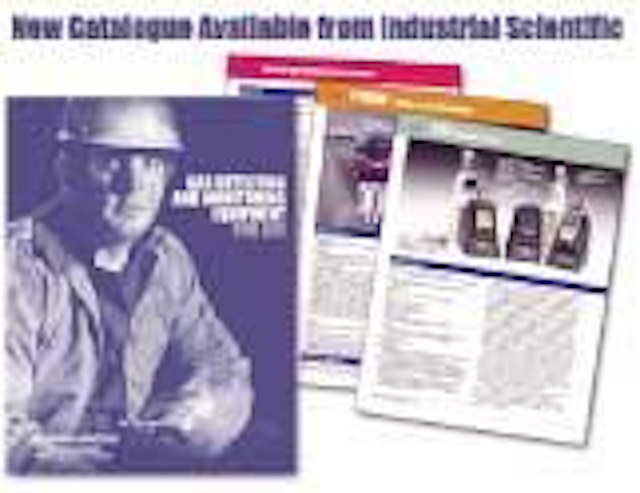 Click here to enlarge image
Industrial Scientific has announced the availability of a new 76-page color catalog. Gas Detecting and Monitoring Equipment, Vol. 4, features the company's line of portable and fixed gas monitors, as well as service offerings and a technical reference library. The catalog and reference guide features single and multi-gas portable monitors, confined space kits, fixed monitoring systems, repair services and rental information. Included are the company's newest products: DS2 Docking Station™, M40 Multi-Gas Monitor, First Responder Kit, HazMat Super Kit, iTrans™, and 810/820 and 4800 Controllers.
Industrial Scientific Corp.
Oakdale, PA
Tel: 800-338-3287
E-mail: info@indsci.com.
Level measurement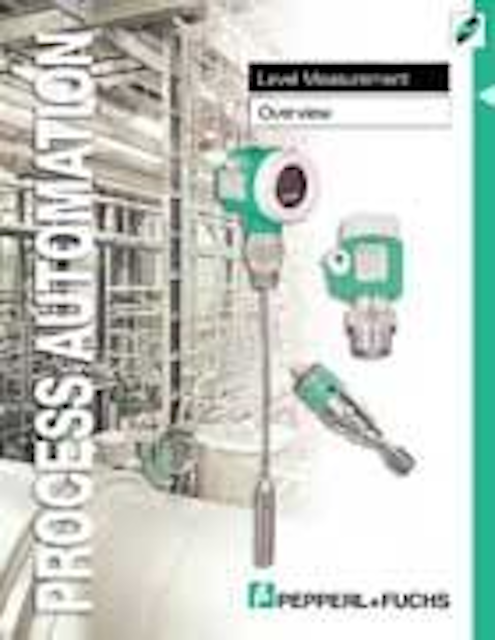 Click here to enlarge image
Pepperl+Fuchs has published a 2004 Level Measurement Overview Brochure. The brochure reviews the company's line of point level detection and continuous level measurement products, with helpful information on measurements principles, product characteristics and application examples for each technology. Point level detection products include the Vibracon sensor family, as well as capacitive limit switches, conductive electrodes, magnetic immersion probes, and float switches.
Pepperl+Fuchs
Twinsburg, OH
Tel: 330-486-0002
Level, flow measurement
Krohne has introduced the Configure It website at www.krohne-direct.com. This new e-commerce portal offers step-by-step guidance in the selection and purchase of level and flow instruments. Through a needs analysis, the definition of measuring technology, and product configuration, Configure It recommends the best instrument suited for the user's specific application and demands. The site also provides the ability to purchase spare parts. Equipment can be found using a preferred measuring principle, existing product data, or by using electronic schematic drawings to select specific parts.
Krohne Inc.
Peabody, MA
Tel: 800-356-9464
Valves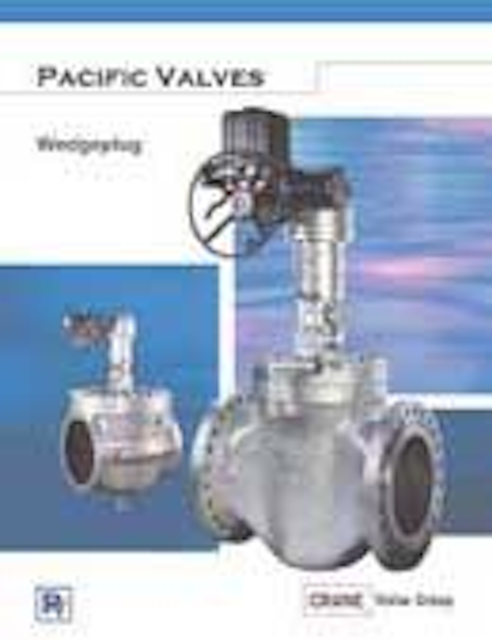 Click here to enlarge image
Pacific Valves, a division of the Crane Valve Group, has published a new 8-page brochure with insert which describes its non-lubricated, metal-seated Wedgeplug valves. Available in ASME Classes 150-900, the valves provide protection from: erosion damage; solids build-up on sealing surfaces and in cavities; and residual freeze-up which can prevent operation and cause leakage due to packing wear.
Pacific Valves
Signal Hill, CA
Tel: 562-426-2531
Web: www.cranevalve.com