NEW LITERATURE
Netzsch has released its third version of the Nemo® Progressing Cavity Pumps Catalog on CD-Rom. This digital catalog describes the progressing cavity pumps...
Sep 1st, 2004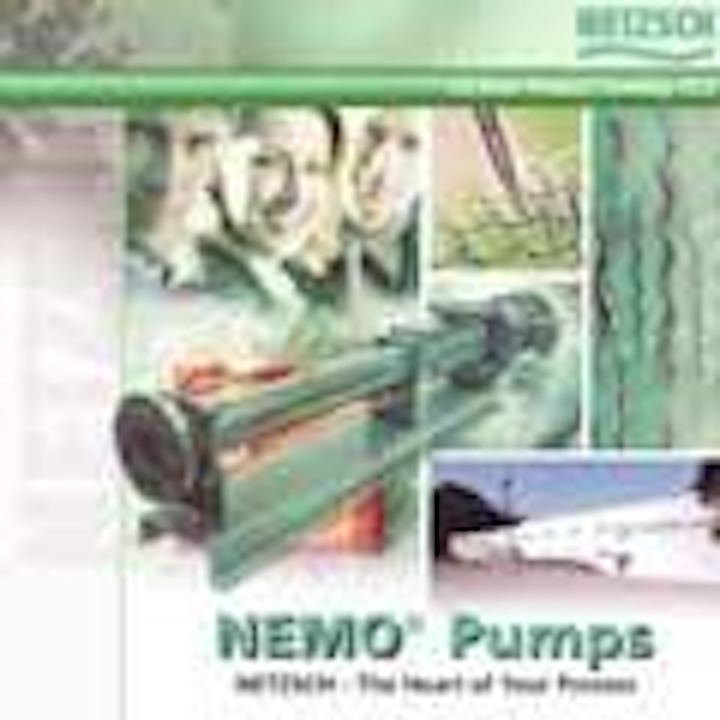 Progressing cavity pumps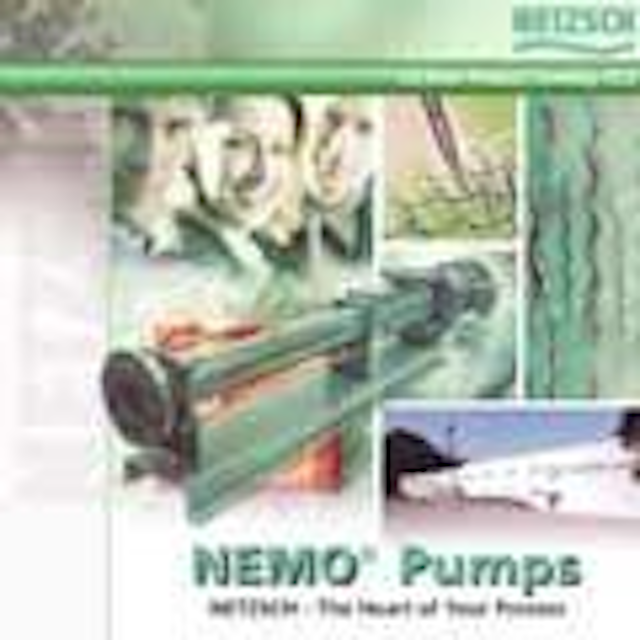 Click here to enlarge image
Netzsch has released its third version of the Nemo® Progressing Cavity Pumps Catalog on CD-Rom. This digital catalog describes the progressing cavity pumps, geometries, accessories, and manufacturing capabilities. Also included on this CD-Rom are: Pump Features, NM Series specifications, performance curves, dimensional drawings, and all Nemo® literature. Application articles, operation and maintenance manuals and a unit conversion program were recently added in this new version.
Netzsch Inc.
Exton, PA
Tel: 610-363-8010
Web: www.netzschusa.com
SBR plants
USFilter Jet Tech Products has recently published new literature detailing its field-erected Sequencing Batch Reactor (SBR) package plant capabilities and advantages for wastewater treatment titled, "Omnipac® Field Erected SBR Package Plants." Ideal for a wide variety of municipal and industrial wastewater processing applications, the treatment systems are pre-engineered and factory built, reducing on-site installation time, site preparation, yard piping and electrical conduits.
USFilter Jet Tech Products
Edwardsville, KS
Tel: 913-422-7600
Web: www.usfilter.com
Level transducers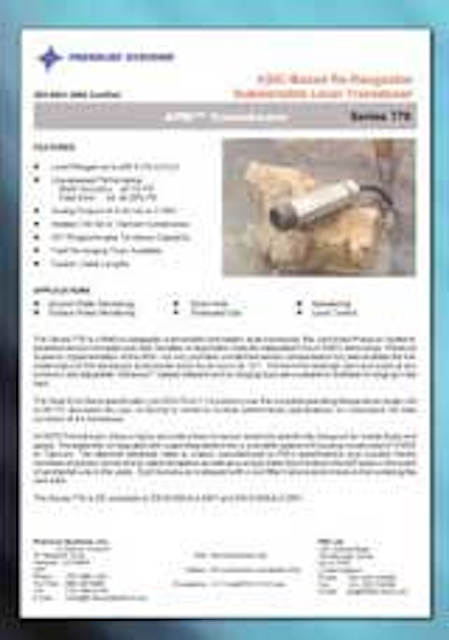 Click here to enlarge image
Pressure Systems now offers a datasheet detailing the new Series 770 re-rangeable hydrostatic submersible level transducers with 10:1 programmable turndown capability. The datasheet outlines the use of Application Specific Integrated Circuit (ASIC) technology to fully compensate for sensor errors due to temperature, and to re-range the transducers in the field via an attached cable and adjust terminal readings (zero and span) at any turndown. In addition to identifying specific transducer applications, the new datasheet outlines transducer specifications.
Pressure Systems Inc.
Hampton, VA
Tel: 800-678-7226
Web: www.pressuresystems.com
Pump rental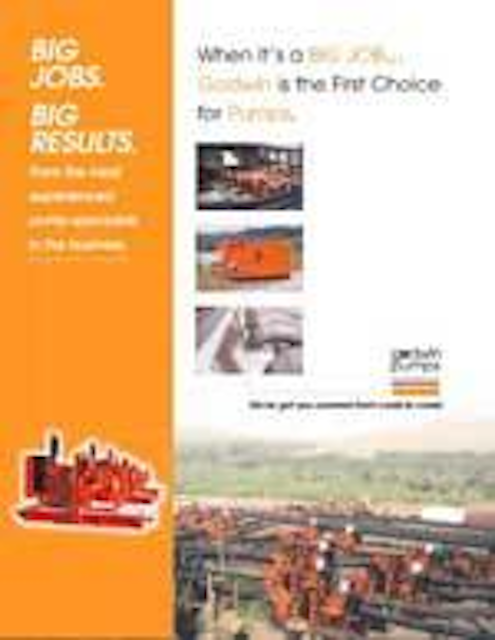 Click here to enlarge image
Godwin Pumps offers a "Big Jobs, Big Results" brochure featuring nearly 20 color pages of large pump rental projects for municipalities, industry, contractors, and mines. Projects depicted in the brochure represent planned as well as emergency work and include applications such as sewer bypass, dewatering, flood control, and water supply. Job sites range from New York City to Phoenix to Puerto Rico. Godwin Pumps is the manufacturer of the automatic self-priming Dri-Prime® pump, as well as the Sub-Prime® electric and Heidra® hydraulic submersible pumps, wellpoint dewatering systems, and related accessories and equipment.
Godwin Pumps
Bridgeport, NJ
Tel: 856-467-3636
Web: www.godwinpumps.com
Motors, drives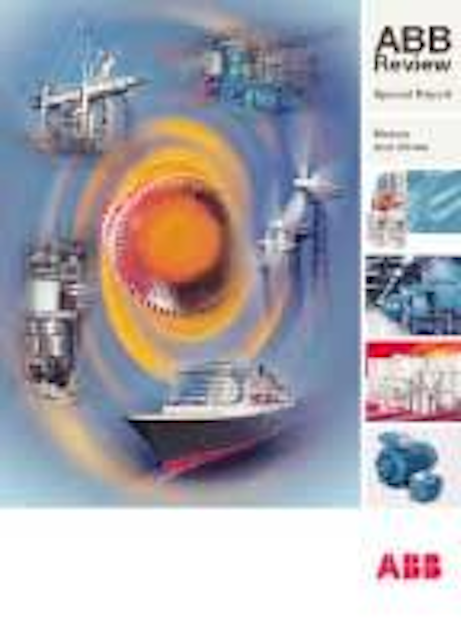 Click here to enlarge image
ABB has published the latest edition of its ABB Review Special Report 2004, covering the technologies from its motors and drives business. The new 64-page special report profiles the technology of the motors and drives product program in the context of industrial applications and customer benefits. Technology features covered include: Direct Torque Control/DTC; Direct Drive using permanent magnet motors for gearless applications; soft starters for high voltage motors; next-generation DMI Series DC motors; as well as descriptions of design requirements for easier-to-operate variable-speed drives.
ABB Inc.
New Berlin, WI
Web: www.abb.com
Flowmeter Programming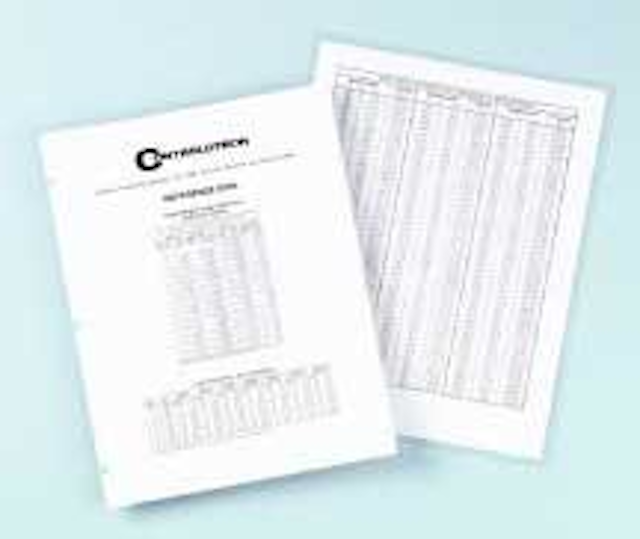 Click here to enlarge image
Controlotron has published Pipe and Sonic Velocity reference charts to help with programming and flow meter calibration. The Pipe Reference chart provides wall-thickness, O.D. and I.D. for most pipe gauges, schedules and classes. The Sonic Velocity chart lists exact water values, for comparison to measured test readings after set up.
Controlotron Corp.
Hauppauge, NY
Tel: 631-231-3600
Web: www.controlotron.com
SDWA wall chart
The 10th edition of the Safe Drinking Water Act wall chart, available from HDR, is now available in an online database at www.hdr-safedrinkingwater.com. The poster-sized chart provides an easy-to-use reference to all drinking water regulations, including a detailed listing of contaminants and health effects, monitoring requirements and projected schedules for future regulation. The database allows researchers and other professionals to search poster contents by contaminant or regulation.
HDR Inc.
Omaha, NE
Tel: 402-399-1000
Web: www.hdrinc.com
New product catalog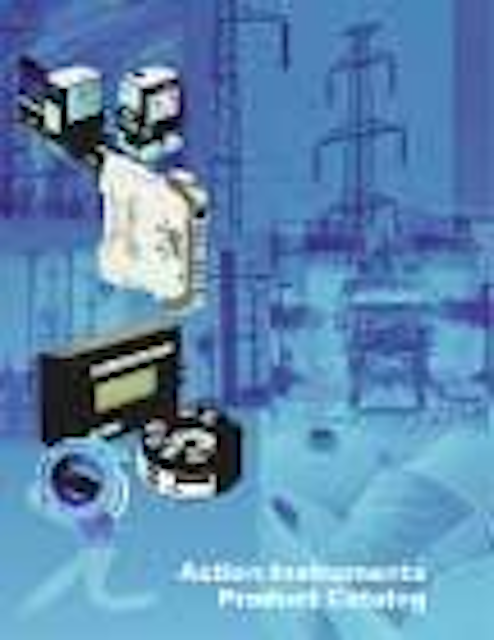 Click here to enlarge image
Action Instruments, part of Eurotherm Inc. – a supplier of industrial instrumentation for process control and data acquisition products and a unit of Invensys plc, has published a new short form catalog for its line of signal conditioners, limit alarms, field transmitters and other industrial process instruments.
Eurotherm Invensys/Action Instruments
Leesburg, VA
Tel: 703-669-1234
Web: www.actionio.com
Online virtual showroom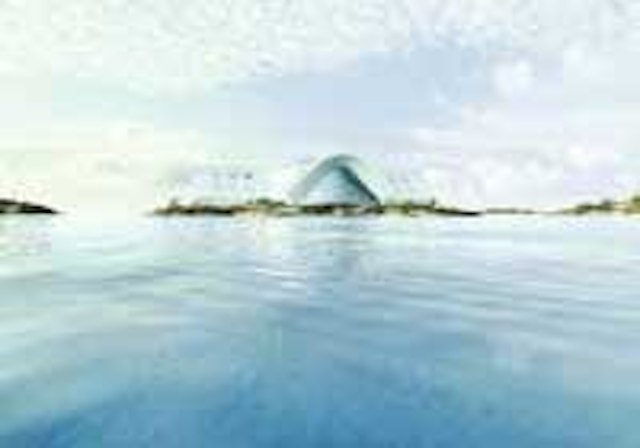 Click here to enlarge image
Sixteen new products are now highlighted at Alfa Laval's Virtual Showroom at www.alfalaval.com/ expo/ including heat exchangers, separators and decanters, pumps and valves. This second edition of its online showroom, including an interactive guide to products released within the prior six months, enables website visitors to take a virtual tour of a futuristic building displaying these latest product innovations.
Alfa Laval Inc.
Richmond, VA
Tel: 804-236-1298
Web: www.alfalaval.com
Flow, level & temp control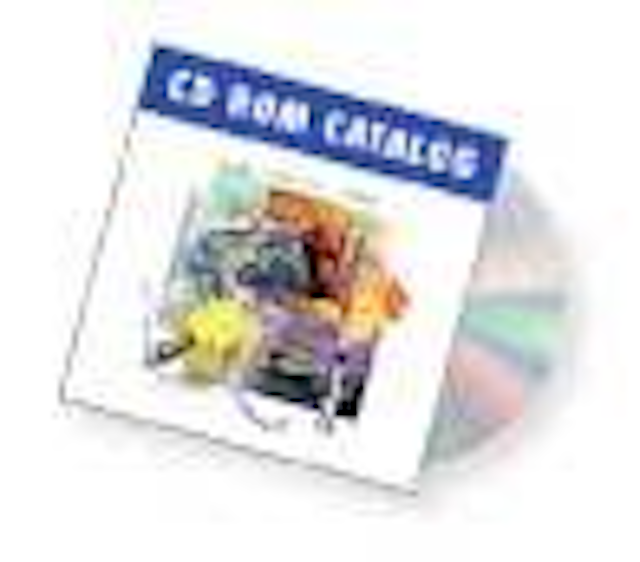 Click here to enlarge image
FCI's new Products and Services CD Catalog Release 8.0 is filled with thermal and coriolis mass flow instrumentation product data and informative case studies based on FCI's 40-plus years of gas and fluid flow problem-solving experience. The CD also includes product user manuals and guides, along with a comprehensive FAQ Library.
Fluid Components International Inc.
San Marcos, CA
Tel: 800-863-8703
Web: www.fluidcomponents.com
Water/wastewater brochure
A new Water and Wastewater Treatment market brochure was released in June by Chemineer. The six-page, full-color brochure features an array of Chemineer® turbine agitators, with advanced impeller design options, and Kenics® static mixers, both the KM and the HEV series. It also includes detailed charts of the water and wastewater treatment processes indicating which mixing solution products are recommended for each phase.
Chemineer Inc.
Dayton, OH
Tel: 937-454-3200
Web: www.chemineer.com
Air valves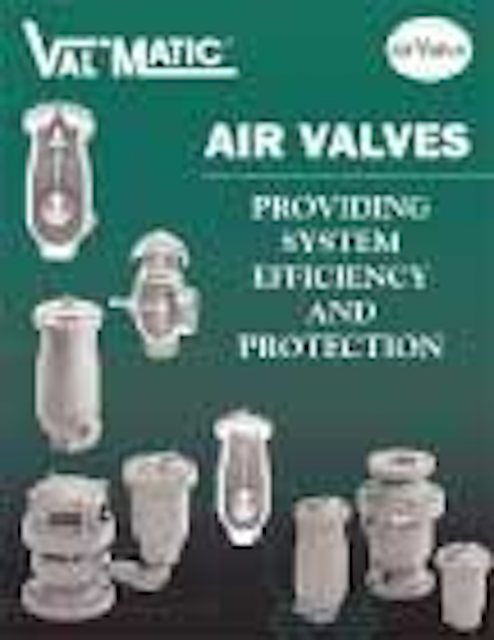 Click here to enlarge image
Val-Matic has released a new expanded brochure for its Air Valve product line. The brochure covers the features and benefits of the entire air valve product family including both water and wastewater valves. It offers a comprehensive overview of the proper theory and usage or air valves, basic applications and solutions information, and extensive technical data. The brochures are currently available online.
Val-Matic Inc.
Elmhurst, IL
Tel: 630-941-4672
Web: www.valmatic.com
Instruments catalog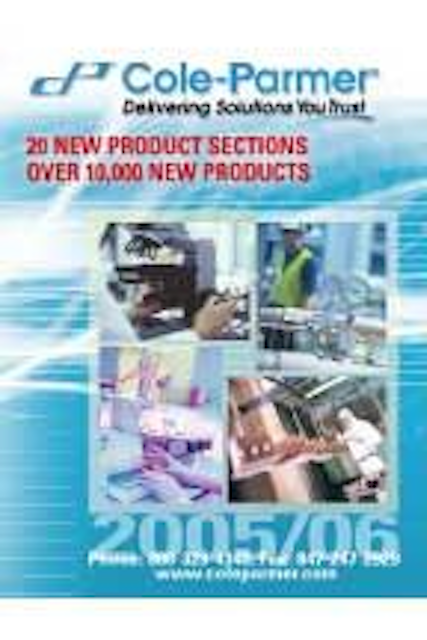 Click here to enlarge image
The new 2005/06 Cole-Parmer® General Catalog features more than 60,000 products — including 10,000 new items and 20 new product sections serving dozens of new markets. Redesigned for enhanced customer convenience, the 2500-page catalog is filled with hard-to-find instruments and equipment as well as everyday basics for fluid handling, industrial technology, lab research, biotechnology, food & beverage, water quality, chemical processing, pharmaceuticals, and much more.
Cole-Parmer Instruments
Vernon Hills, IL
Tel: 800-443-3434