PRODUCT SHOWCASE
Brooks Utility Products Group's Security Products has introduced a series of new brass padlocks with a sealing hole that can be used to apply an indicative seal.
Jun 1st, 2004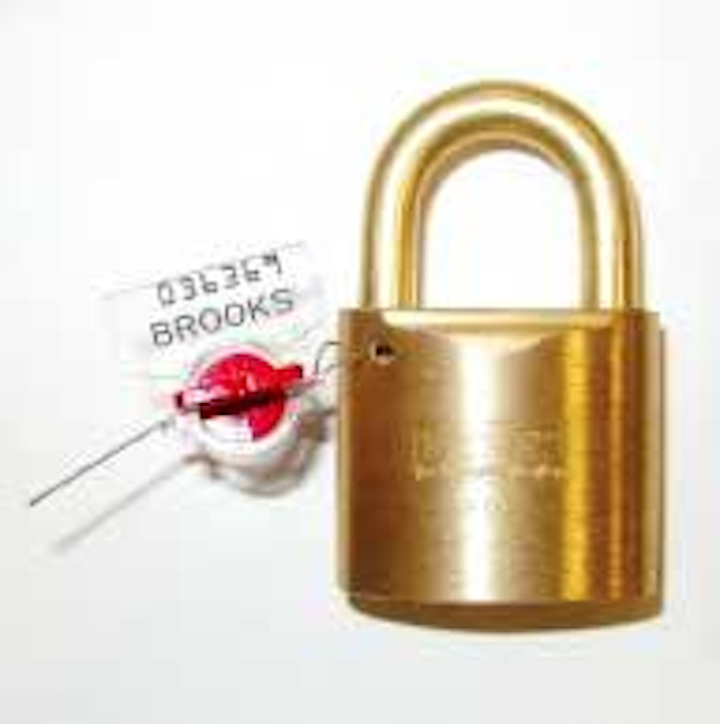 Padlock seals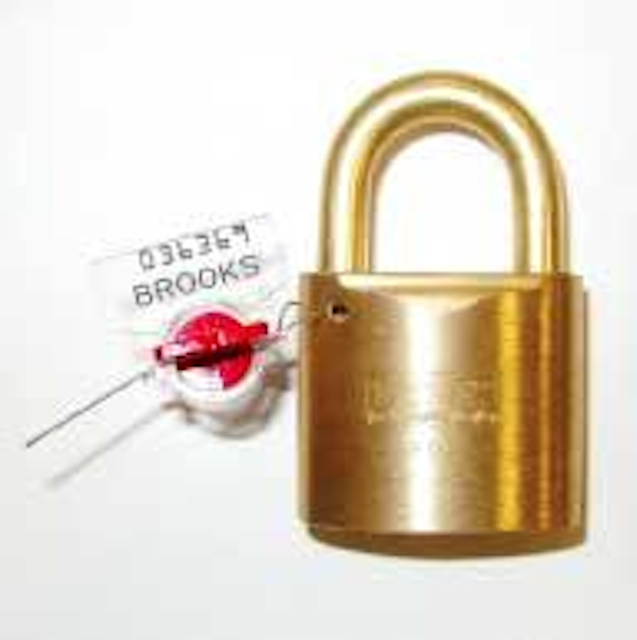 Click here to enlarge image
Brooks Utility Products Group's Security Products has introduced a series of new brass padlocks with a sealing hole that can be used to apply an indicative seal. By applying an indicative seal through the lock's shaft, the padlock cannot be opened without first removing or destroying the seal. The brass padlocks can be used in various outdoor and indoor applications, including meters, demand reset meters, gates, tool boxes, trucks, padmount transformers, metering panels, storage areas, switches and CT panels. The padlocks can be stamped with a customer name and numbered. They are available in 12 styles, and in body sizes from 1 1/8'' by 5/8'' to 2 1/16'' by 1'', with shackle diameters ranging from 3/16'' to 3/8''. The shackles are available in brass, stainless and heat-treated stainless steel, in 5/8'' to 8'' lengths.
Brooks Utility Products Group
Farmington Hills, MI
Tel: 888-687-3008
Web: www.brooksutility.com
Valve actuator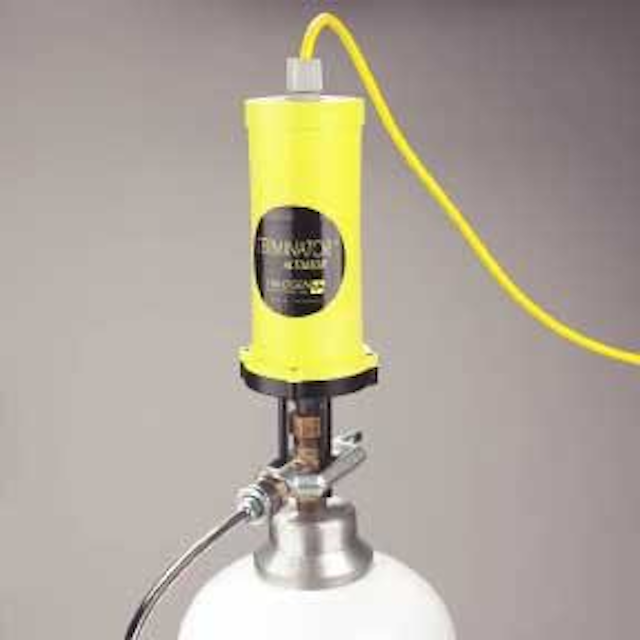 Click here to enlarge image
Halogen Valve System announces a new dual-torque Terminator Actuator™ that closes and torques hazardous gas 150 lb. cylinder valves in an emergency in three seconds. This fire code approved microprocessor controlled, sequential system applies two different and separate torque requirements to the valve stem as recommended by the Chlorine Institute. The Gemini controller has a self-contained battery system that guarantees the operation of the motorized closing mechanism during a power failure.
Halogen Valve Systems
Irvine, CA
Tel: 877-476-4222
Web: www.halogenvalve.com
Leak detector
Click here to enlarge image
The new LC-2500 Leak Noise Correlator from SubSurface Leak Detection features improvements to its predecessor, the LC-2100. It correlates four times faster and the radio transmitters are four times more powerful, transmitting up to 3500 feet to the main processor unit and traveling over hills and around tall buildings. The main processor unit, which weighs less than seven pounds, has a temperature-compensated LCD display to improve visibility in very cold and very hot temperatures. The correlator is built with an aluminum body and is completely weather-tight.
SubSurface Leak Detection
San Jose, CA
Tel: 408-249-4673
Web: www.subsurfaceleak.com
Biofiltration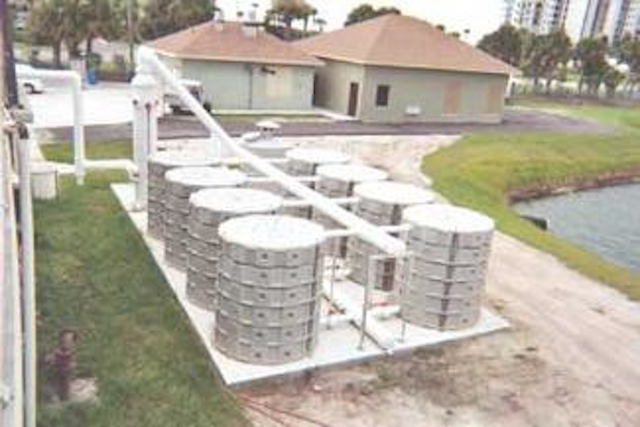 Click here to enlarge image
Biocube's Pentpack biofiltration systems use a patented, compost-based biological media that has proven to be effective in municipal odor control. Shown here is the installation at the North Hutchinson Island Wastewater Treatment Plant in Fort Pierce, FL, where a three-stage odor control system treats a difficult mixed-gas odor problem. The company's modular biofilters remove hydrogen sulfide, the primary odor-causing compound. The company also provided an ammonia stripper on the front end, and a carbon polishing drum that follows the biofilters to remove trace amounts of reduced sulfur compounds.
Biocube, LLC.
Victor, NY
Tel: 585-924-2220
Web: www.biocube.com
Aluminum enclosures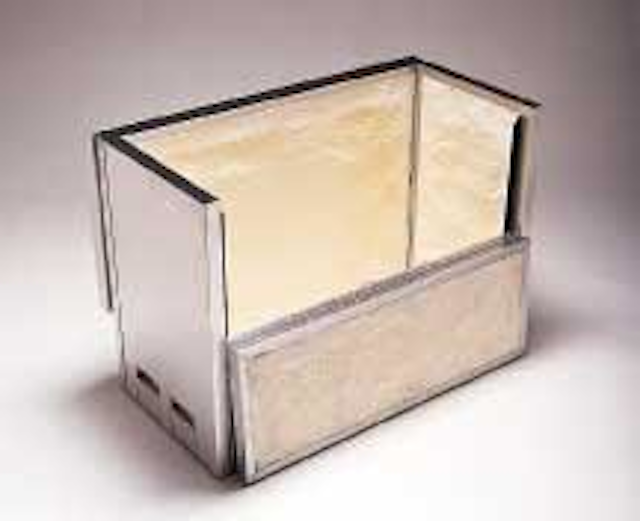 Click here to enlarge image
Hot Box's new ASSE 1060 certified Durafold™ aluminum enclosures feature insulation, drains, access and locking capacity. The enclosures use a hinged panel assembly design, shipping and warehousing flat, while being easily assembled into rigid form via hinged panels. Only four machine bolts are required for complete solid assembly of all models.
Hot Box®
North Jacksonville, FL
Tel: 800-738-0238
Web: www.hot-box.com
Process electrodes
Click here to enlarge image
Hanna Instruments produces a line of application-specific pH and process electrodes. Over the last two decades, the company has pioneered advances in sensor technology including a combination pH electrode with a built-in temperature sensor and a pre-amplified electrode, AmpHel®. Recent innovations include the "intelligent" electrode and electrodes that use Hanna's Calibration Check™ and flat tip technology.
Hanna Instruments
Ann Arbor, MI
Tel: 800-504-2662
Web: www.hannainst.com
Grease trap filter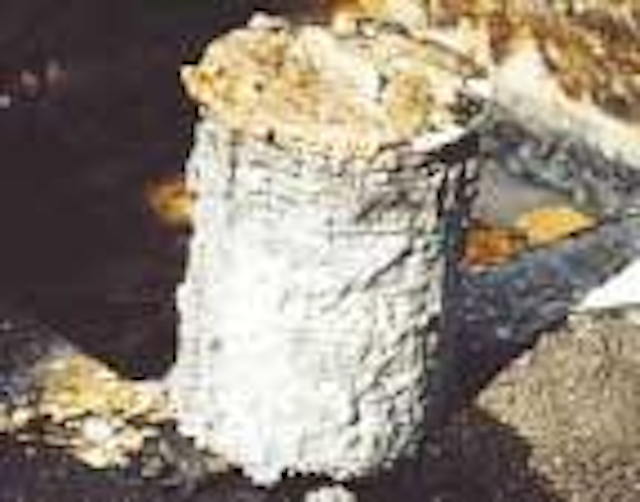 Click here to enlarge image
The Zabel A300 Grease Trap filter can reduce the quantity of Fats, Oil and Grease that is discharged through an outside grease trap to both municipal and onsite treatment systems. Studies in both the United States and Australia have demonstrated the filter's ability to reduce FOG in grease trap effluent by up to 84%. Installed on the outlet of an existing or new grease trap, the filters trap grease and filter solids down to a particle size of 1/32''.
Zabel Environmental Technology
Crestwood, KY
Tel: 800-221-5742
Web: www.zabelzone.com
Magnetic flowmeter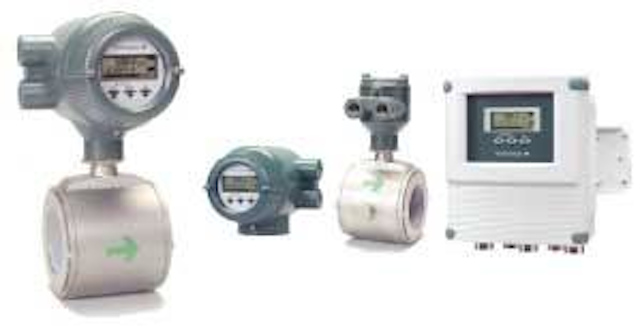 Click here to enlarge image
Yokogawa has introduced the Admag AXF Magnetic Flowmeter as the successor to its Admag AM, AE and SE series. The AXF series offers an enhanced dual frequency excitation method as an option for difficult applications as well as new diagnostics to detect electrode coating combined with an optional replaceable electrode design. The user benefits through greater reliability and lower total cost of ownership. By constantly monitoring the change in the impedance of the electrode circuit due to the build-up of insulating coatings, the AXF converter will display four different levels of coating and provide an alarm function.
Yokogawa Corp.
Newnan, GA
Tel: 800-258-2552
Web: us.yokogawa.com