NEW LITERATURE
A full color, 18-page brochure features Patterson's line of high-performance pumps for water duties.
Jul 1st, 2004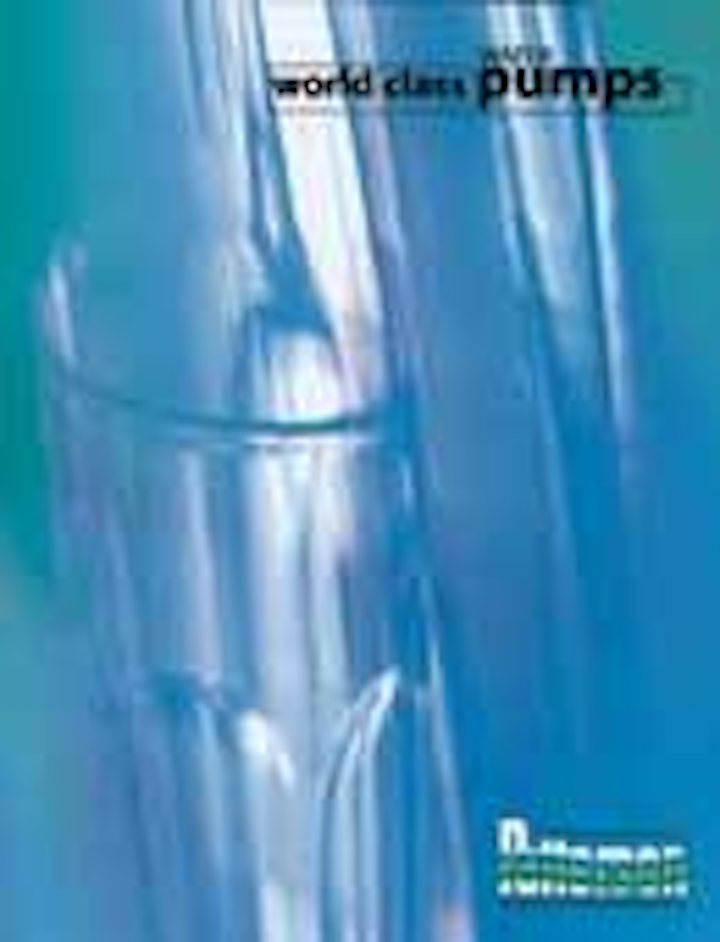 Pump products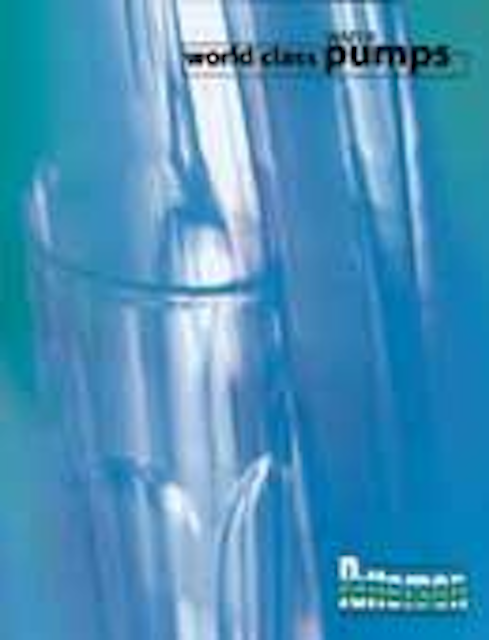 Click here to enlarge image
A full color, 18-page brochure features Patterson's line of high-performance pumps for water duties. Pumps offered include: horizontal split case, end suction, vertical in-line, vertical turbine, DMD 2-stage, axial and mixed flow pumps, and two Flo-Pak® engineered prepackaged systems. Patterson pumps are used in clean water applications in process, pulp & paper, primary metals, municipal, utilities and marine.
Patterson Pump Co.
Toccoa, GA
Tel: 706-886-2101
Web: www.pattersonpumps.com
Valve selection guide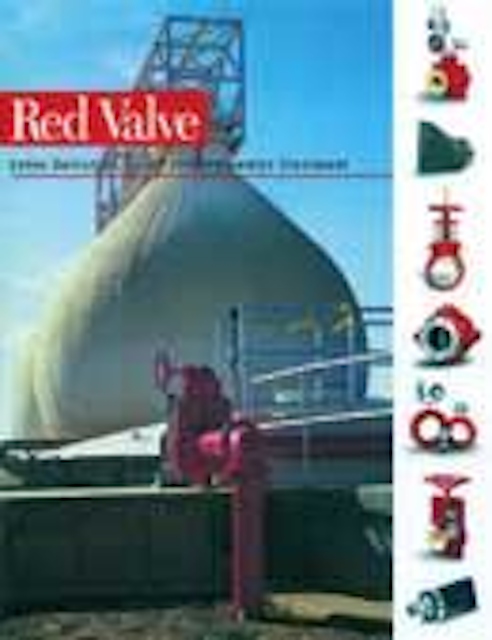 Click here to enlarge image
A new 18-page, full color brochure details Red Valve's total-system approach to wastewater treatment. A detailed treatment plant layout illustrates applications for the company's products at every stage, from influent flow through effluent discharge. Large, full color photos illustrate the products in wastewater treatment applications.
Red Valve Co. Inc.
Carnegie, PA
Tel: 412-279-0044
Web: www.redvalve.com
Instrumentation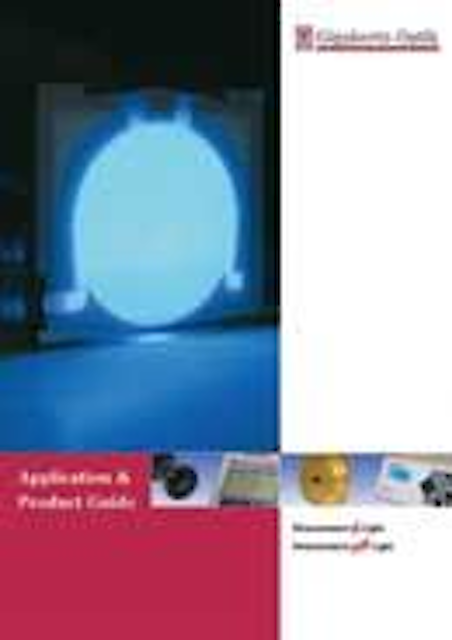 Click here to enlarge image
Gigahertz-Optik's 2004-2005 application and product guide covers the company's program of instrumentation employed in the "measurement of light and measurement with light." Full specifications for UV-Vis-NIR radiometers, photometers, color meters, integrating spheres, power/noise/pulse analyzers, uniform light sources, reflectance/transmittance meters, optically diffuse materials, calibration standards and services are included.
Gigahertz-Optik Inc.
Newburyport, MA
Tel: 978-462-1818
Web: www.gigahertz-optik.com
Valves product guide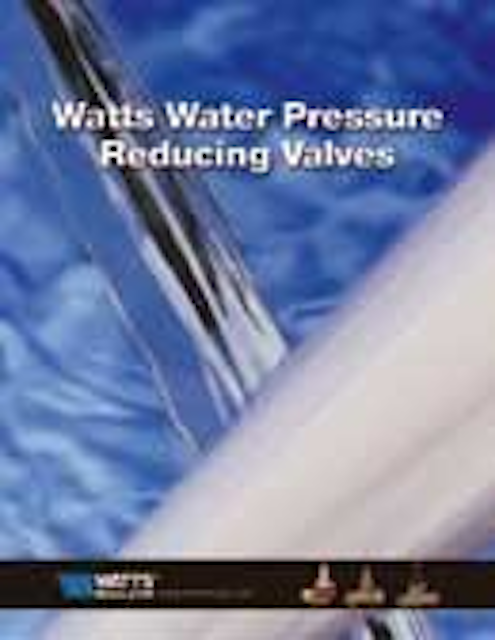 Click here to enlarge image
Watts Regulator has announced the availability of its new water pressure reducing valves product guide. This product guide features detailed information on the company's water pressure reducing valve product line. Each product description includes features, available models, options, pressure & temperature ranges and dimensions. Request literature PG-PRV.
Watts Regulator Co.
North Andover, MA
Tel: 800-617-3274
Web: www.wattsreg.com
Winches, cranes, hoists
Click here to enlarge image
A 56-page book from Thern describes its complete product line of winches, cranes and hoists. Each product's special features and benefits are listed, as are complete model specifications and suggested user prices. Among the specifications provided are load ratings, available rope diameters, drum capacities, gear ratios, shipping weights and physical dimensions.
Thern Inc.
Winona, MN
Tel: 800-843-7648
Web: www.thern.com
Mixer products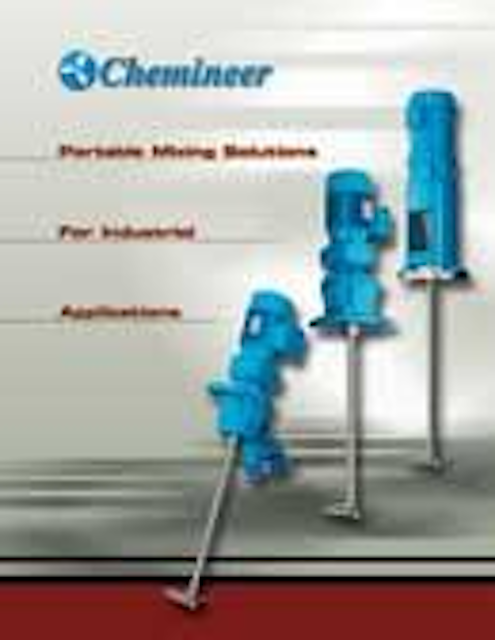 Click here to enlarge image
Chemineer has published a new six page, full color bulletin detailing the features and capabilities of its portable DT Mixer line. The mixers are available with an extensive range of impeller options, a wide range of mechanical seal offerings, and the versatility of a modular component design. Mixers can be specified for any industrial application, from small to large batch, low to high viscosity, or open or sealed tank applications.
Chemineer, Inc.
Dayton, OH
Tel: 937-454-3200
Web: www.chemineer.com
Engineering, maintenance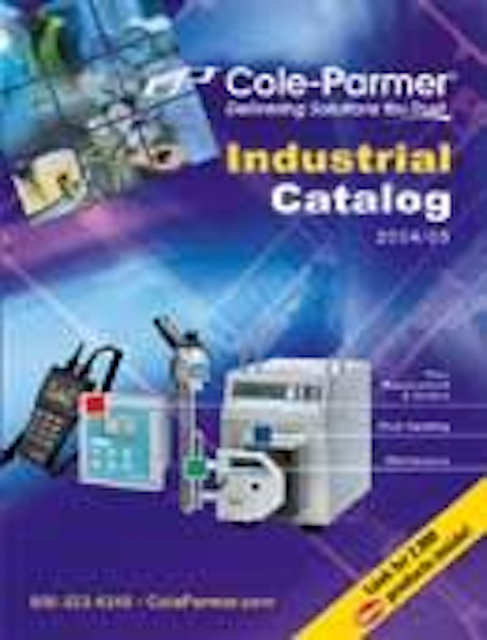 Click here to enlarge image
Cole-Parmer has published its new 2004/05 Industrial Catalog, a 448-page compendium of products specific to the industrial and wastewater markets. It features engineering and maintenance products for fluid handling, testing, measurement and control, and maintenance needs. The catalog includes hundreds of new products for water treatment and monitoring, pumps, pH, ORP, conductivity control, and more.
Cole-Parmer Instrument Co.
Vernon Hills, IL
Tel: 800-443-3434
Web: www.coleparmer.com
Level, pressure measurement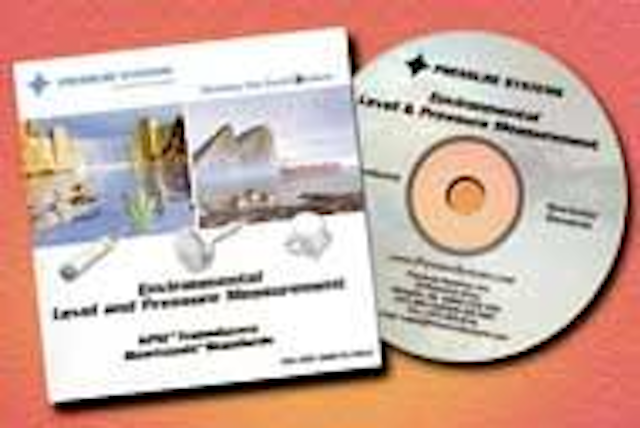 Click here to enlarge image
Pressure Systems, Inc., now offers an updated specifiers' CD that details the company's lines of KPSI™ Level and Pressure Transducers and Quartzonix™ Pressure Standards used for municipal and environmental monitoring applications. The new CD provides technical information, including datasheets, manuals, software, and application notes for both product lines, which are used in various applications, including water level sensing, wave/tide gauging, and atmospheric pressure monitoring.
Pressure Systems, Inc.
Hampton, VA
Tel: 800-678-7226
Web: www.pressuresystems.com
Hydrant pressure recorder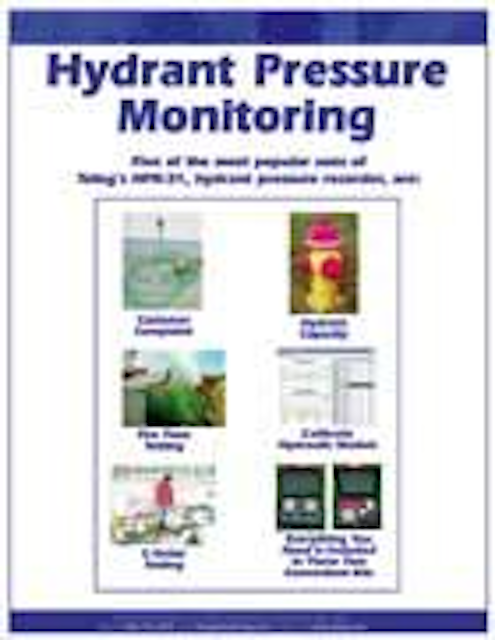 Click here to enlarge image
Telog has released an application booklet for its hydrant pressure recorder, the HPR-31. The booklet offers application information for current users as well as those considering using the HPR-31 in their water distribution system. The booklet discusses applications, features, benefits and instructions for the following: Customer pressure complaint, fire flow testing, C-factor testing, enhancing your flushing program and calibrating hydraulic models.
Telog Instruments, Inc.
Victor, NY
Tel: 585-742-3000
Web: www.telog.com
Data loggers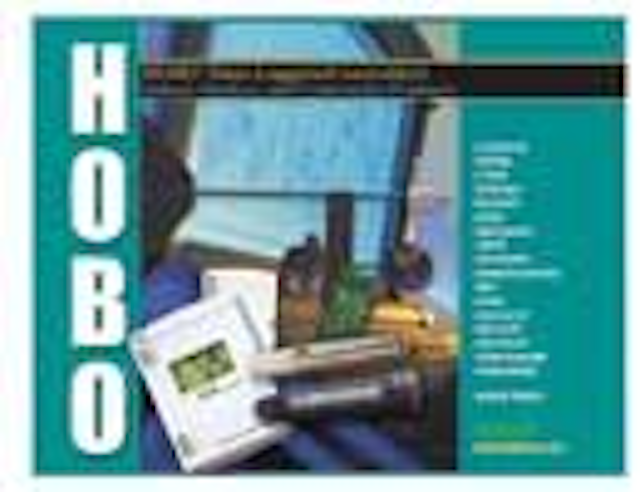 Click here to enlarge image
Onset, a provider of battery-powered data loggers and weather stations, has published 2004 product catalog. The catalog offers detailed product descriptions, specifications, and prices for its line of HOBO®/ Stowaway® data loggers, weather stations, and Tattletale® logger-controller products.
Onset Computer Corp.
Bourne, MA
Tel: 800-564-4377
Web: www.onsetcomp.com/hobo
Valve actuators
Flow-Quip has published a new four page four-color brochure on its manPower™ fail-safe rotary actuators for ball valves, butterfly valves or plug valves. The brochure discusses all of the key and optional features as well as typical applications for the actuators. The actuators are used in critical service for the protection of plants, pipelines, platforms, material storage terminals and underground storage caverns. They are manually energized to place them in service, then will fail closed (or open) when signaled.
Flow-Quip, Inc.
Tulsa, OK
Tel: 918-663-3313
Web: www.flowquip.com
Control systems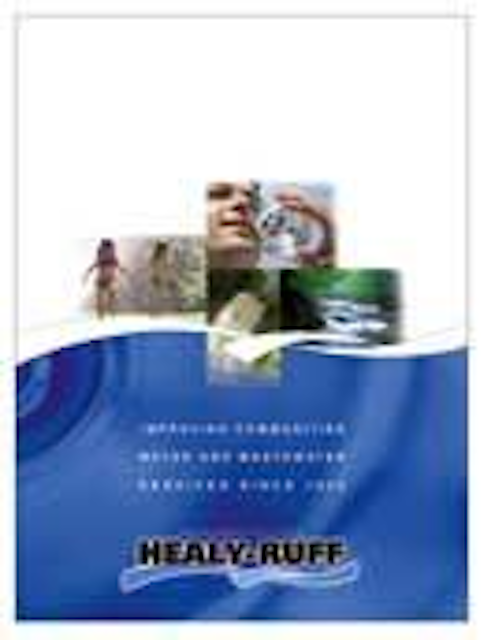 Click here to enlarge image
A new brochure from Healy-Ruff describes how the company can reduce the need for constant operator attention, improve a system's performance and reduce costs throughout a community's water and wastewater cycle. Total control solutions described in detail in the new brochure include the company's Pumpak control panels, V-PAC family of telemetry controls, Systemanager SCADA software, professional services and WorkSite Web-based system monitoring.
Healy-Ruff
St. Paul, MN
Tel: 651-633-7522
Web: www.healyruff.com
Instrumentation
SOR, Inc. has released version 1.1 of its product catalog on CD-ROM. The CD includes product brochures, i/o manuals, dimensional drawings, unit conversion calculator and a direct link to the company's corporate website. The company offers a line of pressure, temperature, level, and flow instrumentation for a wide variety of industries and applications.
SOR, Inc.
Lenexa, KS
Tel: 800-676-6794
Web: www.sorinc.com
Electronic products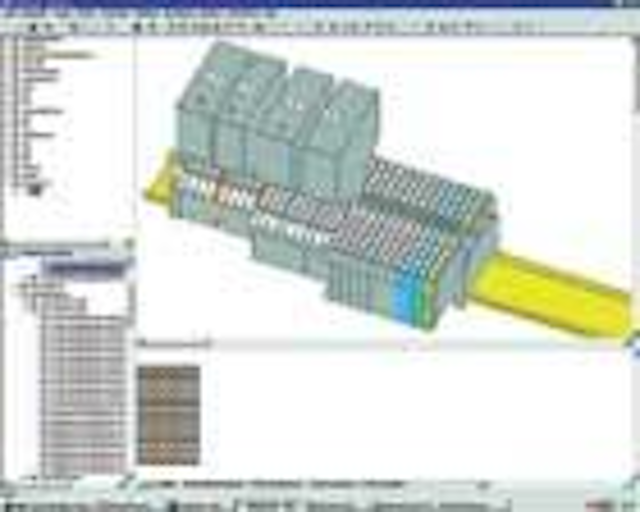 Click here to enlarge image
WAGO ProServe 4.0 is an on-line, interactive electronic product catalog with built-in capabilities for designing assemblies and marking configurations to include specific customer product information. The company's line of spring pressure connection products include DIN rail mount terminal blocks, chassis mount terminal blocks, PCB mount terminal blocks, relays, signal conditioners, power supplies, surge suppressors, the WAGO I/O System and more.
WAGO Corp.
Germantown, WI
Tel: 800-346-7245
Web: www.wago.com
Germantown WI 53022