NEW PRODUCTS
Norman Noe offers a brass relief valve designed to solve the problem of pumping water directly into a water system when a water storage tank is off line during emergencies or maintenance.
Jul 1st, 2004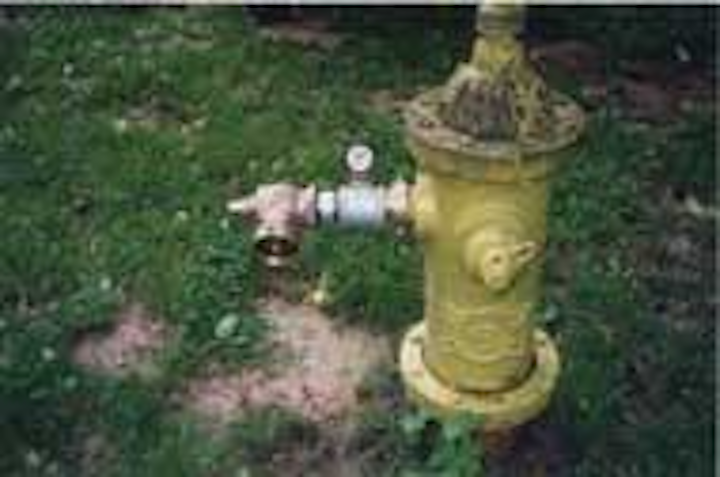 Brass relief valve
Click here to enlarge image
Norman Noe offers a brass relief valve designed to solve the problem of pumping water directly into a water system when a water storage tank is off line during emergencies or maintenance. The valve is installed on a fire hydrant and is preset at 65 psi but can be adjusted from 1-120 psi. The valves have a brass body, 2 1/2'' ASE brass fire hydrant adapters and a pressure gauge.
Norman Noe Co.
Nineveh, IN
Tel: 317-933-2274
Web: www.normannoewatertankinspection.com
Multi-actuator controller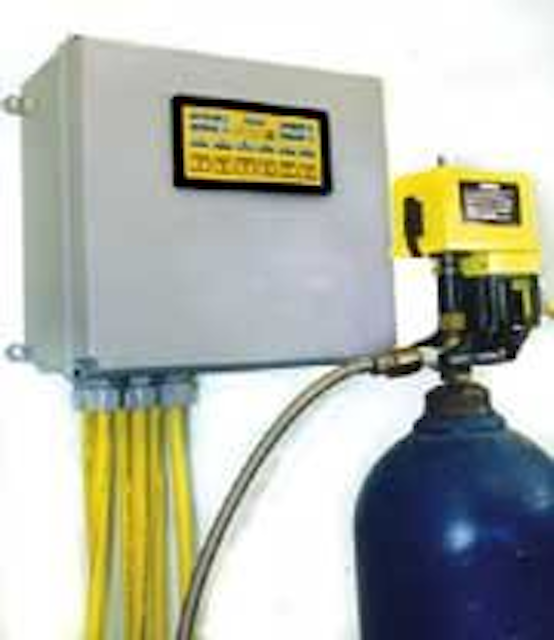 Click here to enlarge image
Halogen Valve Systems' Hexacon control system closes Chlorine and SO2 cylinder and ton container valves in less than one second when activated by leak detectors, earthquake sensors, and local or remote "panic buttons." The controller is a battery operated computer based system that handles up to six Eclipse Actuators. Operators need not enter a toxic atmosphere to shut off a chlorine leak. All Fire Codes recognize and approve the "automatic-closing fail-safe shutoff valve" system in lieu of a scrubber treatment system.
Halogen Valve Systems
Irvine, CA
Tel: 877-476-4222
Web: www.halogenvalve.com
RO membrane
Click here to enlarge image
FilmTec, a subsidiary of Dow Chemical, has introduced the FilmTec™ SW30XLE-400i element, a reverse osmosis (RO) membrane with a low energy requirement for use in seawater desalination applications. The element delivers the highest actual active area of any seawater RO membrane with the highest integrity element construction. Research and design have resulted in improved membrane properties and advances in element construction, setting a new benchmark in the trade-off between high rejection and low energy use.
Dow Chemical Co., Liquid Separations
Midland, MI
Tel: 800-447-4369
Web: www.filmtec.com
Restraining glands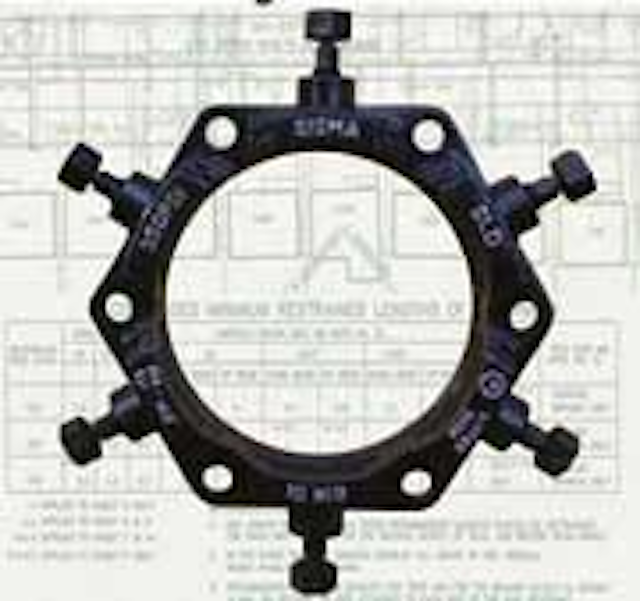 Click here to enlarge image
Sigma Corp. has incorporated a special feature for its wedge-action restraining glands. The Sigma One-Lok Model SLD, used to restrain ductile iron pipe to a mechanical joint outlet, uses different contoured wedge segments for each specific pipe O.D. for the entire range of 3" through 48" nominal assemblies. The Model SLC, wedge-action restraint for PVC pressure pipe to a mechanical outlet, also offers different individually contoured wedge inserts for each PVC pipe O.D. to handle 4" through 24" PVC installations.
Sigma Corp.
Cream Ridge, NJ
Tel: 800-999-2550
Web: www.sigmaco.com
Test strips
Industrial Test Systems' DPD-1 ReagentStrip for Free Chlorine offers users a new, more convenient delivery system for DPD. With the new system, there are no more tablets to crush, powders to spill, glass ampoules to break, or dispensers that release irritating dust. All required reagents are measured and impregnated on a test strip pad. Users can simply dip the strip into a 10 ml water sample for 20 seconds with a back and forth motion, remove, discard the strip, and immediately read in the chlorine meter.
Industrial Test Systems, Inc.
Rock Hill, SC
Tel: 800-861-9712
Web: www.sensafe.com
Profibus electrical interface
A new Profibus Electrical Interface, designed for fiber optic Profibus links, has been introduced by Weed Fiber Optics. Recently tested and certified by the Profibus Interface Center, the new 2C22 module complies with all Profibus-DP wire network standards. The module fully supports fiber optic transmissions of Profibus-DP signals that use Weed Instrument EOTec 2000 optical systems. The module features a low-profile DIN-Rail-mountable housing for compact system assembly.
Weed Instrument Fiber Optics Div.
Round Rock, TX
Tel: 512-434-2850
Web: www.weedinstrument.com
Pressure transducers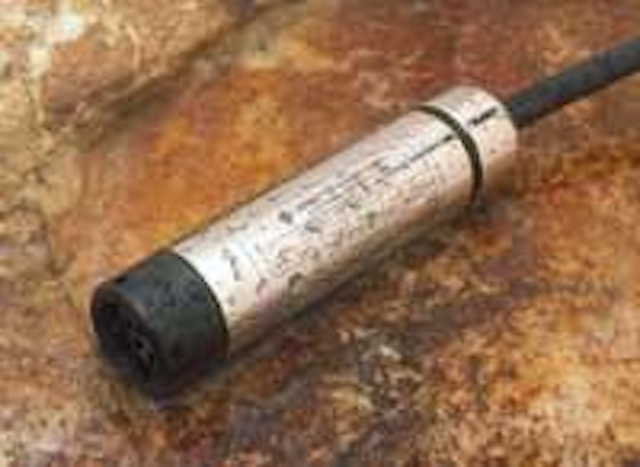 Click here to enlarge image
Pressure Systems, manufacturer of KPSI™ Level and Pressure Transducers, has introduced a new line of transducers that enables programmable adjustment of the pressure range in the field. In addition, the transducers offer improved thermal compensation, increasing overall accuracy up to ±0.25% Total Error Band (TEB) over the entire compensated temperature range of the transducers. The new Series 740 line of transducers incorporates Application Specific Integrated Circuit (ASIC) technology that facilitates field re-ranging of the transducer output through the attached cable by a factor of up to 10:1, while minimizing the effect on total accuracy.
Pressure Systems, Inc.
Hampton, VA
Tel: 800-678-7226
Web: www.pressuresystems.com
Static injection mixer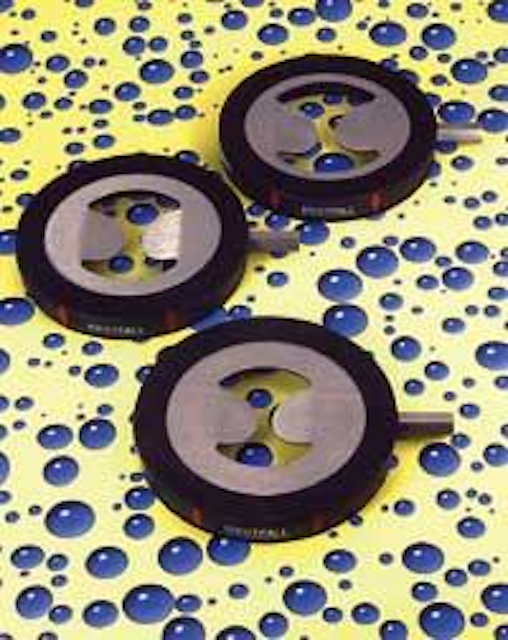 Click here to enlarge image
Westfall Manufacturing has introduced a low-cost static injection mixer that eliminates the need to inject upstream and features a short laying length. The mixer is a fixed plate that installs in-line and into which one or more fluids are injected and mixed by a combination of alternate vortex shedding and intense shear zone turbulence. The mixer achieves greater than 98% injected fluid dispersion within 10 diameters downstream from the mixer. It is available in 2'' to 72'' diameter sizes and can be manufactured from PVC, FRP, 316 SS, titanium, Hastelloy®, carbon fiber and other materials.
Westfall Manufacturing Co.
Bristol, RI
Tel: 888-928-3747
Web: www.westfallmfg.com
Stormwater screening
JWC Environmental's new StormMonster™ is a band screen designed for installation on the pre-weir side of wastewater channels or combined sewer overflows. The screen's "dogleg" orientation allows and intermediate change in pane direction, providing increased hydraulic capacity and enhancing reliability during periods of high flow and high solids loading. The new geometry submerges more of the screening curtain providing greater open area.
JWC Environmental Inc.
Costa Mesa, CA
Tel: 800-331-2277
Web: www.jwce.com
Electric submersible pumps
Godwin has expanded its line of Sub-Prime electric submersible pumps to include a range of dewatering, trash, sludge and slim line models. Available in 1/2 to 90 horsepower, the pumps handle flows to 5000 gpm, heads to 375 feet and solids handling to 3.2'' in diameter. The latest addition to the line is the GSP60SL and GSP40SL SlimLine models. Designed for caisson dewatering applications, these new 6- and 4 hp electric submersible pumps are available in both high volume and high head models. With a maximum diameter of 7.25 inches, the units fit easily into confined spaces such as well casings.
Godwin Pumps
Bridgeport, NJ
Tel: 856-467-3636
Web: www.godwinpumps.com
Tubing pumps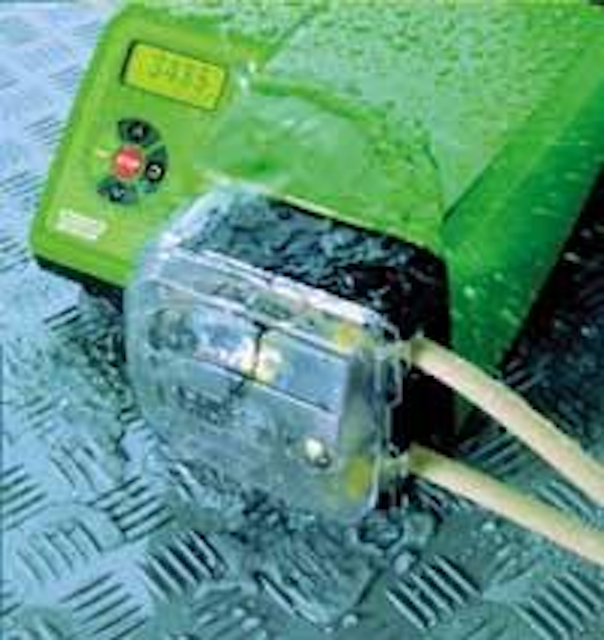 Click here to enlarge image
Watson-Marlow Bredel, a manufacturer of peristaltic pumps, has introduced its 520 NEMA 4X line of tubing pumps. With a NEMA 4X washdown sealed enclosure, the new pumps are designed for use in harsh metering conditions. Designed for accurate metering, dosing and transferring of corrosive or sensitive fluids, the series is ideal for chemical metering in water and wastewater treatment applications. For metering sodium hypochlorite, the hypochlorite only contacts the inner wall of the tube. The peristaltic tubing pump does not require internal ball/seat check valves, eliminating damage from hypochlorite crystallization.
Watson-Marlow Bredel Pumps
Wilmington, MA
Tel: 800-282-8823
Web: www.wmbpumps.com
Plastic test tees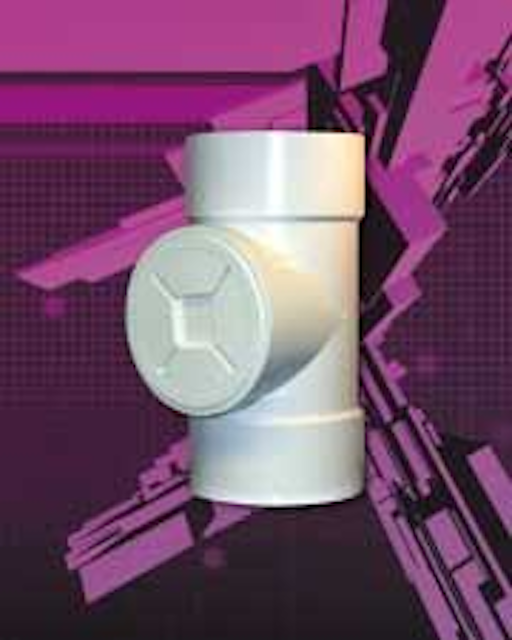 Click here to enlarge image
Plastic Trends now has available injection molded large diameter DWV Test Tees in 10'' and 12'' diameter. The Perfect Fit™ test tees are commonly used in DWV systems around columns or in raceways. They stand up to heavy-duty applications and are not as bulky and awkward as fabricated fittings. The tees are offered with both raised and countersunk plugs. The company also offers a line of PVC sewer, water and drainage fittings. Product lines include Perfect Fit™ Solvent Weld DWV, Solvent Weld Sewer, STI™ Gasketed Sewer, Gasketed Heavy Wall Sewer, Profile, C900, and more.
Plastic Trends, Inc.
Shelby Township, MI
Tel: 586-781-2700
Web: www.plastictrends.com
Motor controllers
A new line of Allen-Bradley® ArmorStart™ distributed motor controllers from Rockwell Automation incorporates an Allen-Bradley PowerFlex® sensorless vector drive, giving OEMs and system-level users speed and torque control to meet a wide range of applications. Designed for applications requiring tight speed control, the controllers are ideally suited for On-Machine™ solutions as they require no additional enclosures and feature a modular, plug-and-play design. Its pre-tested, quick-connect wiring assembly allows users to efficiently isolate problems and replace a starter or I/O locally rather than sorting through a complex panel. The controllers are equipped with a IP67/NEMA Type 4 enclosure.
Rockwell Automation
Milwaukee, WI
Tel: 800-223-5354
Web: www.rockwell.com
Variable speed drive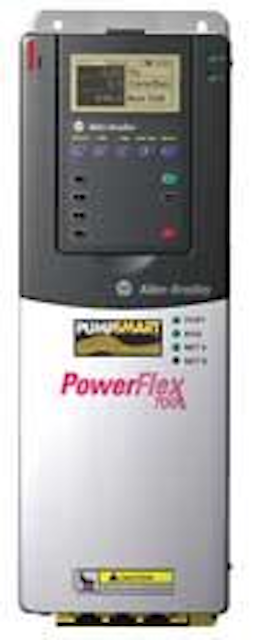 Click here to enlarge image
ITT PumpSmart Control Solutions has introduced PF 700, a variable speed drive that provides high-performance speed and torque regulation yet is only half the size of similar products. The drive is equipped with Vector Control, featuring Allen-Bradley Force Technology, which allows the drive to offer the sort of low speed power and performance only previously available from DC drives. This enables the drive to regulate motor speed to an accuracy of 0.001 percent over a wide operating speed range while also offering industry leading torque regulation.
ITT PumpSmart Control Solutions
Seneca Falls, NY
Tel: 315-568-7122
Web: www.www.itt.com
MBBR system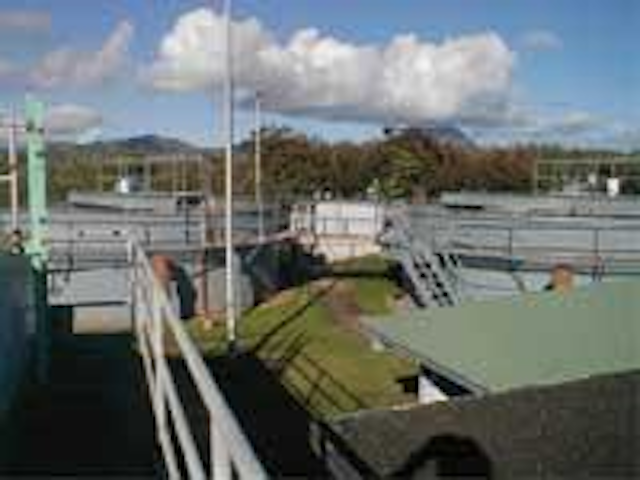 Click here to enlarge image
The Kaldnes Moving Bed™ Biofilm Reactor (MBBR) was chosen for the upgrade of a wastewater treatment plant at Poipu, Hawaii. Effluent from the plant is now used for golf course irrigation for an 18-hole golf course that requires roughly 1 mgd. The MBBR is a standalone fixed-film treatment process using plastic carrier elements, sieves and a Kaldnes Medium Bubble Aeration System to grow the bacteria required for degrading organic material and ammonia contained within the reactor.
Kaldnes North America Inc.
Providence, RI
Tel: 401-270-3898
Web: www.kaldnes.com
Enterprise management
Avantis, a unit of Invensys, has released its Global Enterprise Asset Management (EAM) solution for delivering decision support information across the enterprise. Release 4.0 enables enhanced asset management capability for enterprises that span multiple locations and geographies, supporting business units that operate both autonomously and collaboratively within the global enterprise.
Avantis
Burlington, Ontario
Tel: 888-282-6847
Web: www.avantis.net
Firmware upgrade
Cellnet by Atos Origin has announced the release of the 416-G firmware upgrade for the UtiliNet radio product line (Series II and IIB). The new firmware has been optimized to improve network communication speed. Other new features are included in the new firmware upgrade. The upgrade is free to existing UtiliNet customers.
Cellnet by Atos Origin
Alpharetta, GA
Tel: 678-258-1500
Web: www.atosorigin.com
Sensor controller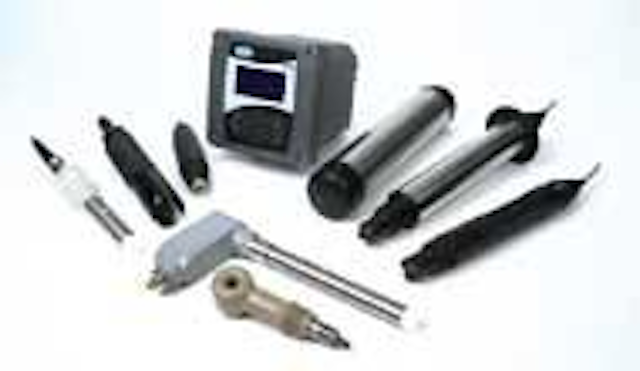 Click here to enlarge image
Hach has introduced the new sc100 Controller and its growing family of compatible digital sensors. The standardized controller accepts multiple probes, so operators see minimized components and simpler installation, setup, training, and maintenance. The controller accepts any two sensors – in mix-or-match arrangement – from the selection of Hach digital sensors now available, including those for pH, ORP, conductivity, dissolved oxygen, and turbidity. Each sensor is designed for simple 'plug and play' connection, ready for deployment without special cabling, configuration or software. Water treatment process operators can connect two Model 1720E Low-Range Turbidimeter sensors, or one Model 1720E and one pH sensor, to a single sc100 Analyzer. Similarly, operators monitoring various stages of wastewater treatment can use Hach LDO™ Dissolved Oxygen (DO) Probes and/or pH and ORP sensors.
Hach Co.
Loveland, CO
Tel: 800-227-4224
Web: www.hach.com
Pump guide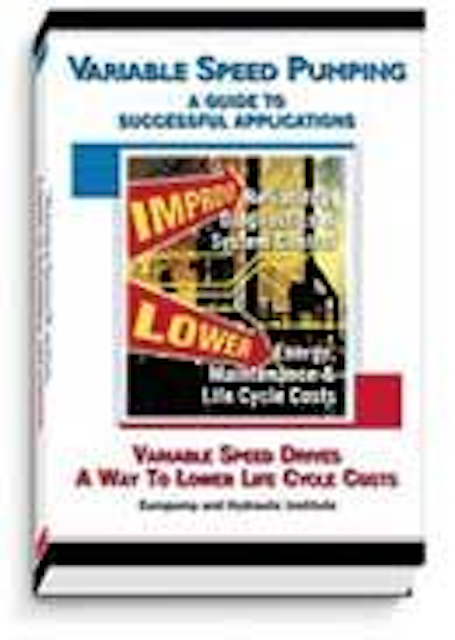 Click here to enlarge image
The Hydraulic Institute and Europump have published a new guide for designing, specifying and operating successful variable speed pumping systems for lowering energy, maintenance and life cycle costs. Entitled Variable Speed Pumping: A Guide To Successful Applications, the book was developed for plant owners and designers as well as pump, motor and drive manufacturers and distributors.
Hydraulic Institute
Parsippany, NJ
Tel: 973-267-9700
Web: www.pumps.org
Laboratory analyzers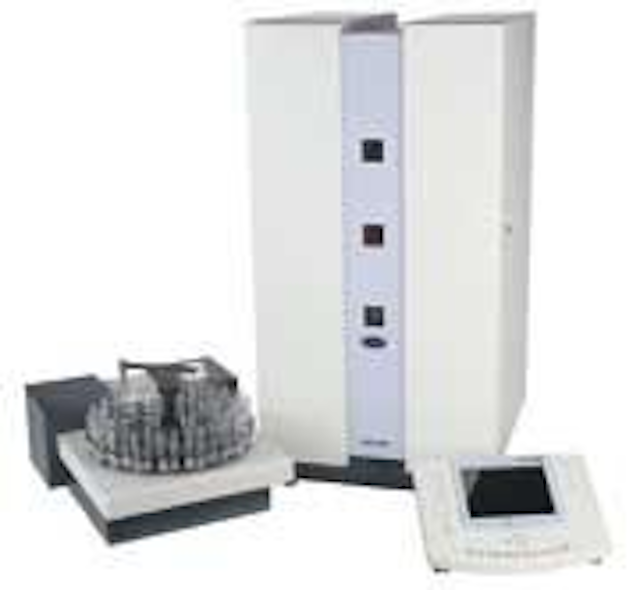 Click here to enlarge image
Sample digestion is time-consuming, expensive, and impractical for large sample runs such as those needed in wastewater and industrial applications. Additionally, digestion consumes bench space, necessitates fume hoods, and requires measurement of hazardous reagents. Lachat's new IL500P and IL500N analyzers eliminate all these problems. Designed for the wastewater market, but used in other areas of water analysis, the IL500 automatically digests water samples with particulates up to 1 mm in diameter, and then analyses them for the unattended determination of orthophosphate and total phosphorus or inorganic and organic nitrogen in aqueous samples.
Lachat Instruments
Loveland, CO
Tel: 800-247-7613
Web: www.lachatinstruments.com
Titration workstation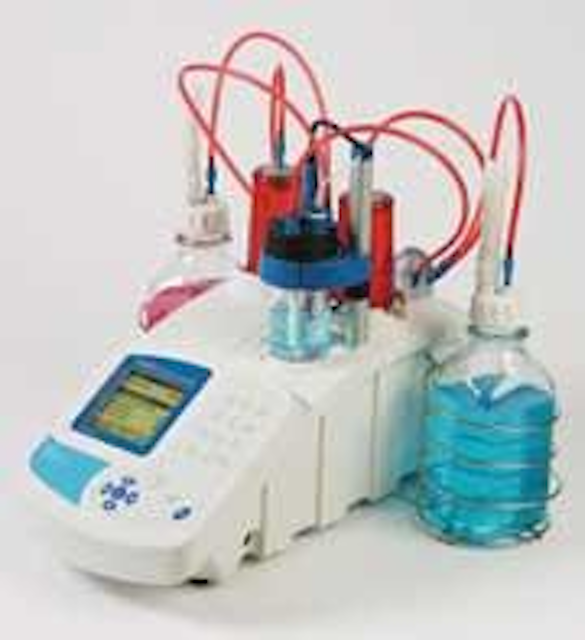 Click here to enlarge image
The TitraLab® 870 is the latest in a line of workstations from Radiometer Analytical. It combines a conductivity meter, biburette titrator, and pH/ISE meter into a compact system. It is suitable for water/wastewater analyses and samples that require direct pH and conductivity measurements along with titrations. Features include EPA approved methods, preprogrammed methods, GLP traceability, data storage, and automated analysis. On-screen text prompts guide users through analysis and maintenance. The instrument is capable of sequential and repeat analyses, ideal for pH and conductivity testing followed by a titration in the same beaker. Titration allows testing for several key water/wastewater parameters, including alkalinity, hardness, chloride, and oxygen demand.
Radiometer Analytical
Loveland, CO
Tel: 800-998-8110
Web: www.radiometer-analytical.com
Expansion joint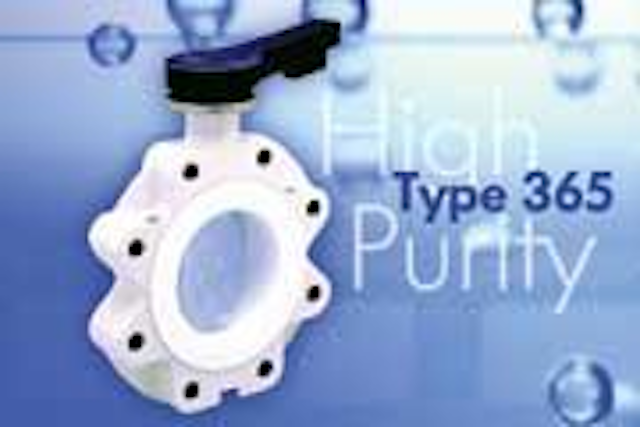 Click here to enlarge image
Designed to provide a simple engineering solution to the problem of expansion and contraction in outdoor piping systems exposed to harsh environmental elements, George Fischer Sloane has introduced a new Expansion Joint in PVC and CPVC. Typical applications include water intake systems, waste lines, manifold systems, or any outdoor application where the air or fluid can experience a 30 degree shift in temperature.
George Fischer Sloane, Inc.
Little Rock, AR
Tel: 800-423-2686
Web: www.sloane.georgefischer.com
Electric motors
Baldor has released a new line of DirtyDutyWD® washdown duty electric motors, especially designed for the most severe and corrosive applications in the processing industry, and extreme applications that require intense high-pressure washdown. The new motors feature an all-new exterior surface coating that is bonded to its steel frame, cast iron endplates, conduit box, lid and base. This new coating is impervious to high pressure, extreme temperatures and caustic chemicals that can deteriorate painted motor components.
Baldor Electric Co.
Fort Smith, AR
Tel: 479-646-4711
Web: www.baldor.com
Storm drain markers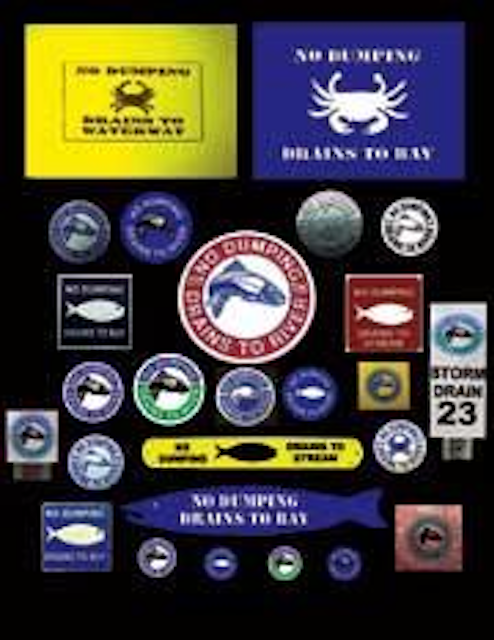 Click here to enlarge image
Almetek Industries, a manufacturer of signs and ID marking systems, is now offering a line of storm drain markers. These markers are used to provide warning that items dumped into storm drains flow directly into area waterways. The markers are affixed to storm drain inlets and street gutter catches.
Almetek Industries, Inc.
Hackettstown, NJ
Tel: 908-850-9700
Web: www.almetek.com
Cranes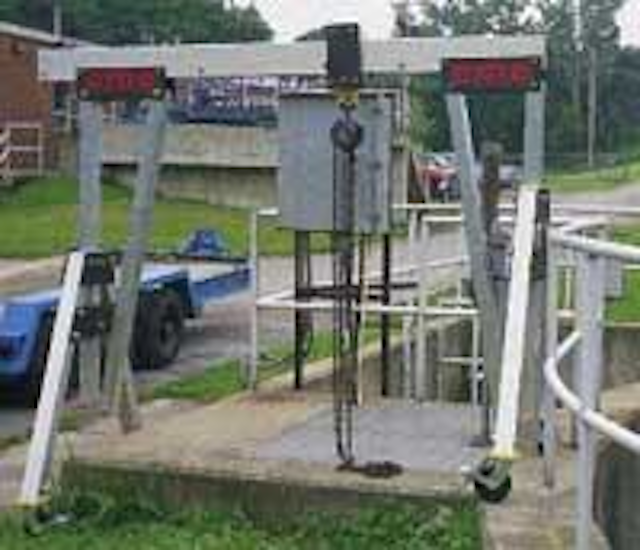 Click here to enlarge image
eme's all aluminum alloy Gantry Cranes are lightweight, easily moved and assembled by one or two people. They are corrosion resistant and suited for environments found in water and wastewater plants. Weighing just 156 to 300 lbs. (depending upon model) the units can be assembled in remote locations. The hollow beam design allows operators to assemble units from 'the ground up' without the need for any type of rigging equipment.
eme
Fort Erie, ON
Tel: 888-679-5283
Web: www.easilymovedequipment.com
Bar screens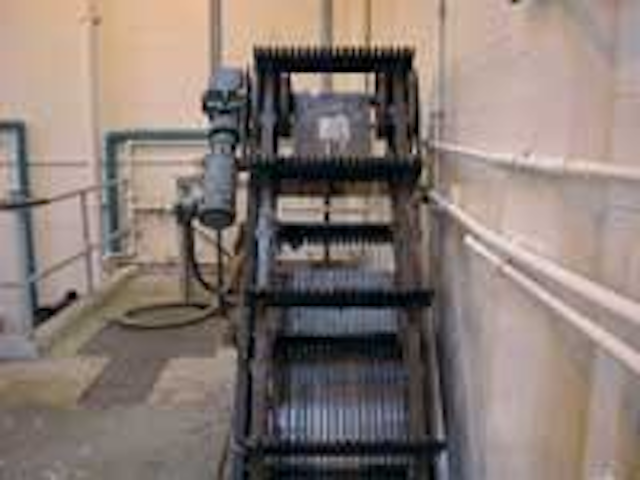 Click here to enlarge image
Duperon has developed the FlexRake™ for customers who wanted an automatic, continuous-cleaning mechanical bar screen product that is flexible, requires no operators and little to no maintenance. The device is designed to "flex" around and remove large debris that can weigh over 1,000 pounds. Additionally, the company's unique FlexLink™ technology has eliminated the need for massive frame installation and extensive onsite engineering.
Duperon Corp.
Saginaw, MI
Tel: 800-383-8479
Web: www.duperon.com
Filtration media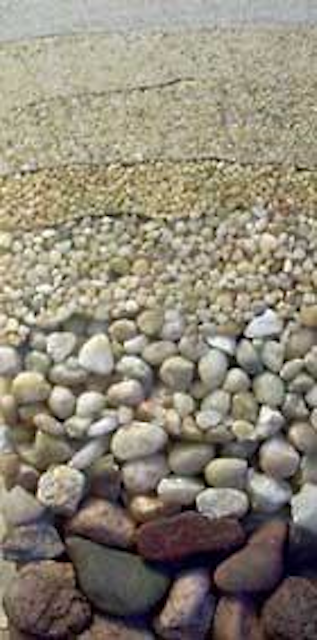 Click here to enlarge image
Fairmount Minerals offers a variety of filtration sands and gravels. Its facilities, Best Sand in Chardon, OH, and Wedron Silica in Wedron, IL, have been producers of high quality filtration media for decades. All media is thoroughly washed and dried to insure the purist sands and gravels.
Fairmount Minerals
Chardon, OH
Phone: 800-237-4986
Web: www.fairmountminerals.com
Control valves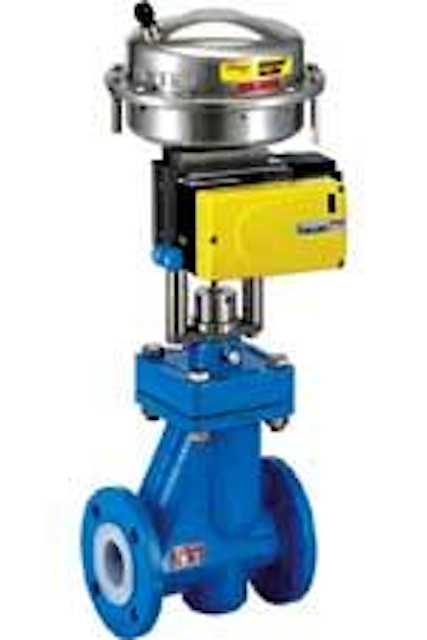 Click here to enlarge image
Flowserve Kämmer's 032000 and 132000 Series control valves are suitable for chemical feed systems in water treatment plants. Both valve series are noted for their ability to withstand acid corrosion while providing precision control. The 032000 Series is machined from barstock elastomer materials, including PP, PVC, and PVDF, and is available in 1/2" to 2" sizes.
Flowserve Kämmer
Pittsburgh, PA
Tel: 412-787-8803
Web: www.flowserve.com
Paperless recorder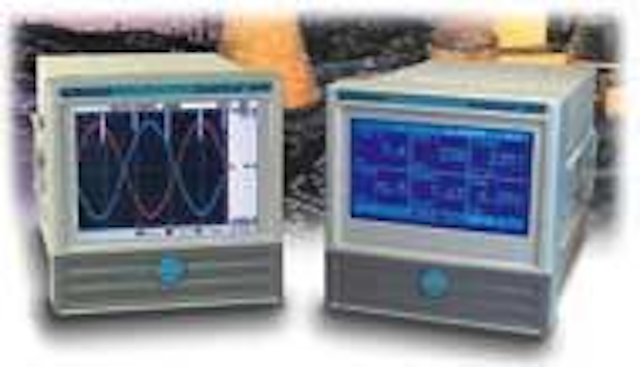 Click here to enlarge image
The Monarch Data-Chart® 2000 Paperless Recorder has a brilliant 5.6" Active Matrix color LCD display that enhances review of information. Touchscreen control provides for setup, recorder functions, and data review on-site. Universal, isolated 2, 4, 6 or 12 channel input modules measures a wide range of DC voltage, DC current, RTDs and thermocouples with 0.05% voltage accuracy and high resolution.
Monarch Instrument
Amherst, NH
Tel: 800-999-3390
Web: www.monarchinstrument.com
Aeration system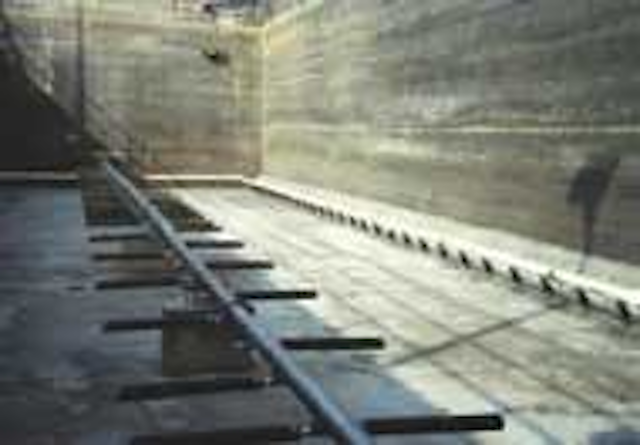 Click here to enlarge image
Red Valve's new aeration system combines coarse and fine bubble aeration components to improve mixing and oxygen transfer while preventing backflow and clogging. The custom-designed system uses the Tideflex™ TFA coarse bubble diffuser to provide rapid mixing while the Red Valve Fine Bubble Air Diffuser provides the fine bubble supplement. This increases transfer efficiency due to the entrainment in higher velocity loops created by the TFA.
Red Valve Co. Inc.
Carnegie, PA
Tel: 412-279-0044
Web: www.redvalve.com
Winches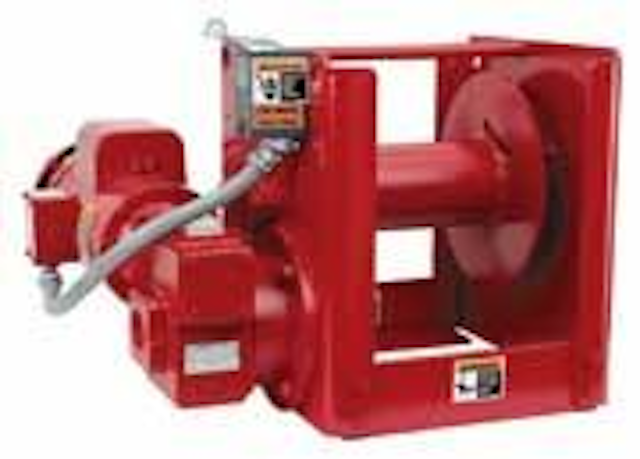 Click here to enlarge image
Thern winches give wastewater plant operators continuous control when placing or relocating surface aerators. As one winch pulls the aerator pontoon, other winches pay out cable at a rate to maintain tension and control. The system also makes it easier to reel the aerators in for periodic maintenance. The winches are available in a wide range of capacities, hand or power operation, spur or worm gear designs, clutch and braking options and materials and finishes to withstand specific environmental conditions.
Thern, Inc.
Winona, MN
Tel: 800-843-7648
Web: www.thern.com
Cleaning systems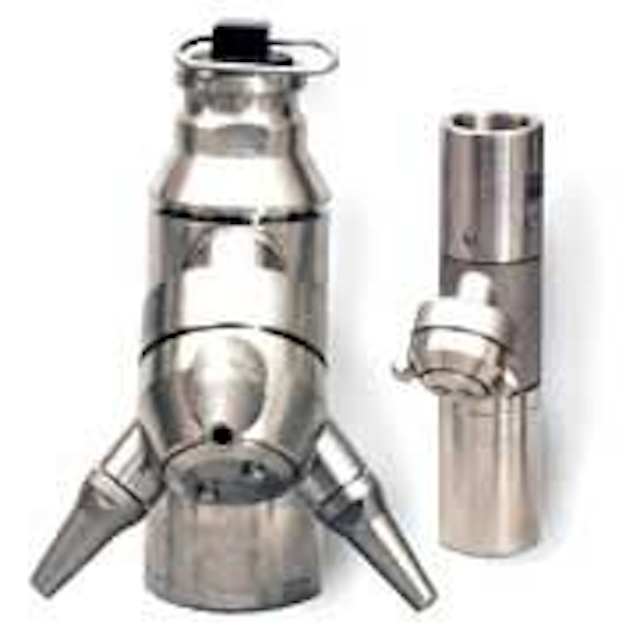 Click here to enlarge image
Gamajet Cleaning Systems has recently introduced new versions of its Gamajet 4 and Gamajet 5 Impingement Cleaning Machines. Modified to provide a 180 degree spray pattern, the units can be positioned over the top of virtually any sized open-topped tank or vessel and will scour away the toughest of residue without overspray. A choice of nozzles, turbines and gear speeds allows the user to customize each unit to meet specific cleaning applications.
Gamajet Cleaning Systems Inc.
Devault PA
Tel: 610-408-9940
Web: www.gamajet.com
Water main cleaning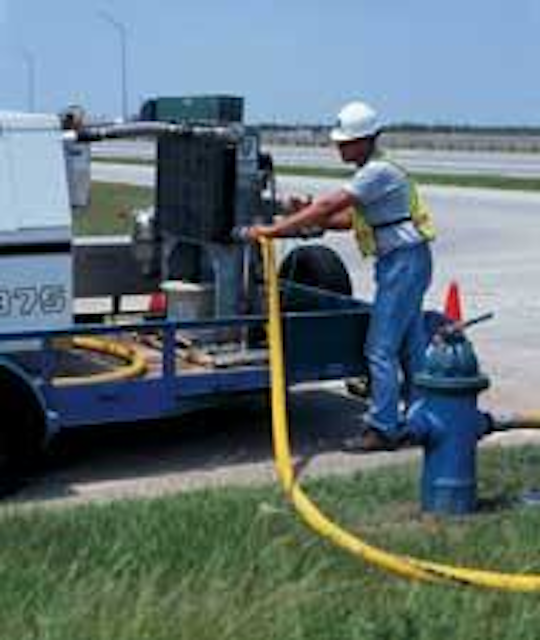 Click here to enlarge image
The Air Scouring™ system from Severn Trent is a patented water main cleaning method. Clean, compressed air alternated with slugs of water are injected into the line, removing sediment and mineral scale. Flow capacity and water quality are improved. No pigging or disassembly of the water main is necessary. A demo of the process can be viewed at www.severntrentservices.com
Severn Trent Services
Fort Washington, PA
Tel: 215-997-3760
Pipeline inspection Envirosight®
The SwitchBack pipeline inspection trailer from Envirosight® has all the ergonomic attributes and technical sophistication of a full-blown inspection vehicle at a fraction the cost. The trailer includes a digital studio and enough power to operate equipment and lights all at once. Features include a tiered diamond-plate cargo bench, robust drawer cabinets, and a climate-controlled digital studio with your choice of rack-mounted control, display and recording equipment. A large picture window allows direct visual communication between operator and technician. An onboard generator, available in ratings of 4 kW and higher, runs all day on a single tank of fuel. An integral 15-gallon washdown system keeps equipment clean. Sizes start at 7' x 10'.
Envirosight® LLC
Randolph, NJ
Tel: 973-252-6700
Web: www.envirosight.com
Pipe cutting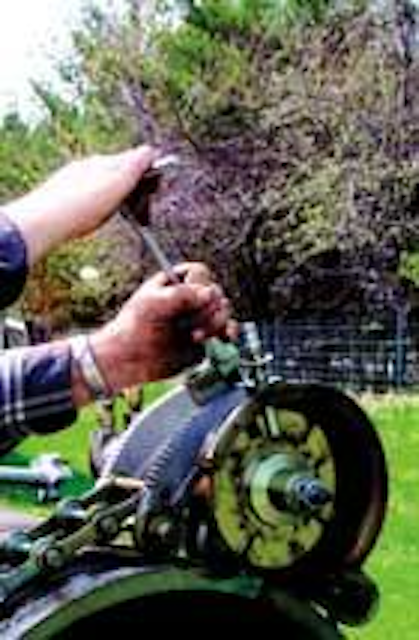 Click here to enlarge image
The Wheeler PipeMaster is a portable machine for cutting 6'' - 48'' CI, DI, & steel pipes. It includes a cutting head with internal gears which operate the driving wheels and spin the shaft, which turns the cutting blade. An external operating lever controls the start/stop drive wheels operation. The cutting blades are fully enclosed for safety with either diamond plated edge or tungsten carbide tips. The cutting head is held on the pipe with a tensioned roller chain. The unit has a hydraulic motor which drives the gear system requiring an external hydraulic power source.
Wheeler Mfg., Division of Rex Intl USA Inc.
Ashtabula, OH
Tel: 800-321-7950
Web: www.wheelerrex.com