PRODUCTS & SERVICES — VALVES
The coupling of Burkert's Type 8630 TOP Control System and its Type 2712 Pneumatically Operated Globe Control Valve results in a complete, intelligent process control/proportional valve system.
Feb 1st, 2004

Globe control valve

Click here to enlarge image
The coupling of Burkert's Type 8630 TOP Control System and its Type 2712 Pneumatically Operated Globe Control Valve results in a complete, intelligent process control/proportional valve system. The Type 8630 is a digitally fired positioning unit that provides on/off and continuous functionality.
Burkert
Irvine, CA
Tel: 949-223-3100
Web: www.burkert-usa.com
Insertable valve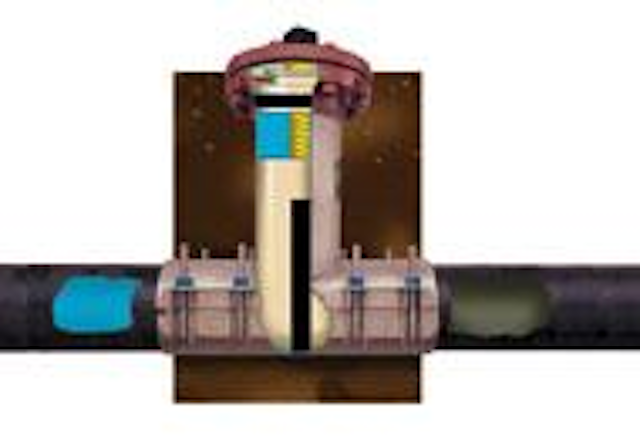 Click here to enlarge image
The Hydra-Stop Insta-Valve from Severn Trent is an insertable valve. Installation is as easy as 1, 2, 3. Just install the fitting, make the tap, then install the valve. The valve eliminates many of the problems commonly associated with valve insertion. Once installed, it operates with a standard valve key. The revolutionary valving system works with existing Hydra-Stop equipment or as a stand-alone system.
Severn Trent Services
Alsip, IL
Tel: 800-538-7867
Web: www.hydra-stop.com
Electronic control valve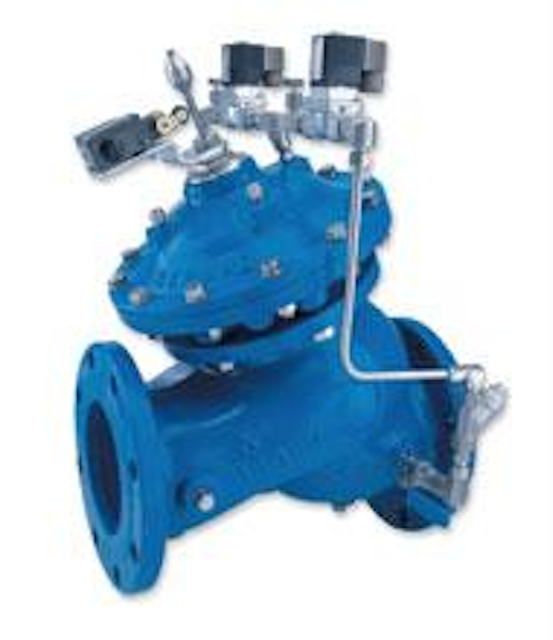 Click here to enlarge image
Bermad's Series 718 Electronic Control Valves are modulating valves that are electrically activated by signals from an electronic controller to provide pressure, level, flow, and/or temperature control. These valves combine the advantages of excellent modulating, line pressure driven hydraulic valves with the control possibilities of programmable electronic controls.
Bermad, Inc.
Anaheim, CA
Tel: 800-821-6825
Web: www.bermad.com
Wedge gate valves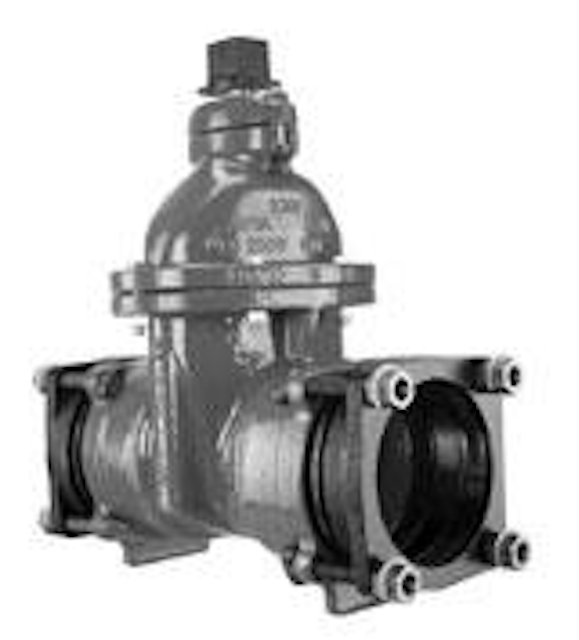 Click here to enlarge image
The Mueller 2362 Series Resilient Wedge Gate Valve incorporates a symmetrical design with refinements to enhance reliability and service life. Special features such as triple O-ring stem seals, extra-long wedge guides, polymer guide cap bearings and epoxy coating inside and out protect critical areas of the valve from damage, wear and corrosion. The valve operates at 250 psig and is hydrostatically shell tested at 500 psig.
Mueller Co.
Decatur, IL
Tel: 800-423-1323
Web: www.muellercompany.com
Limit controller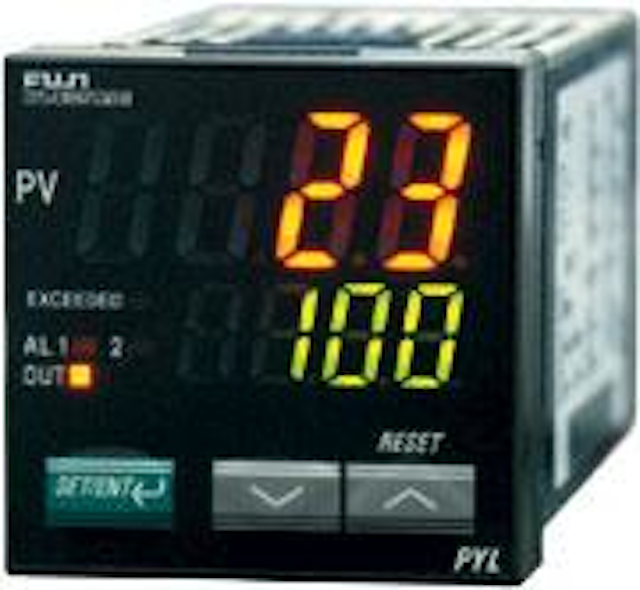 Click here to enlarge image
Fuji Electric's new PYL Limit Controller, offered by TTI, meets the Factory Mutual Research Corporation's stringent approval criteria for "temperature limit and supervisory switches". The controller can be configured either as a high-limit or a low-limit controller by the user. The PYL features universal input, a timer to clock the duration time the set-point has been exceeded, and a register to retain the maximum temperature reached.
TTI, Inc.
Williston, VT
Tel: 800-235-8367
Web: www.ttiglobal.com
Valve positioners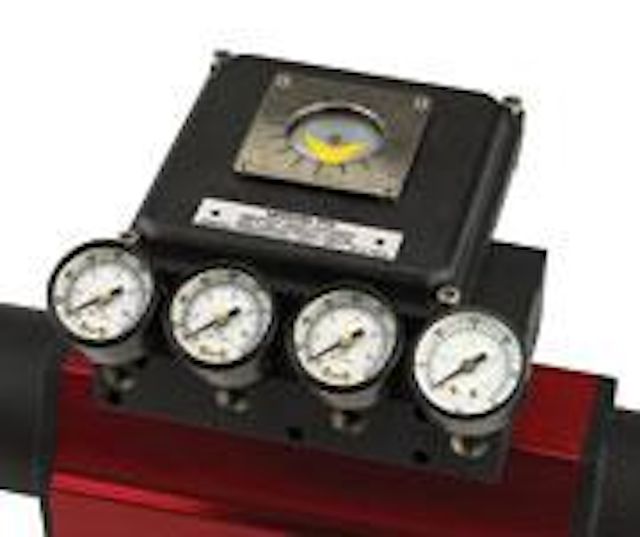 Click here to enlarge image
Asahi/America now offers the P-10 and K-10 Positioners from Westlock Controls. These low cost valve positioners are easy to calibrate and meet both NAMUR and ISO standards. The P-10 Pneumatic Positioner is a cam-characterized pneumatic valve positioner. It is designed to provide optimal performance for single and double-acting actuators in rotary or linear applications using standard pneumatic signals.
Asahi/America, Inc.
Malden, MA
Tel: 781-321-5409
Web: www.asahi-america.com
Control valve

Click here to enlarge image
Flowserve has launched a new severe service control valve, the Multi-Z. The valve is designed specifically to handle high-pressure drop applications where entrained solids are a problem. It features a multistage trim design that eliminates cavitation and provides extended trim life. The addition of a unique venturi outlet nozzle provides further trim and seat protection from high velocity, cavitation and flashing.
Flowserve Corp.
Irving, TX
Tel: 801-489-2393
Web: www.flowserve.com
Check valve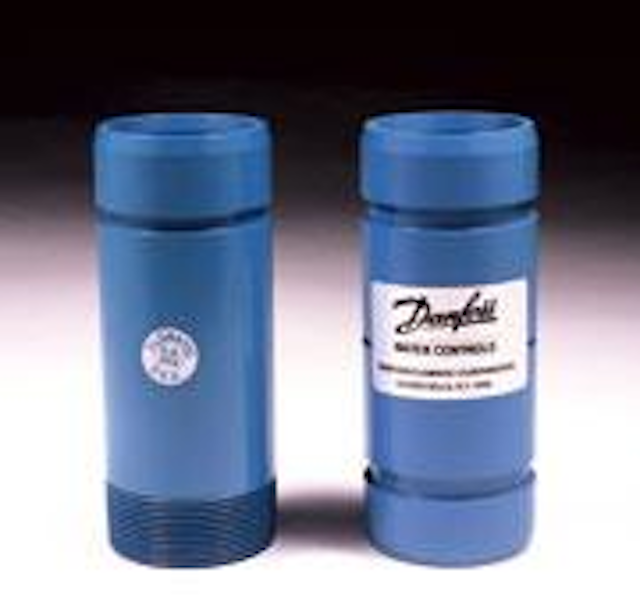 Click here to enlarge image
Danfoss Flomatic has introduced an extended size range series 80DICL Ductile Iron Check Valve and series 80S6CL Stainless Steel Check Valves in 2'' through 6'' in two different models. These new valves incorporate a patented lock type pipe connection for PVC drop pipe called Certa-Lok™, a trademark by Certain Teed Corp. The groove lock makes it easier to assemble or disassemble the pipe by hand, without special tools and eliminates extra fittings.
Danfoss Flomatic Corp.
Glens Falls, NY
Tel: 800-833-2040
Web: www.danfossflomatic.com
Proportional control valve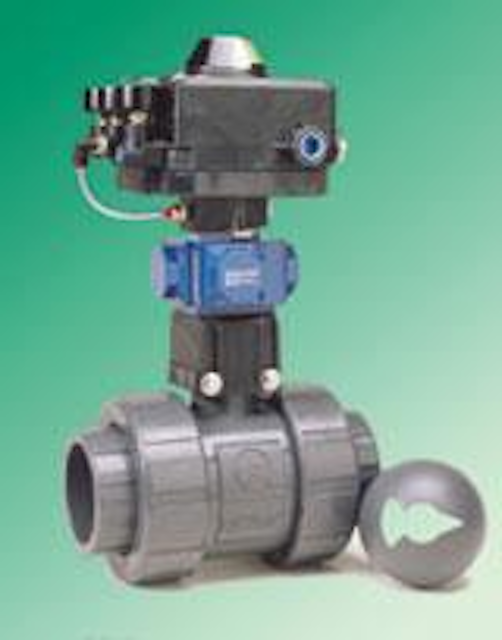 Click here to enlarge image
Hayward ProFile2 corrosion resistant, all plastic proportional control ball valves provide two linear flow curves, one for fast opening and one for slow opening. The percentage of flow through the valves with either flow curve is equal to the degree of opening. As the valves are opened or closed, the flow varies in direct proportion to the valve opening. This permits predictable, accurate control of the downstream flow rate with a 1/4 turn valve in many automated flow control applications in the water and wastewater treatment industries. Hayward Industrial Products Inc.
Hayward Industrial Products Inc.
Elizabeth, NJ
Tel: 908-351-5400
Web: www.haywardindustrial.com
Air valves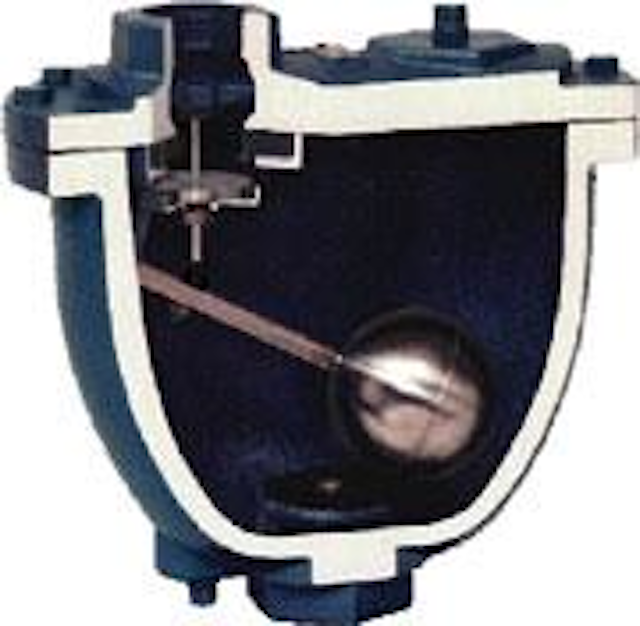 Click here to enlarge image
Val-Matic Corporation has announced an upgrade to type 316 stainless steel trim for its Air Valve Product line. Previously type 304, the upgrade will provide greater corrosion resistance especially when exposed to aggressive water. The upgrade to 316 stainless steel affects all internal components of the valve with the exception of the resilient closure member. Air Valve types include Air Release, Air/Vacuum and Combination for both water and wastewater applications.
Val-Matic® Valve and Manufacturing Corp.
Elmhurst, IL
Tel: 630-941-4672
Web: www.valmatic.com
Valve actuators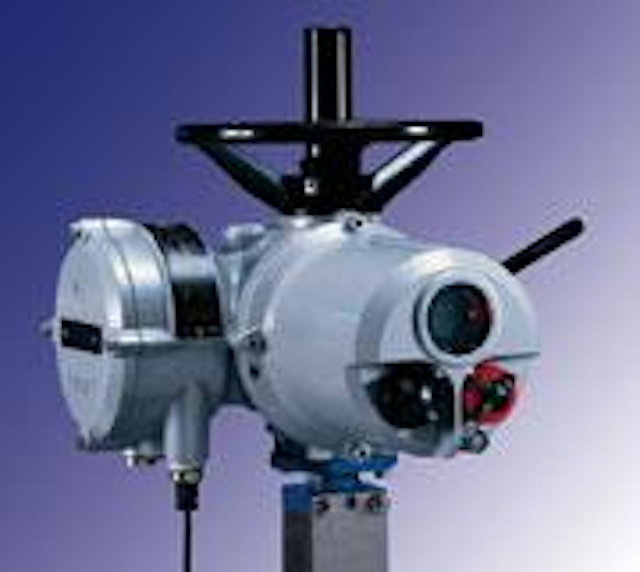 Click here to enlarge image
The new second generation of Rotork IQ electric valve actuators are designed to meet a wide range of demanding MOV requirements for water and wastewater applications. The IQ actuators provide quarter-turn operation and the IQT actuators provide multi-turn operation. The actuators can communicate in several ways and provide a wide array of important valve operation data for making predictive maintenance decisions. Operators can make field adjustments easily with the actuator's infrared setting tool, thereby avoiding the time-consuming task of having to remove actuator covers.
Rotork Controls, Inc.
Rochester, NY
Tel: 585-328-1550
Web: www.rotork.com
Adjustable chainwheels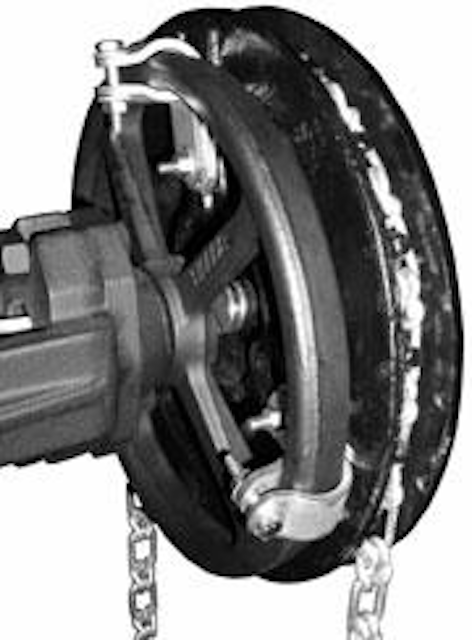 Click here to enlarge image
Ductile Iron Chainwheels from Trumbull Industries allow operation of valves in high, hard-to reach locations by means of a slight pull on the sprocket chain. Universal design allows the chainwheel to be clamped to handwheel, or pinned directly to valve stem. All chainwheels are furnished with plated steel attachment hardware for clamping to a handwheel. When a chainwheel is to be pinned to valve stem, a ductile iron bushing will be provided which can be machined to suit valve stem dimensions.
Trumbull Industries
Youngstown, OH
Tel: 330-799-3333
Web: www.trumbull-mfg.com
Butterfly valves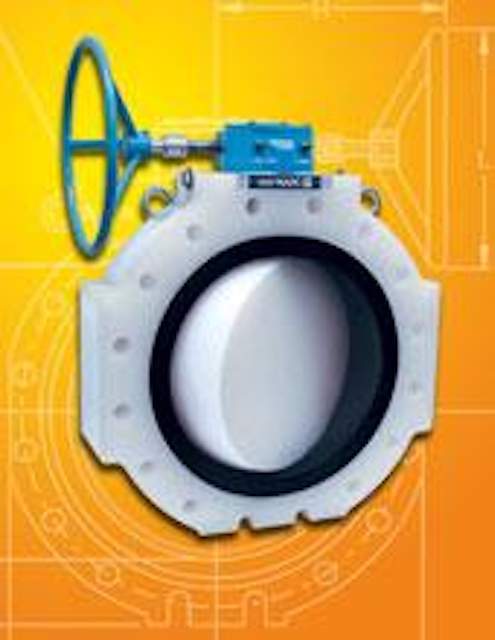 Click here to enlarge image
A new line of all-plastic butterfly valves from Hayward Industrial Products has been especially designed to be easily adapted to unique application requirements. The line features a special fabricated design that makes it feasible to make changes in the valve body that would be either impossible or prohibitively expensive with valves of standard molded construction.
Hayward Industrial Products, Inc.
Elizabeth, NJ
Tel: 908-351-5400
Web: haywardindustrial.com
Gas feed control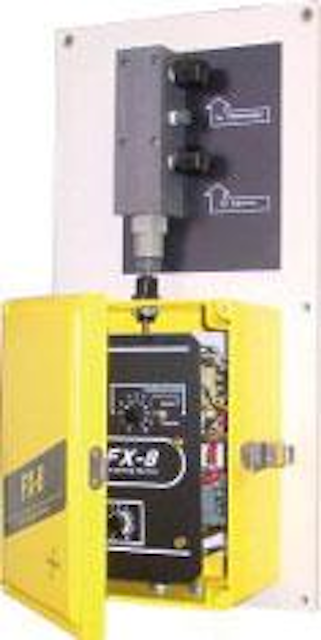 Click here to enlarge image
The FX-8 Auto Pacing Valve from Foxcroft is a gas feed control valve that can be used to automate existing or new chlorination systems. The servo constantly changes valve position to follow the input signal, which can be from a flowmeter, compound loop controller, or any 4-20 mA signal control source.
Foxcroft Equipment & Service
Glenmoore, PA
Tel: 610-942-2888
Web: www.foxcroft.com
Valve Positioner
Click here to enlarge image
The SIPART PS2 electropneumatic positioner from Siemens is used to control the final control element of pneumatic linear or part-turn actuators. The PS2 positioner moves the actuator to a valve position corresponding to the setpoint. Additional function inputs can be used to block the valve or to set a safety position. A binary input is present as standard in the basic device for this purpose.
Siemens Energy & Automation
Spring House, PA
Tel: 215-646-7400
Web: www.sea.siemens.com/ia
Ball valve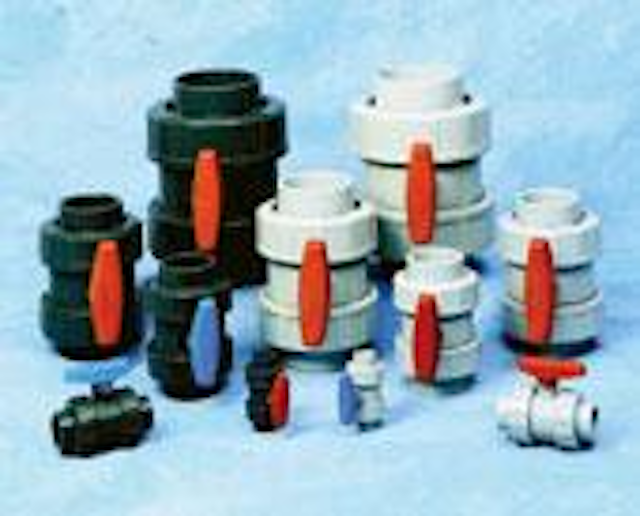 Click here to enlarge image
George Fischer Sloane has introduced the Type 375 True Union Ball Valve ideally suited for virtually any application that requires a compact, industrial ball valve in a viscous chemical or water environment. This new corrosion resistant ball valve is NSF 61 certified for potable water usage. A long-lasting 10,000 cycle life, double blocking action and minimal maintenance combine to provide the valve with excellent functionality for a diverse range of applications.
George Fischer Sloane, Inc.
Little Rock, AR
Tel: 800-423-2686
Web: www.sloane.georgefischer.com
Pump control valve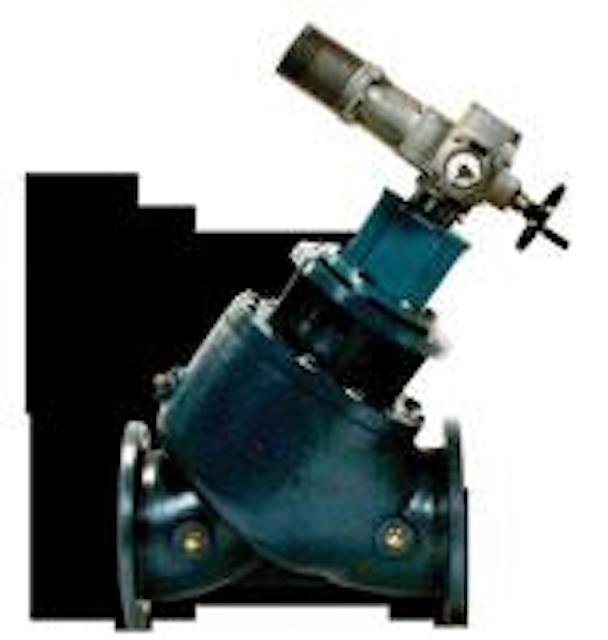 Click here to enlarge image
The GA Industries CHECKtronic® Pump Control Valve is an electric motor actuated check valve providing an adjustable opening and closing speed to control the pressure surges and waterhammer associated with normal pump operation. Its integral fail-safe "stop-check" immediately closes to prevent flow reversal upon pump failure or power outage, independent of the actuator or its controls, precluding the need for a separate check valve.
GA Industries, Inc.
Cranberry Township, PA
Tel: 724-776-1020
Web: www.gaindustries.com
Plug valves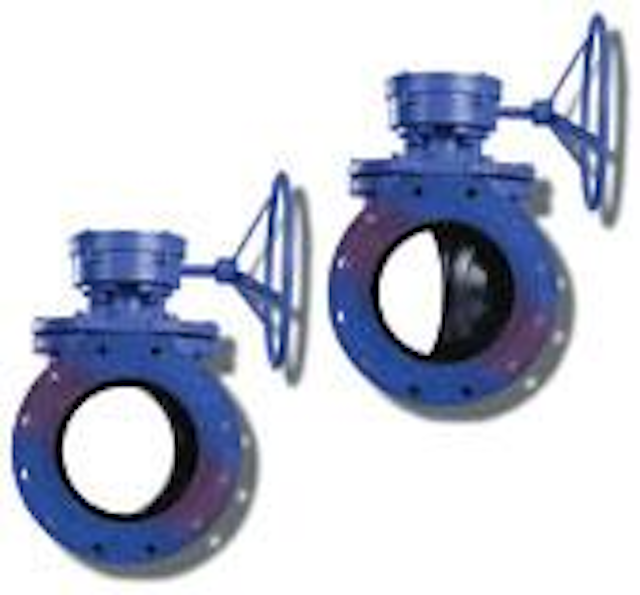 Click here to enlarge image
The Pratt Ballcentric Plug Valve, available in sizes ranging from 3" to 36", is designed specifically for wastewater applications. The round port design available on sizes 3" through 20" offers less resistance to slurry, sludge and fluid flow, resulting in better flow characteristics and less pressure drop across the valve than other types of eccentric plug valves.
Henry Pratt Co.
Aurora, IL
Tel: 877-436-7977
Multi-actuator controller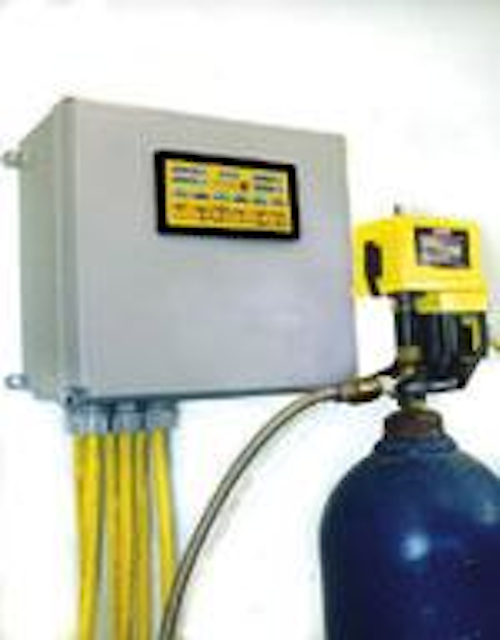 Click here to enlarge image
Halogen Valve Systems' Hexacon control system closes Chlorine and SO2 cylinder and ton container valves in less than one second when activated by leak detectors, earthquake sensors, and local or remote "panic buttons." The controller is a battery operated computer-based system that handles up to six Eclipse Actuators. Operators need not enter a toxic atmosphere to shut off a chlorine leak. All Fire Codes recognize and approve the "automatic-closing fail-safe shutoff valve" system in lieu of a scrubber treatment system. When combined with a leak detection system, this shutoff system stands guard 24 hours a day.
Halogen Valve Systems
Irvine, CA
Tel: 877-476-4222
Web: www.halogenvalve.com
Swing check valve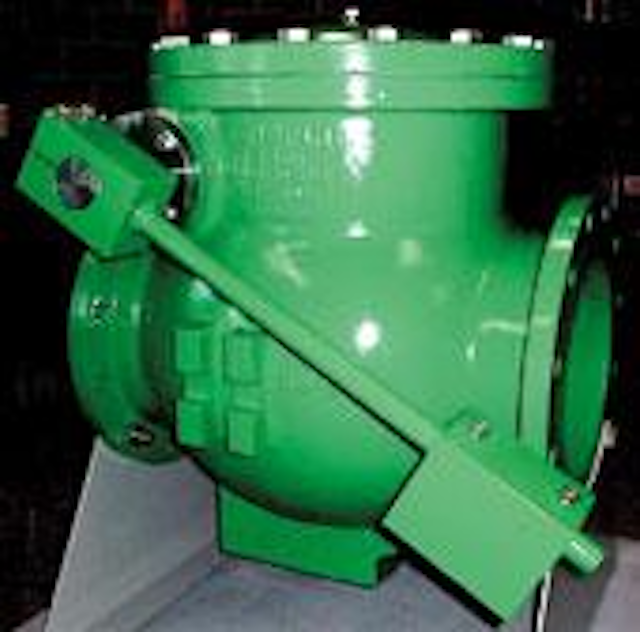 Click here to enlarge image
The ''SWC'' series Swing Check Valve from Crispin offers an AWWA C-508-01 solution for arduous line applications, including sewage and slurry. Designed with a heavy-duty pivot shaft, it is ideal for installations where back pressure can rapidly reach higher values. It accepts Air Cushion and Oil Control devices, and comes standard with a Rubber Disc seat, Buna-N Rubber O-Rings, and Stainless Steel Body Seats and End Caps.
Crispin Valve
Berwick, PA
Tel: 570-752-4524.
Web: www.crispinvalve.com
Control valves
Parker's Fluid Control Division is pleased to announce the addition of the Sinclair Collins™ SCV-100 series of process control valves to its current offerings. The series of diaphragm-operated process control valves includes models for numerous application requirements. The valves can handle steam and hot and cold liquids of temperatures between -40°F and 450°F, and can withstand pressures of up to 500 psi. They are available in two- and three-way, normally closed and normally open models. Also, cylinder-operated, manifold-mounted valves are available for applications in which manifolding multiple valves can simplify the process. Many also offer bubble-tight shut-off.
Parker Fluid Control Division
New Britain, CT
Tel: 860-827-2300
Web: www.parker.com/skinner
Check valve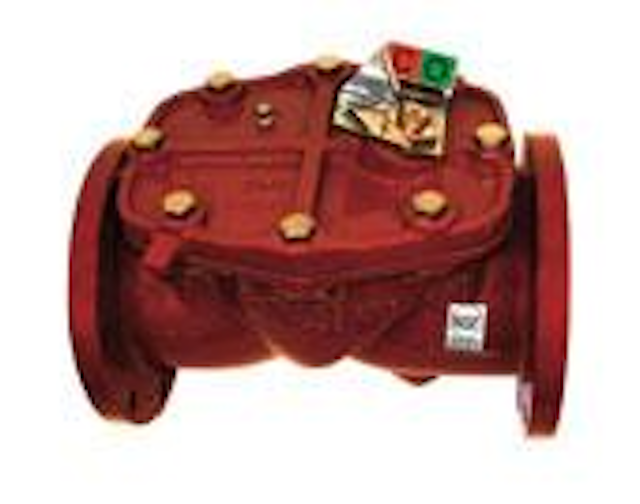 Click here to enlarge image
The American Flow Control Series 2100 Resilient Seated Check Valve is simple, durable and eliminates most problems associated with metal seated swing check valves. The series features a compact ductile iron body and bonnet. The disc is made of ductile iron encapsulated with rubber.
American Flow Control
Birmingham, AL
Tel: 800-326-8051
Web: www.acipco.com/afc.
Vortex flow control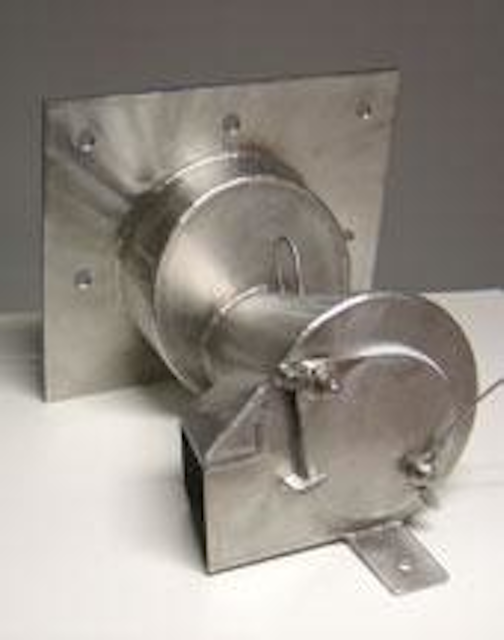 Click here to enlarge image
The Reg-U-Flo® Vortex Valve from Hydro International is a self-activating vortex flow control device that provides improved hydraulic performance over conventional flow regulators with patented features that reduce maintenance requirements. The valves harness the energy inherent in the flow field and have no moving parts and no external energy requirements. With clear openings up to 600% larger than conventional flow control devices, the risk of clogging is reduced.
Hydro International
Portland, ME
Tel: 207-756-6200
Web: www.hil-tech.com
Check valve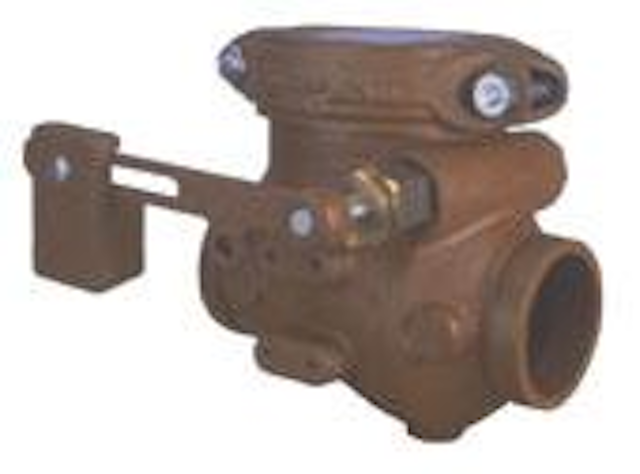 Click here to enlarge image
The Victaulic Series 317 grooved-end AWWA check valve offers water and wastewater customers with an essential component for use on the pump discharge side to prevent backflow into the pump or equipment. The valve, which is easily with Victaulic grooved couplings, transition couplings or flange adapters, features a unique coupling-cap assembly that facilitates access for reduced maintenance downtime.
Victaulic Company of America
Easton, PA
Tel: 610-559-3300
Web: www.victaulic.com
Hydrant flusher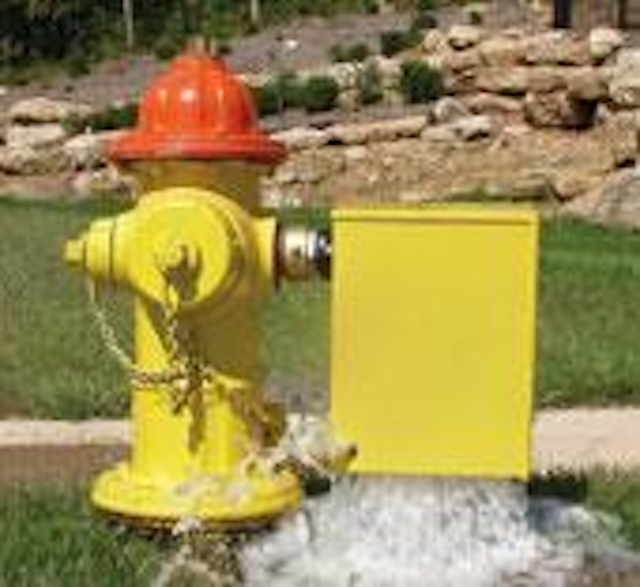 Click here to enlarge image
To keep residuals high at dead-ends automatically, Kupferle Foundry announces it's new #9700 Automatic Hydrant Flusher. The #9700 attaches to any 2 1/2" NST nozzle, and then the flushing cycle can be selected, usually at night. Man-hour savings can be realized by flushing troublesome dead-ends without sending personnel.
Kupferle Foundry Company
St. Louis, MO
Tel: 800-231-3990
Web: www.blow-offs.com