AWWA®EXHIBITOR PRODUCTS
Based on extensive research and testing of reverse osmosis membranes and water treatment system performance, FilmTec Corp. has re-engineered its FilmTec™ product line to more precisely meet customers' needs.
May 1st, 2004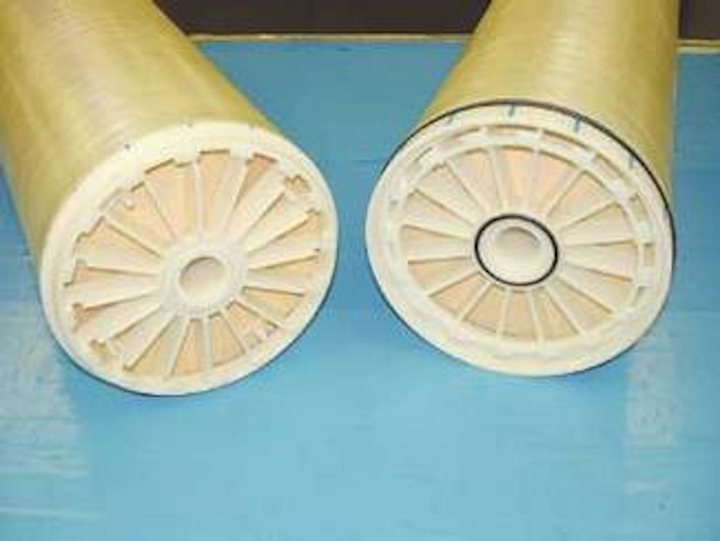 Ro membranes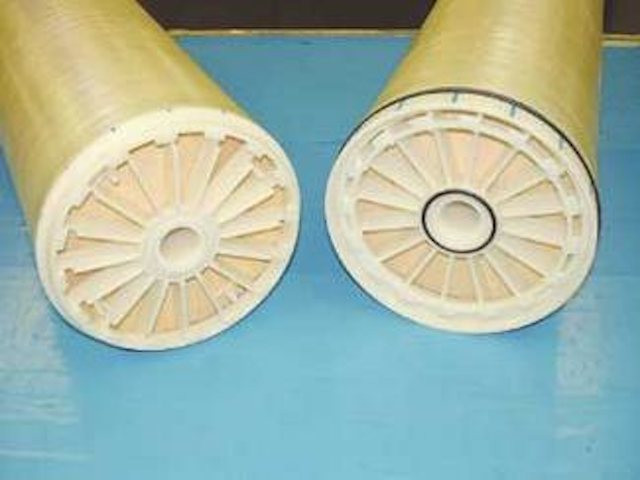 Click here to enlarge image
Based on extensive research and testing of reverse osmosis membranes and water treatment system performance, FilmTec Corp. has re-engineered its FilmTec™ product line to more precisely meet customers' needs. Current innovations include the new SW30 XLE-400i membrane, the lowest energy seawater element on the market today, and ILEC™ interlocking endcaps, patented membrane coupling technology that eliminates leakage and reduces flow resistance and pressure drop.
FilmTec Corp.
Dow Chemical Co.
Midland, MI
Tel: 800-447-4369
Web: www.filmtec.com
Chemical monitoring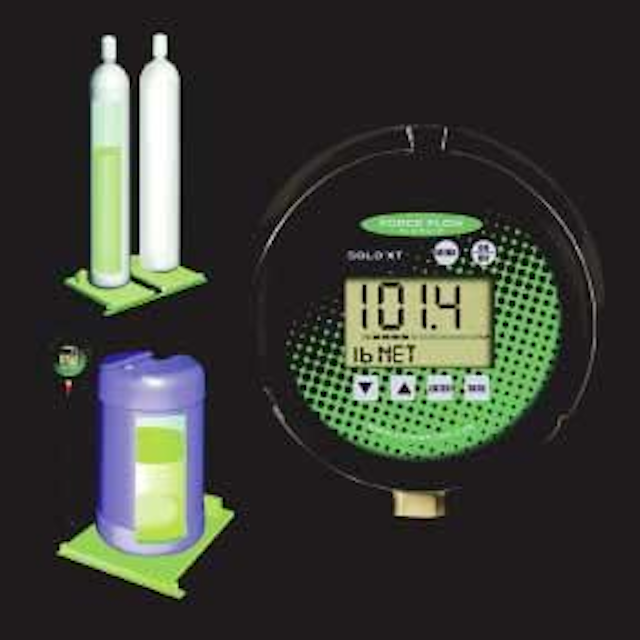 Click here to enlarge image
The battery-powered Solo XT Chemical Monitoring System from Force Flow provides digital readability without the need for AC power. It can be used to monitor chemical feed from the control room via 4-20 mA output, and alarm low chemical levels with the relay. The system can be used for monitoring chlorine cylinders and liquid day tanks of fluoride, polymer and caustic.
Force Flow
Concord, CA
Tel: 800-893-6723
Web: www.forceflow.com
Filtration system
Harmsco offers its HIF 5x170 patented up-flow filtration system as an economical application for the water industry. The series is manufactured of electro-polished 316 stainless steel and offers high flow, high surface area filtration. Containing 850 square feet of filtration surface area in a single filter housing, the unit is comprised of only five high-capacity cartridges. The HIF 5x170 is compatible with many different filter cartridges.
Harmsco, Inc.
West Palm Beach, FL
Tel: 800-327-3248
Web: www.Harmsco.com
Single-jet meters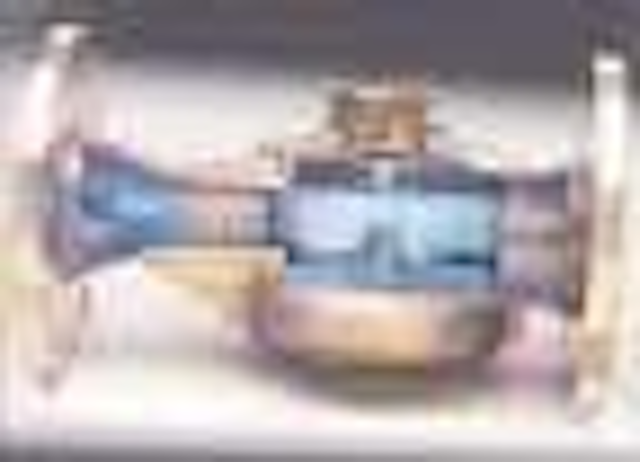 Click here to enlarge image
The Spectrum Single-Jet Meter from Metron Farnier is the widest range single measuring element meter available to US utilities. The meters have been designed to replace compound type and turbine type meters for commercial services. The meters feature a 1000:1 turndown ratio and superior low flow registration. They are unaffected by sand or small debris in the line and have no straight pipe requirements upstream or downstream of the meter. The meters are compatible with virtually all AMR systems.
Metron Farnier Inc.
Boulder, CO
Tel: 800-763-8766
Web: www.metronfarnier.com
Mobile AMR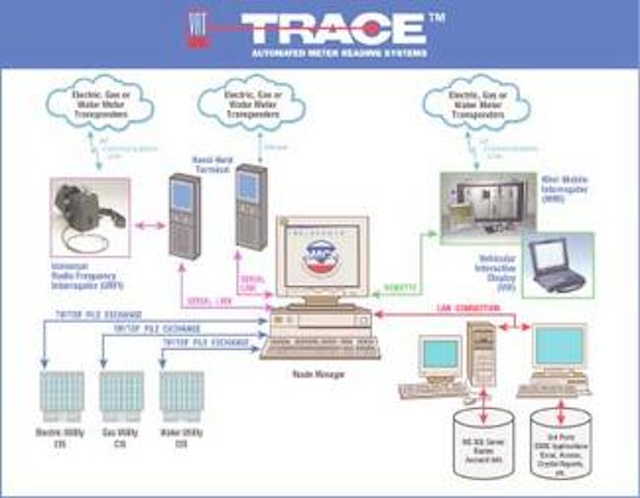 Click here to enlarge image
The Trace™ VRT (virtual real time) mobile AMR system from AMCO processes and stores real-time data at the meter transponder (Meter Interface Unit or MMI) for retrieval as required during a normal in-cycle read. Stored data includes 35 days of daily index readings (each in a separate electronic index [e-index]), up to six time-of-use (TOU) e-indexes (four for gas and water applications and six for electric) and a leak-detection alarm (water).
AMCO Automated Systems, LLC
Scott Depot, WV
Tel: 304-757-3300
Web: www.amcoas.com
Backwash expansion monitor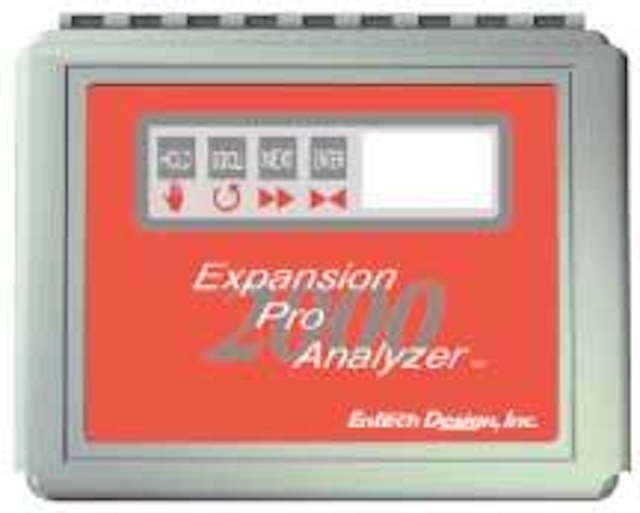 Click here to enlarge image
Expansion Pro Analyzer 2000™, available from Entech Design, provides accurate measurements of media expansion, media depth, and loss of media in granular media filters. The local display provides measurements in engineering units and media expansion as a percent of media depth. The analyzer provides reliable measurements with all types of media – with or without surface wash, and non-continuous air-scouring systems.
Entech Design, Inc.
Denton, TX
Tel: 940-898-1173
Web: www.entechdesign.com
Flushing devices
The Hydro-Guard line of automatic flushing devices, available from Environmental Enhancement & Technologies, are used in water-quality maintenance within potable water distribution systems. Serving to eliminate the need for manual flushing programs, the systems increase water quality while simultaneously providing water conservation benefits. The newest addition to the company's line, the Basic Unit, is the first automatic flushing device to offer a one-inch valve size. This lower-flow model provides an excellent match for many remote applications.
Environmental Enhancement & Technologies USA, Inc.
Naples, FL
Tel: 888-277-4520
Web: www.hydro-guard.com
Flow monitoring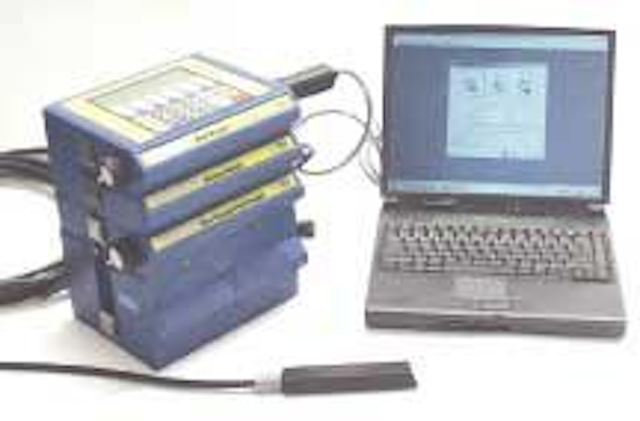 Click here to enlarge image
Isco's 2100 Series offers a modular design and easy configuration for a wide range of networked open-channel flow monitoring applications, including Inflow and Infiltration studies, cMOM data collection, and river monitoring. The new 2103 Modem Module is the latest addition to this expanding array of compact, stackable, rugged NEMA 4x, 6P (IP67) modules. Modules snap together to provide the capabilities needed for practically any site and monitoring requirement, including area-velocity flow measurement for single-stream, multiple stream, or redundant monitoring. Features include spread-spectrum wireless communication for "drive-up" data retrieval with no manhole entry.
Isco Inc.
Lincoln, NE
Tel: 800-228-4373
Web: www.isco.com
Colorimeters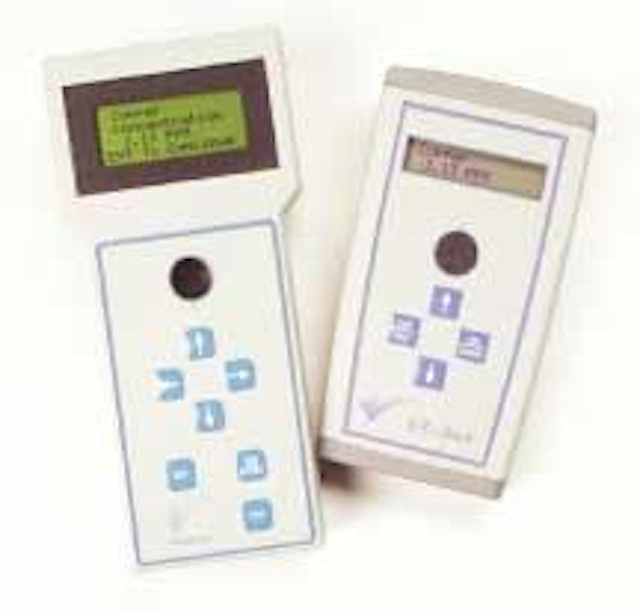 Click here to enlarge image
Hydrodyne Systems has been manufacturing water testing instruments for over 25 years. Features include data logging and downloading capabilities and use the company's patented Curve Fit Technology, eliminating the need for factory re-calibration. Units are available in single test parameter models up to multi-parameter models factory programmed with over 60 tests including arsenic, chlorine, fluoride, iron, turbidity, and many more.
Hydrodyne Systems
Milford, OH
Tel: 800-543-9283
Web: www.hydrodynesystems.com
Chlorination, dechlorination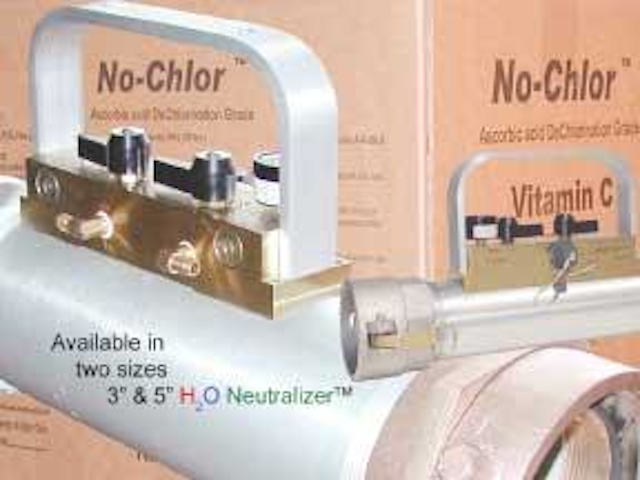 Click here to enlarge image
Measurement Technologies is featuring the H2O Neutralizer™ family of products at the 2004 AWWA Annual Conference & Exhibition. The company offers a Chlorination/ Dechlorination device that will perform at levels as low as 5 psi of working pressure, and as low as a 5 gpm flow rate, with a full vacuum insuring a constant feed solution rate. The H2O Neutralizer comes in two different sizes that will handle flow ranges from 5 gpm to 5,000 gpm. Both are designed to chlorinate and dechlorinate.
Measurement Technologies Inc.
Redmond, WA
Tel: 877-889-8482
Web: www.h2oneutralizer.com
Sodium hypochlorite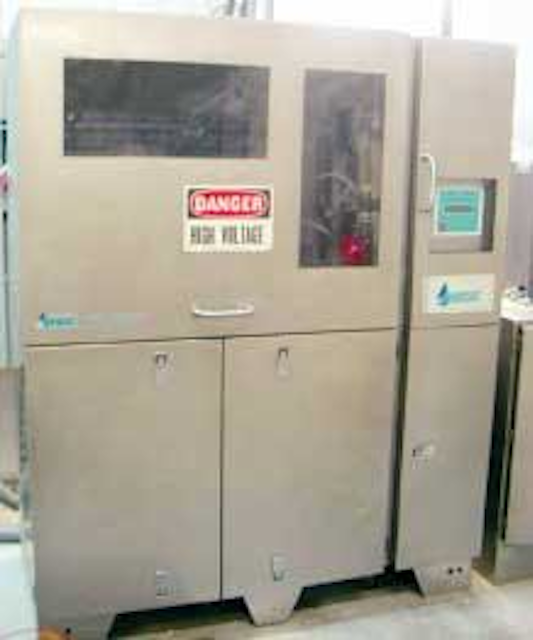 Click here to enlarge image
Miox now offers on-site sodium hypochlorite generation in addition to mixed-oxidant generation. The only feed stocks are salt, water, and power, eliminating the need for hazardous chlorine gas. The hypochlorite system offers the company's largest cell capacity at 1000 pounds per day of chlorine. The systems are modular, so capacity can be increased by adding an additional cell cabinet. The hypochlorite systems are optimized for salt and power conversion efficiencies. The system design incorporates built-in redundancy, enclosed stainless steel cabinets, and a self-calibrating brine pump that compensates for fluctuating brine concentration.
Miox Corp.
Albuquerque, NM
Tel: 505-343-0090
Web: www.miox.com
Pulsation dampeners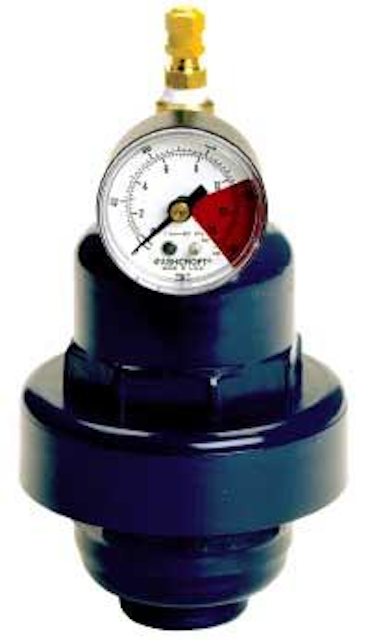 Click here to enlarge image
The Revolution pulsation dampener from Blacoh Fluid Control features threaded housings that screw together – eliminating the need for metal fasteners that are subject to the damaging effects of corrosive environments. The dampeners are available in PVC construction, with a PVC bladder for complete chemical compatibility with many corrosive chemicals, including sodium hypochlorite.
Blacoh Fluid Control
Riverside, CA
Tel: 909-342-3100
Web: www.blacoh.com
Fixed base AMR
Click here to enlarge image
Sensus Metering Systems is a manufacturer of water meters and AMR solutions – including TouchRead, PhonRead, RadioRead and fixed base systems, each of which uses the Intelligent Communications Encoder (ICE) for programming flexibility. The company will highlight its fixed base AMR system at the AWWA exhibition.
Sensus Metering Systems
Pittsburgh, PA
Tel: 724-425-7600
Web: www.sensus.com
Mixing system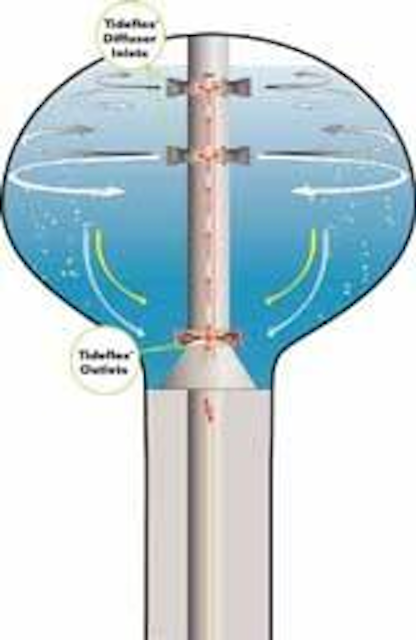 Click here to enlarge image
Red Valve's Tideflex® Mixing System (TMS) improves the quality of drinking water in finished water storage reservoirs. The system is a combination of patented Tideflex® Check Valve technology and a piping manifold that separates the inlet and outlet. It can be installed in new or existing water storage tanks of all shapes and sizes to eliminate stagnation and short-circuiting.
Red Valve Co. Inc.
Carnegie, PA
Tel: 412-279-0044
Web: www.redvalve.com
Metering pump drive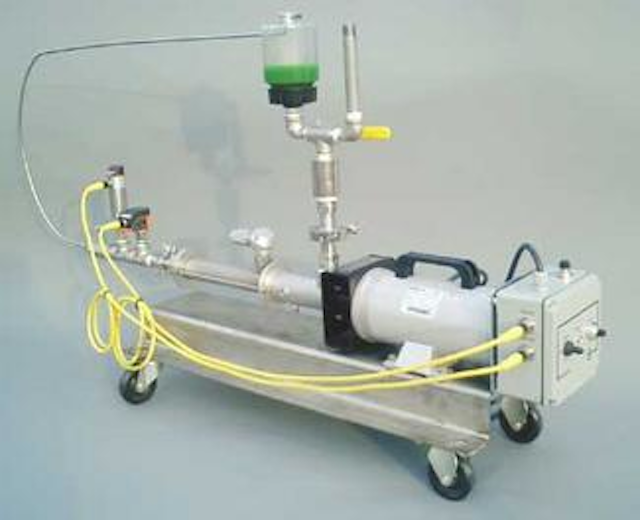 Click here to enlarge image
A new integrated DC motor and controller is available for the small metering, dosing and transfer pumps from seepex. These non-pulsating devices are ideal for polymer flocculants, NaOCl, NaOH, most acids, bases, water treatment chemicals, reagents and even viscous products to 100,000 cps. The 120 vAC powered controller provides current and internal circuitry for low-flow, run-dry and high-pressure protection devices. External electrical enclosures are not needed. Instruments are connected to the controller with standard 5-pin electrical connectors.
seepex, Inc.
Enon, OH
Tel: 800-695-3659
Iron, manganese removal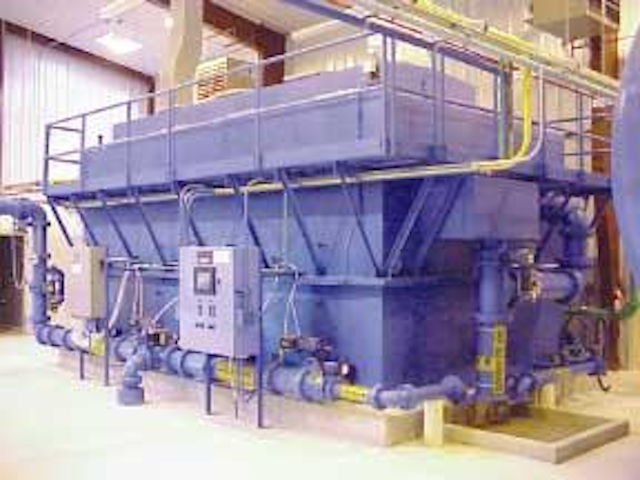 Click here to enlarge image
Tonka offers the Dualator® III system for removal of iron, manganese, arsenic and radium. The system meets or exceeds EPA and Ten States Standards. The treatment unit incorporates the company's Simul-Wash™, a sustained air and water backwash system that prevents media loss while using half the water of a conventional backwash system.
Tonka Equipment Co.
Plymouth, MN
Tel: 763-559-2837
Web: www.tonkawater.com
TOC analyzers
Shimadzu's new TOC-4110 Series online analyzers offer a number of capital as well as operational cost-reducing features. A single unit can analyze up to seven different streams. The optional "Sample Thief" eliminates the need for expensive filters when analyzing particulated sample streams. The on-board air purifier eliminates the need for gas cylinders and permits standard house air to be used as the carrier gas. For TOC/TN analyzers, the combustion oxidation method eliminates the need for chemicals and reduces maintenance requirements.
Shimadzu Scientific Instruments, Inc.
Columbia, MD
Tel: 800-477-1227
Web: www.ssi.shimadzu.com
Filter floors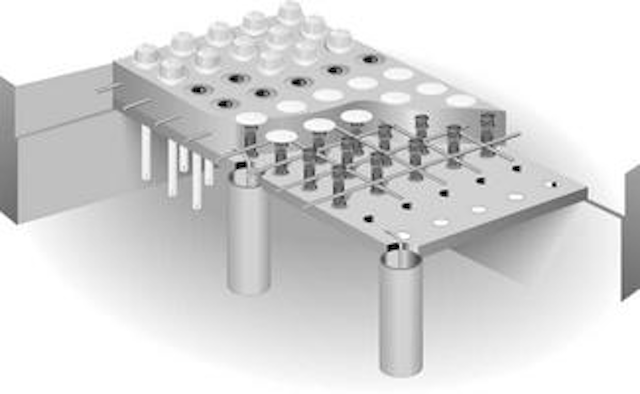 Click here to enlarge image
Orthos' Monolithic Filter Floors use corrugated formwork panels supported by dwarf walls. This design provides a stronger filter floor than the flat panel designs and is easier to install. The 3'-3" x 3'-3" panels are constructed of glass reinforced cement (GRC) and can be readily cut where needed without loss of strength and rigidity. Nozzle densities of 2,25 or 4.0 per square foot are standard.
Orthos Liquid Systems, Inc.
Bluffton, SC
Tel: 843-987-7200
Web: www.orthosnozzles.com
Security locks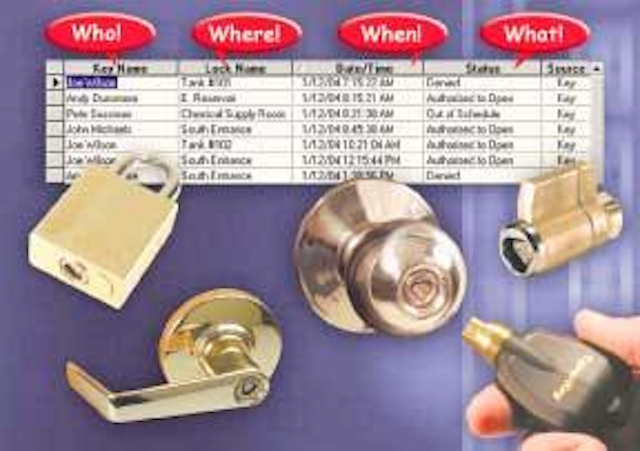 Click here to enlarge image
Videx manufactures CyberLock®, a family of electronic lock cylinders designed to convert existing mechanical lock hardware and padlocks into full-functioning access control systems. These intelligent locks grant access for authorized users at specific times on pre-selected days, and provide a comprehensive report of all openings and denied openings.
Videx, Inc.
Corvallis, OR
Tel: 541-758-0521
Web: www.videx.com
Injection mixer
A patented, low-cost static injection mixer that features a shaped orifice which can be sized to achieve a Beta Ratio (size of opening to pipe ID) that exactly matches the user's mixing and flow rate requirements is being introduced by Westfall Manufacturing. The Static Injection Mixer is a fixed plate that installs in-line and into which one or more fluids are injected and mixed by a combination of alternate vortex shedding and intense shear zone turbulence.
Westfall Manufacturing Co.
Bristol, RI
Tel: 888-928-3747
Web: www.westfallmfg.com
Water storage tanks
Click here to enlarge image
Preload offers prestressed concrete tanks in a wide variety of shapes, sizes and architecturally treated styles to complement any rural, urban or suburban setting. Built to the AWWA D110, Type III Standard for Circular Wire-Wound Prestressed Concrete Water Tanks, the company's tanks require no routine maintenance or repainting, and provide a long service life.
Preload Inc.
Hauppauge, NY
Tel: 888-773-5623
Web: www.preload.com
Machine monitoring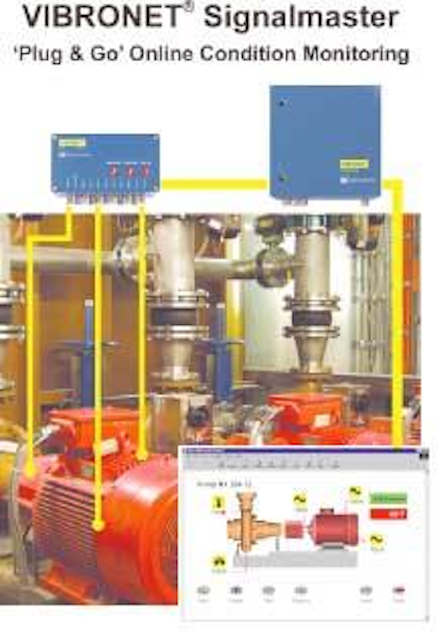 Click here to enlarge image
VibroNet® SignalMaster provides online monitoring of production base machinery such as rolls, presses, conveyors, motors, pumps, gearboxes and fans. It monitors vibration, bearing condition, temperature, speed, process parameters, FFT spectrum, envelope and time signal. Unique to this stand-alone system is the capability of alarm notifications and tele-diagnosis through any Internet browser.
Ludeca, Inc.
Miami, FL
Tel: 305-591-8935
Web: www.ludeca.com
Electronic control valve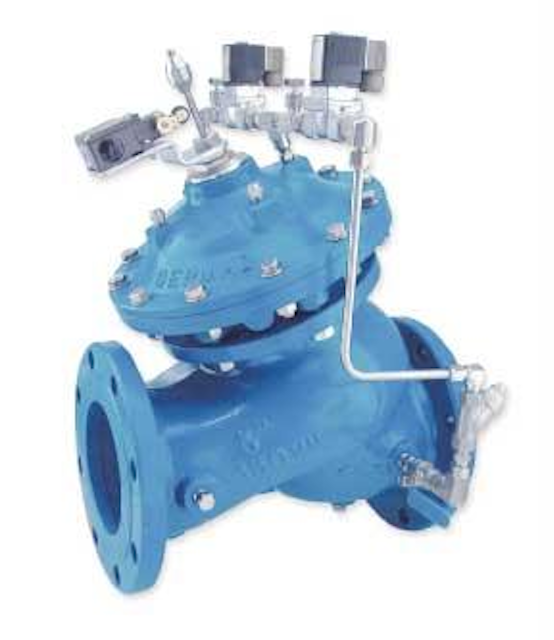 Click here to enlarge image
Controlled by PLCs, Bermad's Series 718 Electronic Control Valves modulate to provide pressure, level, flow, and/or temperature control in water distribution and treatment systems. These valves combine the advantages of line pressure driven hydraulic valves with the sophistication and control possibilities of PLCs. Operational flexibility is guaranteed by the standard double-chambered design of the 718 Series, which allows fully powered opening and closing without costly additions.
Bermad, Inc.
Anaheim, CA
Tel: 800-821-6825
Web: www.bermad.com
Plastic enclosures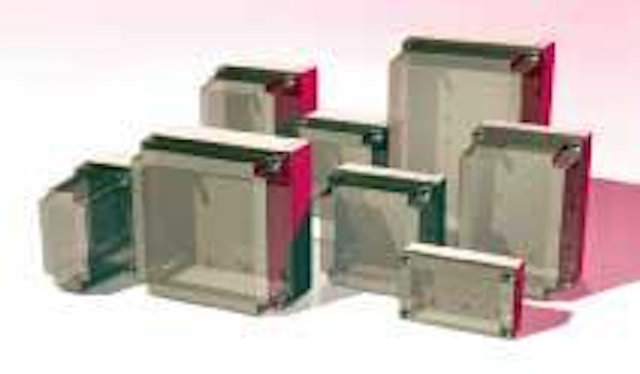 Click here to enlarge image
Fibox's MNX polycarbonate (PC) or ABS plastic enclosures are specifically designed for housing and protecting electronic components and equipment in harsh environments. The enclosures, UL listed and rated NEMA 4X, 6, 12, and 13, feature three body and four cover depths to offer over 130 off-the-shelf variations. Polycarbonate covers are offered in opaque gray or transparent.
Fibox Inc.
Glen Burnie, MD
Tel: 888-342-6987
Web: www.fiboxusa.com
Pipe coupling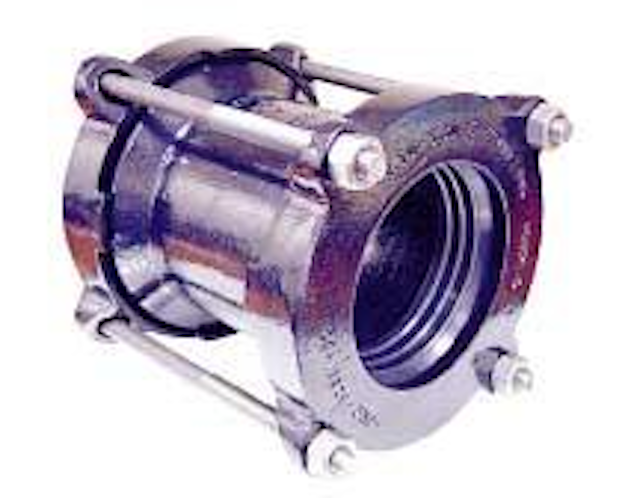 Click here to enlarge image
The Ford Ultra-Flex ductile iron wide range coupling is offered in five nominal sizes that fit all domestic pipe sizes. The couplings feature a stab fitting and slide on without disassembly. With just a few turns of a single deep-well socket, the gasket seats completely. The couplings have a 250 psi water pressure rating and feature ductile iron construction, HSLA fasteners and specially designed Buna-N pre-lubricated gaskets. A standard fusion bonded epoxy coating stands up to corrosion.
Ford Meter Box Co.
Wabash, IN
Tel: 260-563-3171
Water treatment
Click here to enlarge image
Altivia offers water treatment systems including a range of chlorine dioxide generators and full service programs. The company's products range from simple manual, to fully automatic chlorine dioxide generators such as the new Millennium III™ and Eka Purate™ systems. The systems may be linked to plant process controls and are available in capacitates from 1-25,000 pounds per day. The company also offers both chlorite and chlorate based wet chemical generators as well as electrochemical systems all based on patented or patent pending technology.
Altivia Corp.
Houston, TX
Tel: 866-258-4842
Web: www.altivia.com
Backflow prevention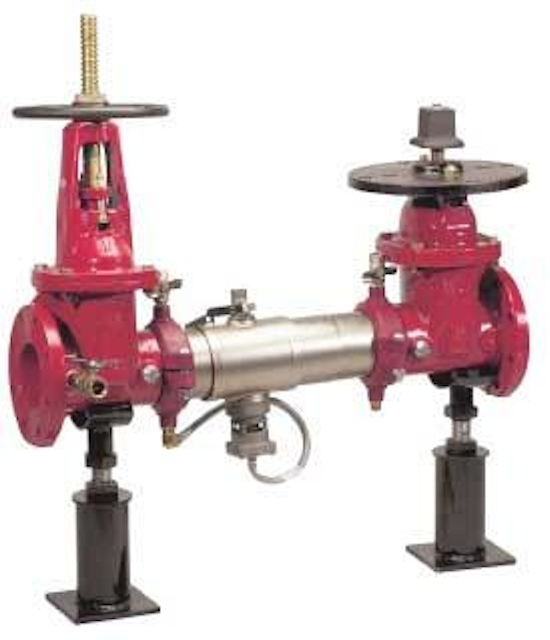 Click here to enlarge image
Ames has introduced its new Colt line of backflow prevention devices in sizes 2 1/2''-10''. These valves are light and compact. Included in this series are the Ames Series C200 Double Check Valve Assemblies, C300 Double Check Detector Assemblies, C400 Reduced Pressure Zone Assemblies and C500 Reduced Pressure Detector Assemblies. All the Colt valves feature an entire valve body and sleeve manufactured from 300 series stainless steel and grooved connections for ease of installation and pipe alignment.
Ames Co.
Woodland, CA
Tel: 916-666-2493
Sodium hypochlorite generators
Pepcon Systems' ChlorMaster® electrochlorinators provide on-site sodium hypochlorite generation for use in a variety of applications including potable water chlorination, wastewater disinfection and odor control systems. As a custom equipment manufacturer, the company can provide an electrochlorination system to meet specific project objectives. The company's Bipolar Model Cell features a unique electrode plate design that results in high current efficiency, low power consumption, and compact system designs.
Pepcon Systems
Cedar City, UT
Tel: 435-865-5045
Web: www.pepconsystems.com
Butterfly, plug valves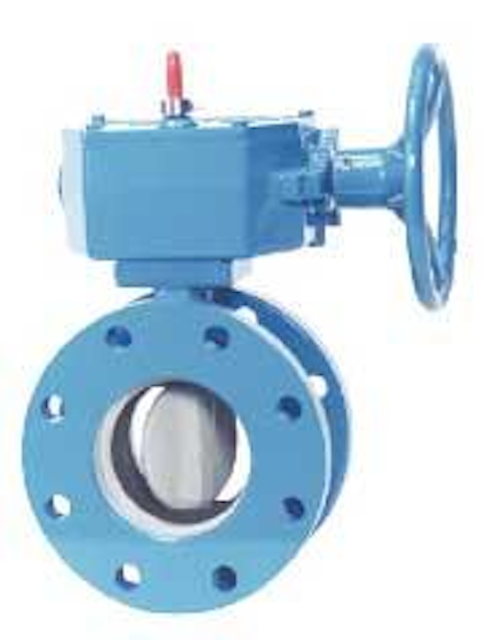 Click here to enlarge image
Henry Pratt designs and manufactures valves for fluid service in the wastewater industry. Pratt's butterfly valves are used to regulate the flow of fluid in piping systems. The seat-in-body design reduces seat failure due to corrosive buildup in the valve and pipeline. Symmetrical lens-shaped discs or flow through discs (on 30" and larger) provide more strength and higher Cv/lower head loss resulting in energy savings. Nonmetallic bearings prevent galvanic corrosion and provides lower coefficient of friction.
Henry Pratt Co.
Aurora, IL
Tel: 630-844-4000
Web: www.henrypratt.com
Metering pumps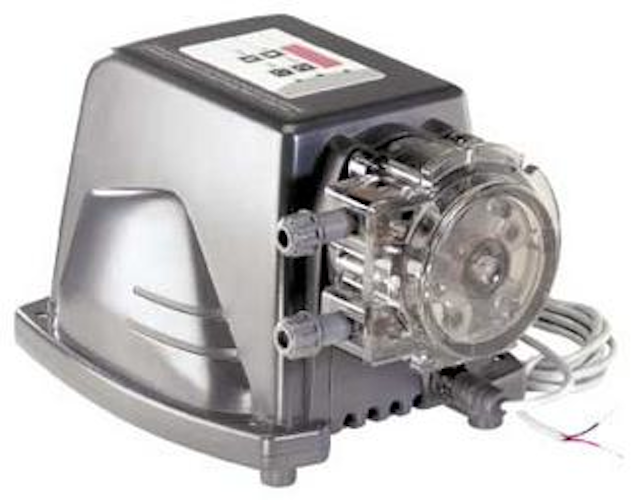 Click here to enlarge image
G.H. Stenner has introduced the SVP Series, a new variable speed peristaltic metering pump with optional 4-20 mA input for automatic control. Capable of 1.66 gph at 100 psi and 3.5 gph at 25 psi, the pumps are designed to respond directly to a 4-20 mA input signal from water treatment controls including pH and ORP monitors to maintain proper water chemistry and treatment of effluent discharge water. The SVP features a 4-button keypad for manual adjustment and an LED display. Control adjustment ranges from 5-100% in 1% increments for chemical injection and adjustment. The pumps are self-priming up to 25 feet.
G.H. Stenner & Co., Inc.
Jacksonville, FL
Tel: 800-683-2378
Web: www.stenner.com
Concrete water tanks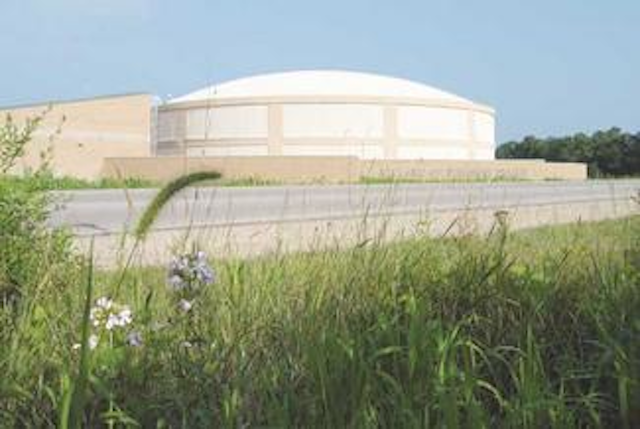 Click here to enlarge image
All Natgun concrete water storage tanks conform to AWWA Standard D110, Type III, a design standard proven in thousands of installations across the country. The tanks feature a continuous, watertight steel diaphragm embedded in the wall and multiple layers of bonded prestressed wire which hold the tank in permanent compression. The tanks never need to be repainted. They are custom sized and designed to fit each job requirement and can be constructed at-grade, partially, or totally buried.
Natgun Corp.
Wakefield, MA
Tel: 800-662-8486
Web: www.natgun.com
Fixed network AMR
Click here to enlarge image
Itron's Water Fixed Network 2.5 automatic meter reading system features an innovative architecture and knowledge platform for increased efficiency, reducing costs, providing accurate billing, managing customer growth and conserving water resources. The system includes a high powered endpoint, and provides more advanced data collection.
Itron Inc.
Spokane, WA
Tel: 509-891-3422
Web: www.itron.com
Free chlorine test strip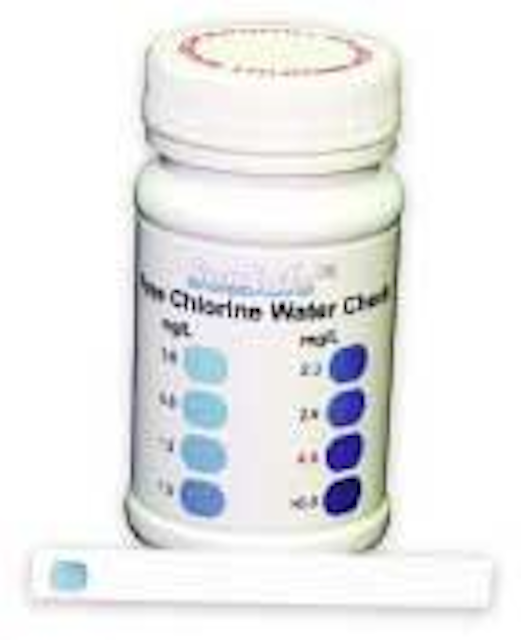 Click here to enlarge image
Industrial Test Systems' Free Chlorine Water Check test strip has just received recommendation from the US EPA for drinking water compliance monitoring. EPA's proposal will be made in an upcoming rulemaking that will be published in the Federal Register. Per the proposal, the testing system will be treated as equivalent to other free chlorine test kits, meaning that states will have the discretion to approve their use per authority at 40 CFR 141.74 (a)(2) in regulatory monitoring.
Industrial Test Systems, Inc.
Rock Hill, SC
Tel: 800-861-9712
Web: www.sensafe.com
Nitrogen, phosphorous testing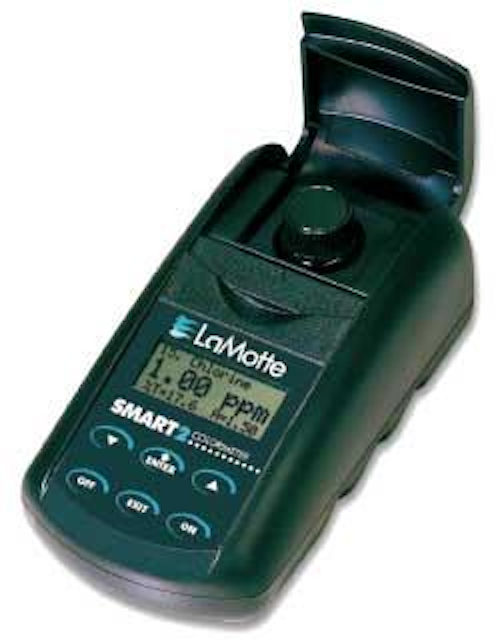 Click here to enlarge image
LaMotte has introduced tests for Total Nitrogen (0-25 mg/L)and low (0-3.5 mg/L) and high (0-100 mg/L) Total Phosphorous. The tests are performed by reacting tubes in a heater block to a specified temperature for 30 minutes. Reagents (included) are then added to the tubes and the concentrations are read by a colorimeter or spectrophotometer.
LaMotte Co.
Chestertown, MD
Tel: 410-778-3100
Web: www.lamotte.com
Tank painting
M.A.B. Paints has introduced Hippo-Poxy, the interior, polyamine epoxy coating designed for potable water tanks constructed from concrete or steel. It does not need to be thinned prior to use. Its high build, high solids epoxy finish dries quickly into a tough, impermeable coating.
M.A.B. Paints
Broomall, PA
Tel: 800-622-1899
Web: www.mabpaints.com
Bulk water transfer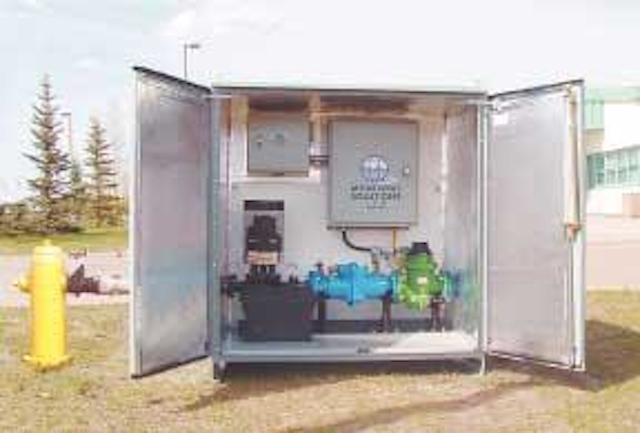 Click here to enlarge image
Municipal Solutions has recently introduced the Hydrant General, a truck fill system, to its product line. This self-contained, portable security system eliminates the need for hydrant meters and provides an economical way to manage bulk water sales. The company manufactures access terminals and billing software for bulk water truck fill stations and septage receiving stations and provides a range of systems from a basic access terminal and billing software to a complete turn-key solution which includes building, piping and controls, ready for connection to the utilities.
Municipal Solutions
Denver, CO
Tel: 877-655-5585
Web: www.municipal-solutions.com
Restraining glands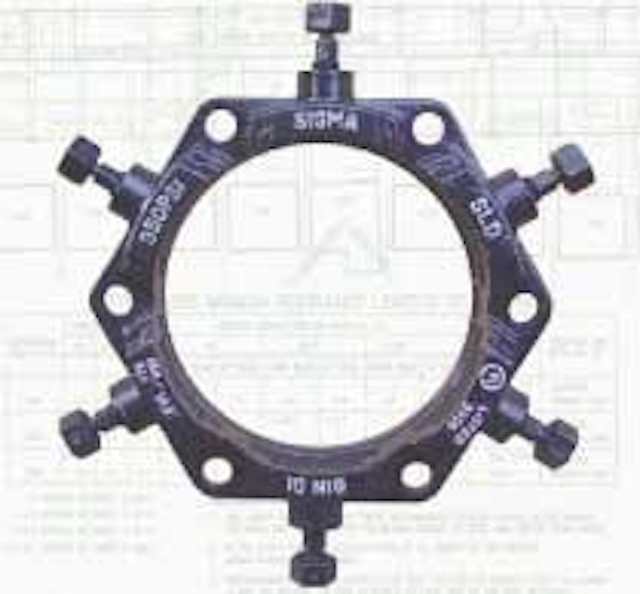 Click here to enlarge image
Sigma Corp. has incorporated a special feature for its wedge-action restraining glands. The Sigma One-Lok Model SLD, used to restrain ductile iron pipe to a mechanical joint outlet, uses different contoured wedge segments for each specific pipe O.D. for the entire range of 3" through 48" nominal assemblies.
Sigma Corp.
Cream Ridge, NJ
Tel: 800-999-2550
Web: www.sigmaco.com
PE fusion machines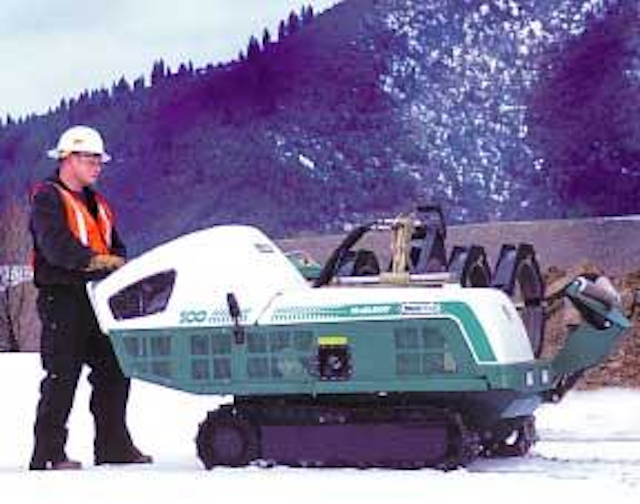 Click here to enlarge image
McElroy Manufacturing provides a line of TracStar fusion equipment designed to fuse sections of polyethylene (PE) pipe into a leak-free system. The hydraulic fusion machines are self-contained, self-propelled, and all-terrain.
McElroy Manufacturing, Inc.
Tulsa, OK
Tel: 918-831-9287
Web: www.mcelroymfg.com
Valve actuators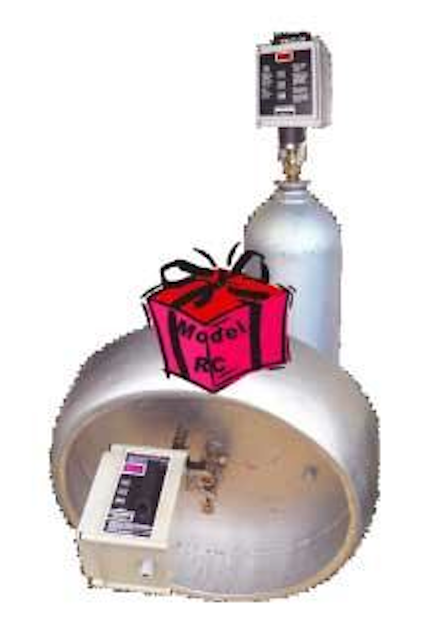 Click here to enlarge image
Robo-Control™ manufactures battery-operated actuators to remotely open and close hazardous gas cylinder valves such as chlorine and sulfur dioxide. The company will display its new Model RC actuator, a lower cost option in valve control. The actuator is designed to mount to the valve without interfering with existing hardware and does not require yokes or dispensers to support it.
Robo-Control
Bridge City, TX
Tel: 409-697-2666
Web: www.robo-control.com
Storage tanks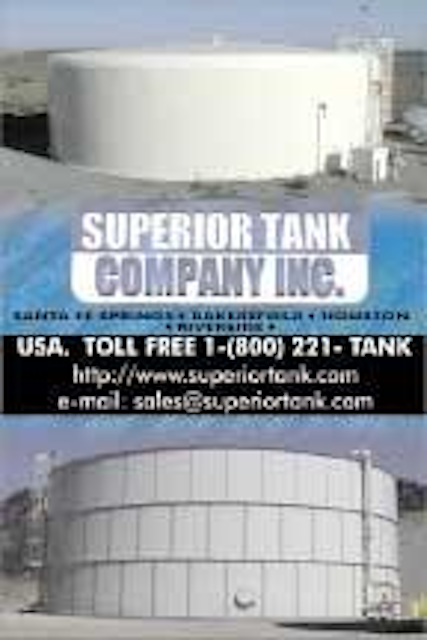 Click here to enlarge image
Superior Tank is a fabricator and erector of bolted and welded steel storage tanks for the potable water and wastewater industries. The tanks are manufactured to AWWA, API, NFPA and Factory Mutual specifications and feature NSF approved coatings. Worldwide shipping, erection, engineering, foundation design and turnkey projects are available.
Superior Tank Co.
Santa Fe Springs, CA
Tel: 562-946-8804
Web: www.superiortank.com
Radio system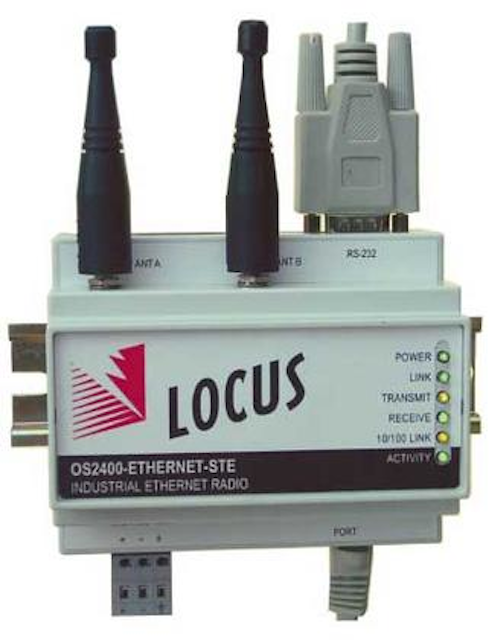 Click here to enlarge image
Locus' new OS2400-Ethernet-STE (STE) industrial radio allows communication with legacy serial devices. The STE contains a serial device server which establishes a transparent connection between a serial device and an Ethernet host, processes data on its serial port, then redirects the data through the radio's Ethernet card. Prior to STE, most industrial radios have been configured using a radio's dedicated programming DB9 serial port.
Locus Inc.
Madison, WI
Tel: 608-270-0500
Web: www.locusinc.com
Meter setters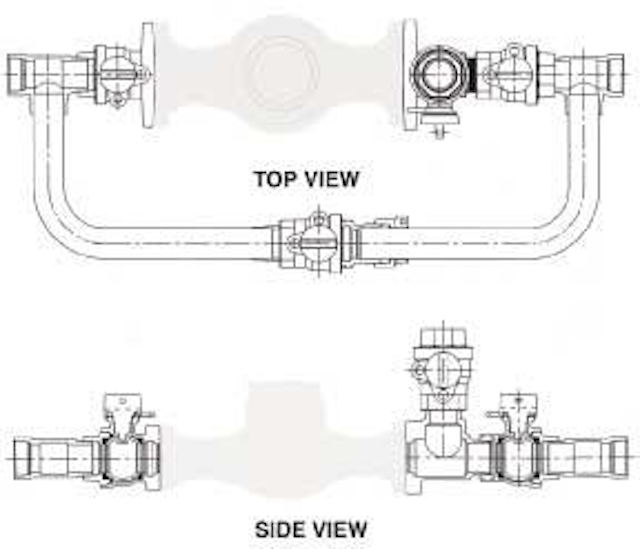 Click here to enlarge image
A.Y. McDonald has introduced the new Low Profile (No Rise) 1 1/2'' and 2'' Meter Setters with in-line testability feature. The setters are constructed of all cast brass that conforms to AWWA standard C800-01 (ASTM B-62, UNS C83600 -85-5-5-5). An outlet test valve is used for testing the meter while in-line. Integral FIP x FIP inlet/outlet configuration is standard.
A.Y. McDonald Mfg. Co.
Dubuque, IA
Tel: 800-292-2737
Web: www.aymcdonald.com
Ratchet wrenches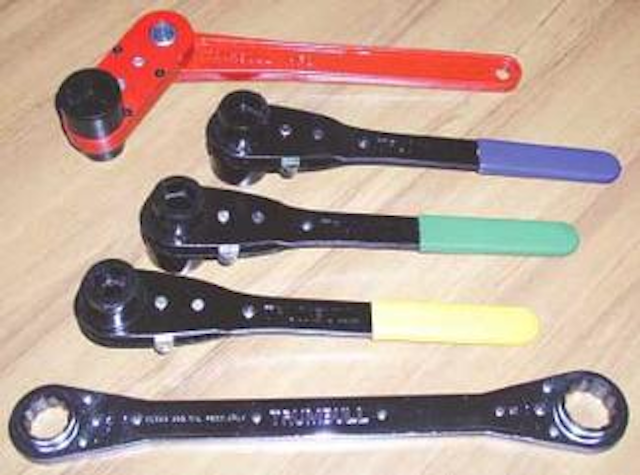 Click here to enlarge image
Trumbull Industries provides three styles of heavy duty ratchet wrenches that fit virtually every size required for clamps, couplings, saddles and mechanical joints. The newest version fits Hymax® & MaxiFit™ couplings. All styles work on long bolts or all-thread. The red, 11/16'' x 11/4'' adjustable handle double socket wrench works in confined areas. Its enclosed mechanism uses a reversing lever.
Trumbull Industries
Youngstown, OH
Tel: 330-799-3333
Web: www.trumbull-mfg.com
Packaged ozone system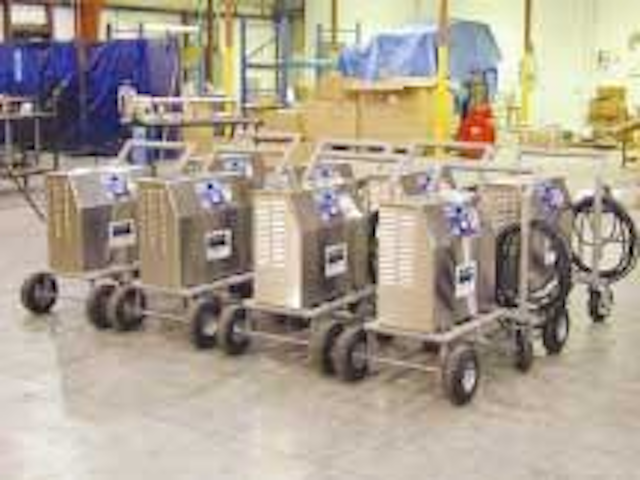 Click here to enlarge image
GDT Corp. has introduced packaged skid mounted and mobile cart ozone and oxygen systems for water and wastewater treatment. The patented GDT™ process for gas to liquid mass transfer is modular and can support small and large scale treatment applications through pressurized side stream and/or full flow contacting.
GDT Corp.
Phoenix, AZ
Tel: 623-587-8858
Web: www.gdt-h2o.com
Meter information management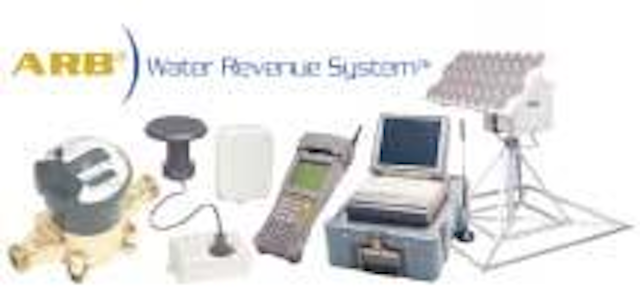 Click here to enlarge image
Neptune's ARB Water Revenue System is designed to maximize revenues through data accuracy, operational efficiency, and enhanced measurement capabilities. It allows utilities to mix and match various elements to create a meter information system to meet specific needs. It is designed for compatibility and migratability, to help utilities optimize the value of their initial investment.
Neptune Technology Group Inc.
Tallassee, AL
Tel: 800-448-2943
Web: www.neptunetg.com
Pump packages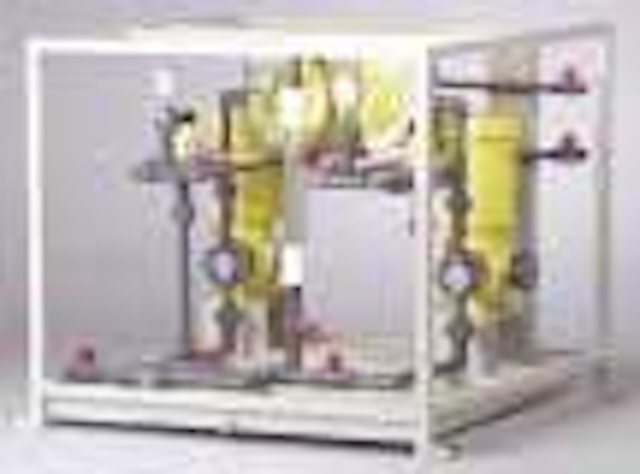 Click here to enlarge image
Milton Roy has introduced RoyPak, a pre-engineered standard system package available in both PVC and metal back planes pre-configured to match the company's pump line. These off-the-shelf, user-specified systems are applicable for chemicals in water and wastewater treatment such as sodium hypochlorite, sodium hydroxide and ferric chloride.
Milton Roy
Ivyland, PA
Tel: 215-441-0800
Web: www.miltonroy.com
Membrane package plant
USFilter Memcor Products has introduced a pre-engineered membrane package plant that offers a small footprint, minimal installation cost and low operator attendance. The submerged microfiltration system is available in three model configurations with nominal operating flows ranging between 50-300 gpm. Higher capacities can be achieved by adding additional units.
USFilter Inc.
Tel: 760-804-5844
Web: www.usfilter.com
Inclined plate separators
USFilter has expanded its line of inclined plate separators for removing solids from drinking water. The CSF —or channel supported frameless — plate separator offers several unique features that enhance the hydraulic flow and distribution through the plates and reduce basin depth requirements by eliminating the need for support beams under the plates.
USFilter
Tel: 715-355-3582
Web: www.usfilter.com
Prestressed concrete tanks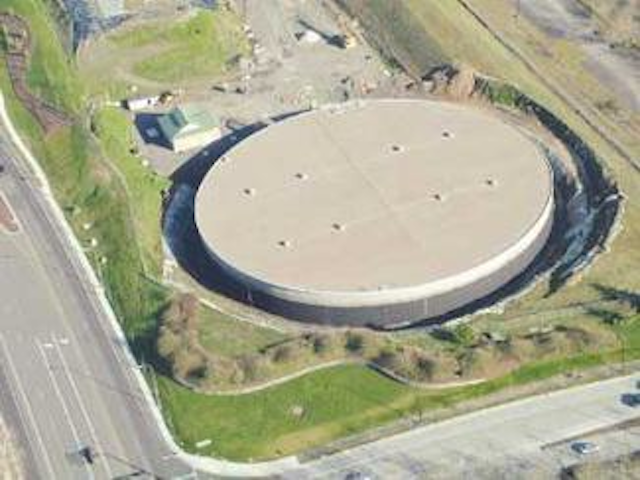 Click here to enlarge image
DYK has extensive expertise in the design, prestressing and construction of buried or architecturally enhanced water and wastewater storage tanks. The company's engineering and planning produce stronger, more attractive tanks with greater seismic reliability and a longer lifespan. Over the past 40 years, the company has worked with clients in well-known municipal and private facilities worldwide to complete the storage of nearly 3 billion gallons of liquid storage in individual tank sizes ranging from 80,000 gallons to 35 million gallons.
DYK Inc.
El Cajon, CA
Tel: 800-227-8181
Web: www.dyk.com
Perchlorate removal
USFilter has the technical and service know-how to fully meet a municipality's perchlorate cleaning needs. The company provides technology-based solutions for groundwater remediation issues. Its turnkey services range from design and installation of treatment systems through system operation and disposal of media. The company's technology offerings include: specialized exchange resins, fluidized bed reactors, tailored granular activated carbons and reverse osmosis.
USFilter
Tel: 925-681-2308
Web: www.usfilter.com
PLC controller
USFilter's new IntraLink™ LC3000 controller is designed and engineered for water and wastewater applications. The LC3000 PLC supports many industry standard open protocols and is configured using all IEC 61131 programming standards. The controller is scalable, allowing the control system to grow from the simplest tank to the most complex treatment plant without replacing or re-working equipment.
USFilter
Tel: 800-224-9474
Web: www.usfilter.com
Radios
The Series III radio from Cellnet is the next generation of UtiliNet intelligent radio. It provides all the Series II functionalities plus adjustable transmission power output, better sensitivity, lower power consumption, dual RF baud rate, lower latency, software configurable RS-232/485 transparent port and is half of the size. The radios combine three important technologies: a mesh architecture for peer-to-peer communications and true networking functionality, asynchronous spread spectrum frequency hopping for maximum use of bandwidth, and packet switching for guaranteed message transfer and automatic store-and-forward routing.
Cellnet by Atos Origin
Alpharetta, GA
Tel: 678-258-3124
Web: www.atosorigin.com
Clamp-on flowmeters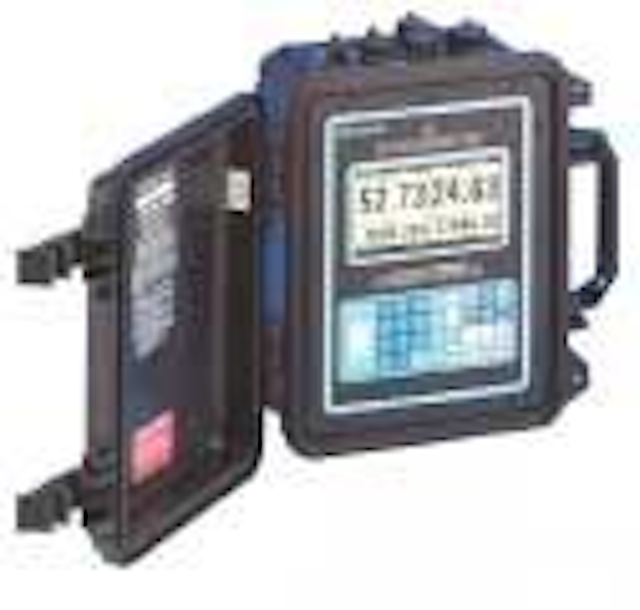 Click here to enlarge image
Controlotron's System 1010WP is the latest in a line of clamp-on flowmeters. Available in submersible configurations, the meters service virtually all-full pipe applications. Options include a pipe wall thickness gauge, single or dual channel or path operation and Reflexor™ mode for liquids with medium to heavy suspended solids or aeration. The meters support all industry standard data inputs and outputs such as 4-20 mA, 0 to 10 vDC, RS – 232, pulse frequency, and alarm relays.
Controlotron Inc.
Hauppauge, NY
Tel: 631-231-3600
Web: www.controlotron.com
In-pipe monitoring probe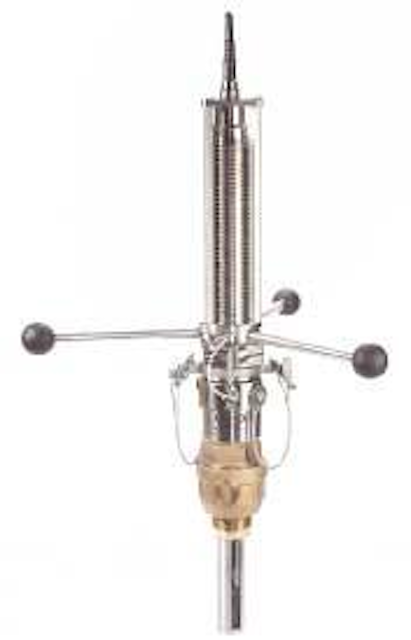 Click here to enlarge image
Hach has introduced the new PipeSonde In-Pipe Probe, a sonde-type, multi-parameter system for long-term monitoring of finished water in distribution mains. It complements the company's Water Distribution Monitoring Panel (WDMP) and extends the distribution network surveillance strategy of any water system. Field-proven Hydrolab® technology continuously measures chlorine, pH, conductivity, turbidity, temperature, ORP, dissolved oxygen (DO) and line pressure, and digital output in several protocols seams with typical data communication systems.
Hach Co.
Loveland, CO
Tel: 800-227-4224
Web: www.hach.com
Tank covers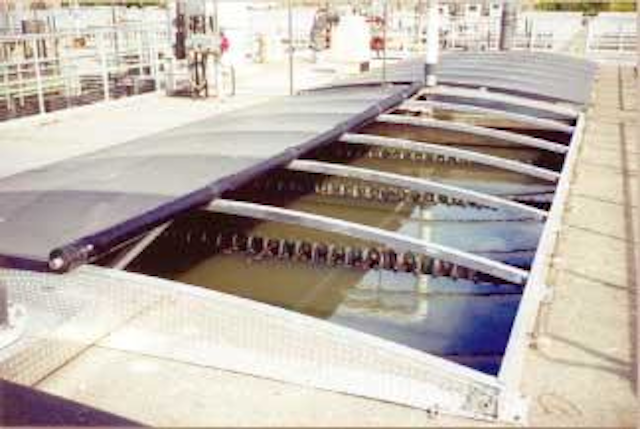 Click here to enlarge image
GTI's structurally supported cover system consists of a sheet of high strength, UV-protected, coated fabric tensioned across a series of low profile aluminum arches which span a tank opening. Applications include odor control, blocking sunlight, temperature control, or preventing debris from entering the tank. The fabric cover is sufficiently air tight to allow a ventilation system to function, yet it can be detached on three sides and retracted to expose the tank contents for inspection or maintenance.
Geomembrane Technologies Inc.
Fredericton, NB
Tel: 506-452-7304
Web: www.gti.ca
Filtration media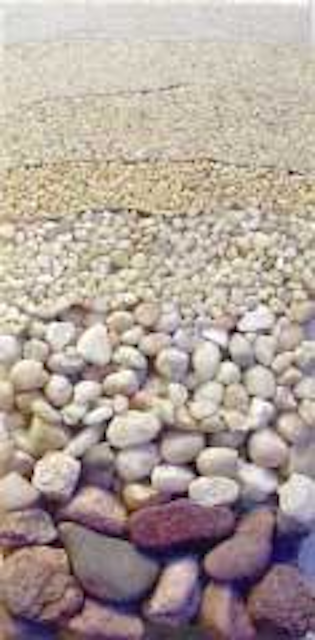 Click here to enlarge image
Fairmount Minerals offers high quality filtration media. Its subsidiaries, Best Sand and Wedron Silica, have been the top producers of filtration media for decades. All products meet the AWWA B100-96 specifications and are NSF Standard 61 certified. A full range of sizes are offered, from 0.20 mm to 2.0" gravel. Anthracite and garnet media are also available.
Fairmount Minerals
Chardon, OH
Tel: 800-237-4986
Web: www.fairmountminerals.com
Vacuum regulators
USFilter has introduced the new Equa-Draw™ System engineered by Wallace & Tiernan Products. The new system eliminates waste and reduces labor associated with traditional manifolding of vacuum regulators commonly used for water treatment gasses, such as chlorine and sulfur dioxide. The patented system equalizes the gas that flows from several connected gas containers — all under vacuum for maximum safety. The new design eliminates the need for manually balancing the flow rates from each individual vacuum regulator.
USFilter
Tel: 856-507-9000
Security enclosures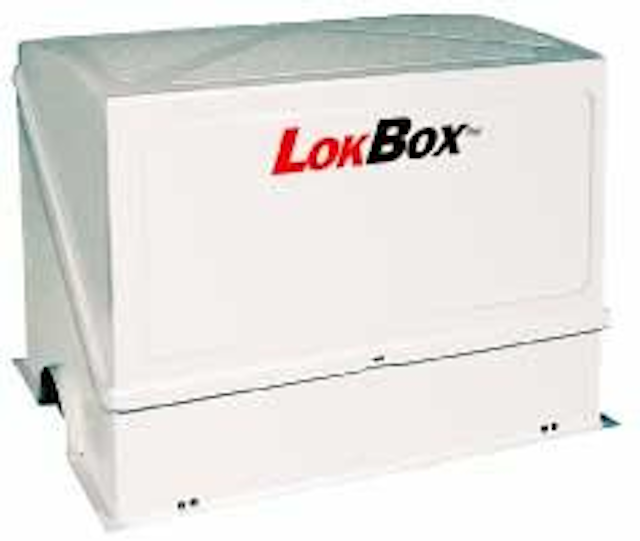 Click here to enlarge image
The Lok Box™ security equipment enclosure line from HOT Box™ will be featured at the AWWA show. The company provides a variety of enclosures for backflow prevention assemblies, meters, valves and pumps. It will also display the Valve Guard™ uninsulated enclosure, the Vent Guard™ air release valve enclosure and the new DuraFold™ fast installation enclosures. All featured enclosures are designed for equipment protection with property aesthetics in mind.
Hot Box™
Jacksonville, FL
Tel: 800-736-0238
Web: www.hot-box.com
Tablet chlorination system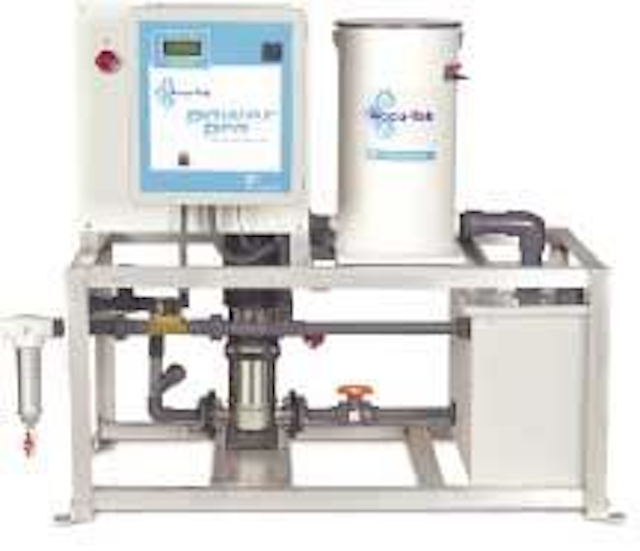 Click here to enlarge image
PPG Industries has introduced the newly designed PowerPro® chlorination unit incorporating the Accu-Tab® chlorinator and tablets. The units provide a compact, turnkey system based on any of the Accu-Tab chlorinator models. The chlorination units are available with multiple chlorinators, automatic controllers, weight scales, and SCADA compatible.
PPG Industries, Inc.
Pittsburgh, PA
Tel: 800-245-2974
Web: www.ppgaccu-tab.com
Pump load monitor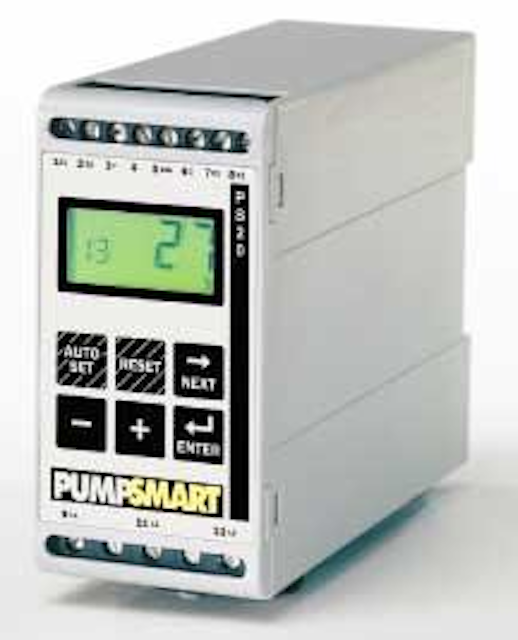 Click here to enlarge image
ITT PumpSmart Control Solutions has introduced the PS20 load monitor to protect pump and water/wastewater processes from serious breakdowns by detecting abnormal over- and underload situations. Using the electric motor as a sensor, the monitor provides a solution that is simple to install and reliable in operation. The need for mechanical safety devices, external transmitters and cabling is eliminated, minimizing installation and maintenance cost.
PumpSmart Control Solutions,
a Div. of ITT Industries
Seneca Falls, NY
Tel: 315-568-7122
Web: www.itt.com
Fire hydrant lock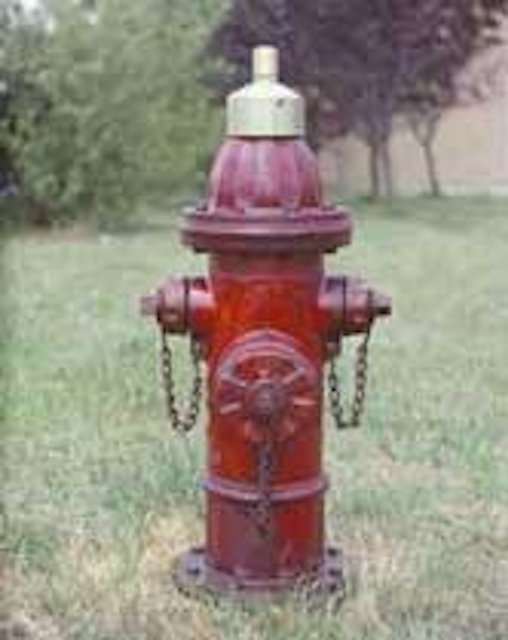 Click here to enlarge image
McGard Special Products Division offers the Intimidator® Fire Hydrant Lock. It is designed to eliminate unauthorized hydrant access and opening of the hydrant. No modifications are necessary to the existing operating stem of the hydrant. The company offers an entire product line of locks to fit most hydrant styles. Its water security products also include manhole cover locks, coupling & valve locks and plug locks.
McGard Special Products
Orchard Park, NY
Tel: 888-888-9192
Web: www.mcgard.com
Metering pumps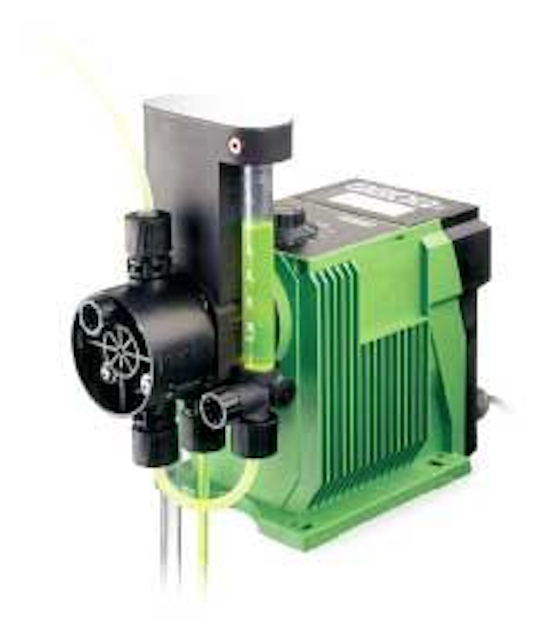 Click here to enlarge image
The Alldos "Plus3 System" is the highlight of the Primus 208 pump range. This metering pump is especially designed for dosing very small volumes of chemicals that easily evaporate during pumping, like sodium hypochlorite. The pump "pre-vents" the gas and thus prevents likelihood of gas build up in the pumping chamber.
Alldos, Inc.
Marietta, GA
Tel: 770-956-7996
Hydrant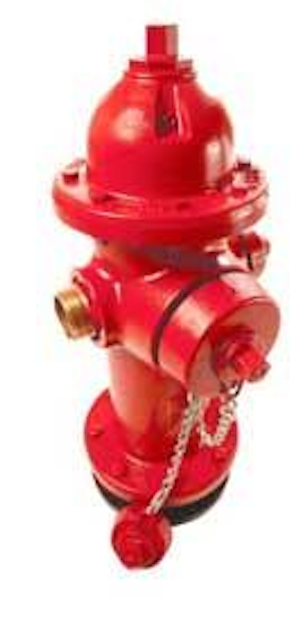 Click here to enlarge image
U.S. Pipe's MetroFlow™/M-03 Hydrant is the newest addition to the company's family of products. The new hydrant conforms to AWWA C502 for Dry Barrel Traffic Model Hydrants and is rated at 250 psi operating pressure and 500 psi test pressure. It is designed to function with the training and tools that operate industry standard hydrants.
U.S. Pipe
Birmingham, AL
Tel:866-347-7473
Web: www.uspipe.com
Pathogen identification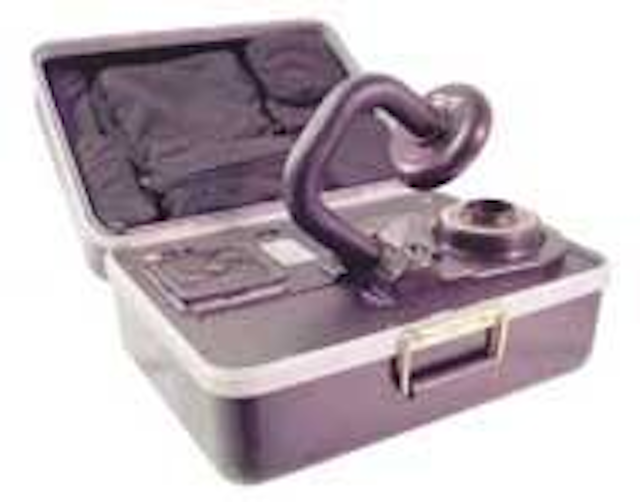 Click here to enlarge image
DNA technology can be used to quickly and accurately identify biological agents in a wide variety of matrices to include water. The Idaho Technology Inc. (ITI) Ruggedized Advanced Pathogen Identification Device (R.A.P.I.D.®) System can detect anthrax, Brucella, plague, E coli, Salmonella, cryptosporidium and others in less than 30 minutes. This system consists of a heated air thermocycler, fluorimeter, laptop computer and freeze dried reagents.
Idaho Technologies Inc.
Salt Lake City, UT
Tel: 800-735-6544
Web: www.idahotech.com
Flow totalizer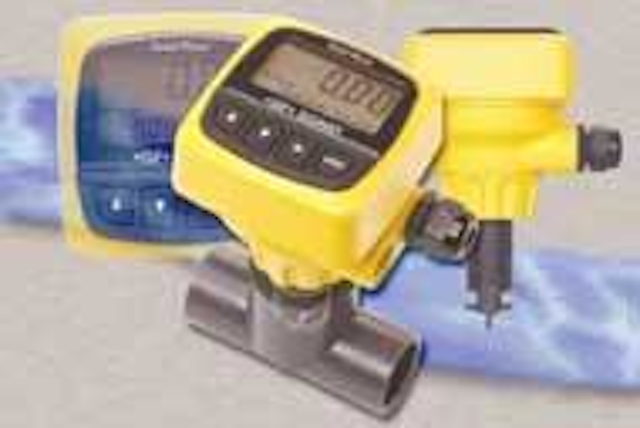 Click here to enlarge image
George Fischer Signet has announced the new +GF+ Signet 8150 Battery Powered Flow Totalizer, designed for use in applications where battery-powered operation is most effective. Applications include wastewater flow accumulation, water treatment systems, remote or mobile treatment and distribution systems, irrigation, filtration, and a number of process flow and cooling uses.
George Fischer Signet
El Monte, CA
Tel: 626-571-2770
Web: www.gfsignet.com
RO membranes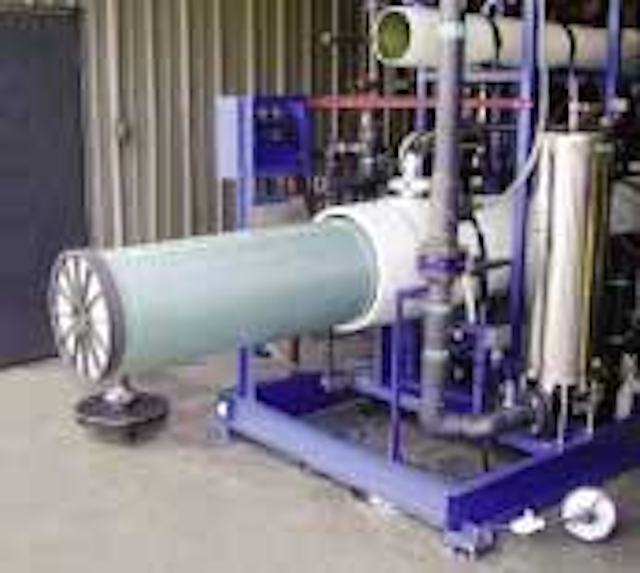 Click here to enlarge image
Koch Membrane Systems will be exhibiting its Fluid Systems® range of RO spiral elements including the MegaMagnum® RO element, and the Romicon® range of UF membrane cartridges and systems. The Kochtreat™ range of antiscalants and Kochkleen™ range of membrane cleaners are a perfect complement to the company's membranes to ensure optimal system performance.
Koch Membrane Systems Inc.
Wilmington, MA
Tel: 800-343-0499
Web: www.kochmembrane.com
Onsite chlorine

Click here to enlarge image
The Constant Chlor Plus Briquette Chlorinator from Arch Chemicals is designed to prepare and automatically deliver a consistently accurate dose of available chlorine for disinfecting applications. The unique shape of the dry briquettes assures a well-packed bed for consistent performance, without the occasional peaks that occur under the best of circumstances.
Arch Chemicals, Inc.
Smyrna, GA
Tel: 800-478-5727
Web: www.archwaterworks.com/municipal
ORP, pH meters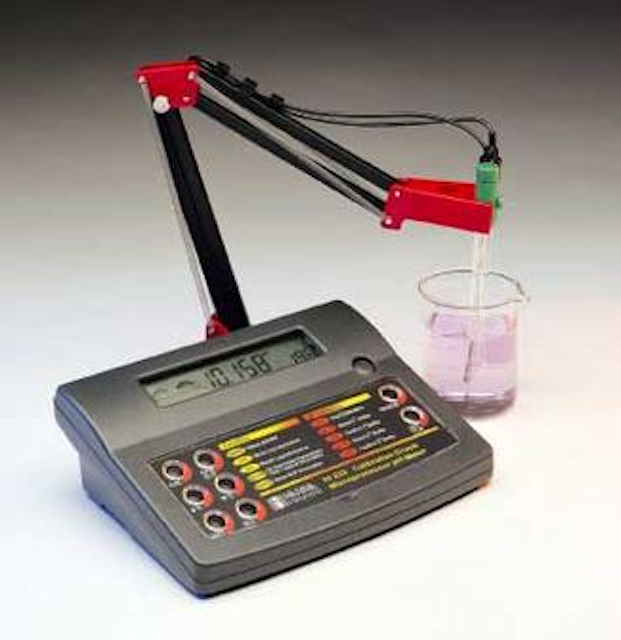 Click here to enlarge image
Hanna Instruments has introduced its new HI 221/223 pH/ORP/°C bench meter for water quality analysis. The meter features Hanna's Calibration Check™ system that allows users to monitor the status of the two most important elements of the calibration process: the pH electrode and the buffer solution. The new Calibration Check system features digital gauges, showing the condition and response time status of the electrode during the last calibration.
Hanna Instruments
Woonsocket RI
Tel: 401-765-7500
Web: www.hannainst.com
Flexible expansion joint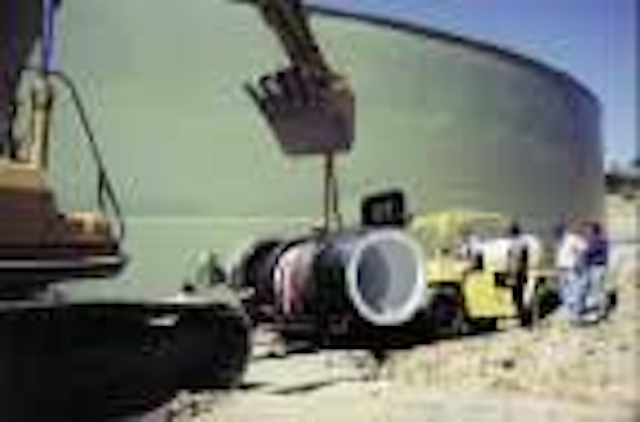 Click here to enlarge image
The Flex-Tend® flexible expansion joint from EBAA is now capable of a full 40 degrees deflection from stop to stop in sizes of 3'' to 12''. At 20 degrees per ball, this increased deflection adds 33% more flexibility per ball to provide maximum pipeline protection from damage due to ground motion including seismic disturbances.
EBAA Iron Sales Inc.
Eastland, TX
Tel: 800-433-1716
Web: www.ebaa.com
Pipe penetration seals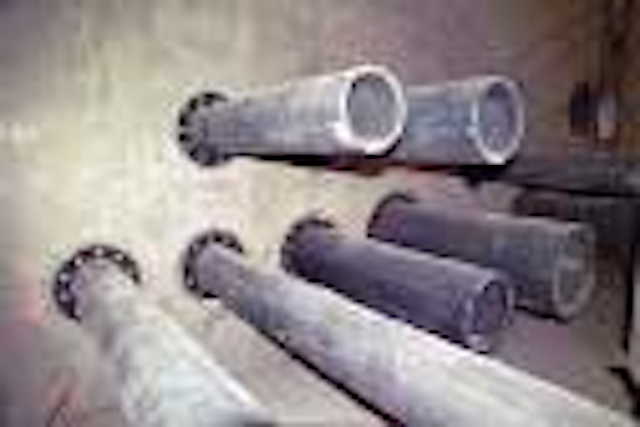 Click here to enlarge image
Link-Seal® modular seals in combination with the Century-Line Sleeves are designed for use as a permanent pipe penetration seals. Improved rubber formulations, pressure plates and a proprietary coating on standard carbon steel hardware reinforces quality. For extreme conditions in a treatment plant, the modular seals can use 316 stainless steel hardware.
PSI-Thunderline/Link-Seal®
Houston, TX
Tel: 800-423-2410
Web: www.linkseal.com
Insertable magmeter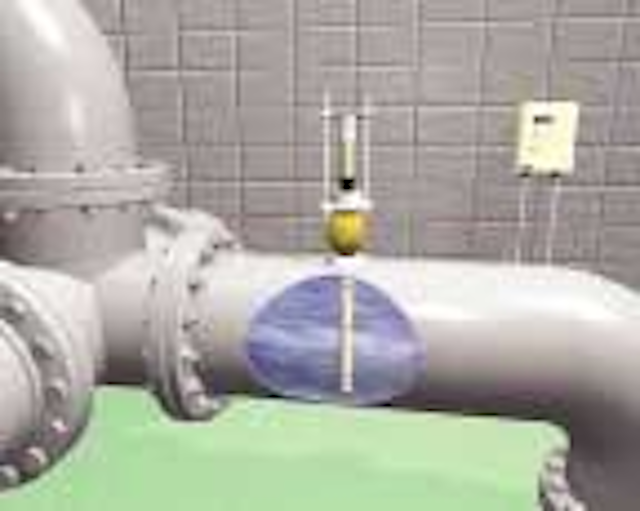 Click here to enlarge image
The Multi-Mag™ Insertable Magmeter was designed to measure debris-free flow in difficult applications including low flows, wide flow ranges, and restrictive piping configurations. An array of electromagnetic sensors are strategically located on the insertable probe that spans the entire pipe diameter. The probe detects and compensates for shifting flow profiles resulting in a better than 1% accuracy specification.
Marsh-McBirney, Inc
Frederick, MD
Tel: 800-368-2723
Web: www.marsh-mcbirney.com
Chemical scales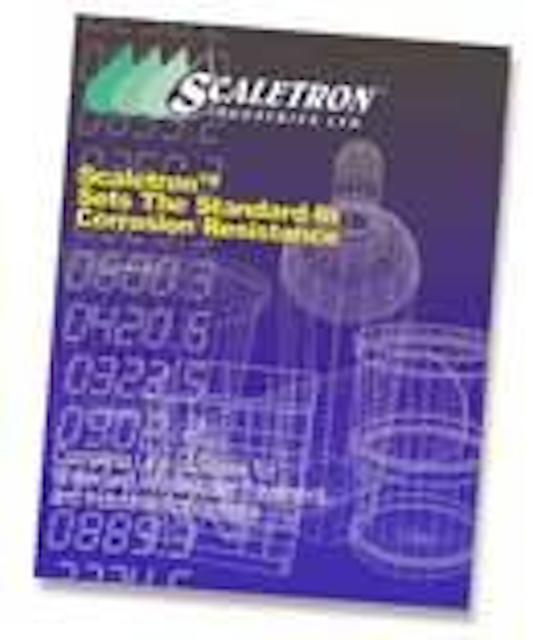 Click here to enlarge image
Scaletron Industries will exhibit its full line of scales for measuring chemicals used in the harsh, corrosive environments of the water treatment industry. The company also will have on hand a new applications and overview brochure which describes the firm's new Single Cylinder Hydraulic and IBC/Tote bin scales; its Mechanical and Digital Dual Cylinder, Tank and Ton scales; standard and ultra low profile Drum and Platform scales as well as the various indicators available for each scale.
Scaletron Industries
Plumsteadville, PA
Tel: 800-257-5911
Web: www.scaletronscales.com
Iron, manganese removal
Infilco Degremont's Ferazur/Mangazur™ filtration system is well suited for pressure filtration plants and gravity filtration plants that serve small and medium-sized communities. The compact system is ideal for retrofits and is simple to operate. The system uses biological reaction to remove iron and manganese, eliminating the need for oxidation chemicals.
Infilco Degremont
Richmond, VA
Tel: 804-756-7645
Air, vacuum valve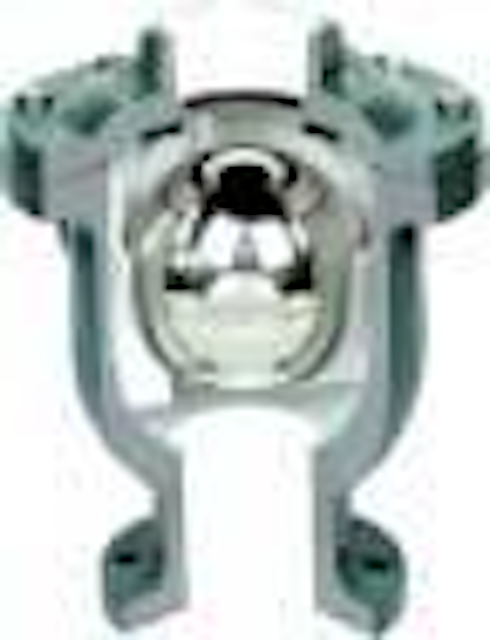 Click here to enlarge image
With an orifice the same diameter as its inlet, the Crispin Air & Vacuum valve allows large quantities of air to be vented from systems being filled with liquid. During system drainage, the air is allowed back in as liquid empties from the line. Its design is such that the velocity of air passing through the valve will not blow the float at normal design volumes.
Crispin Valve
Berwick, PA
Tel: 800-247-8258
Web: www.crispinvalve.com
Sludge collector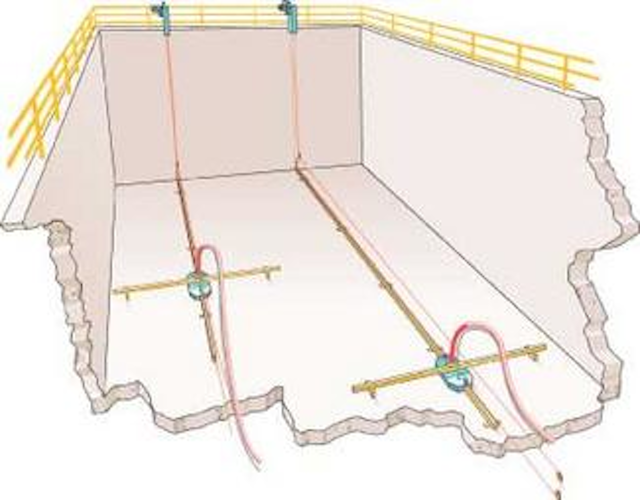 Click here to enlarge image
EIMCO Water Technologies, a division of GL&V Inc., has introduced an electrically operated, mechanically drawn version of its Trac-Vac® sludge collector. The cable-driven collector provides in-place sludge collection by using a simple yet robust drive design located above the water surface and aircraft-quality, stranded cable to glide the unit along the basin floor.
EIMCO Water Technologies
Salt Lake City, UT
Tel: 801-526-2400
Web: www.eimcowater.com
Turbidity system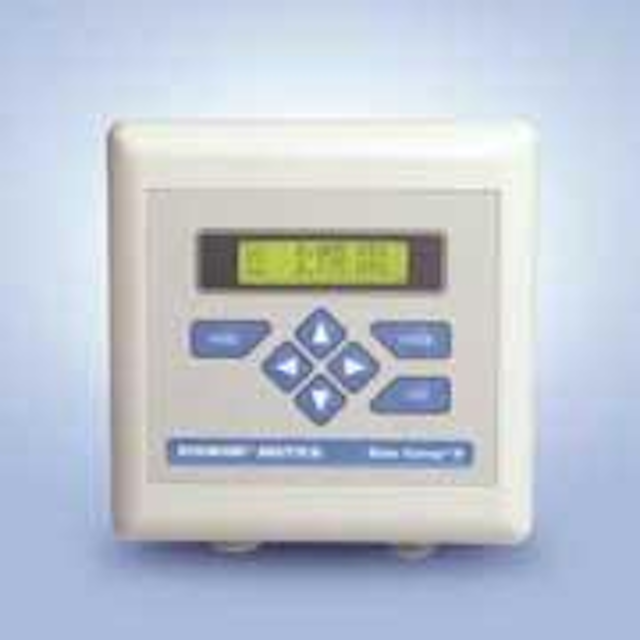 Click here to enlarge image
The Rosemount Analytical Clarity II two-channel turbidity system from Emerson Process Management allows drinking water treatment facilities to comply with U.S. EPA and international ISO regulations for measurement of water clarity.
Emerson Process Management,
Rosemount Analytical Inc.
Irvine, CA
Tel: 800-854-8257
Web: www.raihome.com
Software tools
Wallingford Software, a developer of network data management and hydraulic modeling software, has received the "Foundation Partner" award from ESRI. The award, made at the 2004 ESRI Business Partner Conference, recognizes "the partner who, through hard work and dedication, has consistently built a very strong, dependable relationship with ESRI." Wallingford's key products include InfoWorks, InfoNet and FloodWorks.
Wallingford Software
Fort Worth, TX
Tel: 817-370-2425
Web: www.wallingfordsoftware.com
Automated meter reading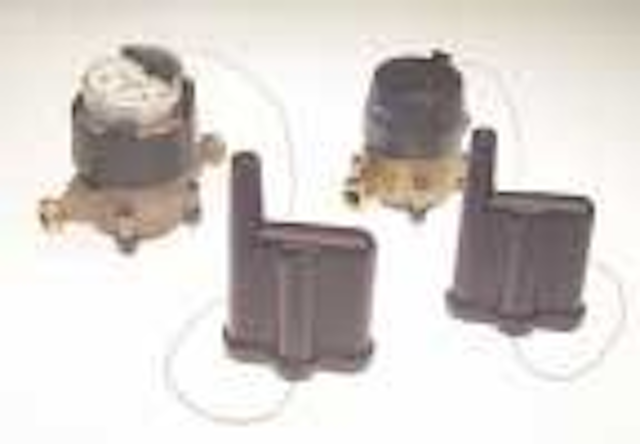 Click here to enlarge image
Mars has applied its experience in meter testing technology to automated meter reading systems. The company's SmartRF™ transmitters operate effectively in temperature variations and moisture that often cripple other meter reading devices. They have increased meter-pit transmitting power and offer a battery life of up to 13 years. Waterproofed with a unique process, they come programmed to work with all meters, encoders or standard registers.
Mars Co.
Ocala, FL
Tel: 800-782-5268
Web: www.marswater.com
Pipe, cable locator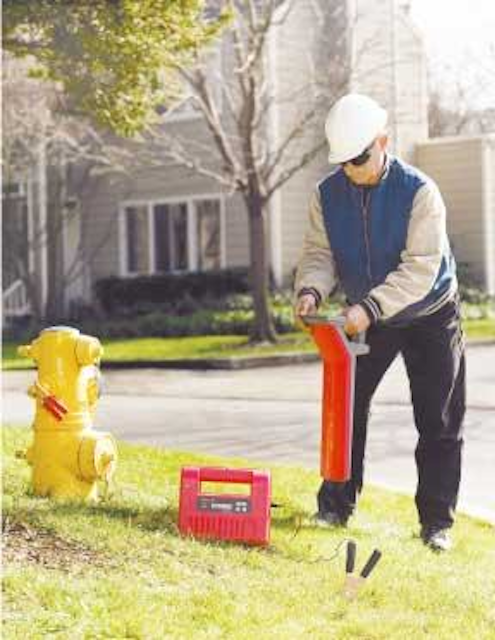 Click here to enlarge image
The new SubSurface PL-2000 Multi-Frequency Pipe & Cable Locator offers a new approach to low frequency locating. The transmitter has 3.0 watts of power output in the Direct Connection mode and three different active frequencies: 512 Hz, 8.125 kHz and 26.725 kHz. The light-weight receiver has four modes of operation: Peak, Null, Dist, and Sonde, and both inductive and direct connection capabilities.
SubSurface Locators
San Jose, CA
Tel: 408-249-4673
AMR system
Datamatic's new ProfileManager software tool for the Firefly AMR System provides instant field access to usage profile data collected by Firefly™ meter interface. The software is a standalone Java application designed to be installed on a ruggedized laptop computer and used in the field by metering technicians. It automates onsite data retrieval and works in tandem with the company's ProfilePlus™ graphing application.
Datamatic Ltd.
Plano, TX
Tel: 800-880-2878
Web: www.datamatic.com
Arsenic removal
Severn Trent Services offers SORB 33™, a process that reduces arsenic levels to below 10 mg/L across a complete range of large and small municipal drinking water systems. The simple process is based on a proprietary granular ferric oxide (GFO) adsorption technology that fixes the contaminant onto a solid media.
Severn Trent Services
Tampa, FL
Tel: 800-364-3931
Web: www.severntrentservices.com
Handheld turbidimeter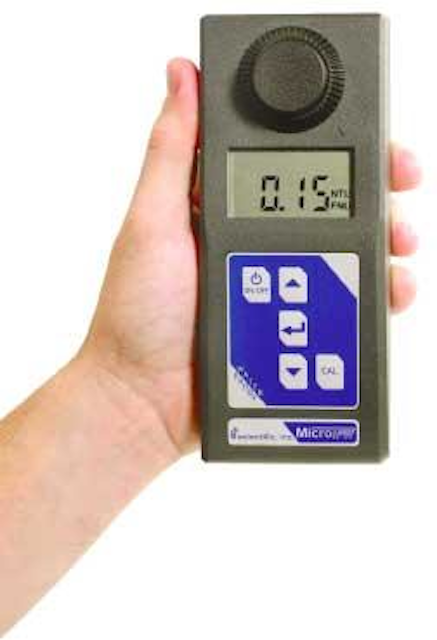 Click here to enlarge image
HF Scientific has announced the release of the MicroTPW Handheld Portable White Light Turbidimeter. The device is specifically designed to meet the regulations of the EPA. Using advanced microcircuit design, the tungsten lamp life has been significantly extended and battery life now approaches the useful life of the instrument.
HF scientific, Inc.
Fort Myers, FL
Tel: 239-337-2116
Web: www.hfscientific.com
Water testing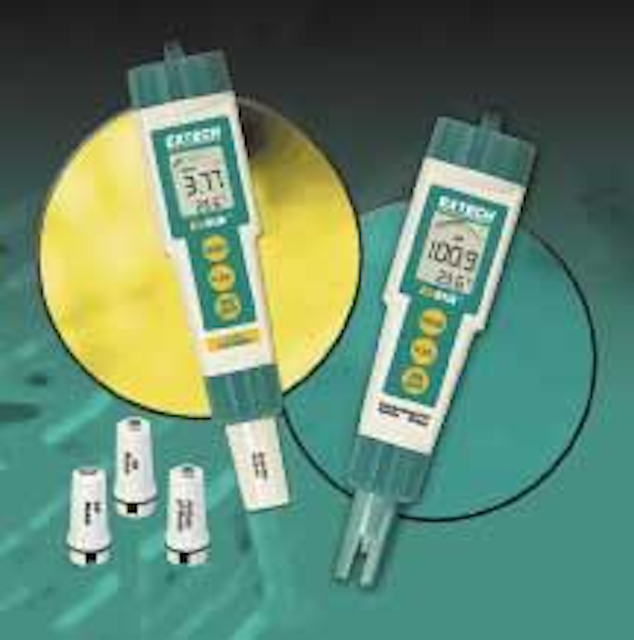 Click here to enlarge image
Two ExStik® meters can perform seven essential wastewater tests — chlorine, pH, ORP, conductivity, total dissolved solids, salinity and temperature. The ExStik® CL200 meter tests for total residual chlorine, pH, and ORP in liquids, semisolids, and solids. The meter also measures temperature from 23° to 194°F. The meter measures from 0.01 to 10.00 ppm total chlorine using an EPA approved method.
Extech Instruments
Waltham, MA
Tel: 781-890-7440
Web: www.extech.com
Consulting services
EMA specializes in working with utilities and related municipal organizations to help them with a variety of strategic business and operational issues. The company can help utilities improve their water operations to protect water quality, conserve energy, and ensure sustainability of future water supply; deal with a changing workforce; and develop or improve asset management programs.
EMA, Inc.
St. Paul, MN
Tel: 651-639-5600
Web: www.ema-inc.com
Compression connection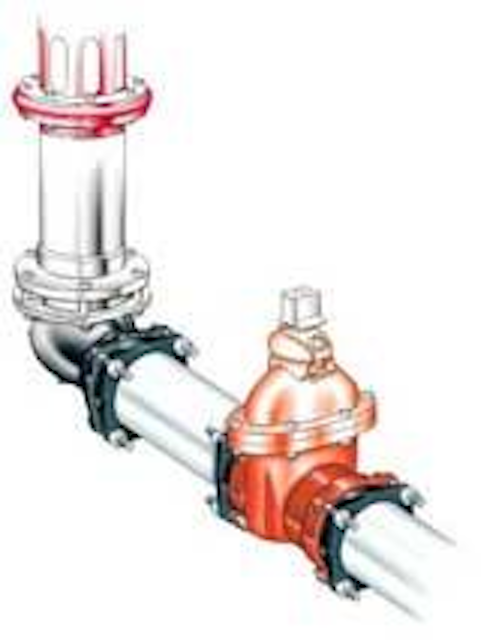 Click here to enlarge image
The AquaGrip® restrained compression connection is so easy to use. Installation involves stabbing in the pipe and tightening a few bolts. No disassembly, no extra pieces, no special torque, and no special training is required. The connection is available exclusively from Mueller on the Centurion Fire Hydrants and Resilient Wedge Valves.
Mueller Co.
Decatur, IL
Tel: 800-423-1323
Web: www.muellercompany.com
Universal Pipe Cutters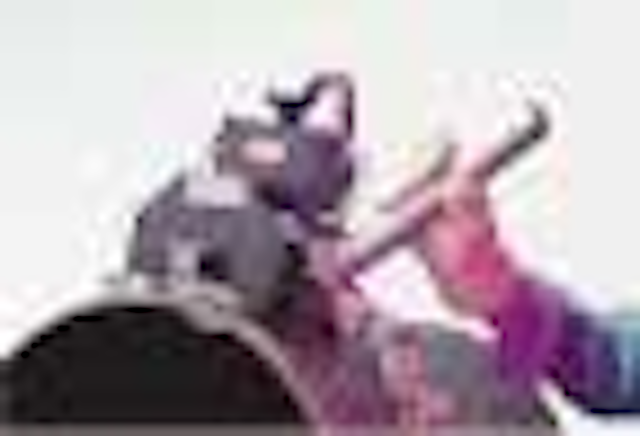 Click here to enlarge image
Reed's Universal Pipe Cutters cut 6'' – 48'' outside diameter ductile iron, cast iron, clay, concrete, PVC or PE pipe. The 6'' – 16'', 6'' – 36'', and 6'' – 48'' units are either pneumatic or hydraulic-powered. Cutters are lightweight, easy to set up and use, fast cutting, and require only 12'' clearance around the pipe. The UPC616 ships in a steel toolbox with a three gallon steel water tank.
Reed Manufacturing Co.
Erie, PA
Tel: 800-666-3691
Web: www.reedmfgco.com
Toxicity testing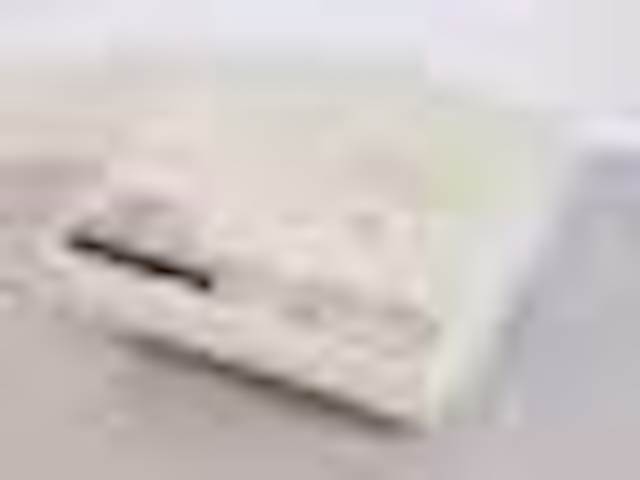 Click here to enlarge image
More than 100 major drinking water utilities and Departments of Health throughout the country have selected Microtox® Toxicity Test Systems as part of their water security monitoring and emergency response programs. The system can be used for identifying an increase in toxicity or biomass that would be characteristic of the intentional contamination of a water supply.
Strategic Diagnostics Inc.
Newark, DE
Tel: 800-544-8881
Web: www.sdix.com
Reporting software
WaterTrax gives water professionals a software tool to manage water quality and operating information. The WaterTrax Utility Service consolidates, screens and reports drinking water, wastewater and stormwater records, saving time and money while improving workflow and due diligence. Utility staff enter operational and water quality records into an organized database.
WaterTrax
Seattle, WA
Tel: 866-812-2233
Web: www.watertrax.com
Membrane filter media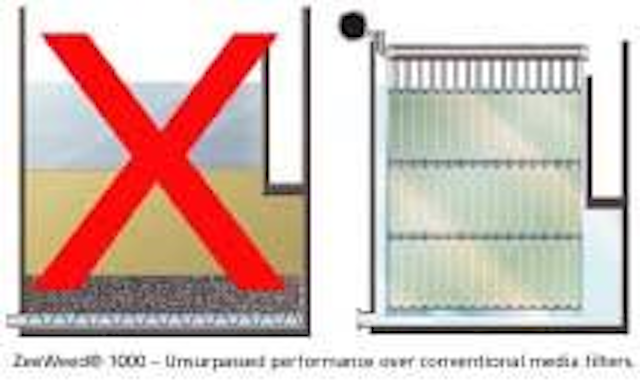 Click here to enlarge image
Specially designed for drinking water treatment, Zenon's ZeeWeed 1000 offers one of the smallest plant footprints available today. By applying suction to membranes rather than pressure, the plants benefit from reduced energy consumption, decreased membrane fouling, and longer membrane life.
Zenon Environmental Inc.
Oakville, Ontario
Tel: 905-465-3030
Web: www.zenon.com
Diaphragm pump
Neptune Chemical Pump Co. has announced new liquid end options for the Series PZ Electronic Diaphragm pumps. Now available are Kynar (PVDF) and 316SS liquid ends, in addition to the original PVC and acrylic models. Kynar (PVDF) models are available with choice of EPDM, Viton, or Teflon seals.
Neptune Chemical Pump Co.
Lansdale, PA
Tel: 888-363-7886
Web: www.neptune1.com
Metering pump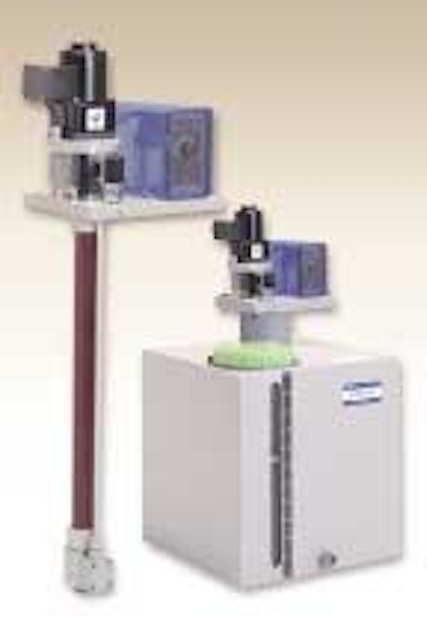 Click here to enlarge image
Tacmina's exhibit at AWWA 2004 will introduce the new GLV Series valveless metering pump, designed to eliminate gas locking during sodium hypochlorite injection. Materials are selected for corrosion resistance in hypochlorite. The pump, available through Neptune Chemical Pump Co., is designed specifically for 12% to 15% sodium hypochlorite or other chemicals with severe off gassing problems.
Neptune Chemical Pump Co.
Lansdale, PA
Tel: 888-363-7886
Web: www.neptune1.com
Aluminum tanks covers
Ultraflote provides the design, manufacture and installation of aluminum covers for the water and wastewater industry. Its Ultradome™ roof is custom engineered for specific design requirements. The self-supporting dome allows for maximum overhead space and provides interference free operation for equipment. The Quad-Seal™ flat cover, for both rectangular and round tanks, consists of individual, interlocking panels made up of reinforced extruded aluminum planks.
Ultraflote Corp.
Houston, TX
Web: www.ultraflote.com
Charge analyzer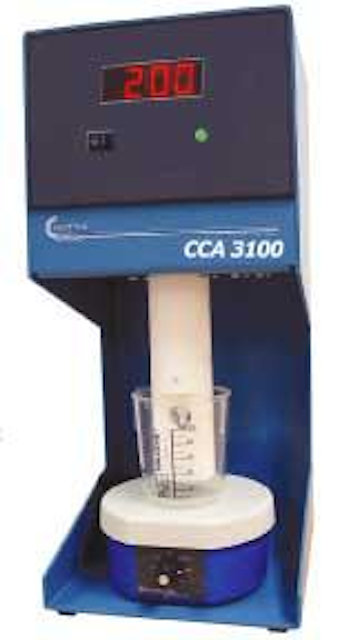 Click here to enlarge image
Chemtrac Systems has introduced its laboratory Coagulant Charge Analyzer (CCA 3100) that is capable of determining the optimum coagulant/polymer dose in five minutes or less. An operator can adapt more quickly to sudden quality changes in the raw water than with conventional jar test equipment because results can be compared with actual plant performance.
Chemtrac Systems, Inc.
Norcross, GA
Tel: 800-442-8722
Web: www.chemtrac.com
Chemical treatment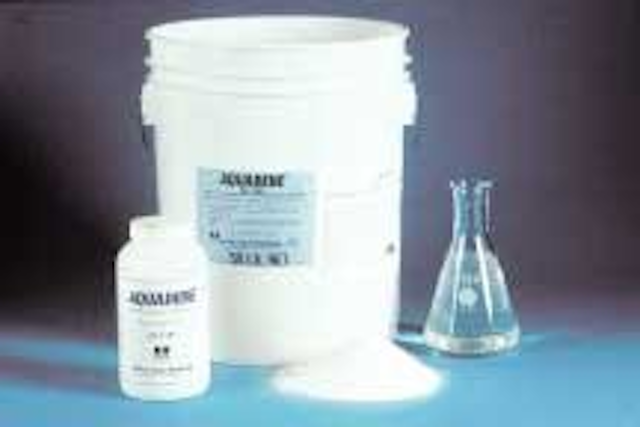 Click here to enlarge image
Stiles-Kem and Pristine Hydrochemical's exhibit will feature chemical treatment programs which provide a variety of solutions for municipal water treatment. Stiles-Kem's Aquadene™ series of blended phosphate products are used for corrosion control and sequestration. These NSF Standard 60 approved products are formulated to eliminate problems associated with high iron and manganese levels.
Stiles-Kem Division/Pristine Hydrochemical Inc.
Waukegan, IL
Tel: 800-562-1537
Web: www.met-pro.com/stiles.html
UV disinfection
WEDECO offers a variety of UV disinfection systems. The company is the first manufacturer in the world to have its whole range of drinking water products biodosimetrically certified. The WEDECO K Series can be optionally equipped with a fully automatic dose control. This unique feature enables the output to be adjusted precisely to the water quality and flow.
WEDECO UV Technologies
Charlotte, NC
Tel: 704-716-7600
Web: www.wedeco.us
Automatic hydrant flushing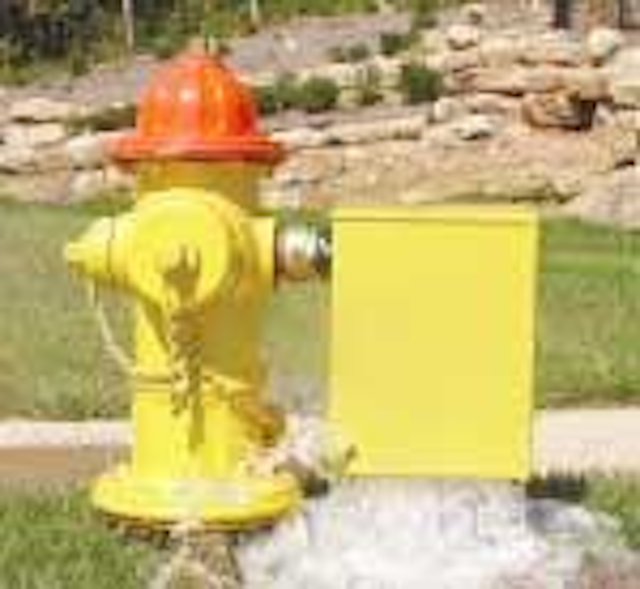 Click here to enlarge image
Kupferle Foundry will be exhibiting its new #9700 Automatic Hydrant Flusher at this year's AWWA conference. The flusher attaches to any 2 1/2" NST nozzle, and then the flushing cycle can be selected, usually at night. Man-hour savings can be realized by flushing troublesome dead-ends without sending personnel.
Kupferle Foundry Co.
St. Louis, MO
Tel: 800-231-3990
Web: www.blow-offs.com
Valves
Click here to enlarge image
OCV Valves manufactures a variety of valves for the waterworks industry, including diaphragm actuated, pilot operated automatic control valves. Other valve types include pressure reducing, pump control, electrical/computer interfacing, altitude and float level control, pressure relief and surge anticipation and zone control valves. Standard features include ductile iron construction with 100% epoxy coating.
OCV Valves
Tulsa, OK
Tel: 888-628-8258
Web: www.controlvalves.com
Fixed network AMR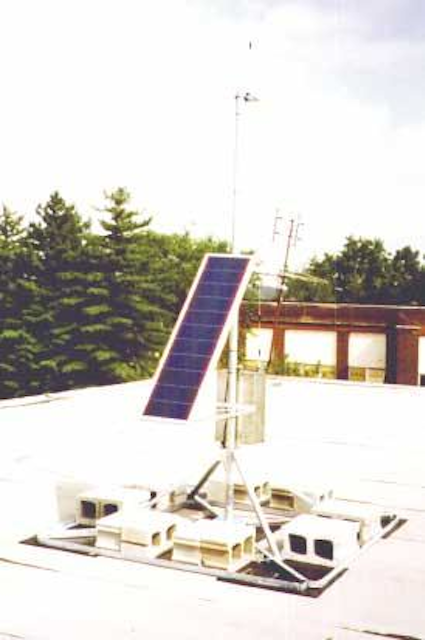 Click here to enlarge image
Hexagram's Star® Fixed Network Automatic Meter Reading System uses wireless technology that automatically transmits usage data on an exclusive, secure 450-470 MHz frequency channel. The system can provide meter readings as frequently as 15 minutes, allowing utilities to respond more rapidly to leaks and/or resource theft.
Hexagram, Inc.
Cleveland, OH
Tel: 216-464-1057
Web: www.hexagram.com
Ion exchange resin
MIEX® is an innovative ion exchange resin that removes dissolved organic carbon (DOC), a precursor to disinfection by-products in drinking water. The resign features a magnetic component that allows the resin to be used in a continuous ion exchange process, and be almost totally recovered. The process is flexible and can adapt to changes in raw water quality to meet more stringent EPA Disinfection By-Product standards.
Orica Watercare
Watkins, CO
Tel: 877-414-6439
Web: www.miexresin.com
UV disinfection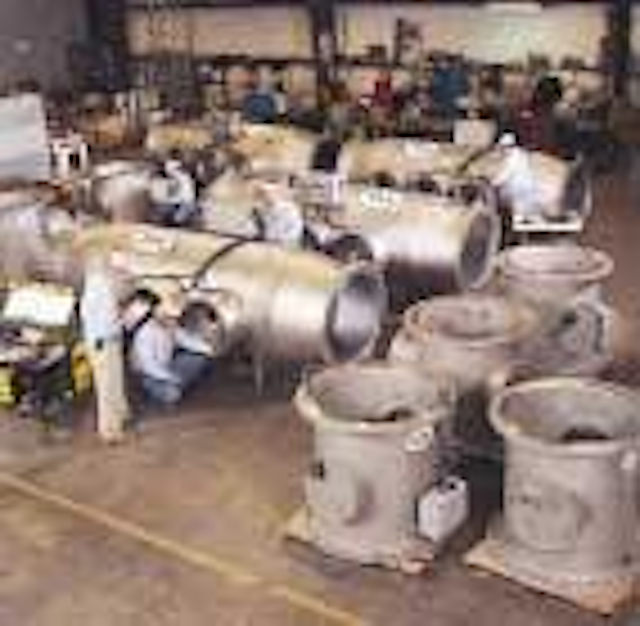 Click here to enlarge image
Calgon Carbon is a manufacturer of UV disinfection technology. Its Sentinel™ UV product line features medium pressure designs with 18"-48" reactor sizes validated for treatment of Cryptosporidium and Giardia according to EPA LTII guidelines. They also are validated over a wide range of water qualities and flow rates.
Calgon Carbon Corp., UV Division
Pittsburgh, PA
Tel: 800-422-7266
Web: www.calgoncarbon.com/uv
Level, pressure control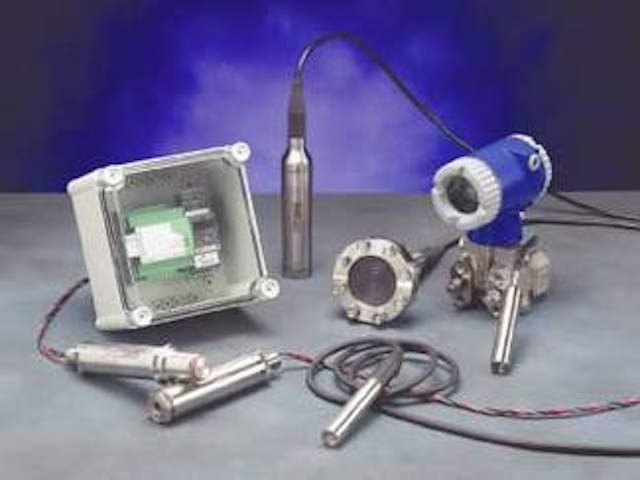 Click here to enlarge image
Viatran offers a variety of water/wastewater level and pressure measurement devices. The family of products includes the Model 948 submersible level transmitter with HART communications; the Model WW517 submersible level pressure transmitter for wastewater applications; the Model IDP10 differential pressure transmitter for various water/wastewater applications; the Model 517 submersible titanium level transmitter for wastewater application; the Model 517 submersible stainless-steel level transmitter for reservoirs, dams, groundwater studies.
Viatran Corp.
Grand Island, NY
Tel: 716-773-1716
Web: www.viatran.com
Valve operators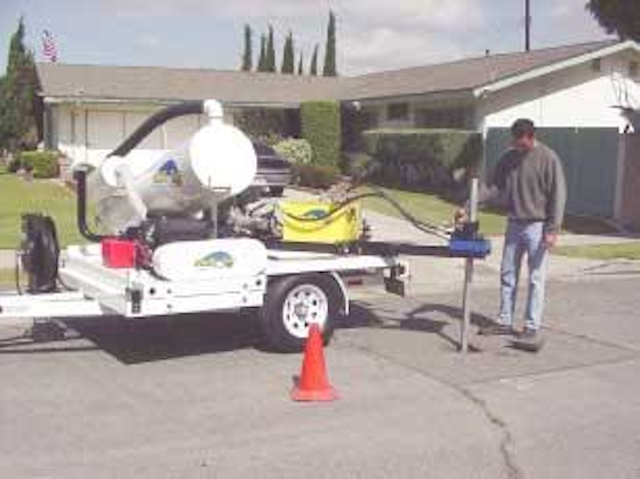 Click here to enlarge image
The latest version of the "Valve & Vac" system from Pacific Tek uses a swivel mount which allows the valve operator to swivel a full 180 degrees and extend out 29'' to turn valves anywhere within a 56 square foot area alongside or behind the unit. Available in both trailer and truck bed mounted versions, this adaptation eliminates having to position the valve operator vehicle directly over the valve being turned.
Pacific Tek Inc.
Santa Ana, CA
Tel: 714-898-6744
Web: www.pacific-tek.com
Wireless AMR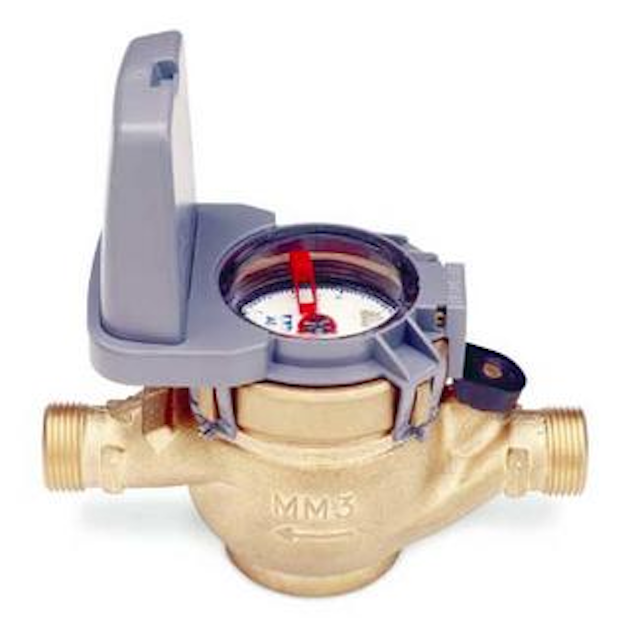 Click here to enlarge image
All Master Meter meters with Dialog Registers are retrofitable with 3G-WR (Wireless Retrofit) featuring a wireless RF two way transceiver incorporating leading edge technology. The clip-on transceiver is sealed within a high impact plastic enclosure and potted to protect it from moisture intrusion, making it suitable for pit installation where flooding and mud ingress are common.
Master Meter Inc.
Fort Worth, TX
Tel: 800-765-6518
Web: www.mastermeter.com
Mapping, geospatial systems
Intergraph Mapping and Geospatial Solutions will showcase Geospatial Infrastructure Management (GIM) solutions to the AWWA audience. The company's GIM solutions can assist in managing all aspects of the infrastructure life cycle. The company's GeoMedia PublicWorks Manager delivers specific capabilities for the creation, management, and analysis of connected networks.
Intergraph Mapping & Geospatial Solutions
Huntsville, AL
Tel: 256-730-1430
Web: www.intergraph.com/gis
Pumping systems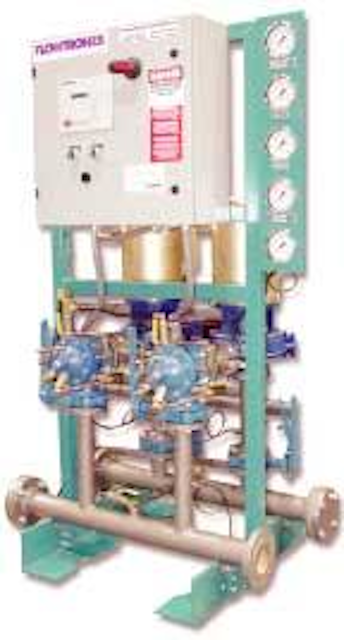 Click here to enlarge image
The Flowtronex JTC is a pre-engineered, completely assembled, factory flow-tested pumping system for water in municipal applications. Pre-manufactured subassemblies provide cost effective systems with unusually short lead times.
Flowtronex PSI Inc.
Dallas, TX
Tel: 214-357-1320
Web: www.flowtronex.com
Chemical scale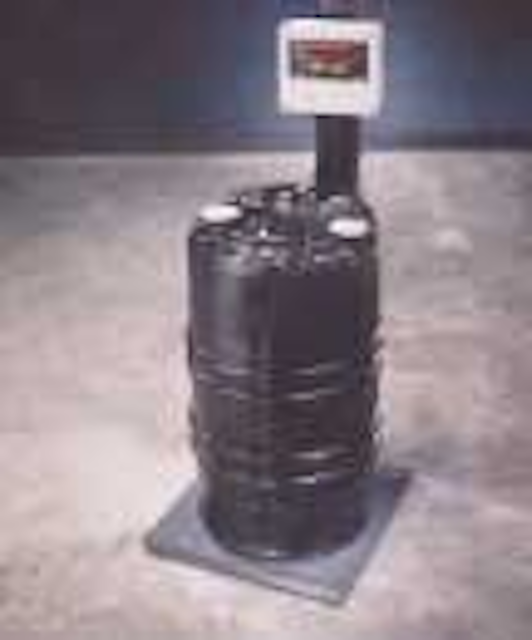 Click here to enlarge image
The new WP1000 electronic, ultra-low profile weigh plate from Eagle Microsystems provides ± 0.1% full-scale accuracy and readout/transmission versatility. This scale can be used for weighing liquid, dry or liquefied gaseous chemicals packaged in cylinders, drums and carboys and have capacities to 1000 lbs. in three platform sizes.
Eagle Microsystems, Inc.
Pottstown, PA
Tel: 800-780-8636
Web: www.eaglemicrosystems.com
Positive displacement meters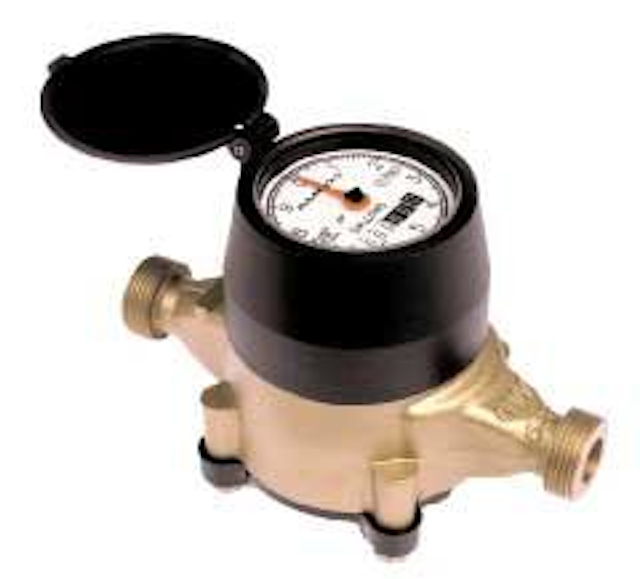 Click here to enlarge image
AMCO Water's C700 Positive Displacement Meters available in waterworks and low-lead bronze, 5/8'' to 2'', are of piston design, offering low flow accuracy exceeding AWWA specification C700, and meeting or exceeding all other performance and material requirements of the specification. The meters can be equipped with digital or absolute encoder registers for interface to walk-by, drive-by or fixed network radio frequency systems from the major AMR manufacturers, including Itron, Trace and Hexagram systems.
AMCO Water Metering Systems Inc.
Ocala, FL
Tel: 800-874-0890
Web: www.amcowater.com
Chlorine dioxide generator
The new Sabre Chlorine Dioxide Generator is effective in eliminating fouling-related maintenance downtime, and in providing further reliability through its user-friendly design. It has been used successfully for drinking water disinfection, THM reduction, and taste and odor control, as well as other needs.
Sabre Oxidation Technologies, Inc.
Odessa, TX
Tel: 432-368-4484
Web: www.sabretechnologies.com
Gas chlorinator
The Regal gas chlorinator, from Chlorinators Inc., is a direct cylinder mounted, all-vacuum system in which chlorine gas is drawn through the unit with vacuum created by the flow of water through the ejector. If the vacuum line breaks or is damaged, the gas shuts off automatically. The system also features a reusable filter that removes impurities, while permitting flow rates up to 500 lbs./day.
Chlorinators Inc.
Stuart, FL
Tel: 772-288-4854
Web: www.regalchlorinators.com
Monitoring equipment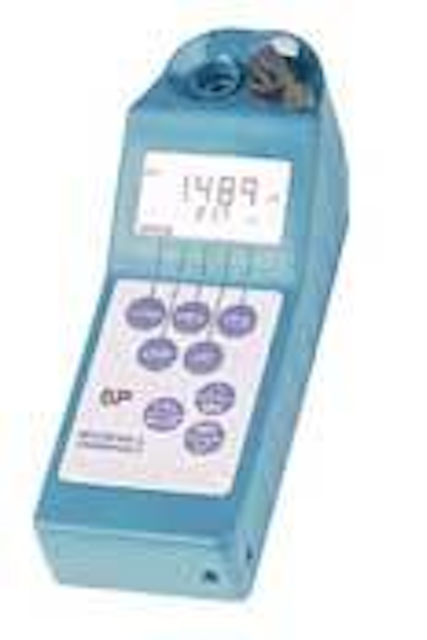 Click here to enlarge image
The Myron L Co. is a manufacturer of handheld meters and process monitor / controllers for municipal, industrial, agricultural and commercial process control. The company offers many of the control parameters required for water treatment such as conductivity, TDS, pH and ORP bundled in either single or multiple parameter, analog or digital, handheld or in line process instruments.
Myron L. Co.
Carlsbad, CA
Tel: 760-438-2021
Web: www.myronl.com
Utility saw
E.H. Wachs offers a rugged Utility Saw for 2'' through 12'' cast and ductile iron pipe. The "Super C" provide efficient cold cutting operation, compact design and large cutting range. Setup time is under 5 minutes. A chain vise clamps the Guillotine Saw to the pipe. The "V"-saddle base assures square cuts at right angles and the saw can be mounted in any position around the pipe. It works equally well on vertical and horizontal piping.
E.H. Wachs Co.
Wheeling, IL
Tel: 847-537-8800
Web: www.wachsco.com
Peristaltic pumps
Watson-Marlow Bredel will showcase its new 520 Du peristaltic pump at AWWA 2004. Designed to handle the most corrosive fluids with reliable and accurate metering performance, the pumps are ideal for environmental processing applications. For demanding metering requirements, the pumps are equipped with a high-torque microprocessor controlled drive, ensuring a higher range of flow rates up to 875,000:1 turn down ratio.
Watson-Marlow Bredel Pumps
Wilmington, MA
Tel: 800-282-8823
Web: www.wmbpumps.com
Arsenic removal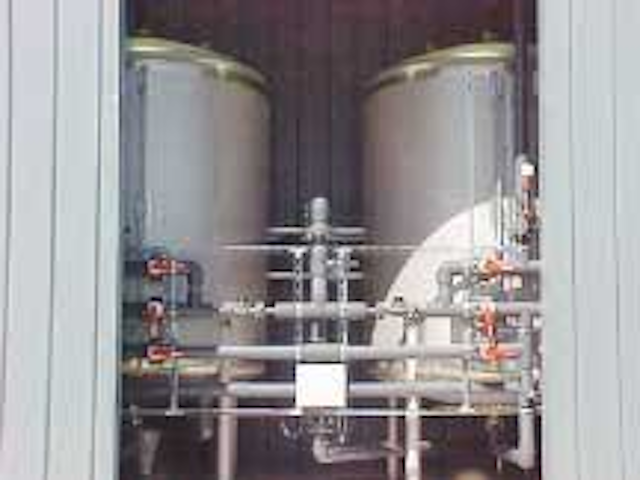 Click here to enlarge image
Media G2® technology from ADI International is used for removal of arsenic from drinking water. The media is a granular, iron-based adsorbent which can reduce arsenic concentration to <2 ppb, even from as high as 1200 ppb. And unlike other such adsorbents, after saturation it can be regenerated and re-used (no hazardous residuals are produced), and it is unaffected by high concentrations of sulfate, chloride, silica or iron.
ADI International, Inc.
Fredericton, NB
Tel: 800-858-1888
Web: www.adi.ca
Hybrid PLC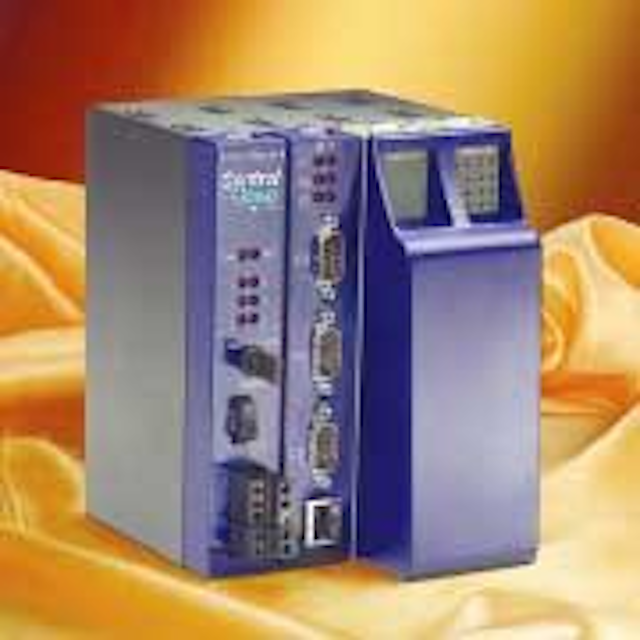 Click here to enlarge image
Bristol Babcock has introduced ControlWave Micro, a new hybrid PLC for the control of wastewater treatment processes. The PLC can be used to control the entire primary, secondary and advanced treatment of wastewater produced by industrial processes. It also has the performance, control and calculation capability to automate complex processes such as pH control and anaerobic, RO and SBR treatment.
Bristol Babcock Inc.
Watertown, CT
Tel: 860-945-2200
Web: www.bristolbabcock.com
HMI/SCADA software
GE Fanuc is showcasing the new iFIX 3.5 HMI/SCADA software – which features new project management, data accessibility and security functionality. Through this new functionality, municipal treatment plants can reduce development time, improve connectivity and information sharing, and gain greater overall control of their processes. The Intellution WorkSpace delivers point-and-click simplicity to application development. Through the use of powerful yet easy-to-use Wizards, the software package accelerates the development process.
GE Fanuc Automation Americas, Inc.
Charlottesville, VA
Tel: 410-242-0300
Web: www.gefanuc.com
Water, wastewater treatment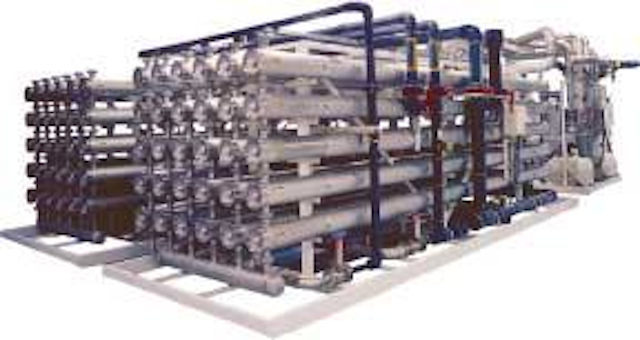 Click here to enlarge image
A variety of solutions for potable water and wastewater treatment will be featured by GE Infrastructure Water & Process Technologies at the American Water Works Association's Annual Conference & Exhibition. A new global resource for meeting water treatment needs, the company can help suppliers of drinking water with NSF certified products, corrosion prevention, clarification, filtration, disinfection and operation and maintenance.
GE Infrastructure Water & Process Technologies
Trevose, PA
Tel: 215-942-3208
Web: www.gewater.com
Monitoring, control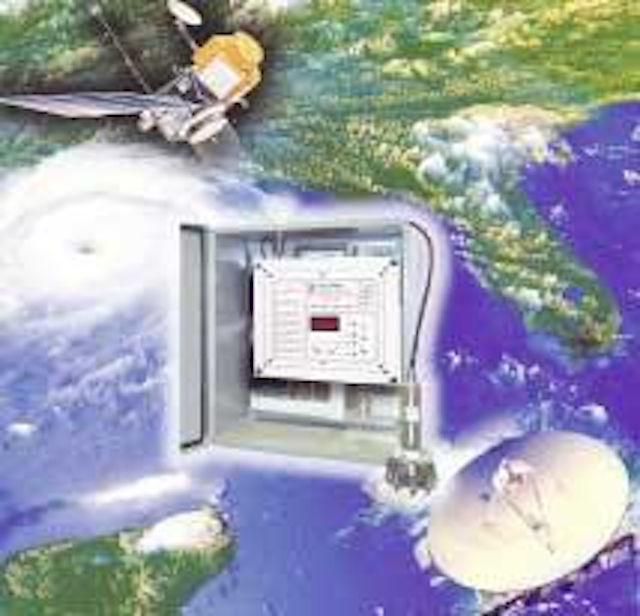 Click here to enlarge image
The new "Internet Messenger" generation MS2 system from Blue Ribbon Corp. is a single, stand-alone instrument which monitors and controls the functions of a single or multiple lift stations to detect faults such as pump failures, level-sensor failures, high or low water emergency alarms, loss of station power and other anomalies as they occur. Application is primarily for monitoring wastewater flow.
Blue Ribbon Corp.
Winter Park, FL
Tel: 877-677-8899
Web: www.blueribboncorp.com
Filter system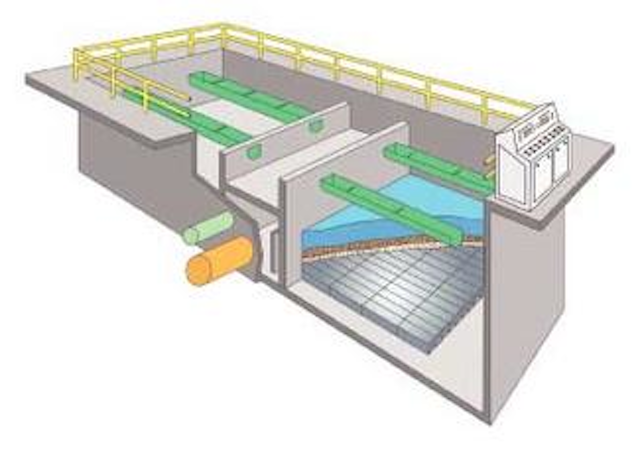 Click here to enlarge image
The Leopold Performance Filter is a rapid gravity flow granular bed filter designed and engineered to achieve specific performance requirements of individual water treatment plants. Each aspect of the filter – filter media, backwash and controls – is tuned to achieve maximum rate of filtration at the longest possible cycles.
F.B. Leopold Co.
Zelienople, PA
Tel: 724-452-6300
Web: www.fbleopold.com