NEW PRODUCTS
The new Prime-Pac™ prepackaged pump station from Flo-Pak provides municipalities efficient movement of sewage to treatment facilities on an uninterrupted basis.
May 1st, 2004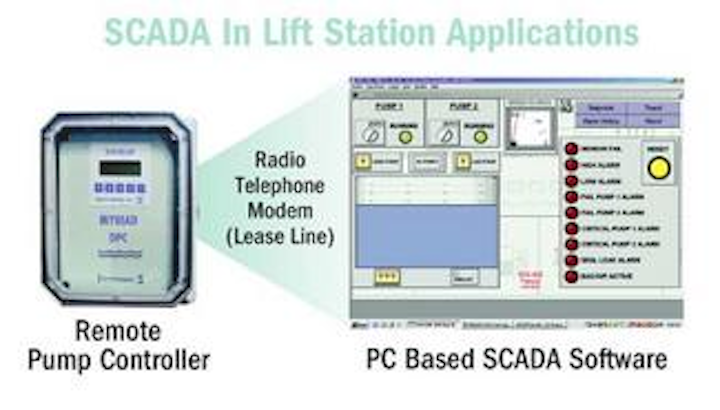 Packaged pump station
The new Prime-Pac™ prepackaged pump station from Flo-Pak provides municipalities efficient movement of sewage to treatment facilities on an uninterrupted basis. It is engineered for economical life cycle cost and ease of maintenance, with budget constraints in mind. It can prime the system up to 20' static lift in less than one minute, eliminates the use of vacuum pumps and filters by blowing air away with a compressor.
Flo-Pak
Atlanta GA
Tel: 770-452-3680
Web: www.flo-pak.com
Pump monitoring, control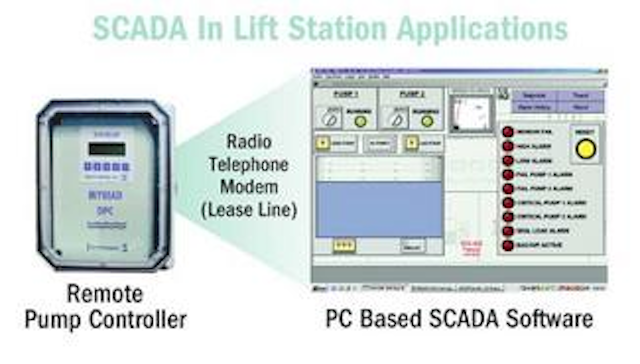 Click here to enlarge image
To address the increasing need for remote monitoring and control of sewage lift stations, Sigma Controls' Myriad series of microprocessor based pump controllers are fully SCADA ready, out of the box. The company's Infilink remote monitoring software package provides full remote monitoring and control of pump stations.
Sigma Controls, Inc.
Perkasie, PA
Tel: 215-257-3412
Web: www.sigmacontrols.com
Wireless data system
Dataradio has announced the availability of its solution for converging fixed and mobile wireless data systems. The convergence solution, driven by the company's Converged RFNetwork Controller, enables administrators to consolidate and manage their networks through one streamlined wireless data infrastructure. The controller provides a variety of features aimed at optimizing performance while simplifying maintenance of mobile and fixed data networks.
Dataradio Inc.
Waseca, MN
Tel: 800-992-7774
Web: www.dataradio.com
Emergency valve actuator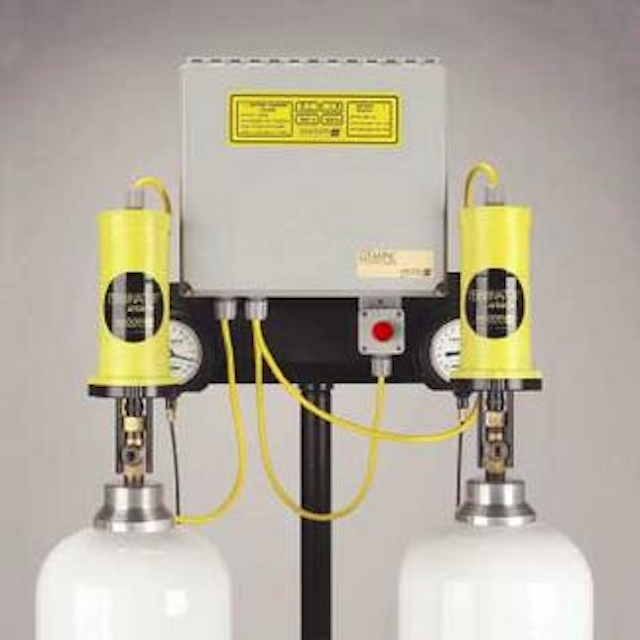 Click here to enlarge image
Halogen Valve Systems' Terminator Actuator™ closes 150 lb. cylinder valves in less than three seconds when activated from remote sensors and switches. This fire code approved, microprocessor controlled, sequential system quickly applies 40 to 50 foot-pounds of torque to assure the closure of hazardous gas valves. The Gemini controller has a self-contained battery system that guarantees the operation of the motorized closing mechanism during a power failure.
Halogen Valve Systems
Irvine, CA
Tel: 877-476-4222
Web: www.halogenvalve.com
Pipe locator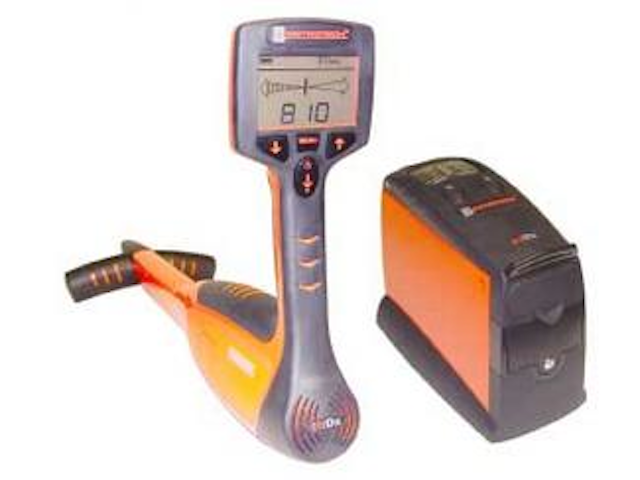 Click here to enlarge image
Metrotech has introduced the 810 Dx Pipe and Cable Locator, a single frequency instrument designed for locating all types of buried utilities. The locator features a constant current transmitter and a newly designed ergonomic receiver. Together, the "system" is more resistant to all types of weather conditions and maximizes the electromagnetic signal applied to the pipe.
Metrotech Corp.
Sunnyvale, CA
Tel: 408-734-1400
Wastewater pumps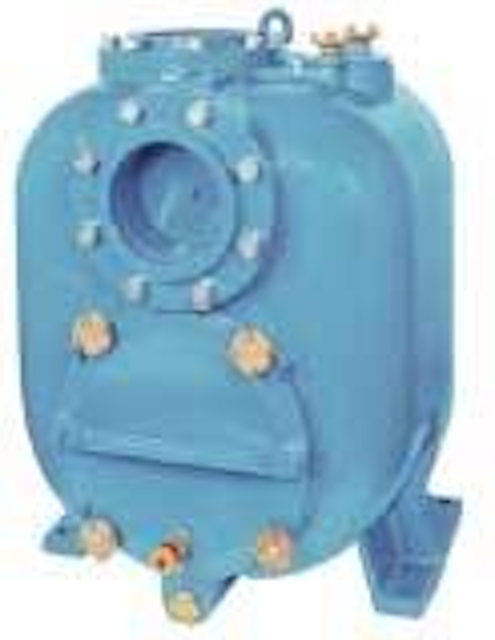 Click here to enlarge image
Thompson Pump has added a new series of pumps to its line of construction and public works pumps. The ST Series is a new line of self-priming centrifugal sewage pumps from Varisco Pumps, the experts in self-priming, which has been specifically designed for use in sewage applications – sewer bypasses, lift stations, treatment plants - and other applications with liquids having a high concentration of solids in suspension.
Thompson Pump
Port Orange, FL
Tel: 800-767-7310
Web: www.thompsonpump.com
Float switch

Click here to enlarge image
The Conery 2900 Series Float Switch is celebrating its 25th year in the industry by receiving a facelift. The float switch now has an aesthetically pleasing new polypropylene outer shell that is filled with polyurethane foam. This new outer shell makes this float switch indestructible under the most severe sewage conditions. The float is designed for liquid level control in many applications, including wastewater and water environments.
Conery Mfg Inc.
Ashland, OH
Tel: 419-289-1444
Web: www.conerymfg.com
Vertical turbine pump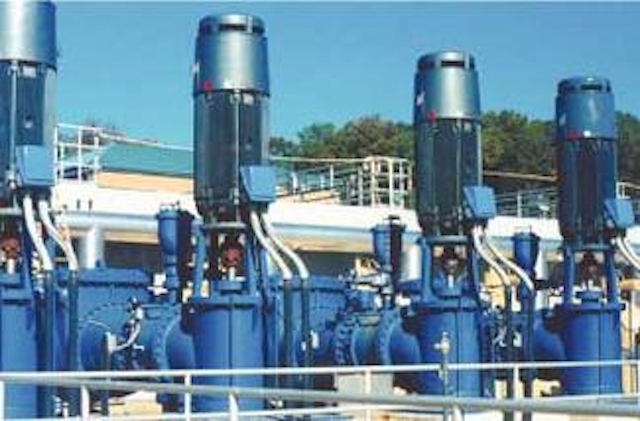 Click here to enlarge image
Patterson's vertical turbine pump employs the latest design concepts and engineering technology in producing an efficient pump that is adaptable in a variety of industrial, municipal and power applications. It can be staged as necessary to meet desired pressure requirements. Non-fire pump application capacities are from 500 to 7,000 gpm, with up to 700 ft. TDH.
Patterson Pump Co.
Toccoa, GA
Tel: 706-886-2101
Web: www.pattersonpumps.com
Check valves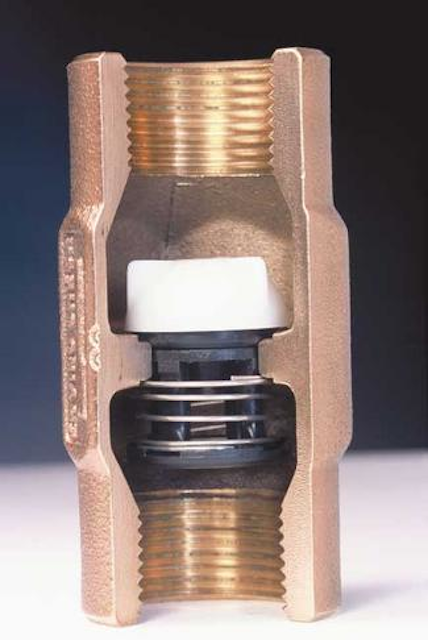 Click here to enlarge image
Danfoss Flomatic has introduced the series "H", or Heavy Service Series which will complement its model 80E and 100E Check Valves. The new valves are designed to eliminate start-up problems in water well systems due to sand and debris. Their patent pending design does not allow debris to collect, which sometimes causes poppets to stick open.
Danfoss Flomatic Corp.
Glens Falls, NY
Tel: 800-833-2040
Web: www.danfossflomatic.com
Temperature transducers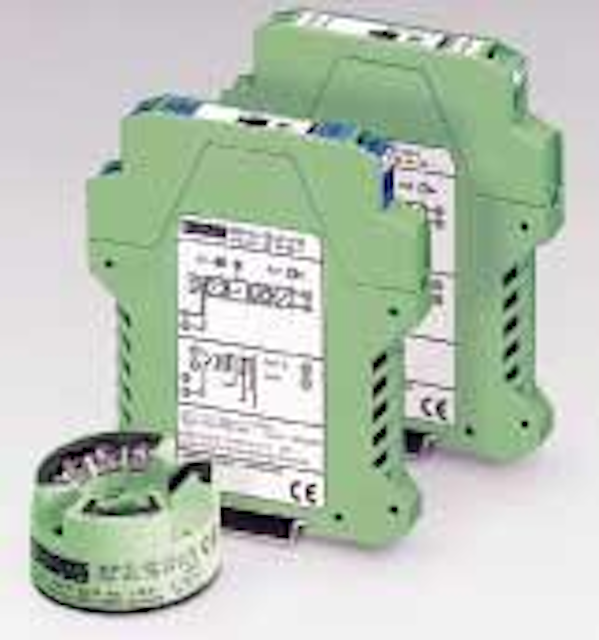 Click here to enlarge image
Phoenix Contact now offers a family of loop powered MCR temperature transducers as part of its line of signal conditioners. The transducers convert temperature signals from RTDs, thermocouples, potentiometers and sensors with linear mV characteristic curves into 4-20 mA analog signals. They are available with HART compatibility and can be mounted in the hazardous area (Div 1) for intrinsically safe applications.
Phoenix Contact Inc.
Harrisburg, PA
Tel: 800-322-3225
Web: www.phoenixcon.com