ACE 14 Exhibitor Products
Preview of ACE14 Exhinitor products and services
May 13th, 2014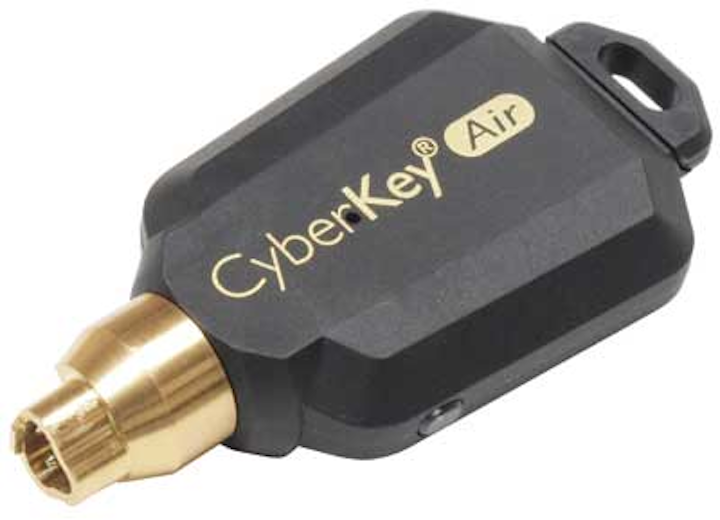 Smart key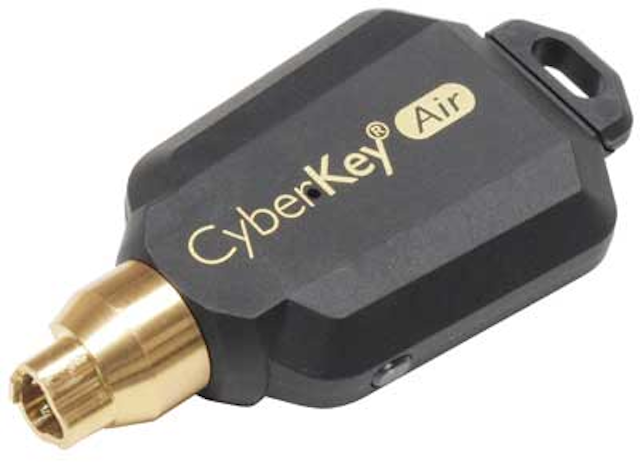 Cyberlock's CyberKey Air is a programmable smart key that can be uploaded with key- holder schedules and permissions for accessing CyberLock electronic cylinders. The battery from the key energizes the electronics within a CyberLock cylinder, allowing for locks to be installed virtually anywhere without power or wiring. The CyberKey Air is Wi-Fi enabled, allowing for wireless key programming of access schedules and permissions as well as real-time tracking and reporting of access events.
Cyberlock Inc.
www.cyberlock.com
Booth 2366
Concrete tanks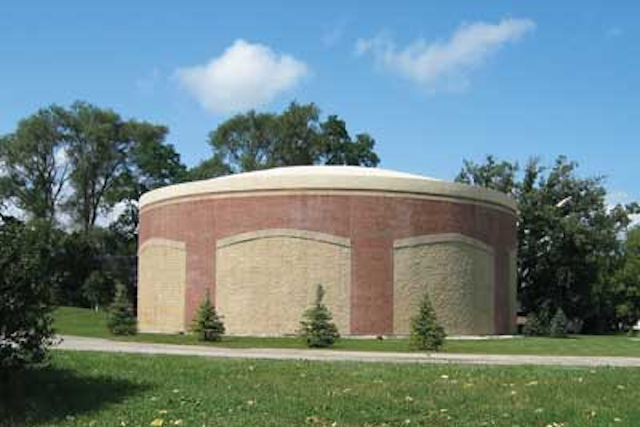 DN Tanks, the parent company of DYK Incorporated and Natgun Corporation, specializes in the design and construction of AWWA D110 pre-stressed concrete tanks used for potable water, wastewater, chilled water, and other liquids. With over 130 years of combined experience and over 2,500 tanks ranging in capacity from 40,000 gallons to 40 million gallons, DN Tanks offers expanded construction capacity, technical expertise and proficiency in multiple types of tank designs to provide customized liquid storage solutions. The company's tanks are designed to meet varying project requirements with the ability to withstand seismic activity, extreme climates and severe site conditions.
DN Tanks
www.dntanks.com
Booth 1021
Protective coatings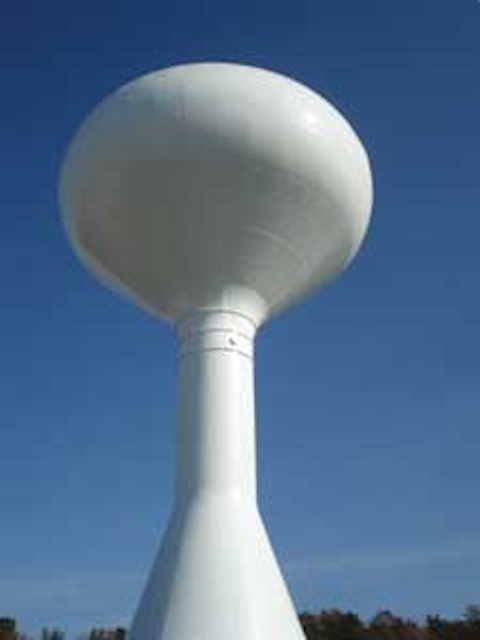 PPG Protective & Marine Coatings provides coatings and coating systems for new and existing water and wastewater facilities. PMC works closely with regional governments and municipalities to provide systems that exceed customer specifications and requirements. PMC provides a value-added coatings approach to water storage tanks that provides resistance to the elements, corrosion protection and aesthetic appeal.
PPG Protective & Marine Coatings
www.ppg.com/coatings/pmc
Booth 1953
GIS software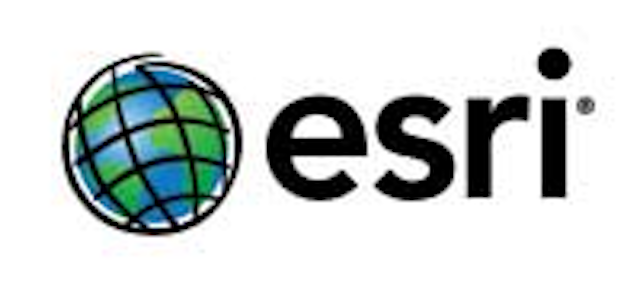 Esri's ArcGIS platform is an integrated, multidepartment system composed of interoperable components. When users deploy Esri software, they seize the power of location. They can use that power to manage, plan, analyze, map, monitor, and communicate from one complete technology platform. Likewise, Esri can help users visualize information in the form of interactive, web-based maps, reports and charts; share select data with staff and stakeholders; analyze data for planning, maintenance and compliance; and integrate data with other systems.
Esri
www.esri.com
Booth 1607
Dry chemical feeder
Eagle Microsystem's Precision Dry Chemical Feeder is constructed of stainless steel and utilizes a rugged direct drive to ensure optimum performance and high durability in harsh chemical feed environments. With no external gears, pulleys, chains, belts, or lubrications required, the VF-100 is user-friendly and low maintenance. The feeder is available with a wide range of options and accessories to meet any job requirement. Feed rates for the VF-100 are controlled by electronic SCR speed control for increased accuracy and control.
Eagle Microsystems
www.eaglemicrosystems.com
Booth 1346
Membrane system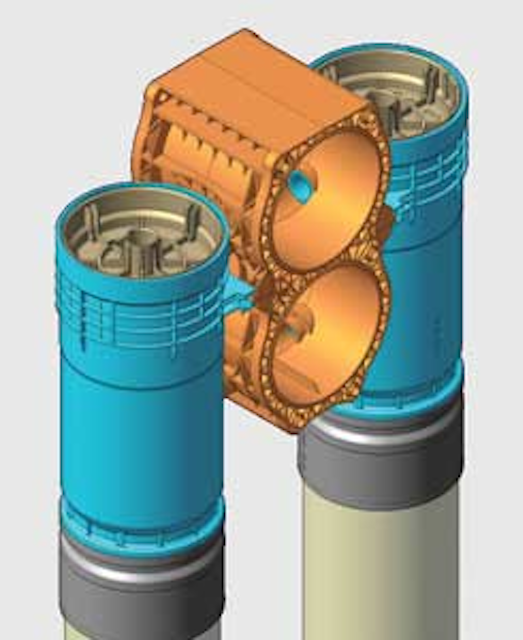 The MEMCOR® CP II from Evoqua is a pressurized, pre-engineered membrane system with a modular building-block configuration and ultra-compact footprint. The MEMCOR CP II system utilizes the latest enhanced PVDF UF membrane technology and features design enhancements that reduce installation costs, improve system performance and simplify operations. MEMCOR CP II is ideal for new installations and upgrades of existing facilities. It combines durable materials and reusable housings with easy module access that reduces maintenance requirements and delivers exceptional value over the entire system lifecycle.
Evoqua Water Technologies
www.evoqua.com
Booth 2111
Digital weight indicator
The SOLO® G2 Digital Weight Indicator from Force Flow, when combined with a scale or ultrasonic sensor, offers a dependable yet economical way to see exactly how much chemical is being used and how much remains in a tank. The SOLO G2 allows readability to 0.1 lb/kg and is available as a single- or dual-channel unit. Housed in a NEMA 4X enclosure, the SOLO G2 offers excellent protection against harsh environments such as chemical rooms and outdoor installations. All functions are menu-driven, and configuration changes are done through the keypad. The SOLO G2 comes standard with 4-20 mA outputs for remote monitoring through a PLC or SCADA system.
Force Flow
www.forceflow.com
Booth 1055
Cover systems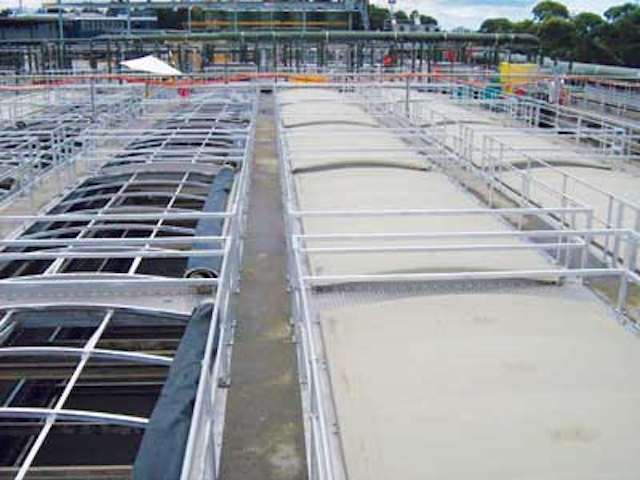 Geomembrane Technologies Inc. (GTI) offers retractable, structurally-supported cover systems for tanks at water and wastewater treatment plants. GTI's cover system consists of a retractable sheet of plastic-coated fabric tensioned over a series of low-profile aluminum arches. The covers are typically used to capture odorous off-gas for removal and treatment. They can also block sunlight to control algae growth and chlorine usage/DBP formation. The cover fabric can be quickly disconnected and retracted to access tank internals for maintenance.
Geomembrane Technologies Inc.
www.gticovers.com
Booth 2460
Gas shutoff system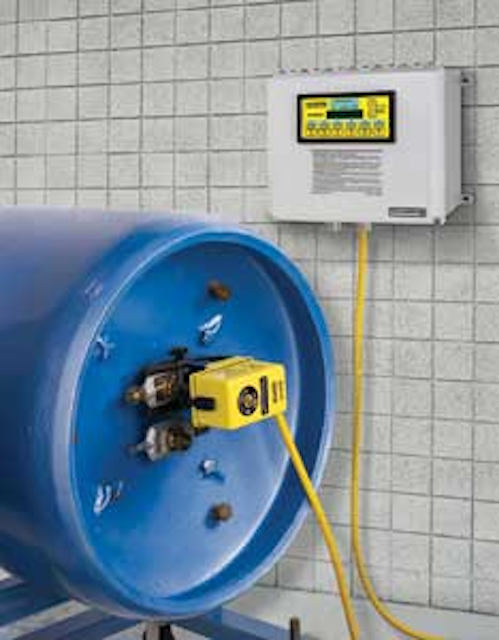 Halogen's Hexacon Model III control system has a new OLED Information Display and optional programmable Relay Interface Module that provides clear, timely informational outputs. The new optional second battery allows quicker and more reliable valve closures. The company's microprocessor system measures and applies a torque of 30 foot-pounds or 50 foot-pounds for test or emergency valve closures for cylinder and ton container valves. All fire codes recognize and approve the "automatic-closing fail-safe shutoff valve" system in lieu of a scrubber. With a SCADA option, the system provides actuator closure status and error codes to analyze problems to allow for quick corrective action.
Halogen Valve Systems
www.halogenvalve.com
Booth 1050
Clamps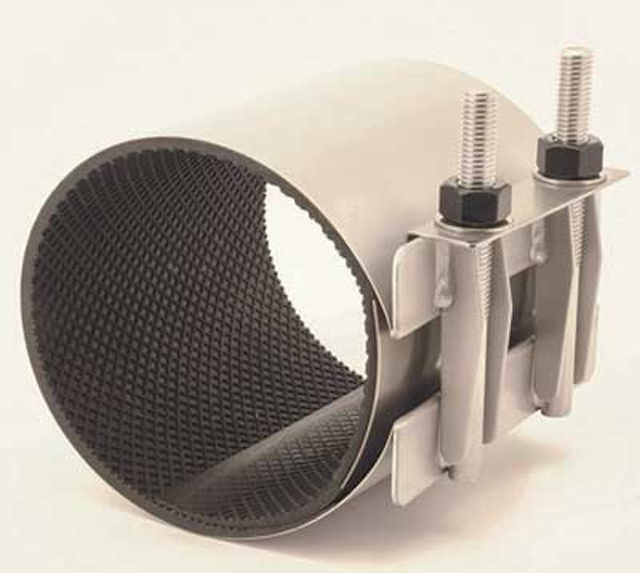 Introducing its new version of the FS series of clamps, Ford Meter Box has improved the installation process for waterworks repair products. With new bi-directional tapered lugs and rounded corners on the side bars, the clamps provide simplicity when fastening the lifter bar over the finger lugs, while larger bolt holes in the lifter bar allow for smoother movement across the studs. By eliminating the sharp edges, improving the lifter bar and changing the profile of the lugs, the FS series of clamps now offers improved handling for an easier installation experience.
The Ford Meter Box Company Inc.
www.fordmeterbox.com
Booth 1713
Air valve line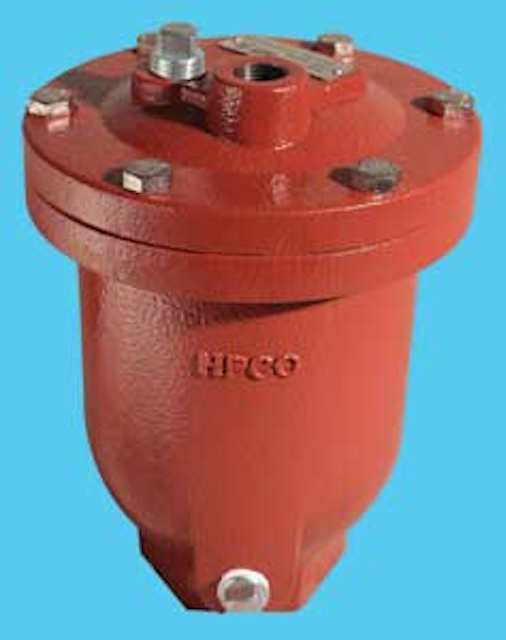 Henry Pratt has engineered a new industry professional standard in air valve design with its new AirPro Max® Air Valve line. These superior air valves have advanced features that provide the best solution for the design engineer whose critical concerns are reducing costs of pumping system construction, energy usage and pipeline repair. Further, AirPro Max wastewater valves are specially engineered to resist clogging, and the AirPro Max float/linkage design is suitable for higher pressures.
Henry Pratt Company
www.henrypratt.com
Booth 1400
Utility chainsaw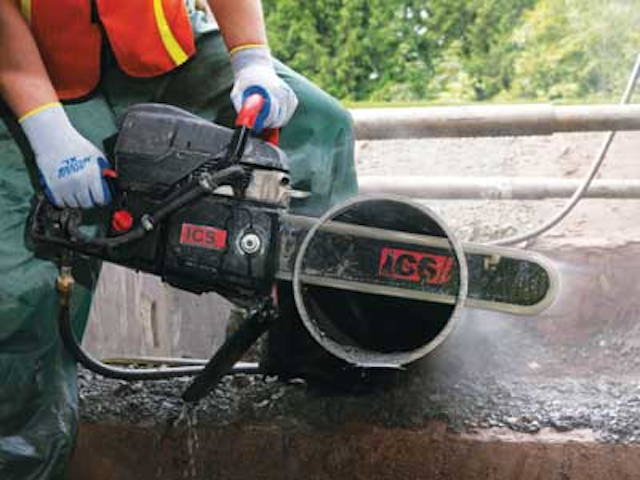 The ICS Utility chainsaw has addressed operator safety with its revolutionary grinding technology that eliminates rotational kickback and offers improved operator positioning when cutting pipe. Utilized by public and private water and wastewater departments worldwide, this patented platform, exclusively from ICS, is designed to cut a variety of materials from ductile iron to plastic pipe with far less excavation.
ICS/Blount International Inc.
www.icsbestway.com
Booth 2566
AMI solutions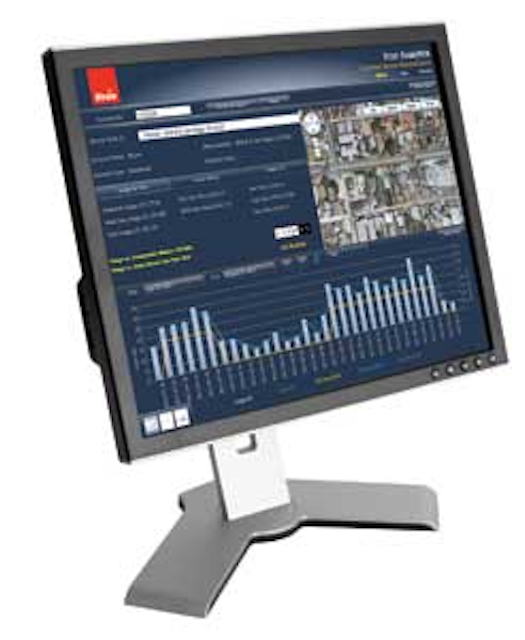 Itron's comprehensive water solutions leverage proven, secure AMI technology and analytics to trend consumption patterns, listen for leaks and protect revenue - all in one Itron solution. Itron helps utilities turn meter data into actionable intelligence to improve utility operations, enhance customer service and support conservation programs. And with the company's 100W+ water communication module and Leak Sensor+, utilities can monitor their entire distribution system around the clock, acoustically surveying the integrity of the system to prevent non-revenue water loss.
Itron
www.itron.com
Booth 1806
Sensor technology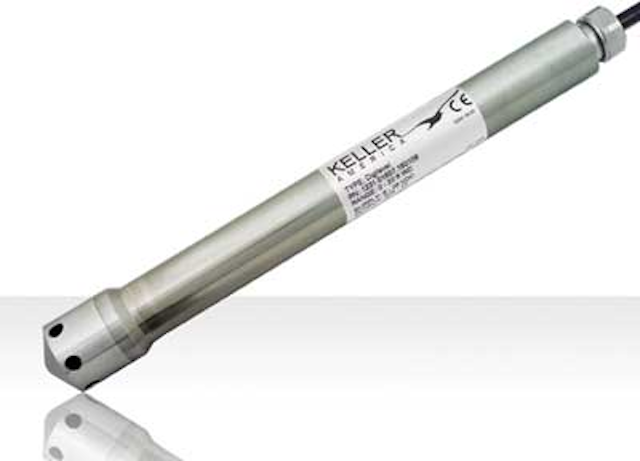 The Digilevel employs Keller's proven piezoresistive sensor technology coupled with an SDI-12 serial-digital interface for environmental level-monitoring applications. The Digilevel is compatible with all SDI-12 v1.3 commands and capable of operating in several emulate modes for popular SDI-12 level/pressure transmitters.
Keller America
www.kelleramerica.com
Booth 838
Magmeter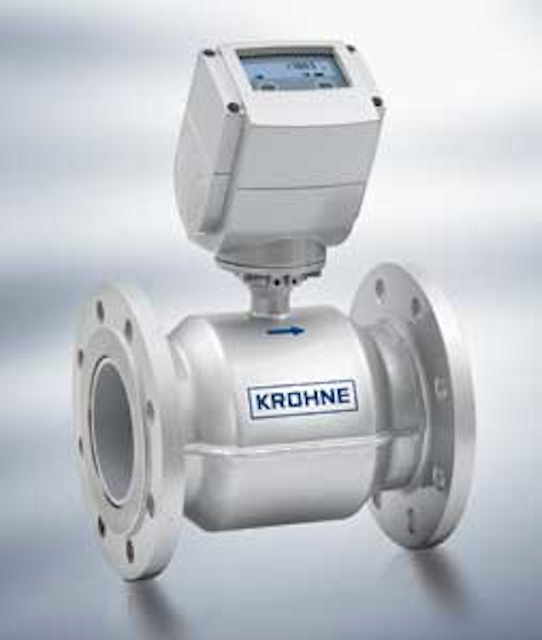 Krohne's newest magmeter WATERFLUX is an ideal flow solution where power is not available. It offers precise measurement and, with no moving parts, is maintenance-free during its entire service life. Its unusual rectangular sensor shape eliminates the need for upstream and downstream piping while greatly improving low flow performance and maintaining low pressure loss at higher flows. RILSAN®-lined tubing also offers exceptional durability, with NSF 61 approvals. Further, there is a battery-powered converter with a 15-year battery life and IP-68 ratings for the register and meter in compact and remote configurations, as well as a high-performance IFC 100 converter.
Krohne Inc.
us.krohne.com
Booth 1769
Digital encoder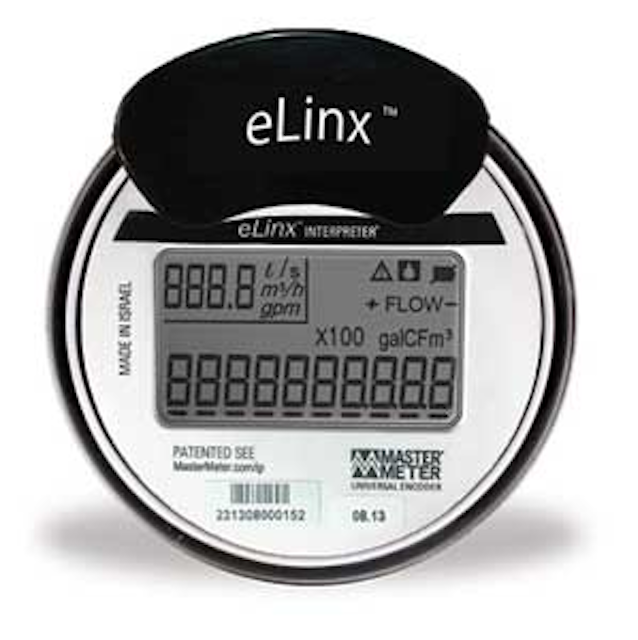 The all-new E-Linx™ Digital Encoder Register from Master Meter combines the company's patented Interpreter™ technology with solid-state encoding to create a universal register that retrofits most existing mechanical water meters in use today. Maximize investment while moving to the latest encoder technology. Unify all meters to a single AMR/AMI platform compatible with industry-standard encoder protocols. Hermetically sealed in a stainless steel base and tempered glass housing for an IP-68 rating, E-Linx features a 9-digit, easy-read LCD odometer, real-time rate-of-flow and status alerts all displayed simultaneously.
Master Meter
www.mastermeter.com
Booth 2106
Electromagnetic flow meter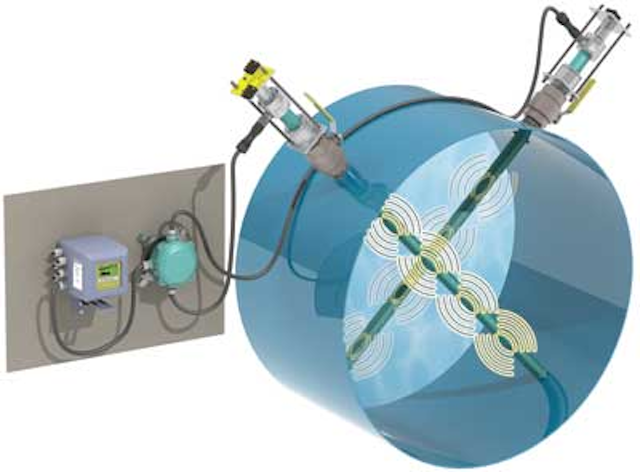 Process and plant engineers contending with swirl and other flow disturbances in the line will find that the new FPI-X™ Dual Sensor Electromagnetic Flow Meter from McCrometer delivers accurate and repeatable measurement under extreme flow conditions unachievable with other technologies. The FPI-X achieves ±0.5% accuracy under the most severe swirling flows. Designed for use near cascading or multiple pump arrays, it measures accurately where no flow meter previously could serve.
McCrometer
www.mccrometer.com
Booth 1824
Submersible Mixers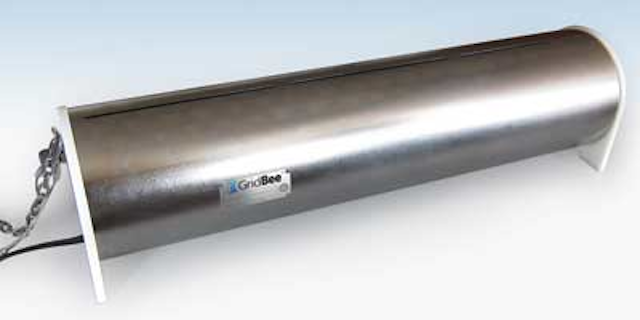 The GridBee® series of high-flow, submersible mixers from Medora Corporation is available in three sizes for tanks from 500 KG to 20 MG. GridBee GS mixers are a low-cost solution to ensure uniform water age and consistent distribution of disinfectant in potable water storage tanks. More products include the economical Floating Spray Nozzle THM Removal system, which effectively removes trihalomethanes (THMs) from potable water storage tanks and clearwells (0.2 MG to 150 MG).
Gridbee, a brand of Medora Company
www.medoraco.com
Booth 730
Locking manhole cover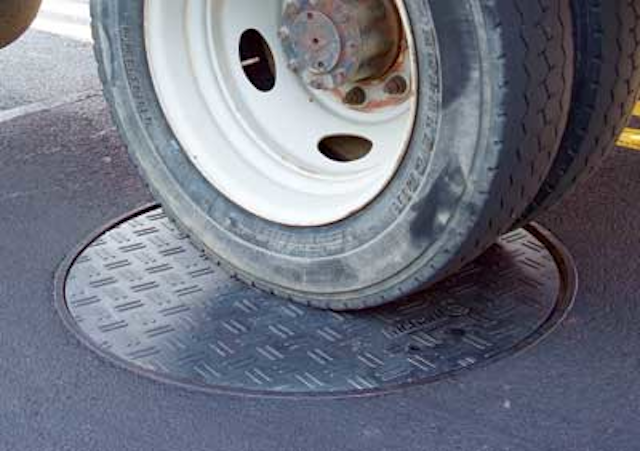 The FiberShield from McGard is constructed of a durable, fiber-reinforced polymer material with multiple security points. It is lightweight, easy to handle and transport, and eliminates the lifting and dropping injuries caused by heavy, cast-iron manhole covers. Weighing 80% less than cast iron, the FiberShield exceeds an H20 traffic rating. It is installed in seconds and removed without bending over. It also requires a patented McGard key to operate. With no scrap value plus a registered locking mechanism, users will experience no more missing covers.
McGard
www.mcgard.com
Booth 800
Manhole monitor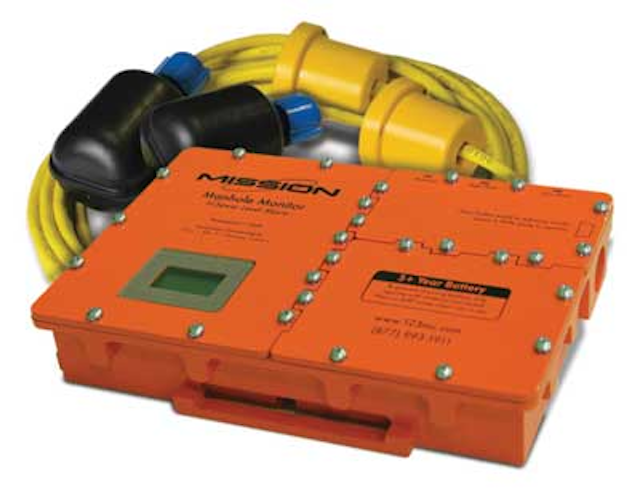 The Manhole Monitor from Mission Communications is a rugged, in-sewer alarm and reporting system purpose-built for proactive sewer monitoring programs. Floats tipped by surcharges and high levels initiate notifications delivered by any combination of phone call, text message, email, fax, and pager. Reliable, encrypted data is transmitted via fourth generation (4G) cellular radios and can be accessed by any web-enabled device. Waterproof, corrosion-resistant and IP68 rated, this device is built to withstand the toughest environments.
Mission Communications
www.123mc.com
Booth 742
Automatic flushing system
Designed to increase chlorine residual consistency in potable water systems, Mueller® has added the HG-8 model to the expanding line of Hydro-Guard® Automatic Flushing Systems. Hydro-Guard HG-8 is installed below the frost line, with all components easily accessible from the ground surface in the Mueller Thermal-Coil® Box. Dechlorinated discharge water is directed to the stormwater drainage system or local retention pond.
Mueller Co.
www.hydro-guard.com
Booth 1400
PVC pipe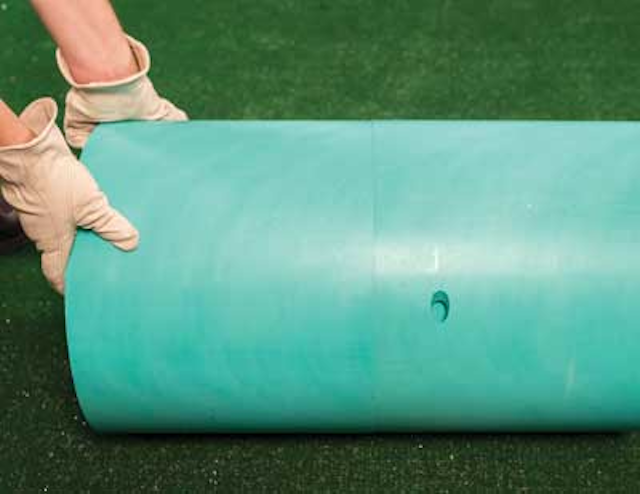 North American Specialty Products is introducing StraightShot™, the industry's first restrained-joint PVC pipe with a flush joint. NASP (formerly CertainTeed's Pipe & Foundations Group) introduced the product to help contractors and municipalities achieve greater precision and efficiency in trenchless projects, since the flush joint reduces friction and enables streamlined installation in applications like static pipe bursting. Featuring the company's time- and field-proven Certa-Lok® mechanical joining system, StraightShot offers the advantages of a smooth, flush joint without the need for the time-consuming and costly fusion process required with HDPE and fusible PVC pipe.
North American Specialty Products
www.naspecialtyproducts.com
Booth 1248
Metering pump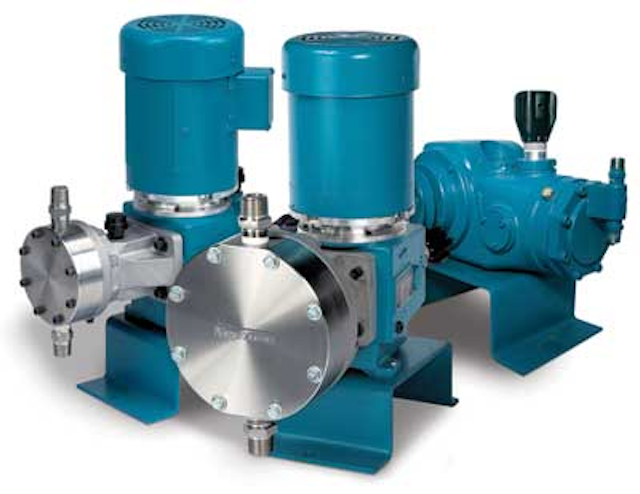 Neptune™ Chemical Pump Co., part of Pump Solutions Group (PSG®), will be showcasing its Series 7000 mechanically-actuated diaphragm metering pump and Series 500 hydraulically-actuated metering pump. The mechanical design of the Series 7000 eliminates the use of contour plates on the liquid side of the diaphragm, while the simple, straight-through valve and head design allows for improved flow characteristics. The unit is self-priming, provides superior performance and has a maximum capacity range up to 1,135 L/h (300 gph) at 150 psi.
Neptune Chemical Pump Co.
www.neptune1.com
Booth 2253
Bleach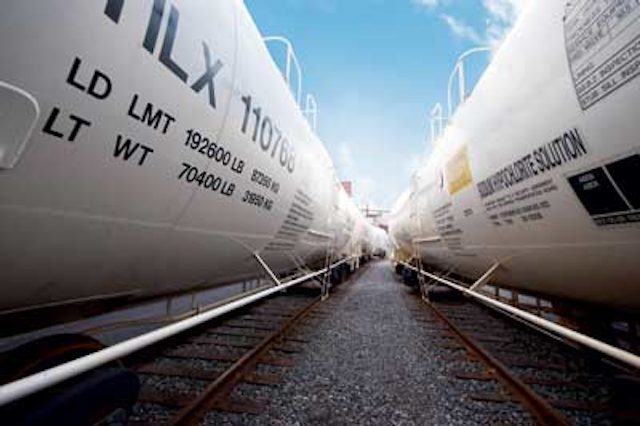 Olin Chlor Alkali Products is a supplier of chlorine and sodium hypochlorite (bleach) for drinking water and wastewater treatment. Because of its size, geographic diversity and unique capabilities, Olin can make delivered bleach cost-effective for water and wastewater treatment facilities. Using trucks and more than 600 rail cars, Olin has created a distribution network capable of delivering bleach coast to coast from 10 plants in the U.S. and Canada.
Olin Corporation
www.olinbleach.com
Booth 2074
Wireless platform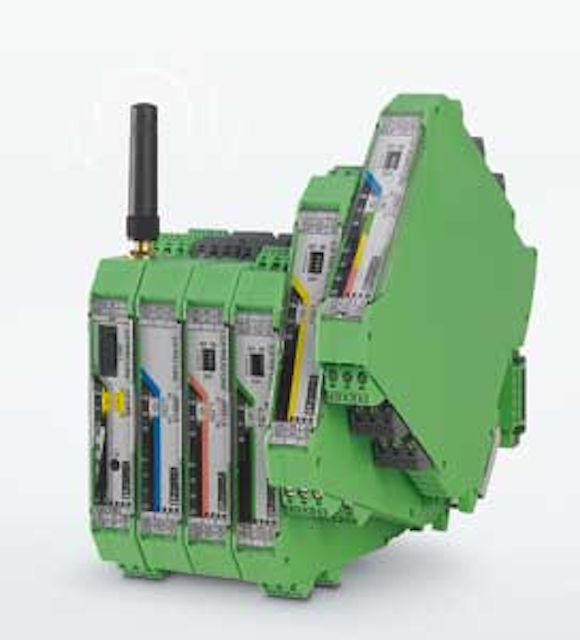 The new Radioline® wireless platform from Phoenix Contact offers wire replacement for simple I/O and serial communication. With software- free radio setup, Radioline offers a cost-effective wireless solution where it is too costly or impossible to run a wire. Radioline features simple I/O to I/O communication without the need for programming software. More advanced configurations - such as high-speed serial communication, network topologies up to 250 nodes, nonintrusive diagnostics, and 128-bit AES encryption - can be accessed via the free programming software. Radioline is available in two variants, 2.4 GHz and 900 MHz, allowing for applications to span distances from a couple hundred feet to several miles.
Phoenix Contact
www.phoenixcontact.com
Booth 519
I/O terminals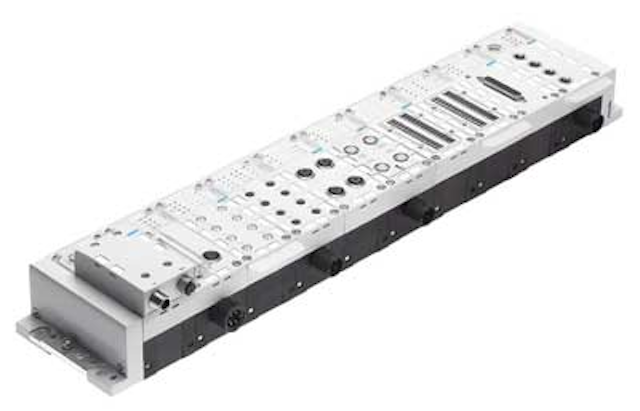 Retrieving specific diagnostic information from I/O terminals and solenoid valves via the PLC on a filtration skid will reduce service costs and increase process uptime. As such, the CPX terminal from Festo is compatible with most PLC and DCS systems and provides messages for diagnostics events including failed solenoids, short circuits and broken wires. The system is IP65/67-rated, which offers higher protection for wet environments. When combined with the MPA pilot valve terminal with integrated I/Ps, pressure transducers, and support of multiple-sized pilot valves, it offers the most control available on one platform, saving costs and reducing installation space.
Festo Corporation
www.festo.com
Booth 1669
Modeling software
Proco Products Inc. announced it has completed Solid Works modeling of its Series 230 Rubber Expansion Joints. Solid Works is a premier design software used by engineers to model parts. In conjunction with Solid Works, Proco has placed its Solid Works Series 230 designs onto Trace Parts (www.tracepartsonline.net) so that engineers can download models used in conjunction with their piping schemes.
Proco Products Inc.
www.procoproducts.com
Booth 847
Waterworks tool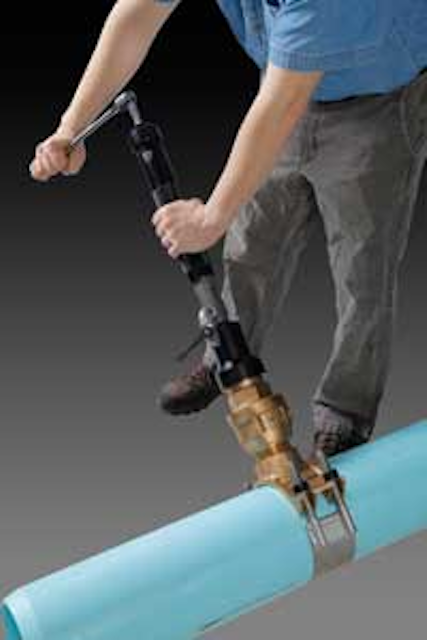 Reed's Feed Tap™ is a waterworks tool that drills through PVC, PE, cast-iron, ductile-iron, and steel pipe while under pressure using a corporation stop inserted into a service saddle. The compact design, featuring a separate, independent feed control for advancing the heavy-duty shell cutter into the pipe, allows the user to easily complete the tap using an electric or cordless drill, right angle drill or even a 7/16" wrench with manual power.
Reed Manufacturing Co.
www.reedmfgco.com
Booth 2135
Separation equipment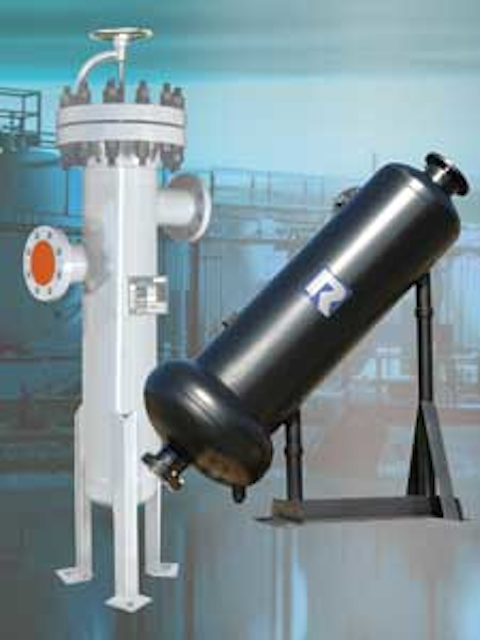 Rosedale Filtration Products manufactures filtration and separation equipment for liquids and gases. Its products include bag and cartridge type filters, basket and pipeline strainers, centrifugal separators, and automatic backwash filters as an array of custom vessels and tanks.
Rosedale Filtration Products
www.rosedaleproducts.com
Booth 2801
Glass-reinforced liner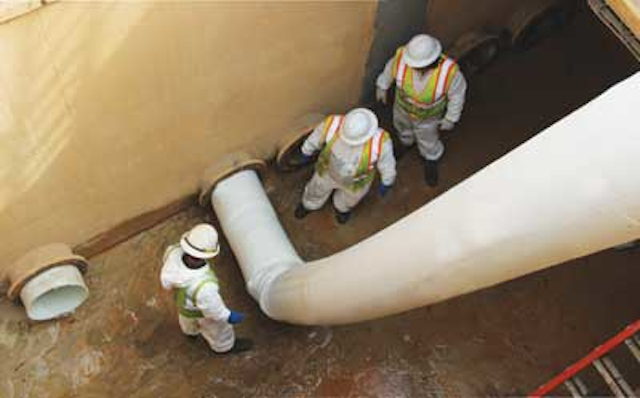 RS Technik presents RS BlueLine®, a glass reinforced CIPP liner made with Dow Technology. This high-performance-designed solution stops water loss and improves hydraulics and water quality while renewing the structural integrity of aging pipe. Certified to NSF 61, RS BlueLine provides a trenchless solution for water main and transmission pipe rehabilitation.
RS Technik
www.rstechnik.us
Booth 2051
Water and wastewater solutions

Schneider Electric helps water and wastewater operations achieve operational efficiency and savings through a growing portfolio of complete solutions designed to develop and maintain smart water systems throughout the entire water treatment and distribution cycle. The company also offers expertise, alternative project delivery and support from a team of water industry specialists.
Schneider Electric
www.schneider-electric.com
Booth 2711
Pumps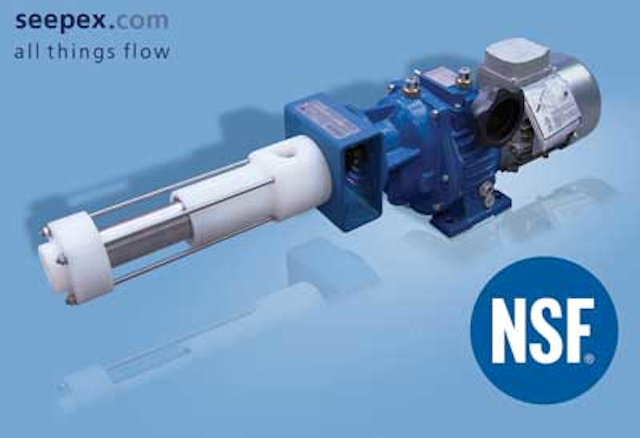 seepex will be exhibiting its solutions for the water treatment industry, including its recently-innovated chemical slurry handling abilities. seepex metering PCPs are now NSF/ANSI 61 Standard certified, and it is the only PCP provider with this mark of distinction, ensuring that seepex pumps are safe for use in drinking water treatment processes. The company will also introduce a new standard line of wall-mounted chemical disinfection metering skids, comprised entirely of NSF-certified components and complemented by safe, reliable and pulsation-free NSF-certified pumps.
Seepex
www.seepex.com
Booth 2257
Single rolling diaphragm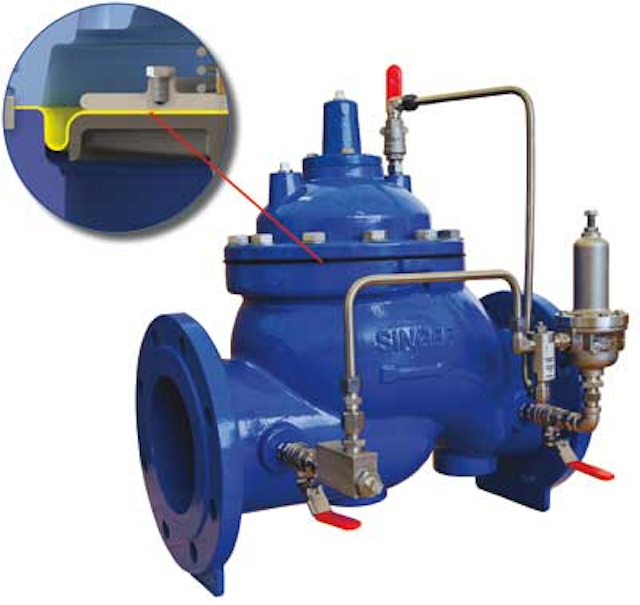 Singer Valve has designed an innovative vertical diaphragm that rolls while opening and closing, enabling it to lock the valve in place without any friction. This makes for incredible pressure stability from the highest to the lowest flows unlike any flat diaphragm or traditional piston-style valves.
Singer Valve
www.singervalve.com
Booth 2063
Ultrasonic meter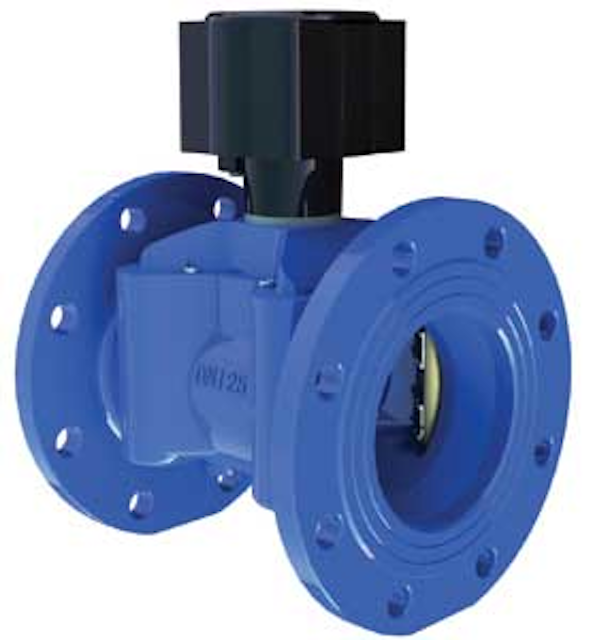 Spire Metering Technology's new commercial- and industrial-grade ultrasonic water meter, 280W-CI, is designed to achieve durability, wide dynamic range and leakage detection capabilities. The meter comes with no moving parts, quad-path ultrasonic technology and an IP68-rated heavy-duty enclosure. The 280W-CI is an ideal replacement for mechanical water meters including compound water meters. It is also a great alternative to the magnetic flowmeter due to its long battery life and lower cost.
Spire Metering Technology
www.spiremt.com
Booth 2071

Steel storage systems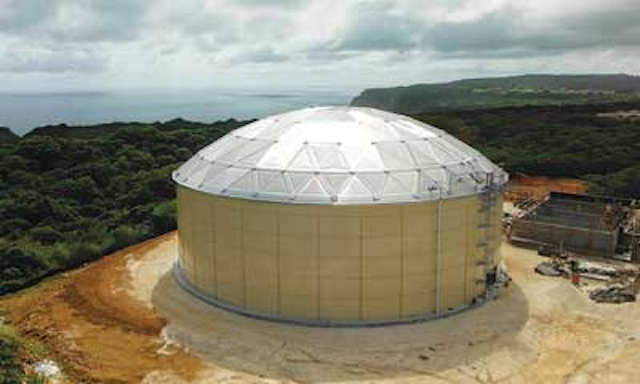 Tank Connection designs, fabricates and installs all types of steel storage systems including bolted RTP (rolled, tapered panel), field-weld, shop-weld, and hybrid tank construction. Tank Connection brings aluminum geodesic dome construction that is designed entirely of aluminum, utilizing its proprietary component fabrication. Tank Connection's domes are corrosion-resistant, maintenance-free and designed for extended service life.
Tank Connection
www.tankconnection.com
Booth 955
Hydrant pressure monitor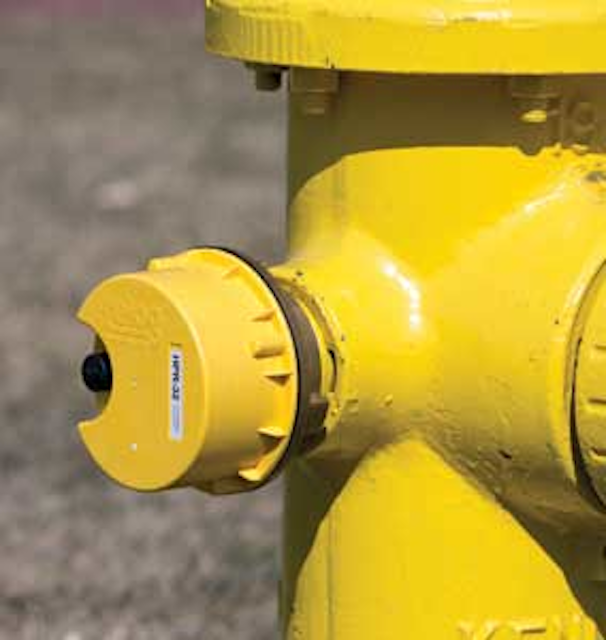 Designed to attach to common fire hydrants, Telog's HPR-32 Hydrant Pressure Monitor records system pressures and trends, including minimum, maximum and average pressure history at any user-selected interval. The HPR-32 records data internally for many months and transfers it wirelessly to the user's host computer, either on an established schedule or in response to pressure faults or transients. The unit's ability to record long-term data makes it the ideal product for fire flow testing, response to customer complaints and hydraulic model calibration. Telog's remote data acquisition system includes the most comprehensive family of battery-powered, environmentally-rugged wireless monitors available from any single supplier.
Telog Instruments Inc.
www.telog.com
Booth 1565
Tapping sleeve line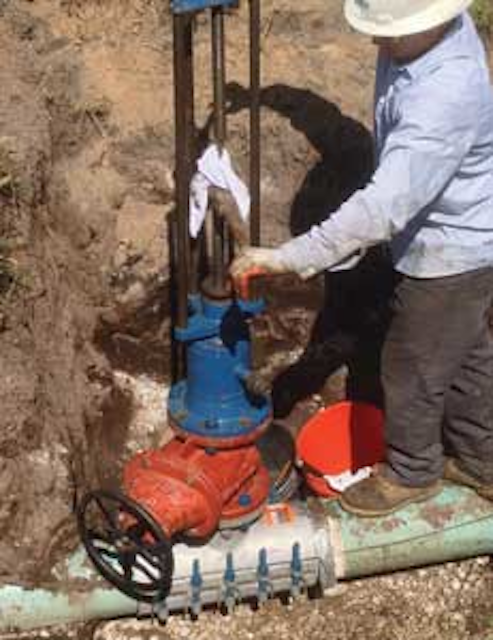 The Triple Tap product line from Total Piping Solutions has been extended to include line stop fittings designed to fit all commonly-used line stopping equipment. This development allows pipeline contractors to use all readily-available equipment in use today. Versions with the Mechanical Joint End connection allow for elimination of the tapping valve. This unique adaptor end eliminates any alignment issues and may be used with all standard 4" to 12" MJ x MJ valves. Triple Tap products are currently available in diameters ranging from 4" to 12" with branch connections from 2" to 12".
Total Piping Solutions
www.tps.us
Booth 939
Infrastructure technologies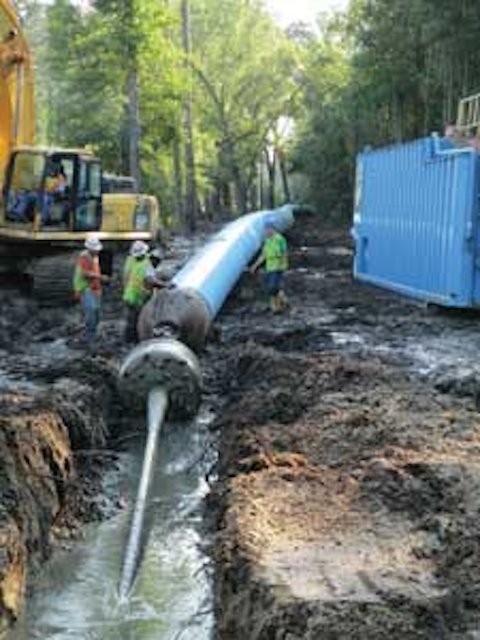 Underground Solutions Inc. (UGSI) provides infrastructure technologies for water and sewer applications. UGSI's Fusible PVC™ pipe products - available in diameters from 4" to 36", including Fusible C-900®, Fusible C-905® and FPVC® - utilize patented technology to produce a fused monolithic, fully-restrained, gasket-free, leak-free piping system ideal for trenchless (horizontal directional drilling, pipe bursting and sliplining) or conventional "open-cut" installations.
Underground Solutions
www.undergroundsolutions.com
Booth 609
Butterfly valves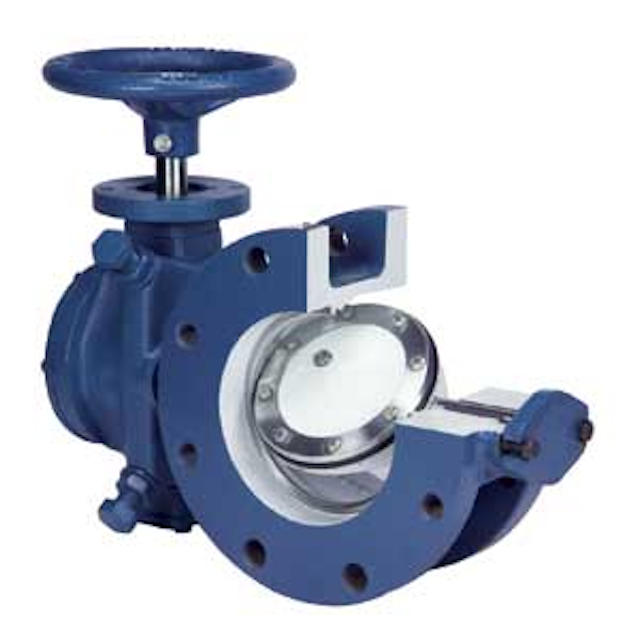 Val-Matic American-BFV® Butterfly Valves are offered in 150B and 250B AWWA Classes with flanged end connections in sizes 3" to 144" and mechanical joint end connections in 4" to 48." Wafer-Style Butterfly Valves are designed with ANSI 125 flanges or ISO PN10 and PN16 flanges in sizes 4" to 24". The valve fully complies with AWWA C504 and C516, certified NSF/ANSI 61 for drinking water and NSF/ANSI 372 Certified Lead-Free.
Val-Matic Valve & Manufacturing Corp.
www.valmatic.com
Booth 1860
Pump disconnect rail system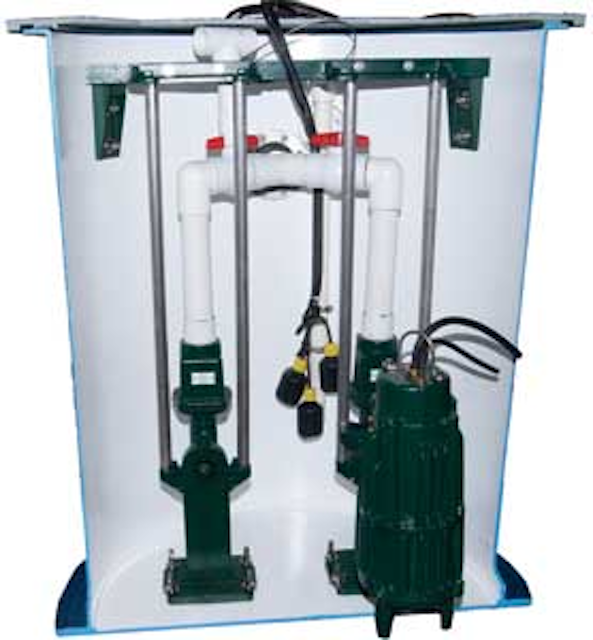 Zoeller Company's new Z-Rail™ Disconnect System is the latest innovation in rail systems for lift stations. Designed for threaded discharge pumps, the robust ductile iron design can support pumps up to 300 pounds. Its grooved, machined seating surfaces will seal up to 250 feet of head. The compact design fits most basins, allowing easy installation or removal of the pump from outside the basin.
Zoeller Engineered Products
www.zoeller.com
Booth 2560
Dechlorination solutions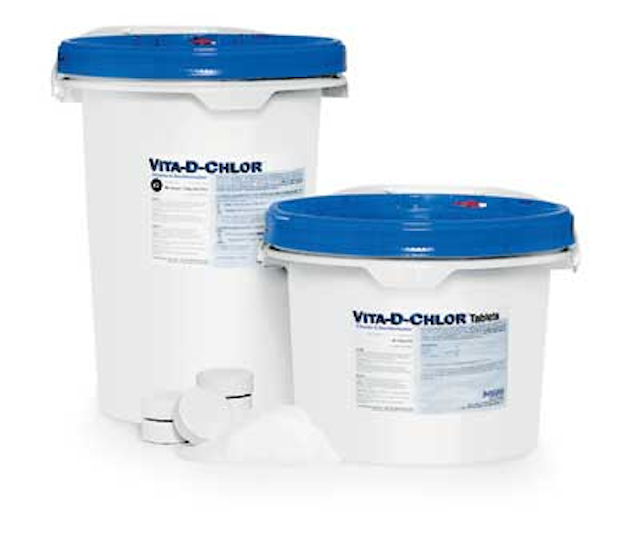 Integra Chemical's technical support staff can provide assistance in addressing specific dechlorination requirements. Dechlorination may be as simple as placing tablets in a flow stream or delivering a mixed solution through a metering pump or day tank. Integra Chemical's Vita-D-Chlor provides safe and effective dechlorination. Further, it will neutralize chlorine and chloramines instantly and is 100% organic and water soluble.
Vita-D-Chlor/Integra Chemical Company
www.integrachem.com
Booth 836
Pipe protection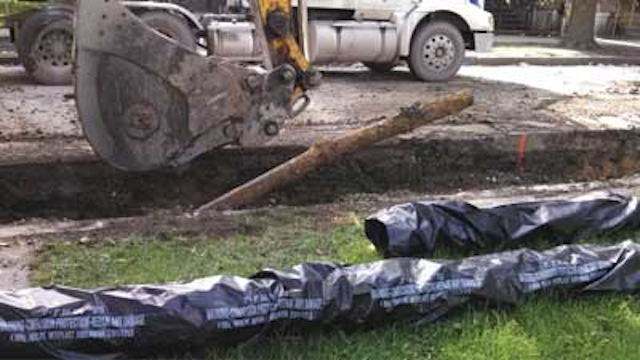 AA Thread's Polywrap is a cost-effective way to protect ductile iron pipe from outside corrosion. It's easy to install, and no special training or equipment is needed. Proper installation is vital to success of this product. AA Thread offers several forms of Polywrap, from its linear, low-density pipe wrap to its cross-laminated, high-density pipe wrap, as well as its 10 MIL, cross-laminated, high- density joint wrap, which protects mechanical joints from damaging the Polywrap during installation. All these products meet or exceed the ANSI/AWWA C105/A21.5 requirements.
AA Thread Seal Tape Inc.
www.aathread.com
Booth 2224
Insertion valve system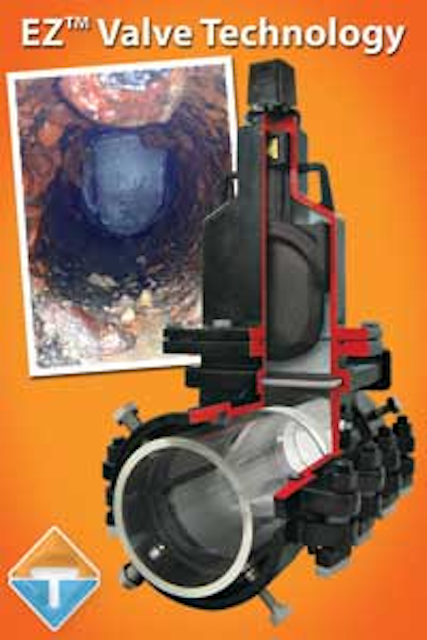 The unique design of Advanced Valve's EZ™ Valve enables fast installs and easier prep, avoids costly restraint procedures, has a simple tool kit, and meets AWWA C-509-09 standards. The slot access design and patented Resilient Wedge Gate delivers drip-tight closures, even in heavy tuberculation. The EZ Valve maintains pipeline integrity and needs no concrete restraint. The built-in isolation valve on every system permits installation while under full pressure and full service. EZ Valve is offered in sizes 4" through 14", 16", 20", and 24". A patented gasket design makes EZ Valve suitable for most pipe materials and even irregular geometries.
Advanced Valve Technologies Inc.
www.avtfittings.com
Booth 1321
Chlorine monitor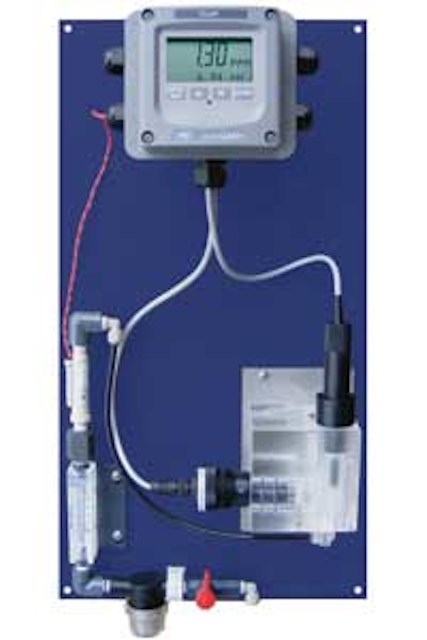 ATI's new Q46H Residual Chlorine Monitor is the upgraded version of the Q45H system for continuous monitoring of free or combined chlorine. This system uses a polarographic membraned sensor to measure chlorine directly, without the need for chemical reagents. When needed, automatic pH compensation may be added for the highest free chlorine measurement accuracy.
Analytical Technology Inc.
www.analyticaltechnology.com
Booth 1060
Heavy metals analyzer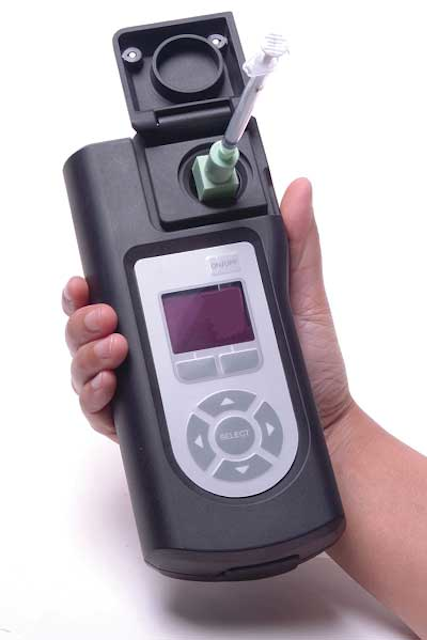 Testing for heavy metals at part-per-billion (ppb) levels is essential to meet regulatory limits. To meet this need, ANDalyze has developed a portable heavy metals analysis instrument based on the newly EPA-validated, DNA-based technology. Test parameters for lead, copper, mercury, zinc, cadmium, uranium, and chromium are available. ANDalyze heavy metals tests are designed to be sensitive, selective, cost-effective, portable, and very easy to use.
ANDalyze
www.andalyze.com
Booth 1470
Advanced metering analytics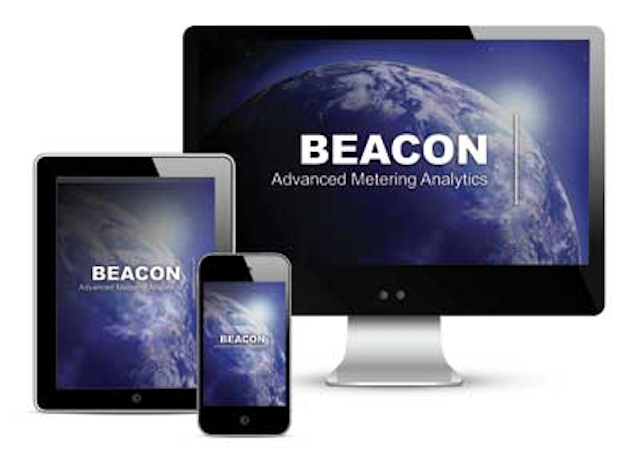 BEACON AMA from Badger Meter combines the power of the intuitive BEACON AMA software suite with ORION® AMI technology to give utilities greater visibility and control over utility management. BEACON AMA uses a managed solution approach and two-way communications, plus fixed and cellular networks, to deliver a powerful end-to-end solution. Built-in infrastructure management services and endpoint upgrades eliminate maintenance and technology concerns, allowing utilities to focus on their core competency, efficiently delivering high-quality water.
Badger Meter Inc.
www.badgermeter.com
Booth 1911
Metering pump
The Chempro-M™ diaphragm metering pump from Blue-White is designed specifically for municipal water and wastewater treatment. The pump is suited for injection of aggressive and/or viscous chemicals and is equipped with the company's exclusive Dia-Flex™ single layer PVDF diaphragm, and a non-loss motion design results in a full stroke every time, reducing the possibility of vapor-lock and aiding priming. An LCD display with protective cover displays feed data and other critical information.
Blue-White Industries
www.blue-white.com
Booth 705
Concrete tanks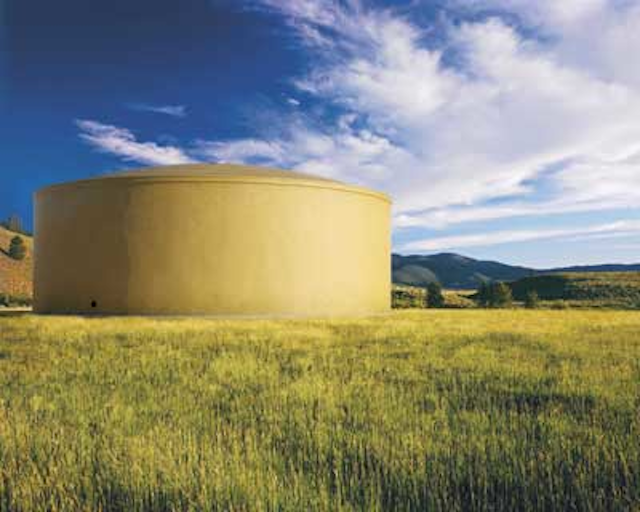 Caldwell Tanks offers over 30 years of combined experience in pre-stressed concrete tank design and construction for potable water, wastewater and liquid storage applications. Caldwell's wire-wrapped, pre-stressed concrete tanks are durable and require minimal maintenance. Designs meet AWWA D110 and ACI 372, are customized to individual project requirements, and are backed by over 125 years of reliability.
Caldwell Tanks
www.caldwelltanks.com
Booth 1147
Activated carbon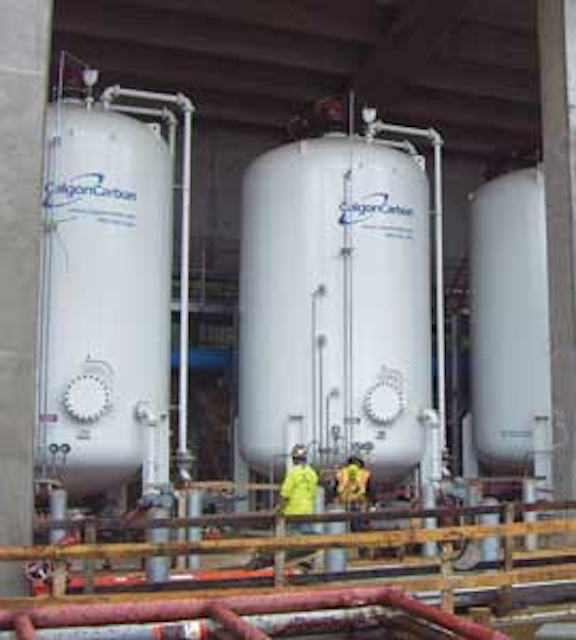 Calgon Carbon's activated carbon products can be used to simultaneously prevent disinfection byproduct (DBP) formation, remove organic contaminants, provide a barrier against contaminants of emerging concern (CEC), and improve the taste and smell of drinking water. In groundwater, Calgon's activated carbon and UV oxidation systems effectively treat volatile and semi-volatile organic compounds (VOC/SVOC), including TCE, PCE and 123TCP. The company's UV systems can provide disinfection without the formation of DBPs and can also effectively address taste and odor issues with the addition of hydrogen peroxide.
Calgon Carbon Corporation
www.calgoncarbon.com
Booth 905