Product Showcase
Purafil's Environmental Systems Division (ESD) recently announced the addition of the Chlorine Drum Scrubber to its product line.
Jan 1st, 2009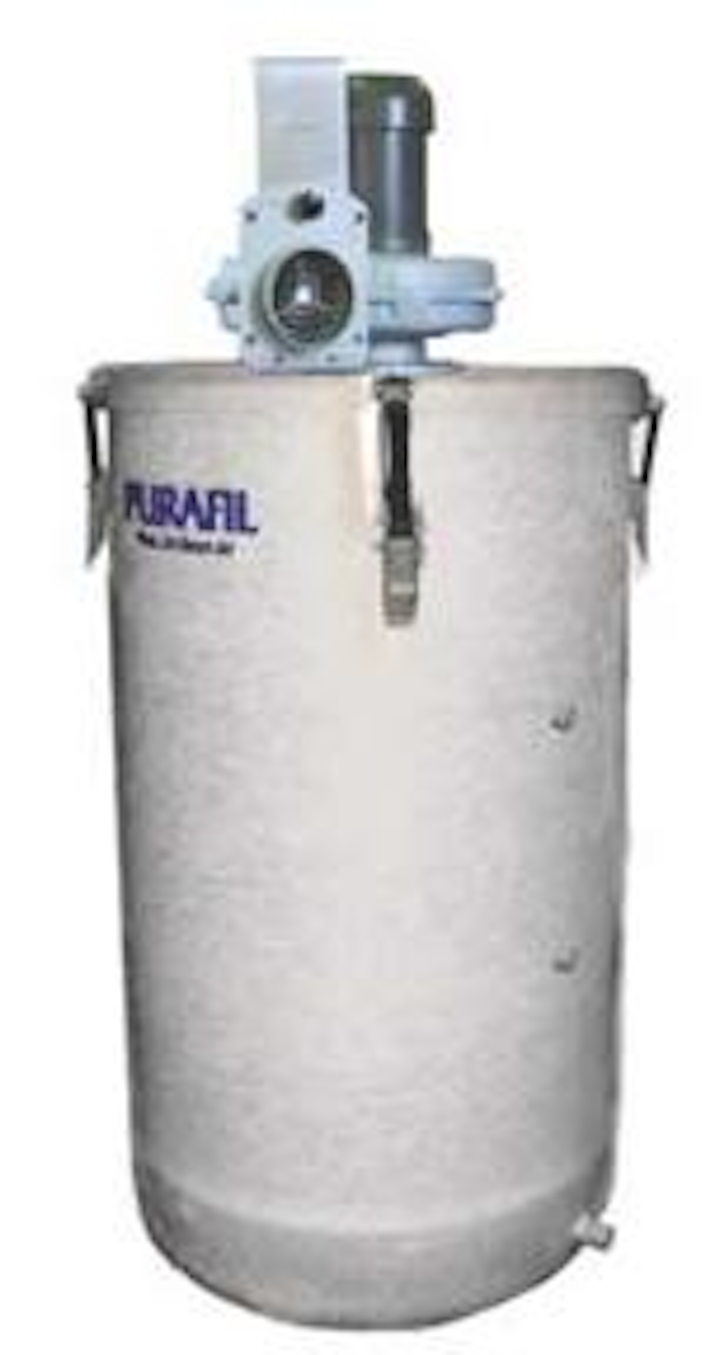 Chlorine drum scrubber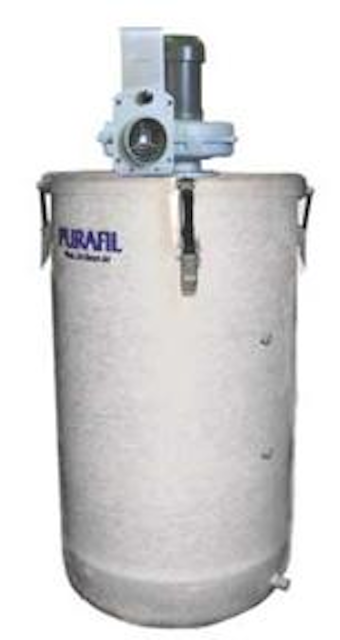 Click here to enlarge image
Purafil's Environmental Systems Division (ESD) recently announced the addition of the Chlorine Drum Scrubber to its product line. The system is designed to remove more than 99.5% of chlorine from air in water and wastewater applications. The new scrubber canister is constructed with reinforced fiberglass for corrosion resistance against chlorine with chlorinated polyvinyl chloride (CPVC) packing. The system is sized for airflows of 100, 300 and 500 cfm. Chlorine-laden air enters the bottom of the CDS and flows upward through the Chlorosorb® Ultra dry-scrubbing media. All of the scrubber sizes are bulk-filled with media for 15% chlorine removal capacity, which is currently the highest in the market. Gases are adsorbed and chemically transformed into inorganic salts that remain inside the media.
Purafil
Doraville, GA
Tel: 800-222-6367 Web: www. purafil.com
Circle No. 200 on Reader Service Card
Drum screens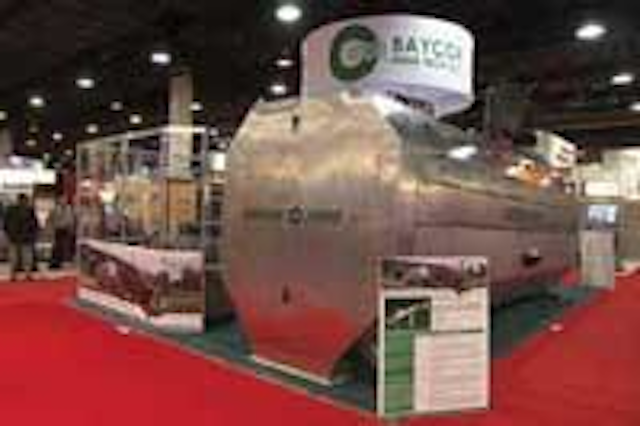 Click here to enlarge image
Baycor Fibre Tech recently introduced a massive new rotary drum screen, the Baycor MDS. The larger size means that more wastewater, or sludge, can be processed with fewer screens, in less space, reducing construction and installation costs. The Unibody™ design allows the company to customize a screen to specific application and screening goals. All serviceable components are externally accessible. The company's proprietary slide-in screen panels allow for simplified replacement of single panels instead of an entire drum.
Baycor Fibre Tech Inc.
Brantford, ON
Tel: 519-751-7787
Web: www.baycorfibre.com
Circle No. 201 on Reader Service Card
Packaged pump system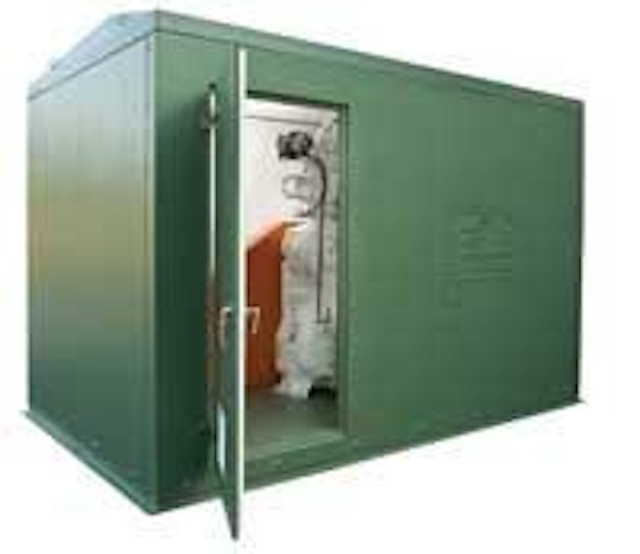 Click here to enlarge image
Gorman-Rupp's ReliaSource™ 8x12 packaged pumping system is the latest addition to the company's line of fully engineered, assembled and tested lift stations. The new configuration accommodates the company's Super T Series®, Ultra V Series® or VS Series pumps, and features interior walls that allow for more sophisticated controls than with 6x6 and 7x10 package configurations. Side access panels and a removable roof provide for easy maintenance of station components. The package is NFPA 820 compliant.
Gorman-Rupp Co.
Mansfield, OH
Tel: 419-755-1011
Web: www.grpumps.com
Circle No. 203 on Reader Service Card
Ball valve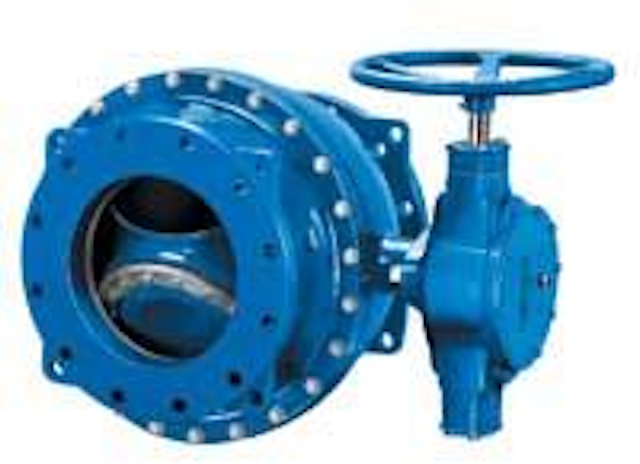 Click here to enlarge image
Val-Matic's Ener•G™ AWWA Resilient Seated Ball Valve is available with a traveling nut manual actuator and is built in accordance with AWWA Standards C507 for Ball Valves. The traveling nut actuator was specifically designed and built by to match the torque characteristics of the valve and is rated to 450 ft-lbs of input torque. The actuator features externally adjustable stops and provides characterized closure that allows the valve to slowly close during the last half of travel to reduce pipeline surges. The ball valve can be equipped with manual, cylinder or motor actuators.
Val-Matic Corp.
Elmhurst, IL
Tel: 630-941-7600
Web: www.valmatic.com
Circle No. 202 on Reader Service Card
Sewer cleaning nozzles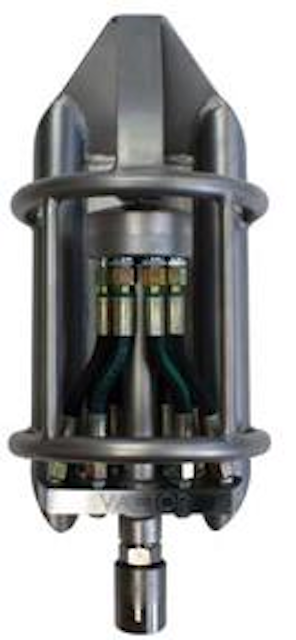 Click here to enlarge image
The Vactor HydroSurge™ cleaning nozzle are designed for public utilities and professional contractors handling a variety of large pipe cleaning and maintenance applications. Featuring an adjustable nozzle plate and water jet inserts with adjustable angles, the new nozzle provides traction and cleaning performance to handle the most stubborn blockages. The cleaning mode of 15 to 20 degrees removes heavy deposits from the bottom of the pipe. The propulsion mode of 5 to 10 degrees provides tremendous forward motion while effectively moving sand, silt and other debris back to the pipe opening. Constructed of stainless steel, the nozzles feature roll over bars, ceramic inserts, a unique hydro-force power system and an adjustable precision flow manifold.
Vactor Manufacturing
Streator, IL
Tel: 800-627-3171
Web: www.vactor.com
Circle No. 205 on Reader Service Card
Corrosion monitoring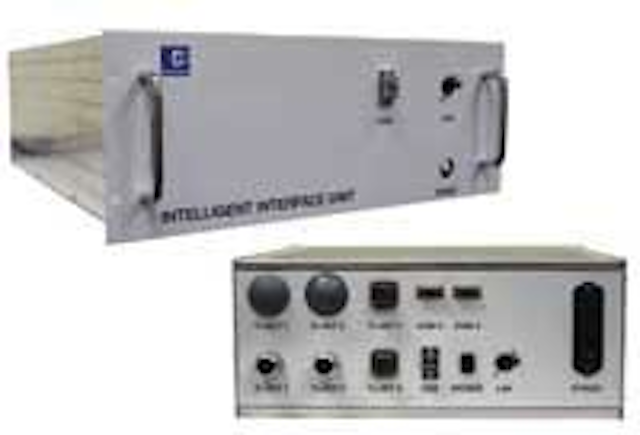 Click here to enlarge image
The Intelligent Interface Unit (IIU) provides low cost basic system integration of RCS digital Microcor, Quicksand and Corrater corrosion monitoring transmitters to or through a SCADA or DCS system for smaller scale corrosion management systems. Originally designed for Microcor and Quicksand transmitters to compute corrosion and erosion rate from metal loss measured by the transmitters, which cannot be easily achieved on the SCADA or DCS system, the IIU reduces costs and simplifies system integration. Microcor and Quicksand metal loss technology has rapid response, can be used in any process media and flow regime, and has turned corrosion and erosion measurement into a true process parameter. The digital Corrater provides instantaneous corrosion rate and pitting tendency for aqueous process media.
Rohrback Cosasco Systems
Santa Fe Springs, CA
Tel: 562-949-0123
Web: www.cosasco.com
Circle No. 204 on Reader Service Card
Pipe lining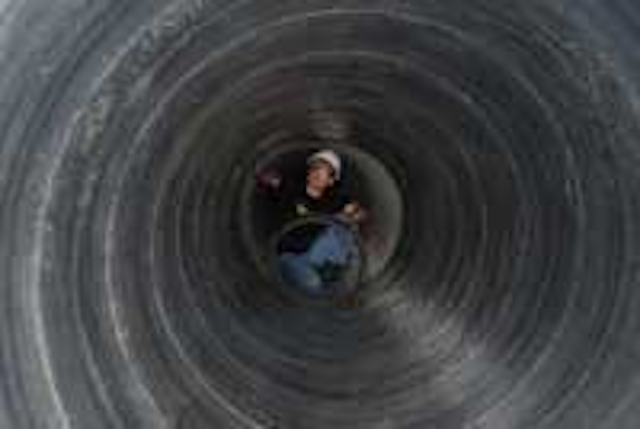 Click here to enlarge image
PipeMedic™, a patent-pending process from QuakeWrap, offers improvements over the traditional wet layup pipe lining systems. The liner is manufactured using specially designed carbon fabrics and resins that are passed through a press to create very strong and thin laminates. The laminates are rolled into a coil and held in the coiled position with a string for transportation. Once inside the pipe or tank, the string is removed and the laminate's elastic memory will cause it to snap itself against the surface of the pipe or tank. Application of the liner leaves the internal diameter of the pipe virtually unchanged and significantly increases the original strength.
QuakeWrap Inc.
Web: www.pipemedic.com
Circle No. 206 on Reader Service Card