New Products
New products involved in the water industry
Nov 1st, 2015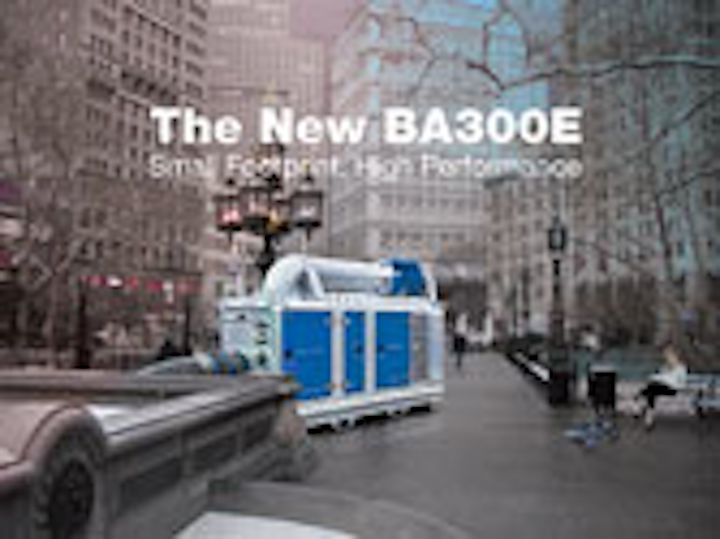 Dewatering, sewage pump
In designing the new 12" dewatering and sewage pump, the BA300E, BBA Pumps has focused on a small footprint by reducing the product's dimensions. With a length and width around 3 x 1 m (122 x 41 in), the BA300E's high performance is delivered through: a capacity to 1,250 m3/hr and 19 mwc/5,500 GPM and 63 ft. (27 PSI); a semi-open impeller with a free solids passage of no less than 120 x 105 mm; and dry self-priming through the MP100 vacuum pump (100 m3/hr - 59 CFM).
BBA Pumps
Pump check valve
Flomatic Corporation has introduced a new 1" variable-frequency drive (VFD) special-patented pump check valve designed for use with VFD-controlled submersible pumps. Standard check valves will "chatter" and be noisy when a VFD goes to low-flow conditions, causing premature wear and eventual failure. The Model 100E VFD and 100ES VFD valve are designed to minimize flow losses and hydraulic shocks in the pumping system. In addition, both the inlet and outlet threaded area allow for longer pipe threads.
Flomatic Corporation
Smooth-surface motor
NORD Gear Corporation's Smooth-Surface Motor is now available for the North American market and for export to key global markets. HM Series Motors are made from a high-strength, naturally corrosion-resistant aluminum alloy and can be supplied with a variety of protective coatings and finishes. HMT Series Smooth-Surface Motors are supplied with NORD's exclusive NSD TupH Sealed Surface Conversion System, and they can be offered as part of a wide range of integral gearmotor or motorized reducer solutions complete with NSD.
NORD Gear Corporation USA
Inline pumps
Pentair has introduced a new group of Aurora inline pumps to expand the 380 Series inline pump product offering. The release of six new vertical inline pump sizes extends the 380 flow range to over 11,000 GPM. These new pumps continue the Aurora inline tradition of providing reliable, easy-to-maintain, space-saving pump options for the commercial HVAC market. All pumps come stainless steel fitted as standard to provide a long service life.
Pentair
Diaphragm valve
GF Piping Systems has added the new diaphragm valve type 604/605 with integrated pneumatic actuator to its extensive product range. This newly available long runner combines compact design with best flow performance for an economic price-performance ratio, which fits standard installation lengths. Its integrated pneumatic actuator with quick opening and closing times enables more than one million closing cycles over its long service life. The valve is flexible in its operating modes and offers fail safe to close, fail safe to open and double acting options.
GF Piping Systems
Correlator
FCS's new Touch Pro correlator accurately locates leaks in traditionally difficult situations, such as on plastic or large-diameter pipes. Its intuitive interface with step-by-step instructions guides users through the correlation process with minimal training required. Acoustic data is transmitted back to the correlator from two outstations attached magnetically to valves at different points along the pipeline. The new correlator then uses an Automated Filtering Intelligence System to ensure an accurate interpretation, which automatically runs up to 55 different filter combinations on each correlation.
Fluid Conservation Systems
Ammonium analyzer
Endress+Hauser has introduced the Liquiline System CA80AM ammonium analyzer for monitoring critical control points in water and resource reclamation facilities. The analyzer and its sample preparation systems provide an automated approach to process control and regulatory compliance. The Liquiline CA80AM colorimetric analyzer provides measurements by using the standard indophenol blue method, which is compliant to ISO 7150-1, DIN 38406-5 and GB 7481-87 standards. It also provides data storage and retrieval using on-board logbooks to allow continuous documentation for reporting to regulatory agencies.
Endress+Hauser
Remote monitoring system
Sensaphone has introduced its Sentinel™ PRO remote monitoring system, an enhanced version of the Sentinel cloud-based system, which monitors up to 12 conditions at remote pump stations and tank farms including power, pump status, tank level, and flow rate. Sentinel PRO supports the Modbus communications protocol and includes a second relay output. The system monitors, delivers alarms, and datalogs input/output points from third-party Modbus sensors, transducers and programmable logic controllers and supports Modbus RTU/485 and Modbus TCP.
Sensaphone
THM analyzer
Aqua Metrology Systems has introduced the online THM Formation Potential Analyzer that provides real-time predictions of future THM levels in water treatment plant distribution networks. The analyzer is the first instrument to successfully implement an accelerated THM Formation Potential process. It performs six online samples daily, a combination of Total THM and THM Formation Potential. Benefits include: early characterization of the THM Formation Potential of water quality leaving the treatment plant and early prediction of future THM levels at critical points in the distribution system.
Aqua Metrology Systems
Expansion modules
YSI has introduced three new expansion modules for its Aquaculture & Aquatic Life Support Monitoring & Control product line. The expansion modules - IOEM-8, IOEM-4 and REM-4 - allow YSI customers to interface with more devices and increase their control capability when connected to a YSI 5200A, 5400 and/or 5500D monitor. Benefits of the IOEM and REM include: plug-and-play modules that are easy to install, set up and maintain; NEMA 4X (IP-66 rated); AC and DC power (battery backup if used with AC power); and a 2-year warranty.
YSI, a Xylem brand
Solids management system
Gorman-Rupp offers the new Eradicator™ Solids Management System for its Super T Series® line of self-priming centrifugal trash pumps. The Eradicator was developed for demanding applications and improves system uptime, thus decreasing service calls and overall maintenance costs. The system consists of a new, patented lightweight inspection cover, an innovative back cover plate incorporating an obstruction-free flow path, and an aggressive self-cleaning wear plate including laser-cut notches and grooves.
Gorman-Rupp Pumps
Desalination solutions
GE has introduced two new product additions to its Procera™ Seawater Solutions for desalination portfolio - the ZeeWeed™ 1500 RMS (Rackless Modular System, pictured) and the ZeeWeed 1000 NGC (Next Generation Cassette) for seawater pretreatment for reverse osmosis systems. For pressurized ultrafiltration systems, the RMS is a cost-effective modular system, which provides a 50-percent reduction in rack footprint. The RMS costs 75-percent less than a typical rack, and its modular design makes for easy installation and plant expansion.
GE
Valve education tool
Singer Valve has launched MetroH2O, a first in online education for control valves. When a user accesses the company's website, MetroH2O is at the forefront showcasing 11 different valves that are commonly found in city waterworks. By clicking on a valve, the user can see where the valve fits in the system along with a further detailed animation of how it operates with pressure fluctuations, flow changes, level variations, and pump and surge control. There are also specification sheets and operating guides for users that need to design, maintain or operate the valve.
Singer Valve
Progressive cavity pump
NETZSCH has introduced a new FSIP (full service-in-place) version of its NEMO® progressive cavity pump. Ideal for wear-intensive applications, the maintenance-friendly FSIP™ design has been re-engineered to provide full access to all the pumps' rotating parts. Users can conveniently open the in-service pump housing, dismantle all rotating parts, and install them again without having to disconnect the pump from the piping or remove the motor. The NEMO's rotor-stator unit can be lifted out after opening the newly designed inspection cover on the pump housing.
NETZSCH Pumps & Systems
Mass flow meters
Badger Meter has introduced the RCT1000 Coriolis mass flow meters, which provide the ability to simultaneously measure mass, volume, density, and temperature, ultimately offering control options to synchronize precision processes. Complementing the robust transmitter and sensor, every RCT1000 Coriolis mass flow meter comes with the RCT Console software package. The Badger Meter RCT1000 Coriolis mass flow meter identifies flow rates by directly measuring fluid mass over a wide range of fluid temperatures and viscosities with a high degree of accuracy.
Badger Meter
Pump models
Wilden has announced the release of new Stallion® Original™ Metal AODD Pump models powered by the energy-efficient Pro-Flo® SHIFT Air Distribution System (ADS). Wilden Stallion Series pumps incorporate many unique design features that make the handling and transfer of fluids with high solid content more efficient and effective, including a shock-absorbing polyurethane screen base that absorbs the impact from constant assault by solid particles. The pumps also feature a large internal clearance and flow-through design, an integrated suction strainer, and an altered ball/seat check valve assembly.
Wilden Pump & Engineering LLC
Energy-recovery devices
Danfoss High Pressure Pumps has begun production of its iSave 50 and iSave 70 ERDs. The latest additions to the Danfoss range boost ERD capacity by 75%, so that its highest-capacity model now handles flow rates of up to 70m3 per hour. The new iSaves have an efficiency rate of up to 92%, and like other iSave ERDs, the new models integrate a highly efficient isobaric pressure exchanger, high-pressure booster pump and motor, all in one compact design. They are ideal for plants where space is at a premium.
Danfoss High Pressure Pumps
Flow sensors
Clark Solutions has announced the availability of its expanded line of high-accuracy, low-cost, liquid vortex flow sensors. Both the 200 and 210 Series sensors are designed for OEMs for system flow monitoring and control. Further, they are ideal for applications like water and water/glycol-based heat exchange systems and similar fluids with flow ranges from 0.9 to 150 liters per minute. These meters determine flows using an obstruction/bluff in the flow meter body, and monitoring alternating vortices are formed on each side of the bluff body and travel downstream.
Clark Solutions
Turbo aerator
The Kinetic Turbo Aerator is the latest product designed and developed by Kinetic Traction Systems and offers efficient, compact, cost-effective aeration solutions for industries that require high-quality air processing, such as wastewater treatment. Unlike conventional compressors with lubricated gearboxes, the aerator uses a single shaft coupling and a direct drive high-speed permanent magnet motor, eliminating oil carryover contaminants in the air compression process to comply with ISO 8573 and ISO 12500 quality standards.
Kinetic Traction Systems
Storage coating
Wolverine Coatings Corporation has developed LiquaTile 1172, a new coating and internal lining product that cost-effectively protects potable water storage tanks at a time of tight budgets for infrastructure maintenance and expansion. Wolverine's new LiquaTile 1172 is a fast-cure, low-odor, high-durability tank lining solution that attains high water quality levels without requiring expensive plural component application equipment and special techniques. The 100% solids epoxy coating is UL Water Quality certified to US & Canadian NSF/ANSI 61 & NSF/ANSI Standard 372.
Wolverine Coatings Corporation
Sewer saddle
Ford Meter Box's sewer saddle offers a secure connection for tapping sewer mains. Available in three sizes with 4" or 6" branch outlets, these sewer saddles come with an adjustable stainless steel strap to accommodate a wide range of pipe sizes. Featuring a Buna-N (NBR) gasket and a fully passivated 304 stainless steel band, this saddle is ideal for a variety of sewer applications.
The Ford Meter Box Company Inc.
Demand management solutions
WaterSmart Software has announced an expansion of its demand management solutions to all utility meter classes, and utilities now have an integrated view of water deliveries to all customers. The company's expanded platform gives water utilities unprecedented visibility into customer-use patterns, which aids in water balance reporting, pressure district leak prioritization, drought management compliance, and other critical utility operations. It also helps utilities seamlessly deploy customer engagement programs over mobile, email, text, and print.
WaterSmart Software
Stormwater management
Working with environmental innovators, the Luck Ecosystems team has developed a full line of RainScape Stormwater Management products designed to rejuvenate waterfronts and facilitate green construction. The RainScape family enables landscape architects, engineering firms, contractors, and municipalities to meet and exceed the regulatory guidelines that ensure a healthier ecosystem. The product line features a unique biofiltration media that was developed after significant research and testing by Luck Ecosystems.
Luck Ecosystems
More WaterWorld Current Issue Articles
More WaterWorld Archives Issue Articles