Product Showcase
Collection of new products of special interest to the municipal water and wastewater markets
Dec 1st, 2015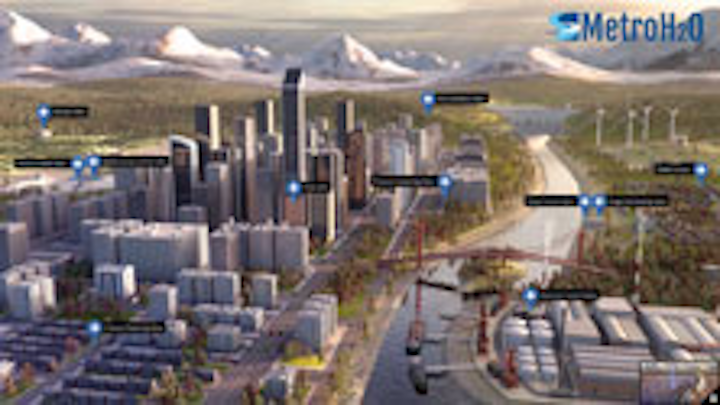 Valve education tool
Singer Valve has launched MetroH2O, a first in online education for control valves. When a user accesses the company's website, MetroH2O is at the forefront showcasing 11 different valves that are commonly found in city waterworks. By clicking on a valve, the user can see where the valve fits in the system along with a further detailed animation of how it operates with pressure fluctuations, flow changes, level variations, and pump and surge control. There are also specification sheets and operating guides for users that need to design, maintain or operate the valve.
Singer Valve
Mass flow meters
Badger Meter has introduced the RCT1000 Coriolis mass flow meters, which provide the ability to simultaneously measure mass, volume, density, and temperature, ultimately providing control options to synchronize precision processes. Complementing the robust transmitter and sensor, every RCT1000 Coriolis mass flow meter comes with the RCT Console software package. The Badger Meter RCT1000 Coriolis mass flow meter identifies flow rates by directly measuring fluid mass over a wide range of fluid temperatures and viscosities with a high degree of accuracy.
Badger Meter
Solids management system
Gorman-Rupp offers the new Eradicator™ Solids Management System for its Super T Series® line of self-priming centrifugal trash pumps. The Eradicator was developed for demanding applications and improves system uptime, thus decreasing service calls and overall maintenance costs. The system consists of a new, patented lightweight inspection cover, an innovative back cover plate incorporating an obstruction-free flow path, and an aggressive self-cleaning wear plate including laser-cut notches and grooves, along with a revolutionary tooth designed to clear material from the eye of the impeller.
Gorman-Rupp Pumps
Static mixer
Chemineer is offering the Kenics™ UltraTab™ static mixer designed for desalination applications such as brine mixing and dilution and anti-scalant blending. The Kenics UltraTab provides a combination of advantages from its compact installation space requirement to its complete blending in short distances downstream of the mixer and low pressure drop through the mixing element. Some of the key features and benefits include: integral wall injector upstream of the mixing element; low pressure drop through the UltraTab element; and compact design and short mixing length.
Chemineer
Ammonium analyzer
Endress+Hauser has introduced the Liquiline System CA80AM ammonium analyzer for monitoring critical control points in water and resource reclamation facilities. The analyzer and its sample preparation systems provide an automated approach to process control and regulatory compliance. The Liquiline CA80AM colorimetric analyzer provides measurements by using the standard indophenol blue method, which is compliant with ISO 7150-1, DIN 38406-5 and GB 7481-87 standards. It also provides data storage and retrieval using on-board logbooks to allow continuous documentation for reporting to regulatory agencies.
Endress+Hauser
Expansion joints
Redflex® NSF 61 Certified expansion joints from Red Valve are designed to relieve piping stress, compensate for movement, reduce noise, and isolate vibration. The rugged PTFE core extends through the entire length of the joint to the face of the flange and is backed by a fabricated rubber body reinforced with high-strength synthetic fabric and steel wire. The cover material is selected to suit service characteristics and has the option to be coated with special paint to resist weathering, ozone or acid fumes. Available with single, double, triple, or wide arches.
Red Valve Company Inc.
Suspended solids density meter
Reduce polymer use and increase filter press efficiency with Markland's ultrasonic meter by monitoring feed density and filtrate concentrations. Non-intrusive, inline pipe spool-piece sensor provides continuous %SS readings, unaffected by color, helping operators adjust flocculent dosages and press variables to optimize concentrations. Further, readings may offer early awareness of breaks in filtration material.
Markland Specialty Engineering Ltd.
Filtration optimization system
The IntelliPro® Filtration Optimization System is a PC-based control system for Aqua-Aerobic® cloth media filters that uses real-time data to optimize chemical addition to meet phosphorus removal objectives. The system features automatic, optimal-dose selection for metal salts, polymer and pH adjusting chemicals. The IntelliPro system is an efficient and economical solution to assist treatment plants in achieving low-level phosphorus objectives while minimizing the expense associated with costly chemicals.
Aqua-Aerobic Systems Inc.
More WaterWorld Current Issue Articles
More WaterWorld Archives Issue Articles