Resource Spotlight
Collection of books, etc. dealing with water issues.
Dec 1st, 2015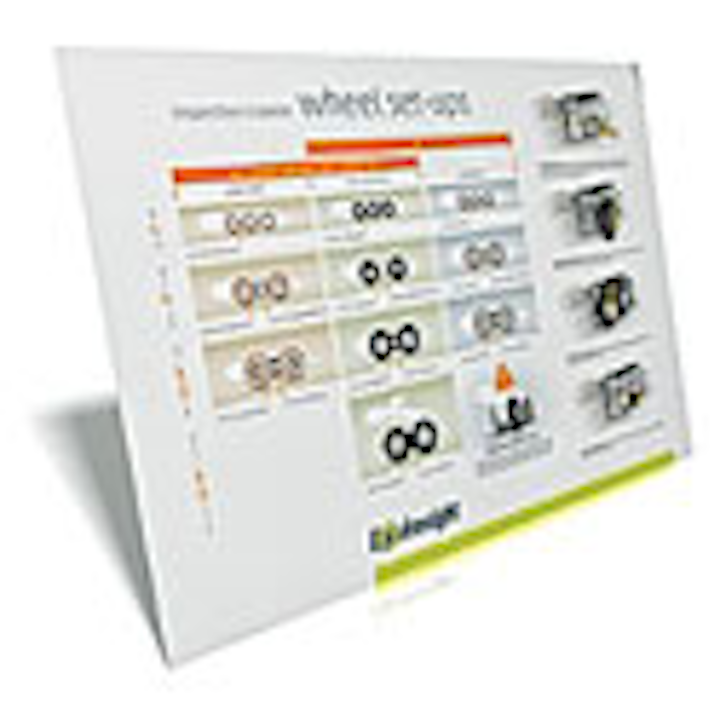 New poster
To help crawler operators select the best wheels for a given pipe, Envirosight has created a new Inspection Crawler Wheels Set-ups poster. The poster illustrates wheel configurations most appropriate for various combinations of pipe diameter, material and condition. United States and Canadian residents can request to receive the complimentary 18"x 24" poster mailed to them. The poster was published as a part of Envirosight's commitment to create and share reference material that benefits industry professionals.
Envirosight LLC
New book
The National Ground Water Association (NGWA) has officially released its long-anticipated book, "Understanding Hydrogeology and Its Impact on Large-Scale Geothermal Heat Pump Systems." Edited by industry experts Nina Baird, Ph.D., Carnegie Mellon University, and John Rhyner, PG, P.W., Grosser Consulting Inc., these guidelines provide a useful, ongoing reference for those involved in planning or site assessment for a large-scale geothermal heat pump project. NGWA prepared these guidelines with focuses on the protection of groundwater and the optimal performance of the wellfield.
National Ground Water Association
New report
AccelerateH2O, in partnership with San Antonio-based Alamo Colleges and funding from the Texas Workforce Commission, has officially released the new report, "Skills, Talents, and Occupations in Texas' Water and Water Technology Cluster." Upon collecting and analyzing historical, current and projected data of employment, occupations and businesses in all 254 counties and the 16 regional water planning districts, the AccelerateH2O report has identified over 76 impacted industry sectors, 50 occupations and an emerging challenge to fill some 30,000 retirements among water systems.
AccelerateH2O
New book
This new book, published by CPLloyd Consulting Inc., is intended as a guide for automated valve end users, engineers and valve industry professionals that need to understand valve actuators. It describes the various types of electric- and fluid-powered actuators in terms of design, power supplies, controls, and sizing. Readers are taken through the logical steps of selecting the correct actuator for their application, including isolating, modulating and fail-safe variations. There are sections on matching actuators to new valves and also retrofitting actuators to existing valves.
CPLloyd Consulting Inc.
Video series
The Los Angeles Department of Water & Power (LADWP) is in the midst of a major transformation of its water and power supply. As such, it has created a series of two-minute-long videos to help explain this transformation and the Department's plans for the future of water and power in Los Angeles. The LADWP is investing in infrastructure to safeguard reliability, ultimately transforming supplies in innovative ways to achieve greater sustainability and improving customer service when communicating with the Department.
Los Angeles Department of Water & Power
New app
Smart Utility Systems has announced the launch of SCM® Bill Savings Navigator. The new technology enables utilities to connect directly with income-qualifying customers and share information on cost-saving, government-mandated efficiency and rebate programs. Guiding customers through a set of four criteria to determine which programs meet their specific needs and qualifications, the app provides instant access to a complete list of all available state and federal efficiency programs, which customers can opt to participate in with a simple process that allows sign up through various digital forms.
Smart Utility Systems
New publication
The American Water Works Association (AWWA) has released its newest publication, "Iron and Manganese Removal Handbook, Second Edition," by John Civardi and Mark Tompeck. The second edition of the book was necessitated by ongoing advancements in treatment technology, new regulations and changes in the environment. Demonstrated through field experiences and case studies, specific topics discussed in the book include an analysis of current and emerging methods, guidance for handling residuals, details on treatment process selection, and design and background on expanded regulations and health impacts.
American Water Works Association
More WaterWorld Current Issue Articles
More WaterWorld Archives Issue Articles