New Literature
Blackmer®, a manufacturer of rotary vane, centrifugal and peristaltic (hose) pump and reciprocating gas compressor technologies, has published a new Corporate Brochure.
Oct 1st, 2010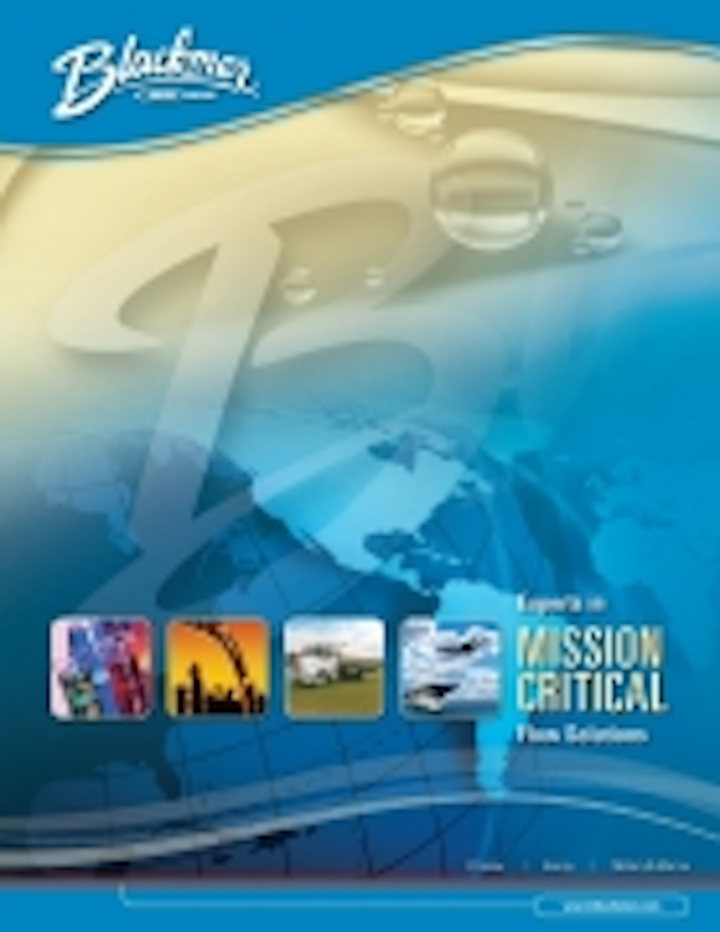 Pumping systems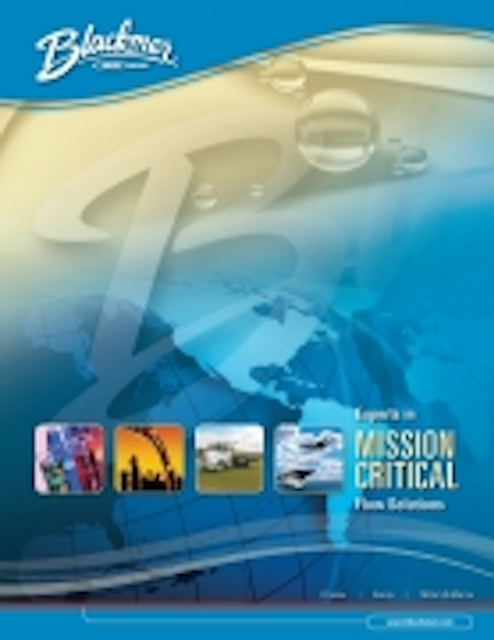 Blackmer®, a manufacturer of rotary vane, centrifugal and peristaltic (hose) pump and reciprocating gas compressor technologies, has published a new Corporate Brochure. The updated brochure includes new Mission and Vision statements, which reinforce the company's commitment to developing pumping and compressor technology that provides operational advantages in an environmentally friendly way.
Blackmer
Grand Rapids, MI
Web: www.blackmer.com
Circle No. 209 on Reader Service Card
Compressed air
Atlas Copco Compressors has developed a new edition of the Compressed Air Manual, a comprehensive reference book written by engineers, for engineers, that is designed to assist in the optimization of compressed air systems. Areas and topics covered in the latest edition include: theory, compressors and auxiliary equipment, dimensioning and servicing compressor installations, economy, and calculation examples. To order a free copy of the 136-page Compressed Air Manual go to: www.atlascopco.us/usus/Aboutus/sales/compressors_generators/Comp_manual.asp
Atlas Copco
Tel: 803-817-7479
Web: www.atlascopco.com.
Circle No. 210 on Reader Service Card
Conveying, feeding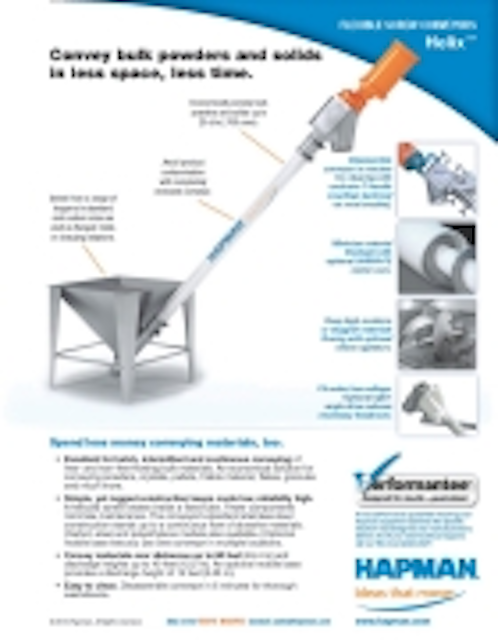 A new, six-page capabilities brochure offers an overview of Hapman's conveying, feeding and bulk bag handling solutions for processors. In addition, individual sales sheets have been updated for the company's three conveying technologies, which include Helix™ flexible screw, MiniVac™ pneumatic and tubular drag conveyors; as well as bulk bag unloaders and fillers, bag dump stations, bag compactors, LumpMaster® lump breaker, PosiPortion™ feeders and Solidquid™ solid and liquid delivery systems.
Hapman
Kalamazoo, MI
Tel: 800-427-6260
Web: www.hapman.com
Circle No. 211 on Reader Service Card
Geomembrane guidance
The Fabricated Geomembrane Institute (FGI) has produced a new guideline entitled Subgrade Requirements for Fabricated Geomembranes. This guideline details the proper preparation of the subgrade for the installation of all fabricated geomembranes. This document is written such that these guidelines can be picked up by an engineer or specifier and put into a specification for subgrade condition and requirements.
Fabricated Geomembrane Institute
Tel: 217-333-3929
Web: www.fabricatedgeomembrane.com
Circle No. 212 on Reader Service Card
Valves
Parker Fluid Control Division, manufacturers of the Skinner and Gold Ring lines of solenoid valves and the Sinclair Collins line of process control valves, has launched a new website. The site acts as a portal to the company's product web pages and portfolio of valve options. Users can select 2-Way, 3-Way, 4-Way, Steam, Cartridge, Sinclair Collins, Angle Body, and Catalogs & Brochures. By clicking on a valve category, visitors automatically open a new window to a relevant product page with a list of valve choices to consider. The new page offers a simplified approach to locating product options and specifications.
Parker Fluid Control Division
New Britain, CT
Web: www.parkerfluidcontrol.com
Circle No. 213 on Reader Service Card
Membrane degassing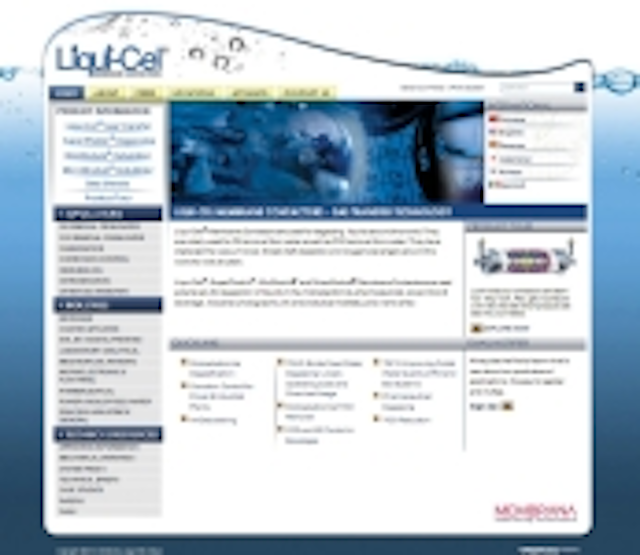 Membrana-Charlotte, a membrane and degassing device manufacturer, has expanded its Liqui-Cel® Business Unit's website, www.liqui-cel.com. The new website has additional information as well as an updated visual appearance. Over the years Membrana has added many new gas transfer products to its product portfolio to meet the specific needs of a variety of industries. New brand landing pages have been added so that it is easier to find and learn more about the various products and how they operate.
Membrana-Charlotte, a division of Celgard, LLC
Charlotte, NC
Tel: 704-587-8406
Web: www.membrana.com
Circle No. 214 on Reader Service Card
Dataloggers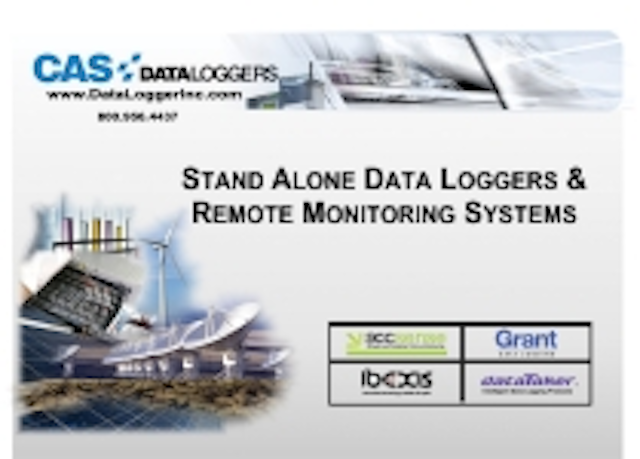 The new CAS DataLoggers' catalog presents the latest data logging systems from leading manufacturers. Included are data loggers that can measure temperature, humidity, voltage and current among other parameters. The models can be customized to use two inputs or more than 100 inputs, depending on the application. The catalog provides information on systems that are suitable for a wide range of applications, including environmental monitoring.
CAS DataLoggers, Inc.
Chesterland, OH
Tel: 800-956-4437
Web: www.dataloggerinc.com
Circle No. 215 on Reader Service Card
Energy management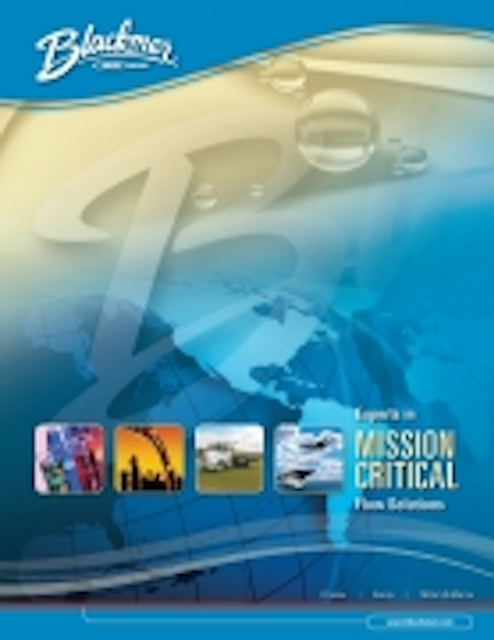 A new 4-page, full-color brochure from Staco Energy Products details the company's range of power quality products for water & wastewater facilities. This new literature details voltage regulation, power conditioning, power factor correction, harmonic mitigation and Uninterruptible Power Supplies (UPS) for use within water pumping stations, purification plants and wastewater treatment sites. The company has a line of standard products to meet many needs, and provides tailored solutions whenever necessary. The brochure may be downloaded from the company web site.
Staco Energy Products Co.
Dayton, OH
Tel: 866-266-1191
Web: www.stacoenergy.com
Circle No. 216 on Reader Service Card
Screw conveyors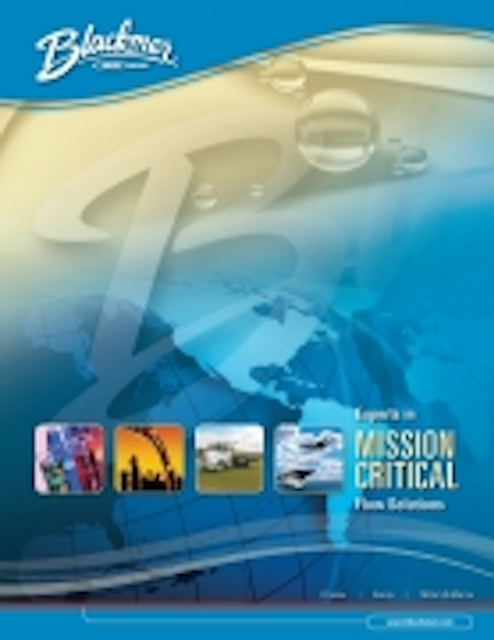 A new brochure describing Spiroflow Systems' recently re-designed line of nine Flexible Screw Conveyors. Titled "Flexible Screw Conveyors for Dry Bulk Solids and Ingredients," the eight-page brochure begins by highlighting the design simplicity of the conveyors including the direct electric motor-driven spiral screw that is the system's only moving part. The spiral rotates within a sealed tube, moving the material along at faster speeds than previous models. The need for any additional operating equipment such as gear reducers and bearings is eliminated, resulting in a system that is sanitary in design. The brochure includes detailed line drawings describing the basics of flexible conveyors and a chart providing model specifications. The nine different models are available with throughputs from 10 lbs/hr to 88,000 lbs/hr depending on the material and angle of operation.
Spiroflow Systems
Charlotte, NC
Tel: 704-291-9595
Web: www.spiroflowsystems.com
Circle No. 217 on Reader Service Card
Pumps, tubing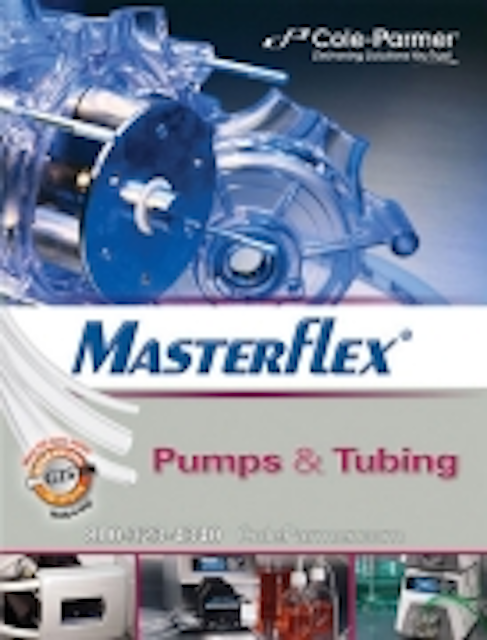 Find the latest solutions from Masterflex, including peristaltic pump heads, pump tubing, drives, and pump systems in the new Masterflex® Pumps & Tubing Catalog. This 48-page book displays a variety of fluid handling technologies and supplies. The company's C/L® pumps combine low flow with a compact size that is ideal for benchtop or rack mount use. The line's L/S® pumps offer high accuracy for precise flow control and dispensing - optimal for laboratory, process or field use. I/P® pumps operate with a more powerful motor and provide better protection from hazards like dust or water.
Cole-Parmer
Vernon Hills, IL
Tel: 800-323-4340
Web: www.coleparmer.com
Circle No. 218 on Reader Service Card
More WaterWorld Current Issue Articles
More WaterWorld Archives Issue Articles