Products & Services: Pumps
The ReliaSource® 6x6T above-ground lift station is the newest addition to the Gorman-Rupp line of fully customizable, compact and pre-engineered packaged stations.
Oct 1st, 2010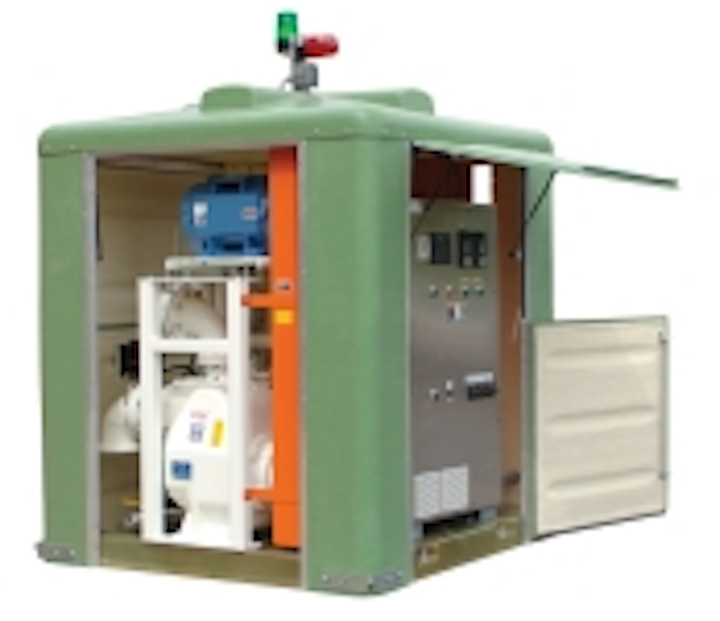 Lift stations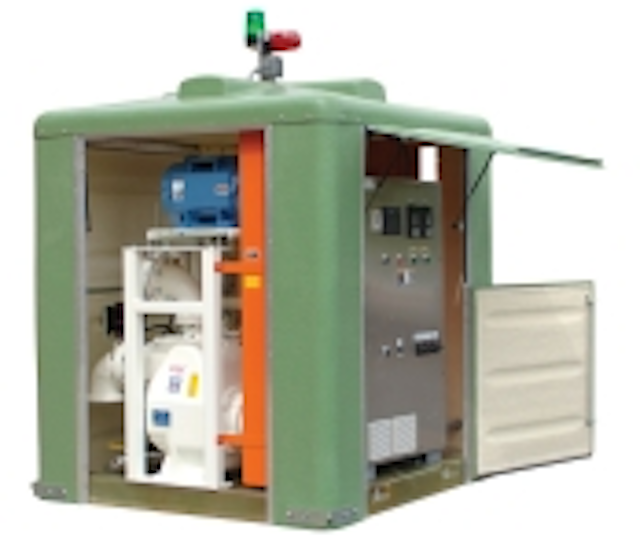 The ReliaSource® 6x6T above-ground lift station is the newest addition to the Gorman-Rupp line of fully customizable, compact and pre-engineered packaged stations. This unit comes standard with all the existing features of the 6x6, but with an additional 3' of height that allows for more options. The new configuration accommodates more sophisticated controls like Reduced Voltage Solid State (RVSS) Starters and Variable Frequency Drives (VFDs). The added space also allows for easier access to routine maintenance items, such as check valves, plug valves, gauges and air release valves.
Gorman-Rupp, Mansfield Division
Mansfield, OH
Tel: 419-755-1011
Web: www.grpumps.com
Circle No. 219 on Reader Service Card
Level controller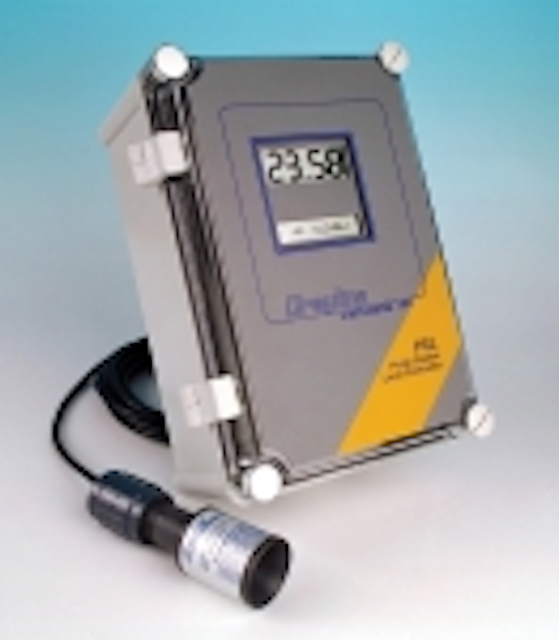 The new PSL Pump Station Level Controller from Greyline Instruments features a non-contacting ultrasonic sensor, isolated 4-20mA output and six programmable control relays for pump control, pump alternation, and for level alarms. It is designed for sewage lift stations, wet wells and storage tanks. An automatic pump run time logging and reporting system helps operators plan pump maintenance and identify "lazy" pumps before they fail.
Greyline Instruments Inc.
Massena, NY
Tel: 888-473-9546
Web: www.greyline.com
Circle No. 220 on Reader Service Card
Molded pumps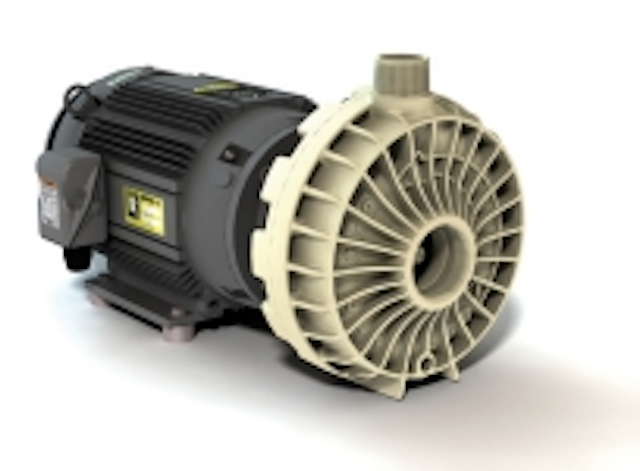 SERFILCO offers a line of 3x2 molded centrifugal pumps, Series 'EF' vertical and Series 'HF' horizontal configuration with flows to 400 gpm or 170 feet of TDH. They are available in hi-temp polypropylene or CPVC non-metal contact for improved corrosion resistance. The pumps can be paired with the company's Chemical Duty motors up to 30 horsepower. Key features include high flow and TDH relative to their size, dry-run capability and high hydraulic efficiency at low horsepower, enabling significant energy savings.
SERFILCO, Ltd.
Northbrook, IL
Tel: 800-323-5431
Web: www.serfilco.com
Circle No. 221 on Reader Service Card
Portable pumping, sampling
The REEL E-Z® system from Instrumentation Northwest is used in portable sampling and pumping applications in small diameter wells as deep as 250 feet. When used with the company's Happy Hose!® (integrated motor lead, safety cable, and discharge tubing), the system easily installs the pump in the well, locks it in place, and allows for take up and cleaning without cable entanglement.
Instrumentation Northwest Inc.
Kirkland, WA
Tel: 425-822-4434
Web: www.inwusa.com
Circle No. 222 on Reader Service Card
Pumping systems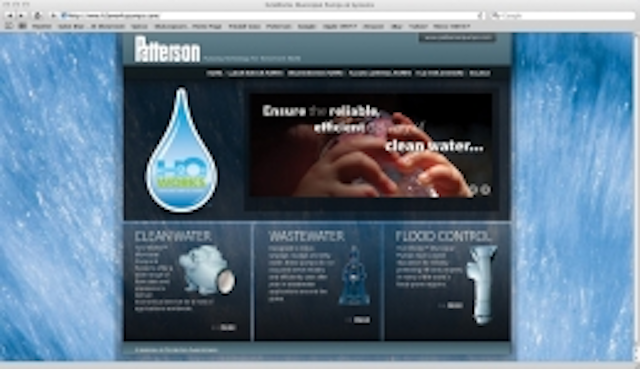 Patterson Pump's new H2OWorks™ Web Site illustrates how the company's products provide reliable performance and increased efficiency for the municipal marketplace. Every pump is the product of more than 100 years of engineering innovation and expertise to ensure continuous operation year after year. The company's H2O Works™ line offers pumps, valves and packaged solutions for a broad range of new or existing municipal applications including water treatment facilities, lift stations, high-volume pumping stations, flood control, industrial processing and more.
Patterson Pump Co.
Toccoa, GA
Tel: 706-886-2101
Web: www.h2oworkspumps.com
Circle No. 230 on Reader Service Card
Pump controls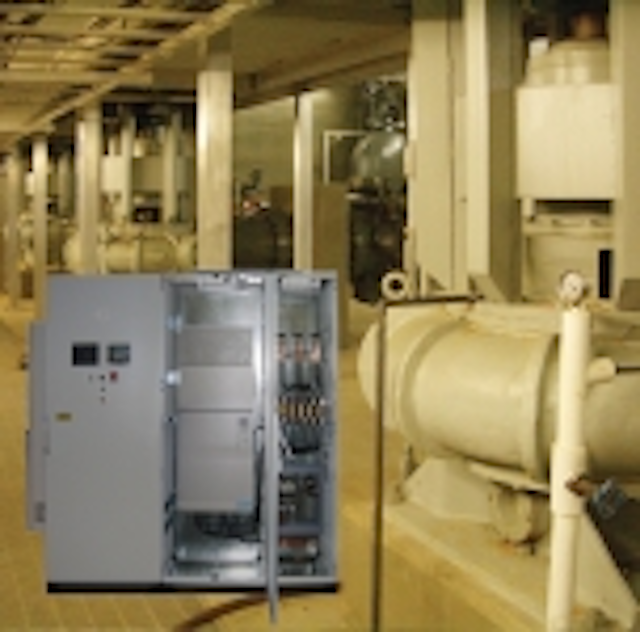 Revere Controls specializes in pump controls for complex and out-of-the-ordinary applications, including duplex, triplex, and large horsepower requirements. Extra features, such as full simulation testing and web-based access to all drawings, O&M manuals, and PLC programs, are part of the long-term value the company provides.
Revere Control Systems
Birmingham, AL
Tel: 205-824-0004
Web: www.reverecontrol.com
Circle No. 227 on Reader Service Card
Screw pumps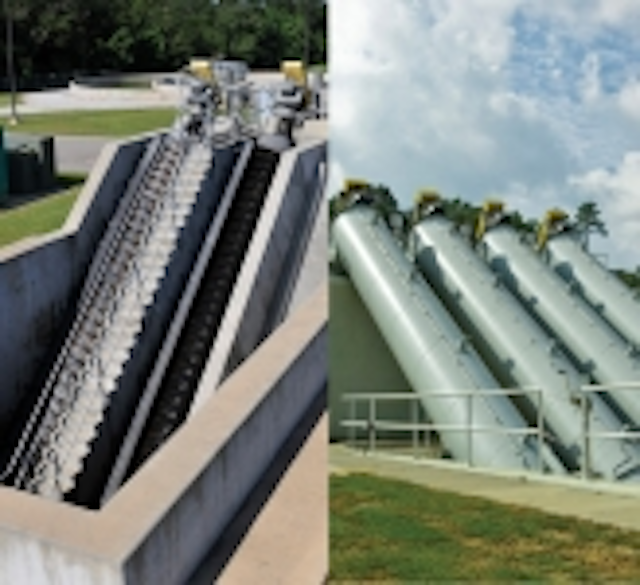 Schreiber incorporates the Archimedean Screw Pump concept in both the Tube Mounted Screw Pump and the Open Flight Screw Pump. The Tube Mounted pump transports liquid inside a stationary tube, simplifying structure design and eliminating the need for grouting. The units are factory assembled, which minimizes installation costs. Pumps can be set at a fixed angle or the lower end can be supported by a hoist to vary the pump angle and for maintenance access.
Schreiber LLC
Tel: 205-655-7466
Web: www.schreiberwater.com
Circle No. 228 on Reader Service Card
Sound-attenuated pumps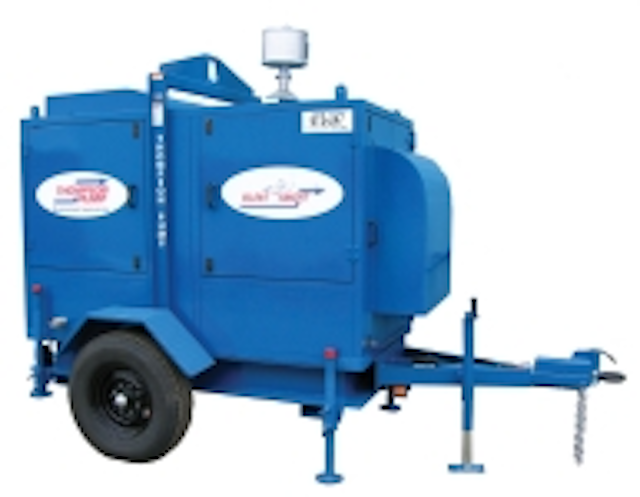 Thompson Pump's Silent Knight® sound attenuated pump series includes a canopy that lowers noise levels to 69 decibels or less from only 7 meters and encloses the entire pump in a lockable case. Doors allow access to pump components for maintenance without disconnecting the suction piping.
Thompson Pump & Manufacturing
Tel: 800-767-7307
Web: www.thompsonpump.com
Circle No. 262 on Reader Service Card
Thermoplastic centrifugal pump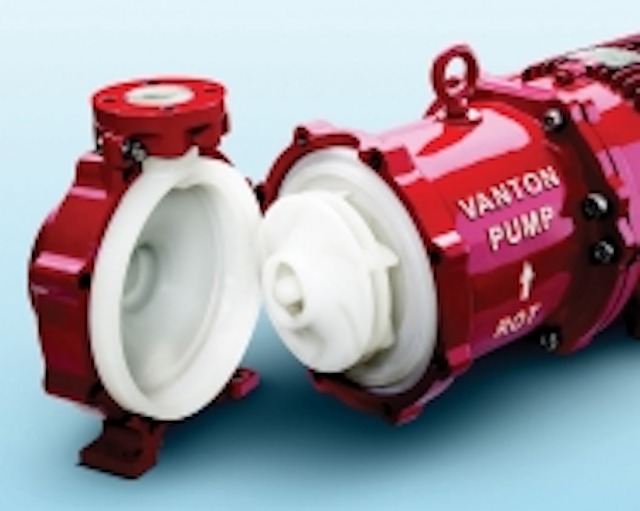 Vanton Pump has introduced a new Chem-Gard® CGMC close-coupled, magnetically driven thermoplastic centrifugal pump in sizes from 1.5x1x6 to 3x2x8 in. for flows to 400 gpm at heads to 220 ft TDH. The pump is a sealless, single-stage, volute-type centrifugal design with all fluid contact components molded of homogenous polypropylene or PVDF. These stand alone, chemically inert, abrasion-resistant thermoplastic components eliminate pinpoint porosity, substrate separation and wear associated with plastic lined pumps.
Vanton Pump & Equipment Corp.
Hillside, NJ
Tel: 908-688-4216
Web: www.vanton.com
Circle No. 272 on Reader Service Card
Self-priming pumps
Rain for Rent's line of self-priming pumps now includes the DV-325c 12" centrifugal pump, specifically designed for bypass pumping. The pump offers flows up to 8,500 gpm, suction lift up to 28' and maximum head of 220'. It can handle solids up to 4.75". An available Sound Attenuated enclosure reduces operation noise to as low as 72 decibels at 23'. The 350 horsepower Tier-3 engine burns 13.0 gallons per hour @ 1800 rpm (5500 gpm @ 140' TDH) and comes standard with a galvanized skid to reduce maintenance expense.
Rain for Rent
Bakersfield, CA
Tel: 800-742-7246
Web: www.rainforrent.com
Circle No. 265 on Reader Service Card
Close-coupled pumps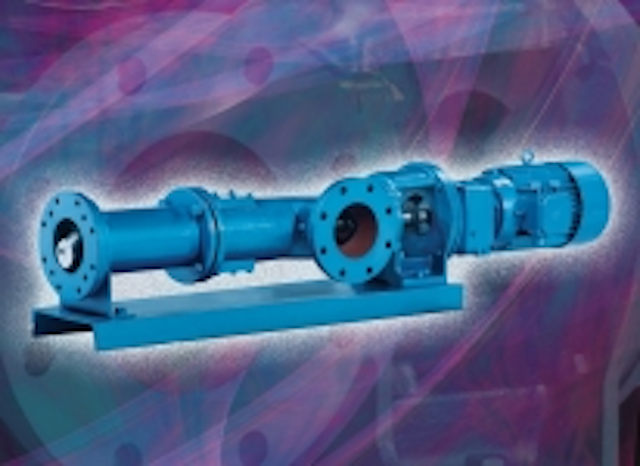 The Moyno® 2000 CC pump is designed for municipal and industrial applications where close-coupled configurations are preferred, but the robustness of a gear joint drive is needed. The pumps feature a sealed gear-type universal joint drive train and optimized rotor/stator pumping element geometry. They are designed to efficiently transfer abrasive, high-solids content materials. Using proprietary Ultra-Drive® gear-joint technology, the pumps handle radial and thrust loads for maximum performance.
Moyno Inc.
Springfield, OH
Tel: 877-486-6966
Web: www.moyno.com
Circle No. 268 on Reader Service Card
Pump station control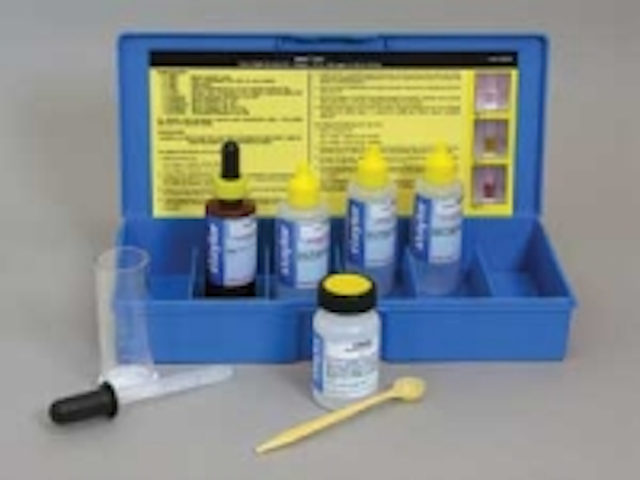 The new Flygt Station Control Panel "SCP" provides unique control flexibility that allows for dramatic operational change without rewiring. At the heart of the system is the Flygt APP 721 all-in-one station controller. Its pre-configured wastewater transport control algorithms allow collection system optimization. An integrated web server has been added allowing for management remotely or via a local area network.
ITT Corp., Flygt Products
Shelton, CT
Tel: 203-712-8999
Web: www.flygtus.com
Circle No. 269 on Reader Service Card
Metering pumps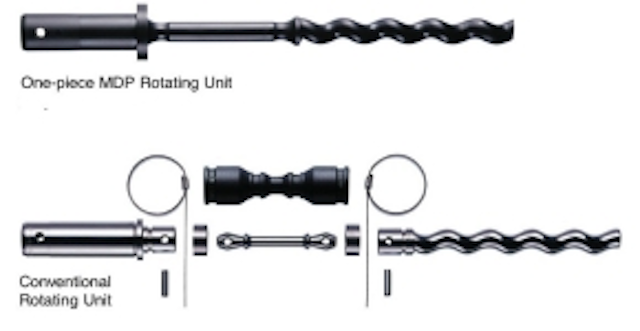 The seepex MDP series progressive cavity metering pumps now feature a rotating unit made from Xytel ST801, a "super tough" nylon. The material is virtually unbreakable, is more resistant to abrasion than stainless steel, and runs reliably at low speeds and under high pressure. The patented MDP rotating unit is injection molded as a single piece, which is significantly less expensive than conventional units, easier to maintain, and much faster to replace.
seepex Inc.
Enon, OH
Tel: 937-864-7150
Web: www.seepex.com
Circle No. 270 on Reader Service Card
Peristaltic pump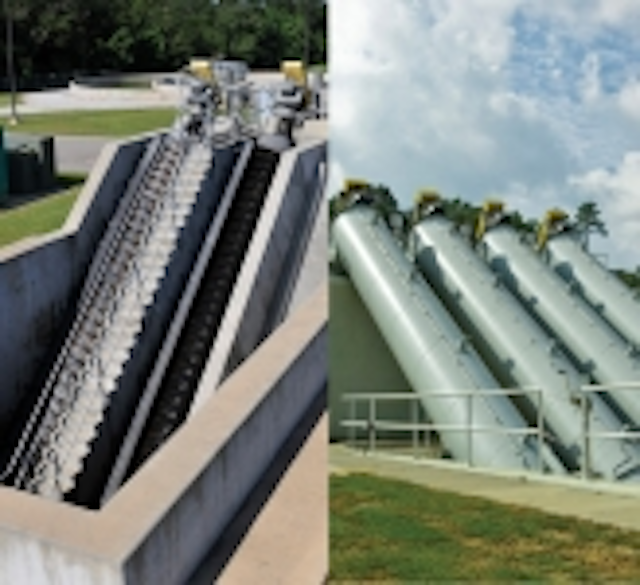 The new Flex-Pro® A4 is Blue-White's highest volume peristaltic pump. The peristaltic design does not have valves that can clog. Outputs range up to 171 gph, with a 2500:1 turndown ratio and continuous feed. Output pressure ratings range up to 125 psi. The pumps feature a digital touch pad with menu driven software, a brushless variable speed motor and a patented tube failure detection system. Inputs include: 4-20 mA, 0-10 vDC, and pulse signal inputs for external speed control.
Blue-White Industries
Huntington Beach, CA
Tel: 714-893-8529
Web: www.bluwhite.com
Circle No. 271 on Reader Service Card
Pumps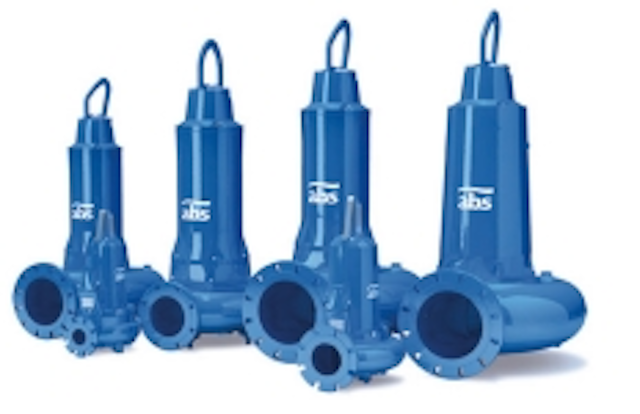 The ABS line of EffeX pumps includes an IE3 premium efficient submersible motor and the company's ContraBlock plus system. The ContraBlock plus impeller technology provides improved rag and solids handling while meeting the Ten States standard for 3" solids passage size requirements.
ABS USA
Meriden, CT
Tel: 203-514-4272
Web: www.absgroupusa.com
Circle No. 263 on Reader Service Card
Solids handling pumps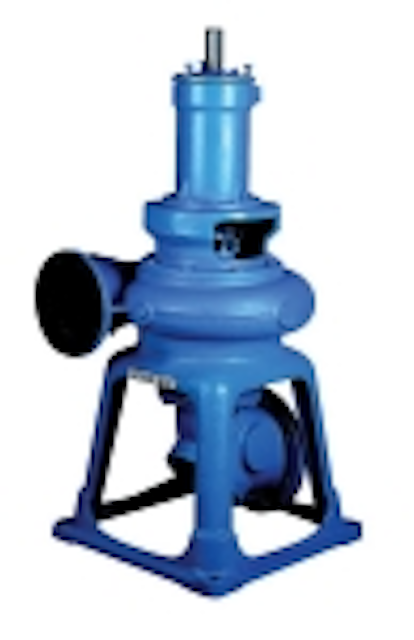 The Fairbanks Morse non-clog pump is designed to handle raw sewage, sludge and slurries. The design versatility allows the pump to fit in numerous piping configurations. These pumps feature the original non-clog radial impeller design with well-rounded leading vanes tapered toward the trailing edge to guide trash flow away from the vanes and into the circular flow channels of the impeller and casing.
Fairbanks Morse Pump
Kansas City, KS
Tel: 913-371-5000
Web: www.fmpump.com
Circle No. 273 on Reader Service Card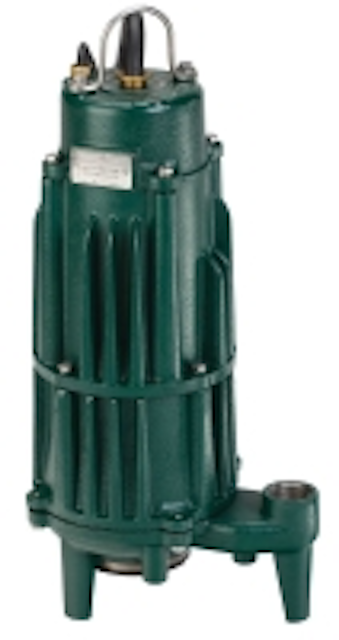 Grinder pumps
With models available from 1 to 7 ½ HP, Zoeller Engineered Products offers an extensive line of grinder pumps. Cool run design technology effectively disperses heat, promoting longer service life. The units are available with multiple discharge configurations and wet end designs. Some models feature the company's reversing cutter design, preventing cutter jams. The hardened SS star cutter rarely requires replacement. Models are available with either standard or explosion proof motors.
Zoeller Engineered Products
Tel: 800-928-7867
Web: www.zoeller.com
Circle No. 225 on Reader Service Card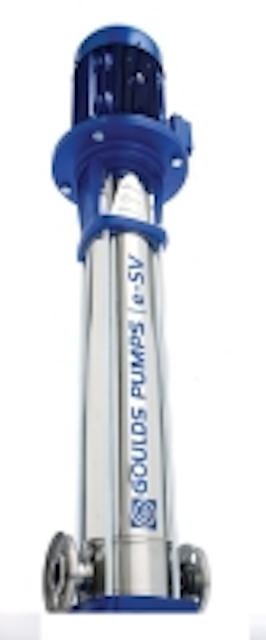 Vertical pumps
ITT has enhanced its Goulds Pumps line of stainless steel, vertical multi-stage pumps with the introduction of new e-SV™ models. Featuring an innovative hydraulic design and efficiency characteristics that lower lifecycle costs and increase energy savings, the pumps are suited for a wide variety of applications. The new pumps also have a number of design innovations that simplify installation and reduce maintenance time.
Goulds Pumps, a brand of ITT Corp.
Web: www.goulds.com
Circle No. 223 on Reader Service Card
Hydrostatic test pumps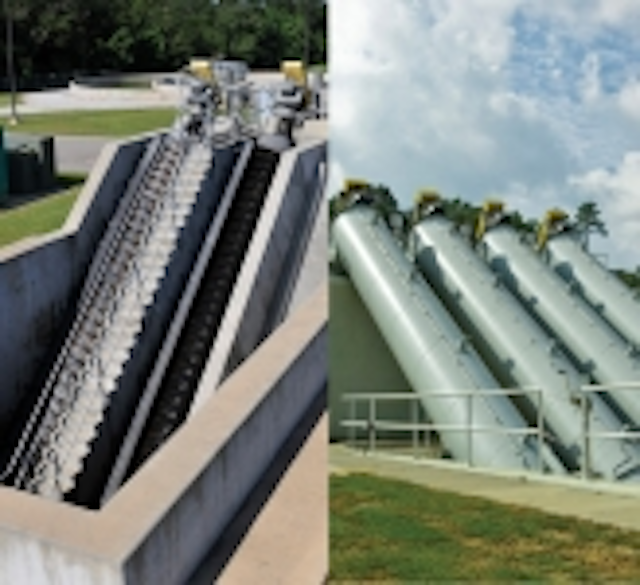 Wheeler-Rex Twin Piston hydrostatic test pumps are suited for certifying the integrity of newly installed or repaired water lines, sewer lines, commercial sprinkler systems and pressure vessels. Two models are available, gas powered by either a 6.5 hp B & S engine, Model 46453, or a 5.5hp Honda engine, Model 464530. Complete with a twin piston pump and rated for 0-600 psi and 10 gpm, these pumps have an adjustable pressure relief valve, two-wheeled cart with pneumatic tires, and inlet strainer with stainless steel mesh filter and clear bowl.
Wheeler-Rex
Ashtabula, OH
Tel: 800-321-7950
Web: www.wheelerrex.com
Circle No. 224 on Reader Service Card
Self-priming pumps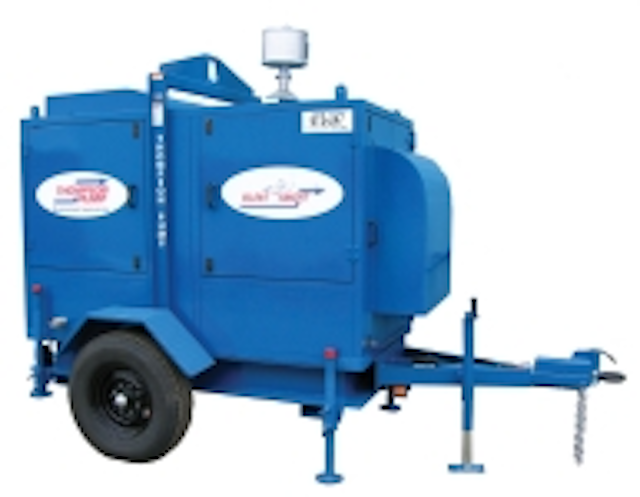 Iwaki has designed a new series of self-priming chemical transfer pumps that can suction lift 13 ft. out of tankers or from bulk storage containers. The self-priming design of the SMX series requires the pump to only be primed once upon installation and never re-primed regardless of foot or check valves in the system. Contrary to air operated diaphragm pumps, the series does not require preventative maintenance and comes with a 2-year warranty.
Iwaki America
Tel: 508-429-1440
Web: http://iwakiamerica.com
Circle No. 226 on Reader Service Card
Flotation pump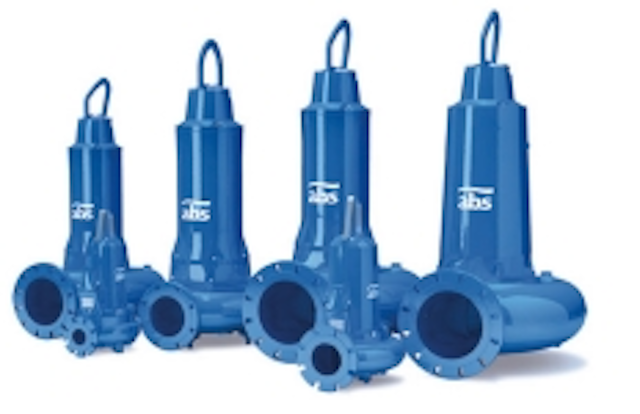 Shanley Pump is offering the EDUR special flotation pump in a much larger size. Now available for 500 gpm flotation applications, the pump will provide 12 percent entrained gas and produce 30 micron bubbles. It eliminates the requirement for compressors, which reduces power consumption by 40 percent. The EDUR Centrifugal DAF Pumps are available in cast iron, 316 stainless steel, and 329 SS (duplex) construction.
Shanley Pump & Equipment Inc.
Arlington Heights, IL
Tel: 847-439-9200
Web: www.shanleypump.com
Circle No. 266 on Reader Service Card
Pump switch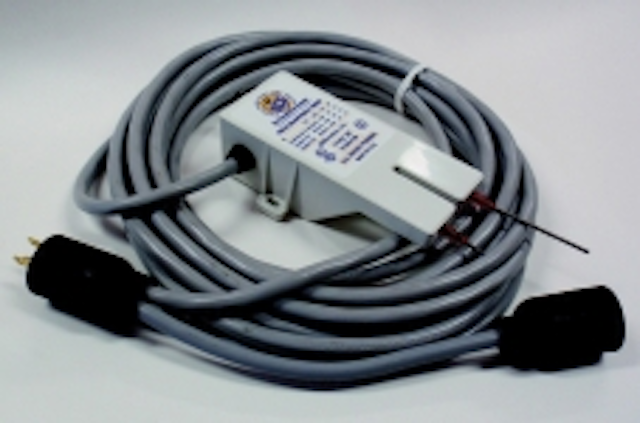 SeeWater has introduced the SCS Adjustable Water Smart® Pump Switch. The alternative to float switches is designed for use in dewatering/wastewater/sewage applications. The stand-alone switch will operate any pump up to 1 hp. It has a built-in 8-position dial that allows the end user to adjust the pump down time to suit the needs and size of their application. There is no need for two float switches to create an "on" and "off" pumping range.
SeeWater
Tel: 888-733-9283
Web: www.seewaterinc.com
Circle No. 267 on Reader Service Card
High lift pump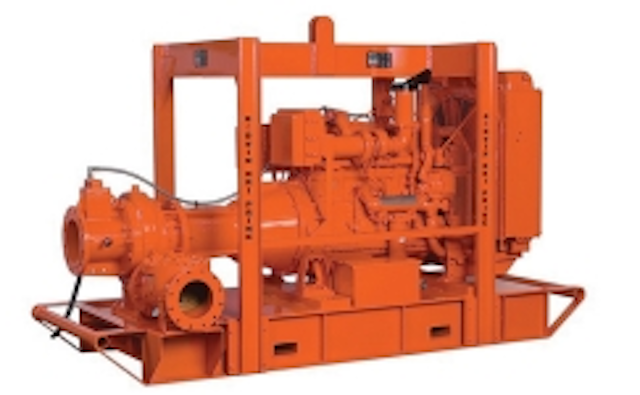 Godwin Pumps will introduce its new high lift HL260M Dri-Prime pump at WEFTEC. Capable of flow rates to 4,760 gpm and heads to 500 ft, the 10"x 8" single-stage, automatic self-priming centrifugal pump can handle solids to 2" in diameter. The pump is offered with several engine options, including the standard 600 hp Caterpillar C-18 Tier 3 diesel engine with a standard Godwin PrimeGuard™ Controller for remote monitoring and programmable operations. Built with a cast iron pump volute, cast chromium steel impeller and nickel chrome cast iron wearplates, the pump is engineered for service in a variety of pumping applications including temporary lift station bypass pumping on high head force mains and high pressure potable water boosting, in addition to other applications including tunnel shaft dewatering, hydro testing, pigging pipelines, and temporary fire systems.
Godwin Pumps
Bridgeport, NJ
Tel: 856-467-3636
Web: www.godwinpumps.com
Circle No. 264 on Reader Service Card
Metering pumps
The Neptune Series 500 chemical metering pumps feature a Variable Oil By-pass™ stroke adjustment that allows for better valve performance than traditional variable-linkage designs. This allows the valve checks to have extra time to seat even in heavy liquids since they are idle during the by-pass portion of the suction and discharge strokes. Other features include the ability to be adjustable from 10% to 100% of capacity via micrometer dial and Eze-Clean™ valve cartridges that can be removed for cleaning without disturbing the piping to the pump.
Neptune Chemical Pump Co.
Lansdale, PA
Web: www.neptune1.com
Circle No. 229 on Reader Service Card
More WaterWorld Current Issue Articles
More WaterWorld Archives Issue Articles