Product Showcase
The Rotalign Ultra Live Trend is a short-term continuous monitoring application from Ludeca designed to provide real-time measurement of machine positional change.
Oct 1st, 2010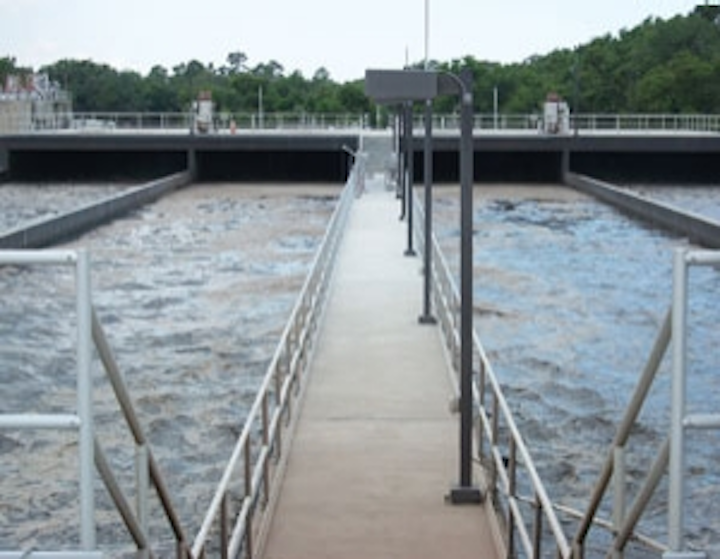 Alignment monitoring
The Rotalign Ultra Live Trend is a short-term continuous monitoring application from Ludeca designed to provide real-time measurement of machine positional change. The system helps to accurately determine the relative positional changes between coupled machines during run-up or shut-down. It uses a 5-axis sensor to monitor in real-time and simultaneously both the vertical and horizontal parallel and angular displacement of rotating machinery, from cold to hot condition or vice versa.
Ludeca Inc.
Doral, FL
Tel: 305-591-8935
Web: www.ludeca.com
Circle No. 200 on Reader Service Card
Groundwater sampling system
Instrumentation Northwest's Dedicator® is a turnkey, dedicated sampling system designed for simplified installation and operation. Each system is custom-built to well specifications, completely assembled and tested prior to shipment. The systems include a low profile well seal, the company's exclusive Happy Hose!® (integrated motor lead, safety cable, and discharge tubing), electric submersible pump, and all clamps and fittings. The well seal incorporates a sealed access port for water level indicators.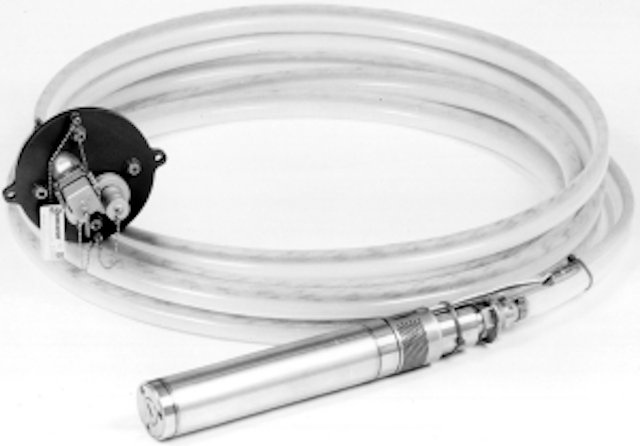 Instrumentation Northwest Inc.
Kirkland, WA
Tel: 425-822-4434
Web: www.inwusa.com
Circle No. 201 on Reader Service Card
Ultrasonic flowmeter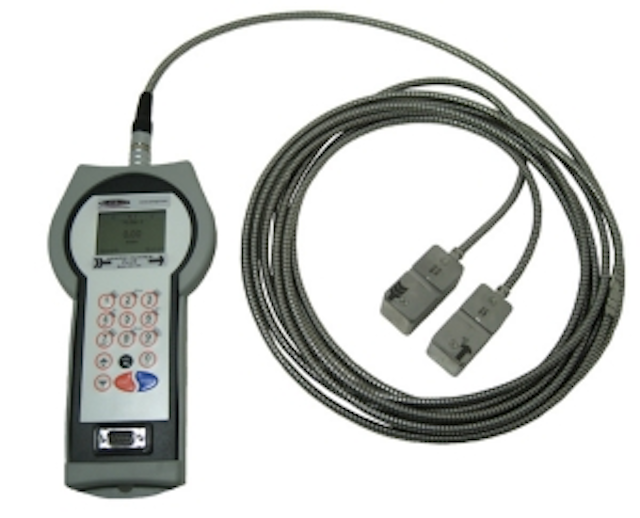 The ECHO Arrow Hunter Plus is a clamp-on Transit-Time flowmeter. It will measure clean or dirty liquid flow in metal or plastic pipes with any liners from 3/8" to 118" diameters. It uses Dual DSP technology and can measure a wide velocity range from 0.03 to 82 ft/s. Accuracy is ± 0.5% factory calibrated (process conditions can reduce accuracy) and repeatable to ± 0.15% of measured value. The instrument can measure any municipal flow application, including low-flow chemical feed to large concrete-lined raw sewage pipes. The company offers hazardous area sensors for explosion proof requirements.
ECHO Process Instrumentation Inc.
Shalimar, FL
Tel: 850-609-1300
Web: www.echopi.com
Circle No. 202 on Reader Service Card
Valveless metering system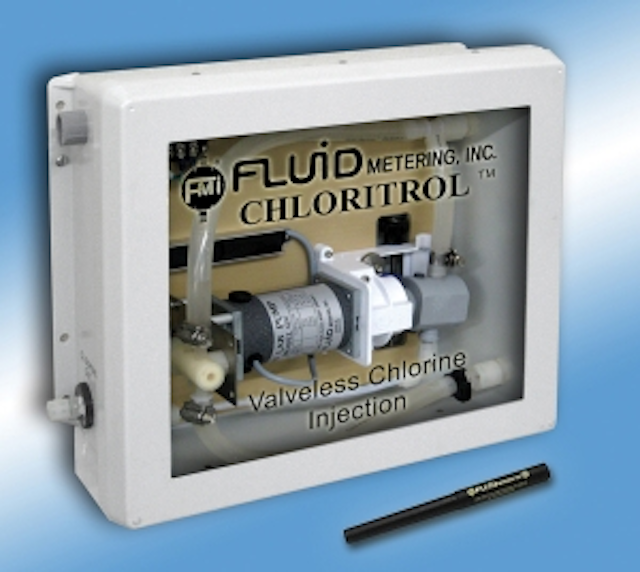 Fluid Metering has introduced the new Chloritrol™ valveless metering system for injection of liquid sodium and calcium hypochlorite. The system features a valveless duplex pump design. The primary pump injects liquid hypochlorite directly into the water main. The secondary pump removes out-gas bubbles from the system preventing loss of prime. The system will self prime against pressures up to 125 psi. Internal components are made of sapphire-hard ceramics which provide long term drift-free accuracy. Flow rate is controlled by FMI's Model V300 Variable Flow Controller, which accepts 4-20 mA, 0-5 vDC, and 0-10 vDC, signals from process sensors and instrumentation.
Fluid Metering Inc.
Syosset, NY
Tel: 800-223-3388
Web: www.chloritrol.com
Circle No. 203 on Reader Service Card
Sampling systems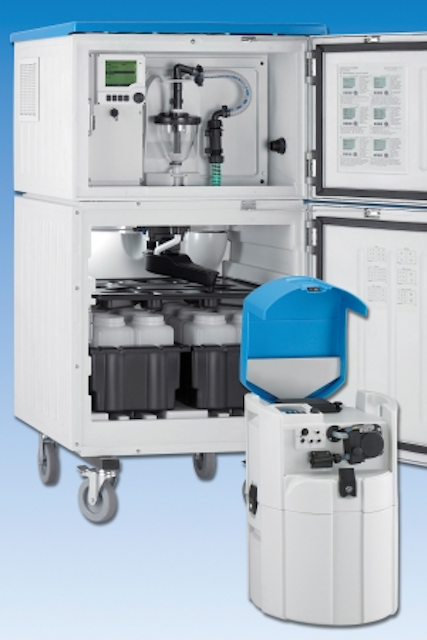 Endress+Hauser offers a line of water sampling systems for monitoring influent and effluent at water/wastewater treatment plants and surface water sampling. The sampling line includes the Liquistation CSF48 stationary unit and the Liquiport CSP44 portable unit. The units accept "hot plug and play" inputs from up to two Memosens digital sensors to measure parameters such as nitrates, conductivity, oxygen, pH, ORP, turbidity or suspended solids.
Endress+Hauser Inc.
Greenwood, IN
Tel: 317-535-1329
Web: www.us.endress.com
Circle No. 204 on Reader Service Card
Valve diagnostic tool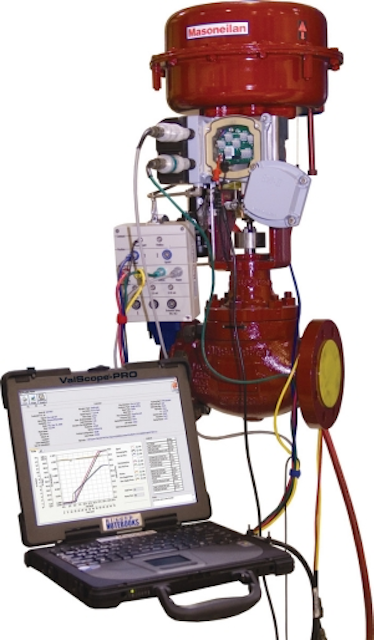 Dresser Masoneilan® has announced the launch of the next generation ValScope®-PRO, a diagnostic tool for control valves with both conventional and digital positioners. The tool is portable, enabling users to troubleshoot valves in-line and in harsh environments to determine which valves need to be removed. A graphic interface allows users to view the valve as it is being tested and provides real-time analysis. The instrument is compatible with analog, Fieldbus and HART communication protocols. The system is capable of testing more than 35 different criteria, including profile, deadband, step response and frequency.
Dresser Masoneilan
Houston, TX
Web: www.dressermasoneilan.com.
Circle No. 205 on Reader Service Card
Check valves
The new LarFlex Rubber Check Valves from Larox Flowsys can be used to control back pressures from abrasive, aggressive, corrosive, and other demanding slurry applications. The check valve does not contain any springs, pins, or flappers that are prone to erosion, seizure, or fatigue. The valve sleeve relies solely on a high-grade elastomeric material that is made to order for the customer. These include Chlorobutyl, EPDM, Viton, Nitrile, Neoprene, Neoprene cover with Natural Rubber, Viton, and Hypalon inner lining, all with temperature capabilities up to 120 degrees Celsius. The elastomeric sleeve material is durable and flexible enough to entrap obstructive solids without malfunctioning. With as little as 25mm of water flow, the valve's opposing rubber lips will flex open due to inlet pressure and allow full flow, and close from back pressure.
Larox Flowsys Inc.
Linthicum, MD
Tel: 410-636 2250
Web: www.larox.fi/flowsys
Circle No. 206 on Reader Service Card
Collector chain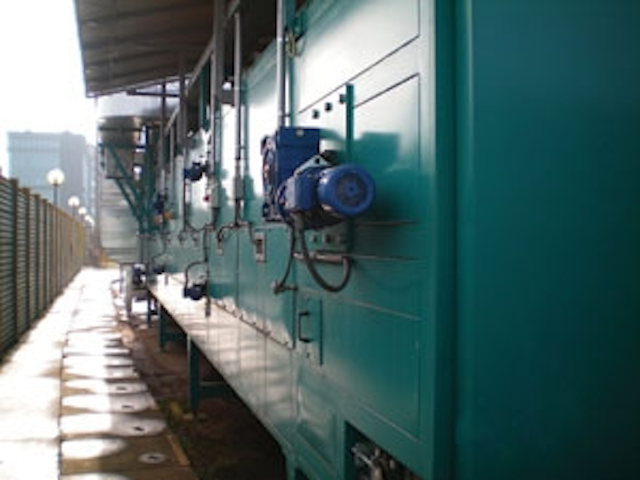 The SS713P is a standard 6" pitch Collector Chain designed for greater corrosion resistance in water and wastewater applications. The passivated 304 stainless steel chain is ideal for use in primary and secondary clarification. With ultimate strength at 25,800 lbs. and maximum working load of 3,000 lbs., the chain is suitable for most longitudinal collector and cross collector tanks. Each 10-foot chain strand is available with an 8" flight attachment link at five and 10 foot intervals. Allied-Locke Industries, established in 1965, also manufactures other ancillary equipment such as sprockets that complement the chain. Its engineering staff is capable of designing systems to meet the specific needs of a facility.
Allied-Locke Industries Inc.
Environmental Products Division
Dixon, IL
Tel: 815-288-1471
Web: www.alliedlocke.com
Circle No. 207 on Reader Service Card
Emergency gas shutoff
Halogen Valve's Terminator Actuator™ closes and torques hazardous gas 150 lb. cylinder valves in three seconds. This microprocessor controlled and sequential operated system applies 40 foot-pounds during an emergency situation to the valve stem as recommended by the Chlorine Institute. The Gemini controller has a self-contained battery system that guarantees the operation of the motorized closing mechanism even during a power failure. The latest Fire Codes recognize and approve the "automatic-closing fail-safe shutoff valve" system in lieu of a scrubber treatment system.
Halogen Valve Systems
Irvine, CA
Tel: 877-476-4222
Web: www.halogenvalve.com
Circle No. 208 on Reader Service Card
More WaterWorld Current Issue Articles
More WaterWorld Archives Issue Articles