NEW LITERATURE
Cultec, a manufacturer of plastic chambers used in stormwater retention/detention management systems and septic applications, has launched a re-designed website.
Sep 1st, 2007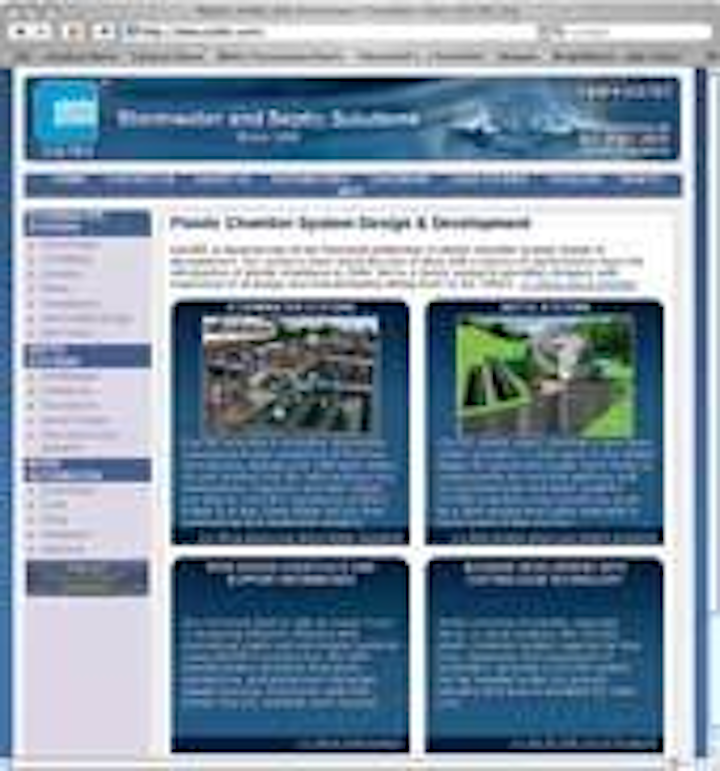 Stormwater detention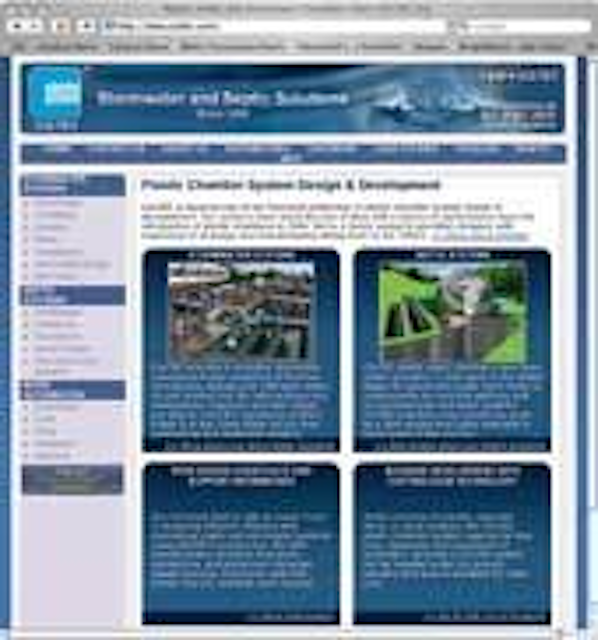 Click here to enlarge image
Cultec, a manufacturer of plastic chambers used in stormwater retention/detention management systems and septic applications, has launched a re-designed website. The website provides a general overview of stormwater and septic management as well as detailed information about the company's systems and applications. The site is divided into two major sections - stormwater management and septic systems. Each explains the importance of controlling stormwater run-off or sewage treatment and disposal in both commercial and residential applications.
Cultec Inc.
Brookfield, CT
Tel: 800-428-5832
Web: www.cultec.com
Rubber valves
Tideflex Technologies' 24-page condensed catalog includes the latest information on the Tideflex® Curved Bill Check Valve, the InLine Check Valve, the Tideflex® Mixing System for potable water mixing, the non-clogging Aeration System, the maintenance-free Effluent Diffuser System and the low-profile Waterflex® Check Valve. Product dimensions and applications are featured. This catalog provides details on the valves and highlights the engineered systems.
Tideflex Technologies
Carnegie, PA
Tel: 412-279-0044
Web: www.tideflex.com
Source water monitoring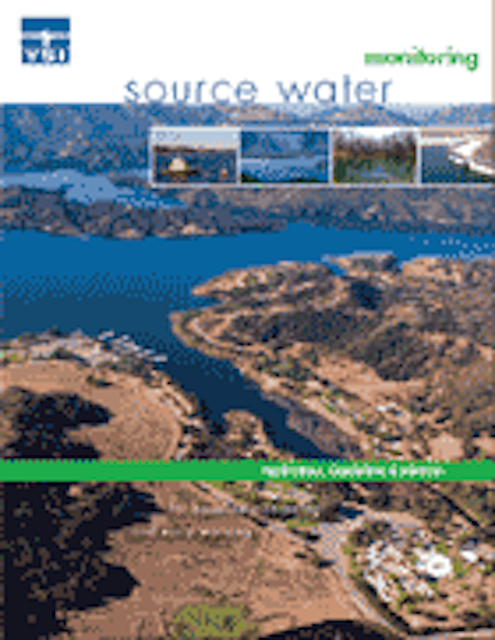 Click here to enlarge image
YSI has published a new catalog for source water monitoring. It features applications and solutions for monitoring natural waters used as drinking water sources. Applications include baseline monitoring, early warning, algal blooms, taste and odor, reservoir and intake monitoring, treatment chemical use, and more. Solutions include water quality, velocity, and flow instruments from YSI and SonTek/YSI as well as custom systems and data collection platforms.
YSI Inc.
Yellow Springs, OH
Tel: 800-897-4151
Web: www.ysi.com
Electrical supplies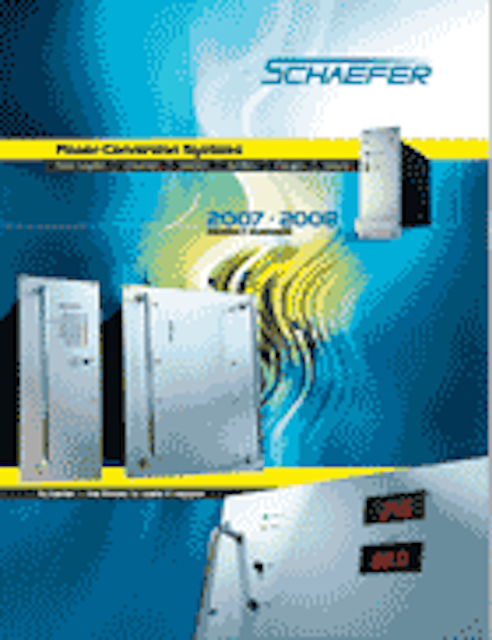 Click here to enlarge image
Schaefer has published a new short form catalog detailing its complete line of AC/DC switchmode power supplies, battery chargers, DC/DC converters, DC/AC inverters and AC/AC frequency inverters. The 15 page catalog uses charts to show the diverse product offerings, which range in power from 50W up to 40kW liquid cooled designs. A host of mechanical and electrical options for the products are also detailed.
Schaefer Inc.
Ashland, MA
Tel: 508-881-7330
Web: www.schaeferpower.com
Oil skimming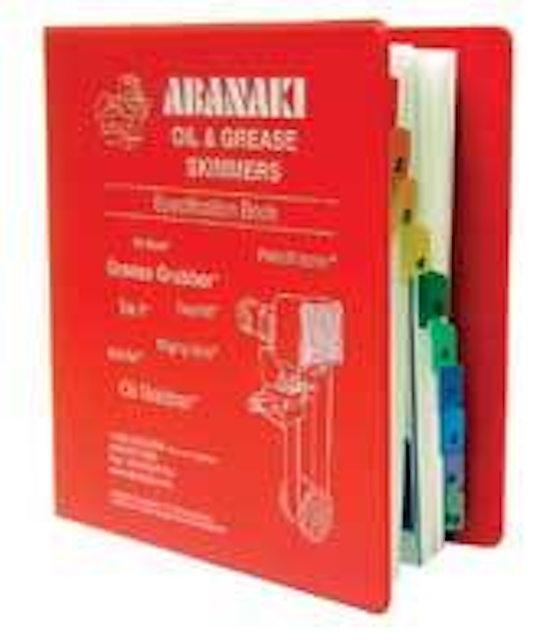 Click here to enlarge image
Abanaki has published a technical guide on oil skimming equipment. The Oil Skimming Engineering Specification E-Book includes detailed engineering drawings and covers motor types and belt selection for the company's oil skimming products An electronic version of the guide is a handy reference for environmental consulting engineers and related professionals who need detailed specifications on oil skimming equipment for groundwater remediation and treatment of industrial wastewater.
Abanaki Corp.
Cleveland, OH
Greensand guide
To aid users of GreensandPlus for water filtration, a new 2-page guide from Inversand provides information on how to combat water quality problems for CR (continuous regeneration) or IR (intermittent regeneration) type systems. These systems are in use for municipal/government/utility and industrial water applications that use GreensandPlus filtration media. The media has all the properties of the original manganese greensand, with added improvements including the flexibility to use any of several oxidants for media regeneration.
Inversand Co.
Clayton, N.J.
Tel: 856-881-2345
Web: www.inversand.com
Wastewater chemicals
A new selection guide from Alco Chemical provides information on the company's products for wastewater applications. "Water Treatment Selection Guide: Waste Treatment - General" provides details about the company's products for metals removal and for flocculation and emulsion breaking. According to the publication, the company's Aquamet Dithiocarbamates (DTC) and Trithiocarbonate (TTC) are among the most powerful materials in the market for forming insoluble complexes with a wide range of metals.
Alco Chemical
Chattanooga, TN
Tel: 800-251-1080
Web: www.alcochemical.com
Metering pumps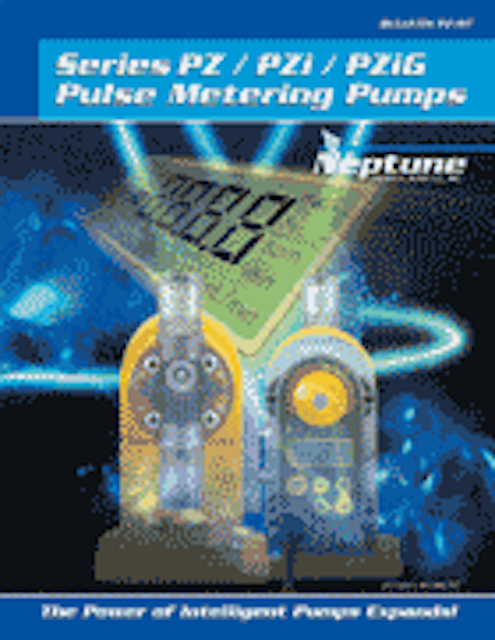 Click here to enlarge image
Neptune Chemical Pump has published a 10 page brochure on its line of Tacmina PZ Series electronic metering pumps. The full-color literature details the line's control options and its wide range of sizes and pressures (from 1 to 1300 ml/min at pressures up to 220 psi). The Series PZ pulse metering pumps are ideal for injection of a variety of liquids including chemicals, nutrients and disinfectants.
Neptune Chemical Pump Co.
Lansdale, PA
Tel: 215-699-8700
Web: www.neptune1.com
Pump guide
Gusher Pumps has introduced a new Product Selection Guide to its literature. The guide provides specific features and applications for the various pump lines offered by the company. Each pump series featured includes a photograph of a model in that series with its features and applications. Series include: 7550, Self-Priming 8000, ANSI 7071, DIN, CL-CC, 7500, SC-CC, 7600, Multi-Stage, Diaphragm, Molten Metal, Turbine, Stainless Steel Vertical Immersion, Tank Units, 7800/SEV, Seal-less Immersion, Vortex and Ruthman Coolant.
Gusher Pumps Inc.
Williamstown, KY
Tel: 859-824-3100
Web: www.gusher.com
Electronic testing, measurement
Fluke, a supplier of handheld electronic test and measurement technology, has released an online version of its Fluke Tools Catalog. The 72-page catalog is available in a digital format, with multiple features for viewing product information. Users can flip pages with a single click of the mouse, zoom in/zoom out of content, search for specific products or topics by keyword, click on products and topics to link to related or in-depth information on www.fluke.com, and forward catalog pages by email.
Fluke Corp.
Everett, WA
Tel: 800-443-5853
Web: www.testtools.fluke.dgtlpub.com
Globe valves
Emerson's new brochure showcases the Fisher® easy-e® globe valves with their cage-style trim. The brochure gives reasons why the control valves find application in services that vary from low-flow, low-pressure use to severe conditions that would cavitate or cause extreme noise if not treated. These reasons include a choice of flow control cages to meet specific performance demands; a selection of shaft packing systems; drop-in, cage-style trim in hardened materials; as well as a selection of body end connections and styles.
Emerson Process Management
Marshalltown, IA
Tel: 641-754-3288
Web: www.emersonprocess.com
Dry solids processing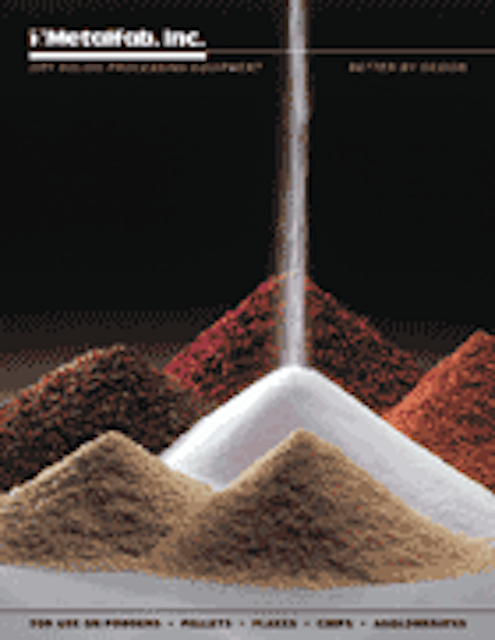 Click here to enlarge image
Metalfab has published a new brochure that provides a quick overview of its dry solids processing equipment for use with powders, pellets, flakes, chip, and agglomerates. Included are sections on Metalfab Standard and Sanitary Bin Activators, Pre-Steamer/Dischargers, PosibinsTM, Live Bins, "Better-Weigh®" Batch/Continuous Feeders and Controls, MetaTechTM Standard, MTP, Sanitary and Combination Type Volumetric Feeders, Compact and Miniature Volumetric Screw Feeders, Bulk Bag Unloaders, Convey-AllTM/FSC Flexible Screw and Convey-AllTM/VTC Vibratory Tube Conveyors, Continuous Mixers, and Volumetric Belt Feeders.
Metalfab Inc.
Tel: 800-764-2999
Web: www.metalfabinc.com