Flow Control Valve Technology Aids in Aquifer Storage, Recovery
Aquifer Storage and Recovery (ASR) projects, once limited in quantity and scope, are now commonplace in many cities throughout the U.S...
Sep 1st, 2007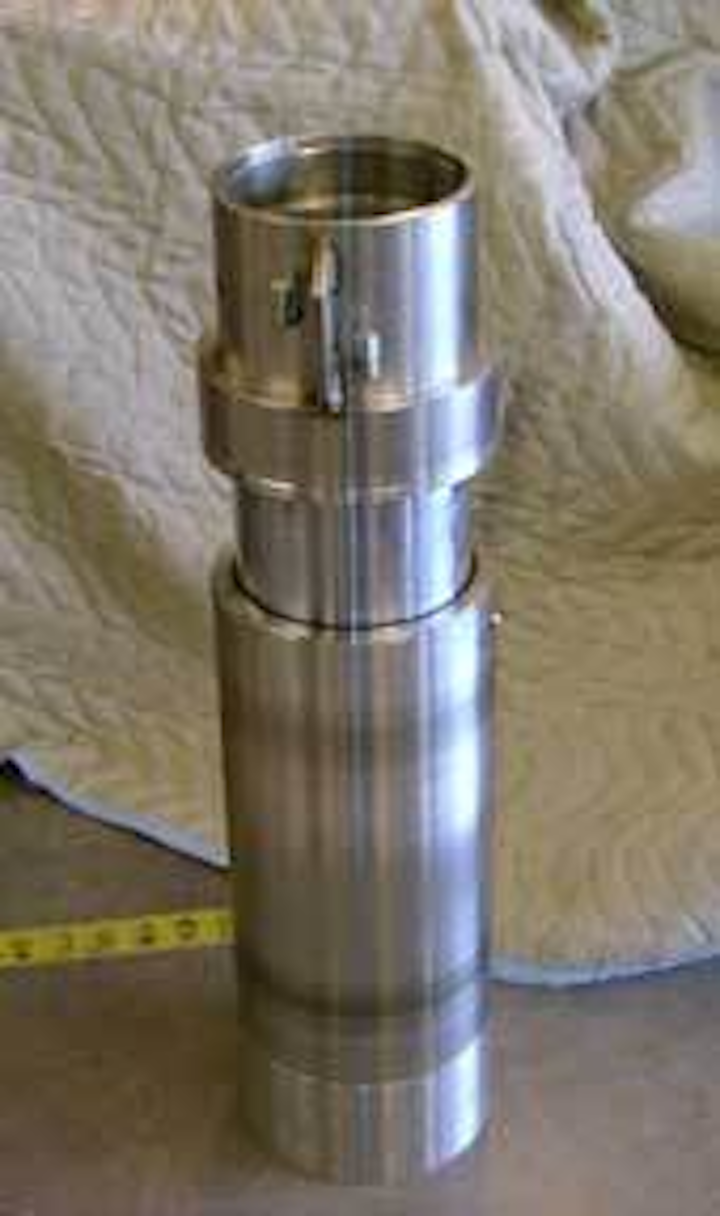 by Rob Tribble
Aquifer Storage and Recovery (ASR) projects, once limited in quantity and scope, are now commonplace in many cities throughout the U.S. and around the world. These projects vary in complexity and application but have several common elements involving the transfer of surface water from above ground to the aquifer below. Although basin recharge and vadose zone applications are two methods of ASR technology, this article looks at a valve system for use in direct recharge or direct injection into an aquifer.
Although many applications involve direct injection of potable water into a confined aquifer, this is not always the case. Many times, the source water is from a water reclamation facility. Other applications involve the injection of stormwater runoff, surface water from canals or streams, extracted and treated groundwater from tainted wells, and agricultural, industrial and process industry waste streams.
Water from these sources can be used for potable dual use wells, irrigation storage, groundwater remediation, salt-water intrusion barrier wells, and groundwater source heat pumps. Though not an exhaustive list, ASR technology is used for each of these source water applications.
Treatment standards vary depending on the permit requirements and the intended use of the injected water. Secondary filtration, tertiary treatment, microfiltration, UV and reverse osmosis are all used in some form on direct injection wells. In some cases the dual-purpose use of ASR wells brings an otherwise unusable well into compliance with water quality standards due to the higher quality of injected water. This is true where naturally occurring compounds, such as arsenic, and high TDS levels exist in the native waters. ASR also helps in aquifer restoration, where plumes of toxic compounds migrate into drinking water aquifers. This type of treatment is ongoing with many groundwater remediation sites.
Regulating Flow, Pressure
These various project types all share a common operational logic: Water must be injected into the aquifer while under positive pressure to prevent air entrainment and the precipitation of minerals and air fouling that can occur from the cascading effect of water flowing into a well without backpressure at the bottom of the column pipe.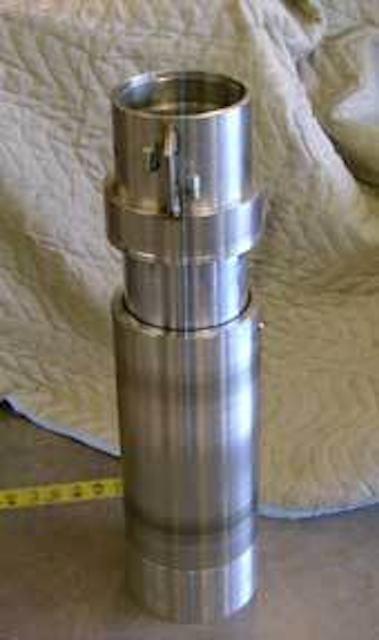 With sizes as small as 2.5" ID (4.5" OD), this valve is ideal for casing sizes starting at 8".
Click here to enlarge image
The V-Smart control valve, manufactured by ASR Resources (Sun Lakes, AZ) is designed specifically to control the flow rate into the well, thereby regulating injection head pressure and dynamic water levels.
By throttling this downhole control valve, the valve allows for the maximum injection rate into the well while providing enough continually modulating backpressure to maintain a minimum set point for wellhead injection pressure. This keeps the column pipe full and eliminates the damaging effects of uncontrolled injection.
Although the primary function of the valve is to prevent well damage from air fouling, a secondary benefit is the ability of the valve to throttle based on PLC input to limit the dynamic water level to a predetermined point below land surface as dictated by the governing authorities issuing the injection permits.
Where a submersible or vertical turbine pump is installed, the valve is able to close the injection ports and allow for full port reverse flow in a pumping configuration. This pumping application could be for production use during a dry season or simply for backflushing to break up and discharge bio-fouling organisms and inorganics.
Valve Operation
Operation of the control valve starts during an injection cycle with the valve in the closed position. As water in the column pipe fills, air is released through a well head air release valve and head pressure builds to a sufficient level above atmospheric pressure (10 to 15 psi). The valve then slowly opens to start the injection cycle while the control software drives the valve to a set point that maximizes flow and maintains the necessary back pressure. At the end of an injection cycle and prior to pumping for either production or backflushing, the V-Smart valve closes to keep the column pipe full and air out of the column pipe.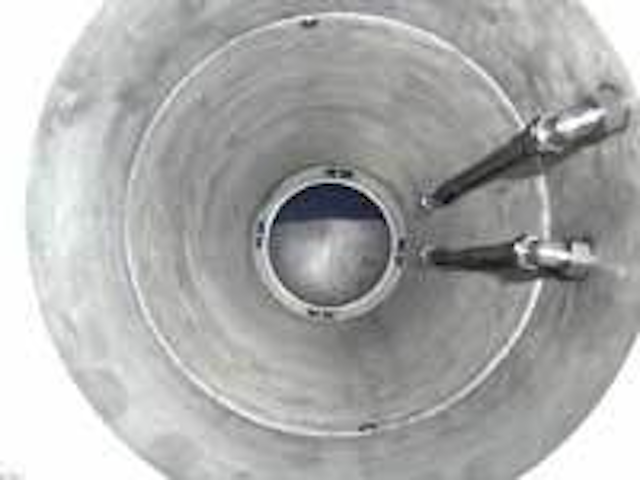 316SS V-Smart valve shown in full-closed position for recovery pumping
Click here to enlarge image
With sizes as small as 2.5" ID (4.5" OD), this valve is ideal for casing sizes starting at 8". Because of variations in water quality pH, salinity and levels of chlorination in the injection stream, the V-Smart valve is constructed of 316 stainless steel for corrosion resistance and durability. The valve is hydraulically operated and uses food grade mineral oil as the hydraulic media. This oil is pressurized with a hydraulic pump that is networked with the control system for automatic control. A remotely mounted pump control panel allows operators to place the valve in a "hand" mode and open or close the valve as necessary without requiring access to the control system.
A built-in shroud is designed into the sliding sleeve of the valve that directs the discharge flow down and away from the inside of the casing. This is especially helpful in eliminating sanding if the valve installation requires the valve to be set in a screened area of the casing.
About the Author:
Rob Tribble is president of Cactus Controls Inc. (Las Vegas, NV), a manufacturer's representative for ASR Resources and the V-Smart control valve. He has been active in the ASR field for over 10 years, representing ASR-related manufacturers and turnkey ASR engineered systems though ASR System Solutions LLC (www.asrsystemsolutions.com). He can be reached via e-mail at cactuscontrols@cox.net.