Product Showcase
ScaleBlaster is an electronic de-scaling system designed to eliminate formation of lime scale deposits in water pipes...
Dec 1st, 2007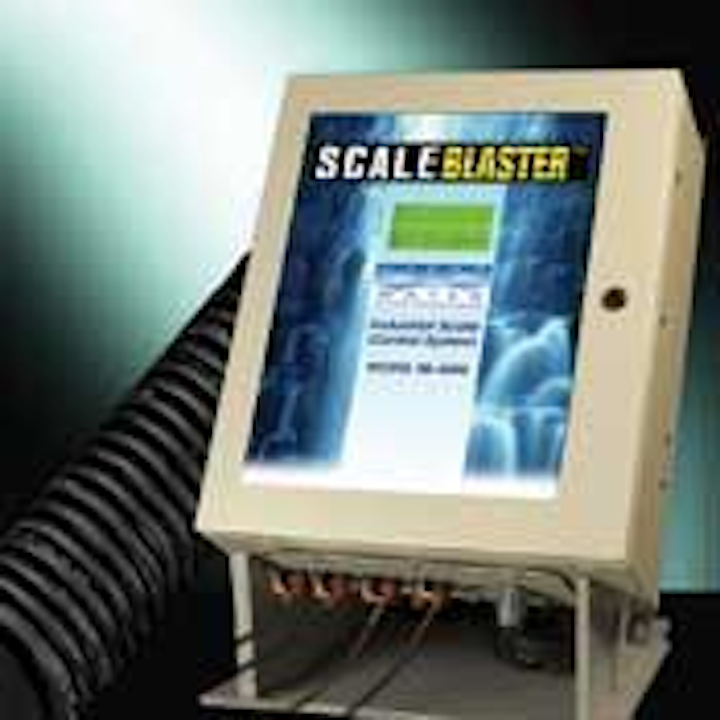 Lime scale removal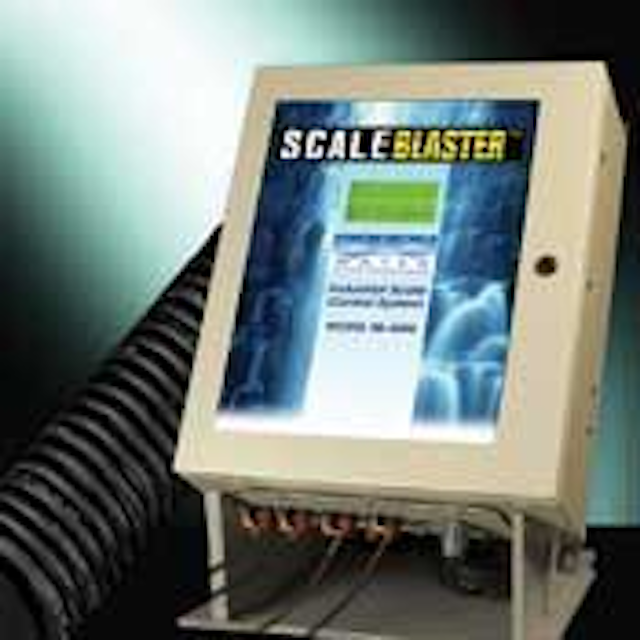 Click here to enlarge image
ScaleBlaster is an electronic de-scaling system designed to eliminate formation of lime scale deposits in water pipes, wastewater pipes and more without the need of water softening equipment, salts, chemicals or maintenance. The unit is also effective in the removal of struvite. The integrated circuitry system produces a complex modulating frequency waveform that hits the resonant frequency of the calcium carbonate molecules causing them to lose their adhesive properties. Existing scale is removed and never forms again. The product is non-invasive and adds nothing to the water. Several models are available and sizing is based on water hardness and pipe size.
Clearwater Enviro Technologies
Clearwater, FL
Tel: 800-756-7946 Web: www.scaleblaster.com
Laboratory centrifuge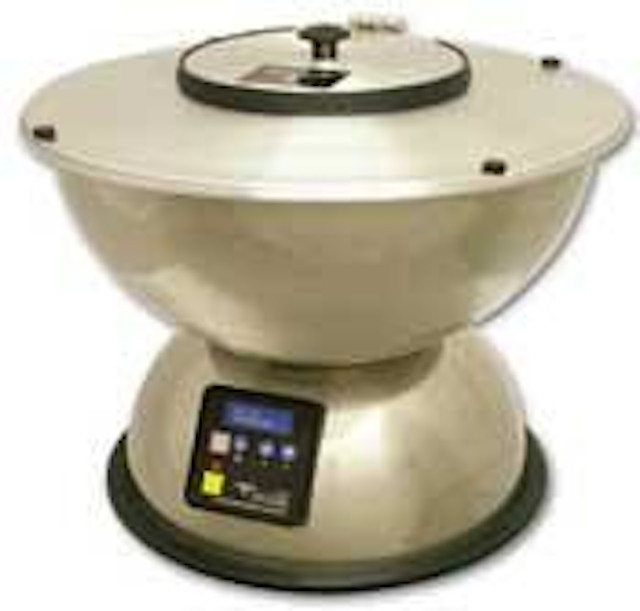 Click here to enlarge image
The Raven Centrifuge is specifically designed for process control applications to determine solids concentration in a multitude of fluids. It provides a 15-minute spin test that can provide estimates of mixed liquor suspended solids and return activated sludge suspended solids. The test can also provide a multitude of additional sludge quality parameters such as Aeration Tank Concentration (ATC), Return Sludge Concentration (RSC), Waste Sludge Concentration (WSC), and Clarifier Sludge Concentration (CSC). The horizontal swing out rotor holds six centrifuge tubes. Made of heavy stainless steel and aluminum, the centrifuge is designed for bench-top operation.
Raven Environmental Products, Inc.
St. Louis, MO
Tel: 800-545-6953
Web www.ravenep.com
Valve key sockets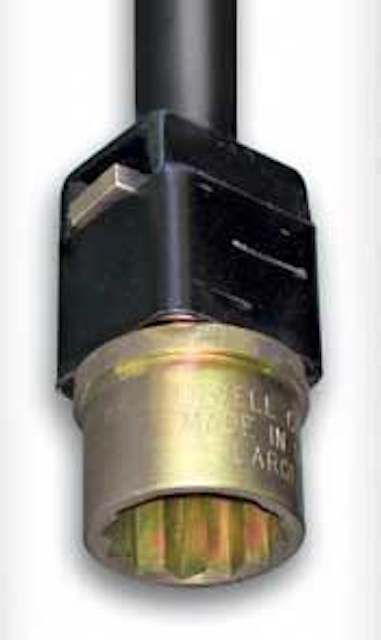 Click here to enlarge image
Lowell Corporation's new Valve Key Socket Sets can help utility workers solve the problem of valve nuts that have become rounded or corroded. When attached to a valve key (not included with the set), the sockets are designed to securely grip valve nuts in the toughest environments. Each socket kit comprises three valve key sockets, small, medium, and large, and the hardware for connecting each socket to a valve key. All sockets are made of zinc-plated, hardened steel and all are a high-visibility yellow color to make locating them easier during low light conditions. A durable carrying case houses all components. Operation is simple. First a worker attaches the correct socket to a valve key with the screw and attachment plate included in the kit.
Lowell Corp.
Worcester, MA Tel: 800-456-9355 Web: www.lowellcorp.com
Flowmeters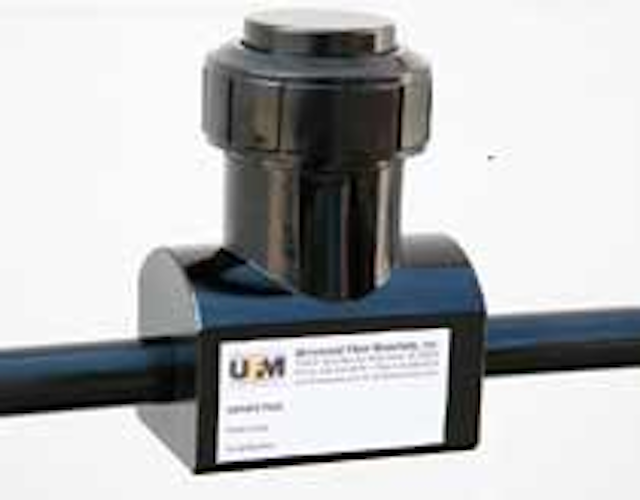 Click here to enlarge image
Universal Flow Monitors has introduced a series of plastic-construction flowmeters for corrosion resistance and cost-effectiveness in water and chemical flows. The new P420 Series of vortex-shedding flowmeters have no moving parts that can stick, bind or coat. The flow transmitters are electronic instruments with wetted parts entirely of polyvinyl chloride (PVC). The non-mechanical meters are designed to work in low-viscosity liquids that are compatible with PVC, including water that may contain particles. The flow transmitters are available in five pipe sizes with maximum flow rates from 12 gpm to 200 gpm. The transmitters have no o-ring seals. Connection is made by either solvent welding PVC pipe into the socket port provided or threaded connection. Electronic output is from a 4-20 mA two-wire transmitter rated Intrinsically Safe when used with barriers.
Universal Flow Monitors Inc.
Hazel Park, MI
Tel: 248-542-9635
Web: www.flowmeters.com
Organics monitoring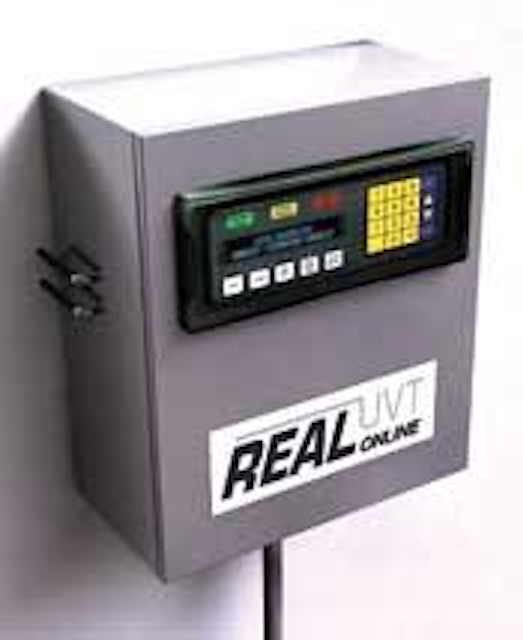 Click here to enlarge image
Real time organics monitoring with the new Real UVT Online monitor provides instantaneous water quality data that is vital for several of the most common water and wastewater treatment applications. The monitor uses patent pending Ortho-Beam technology to overcome the inherent problems associated with conventional online UV 254nm instrumentation. The Ortho-Beam technology, with its multiple path length technique, is able to provide continuous calibration, allowing for detection and compensation of lamp drift and fluctuations as well as quartz fouling, greatly improving accuracy and reducing maintenance. The system received the People's Choice Award at the AWWA ACE07 for most useful new product.
Real Tech Inc.
Whitby, Ontario
Tel: 877-779-2888
Web: www.realtech.ca
Prestressed concrete tanks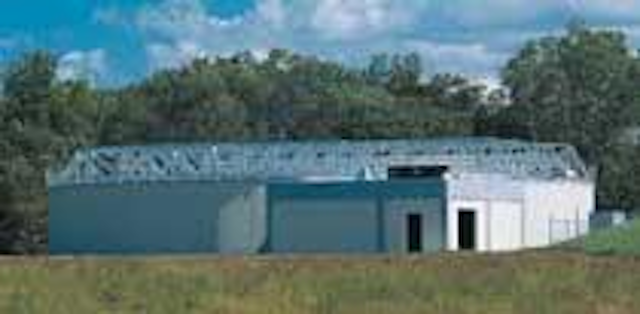 Click here to enlarge image
Preload tanks provide effective solutions for stormwater and combined sewerage overflow (CSO), anaerobic digesters, primary and secondary clarifiers, and sludge storage. They routinely incorporate conical floors, internal structures with process equipment, piping and access holes. Other uses include open-top settling, or flow equalization and aeration needs, which are required for treatment processes in intermediary or surge-type tanks. Interior liners or coatings can be incorporated to contain highly aggressive materials, such as those with low pH. Built to last for decades, the tanks require no routine maintenance and never need repainting, thereby drastically reducing facility downtime.
Preload Inc.
Hauppauge, NY
Tel: 888-773-5623
Web: www.preload.com
Remote monitoring, control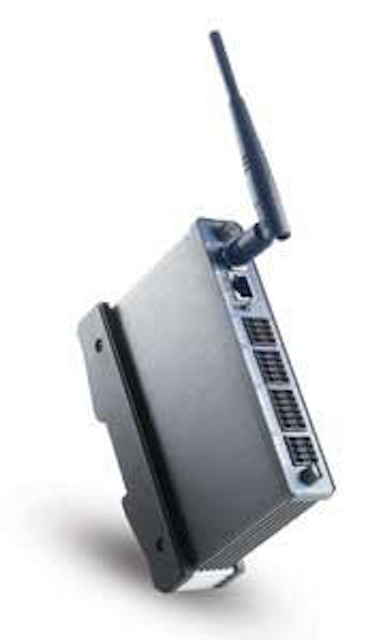 Click here to enlarge image
Semaphore, a CSE Global company, has introduced its T-Box Lite compact remote monitoring and control system for SCADA applications. The new advanced telemetry system extends the product family to small, decentralized applications where its Push and Web technologies allow for economical implementation and operation. The T-Box product family is the first IP-based telemetry solution that enables complete integration of SCADA, control, and communications functionality in one package. The Lite version incorporates full Web server technology with SMS reporting and remote control to provide real-time access anytime, anywhere through a standard Web browser. Operators can receive alarms and communicate with their sites remotely using a mobile device such as cell phone, PC or PDA.
Semaphore
Nashua, NH
Tel: 603-577-3803
Web: www.cse-semaphore.com
Suspended solids, turbidity analyzer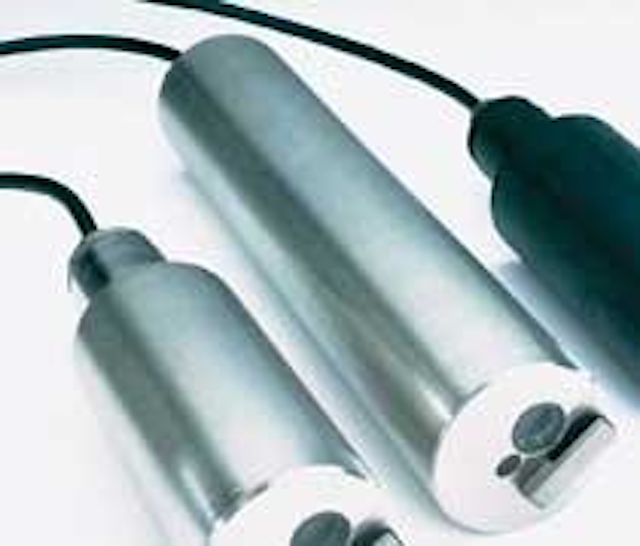 Click here to enlarge image
By measuring the sludge concentration and turbidity values in wastewater and drinking water, the Hach SOLITAX sc Suspended Solids and Turbidity Analyzer reduces reactive dosing to help increase overall plant efficiency and lower operation and maintenance costs. Whether used to assess activated sludge and the entire biological cleaning stage, analyze the purified discharge of wastewater treatment or monitor sludge at various stages of concentration, the analyzer offers continuous measurements − completely independent of color – online and in real-time. The unit automatically compensates for changes in activated sludge color caused by variations in through-flow volume, annual climatic fluctuations or other unexpected events.
Hach Co.
Loveland, CO
Tel: 800-227-4224
Web: www.hach.com