NEW LITERATURE
Bilco's Type SM Surface Mount Access Door, which provides a solution for access to underground vaults that do not require the use of a flush-mounted door.
Oct 1st, 2007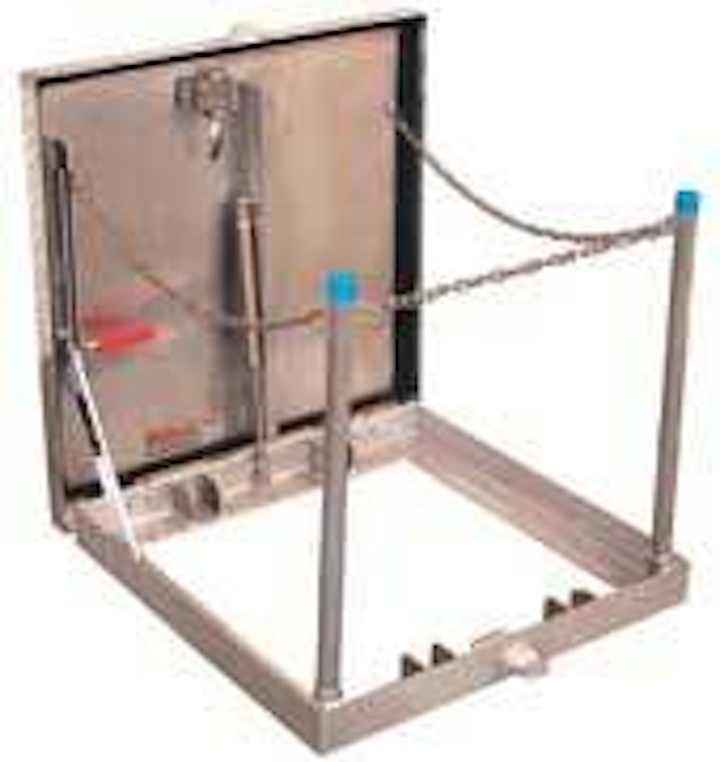 Access doors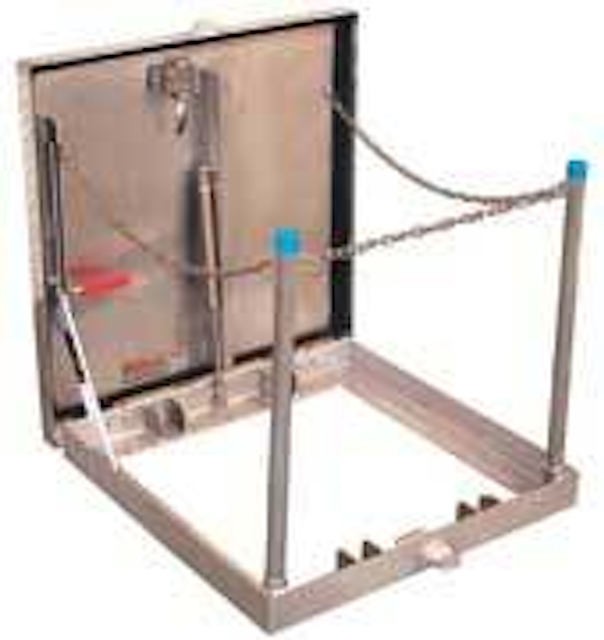 Click here to enlarge image
Bilco's Type SM Surface Mount Access Door, which provides a solution for access to underground vaults that do not require the use of a flush-mounted door. Information on the door is available on the company's website. Constructed of aluminum and equipped with heavy-duty stainless steel hardware, the door features a concealed internal mounting flange. The doors' overlapping cover design is fully gasketed to shed water and prevent debris from entering the areaway, making it ideally suited for water treatment, reservoir and other industrial and municipal applications where the infiltration of contaminants is a concern.
Bilco Co.
New Haven, CT
Tel: 203-934-6363
Web: www.bilco.com
Instruments, gauges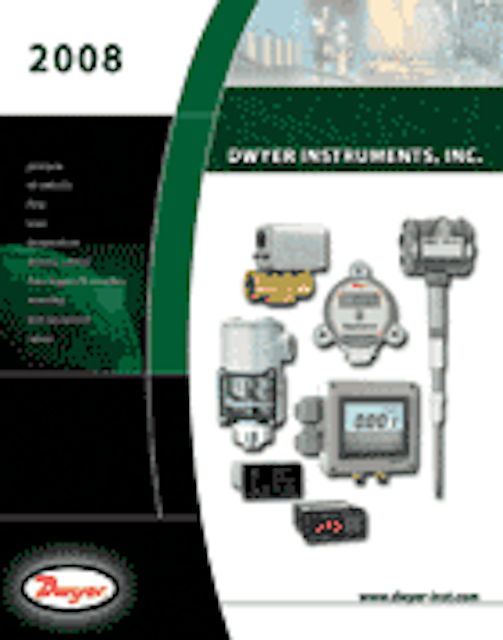 Click here to enlarge image
Dwyer's new 2008 catalog features 496 pages of information on a wide range of instruments, controls and gauges. The catalog includes complete product ordering information and schedules for discounts. Customers can also order from the company's website, plus check order quantity, model number, and tracking information with the "Online Account Access." They also can view listings of open and closed orders for the past 30 working days. The company produces a broad range of measuring and control instruments for pressure, temperature, level, flow and other related applications.
Dwyer Instruments Inc.
Michigan City, IN
Tel: 800-872-9141
Web: www.dwyer-inst.com
Polymer mixing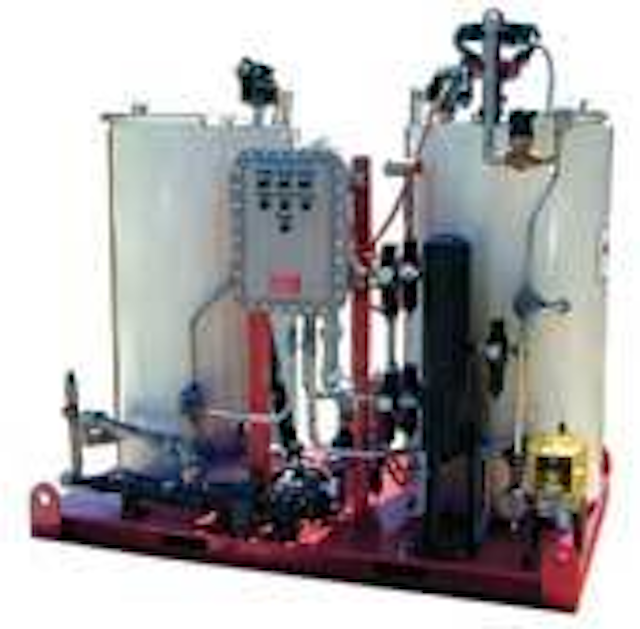 Click here to enlarge image
The Poly-Mate from Flo Trend Systems is an explosion proof, automatic, sequential batch polymer mixing/injection system. Information on the system is available on the company's website. The batch mixing polymer unit employs both pneumatic and electrical components to allow use in potentially hazardous locations, such as WWTP's where gas may be present. For use with liquid polymer, the unit uses an aging tank and an injection tank to accomplish the polymer blending and delivery functions. Neat polymer is introduced via an explosion-proof electric metering pump to the company's patented "Jet Shear," where water is mixed with the polymer to produce a homogenous mixture that enters the aging tank with no "fish eyes" or "angel hairs". Transfer of aged polymer to the injection tank is accomplished by an air driven progressive cavity pump and is controlled by explosion-proof level switches. Air motor driven mixers in each tank keep the polymer solution gently agitated.
Flo Trend Systems
Houston, TX
Tel: 713-699-0152
Web: www.flotrend.com
Wastewater corrosion control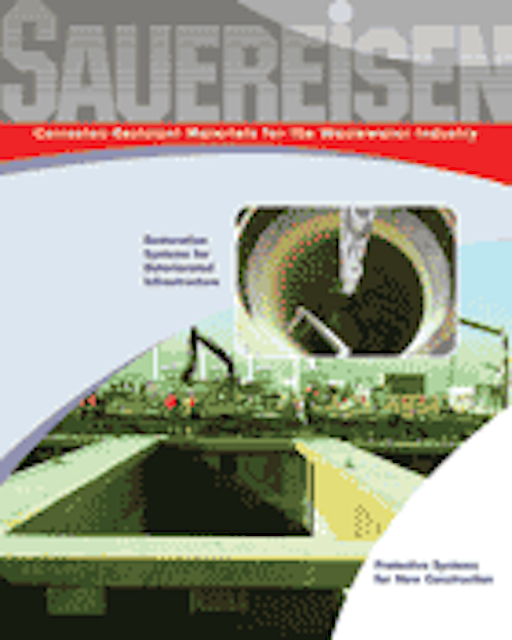 Click here to enlarge image
Sauereisen, a producer of protective linings for use in wastewater applications, has published a Wastewater Infrastructure Guide. The guide is a compilation of data sheets, case histories and other tools to support specification development. The company's products are designed to solve water inflow & infiltration problems and to resist corrosive environments. Its polymer linings are a solution to combat microbiologically induced corrosion. Whether it's new construction or restoration, the company has substrate repair materials and corrosion barriers for most applications.
Sauereisen
Pittsburgh, PA
Tel: 412-963-0303
Web: www.sauereisen.com
Degassing contactors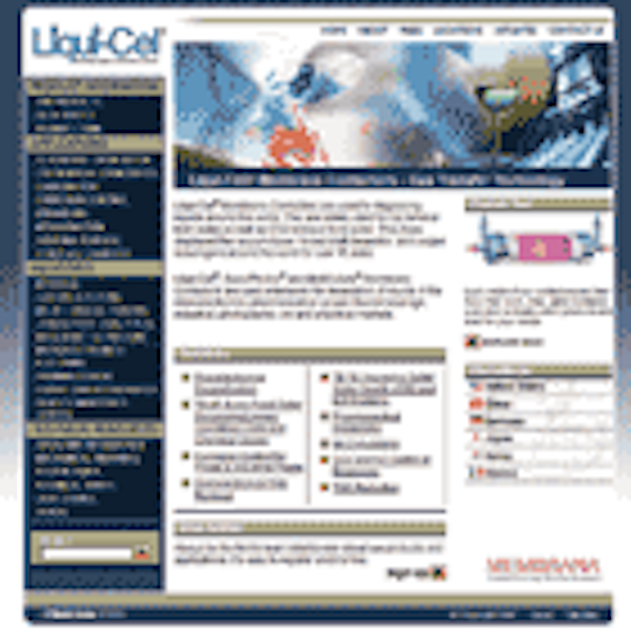 Click here to enlarge image
Membrana has expanded the Liqui-Cel® Business unit's website, www.liqui-cel.com . The website has been reorganized and enhanced to incorporate information that is organized by primary applications and industries where Liqui-Cel® Membrane Contactors are used. Web users can now navigate to landing pages that overview specific applications that apply to them. If people are uncertain what Liqui-Cel® applications apply to their industry, they can find information on the industry landing pages that outline how the contactors add value to specific industries.
Membrana
Charlotte, NC
Tel: 704-587-8888
Flow meters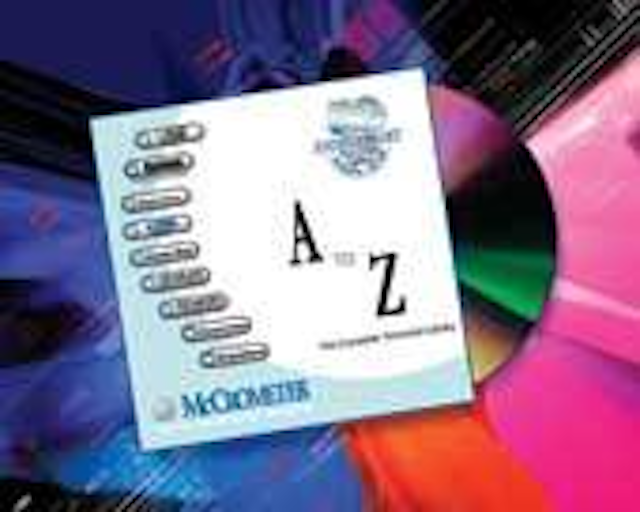 Click here to enlarge image
The newest A-Z Flow Meter Literature CD from McCrometer provides information on the company's flow technology, applications and product specification information. The CD includes information on the recently released FlowComTM Digital Register documentation as well as Mc SpaceSaverTM Meter documents, links, and photos. Links are included to key related content on the company's web site. Additionally, after a recent re-design, McCrometer's web site is now optimized with an on-demand keyword search to help process, plant, municipal water and agricultural engineers find the most up-to-date flow meter information.
McCrometer
Hemet, CA
Tel: 800-220-2279
Web: www.mccrometer.com
Flow control products
Click here to enlarge image
Hayward Flow Control Systems, a division of Hayward Industrial Products, has announced availability of a new Industrial Product Guide on its wide range of plastic flow control products. The comprehensive new resource provides a brief overview of Hayward engineering, manufacturing, quality, and support capabilities along with sections on the company's line of ball valves, butterfly valves, check valves, control valves, pneumatic and electric actuators, pumps, pipeline strainers and filters, specialty products, and engineering data. Each product section provides a brief product overview, features and benefits, detailed specifications on available models, dimension drawings, materials of construction, and available options for all products contained within each section.
Hayward Flow Control Systems
Clemmons, NC
Tel: 888-429-4635
Web: www.haywardflowcontrol.com
Valve literature
Red Valve's Engineering Binder includes catalog sheets, brochures, engineering drawings, case histories and application sheets for the company's product line of pinch valves, control valves, knife gate valves, pressure sensors, air diffusers, expansion joints, replacement sleeves and other rubber products.
Red Valve Co.
Carnegie, PA
Tel: 412-279-0044
Web: www.redvalve.com