PRODUCTS & SERVICES PUMPS
The new Belzona® 1341 (Supermetalglide) protective coating can help reduce energy losses ...
Oct 1st, 2007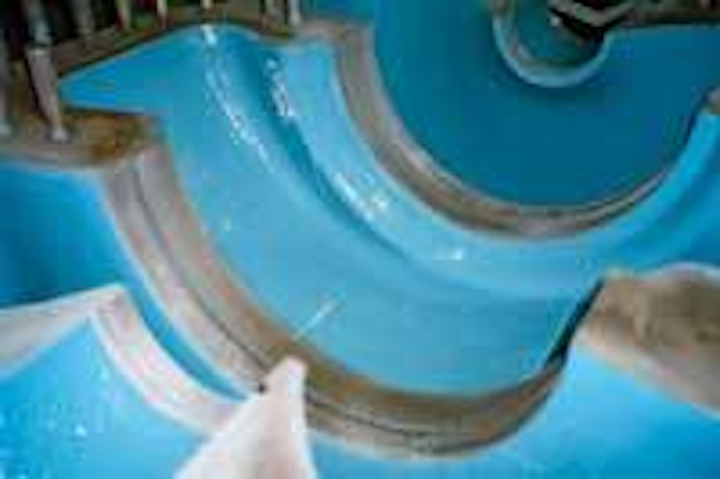 Pump coating
Click here to enlarge image
The new Belzona® 1341 (Supermetalglide) protective coating can help reduce energy losses due to the effects of viscous drag and surface roughness accentuated by erosion-corrosion effects. Independent testing performed at the National Engineering Laboratory has shown the lining system can increase the efficiency of new pumps by as much as 6%. Case in point, the protective coating applied to the interior volute and impeller of a 1,000 hp Worthington 16LN35 water pump housed at a water supply facility in Des Moines, IA, resulted in increased wire-to-water efficiency of 7.2%.
Belzona Inc.
Miami FL
Tel: 305-594-4994
Web: www.belzona.com
Grinder pumps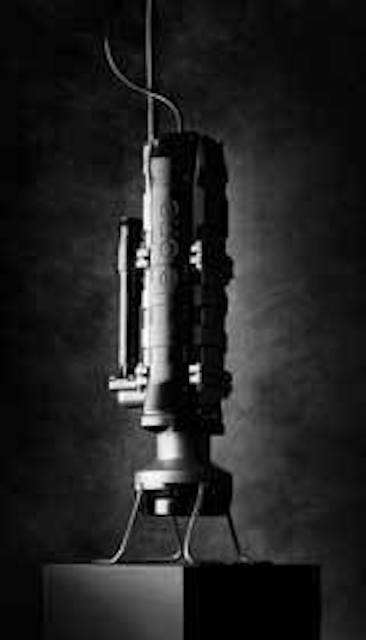 Click here to enlarge image
Environment One's new E/One Extreme Series grinder pumps are an improvement on the 2000 Series, providing greater total dynamic head (185 feet vs. 138 feet) and longer mean times between service calls. The pumps are available now in prepackaged Wetwell/Drywell; Wetwell; Indoor; and Gatorgrinder stations. The Extreme pumps also can be configured for aftermarket upgrades. The company's grinder pump station collects all of the wastewater from a home, grinds up any solids, and then moves the effluent through small-diameter (1¼" to 4") pipe to treatment.
Environment One Corp.
Niskayuna, NY
Tel: 518-346-6161
Web: www.eone.com
Chopper pump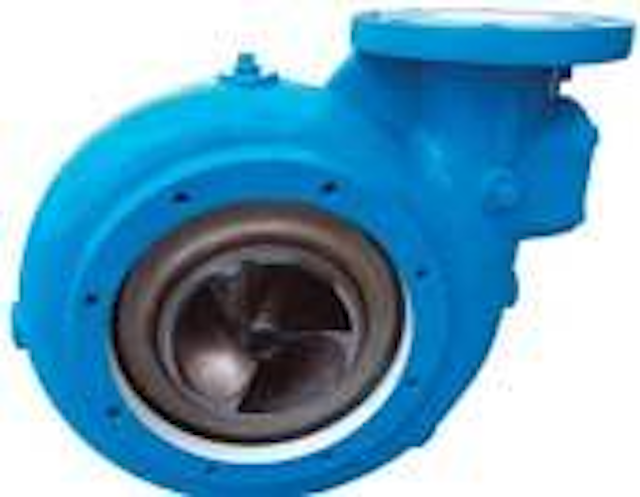 Click here to enlarge image
The Fairbanks Morse 5300 Chopper pump conditions sewage, sludges and other pumped material containing potentially troublesome materials that could damage or plug process equipment and pipes. Using an enclosed impeller with a rugged cutting profile, the 5300 delivers pump efficiencies 20-30% beyond current chopper pump designs. Powered by the proven shaft bearing system of the company's 5400 solids-handling pump, the new pump has the inherent conservative design needed for demanding service.
Fairbanks Morse Pump
Kansas City, KS
Tel: 913-371-5000
Web: www.fmpump.com
Sealing material
GoreTM GFO® packing fiber from the Sealant Technology Group of W. L. Gore & Associates is a composite material designed specifically for use as a compression packing for sealing shafts on high-speed pumps, mixers, agitators, and any other equipment with rotating or reciprocating shafts. The material doesn't get hard or brittle, thus minimizing shaft wear. Its excellent lubricity and high thermal conductivity keep it cool-running, even after extended periods of continuous use.
W. L. Gore & Associates Inc.
Elkton, MD
Tel: 800-654-4229
Web: www.gore.com/sealants
Metering pump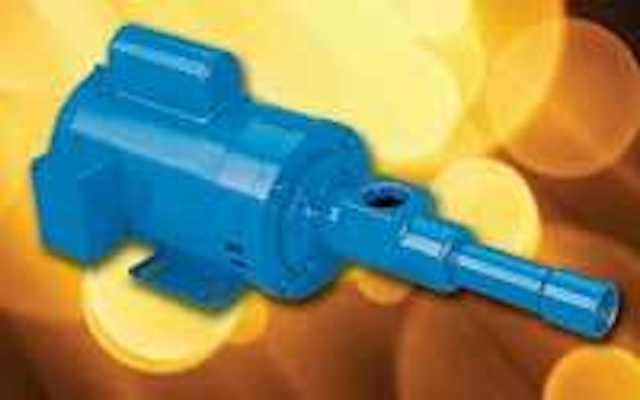 Click here to enlarge image
The Moyno® Metering Pump is suited for metering low-flow liquids in a wide range of processing applications including dosing and sampling. The progressing cavity design results in a smooth flow free from pulsations and variations in velocity and volume. This prevents material waste or mixture imbalance. The pumps feature sealed universal joints for longer life and have no valves to clog, stock or vapor lock.
Moyno Inc.
Springfield, OH
Tel: 877-486-6966
Web: www.moyno.com
Metering pumps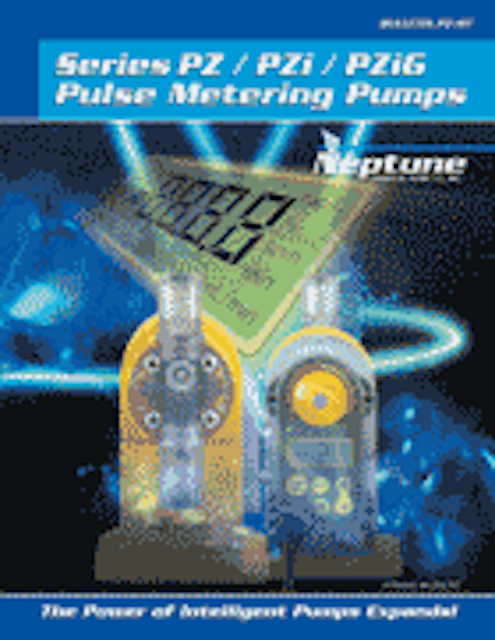 Click here to enlarge image
Neptune Chemical Pump Co. has published a 10-page brochure on its line of Tacmina PZ Series electronic metering pumps. The full-color literature details the line's control options and its range of sizes and pressures (from 1 to 1300 ml/min at pressures up to 220 psi). The Series PZ pulse metering pumps are ideal for injection of a variety of liquids including chemicals, nutrients and disinfectants. The patented pump's flow rate and accuracy are unaffected by fluctuations in voltage; it will operate on any single phase voltage from 94 vAC to 264 vAC.
Neptune Chemical Pump Co.
Lansdale, PA
Tel: 215-699-8700
Web: www.neptune1.com
Progressing cavity pumps

Click here to enlarge image
Seepex has a new cake pump that operates at higher volumetric efficiencies and has fewer wearing parts, compared to other PC pumps and piston pumps. The new BTH and BTHE pumps have a concentrically rotating auger that imparts substantially more shear to thixotropic sludge. This reduces the apparent viscosity and improves volumetric efficiencies. Most PC pumps have an auger that is attached to a coupling rod that rotates in a conical movement, due to the eccentric action of the PC pump rotor on the discharge end of the auger.
Seepex Inc.
Enon, OH
Tel: 937-864-7150
Web: www.seepex.com
Dry prime pumps
Sewage, debris and chemical discharge have always been an unfortunate byproduct of the dewatering industry. Thompson Pump has a solution in the Enviroprime® system for its dry prime, compressor-assisted pumps in both the multi-purpose trash pump (HTC) and the wet prime open trash sewage pump (TSC). The priming system prevents blowby - sewage, debris and chemicals - from discharging onto the ground, keeping the surrounding environment clean and safe.
Thompson Pump & Manufacturing
Port Orange, FL
Tel: 800-767-7310
Web: www.thompsonpump.com
Pump control valve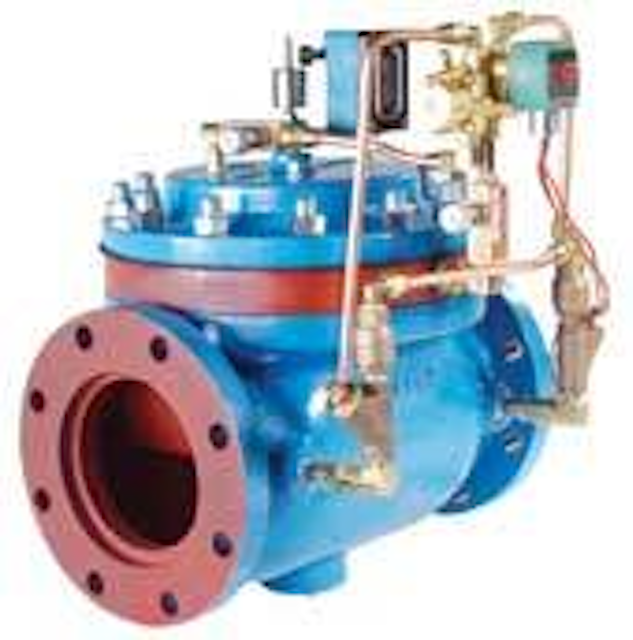 Click here to enlarge image
OCV Control Valves manufactures a variety of control valves for use in water systems. All of the models in the OCV 125 Pump Control Series are designed to eliminate the surges associated with the starting and stopping of booster-type pumps. The valves are primarily designed for use with centrifugal booster pumps and may also be used on well pumps with relatively shallow lifts where the pump design permits starting against a closed valve.
OCV Control Valves
Tulsa, OK
Tel: 888-628-8258
Web: www.controlvalves.com
Submersible pump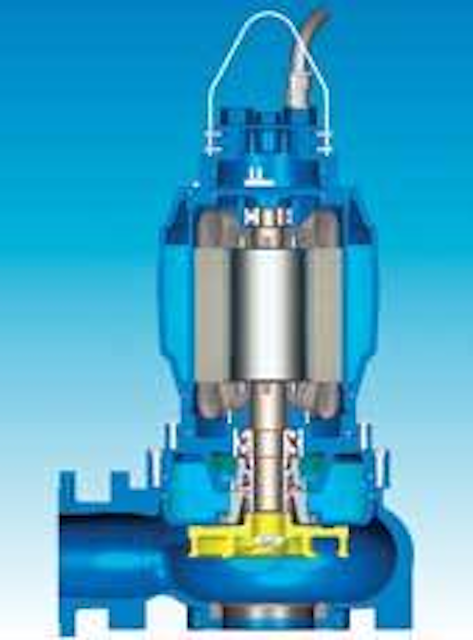 Click here to enlarge image
Mody Pumps' new "MSP" Series dry pit submersible pumps for the wastewater industry feature modular construction, interchangeable vortex and channel impellers with adjustable wear ring system; efficient hydraulics with flows to 2,400 gpm and heads to 330' TDH. They are provided with high efficiency VFD rated motors with Class H insulation and an integral "Eco-Friendly" cooling system.
Mody Pumps Inc.
Bakersfield, CA
Tel: 661-392-7600
Web: www.modypump.com
Pumping software
Click here to enlarge image
Aquadapt software by Derceto interfaces with SCADA systems to optimize pumping schedules, minimizing energy costs while maintaining defined boundary constraints and maintaining operational reliability. The software has produced savings of 15% or more in annual energy costs for clients from Maryland to California. As an automatic real time package, the software responds directly to real-world demands, constantly seeking the most cost-effective pump schedules.
Derceto Inc.
San Francisco, CA
Tel: 856-779-7978
Web: www.derceto.com
Packaged lift station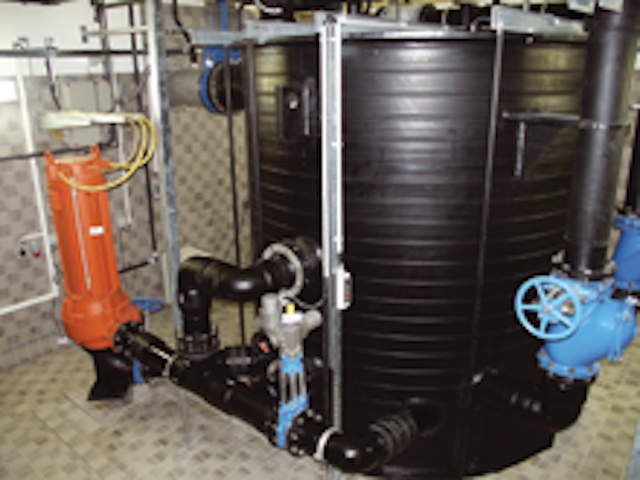 Click here to enlarge image
EMUPort Packaged Lift Stations, currently available from WILO EMU, are now available with an integral solids separation system. The system effectively prevents lift station blockages including systems with a high percentage solid content. This includes sewage containing material that will not dissolve and keeps its original form and structure, i.e. cellulose towels, sheets and other fibrous or non-dissolving items.
WILO EMU USA Inc.
Thomasville, GA
Tel: 866-476-0323
Web: www.wilo-emu-usa.com
Hose pumps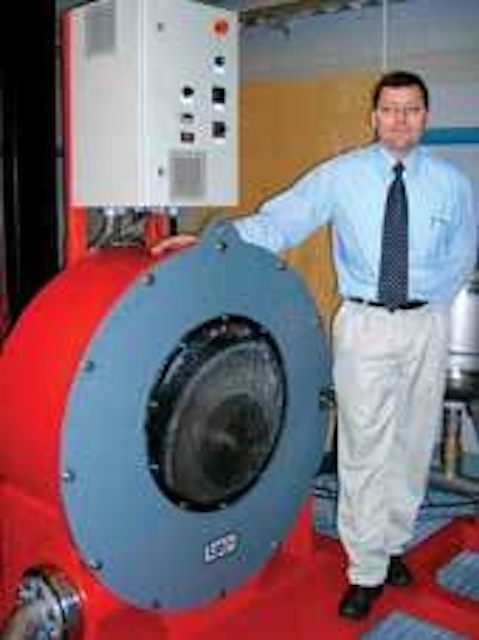 Click here to enlarge image
The Larox Flowsys new 3" LPP produces the highest flow per compression of any hose pump. In almost all cases a one size smaller pump can be used compared to a shoe design or double compression design peristaltic pump. The company has developed the first significant design change in industrial peristaltic pumps in many years. The LPP family of pumps has a 360 degree elliptical rolling design which creates virtually no heat, has lower hose stress, and offers lower energy consumption and longer hose life.
Larox Flowsys
Linthicum, MD
Tel: 888-356-9797
Web: www.larox.us
Chopper pump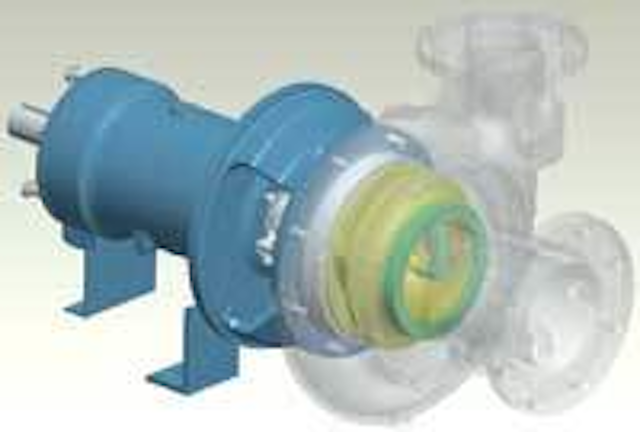 Click here to enlarge image
With the push for more conditioning of sewage, sludges and other pumped material containing potentially troublesome materials that could damage process equipment or plug pipes and other equipment downstream, Fairbanks Morse introduces the 5300 Chopper pump. Using an enclosed impeller with a rugged cutting profile, it delivers pump efficiencies 20-30% beyond current chopper pump designs.
Fairbanks Morse
Kansas City, KS
Tel: 913-371-5000
Web: www.fmpump.com
Submersible wastewater pumps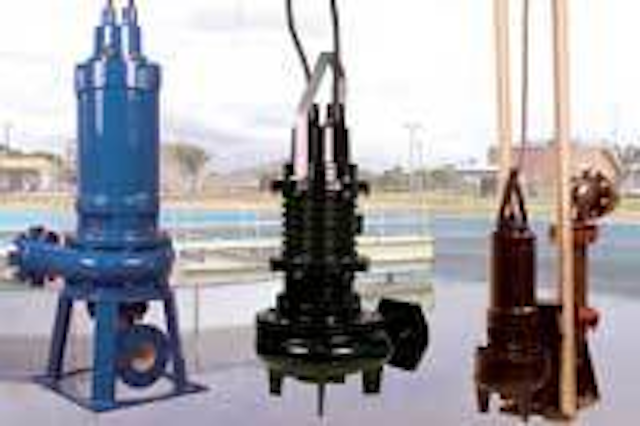 Click here to enlarge image
Yeomans Pump's submersible solids-handling pumps are especially designed for wastewater, sewage, sludge and light slurry applications. They offer high-efficiency, semi-open and enclosed impellers, rugged cast iron design and silicon carbide seals. Moisture detection sensors and thermal overload protection are standard features on all models. Dry-pit submersible models use patented closed-loop cooling technology and are rated for continuous non-submerged operation under full load conditions.
Yeomans Pump
Aurora, IL Tel: 630-236-5500 Web: www.yeomanspump.com
Compact VFD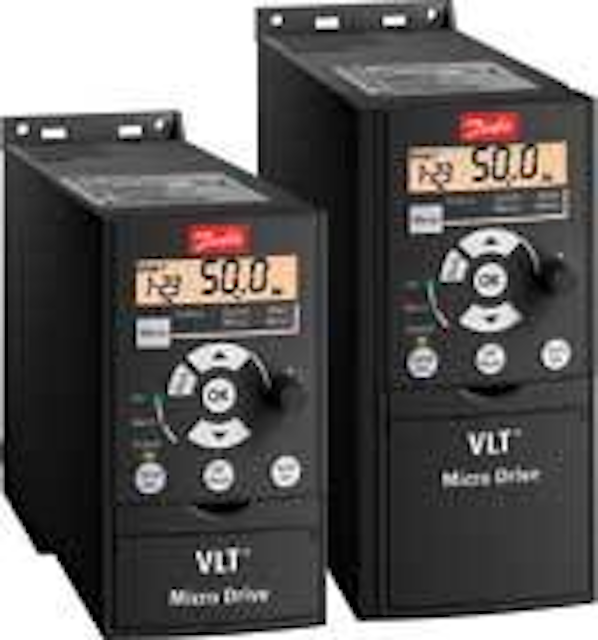 Click here to enlarge image
The VLT® Micro Drive is a general purpose drive from Danfoss designed for out-of-the-box plug-and-play control of AC motors up to 3 HP. Offering IP20 protection even without the terminal cover, it is available in cabinet sizes as small as 2.75" wide by 6" tall by 6" deep, and can be commissioned in minutes to perform even complex operations.
Danfoss Drives
Milwaukee, WI
Tel: 800-621-8806
Web: www.namc.danfoss.com
Water, wastewater pumps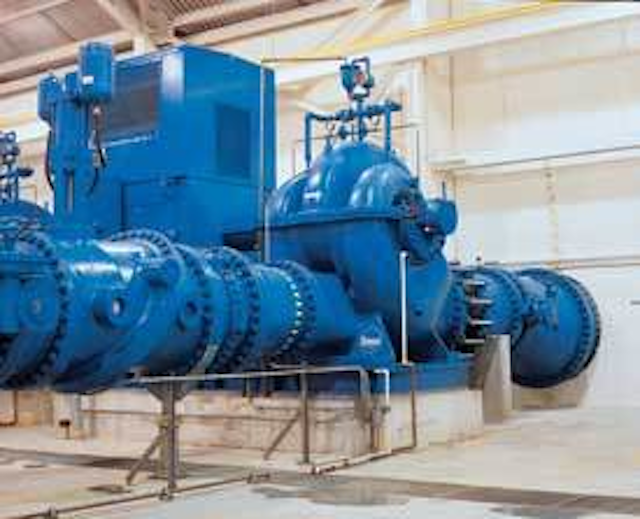 Click here to enlarge image
Patterson Pump's line of modern, high-performance pumps for water and wastewater duties include the Type "A" Horizontal Split Case Pumps. The pumps are engineered, built and tested to move clear water or low viscosity clear liquids at moderate heads dependably, efficiently and economically. Their rugged, simple design contributes to extended service life, reduced maintenance costs and minimum power consumption.
Patterson Pump Co.
Toccoa, GA
Tel: 706-886-2101
Web: www.pattersonpumps.com
Channel grinder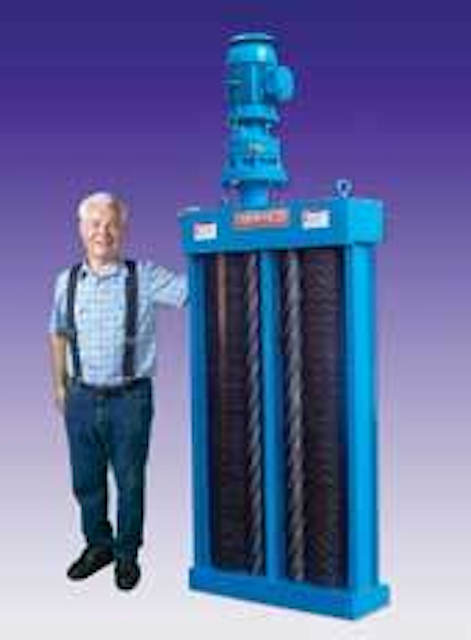 Click here to enlarge image
The Taskmaster Titan Duplex (TM 14000D), available from Franklin Miller, builds on the Titan's twin shaft channel grinding technology, which combines channel grinding capability with high flow capacity and low headloss. The duplex unit employs two complete sets of twin shaft cutter stacks for twice the flow capacity and channel width. The unit's design employs two counter-rotating shafts, but its intermeshing cutter stacks have two different diameters.
Franklin Miller Inc.
Livingston, NJ
Tel: 973-535-9200
Web: www.franklinmiller.com
Pump control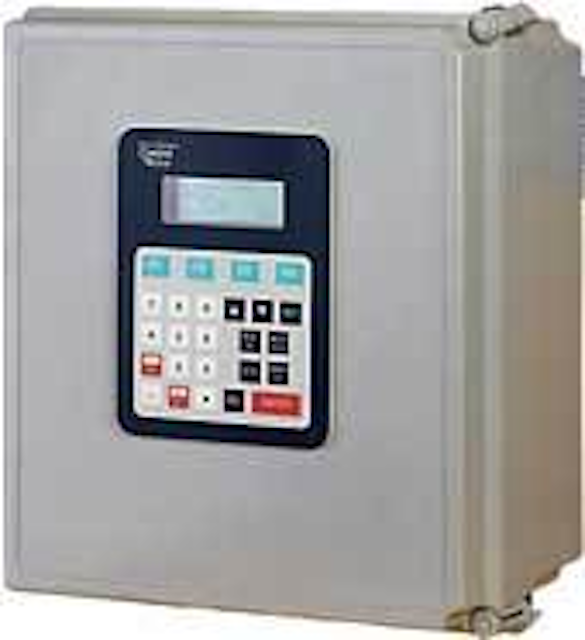 Click here to enlarge image
Emerson Process Management has introduced a pre-engineered Bristol® standard pump control package for water and wastewater applications. The pre-engineered ControlWave® pump control application provides multiple pump scenarios for pump-up and pump-down control and scheduling. Individual pump parameters are available for start/stop setpoint, on-delay, lead/lag pump, runtime/rank control and emergency override.
Emerson Process Management
Watertown, CT
Tel: 860-945-2200
Web: www.emersonprocess.com
Vertical pump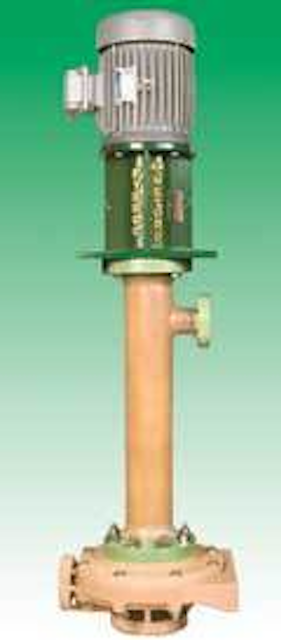 Click here to enlarge image
The Fybroc 5530 Series vertical pump is corrosion resistant and suitable for handling the most difficult dry pit applications including acids, bleaches and caustics. Critical design details make the series a choice for use on odor control scrubber systems. The pump mounts outside the tank and can be lower cost than in-tank vertical pumps. It features FRP construction and FRP wrapped shaft (1/8"), a heavy duty column, shaft and bearings, and optional high pressure shaft seal.
Fybroc Division, Met-Pro Corp.
Telford, PA
Tel: 215-723-8155
Web: www.fybroc.com
Laser shaft alignment
Click here to enlarge image
The XA laser shaft alignment system from Fixturlaser offers animated FlashTM onscreen graphics that prompt the user through alignments. Extra large rectangular 30-millimeter detectors are coupled with line laser beams to ensure measurement of gross misalignment. CCD detector technology provides enhanced accuracy. The system offers wireless connectivity and a 640x480 high resolution backlit color touch screen for maximum visibility in all conditions.
VibrAlign
Richmond, VA
Tel: 800-379-2250
Web: www.vibralign.com
Thermoplastic pumps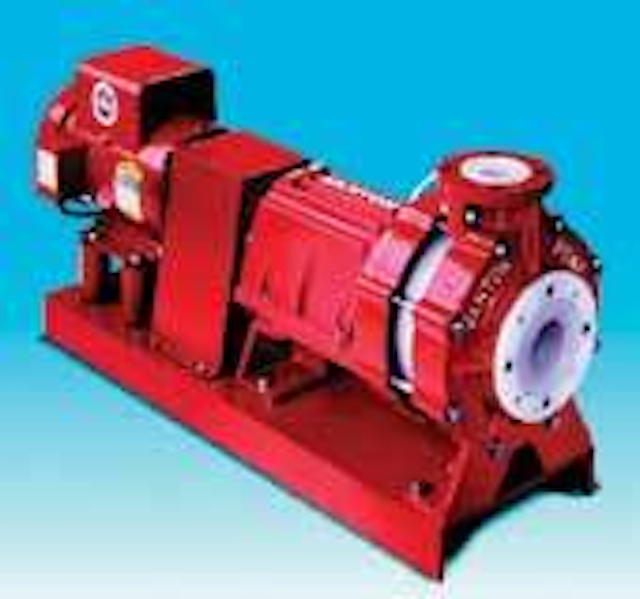 Click here to enlarge image
Vanton offers a range of thermoplastic pumps, including the Flex-i-Liner®, a self-priming peristaltic rotary pump for transfer and dosing of chemicals with flows to 40 gpm at temperatures to 250°F. Chem-Gard®, the company's horizontal thermoplastic centrifugal pumps for flows to 3000 gpm, heads to 400 feet at temperatures to 275°F, includes ANSI, DIN, Mag-drive, close-coupled and self-priming model designs. The company also offers the Sump-Gard®, a vertical centrifugal pump for sumps to 50 feet, flows to 3000 gpm, heads to 245 feet, at temperatures to 275°F. Designs include cantilevered bearingless models with extended run dry capability.
Vanton Pump & Equipment Corp.
Hillside, NJ
Tel: 908-688-4216
Web: www.vanton.com
Submersible pumps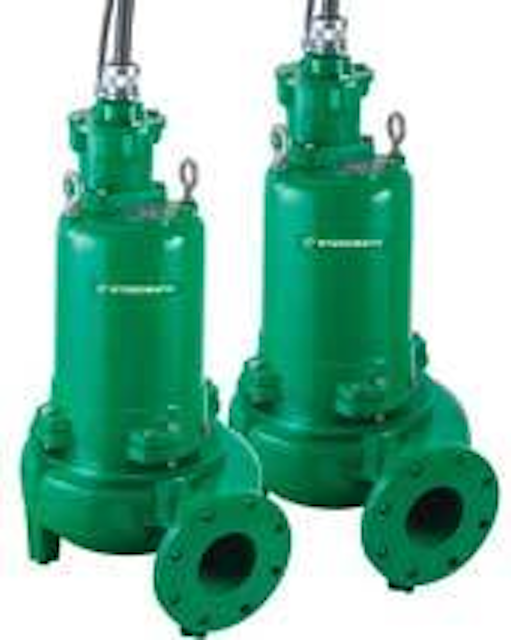 Click here to enlarge image
The Hydromatic H4H Series submersible pump provides greater efficiency and a steeper non-overloading performance while passing a full 3" spherical solid (as required by the "Ten States Standards" policy for submersible non-clog pumps) due to the enhanced geometry of the mono-vane impeller. The series features a smoother design, reducing the chance of possible plugging. It offers flows up to 850 gpm and heads to 105' tdh. Available in 7.5 hp through 15 hp motors with speeds up to 1750 rpm, the new H4H Series encompasses a VFD (variable frequency drive) rated motor with Class H insulation.
Hydromatic, A division of Pentair Water
Ashland, OH Web: www.hydromatic.com
Pump controller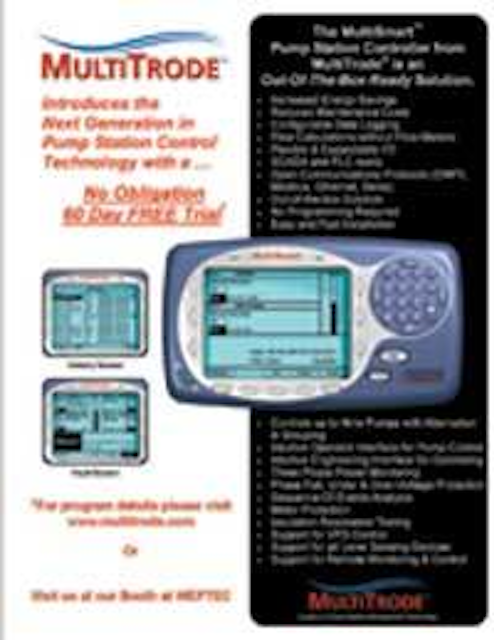 Click here to enlarge image
MultiTrode offers pump station management and monitoring equipment. More than 12,000 of the company's pump controllers have been installed worldwide. The company's new MulitSmart pump controller provides features that are easy for staff to use, and allows utilities to standardize controls across an entire water and wastewater network.
MultiTrode
Boca Raton, FL
Tel: 561-994-8090
Web: www.multitrode.com
Grinder pump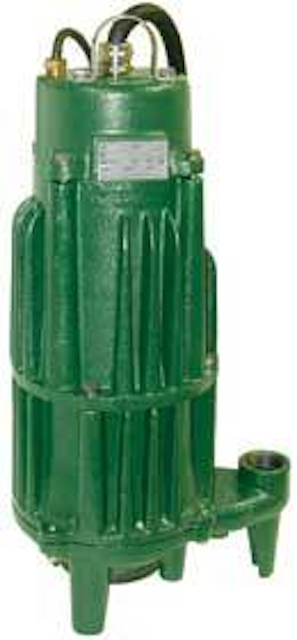 Click here to enlarge image
With its reversing feature the 6840 Shark grinder pump from Zoeller can tackle the most adverse applications. The system automatically alternates direction, enhancing cutter efficiency, reducing hang-ups which in turn reduces service calls. Standard features include 1 ¼" discharge, corrosion resistant powder coat finish, heat dispersing fins, hardened stainless steel cutter and dual mechanical seals with leak detection. The pumps can handle flows to 45 gpm and heads to 105'. They can be used in lift stations, housing developments, or pressure sewers.
Zoeller Engineered Products
Louisville, KY
Tel: 800-928-7867
Web: www.zoeller.com
Auto-start pumping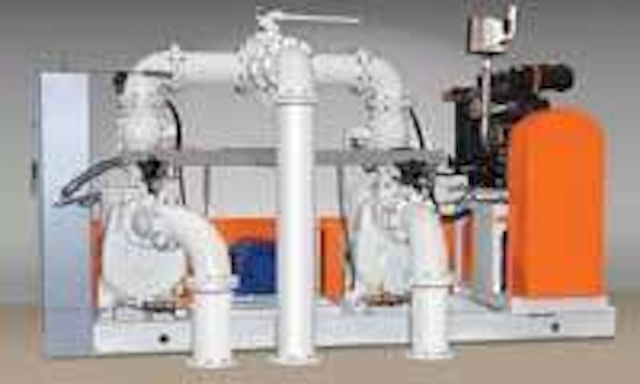 Click here to enlarge image
Gorman-Rupp now offers its Auto-Start pumping stations with its new solids handling pump line - The Ultra V. The new pump line achieves higher pressure, higher flow, greater efficiency and time saving maintenance features. The base mounted Auto-Start incorporates a 12 vDC standby controller that energizes the pump with an integrated standby natural gas or LPG engine providing full functioning standby pumping during power failures.
Gorman-Rupp Co.
Mansfield, OH
Tel: 419-755-1011
Web: www.grpumps.com
Peristaltic pumps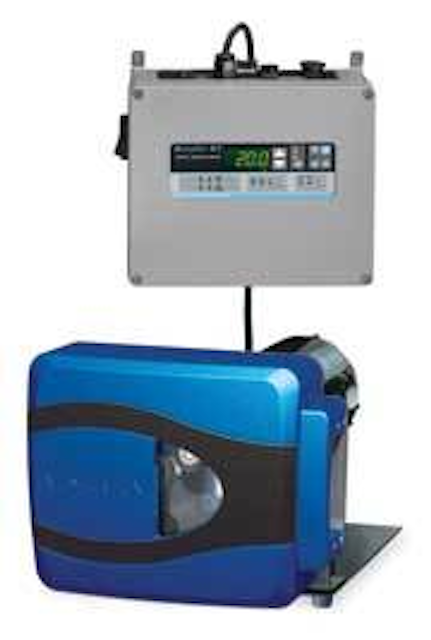 Click here to enlarge image
The Thermo Scientific Masterflex® B/T RapidLoad® line of direct drive peristaltic pumping systems are suited for high volume, high accuracy bulk fluid transfer and dispensing applications and offer flow rate capacities to 9.5 gpm. The pumps are available in a wide range of models, including fixed or variable speed, analog or digital, hazardous duty, air-powered, wash down, and CIP/SIP- (clean-in-place/sterilize-in-place) capable systems.
Thermo Fisher Scientific Inc.
Barrington, IL
Tel: 847-842-2367
Web: www.thermo.com
Pump control panels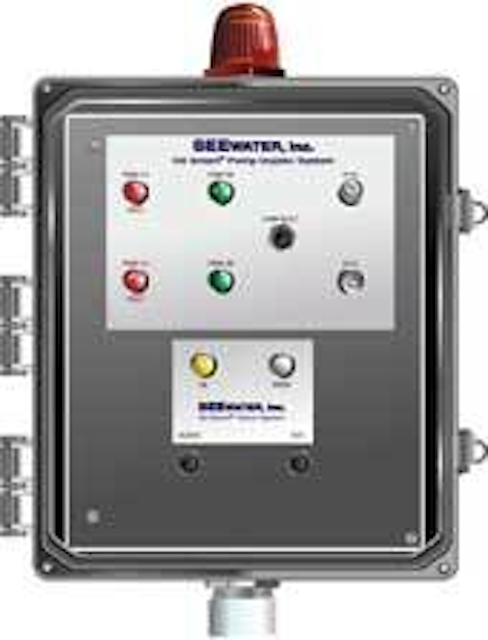 Click here to enlarge image
SEEwater Pump Control Panels are available for Oil Smart applications and standard wastewater/sewage/grinder applications. All panels come as a complete package − there are no add-on features necessary. All control panels include through-door visible mounted features. All panels are rated at NEMA 4X and include dry contacts to work in conjunction with standard monitoring systems. Standard models include simplex and duplex, single and three phase.
See Water Inc.
Tel: 951-487-8073 Web: www.seewaterinc.com
Double suction pumps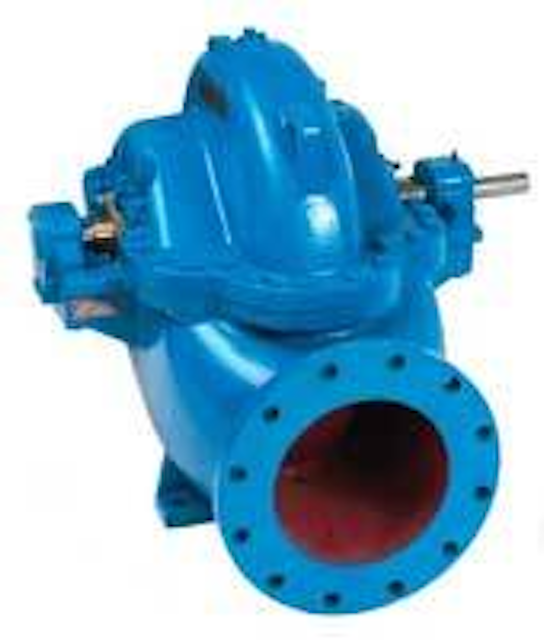 Click here to enlarge image
Goulds Pumps, a fluid brand of ITT, offers a line of single stage, double suction pumps. These horizontally split case pumps are designed for a wide range of municipal and industrial water applications, including: high flow, low lift, raw water and wastewater. The 3400 Series features double suction impellers to assure hydraulic axial balance in low thrust bearing loads.
Goulds Pumps
Tel: 800-734-7867
Seneca Falls, NY
Web: www.gouldspumps.com
Chopper pumps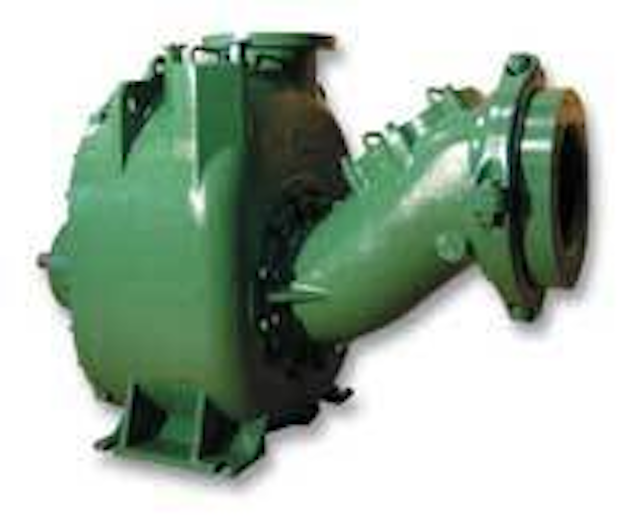 Click here to enlarge image
Vaughan Co., manufacturer of chopper pumps for over 45 years, has introduced 8" and 10" self-priming chopper pumps capable of flows up to 6,000 gpm, at up to 70% efficiency, and with up to a 22' priming lift. Unique features include a replaceable volute, externally adjustable clearances, oversized inlets and a Tungsten Carbide cartridge mechanical seal.
Vaughan Co.
Montesano, WA
Tel: 888-249-2467
Web: www.chopperpumps.com
Mobile pumps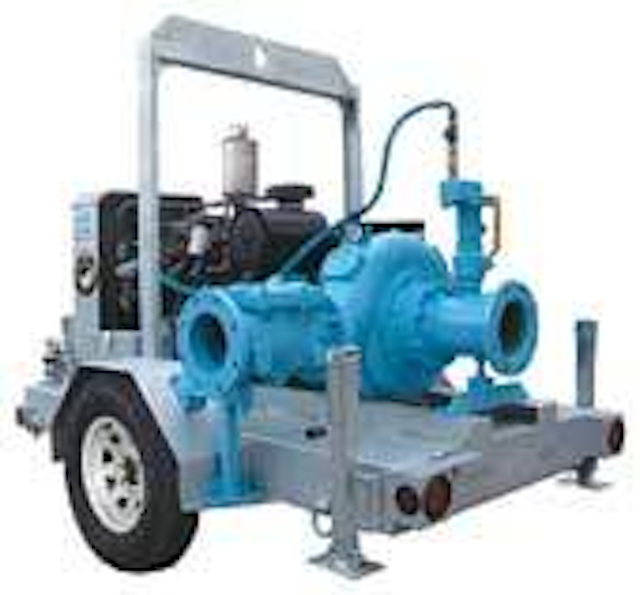 Click here to enlarge image
Utilities can reduce bypass pumping and dewatering operational and maintenance costs with Rain for Rent's new 8" DV-200c pump. The pump offers fuel efficiency, increased hydraulic efficiencies up to 81%, solids handling to 3.375", and great suction lift performance. The galvanized trailer resists corrosion, eliminating expensive repainting costs.
Rain for Rent
Bakersfield, CA
Tel: 661-399-9128
Web: www.rainforrent.com