NEW PRODUCTS
Kaeser Compressors now offers the new modular, aluminum compressed air distribution system - SmartPipeTM.
Oct 1st, 2007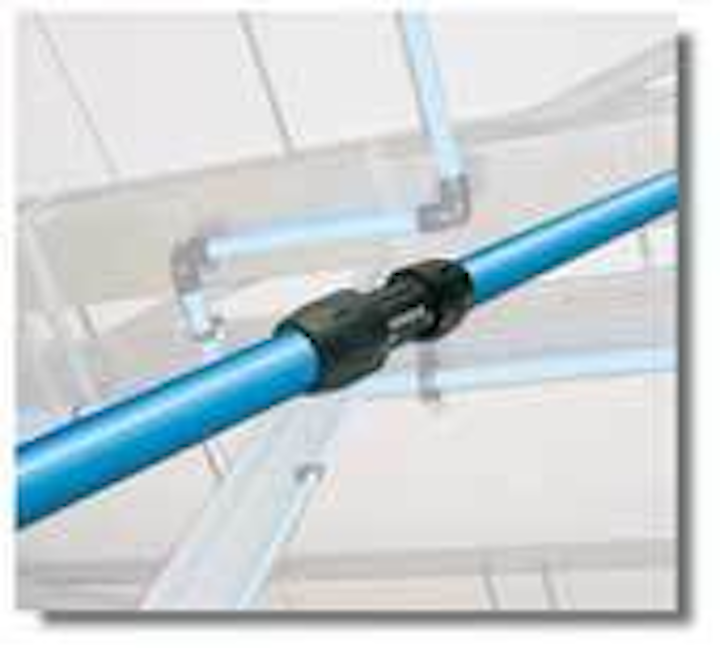 Modular aluminum piping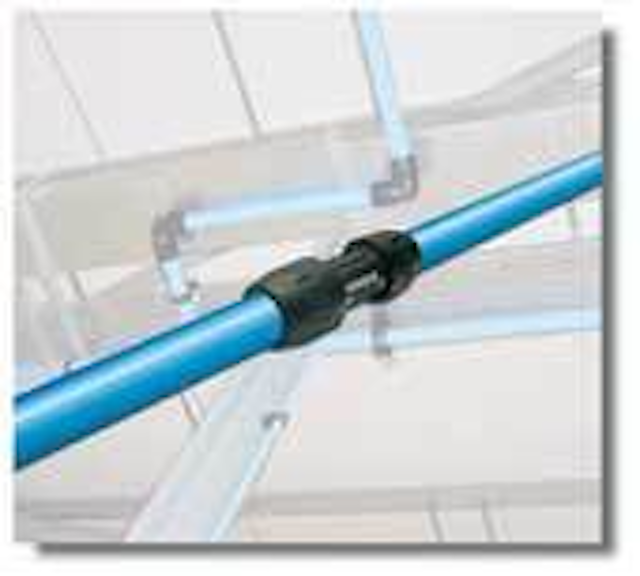 Click here to enlarge image
Kaeser Compressors now offers the new modular, aluminum compressed air distribution system - SmartPipeTM. Made from smooth, calibrated aluminum with a low friction coefficient, the pipe provides the best possible flow and will not rust or corrode. Full bore fittings minimize pressure drop and leak-free connectors prevent compressed air loss. The piping system features lightweight materials and push-to-fit connectors that can be installed without threading, welding or sweating.
Kaeser Compressors Inc.
Tel: 800-777-7873
Web: www.kaeser.com/smartpipe
MBR modules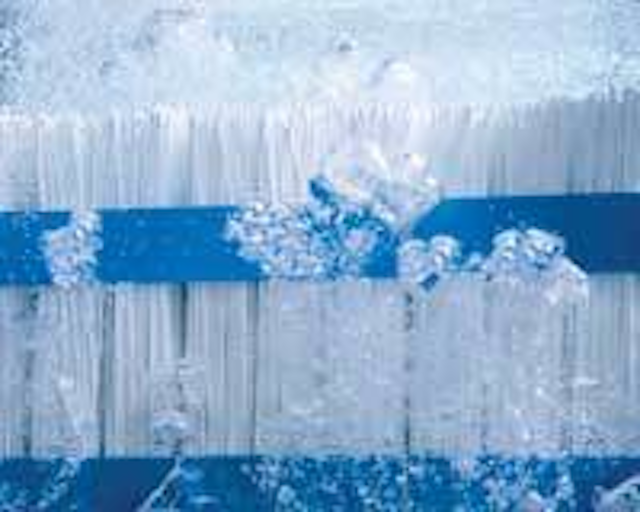 Click here to enlarge image
Koch Membrane Systems has launched its new 1500 square meter PuronTM module for membrane bioreactor (MBR) applications. The improved submerged membrane module features greater packing density, lower energy costs for aeration, and simplified installation while providing even greater compatibility with other commercially available systems.
Koch Membrane Systems Inc.
Wilmington, MA
Tel: 888-677-5624
Web: www.kochmembrane.com
Laboratory software
Labtronics has released NAP version 4.4, an analog data acquisition and peak analysis system for Windows 2000®, XP® Professional or Vista® Business operating systems. Major enhancements to the software include the ability to append new samples to previously run data files, create new data files using a previously created calibration curves, and re-define the active and archive data directories to anywhere on the local PC or LAN.
Labtronics Inc.
Guelph, Ontario Tel: 519-767-1061 Web: www.labtronics.com
Manual shut-off valve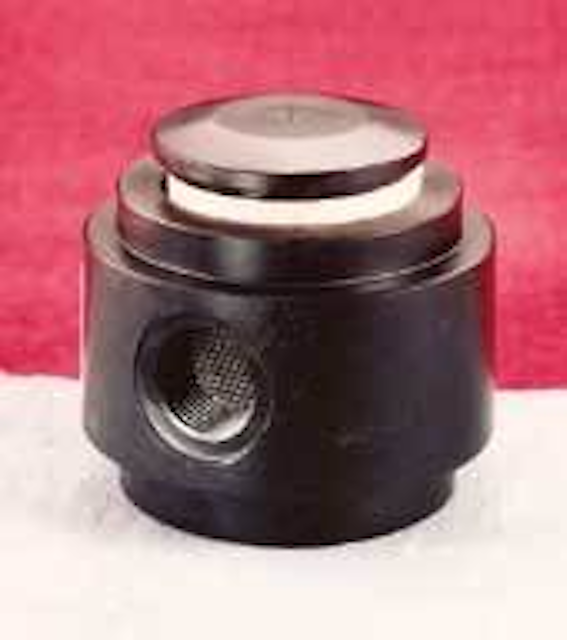 Click here to enlarge image
Plast-O-Matic has introduced a ½" size palm or foot operated shut-off valve with no metals or external fasteners for high-purity or corrosive environments. These balanced, compact valves are designed for liquid service to 150 psi. The balanced aspect means that the valve outlet pressure, commonly known as backpressure, can be as high as the inlet pressure without affecting performance.
Plast-O-Matic Valves Inc.
Cedar Grove, NJ
Tel: 973-256-3000
Chlorine-free disinfectant
Solvay Chemicals has received approval from the US EPA for its chlorine-free disinfectant for wastewater. Widely used in Europe, Proxitane® WW-12, is based on peracetic acid and hydrogen peroxide and effectively controls bacteria in effluent prior to discharge. The product decomposes into biodegradable components of water, oxygen and a small amount of acetic acid.
Solvay Chemicals Inc.
Houston, TX
Tel: 713-525-6838
Web: www.solvay.com
Wastewater analysis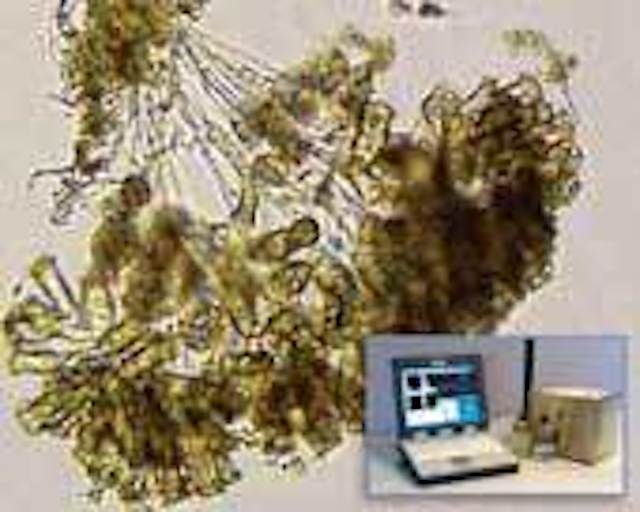 Click here to enlarge image
Water quality instrumentation manufacturer Fluid Imaging Technologies has introduced the FlowCAM® WW particle imaging and analysis system designed to monitor the biological makeup within the secondary system of a wastewater treatment facility. The automated system enables wastewater operators and laboratory technicians to verify their secondary treatment basins are operating with the optimum level and make up of microbes and then take remedial action if necessary.
Fluid Imaging Technologies
Yarmouth, ME
Tel: 207-846-6100
Web: www.fluidimaging.com
Basket strainers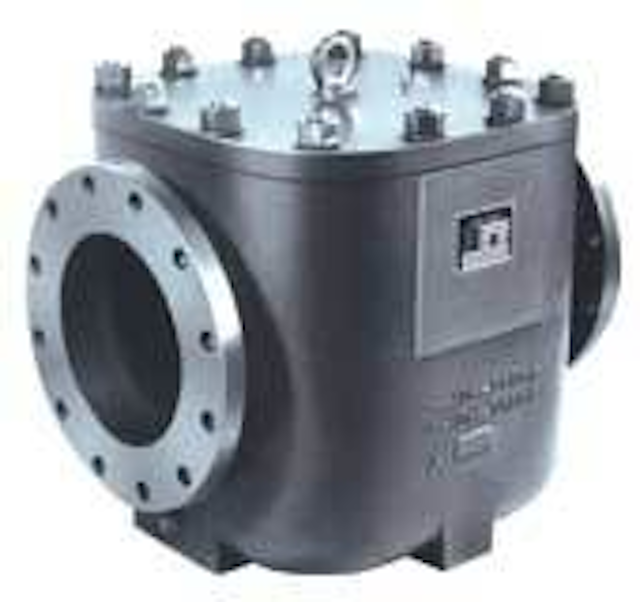 Click here to enlarge image
Designed for larger piping systems with flow rates up to 40,000 gpm, Eaton's Model 510 Simplex Basket Strainers protect piping system components from damage caused by particulate matter in the system flow. The unit uses four strainer baskets, rather than just one, which helps keep operating costs low by making basket cleaning a one person job. Because the four baskets are smaller and lighter than one large basket, one person can remove them from the housing without help or the need to set up lifting equipment.
Eaton Filtration LLC
Elizabeth, NJ
Tel: 908-787-1000
Web: www.filtration.eaton.com
Bolted tanks
Columbian TecTank specializes in the turnkey production of bolted and shop-welded tanks, from design, fabrication, to field erection and service. The company's tanks are used for a variety of wastewater storage applications including equalization, aeration, sludge, clarification, filtration, and digestion. It manufactures bolted tanks in capacities up to 3 million gallons.
Columbian Tec Tank
Kansas City, KS
Tel: 913-621-3700
Web: www.columbiantectank.com
Gate valves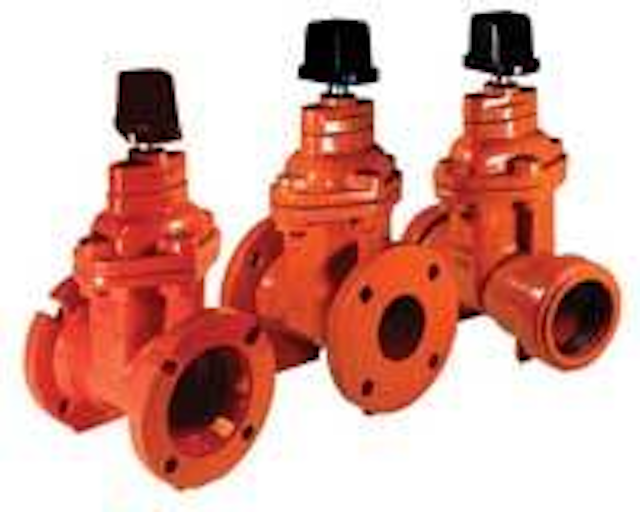 Click here to enlarge image
Danfoss Flomatic has introduced new AWWA C515 Gate Valves. The valves feature three different connection types such as push-on, flange x flange, and mechanical joint. They are fusion bonded epoxy coated and are available with a standard 2" operating nut or optional hand wheel. The non-rising stem flange x flange gate valves are available in 2 ½" - 16" and the non-rising stem push-on and mechanical joint gate valves are available in 2 ½" - 12".
Danfoss Flomatic Corp.
Glens Falls, NY
Tel: 800-833-2040
Web: www.flomatic.com
Tank preservation
Caldwell Tanks has expanded its capabilities to provide tank asset preservation (TAP) for the life of water storage structures. The company is now able to provide full-service ongoing maintenance contracts (TAP-ON) or periodic inspections and clean-outs (TAP-IN). Newly constructed tanks are excellent candidates for the TAP-ON program. The company also provides extended warranties (TAP-EX) on new Caldwell tanks that meet specific design criteria.
Caldwell Tanks
Louisville, KY
Tel: 502-964-3361
Web: www.caldwelltanks.com
Flow meter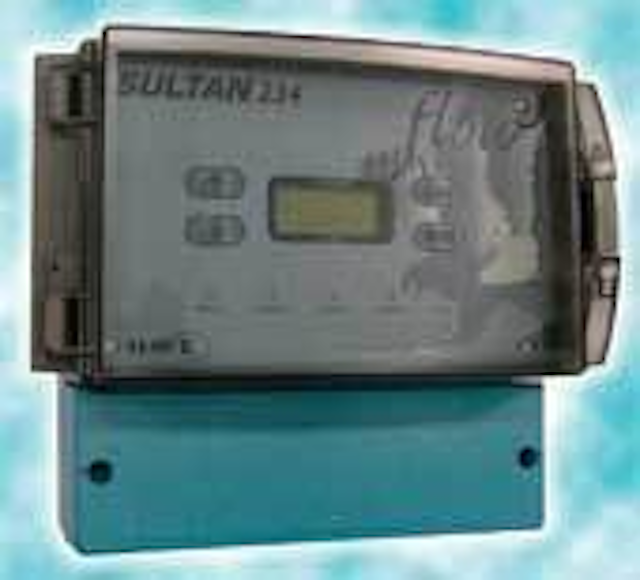 Click here to enlarge image
Hawk Measurement Systems offers the new Sultan Flow, an open channel flowmeter ideal for real time flow measurement of liquid materials. Featuring continuous 4-20 mA output, alarm relays, failsafe relays and serial data via RS-485 with Modbus, the meter measures head, flow rate and flow volume and rate totalization. It offers a menu-driven configuration for standard weir and flume shapes. Available in 2-wire loop powered, 3-wire DC or 4-wire AC/DC, the meter is ideal for a variety of applications, including open channel flow, special requirements for unusual flow channels, water treatment, sewage treatment and irrigation.
Hawk Measurement Systems
Middleton, MA
Tel: 888-429-5538
Web: www.hawkmeasure.com
Batteries
Fulfilling the demand for higher capacity and longer lasting Lithium Manganese Dioxide cylindrical hybrid cells for automatic meter readers, security devices and RF applications, Maxell Corp. has introduced its next generation of advanced hybrid cells which operate for more than 10 years and offer 8 to 9 percent higher capacity. Models CR17450 and CR17335, designed to industry standard sizes, have an 8 to 9% higher capacity compared to similar cells currently available.
Maxell Corp. of America
Fair Lawn, NJ
Web: www.maxell-usa.com/
Dual-input analyzer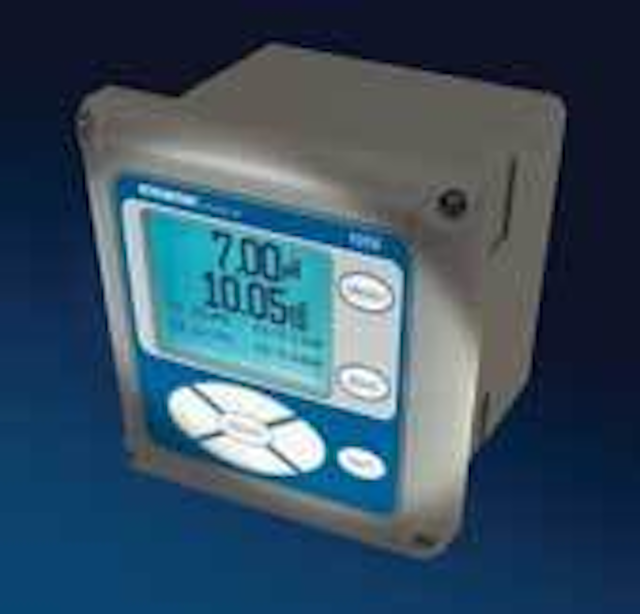 Click here to enlarge image
The Rosemount Analytical Model 1056 intelligent analyzer from Emerson Process Management is a multiparameter analyzer suited for use in a wide range of applications. Offering single- or dual-sensor input with an unrestricted choice of dual measurements, it reduces the cost per loop and saves panel space. The analyzer can measure turbidity, flow, pH/ORP/ISE, resistivity/conductivity, percent concentration, chlorine (free, total, monochloramine, pH-independent free chlorine), oxygen, ozone, and temperature.
Emerson Process Management, Rosemount Analytical
Irvine, CA
Tel: 800-854-8257
Web: www.raihome.com
Plastic tubing
Click here to enlarge image
NewAge® Industries has begun offering a 100% pure Viton® tubing called Vitube®. The tubing offers a wide range of both temperature and chemical resistance and is available in 60 and 75 Shore A durometers. It is used in applications such as chemical transfer, hot lubrication feeds, o-rings and seals, fuel and oil lines, and peristaltic pumps. The tubing's main attribute is its resistance to a wide range of chemicals at elevated temperatures.
NewAge® Industries Inc.
Southampton, PA Tel: 800-506-3924 Web: www.newageindustries.com/vitube.asp
Wireless access point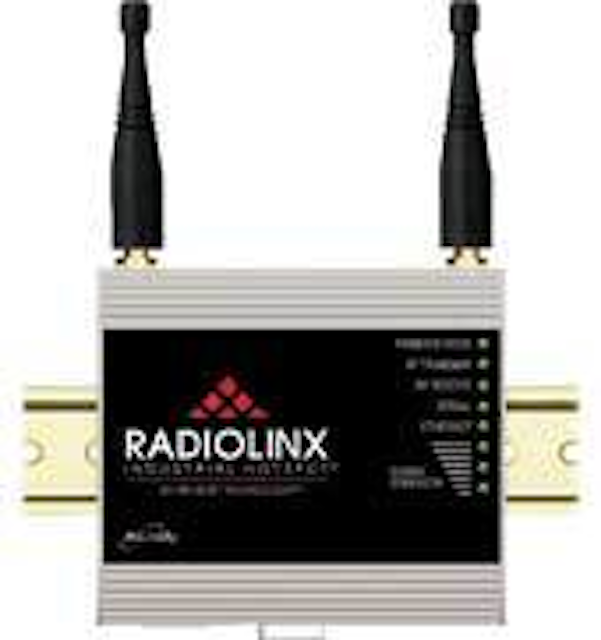 Click here to enlarge image
ProSoft Technology® has added its new 802.11abg Industrial HotspotTM its line of RadioLinx® products. The RLX-IHW functions as a wireless access point, repeater, or client and is designed for global installations. It offers high-speed wireless Ethernet communications including EtherNet/IP, Modbus TCP/IP, and DNP over Ethernet for linking automation systems, Ethernet I/O, video cameras and plant network access for mobile workers.
ProSoft Technology, Inc.
Bakersfield, CA
Tel: 661-716-5100
Web: www.prosoft-technology.com
Screenings washing system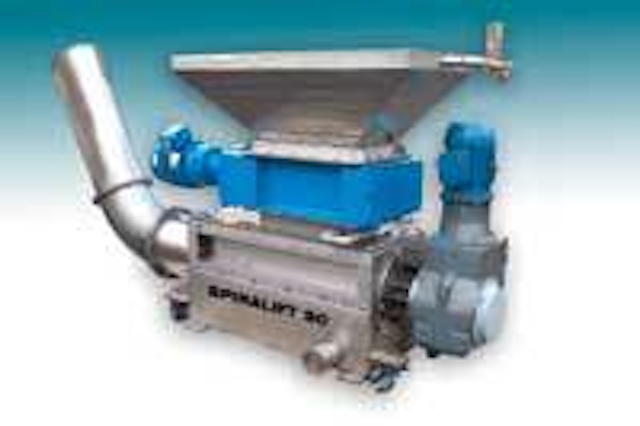 Click here to enlarge image
The Spiralift SC Screenings Conditioner, available from Franklin Miller, cleans, conditions, washes and compacts screenings. Now, a new high impact spray-wash zone design adds high pressure washing in the drop area between the grinder and the auger. As a result, the output from the system is cleaner than ever.
Franklin Miller Inc.
Livingston, NJ
Tel: 973-535-9200
Web: www.franklinmiller.com
Alarm notification system
A complete line of wireless accessories, including sensors, repeaters, and motion detectors for use with the recently introduced Sensaphone 2800 remote monitor and alarm notification system is now available. The 2800 is a standalone unit requiring no monthly fees. It provides four hard-wired universal inputs and can work with up to four of the new wireless sensors to help protect equipment and facilities by alerting owners, managers, lab technicians, building supervisors, and others to changes in critical environmental conditions.
Sensaphone
Aston, PA Tel: 877-373-2700 Web: www.sensaphone.com
Remote monitoring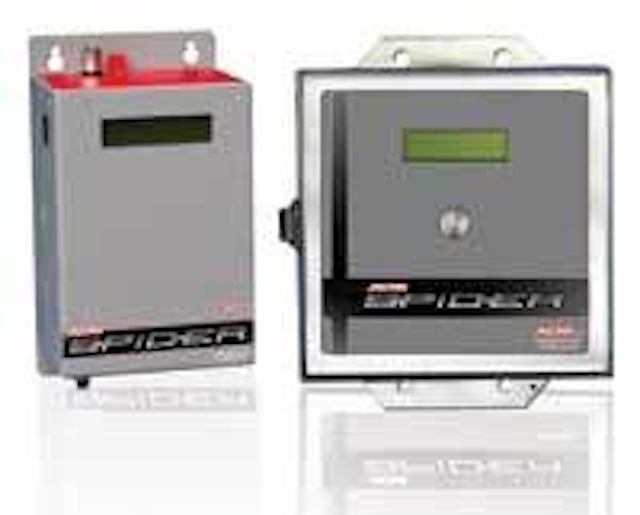 Click here to enlarge image
The new ADS SpiderTM is a "place-anywhere" alarm monitoring system with optional battery pack, remote data access and customer-driven alarm and notification specifications. The stand-alone, compact, single-box system requires no user software. It operates from a Web server built into the monitor. This allows direct communication with most computers regardless of brand or operating system.
ADS LLC
Huntsville, AL Tel: 800-633-7246
Software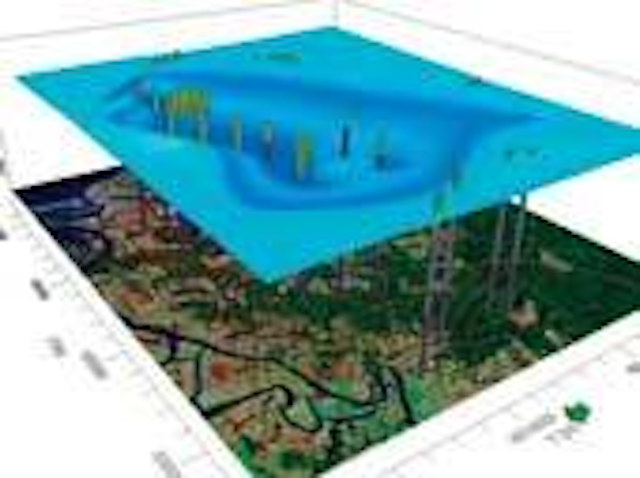 Click here to enlarge image
Schlumberger Water Services (SWS) has released the latest version of HydroGeo Analyst (HGA), version 4.0. This all-in-one information management solution is specifically designed for professionals working on groundwater and environmental resource management projects. The system provides project managers, hydrogeologists and mapping specialists centralized access to sampling, geographic and geologic information.
Schlumberger Water Services
Waterloo, Canada
Tel: 519-746-1798
Web: www.swstechnology.com
Modeling software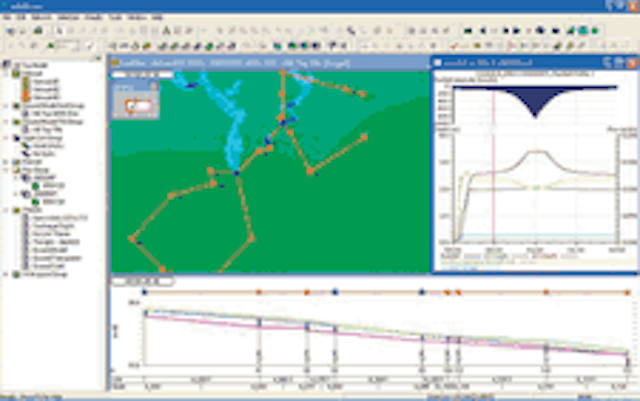 Click here to enlarge image
Wallingford Software has announced the release of InfoWorks 2D for detailed simulation of surface flood modeling. The system will be available as a fully integrated module within InfoWorks CS for collection system modeling, InfoWorks SD for storm drainage modeling, and with InfoWorks RS and FloodWorks for river floodplain modeling. The 2D software provides the functionality necessary to completely model the interaction of surface and underground systems, including tools usually associated with GIS packages such as the creation of 2D meshes and fully animated flood maps.
Wallingford Software Ltd
Fort Worth, TX
Tel: 817-370-2425
Web: www.wallingfordsoftware.com
Water quality monitoring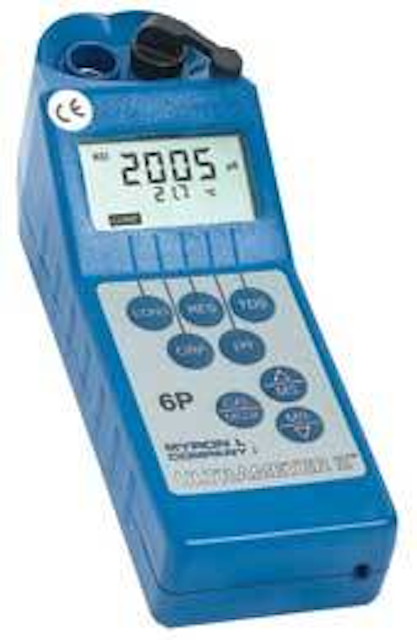 Click here to enlarge image
Ideal for testing water in the field or lab, the Ultrameter II measures six water quality parameters: conductivity, resistivity, TDS, pH, ORP, and temperature. Available from Myron L, the instrument is lightweight, portable, buoyant, waterproof and easy to calibrate. Users simply rinse and fill the cell cup with sample, then press a parameter button. . They get instant, objective numerical results on a full four-digit LCD screen. The instrument delivers performance of ±1% of reading achieved through advanced four-electrode conductivity cell technology, powerful microprocessor-based circuitry, and its user-replaceable pH/ORP sensor.
Myron L Co.
Carlsbad, CA
Tel: 760-438-2021
Web: www.myronl.com
Flow meters, controllers

Click here to enlarge image
Sierra Instruments, a manufacturer of flow meters and controllers, has established a Live Help online instant messaging service. The system gives customers instant access to answers on their application questions. One of the company's Application Engineers are always on hand to provide information, customer support, sales support, answer warranty repair questions, or any questions that customers need answered. The Live Help can be accessed via the Internet at www.sierrainstruments.com/techsupport/techsupport.html.
Sierra Instruments
Monterey, CA Tel: 800-866-0200
Ultrasonic flowmeter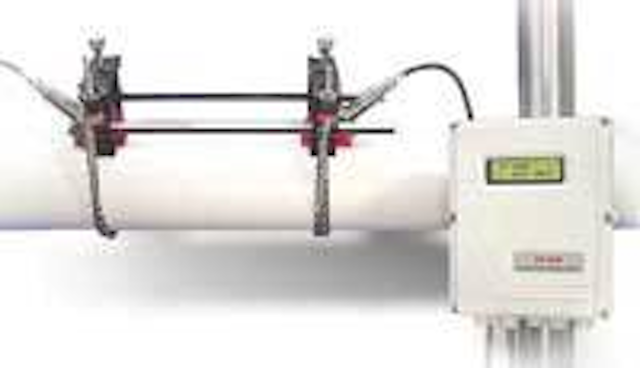 Click here to enlarge image
GE Sensing's AquaTrans AT868 ultrasonic flowmeter combines flow measurement capability with a rugged, low-cost transmitter package that can be installed right at the process measurement point. It is designed specifically for municipal applications such as water, wastewater and sewage. Setup and service are accomplished by using the transmitter's internal keypad or by connecting it to a laptop PC and using GE's instrument interface software.
GE Sensing
Billerica, MA
Web: www.gesensing.com
Tank covers
Geodome offers clear-span aluminum geodesic domes, providing roofing systems for water and wastewater applications. The tank cover systems are suitable for all forms of cylindrical tanks, both new and retrofit. The company manufactures the tank covers from corrosive-resistant materials to provide roofing systems with no support columns needed.
Geodome
Birmingham, AL
Tel: 205-980-3454
Web: www.geodomeroof.com