PRODUCTS & SERVICES PIPE MAINTENANCE
Sigma has added the Trim Tyton® push on joint, AWWA C153 fitting to its product line.
Oct 1st, 2007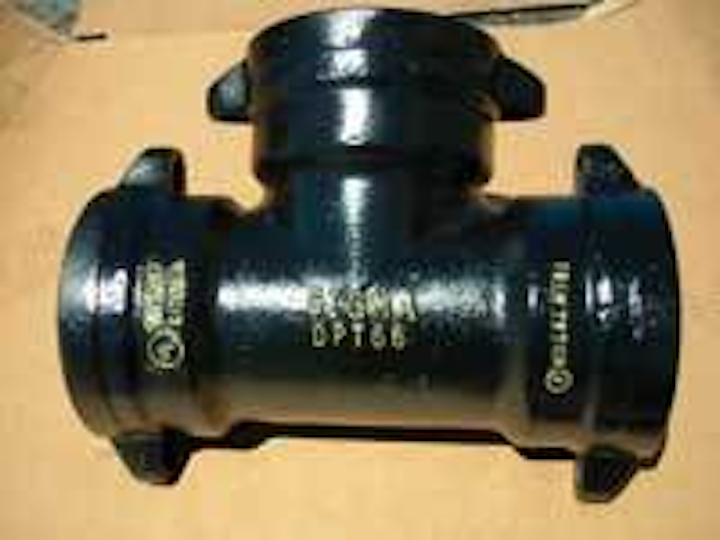 Push on joint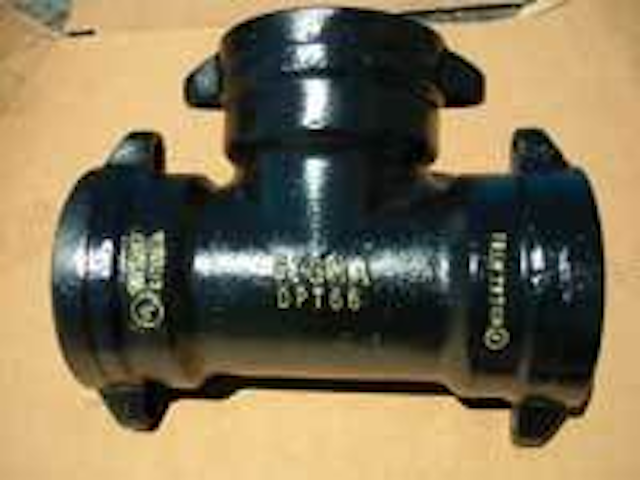 Click here to enlarge image
Sigma has added the Trim Tyton® push on joint, AWWA C153 fitting to its product line. Manufactured under license from the United States Pipe and Foundry Company in Birmingham, AL, the joint design offers a short body, ductile iron fitting which offers reduced weights and the strength of ductile iron coupled with the reliability of the Tyton joint design.
Sigma Corp.
Cream Ridge, NJ
Tel: 800-999-2550
Web: www.sigmaco.com
Pipeline inspection system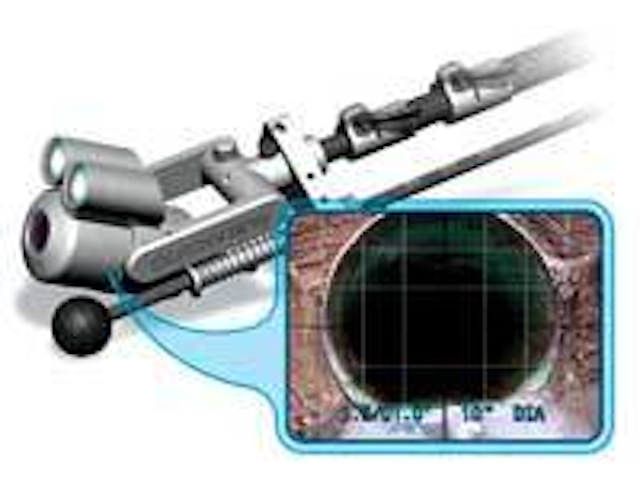 Click here to enlarge image
QuickView, a pipeline zoom inspection camera that offers distance-to-target measurement, now also measures pipe diameter and manhole depth with the push of a button. Users can instantly know the size of the line they're inspecting, as well as its distance below grade. The system measures the diameter of any pipe whose end can be viewed within the camera's field of view.
Envirosight LLC
Randolph, NJ
Tel: 732-541-8471
Web: www.envirosight.com
Insertion valve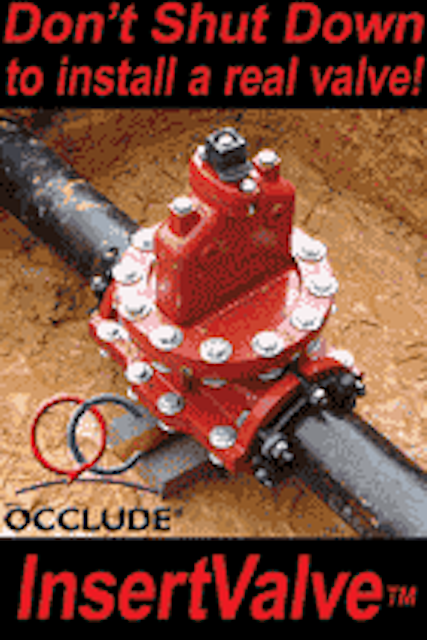 Click here to enlarge image
The engineers at Occlude have designed a resilient seated insertion valve of simple design that meets and/or exceeds the AWWA C515 valve specification. The valves can be installed into pipeline systems without a shut down and are capable of handling working pressures up to +250 psi. By removing a complete section of pipe and stocking a single valve body, users have a unique valve that will insert into steel, PVC, C-900, cast iron, ductile iron and A/C by using interchangeable side glands that mate the valve body to the pipeline.
Occlude
Murrieta, CA
Tel: 877-622-5833
Web: www.occlude.com
Water main disinfection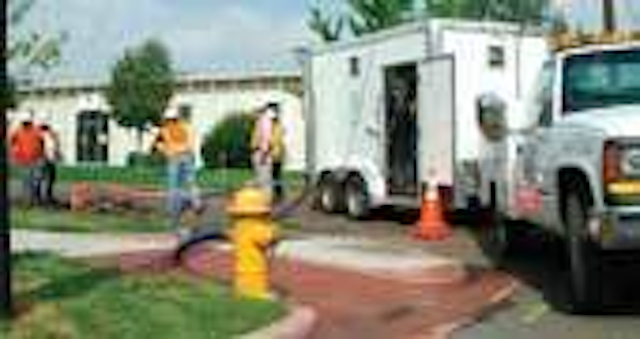 Click here to enlarge image
Mazzei Injector Corp., in cooperation with Camp, Dresser, McKee and Denver Water, has developed a mobile ozone disinfection system for municipal water mains. Following three years of research and full scale pilot testing, Denver Water now uses the trailer-mounted ozone disinfection system on pipeline segments ranging from 300 to 3,000 feet in length. The system can provide pipeline disinfection in 30 minutes or less. The ozone is generated on site and there is no chemical handling involved. Chemical neutralization is also not required as the ozone decays to oxygen.
Mazzei Injector Corp.
Bakersfield, CA
Tel: 661-363-6500
Web: www.mazzei.net
Leak noise correlator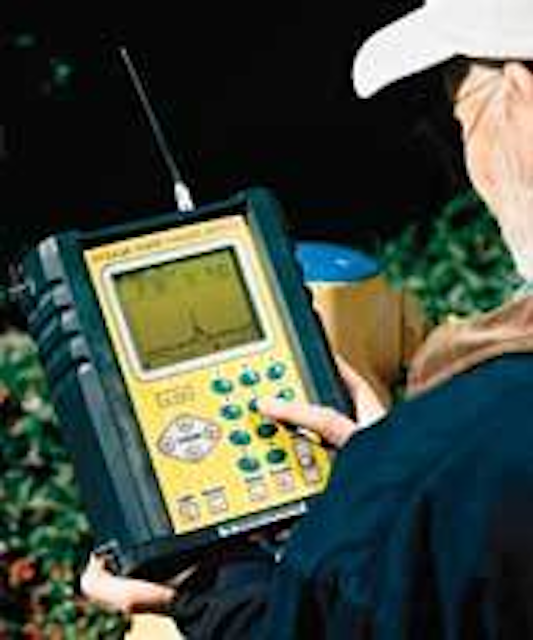 Click here to enlarge image
The new LC-2500 Leak Noise Correlator from SubSurface Leak Detection is an improvement on its predecessor, the LC-2100. The new unit correlates four times faster, and the radio transmitters are four times more powerful, transmitting up to 3,500 feet to the main processor unit and traveling over hills and around tall buildings. The main processor unit, which weighs less than 7 lbs., has a temperature-compensated LCD display to improve visibility in very cold and very hot temperatures.
SubSurface Leak Detection Inc.
San Jose, CA
Tel: 408-249-4673 Web: www.subsurfaceleak.com
Sewer system sealant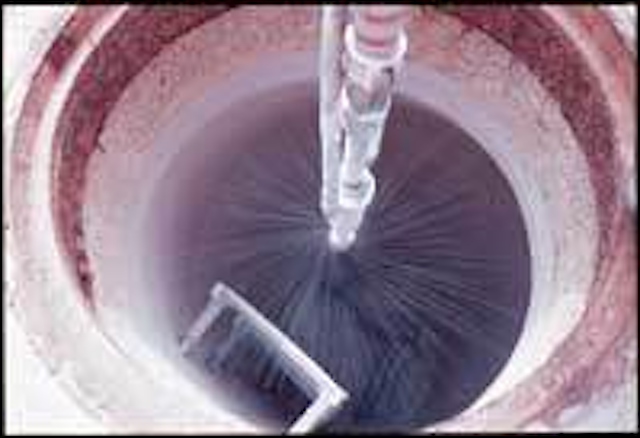 Click here to enlarge image
Sauereisen's SewerSeal F-170 is a durable, calcium aluminate-filled sealant that prevents water infiltration into municipal collection systems. The sealant's versatility allows for use in manholes and lift stations regardless of the type of substrate - concrete, brick or steel. It may be spincast from ground level, minimizing downtime and improving safety by preventing confined space entry. Sauereisen manufactures sealants, corrosion barriers and substrate repair materials for the protection and restoration of wastewater infrastructure. The company offers materials to resist acidic environments and to prevent water inflow and infiltration. These products accommodate both rehab and preventive maintenance.
Sauereisen
Pittsburgh, PA
Tel: 412-963-0303
Web: www.sauereisen.com
Pipe drilling machine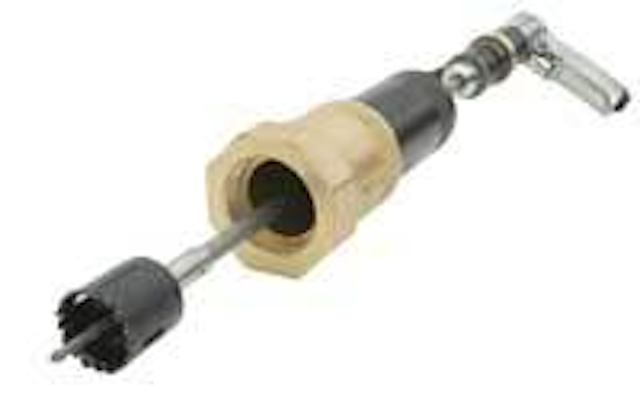 Click here to enlarge image
Methods of drilling, tapping and constructing water services have been around for years. Raydon Enterprises has designed and developed the SIMTAP Drilling Machine to simplify the method. The machine can perform ¾" - 2" branch taps much more efficiently. The drilling machine is designed to be used in conjunction with various ½" power sources. The machine is safe, weighs only 7 pounds, fits in tight quarters and never needs repair.
Raydon Enterprises Inc.
Tel: 714-842-5844
Web: www.simtap.net
Plastic pipe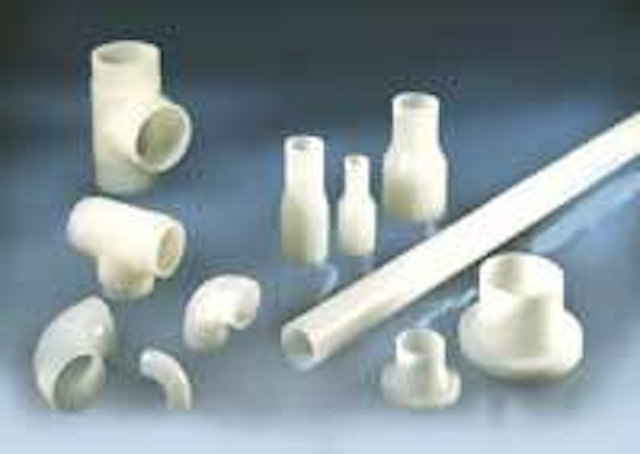 Click here to enlarge image
Asahi/America offers the Ultra Proline Halar piping system. Successfully tested and currently installed in sulfuric acid applications, the piping provides a reliable solution to systems where 98+% sulfuric acid is used. Its chemical resistance is superior to that of other plastics such as PVC, PP and PVDF. Compared to carbon steel pipe it is virtually maintenance free.
Asahi/America Inc.
Malden, MA
Tel: 781-321-5409 Web: www.asahi-america.com
Polymer mortar pipe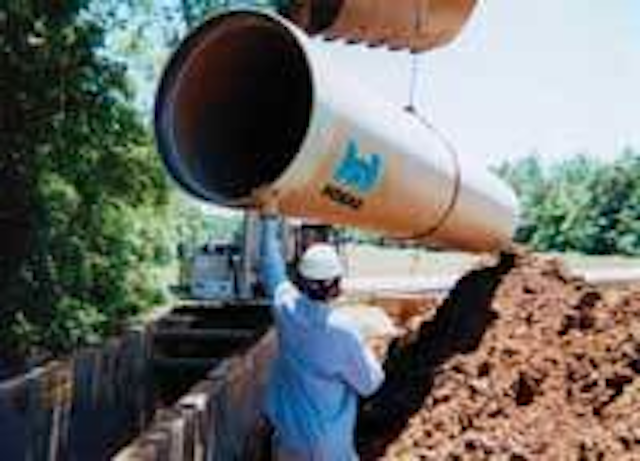 Click here to enlarge image
Hobas has expanded its product line up to 110" in diameter. Acceptance is also expanding along with size of the pipe and it can be found in the infrastructures of most U.S. municipalities. The pipe is suitable for sliplining, jacking, microtunneling and all other installation methods for new construction and rehab. The company now produces pressure and gravity pipes from 18" to 110", plus tee-base manholes, elbows and other specialty items to fit. Leak-free, push-together joints reduce installation time and costs. Centrifugally cast, fiberglass-reinforced, polymer mortar pipe is inherently corrosion resistant and lasts 100 years or more. Key applications are sanitary sewers, potable water and corrosive environments.
Hobas Pipe USA
Houston, TX
Tel: 800-856-7473
Web: www.hobaspipe.com
Test, repair products
Hurco Technologies manufactures a full line of products to help municipalities and utility contractors test and repair sewer and water systems. Its Ripcord Liquid Smoker helps identify leaks in aging sewer systems. Liqui-Smoke is safe, clean and inexpensive. The Ripcord Ventilator creates a safe, unobstructed work area by removing dangerous gases, not diluting them. The Ripcord is also the fastest way to string a sewer line for deflection testing gauges, video equipment, sliplining and much more. In addition, Hurco also manufactures a full line of deflection testing gauges in aluminum and steel.
Hurco Technologies Inc.
Harrisburg, SD
Tel: 800-888-1436
Web: www.gethurco.com
Pipe lining
Insituform Technologies® offers both trenchless gravity and pressure pipe solutions. Its products include iplus CompositeTM pipe and iplus InfusionTM pipe as well as the traditional Insituform CIPP. iplus Composite pipe is the company's next generation CIPP, offering increased strength with less thickness, improving flow and capacity. iplus Infusion offers improved performance and a new wet out process. The company also offers its new Insituform BlueTM solutions for potable water and pressure pipes and a new iTAPTM system that allows operators to reinstate service connections without digging them up.
Insituform Technologies Inc.
Chesterfield, MO
Tel: 636-530-3329
Web: www.insituform.com
Dismantling joint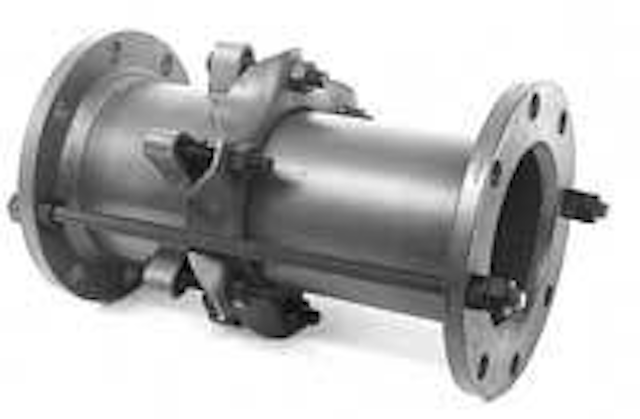 Click here to enlarge image
The Dresser Style 131 Dismantling Joint provides maximum flexibility when installing and maintaining flanged end pipe interfaces with check valves, gate valves, ball valves, pumps, blowers, meters, engines, compressors, various fittings and appurtenances. Allowing longitudinal adjustments in piping systems from 2"to 20", the Style 131 can be used anywhere that requires quick installation or removal. Fabricated in either carbon steel or stainless steel, the joints are available in any pipe diameter or pressure class with standard design flanges drilled to mate with AWWA Class B and Class D. Furnished with the company's Al-CladTM fusion-bonded epoxy coating as standard.
Dresser Inc.
Bradford, PA
Tel: 800-553-0750
Web: www.dressercouplings.com
Pipe rehabilitation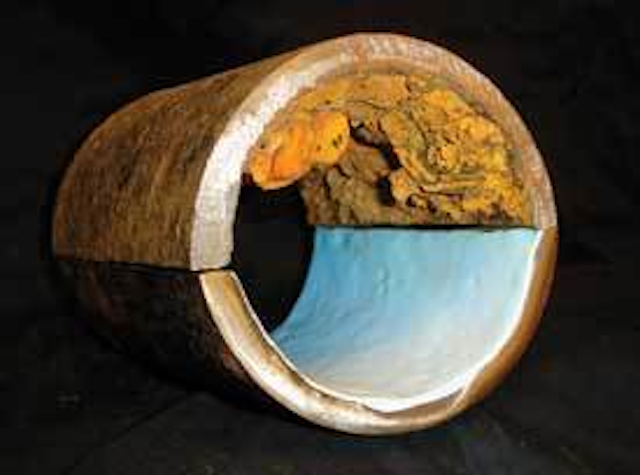 Click here to enlarge image
CuraFlo® offers two in-situ pipe renewal systems that improve water quality, increase flow and prevent corrosion-induced leaks in deteriorated metal and cement based pipes. Leaky pipes clogged with corrosion or minerals can be cleaned and lined to perform better than new pipes for significantly less cost than replacement and at only a fraction of the time and disruption. For small diameter pipes (½" - 4"), the company's Engineered Flow Lining SystemTM blows the proprietary CuraPoxy® epoxy coating through pre-cleaned pipes.
CuraFlo
Cleveland, OH
Tel: 888-428-7235
Web: www.curaflo.com
Abrasion resistant pipe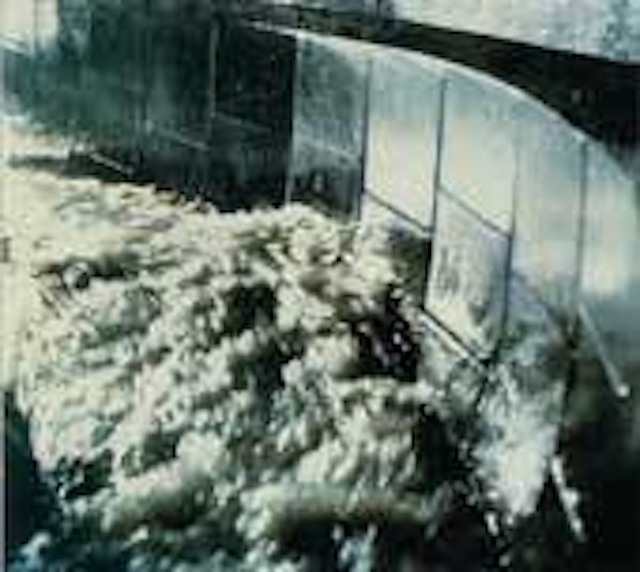 Click here to enlarge image
Abresist piping is tougher than the grit or sludge conveyed in wastewater plants. The company's basalt lined piping lasts five times longer than ½" cast iron. Pipes, elbows and fittings are custom engineered for each application and can be provided in a variety of end connection arrangements to retro-fit into existing systems or install in new ones using flanges, grooved couplings, compression couplings or welded attachment. Many paint systems can be applied to the carbon steel outer casing. The pipe is suited for slurries or pneumatic systems, pressure or vacuum conditions.
Abresist Corp.
Tel: 800-348-0717
Web: www.abresist.com
Tapping machine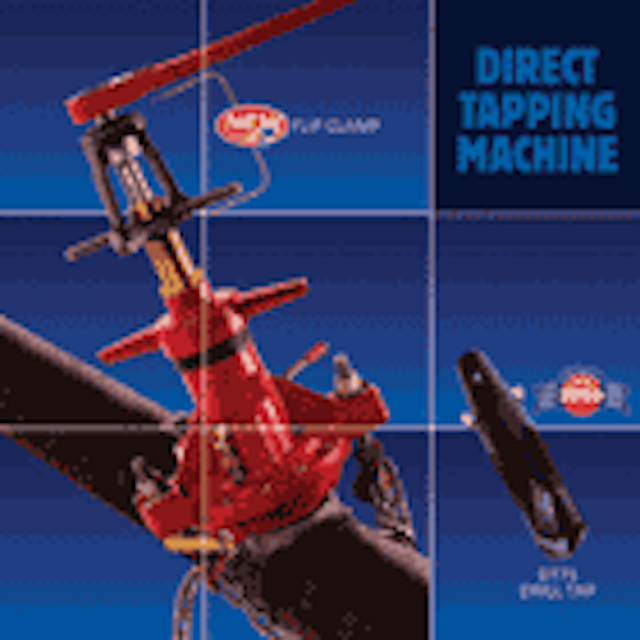 Click here to enlarge image
Reed's TM1100 tapping machine is used to drill and tap water mains while under pressure, then to install ¾" or 1"corporation stops in a 2-step operation. The machine covers 4" - 48" cast or ductile iron and C900 PVC with the use of saddles and chain extensions. The machine features a new "flip clamp" on its star feed system. It weighs only 40 lbs but is suitable for tough, in-ditch applications.
Reed Manufacturing Co.
Tel: 800-666-3691
Web: www.reedmfgco.com
Pipe flushing software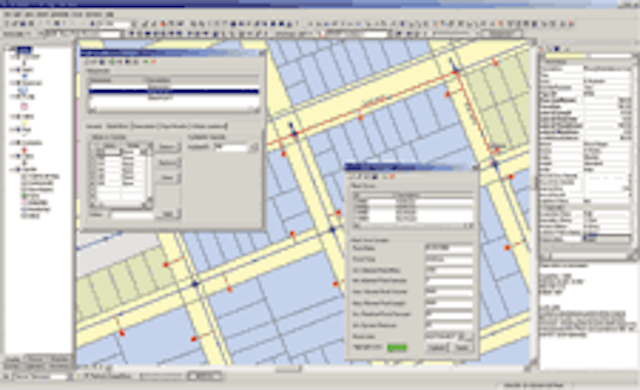 Click here to enlarge image
MWH Soft has introduced InfoWater UDF, a comprehensive ArcGIS-centric pipe cleaning and maintenance software system for water distribution systems. The software lets users generate detailed reports of flushing sequences showing which hydrants and valves should be manipulated for optimal cleaning while avoiding excessive pressure drops (e.g., below 20 psi) and high velocities (e.g., above 8 ft/sec) in the system. It also computes minimum flushing time, total flushing volume and pipe length and available flow at the minimum residual pressure.
MWH Soft
Tel: 626-568-6868
Web: www.mwhsoft.com
HDD bits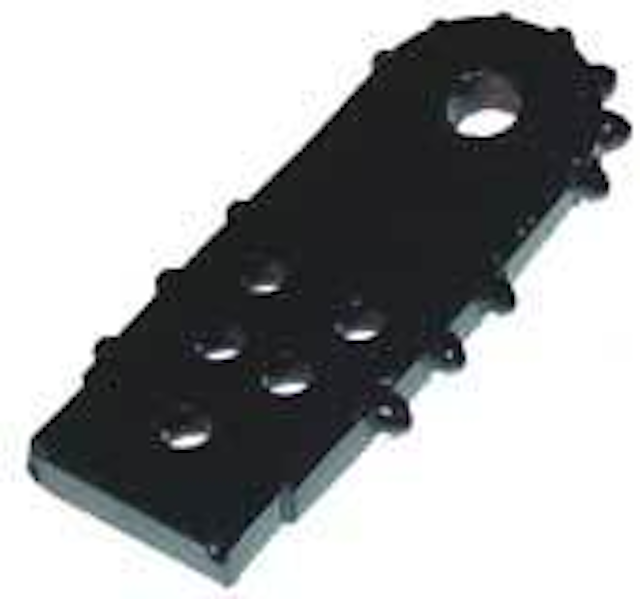 Click here to enlarge image
The Ditch Witch organization now offers nine different sizes of Tornado Bits for use in horizontal directional drilling (HDD) applications. The all-purpose bits are designed for use in a variety of soils, including sandstone, chunk rock, and hard soils. Nine bits are available in sizes from 3" to 6.4". The company specializes in the design and manufacture of underground construction equipment. Products include trenchers, vibratory plows, pneumatic piercing tools, backhoes, electronic guidance and locating tools, horizontal directional drilling systems, drill pipe, downhole tools, vacuum excavation systems, excavator-tool carriers, mini skid steers and pipe bursting equipment.
Ditch Witch
Perry, OK
Tel: 800-654-6481
Web: ditchwitch.com
Pipeline strainer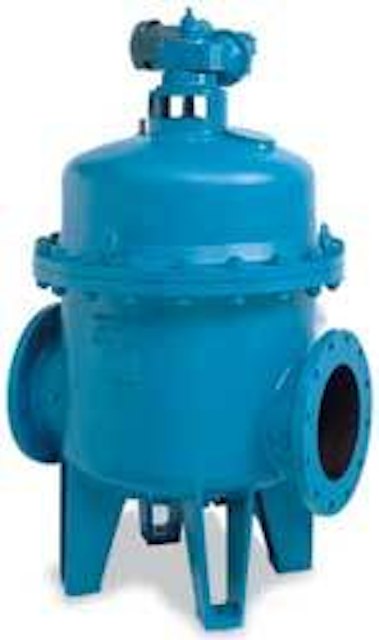 Click here to enlarge image
Eaton's Model 2596 Automatic Self-Cleaning Pipeline Strainer protects expensive piping system components in water and wastewater treatment applications from damage by removing particulate matter from the process flow. With an automatic control system monitoring the strainer operation, cleaning is accomplished by an integral backwash system. A small portion of the screen element is isolated and cleaned by reverse flow. The remaining screen area continues to strain, providing uninterrupted flow. Continuous flow is assured and protection is provided for nozzles, pumps, valve, heat exchangers and other process equipment.
Eaton Filtration LLC
Elizabeth, NJ
Tel: 800-859-9212
Web: www.filtration.eaton.com
CCTV inspection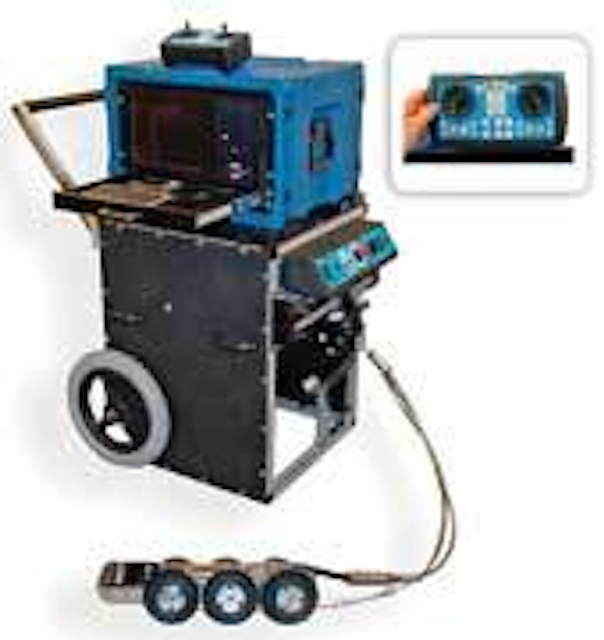 Click here to enlarge image
The K2 portable Base Station from Cues can be mounted in a wide range of vehicles, trailers, or used as a stand-alone CCTV pipeline inspection system. The compact station is supplied with an ergonomic handheld control that operates all Cues transporters and pan and tilt/zoom cameras. It features built-in diagnostics for the entire system, including the video cable. The portable K-2 video cable reel features automatic payout to minimize cable drag on the self-propelled transporter/camera to maximize pull distance in the pipe.
Cues Inc.
Orlando, FL
Tel: 800-327-7791
Web: www.cuesinc.com