PRODUCTS & SERVICES: VALVES
Danfoss Flomatic has introduce its new Silver Bullet Stainless Steel Check Valves, another unleaded alternative.
Feb 1st, 2007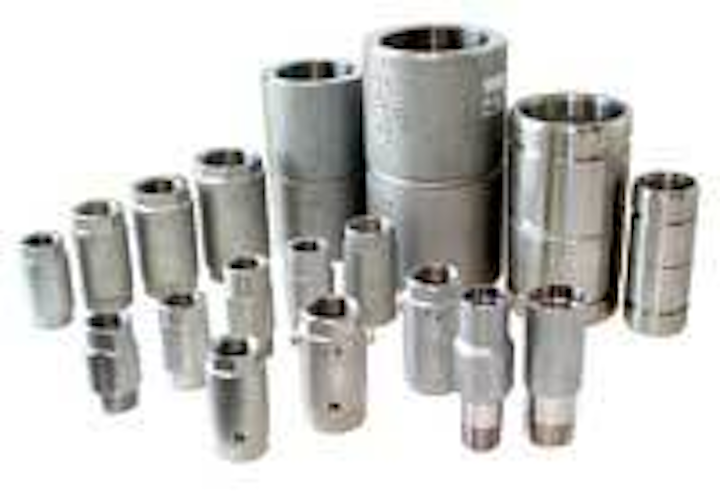 Check valves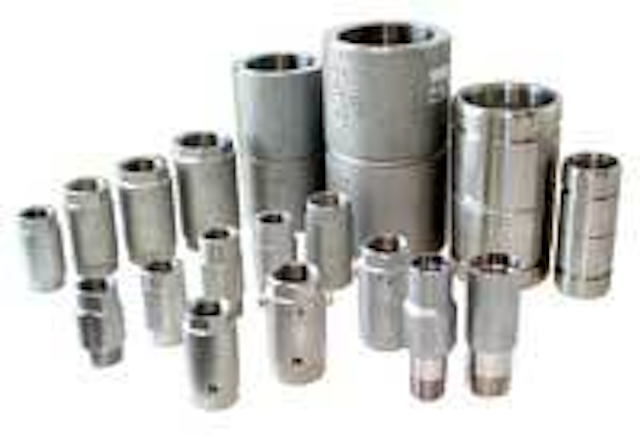 Click here to enlarge image
Danfoss Flomatic has introduce its new Silver Bullet Stainless Steel Check Valves, another unleaded alternative. The stainless steel program now includes the company's most popular models. Every model that is manufactured in unleaded bronze is now available in stainless steel.
Danfoss Flomatic Corp.
Glens Falls, NY
Tel: 800-833-2040
Web: www.flomatic.com
Ball valve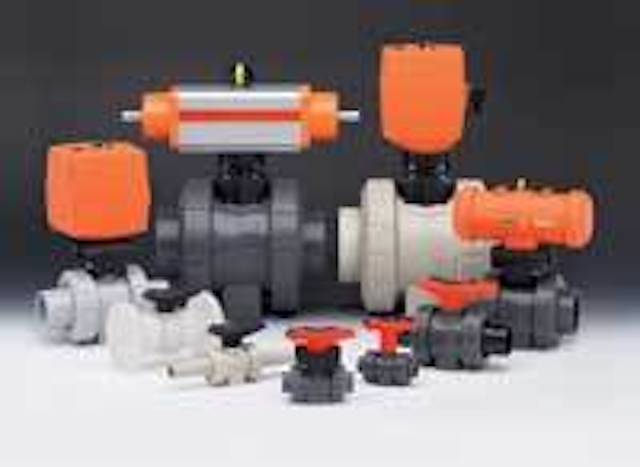 Click here to enlarge image
GF Piping Systems has introduced the Type 546 Ball Valve in sizes 2 ½", 3" and 4". The new valve features a multifunction module that allows the user to add different accessories, actuators and switches. Using the module, the new valves can be actuated with the company's PA Series of Pneumatic Actuators or EA31 Electric Actuators. The module's electric position feedback switch, available for both manual and actuated versions, signals a controller to indicate valve position transmiting the information remotely.
GF Piping Systems
Tustin, CA
Tel: 800-854-4090
Web: www.gfpiping.com
Knife gate valves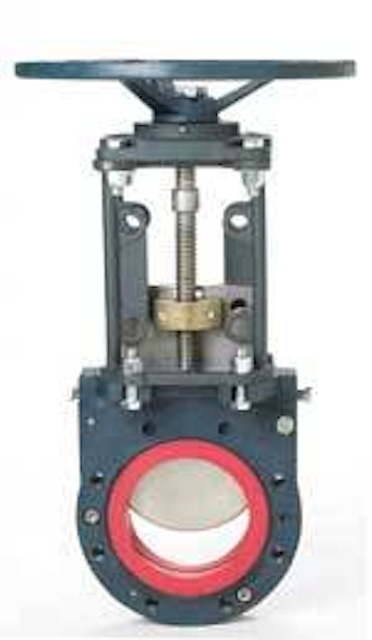 Click here to enlarge image
The Fabri-valve XS150 knife gate valves from ITT are designed for severe erosive and corrosive conditions found in wastewater service. The valve is available in sizes 2"-24". Its design eliminates the leakage paths at the transition point between the perimeter seal and the chest seal, a problem that is common to other high performance knife gate valve designs.
ITT Corp.
Lancaster, PA
Tel: 800-366-1111
Web: www.engvalves.com
Aquifer storage valve

Click here to enlarge image
ASR Resources recently purchased the V-Smart (Selective Monitored Aquifer Recharge) valve patent. The valve assists the process for safely storing and then recovering excess water underground. The flow control device is hydraulically activated which permits the operator to adjust the flow rate. Plus, it helps ensure the elimination of cascading water and air entrainment.
ASR Resources
Sun Lakes, AZ
Tel: 480-895-4305
Web: www.asrresources.com
Pipe strainer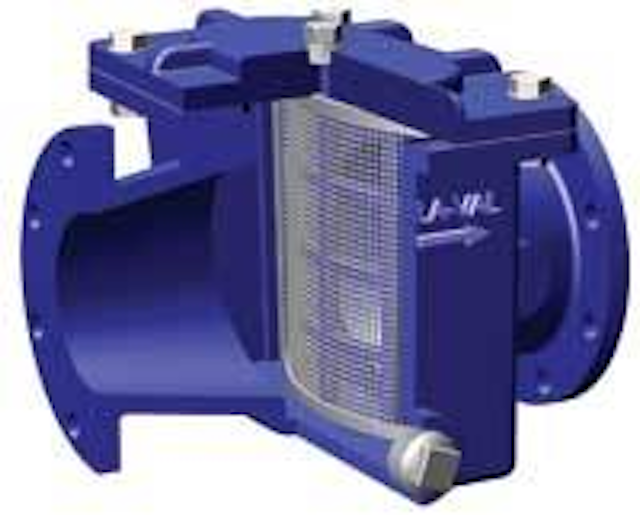 Click here to enlarge image
The Cla-Val H Strainer is designed to protect valves in applications where there is a high incidence of debris in the line and is particularly beneficial when used in combination with Cla-Val KO Anti-Cavitation or Roll Seal valves. The strainer is available in sizes 1 ½" through 12" and features a flanged end configuration. The body and cover are constructed of ductile iron and a fusion bonded epoxy coating is standard. The strainer mesh is 316 stainless steel, standard size: 10 Mesh/2000 Micron/ .078 openings.
Cla Val Inc.
Newport Beach, CA
Tel: 949-722-4866
Web: www.cla-val.com
Motorized control valves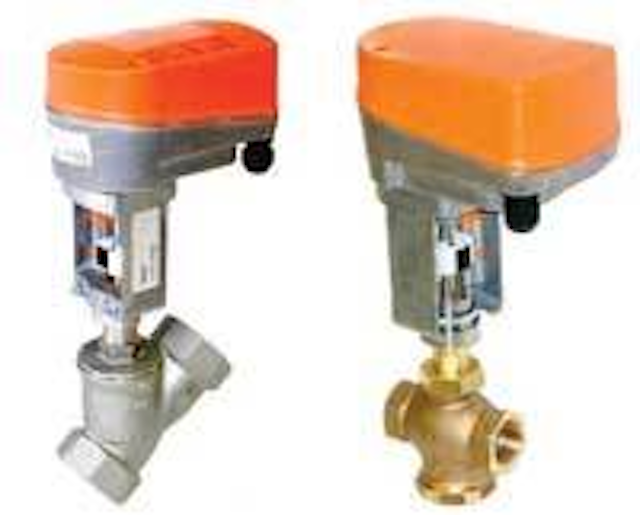 Click here to enlarge image
Parker Fluid Control Division has introduced the 830 and 835 Series, two- and three-way motorized control valves (MCV) with integrated linear actuators. Available in bronze or stainless steel, the new valves are manufactured with standard thread connections of ½" to 2".
Parker Fluid Control Division
New Britain, CT
Tel: 860-827-2300
Web: www.parker.com/fcd
Stainless steel valves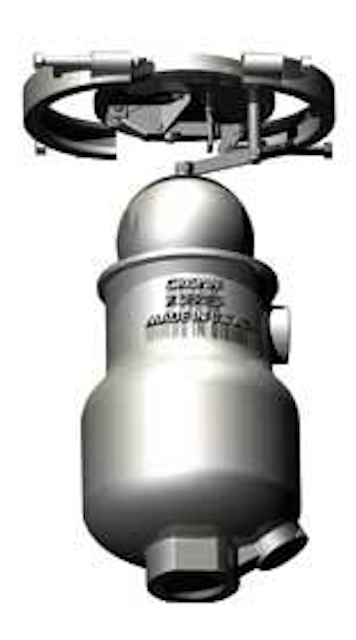 Click here to enlarge image
The Crispin X Series is designed for simplified cleaning. Available in Air & Vacuum, Pressure Air Release and Combination assemblies, the valve features the company's Head Exchange System, with its head-fixed stainless steel valve internals. To clean, simply loosen the head assembly, which is sealed in place by a sanitary stainless clamp fitting. Pull out the original head, which weighs less than 10 lbs, and pop in a spare.
Crispin Valve
Berwick, PA
Tel: 570-752-4524
Web: www.crispinvalve.com
Relief valves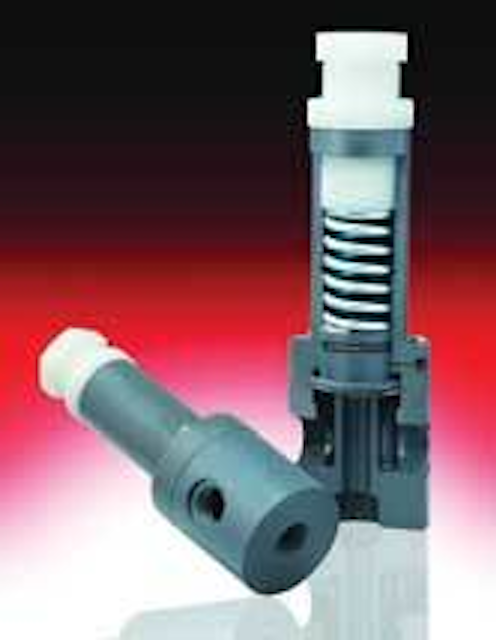 Click here to enlarge image
Plast-O-Matic Valves has announced the addition of the Series TRVDT valve to meet the demand for smaller footprint thermoplastic relief valves. The three-port in-line relief valve is ideal for systems requiring minimal footprint or where the use of a piping tee is not practical. When closed, the valve has a straight-through flow pattern.
Plast-O-Matic Valves Inc.
Cedar Grove, NJ
Tel: 973-256-3000
Web: www.plastomatic.com
Plug valve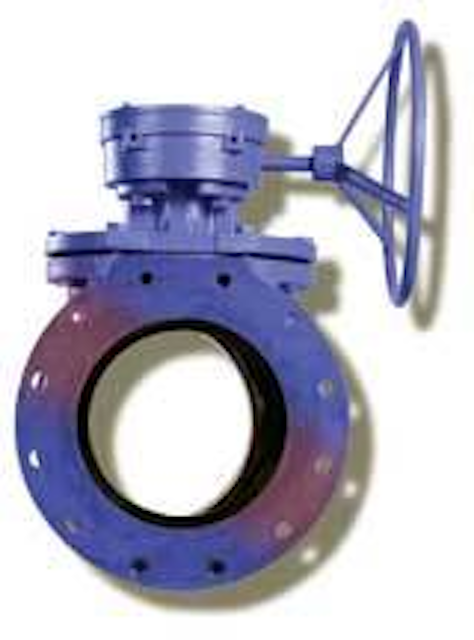 Click here to enlarge image
The Pratt Ballcentric Plug Valve, available is sizes ranging from ½" - 36", is designed specifically for wastewater applications. The round port design is available on sizes ½" - 20". It offers less resistance to slurry, sludge and fluid flow resulting in better flow characteristics and less pressure drop across the valve than other types of eccentric plug valves. The Henry Pratt Co. designs, develops, manufactures and markets butterfly, rectangular, ball, nuclear, industrial, cone, sleeve and energy dissipating valves as well as valve actuators, control systems and couplings.
Henry Pratt Co.
Aurora, IL
Tel: 877-436-7977
Web: www.henrypratt.com
Rubber check valves
Proco Products recently introduced the ProFlex series 700 Rubber Check Valve. The valve is manufactured completely from fungicide- and barnacle-resistant rubber. It is impervious to the daily operational vulnerability affiliated with the water and sewage industry such as rust, freezing, corrosion and seizing.
Proco Products Inc.
Tel: 800-344-3246
Web: www.procoproducts.com
Valve actuators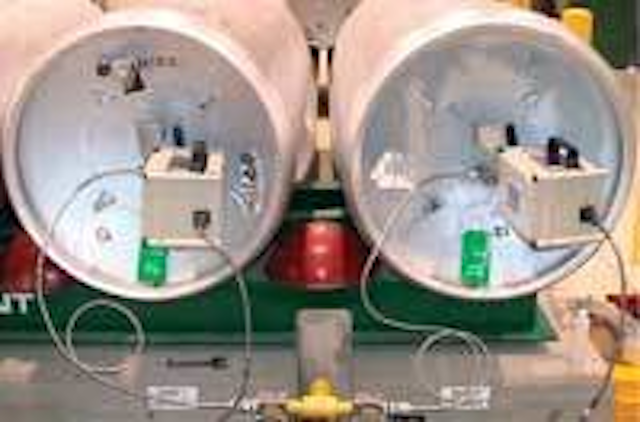 Click here to enlarge image
When higher chlorine feed rates require liquid withdrawal from containers for use with evaporators, it becomes extremely important to monitor and control the status of each valve on the container. Robo-Control® provides actuators to open and close the container valve. Digital indication of valve position and outputs for valve position are available.
Robo-Control
Bridge City, TX
Tel: 409-697-2666
Web: www.robo-control.com
Control pinch valve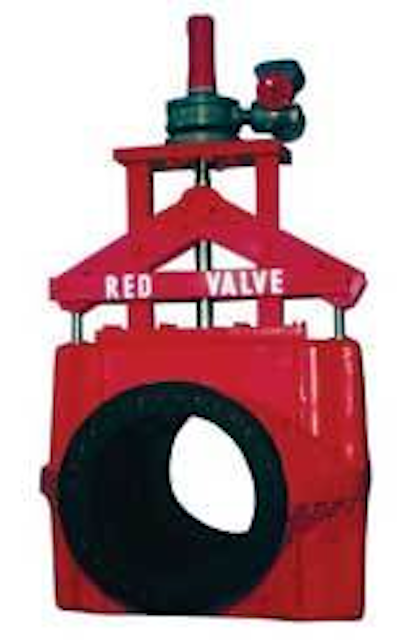 Click here to enlarge image
RedValve's Series 5400 Control Valve features centerline closure, true feedback positioning and repeatable variable venturi flow control. The elastomer sleeve isolates the valve body from the process, is abrasion-resistant, and provides a full-port opening with no cavities to trap solids or debris.
Red Valve Co.
Carnegie, PA
Tel: 412-279-0044
Web: www.redvalve.com
Valve exercising
Hurco Technologies' new Valve Star G3 valve exercising equipment is designed for a complete valve and hydrant maintenance program. The new line features GPS capabilities, full color large screen format and much more. Users are able to data log critical data such as the amount of torque applied to the valve or hydrant and revolution count.
Hurco Technologies
Tel: 800-888-1436 Web: www.gethurco.com
Valve key

Click here to enlarge image
Endeavor Tool's Gator Grip Gate Key is designed to loosen damaged or worn valve nuts. Using stainless steel rods, the wrench automatically adjusts to grip and turn valve nuts of every shape and condition. With a 3" inside diameter, it fits all standard 2" by 2" and smaller valve operating nuts.
Endeavor Tool Co.
W. Boylston, MA
Tel: 877-835-9992
Web: www.gatorgripgatekey.com
Valve exerciser
Wachs' Automated Valve Equipment (WAVETM) handheld exerciser is lightweight and designed for hard-to-reach valves and emergency shutdowns. Requiring only one operator, this powerful (800 lb-ft) tool reduces operator fatigue and potential for injury. Digital readouts and adjustable torque limit enable detailed torque charting while preventing valve damage.
E.H. Wachs Co.
Wheeling, IL
Tel: 800-323-8185
Web: www.wachsco.com
Backflow prevention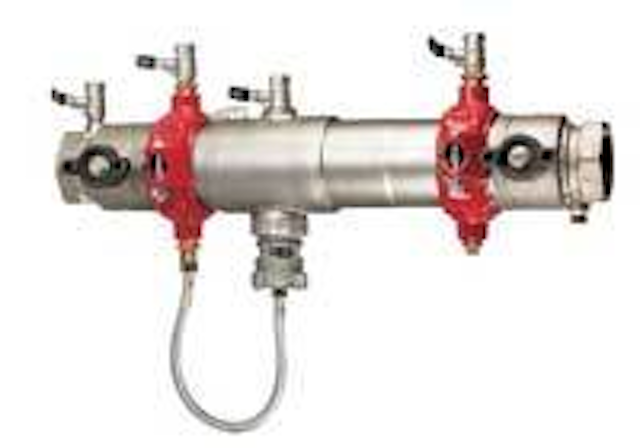 Click here to enlarge image
Watts Regulator and Ames Fire & Waterworks offer a variety of backflow prevention products, including Double Check Detector Assemblies; Double Check Valve Assemblies; Dual Checks/Dual Checks with Atmospheric Vent; plus accessories and enclosures. The company also offers the Ames ACV product line, which includes a line of ductile iron and stainless steel control valves for potable and reclaimed water applications.
Watts Regulator Co.
North Andover, MA
Tel: 978-689-6260
Web: www.watts.com
Valve markers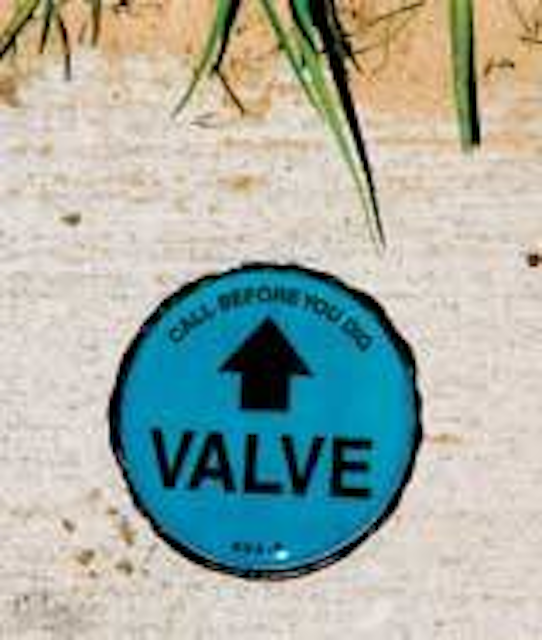 Click here to enlarge image
das Curb Markers® can be permanently attached to most flat surfaces, such as concrete, asphalt and metal. The markers can be used as an aid to locating valves and a warning to potential excavators. Available in either reflective or non-reflective materials, they can also be numbered and customized.
das Manufacturing Inc.
Tel: 800-549-6024
Web: www.dasmanufacturing.com
Valve actuator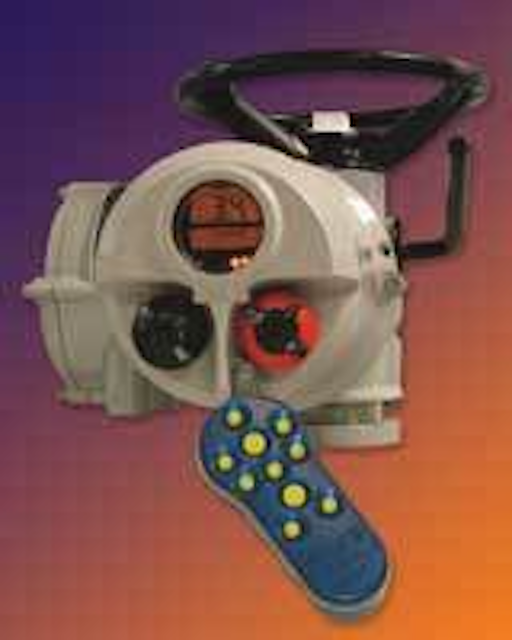 Click here to enlarge image
Rotork Controls offers a new line of IQ PRO intelligent electric valve actuators as well as a compatible IQ PRO setting tool with advanced downloading capabilities. The intrinsically safe setting tool enables the downloading of valve performance data from the IQ Pro's data logger without the need to carry a laptop or PDA into the field.
Rotork Controls Inc.
Rochester, NY
Tel: 585-247-2304
Web: www.rotork.com
Electronic valve actuator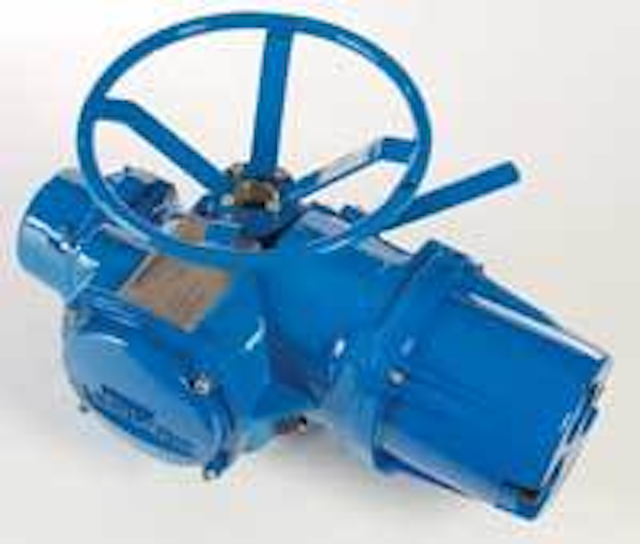 Click here to enlarge image
Flowserve Corp. offers new enhancements to its Limitorque MX smart electronic valve actuator. The MX is designed to operate in rigorous and extreme applications. Enhancements to the MX include a patented absolute encoder with increased span, improved diagnostics capability, and built-in self-test (BIST).
Flowserve Flow Control
Dallas, TX
Tel: 434-522-4107
Web: www.flowserve.com
Eccentric plug valve
APCO Valve and Primer has introduced the Series 500 Eccentric Plug Valve. The valve is manufactured standard in ductile iron with stainless steel bolts. Fusion bonded epoxy is also standard. The resilient faced ductile iron plug is encapsulated in EPDM.
APCO Valve
Schaumburg, IL
Tel: 847-524-9000
Web: www.apcovalves.com
Emergency valve shut-off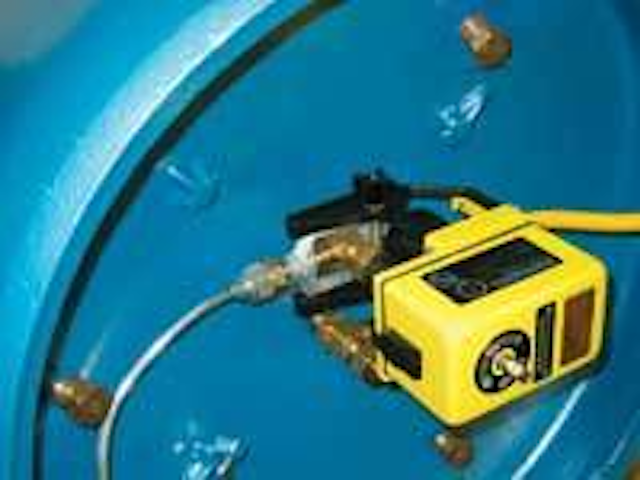 Click here to enlarge image
Eclipse Actuators close toxic gas valves on 150 lb. and ton cylinders in less than one second when activated by remote sensors. These electronic actuators are "close only devices" requiring an operator to visit the site to determine the cause of the problem. The operator can then correct the condition, check the facility, and manually reset the valve before restarting the gas system.
Halogen Valve Systems
Irvine, CA
Tel: 877-476-4222
Web: www.halogenvalve.com
Air valves
Val-Matic has announced the certification of its drinking water air valve product line to ANSI/NSF Standard 61 for Drinking Water System Components. The company is the first Air Valve manufacturer to have a complete line of air valves certified to ANSI/NSF 61. Underwriters Laboratories (UL) provided certification of the Val-Matic product line after completion of all testing and verification of data. In most states, legislation requires that if certified products are available, they must be used in drinking water systems.
Val-Matic® Corp.
Elmhurst, IL
Web: www.valmatic.com
Ball valves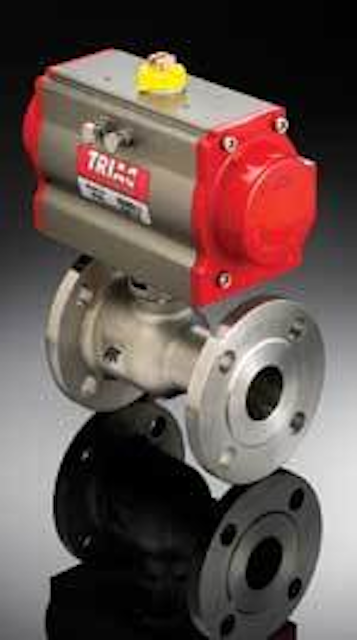 Click here to enlarge image
New fire-safe TRIAC F91 stainless steel flanged ball valves, available from A-T Controls, use a regular-port design to minimize cost and reduce operating torque, while offering a solid unibody and patented pyramidal stem packing. The live-loaded packing system features a patented 45° primary seal with Belleville washers and chevron packing, protecting against wear and stem leaks common with ordinary ball valves.
A-T Controls Inc.
Cincinnati, OH
Tel: 513-530-5175
Web: www.a-tcontrols.com
Valve sizing software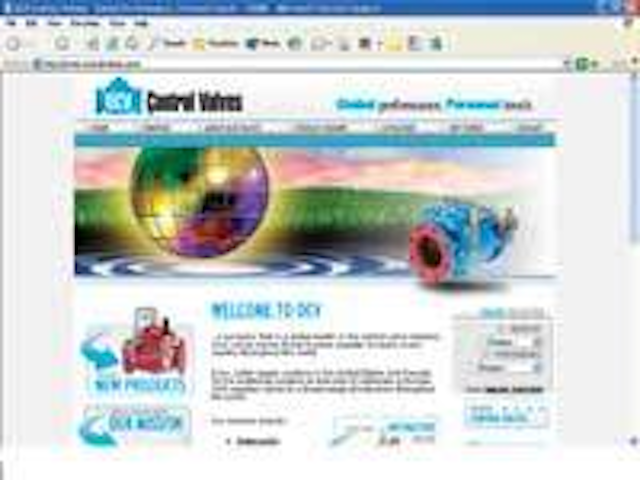 Click here to enlarge image
OCV Control Valves recently released an updated version of its valve sizing software, entitled ValveMaster Premier. The company created the program to empower customers to generate their own tailored specifications by simply inputting usage requirements through a series of questions. When compared to the first version, released in 1996, ValveMaster Premier uses a new interface to run on OCV's website, offers helpful suggestions and includes updated sizes, materials and models.
OCV Control Valves
Tulsa, OK
Tel: 888-628-8258
Web: www.controlvalves.com