NEW LITERATURE
Vactor Manuracturing has introduced a detailed, 26-page catalog...
May 1st, 2007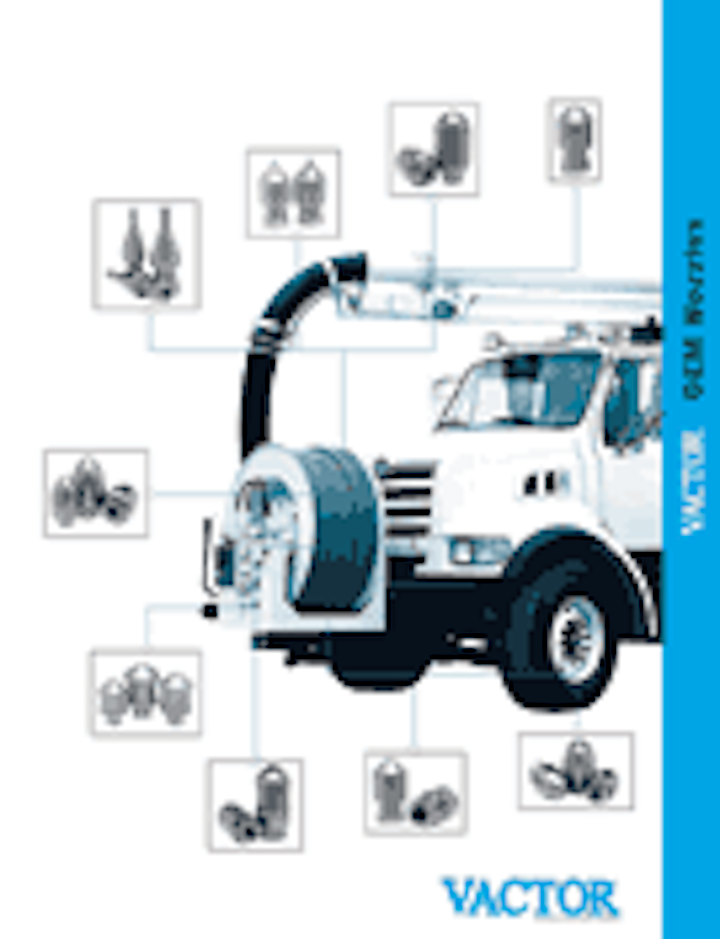 Vacuum, jetter nozzles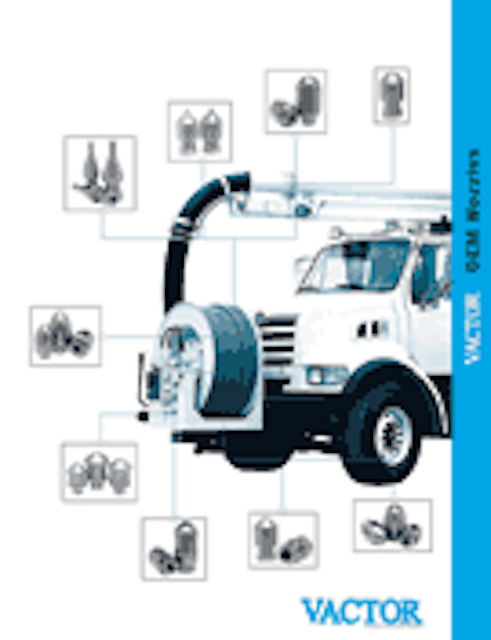 Click here to enlarge image
Vactor Manufacturing has introduced a detailed, 26-page catalog that features more than 20 genuine OEM products ranging from specialized cleaning nozzles to aggressive root, tap, and tuberculation removal tools and cutters. The featured products are designed in sizes specific to the range of typical hose diameters. The catalog includes charts for determining whether the inserts or nozzle need replacement, as well as a helpful guide for choosing and specifying the correct nozzle for the correct truck.
Vactor Manufacturing
Streator, IL
Tel: 800-627-3171
Web: www.vactor.com
Hot tapping
Shell Cutter has published a new brochure featuring its new hot tapping products. Of special note are the company's new shell cutters, which feature field replaceable carbide teeth, eliminating the need to use costly sharpening and repair services. The company is the only manufacturer to offer a lifetime warranty on the cutter body. The cutters are available for all hot tapping machines and in sizes 2 ½" through 48".
Shell Cutter
Bend, OR
Tel: 877-875-7481
Web: www.shellcutter.com
Ethernet systems
Sixnet, a provider of industrial Ethernet systems, has printed the 21st edition of its free Product CD, covering its entire line of Industrial Connectivity and Automation products. Products featured include the company's Slim Line series and Rack-mount series industrial Ethernet switches. The Slim Line switches fit in the tightest industrial locations and offer cost savings through value engineering. The Rack-mount switches offer high port counts (up to 32), modular flexibility and enterprise class performance.
Sixnet
Clifton Park, NY
Tel: 518-877-5173
Web: www.sixnetio.com
Grease guide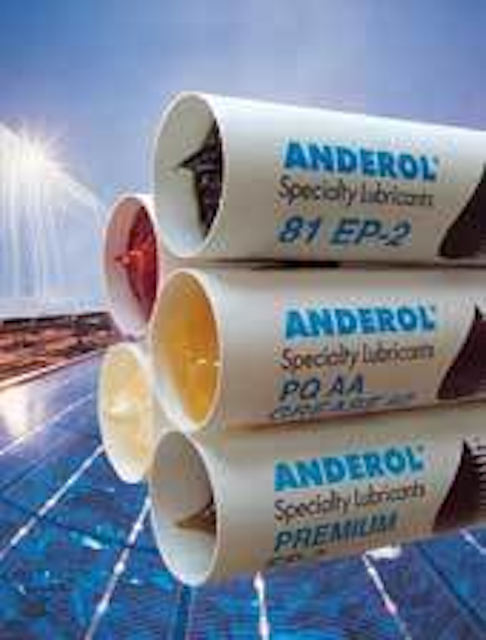 Click here to enlarge image
Anderol, a manufacturer of specialty synthetic lubricants, has released a new grease selection guide. Aimed at helping maintenance and operations engineers with specific grease application needs, the brochure provides a step-by-step guide to selecting the most effective grease based on application requirements and OEM specifications. The guide has been developed specifically for end users involved in maintenance, repair and operations. Written in easy-to-understand language, it categorizes in-depth information on application criteria, an important determinant in grease selection, such as temperature, water and chemical resistance, speed, loads, food grade requirements and wire rope applications.
Anderol Inc.
East Hanover, NJ
Tel: 973-887-7410
Web: www.anderol.com
Mobile steam cleaning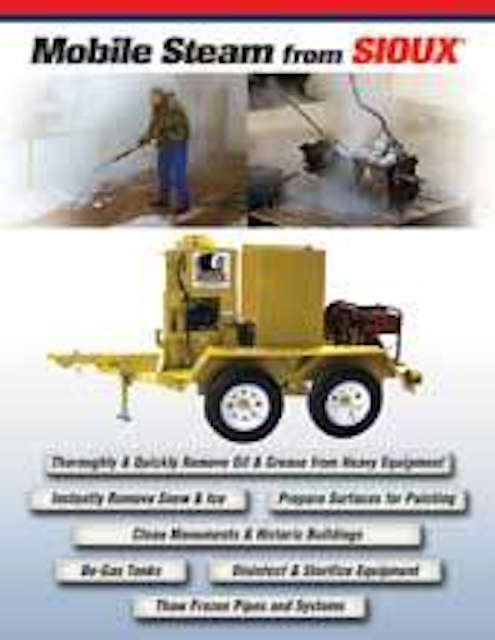 Click here to enlarge image
Sioux Corp. has published a new brochure on its mobile steam systems. These units can be used for removing oil and grease, and for general cleaning applications. The company's mobile steam cleaner operates on a 115 volt power source and the city water system. The machine uses less water and produces less runoff and splash back as compared to a standard pressure washer.
Sioux Corp.
Beresford, SD
Tel: 888-763-8833
Web: www.sioux.com
Vibration analyzers
The Datastick VSA-1214 and VSA-1215 are two handheld instruments for vibration data collection and analysis. They allow users to monitor the health of rotating machinery. Users can export data seamlessly with the company's Excel-based software and reduce the need for costly downtime. A brochure is available for download at www.datastick.com/pdfs/VSA-1214-15.pdf.
Datastick Systems Inc.
Campbell, CA
Tel: 408-871-3300
Flow meters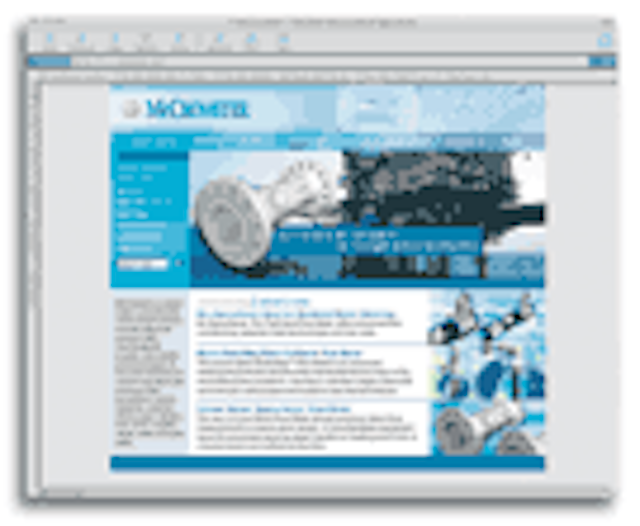 Click here to enlarge image
McCrometer's updated website has been optimized with an on-demand keyword search to help process, plant, municipal water and agricultural engineers find the most up-to-date flow meter information. The relaunched website features a total redesign with completely fresh content and an added "what's new" section on the home page highlighting breaking news and the latest flow meter technologies. Revamped, efficient top navigation and side toolbars help flow measurement professionals to locate their target information in one to two clicks.
McCrometer
Hemet, CA
Tel: 800-220-2279
Web: www.mccrometer.com
Flow meter software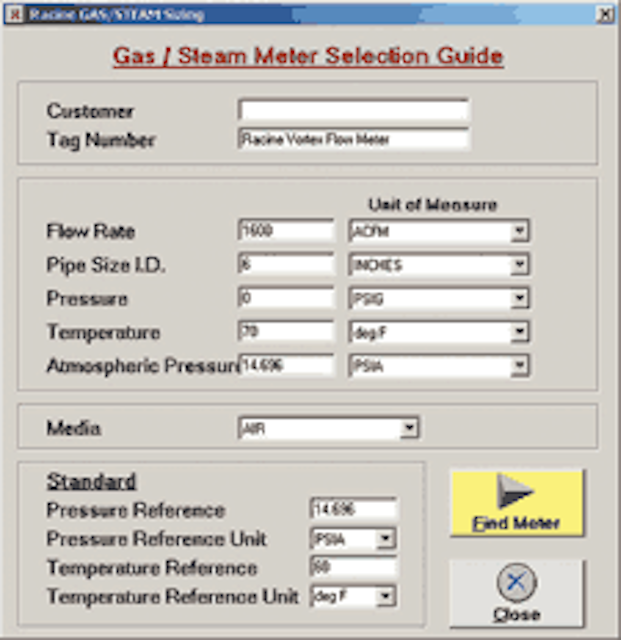 Click here to enlarge image
Racine Vortex offers a software program to help select the proper flow meter. The sizing utility program accounts for system pressure and temperature, as well as media density, viscosity, and specific gravity. It can be downloaded at no charge from the company's website. There are many variations in the Racine Vortex product line. The sizing software allows customers to enter their application parameters and then it calculates the meter types and sizes that will be most suitable.
Racine Vortex
Racine, WI
Tel: 888-572-2463
Web: www.racinevortex.com
Valve products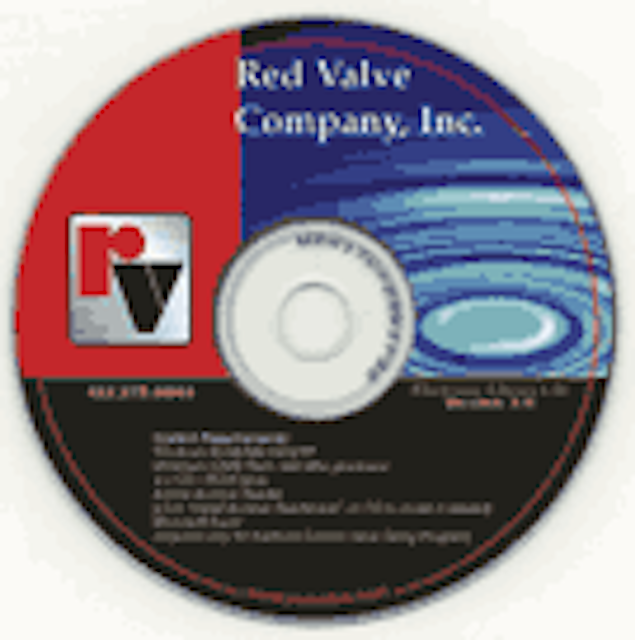 Click here to enlarge image
Red Valve has revised its free catalog CD, which covers the company's line of pinch valves, check valves, knife gate valves, pressure sensors, air diffusers and rubber products. Users can browse by application, industry or Red Valve product. Case studies and application data sheets highlight the company's expertise in a variety of industries. Its library of catalog sheets, specifications, applications and more can be printed from the CD.
Red Valve Co.
Carnegie, PA
Tel: 412-279-0044
Web: www.redvalve.com
Engineered valves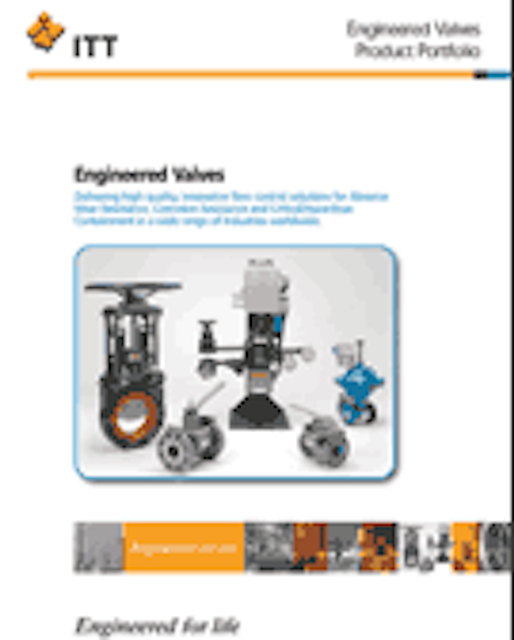 Click here to enlarge image
ITT Engineered Valves has released a new Product Portfolio brochure. The format of the new brochure is intended to highlight both the company's portfolio of products and the strategic markets in which it participates. The four-page document includes markets, services, applications, product offerings and manufacturing capabilities. It is a concise top level introduction with further back-up provided by the specific Market Brochures and detailed Product documents. To view the Product Portfolio (EVC-07) visit the company's website at www.engvalves.com/itemfiles/evc.pdf.
ITT Engineered Valves
Lancaster, PA
Tel: 717-509-2200
Control pinch valves
Click here to enlarge image
Red Valve's 28-page Control Pinch Valve catalog reviews the core product line, introduces new products and details several applications and installation options. The company offers a full range of control pinch valves in sizes 1" to 72". The valves feature a full-port opening, bidirectional seal, abrasion resistant elastomer sleeve, no crevices or dead spots and no packing or seats. Various synthetic elastomers allow compatibility with almost any material. Red Valve offers single acting and centerline-closure designs with hydraulic, pneumatic or electric actuation.
Red Valve Co.
Carnegie, PA
Tel: 412-279-0044
Web: www.redvalve.com