AWWA EXHIBITOR PRODUCTS
The new Ashcroft® T2 combines economy and performance into a compact pressure transducer.
May 1st, 2007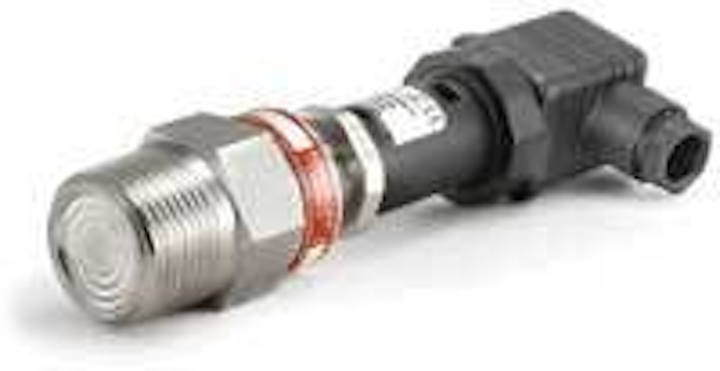 Pressure transducer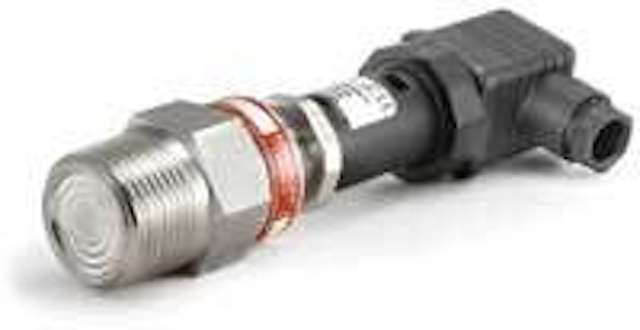 Click here to enlarge image
The new Ashcroft® T2 combines economy and performance into a compact pressure transducer. Through the use of ASIC, a field proven polysilicon thin film sensor and digital compensation techniques, the transducer delivers better than ±0.25%FS static accuracy, with a Total Error Band rating better than ±1% between -20ºC and +85ºC. An all-welded stainless steel pressure port and an internal circuit cage equip the T2 for durability in the presence of overpressure, shock, vibration and pressure cycling. The transducer can be configured from a long list of process connections, output signals and electrical termination options.
Ashcroft Inc.
Stratford, CT
Tel: 800-328-8258
Web: www.ashcroft.com
Monitoring system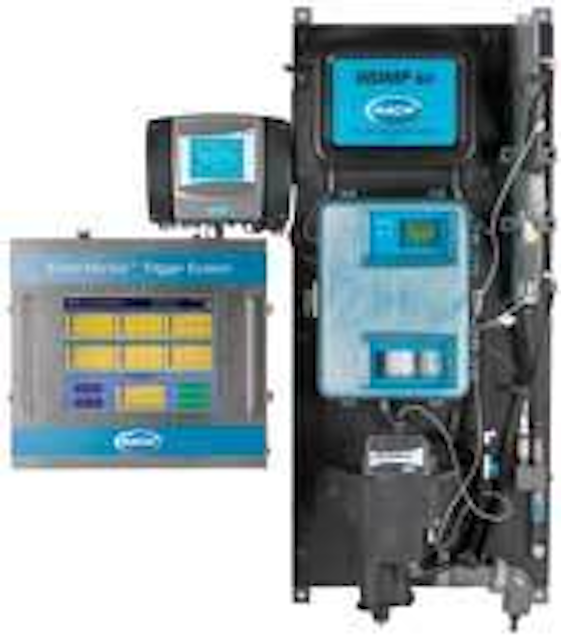 Click here to enlarge image
The fully instrumented Hach WDMP sc Water Distribution Monitoring Panel can be used to establish baseline water quality in distribution systems. The improved WDMP sc panel is smaller, lighter, and easier to use then the previous version. It can now fit down a manhole. The self-contained panel features field-proven instruments that can be used to identify the presence of unintentionally or intentionally introduced contaminants or operational failures which can be detected by significant deviations from a normal baseline. The panel can also be used to meet distribution monitoring requirements of various federal and state EPA rules. The multi-parameter, on-line panel includes instruments to measure pH, conductivity, chlorine (free or total), and turbidity, temperature and pressure.
Hach Co.
Loveland, CO
Tel: 800-604-3493 Web: www.hach.com
Mobile data collectors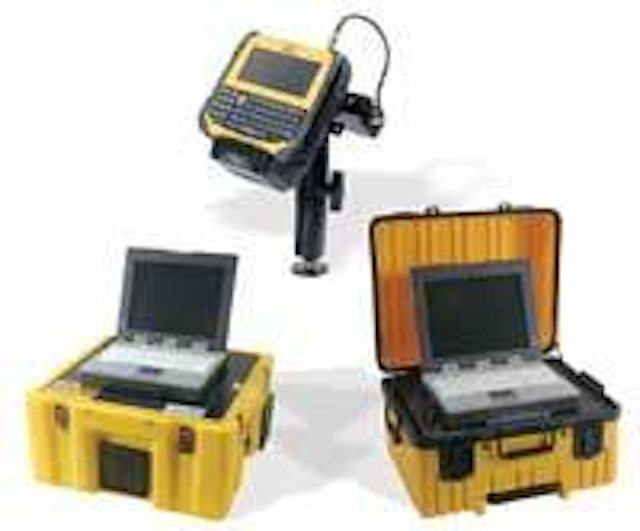 Click here to enlarge image
Neptune's MRX920TM, MTX950TM, and the new TRX920TM mobile data collectors can read a variety of endpoints, including all R900® technology and electric ERTs. The compact TRX920 offers multi-application functionality for mobile, walk-by (keyed entry, probed and RF) and work orders. All three data collectors are fully compatible with the company's meter reading management software packages such as FieldNet® and EquinoxTM. Mobile AMR data collection is just a part of Neptune's unique end-to-end ARBTM® Utility Management SystemsTM.
Neptune Technology Group Inc.
Tallassee, AL
Tel: 334-283-7482
Web: www.neptunetg.com
Repair clamps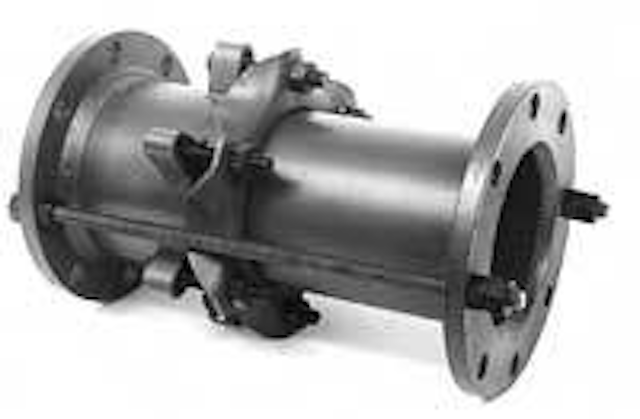 Click here to enlarge image
The Dresser Style 118 Handiband Repair Clamp is a field-proven pipe repair clamp for quick repair of small leaks or pinholes in steel piping. Users simply snap the clamp around the pipe, drop the bolt head through an open-slotted lug and tighten the nuts. The large size gasket seals the leak permanently. The Dresser Style 360 Repair Clamp offers simplicity and ease of installation. Users wrap the clamp around the pipe, drop the bolts in place and fasten. The "360" features special one-inch long nuts to allow the use of a standard deep socket wrench for complete tightening.
Dresser Piping Specialties
Bradford, PA
Tel: 800-553-0750
Web: www.dressercouplings.com
Modeling software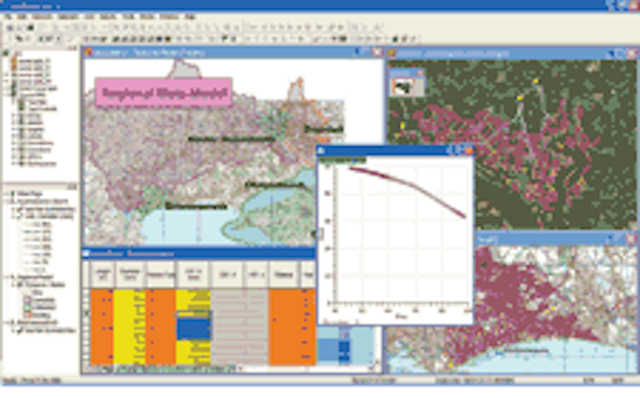 Click here to enlarge image
Wallingford Software has released Version 8.0 of InfoWorks, a software solution for modeling, infrastructure planning and operational management in the water, wastewater and river management sectors. The launch offers users new functions, time-saving features, performance advances and enhanced presentation of information across the whole InfoWorks family - InfoWorks CS for wastewater management and sewerage provision, WS for water distribution and supply and RS for river, channel and floodplain flows. Important new features include the use of area-based demands, enabling demand to be defined by land use, instead of only at properties. This allows users to specify values for networks that have no consumption data available.
Wallingford Software
Fort Worth, TX
Tel: 817-370-2425 Web: www.wallingfordsoftware.com
Prestressed concrete tanks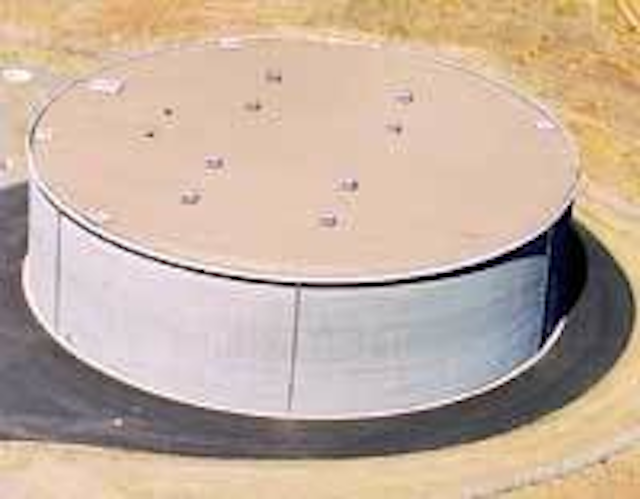 Click here to enlarge image
DYK provides prestressed concrete liquid storage tanks. The company has extensive combined expertise in the design, prestressing and construction of buried or architecturally enhanced water and wastewater storage tanks. The company's engineering and planning produces stronger, more attractive tanks with greater seismic reliability and a longer lifespan. Over the past 40 years, the company has worked with clients in well-known municipal and private facilities worldwide to complete the construction of over 3 billion gallons of liquid storage in individual tank sizes ranging from 80,000 gallons to 40 million gallons.
DYK Incorporated
El Cajon, CA
Tel: 800-227-8181 Web: www.dyk.com
Algae control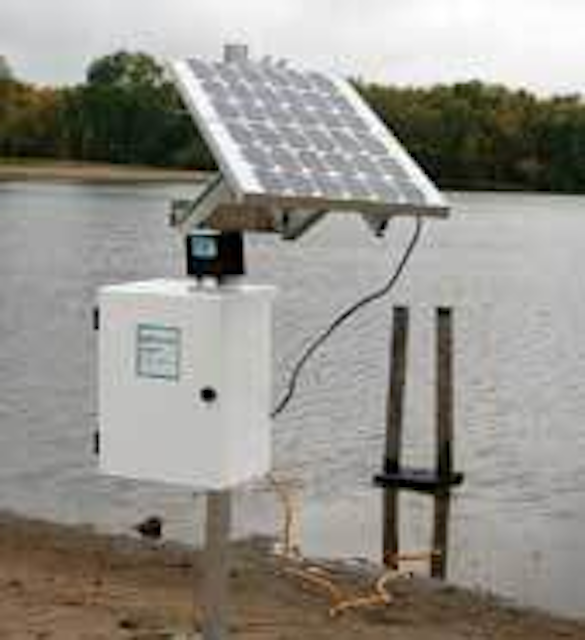 Click here to enlarge image
SonicSolutions® Ultrasonic Algae Control has added solar power systems for its 24-volt models. The chemical-free algae control system eliminates algae while protecting other aquatic life. The addition of a solar power option eliminates the need for expensive power line installations at remote locations. Engineered for continuous operation, the solar powered device with its built-in back-up batteries even runs during times of reduced sun exposure. The system includes a solar panel, a solid state electronics display, mounting brackets and two deep cycle 12 volt batteries. The technology emits ultrasonic waves that control the spread of algae colonies while reducing pH and TSS.
SonicSolutions
West Hatfield, MA
Tel: 866-562-5423 Web: www.sonicsolutionsllc.com
Pipe products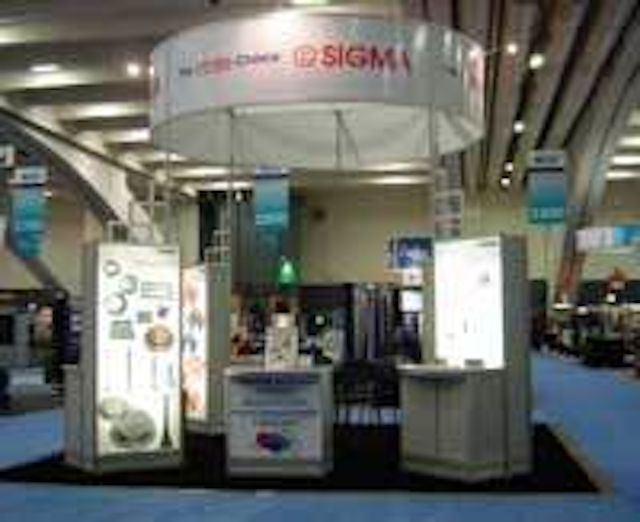 Click here to enlarge image
Sigma Corp. offers a wide range of products for the waterworks industry. Product areas include ductile iron pipe fittings: mechanical joint, flanged, and push on; municipal construction castings, such as valve boxes, meter boxes, manhole covers, and frames and grates; pipe and fitting restraint products such as the contoured wedge design One Lok and the serrated restraint PV-LOK; and extended products such as pipe lube, detection tape, flanged accessory packs, and more.
Sigma Corp.
Cream Ridge, NJ
Tel: 800-999-2550
Web: www.sigmaco.com
Leak noise correlator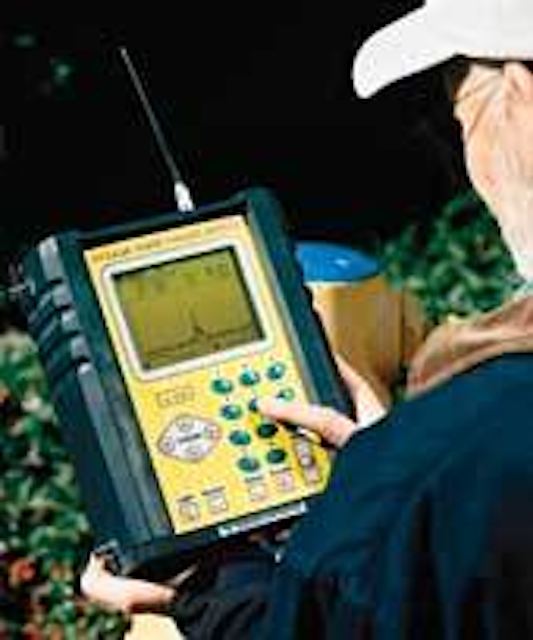 Click here to enlarge image
The new LC-2500 Leak Noise Correlator from SubSurface Leak Detection is an improvement on its predecessor, the LC-2100. The new unit correlates four times faster, and the radio transmitters are four times more powerful, transmitting up to 3500 feet to the main processor unit and traveling over hills and around tall buildings. The main processor unit, which weighs less than 7 lbs., has a temperature-compensated LCD display to improve visibility in very cold and very hot temperatures. The correlator has an aluminum body and is weather-tight, operating in rain, snow, and temperatures from minus 10 C to positive 50 C.
SubSurface Leak Detection Inc.
San Jose, CA
Tel: 408-249-4673
Web: www.subsurfaceleak.com
Tapping machine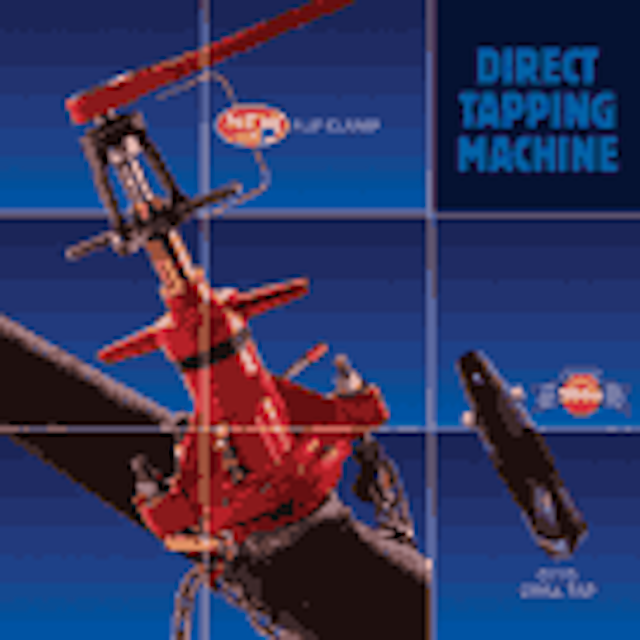 Click here to enlarge image
Reed'sTM1100 tapping machine is used to drill and tap water mains while under pressure, then to install ¾" or 1" corporation stops in a 2-step operation. The machine covers 4" - 48" cast or ductile iron and C900 PVC with the use of saddles and chain extensions. The machine features a new "flip clamp" on its star feed system. It weighs only 40 lbs but is suitable for tough, in-ditch applications. The machine uses Reed's AWWA-approved DT75 drill tap. Corp insertion tools are included in the kit. The tapping machines are used primarily by water service companies, municipalities, and utility contractors.
Reed Manufacturing Co.
Tel: 800-666-3691
Web: www.reedmfgco.com
Fixed network AMR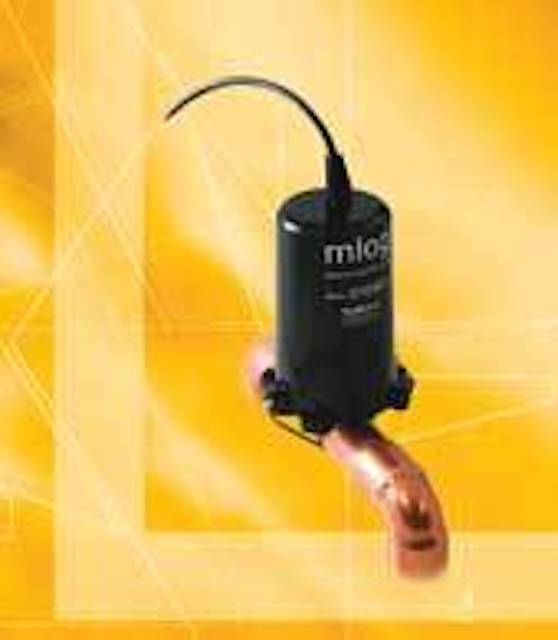 Click here to enlarge image
Itron's Water Fixed Network 2.5 offers system-wide leak measurement, both distribution leaks (with patented acoustic technology) and behind the meter leaks (with advanced algorithms) to effectively manage water loss. The system also provides a flexible network meter solution with two-way communications to the meter, increasing reading capabilities and improving customer service.
Itron Inc.
Liberty Lake, WA
Web: www.itron.com
SCADA systems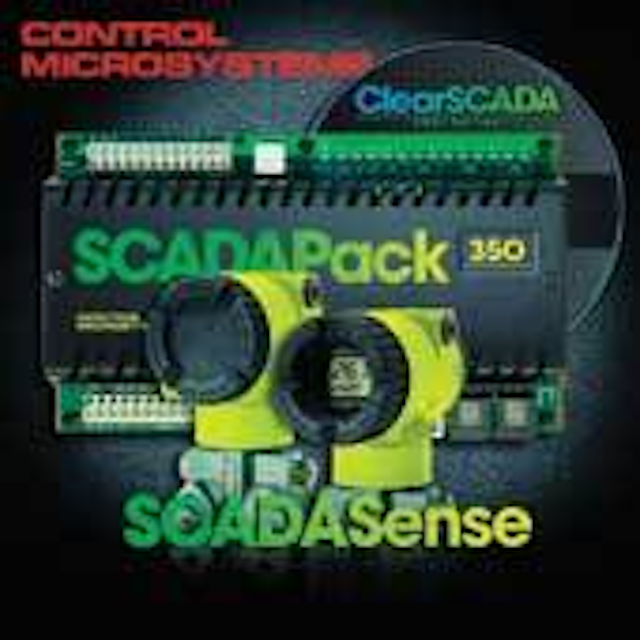 Click here to enlarge image
Since 1980, Control Microsystems has worked with thousands of small and large utilities around the world to ensure the continuous supply of safe drinking water. On display this year will be the new generation SCADAPack controllers, intelligent RTUs with PLC functionality featuring Modbus and DNP3 protocols, Relay Ladder Logic programming and flexible I/O. Also on display, will be the SCADASense 4012/4032 Modbus Pressure Transmitters, offering precise measurement of process, absolute or gauge differential pressures in small and lightweight packages.
Control Microsystems
Tel: 888-267-2232
Web: www.controlmicrosystems.com.
Arsenic, iron, manganese filtration
Click here to enlarge image
Filtronics offers Electromedia® I, a unique filtration system integrating a special vessel design and proprietary media. It is formulated for the filtration of arsenic, iron, manganese, radium and other heavy metals. Designed for unattended operation, the system's operating costs are as low as one cent per thousand gallons of water produced. Backwash-to-filtration ratios are less then 0.1%. The backwash residuals to waste are non-hazardous and have passed both TCLP and California's WET test.
Filtronics
Anaheim, CA
Tel: 714-630-5040
Web: www.filtronics.com
Sampling system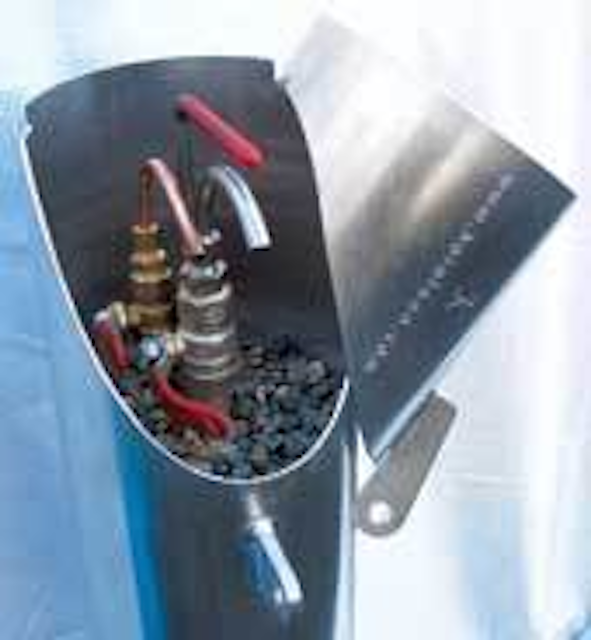 Click here to enlarge image
The Kor-Cold sampling station features a dry barrel system. The unit is three feet above grade. The housing and hinge-free lid is constructed of durable aluminum. The unit is secured with a padlock hasp. The valves are brass, and the piping is hard copper or brass. The shutoff rod is stainless steel. The system accommodates bury depths up to 8 ft. Koraleen Enterprises has supplied water quality sampling stations and sampling valves to the water utility industry for over 17 years.
Koraleen Enterprises
Escondido, CA Tel: 760-743-0407
Web: www.koraleen.com
Leak detection
SmartBallTM is a new leak detection technology from Pure Technologies. The system features a free-swimming foam ball with an instrumented aluminum alloy core capable of detecting very small leaks in pipelines. The ball can be inserted and retrieved from a pipeline without disrupting its flow. The ball travels with the water flow for up to 15 hours, collecting information about leaks over many miles of pipeline with a single deployment. It is particularly suited to large-diameter trunk mains and plastic pipes, where current leak detection methods are not effective.
Pure Technologies Inc.
Calgary, Ontario Tel: 800-537-2806 Web: www.puretechnologiesltd.com
Level, pressure transducers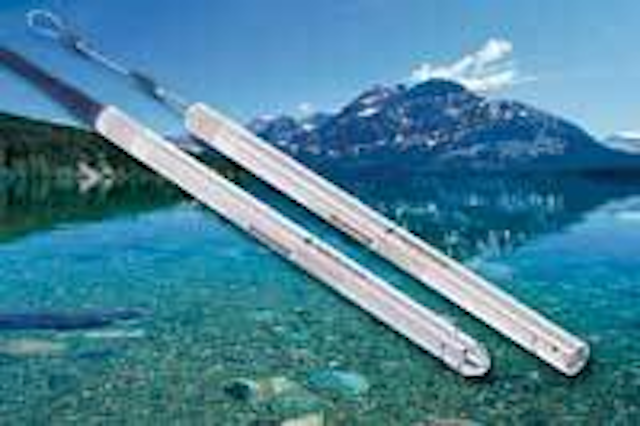 Click here to enlarge image
Pressure Systems, an Esterline Co., is the manufacturer of KPSITM Level and Pressure Transducers. These high precision products are uniquely designed to operate in environmental and water/wastewater liquid level measurement. The product line includes a broad range of transducers, available in pressure ranges from 0-2 through 0-300 psig, with a variety of analog output signals (4-20 mA, 0-5 VDC, 0-100 mV) and digital output protocols (SDI-12 and Modbus®).
Pressure Systems Inc.
Hampton, VA
Tel: 800-328-3665
Web: www.PressureSystems.com
Flow meter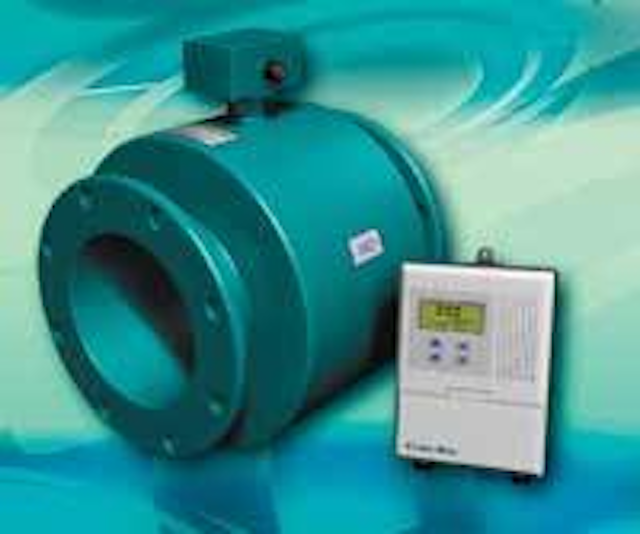 Click here to enlarge image
Instrument engineers at municipal water facilities will find the Ultra Mag® Wastewater Flow Meter from McCrometer provides superior measurement accuracy in effluent applications. It operates in treated water or even sludge or slurries and requires minimal maintenance. With its non-invasive, no-moving-parts flow sensing technology, the inline flow meter delivers flow measurement accuracy of +0.5 percent in water effluent with repeatability of +0.05 percent.
McCrometer
Hemet, CA
Tel: 800-220-2279
Web: www.mccrometer.com
Aluminum domes
Click here to enlarge image
Temcor has supplied two 228' diameter column-supported Aluminum Domes to the Osage Water Treatment Plant in Amarillo TX. The low-rise domes (7') replaced concrete roofs over 600,000-gallon potable water tanks. Temcor cover systems are built entirely of aluminum, are virtually maintenance-free and naturally resistant to chlorine and other corrosive vapors.
Temcor
Tel: 310-523-2322
Web: www.temcor.com
Chlorine gas containment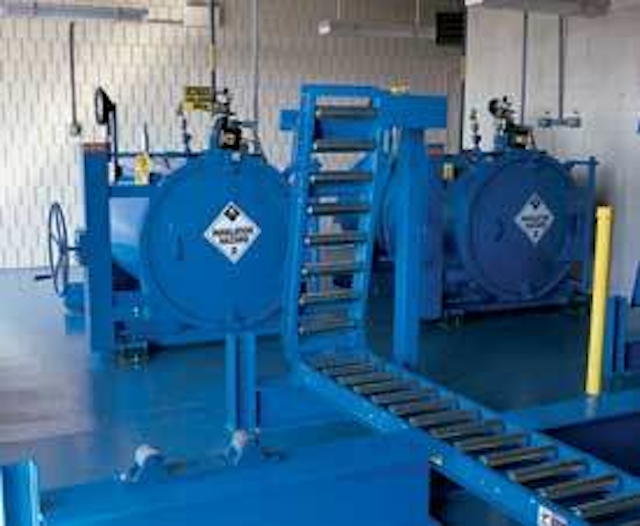 Click here to enlarge image
ChlorTainer® - Total Containment System, offered by TGO Technologies, processes a ton or 150 pound cylinder(s) from within a sealed vessel. This 'zero release' technology is an alternative choice for leak prevention. Total containment is the only technology considered passive for RMP considerations, and fully complies with Article 80 of the Uniform Fire Code. It eliminates the need for scrubbers. The units can be installed outdoors or in a ventilated room.
TGO Technologies, Inc.
Santa Rosa, CA
Tel: 800-543-6603
Web: www.tgotech.com
Disinfection products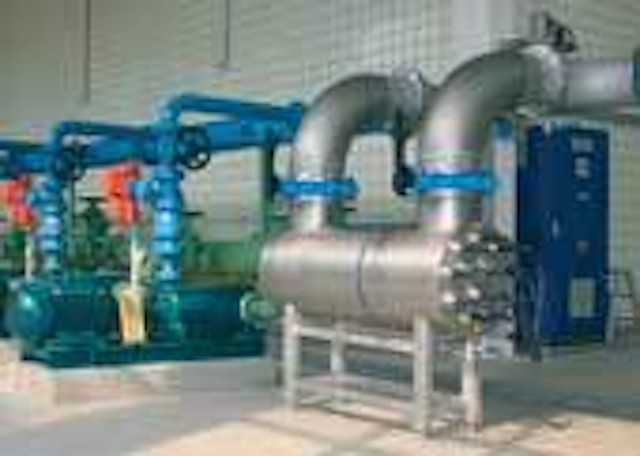 Click here to enlarge image
ITT Advanced Water Treatment is offering the BX Series drinking water disinfection products from its Wedeco product line. The BX line was designed with municipal customers in mind, offering a variety of critical standard features and options. Company engineers developed the BX from the ground up by focusing on three critical elements of UV system performance; the UV lamp, the power supply/controls, and the engineered vessel.
ITT Corp.
Charlotte, NC
Tel: 704-716-7600
Web: www.ittawt.com
Non-round fiberglass pipe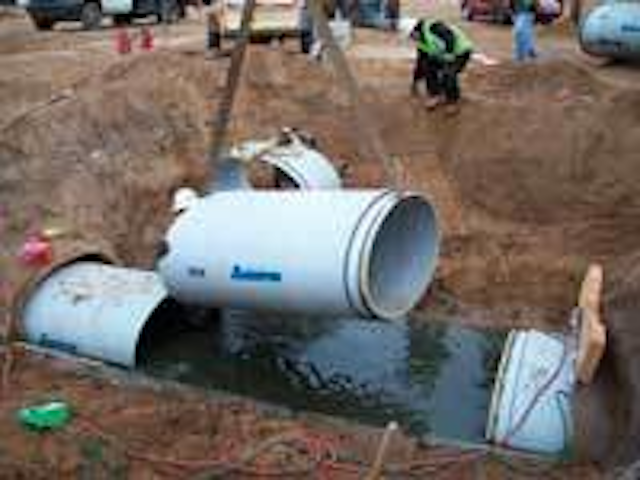 Click here to enlarge image
Ameron Bondstrand® fiberglass reinforced polymer mortar pipe is available in non-round shapes such as egg, elliptical, semi-elliptical, near square and near rectangle. The pipe is ideal for sliplining rehabilitation of existing corroded sanitary sewers, and for direct bury construction of new sewers to optimize flow volumes, maintain minimum velocity during low flow periods, and minimize settling of solids and sediment.
Ameron International Corp.
Rancho Cucamonga, CA
Tel: 909-944-4100
Web: www.ameronpipe.com
Chlorine, turbidity, color meter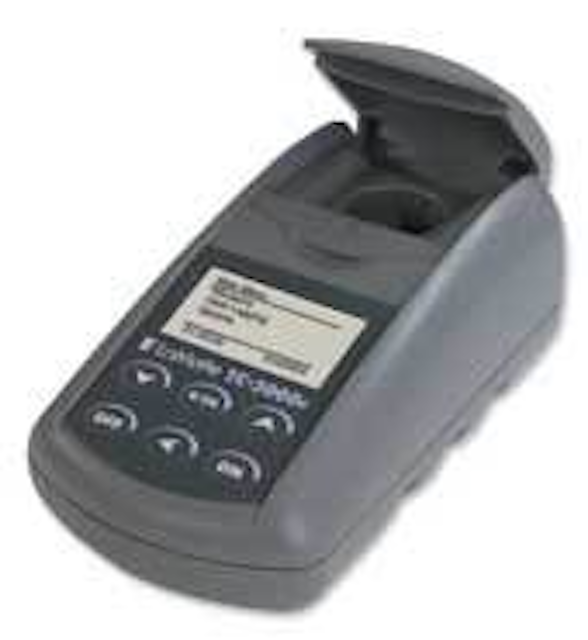 Click here to enlarge image
LaMotte's TC-3000 meter combines a hi-tech microprocessor with a patent pending optical chamber resulting in higher accuracy for low chlorine and turbidity readings. Detection limit for chlorine is 0.02 ppm (range 0-10 ppm). Detection limit for turbidity is 0.05 NTU (range 0-4,000 NTU). The unit also reads color to 0.2 cu. It is available in EPA and ISO 7027 versions.
LaMotte Co.
Chestertown, MD
Tel: 800-344-3100
Web: www.lamotte.com
Activated carbon, UV
Calgon Carbon offers both activated carbon and UV oxidation systems. The combined technologies provide effective solutions for taste and odor removal. Backed by years of experience and extensive RandD, the company can recommend the best solution for a taste and odor problem, whether it is activated carbon, UV oxidation, or both.
Calgon Carbon Corp.
Pittsburgh, PA
Tel: 800-422-7266 Web: www.calgoncarbon.com
Bulk water dispensing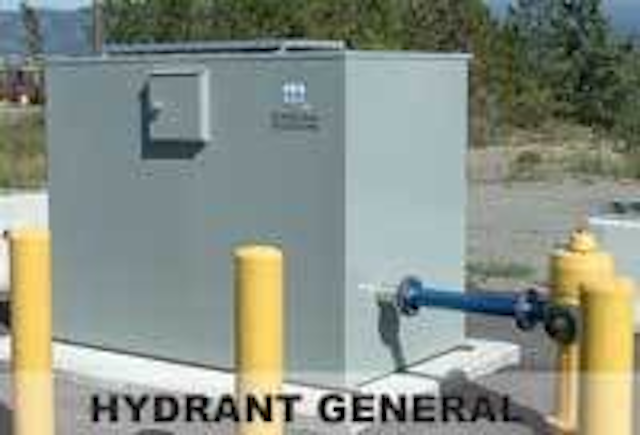 Click here to enlarge image
Municipal Solutions recently introduced the Hydrant General, a bulk water dispensing system, to its product line. This self-contained, portable Security System eliminates the need for hydrant meters and provides an economical and efficient way to manage bulk water sales. The company manufactures access terminals and billing software for bulk water dispensing systems and septage receiving stations. It provides a range of systems from a basic access terminal and billing software to a complete turn-key solution which includes building, piping and controls, ready for connection to the utilities.
Municipal Solutions
Denver, CO
Tel: 877-655-5585 Web: www.municipal-solutions.com
Fixed network AMR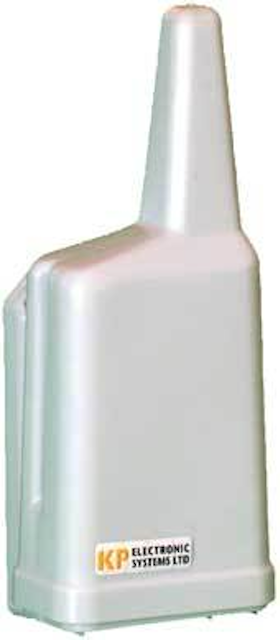 Click here to enlarge image
The KP Electronics Mega-Net Fixed Network AMR system uses long-range end points (tens of miles), so it does not require an extensive network of data collectors and antennas. The long-range nature of the system makes it ideal for utilities that wish to implement a fixed network AMR system. Even if starting with a limited budget, the inexpensive infrastructure provides city wide coverage. The end points are compatible with all the different brands of water meters, giving the utility the freedom to choose any meter, and read it with a wireless fixed network.
KP Electronics Inc.
North Wales, PA
Tel: 888-542-7460
Web: www.kpelectronics.com
UV disinfection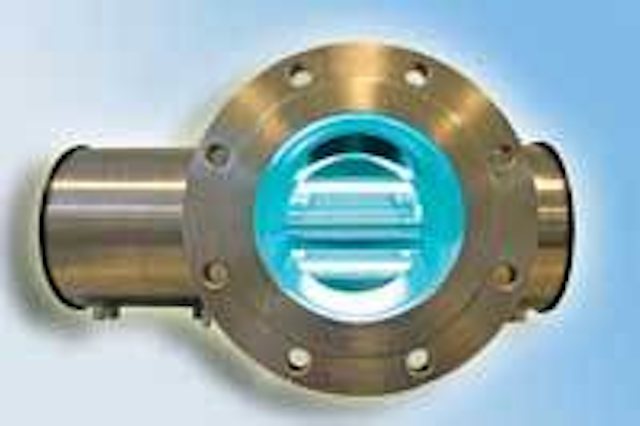 Click here to enlarge image
UV disinfection specialist Aquionics will be showing its US EPA and German DVGW validated medium pressure UV reactor at this year's ACE 07. The reactor is also the first closed vessel medium pressure UV system in the world to be approved in accordance with the NWRI standard for the re-use of wastewater. A selection of the company's other UV systems will also be on display, including a transparent model showing the internal workings of a UV system, such as the lamp wiper mechanism.
Aquionics Inc.
Erlanger, KY
Tel: 859-341-0710
Web: www.aquionics.com
Sampling stations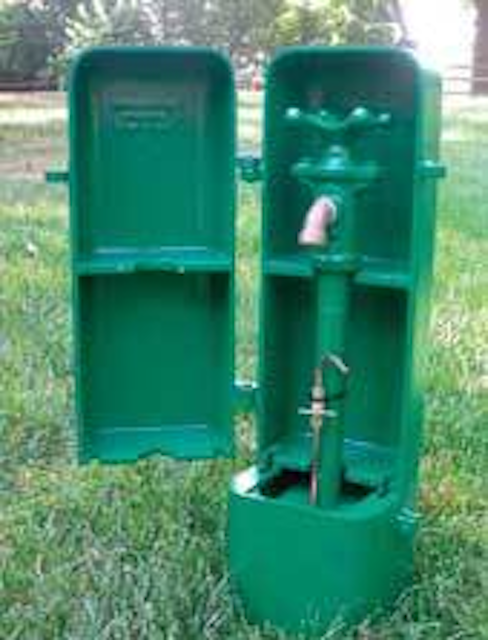 Click here to enlarge image
Kupferle Foundry will be featuring the #88 Eclipse Sampling Station for safe and quick bacteriological sampling within the distribution system. Monitoring of water systems is a challenge for every water operator in the United States. Dedicated sampling sites have proven to provide a secure place for sampling available 24 hours a day, a reduction in false-positives, and man-hour savings. The standard unit offers an all-brass waterway and cast aluminum enclosure. Any depth of bury is available to accomplish freeze protection.
Kupferle Foundry Co.
St. Louis, MO
Tel: 800-231-3990
Web: www.hydrants.com
Monitoring instrument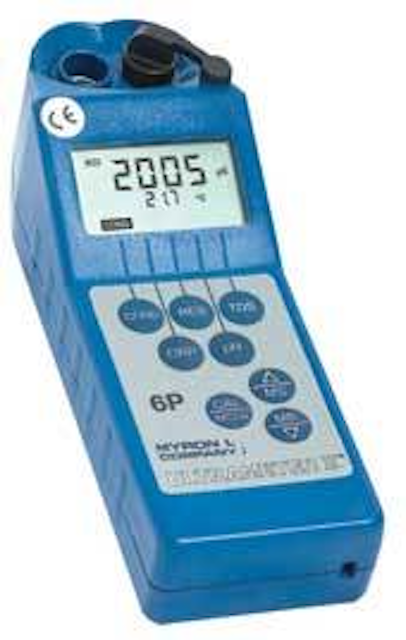 Click here to enlarge image
The Ultrameter II, available from Myron L, offers conductivity, TDS, resistivity, pH, ORP and temperature in a true one-hand-operation instrument. The instrument features an advanced four-electrode conductivity cell, unique pH/ORP, improved microprocessor-based circuitry, expanded memory, and infrared data collection capabilities. It incorporates data download capabilities via infrared port, increased memory from 20 locations to 100 locations that are time and date stamped, clock with date and time, user adjustment for timeout "auto off" function, improved microelectronics for improved accuracy, and faster operation.
Myron L Co.
Carlsbad, CA
Tel: 760-438-2021
Web: www.myronl.com
Water meters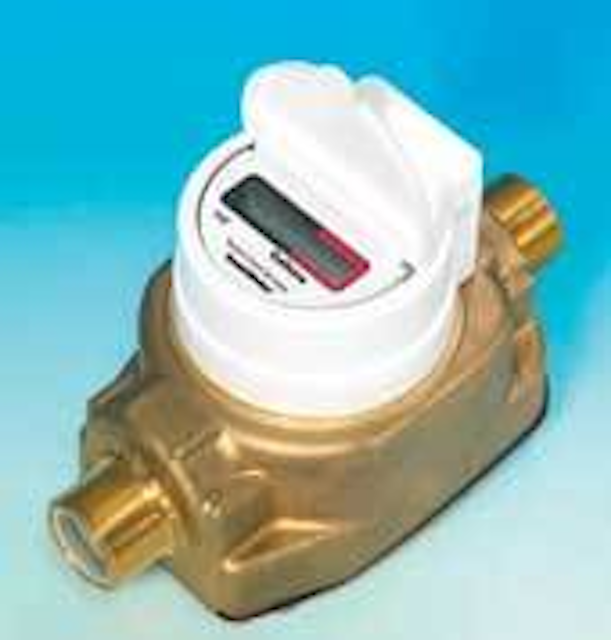 Click here to enlarge image
SmartMeterTM water meters from Severn Trent Services address the global need for economic smart metering technology. With no moving parts, the meter is not affected by the wear and subsequent accuracy problems that are caused by grit and particulates, thereby ensuring accurate measurement of water flows throughout the entire product lifetime. The meters are available as visual read meters or in a fully AMR-enabled format using inductive pads, radio communications device or any form of automatic meter reading technology. The SmartMeter SM700 20- and 30-gpm intelligent water meter is NSF61 Certified and compliant with the AWWA C713 standard for cold water meters.
Severn Trent Services
Fort Washington, PA
Tel: 866-646-9201
Web: www.severntrentservices.com
Pipe locators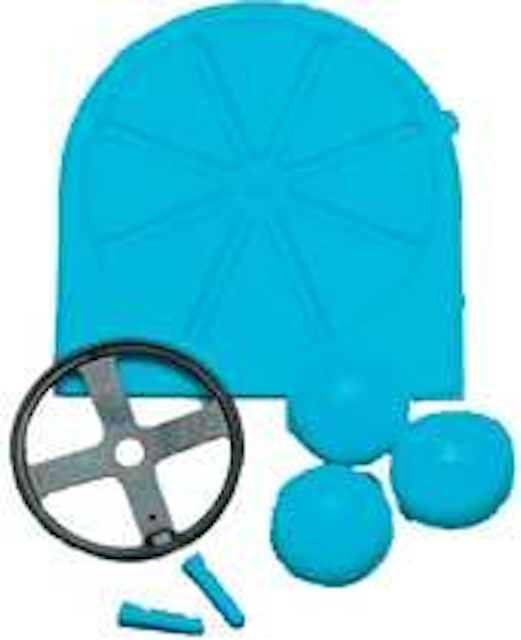 Click here to enlarge image
With seamless integration to select GPS/GIS field mapping instruments, 3M Dynatel Locators - M-iD and 1420-iD - simplify underground locating and marking of water facilities. The marker-locating option also lets users read and write to the company's new generation of intelligent 3MRFID Markers, now available in Near-Surface Markers (2 ft range), Ball Markers (5 ft range) and Full-Range Markers (8 ft range).
3M
Tel: 800-426-8688
Web: www.3M.com/dynatel
GIS software
ESRI is a leader in the geographic information system (GIS) software industry. The company's GIS software is a cross departmental, integrating technology used by water/wastewater utilities to solve daily operational challenges. Its ArcGIS is an integrated collection of software products used for the creation, management, analysis, display, and dissemination of spatial data. The ArcGIS family of software products enables users to deploy GIS functionality wherever needed - in desktops, servers, Web services, or mobile devices.
ESRI
Redlands, CA
Tel: 800-447-9778
Web: www.esri.com
Management software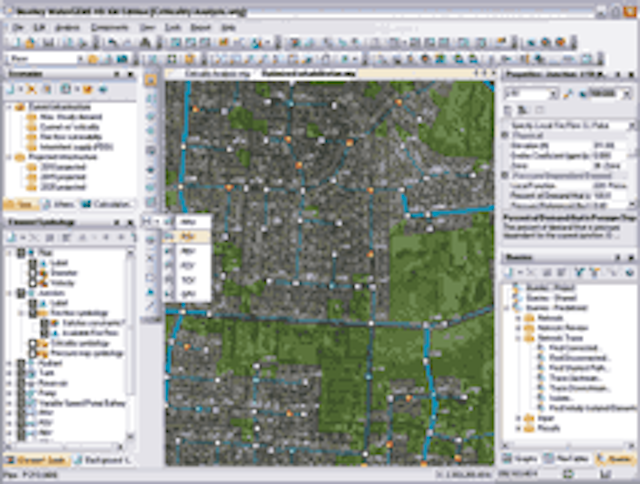 Click here to enlarge image
The 2006 winner of the AWWA People's Choice Award as the most useful new product, WaterGEMS V8 XM goes beyond GIS-centric products, providing a true data-centric solution. This means that water utilities and consulting firms can, for the first time, leverage the benefits of ArcGIS integration without sacrificing interoperability with AutoCAD, MicroStation, and stand-alone platforms. The V8 XM Edition extends every piece of functionality across all the included CAD, GIS, and stand-alone platforms. Additional new features include a Criticality Analysis Center, pressure-dependent demands, and centralized water demand management among others.
Bentley Systems Inc.
Tel: 800-727-6555
Web: www.bentley.com/WaterGEMS
Pipe joints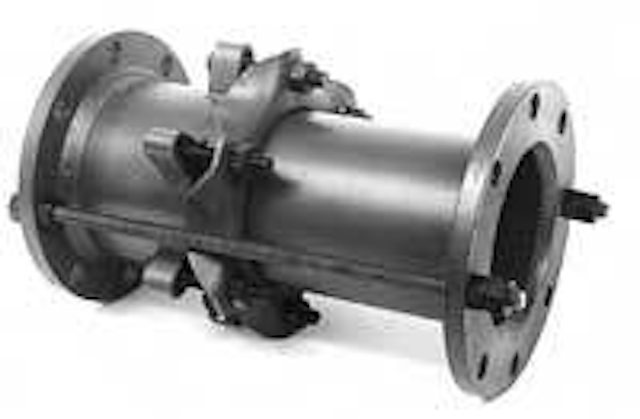 Click here to enlarge image
The Dresser Style 131 Dismantling Joint provides maximum flexibility when installing and maintaining flanged end pipe interfaces with check valves, gate valves, ball valves, pumps, blowers, meters, engines, compressors, various fittings and appurtenances. Allowing longitudinal adjustments in piping systems from 2" to 20", the Style 131 can be used anywhere that requires quick installation or removal. Fabricated in either carbon steel or stainless steel, the joints are available in any pipe diameter or pressure class with standard design flanges drilled to mate with AWWA Class B and Class D. They are furnished with Al-CladTM fusion-bonded epoxy coating as standard.
Dresser Inc.
Bradford, PA
Tel: 800-553-0750 Web: www.dressercouplings.com
Chlorine residual analyzers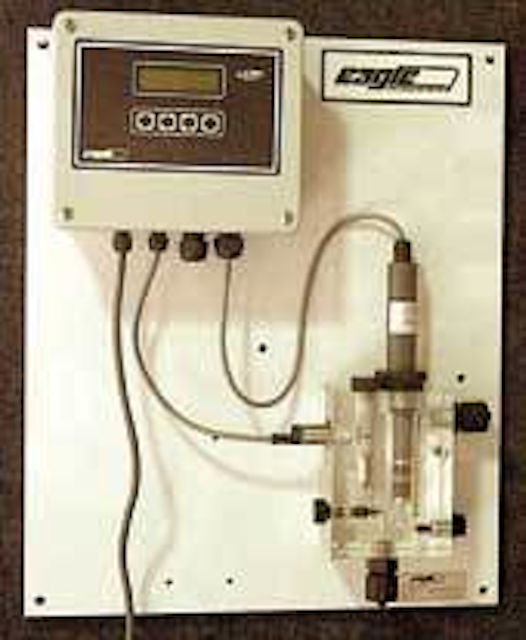 Click here to enlarge image
Eagle Microsystems offers a family of Chlorine Residual Analyzers all providing the precision and accuracy of amperometric measurement. The product family includes traditional bare electrode, wet chemistry instruments as well as low maintenance membrane probe-type units. All analyzers share the same monitoring instrument housed in a NEMA 4X fiberglass enclosure for protection from the environment. Each analyzer has the capability for control as well as monitoring, and can furnish an array of analog, digital and relay outputs to meet every need.
Eagle Microsystems, Inc.
Pottstown, PA
Tel.: 800-780-8636
Web: www.eaglemicrosystems.com
Encoder interface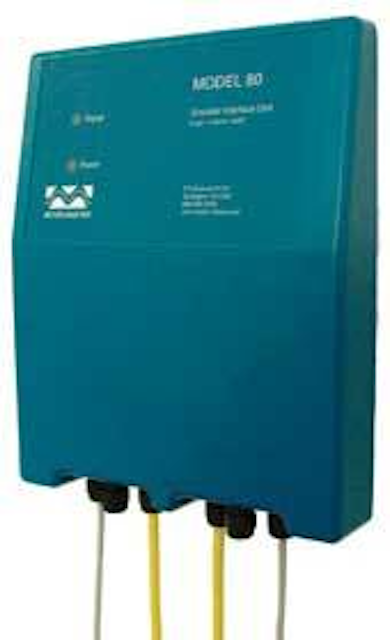 Click here to enlarge image
The Meter-Master Model 80 encoder interface unit, available from F.S. Brainard, provides pulse, 4-20 mA and AMR outputs simultaneously from a water meter. The new model attaches to an encoder register and provides digital/analog outputs for SCADA and remote monitoring along with AMR outputs to touchpads and radio interface units. The Model 80 optimizes digital and analog data accuracy by getting its information directly from the register. One unit can provide up to two separate 4-20 mA outputs, a pulse output, and the current meter reading to a touchpad when requested to do so by an AMR technology. To the touch solution, the Model 80 responds just like a register.
F.S. Brainard and Co.
Burlington, NJ
Tel: 888-388-3569
Web: www.meter-master.com
Pump control package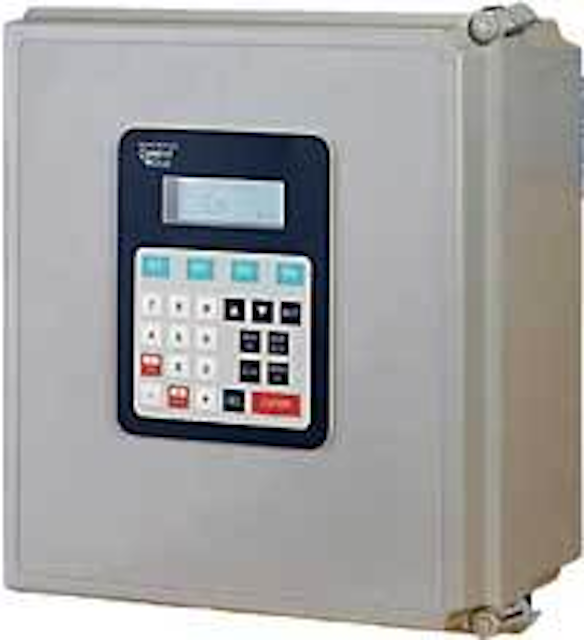 Click here to enlarge image
Emerson Process Management's Bristol division has introduced a pre-engineered Bristol® standard pump control package for water and wastewater applications. The pre-engineered ControlWave® pump control application provides multiple pump scenarios for pump-up and pump-down control and scheduling. Individual pump parameters are available for start/stop setpoint, on-delay, lead/lag pump, runtime/rank control and emergency override. ControlWave is available with a local operator interface to allow a maintenance technician to manually control the pumps and enable maintenance mode.
Emerson Process Management
Watertown, CT
Tel: 860-945-2200
Web: www.emersonprocess.com
DPD reagent dispenser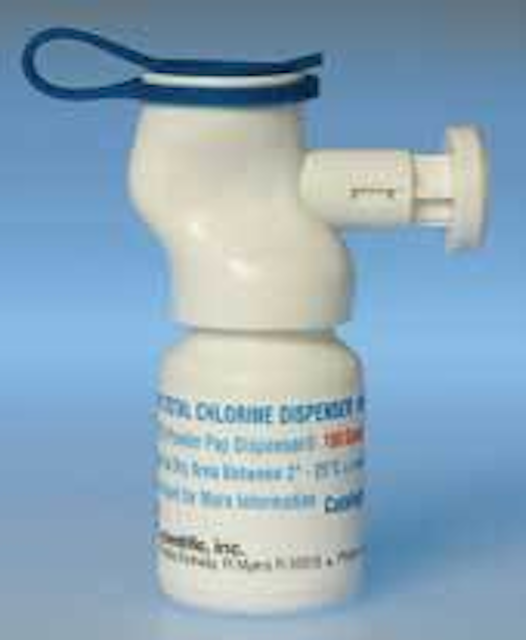 Click here to enlarge image
HF scientific has upgraded its HF DPD Powder Pop® Dispenser. The portable dispenser delivers the correct volume of DPD reagent for free or total chlorine. It is supplied with enough DPD powder for 100 tests or in multi-packs providing 400 or 1,000 tests. To use, simply invert the dispenser over sample and press the button to dispense reagent. Powder dissolves quickly in sample, leaving no messy residue behind. It is available for 5ml and 10ml sample sizes with formulations for use with HF scientific and a variety of other manufacturer's test kits.
HF scientific Inc.
Fort Myers, FL
Tel: 239-337-2116
Web: www.hfscientific.com
Rubber check valves
Proco Products supplied expansion joints and other piping related products. Its newest product is the ProFlex series 700 Rubber Check Valve. The valves are manufactured completely from fungicide- and barnacle-resistant rubber. They are impervious to the daily operational vulnerability affiliated with the water and sewage industry such as rust, freezing, corrosion and seizing. The valves are also available with NSF61 approved materials for use with potable water applications.
Proco Products
Tel: 800-344-3246
Web: www.procoproducts.com
Metering system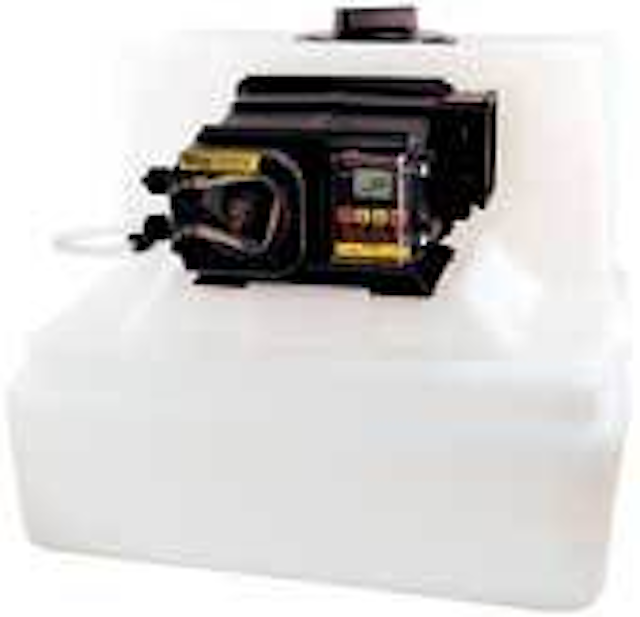 Click here to enlarge image
Blue-White's STAR III Metering System features the company's FlexFlo® A-100N Series peristaltic metering pump combined with a sturdy polyethylene tank. The pump is equipped with the company's patented Tube Failure Detection System and offers output (feed) capacity to 124 gpm. Three pump tube materials are available: Norprene, Tygothane or Viton, and they are compatible with the company's Micro-Flo Flow Verification System. The FlexFlo is available in several models including units with Time Interval Control; with Pulse Batching and Time Interval Control; with Percentage Speed Control; and with 4-20 mA, 0-10 vDC and Pulse Input Speed Control.
Blue-White Industries
Huntington Beach, CA
Tel: 714-893-8529
Web: www.bluwhite.com
Filtration media
Fairmount Minerals, with plants located in Chardon, OH, and Wedron, IL, is a producer of premium filtration sand and quartz gravel for the water treatment industry. All products meet or exceed AWWA B100 and NSF Listed Standard 61. A full range of sizes are available from .20 mm filter sand to 2½" gravel. Custom are sizes available upon request. The company has export capabilities. Media is available in super sack, cubic-foot bags, and bulk containers.
Fairmount Minerals
Chardon, OH
Tel: 800-237-4986 Web: www.fairmountminerals.com
Diagnostic services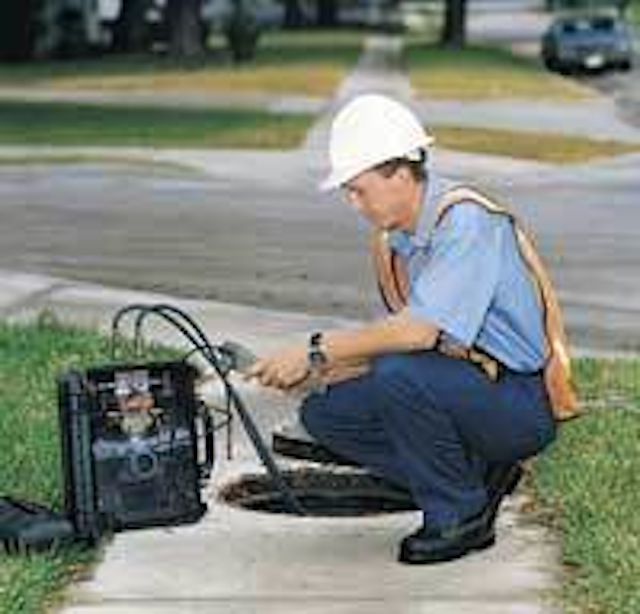 Click here to enlarge image
ADS Environmental Services recently acquired Pitometer, a company providing diagnostic water services since 1895. The two companies will offer distribution and collection system diagnostics. The Pitometer Group of ADS provides comprehensive water services from water audits to complete diagnostic services including district flow measurement, leak detection, pressure surveys, meter testing, fire flow testing, valve exercising and hydrant flushing.
ADS Pitometer Group
Tel: 800-633-7246
Web: www.adsenv.com/waterservices
Electronic control valves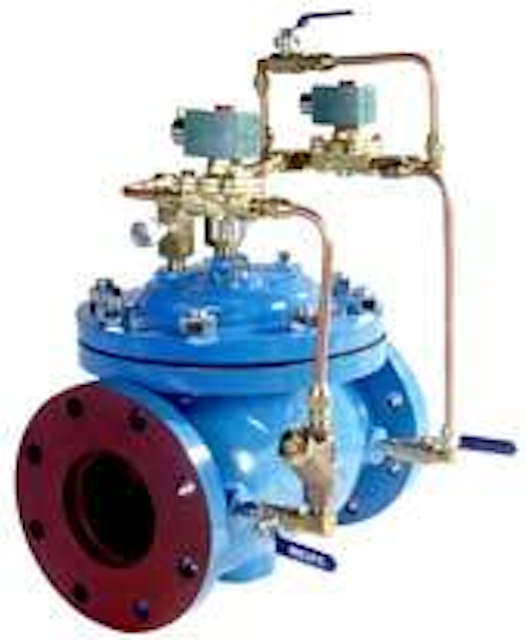 Click here to enlarge image
OCV Control Valves manufactures a variety of control valves for use in water systems. The company's Digital Electronic Control Valve Series 22 and Series 88 are specifically designed to interface with high level SCADA systems. They are easily managed, offer substantial control, operate from line pressure and may be used to control virtually any process variable. Both the 22 and 88 are designed to "stand alone" and are stable over a wide range of flows. They are useful in situations requiring a frequently changing or remote set point. They may be configured for use with low pressure applications and will accept all common process signals.
OCV Control Valves
Tulsa, OK
Tel: 888-628-8258
Web: www.controlvalves.com
Radium removal resin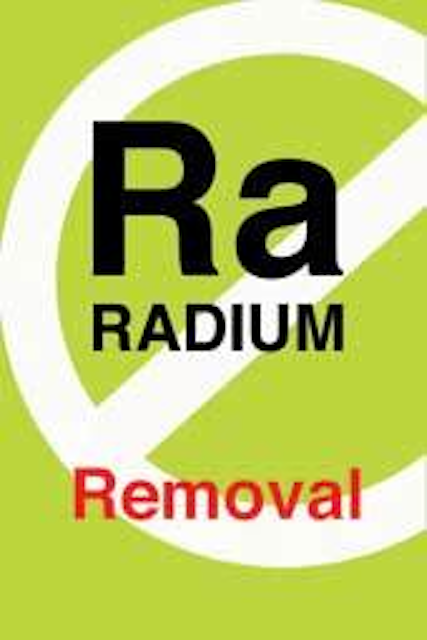 Click here to enlarge image
Hungerford and Terry has been selected to distribute and supply the Dow RSC resin for removal of radium from municipal drinking water supplies. The US EPA radium content limits for drinking water, effective January 2003, seek to achieve zero radium in all U.S. municipal drinking water supplies as an immediate and necessary goal. H&T's resin process facilitates meeting the requirements.
Hungerford and Terry Inc.
Clayton, NJ
Tel: 856-881-3200 Web: www.hungerfordterry.com
Chlorine monitoring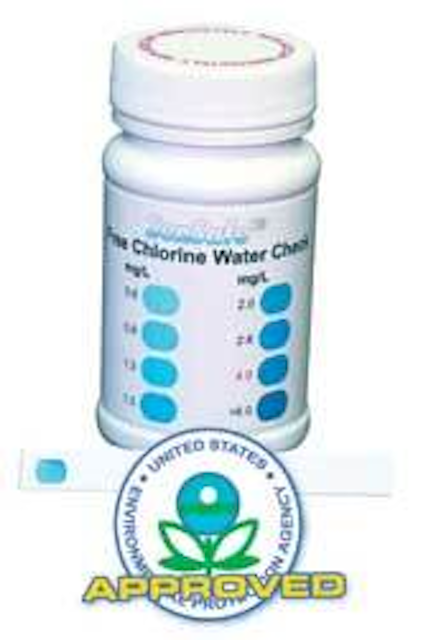 Click here to enlarge image
Industrial Test System's Free Chlorine Water Check test strip is available for compliance testing as described in the Federal Register (Vol 72, No. 47, Monday, March 12, 2007, p.11204, ITS Method D99-003). The test can now be treated as an equivalent to other free chlorine test kits. States will have the discretion to approve their use per authority at 40 CFR 141.74 (a)(2). Municipalities now have a rapid (40 seconds), accurate, and low-cost option for regulatory compliance monitoring.
Industrial Test Systems Inc.
Tel: 800-861-9712 Web: www.sensafe.com
Membrane filtration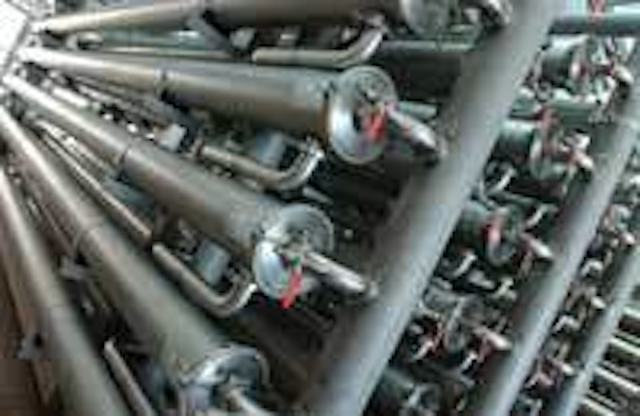 Click here to enlarge image
Quality requirements for potable water are becoming increasingly stringent throughout the world. The allowable levels for turbidity and microbiology are being lowered and new limits are being established for viruses and chlorine resistant organisms, such as cryptosporidium and giardia cysts. Kruger Inc. and Veolia Water Solutions and Technologies continually address these challenges by offering enhanced conventional and multi-barrier systems such as membrane systems.
I. Kruger Inc.
Cary, NC
Web: www.krugerusa.com
Package pump stations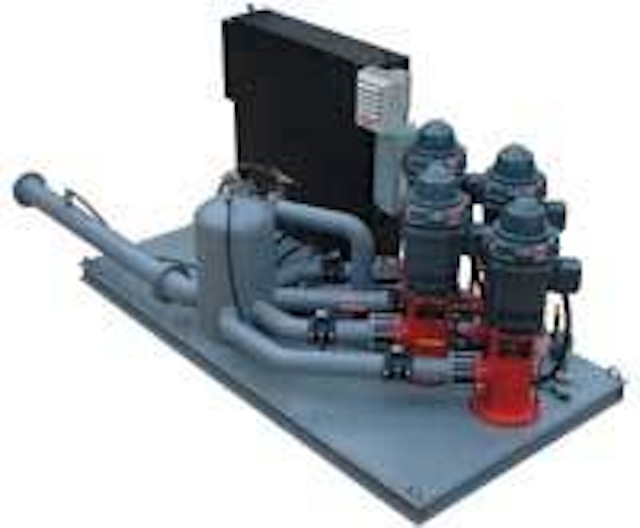 Click here to enlarge image
National Pump Co. has introduced a new package pumping station. The station features individual variable frequency drives for all pumps, a high resolution color touch screen operator interface, an Ethernet communication protocol with complete monitoring of variable frequency drive and pump conditions for total SCADA monitoring and operation. All potable water pump stations use stainless steel piping up to 8", with custom powder coated finish for the best corrosion protection available. Standard station configurations range from one to eight pumps with custom designs available for existing buildings with limited access.
National Pump Co.
Peoria, AZ
Tel: 866-668-4914
Web: www.nationalpumpcompany.com
DBP, TOC reduction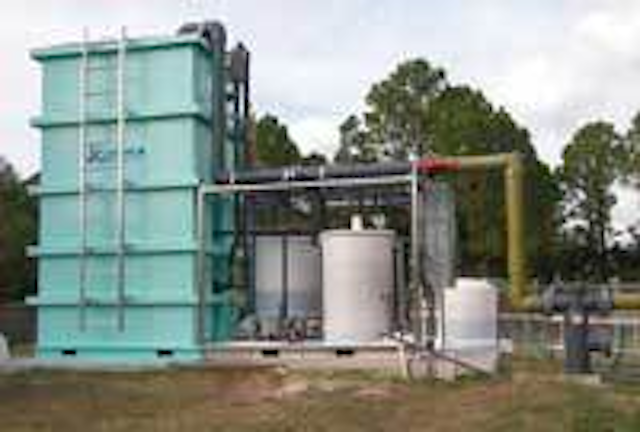 Click here to enlarge image
The High Rate MIEX® System, available from Orica Watercare, uses an advanced ion exchange process to remove contaminants from water and wastewater streams and is most commonly used for the treatment of TOC, disinfection by-products, color, and nitrate. These systems have small footprints, very low waste volumes and are not subject to chromatographic peaking.
Orica Watercare
Watkins, CO Tel: 877-414-6439 Web: www.miexresin.com
Electronic locks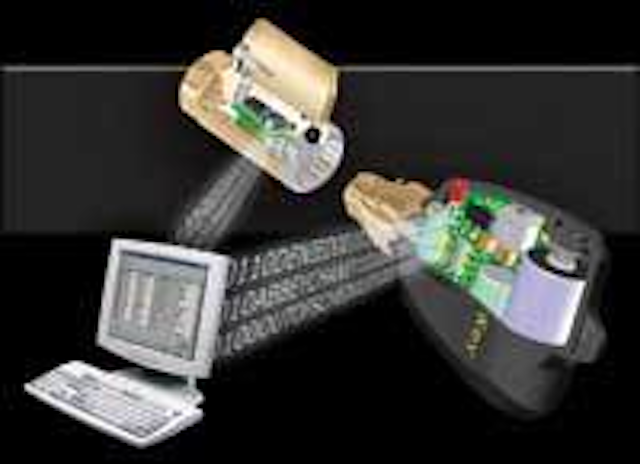 Click here to enlarge image
CyberLocks® were put to an extreme test during Hurricane Katrina. During clean-up after the storm, it was discovered that the electronic locks were still working on machines that had been under mud and water for three weeks. Videx will be showcasing the actual locks that survived Katrina at the ACE show in Toronto.
Videx Inc.
Corvallis, OR Tel: 541-758-0521 Web: www.videx.com
Engineered custom controls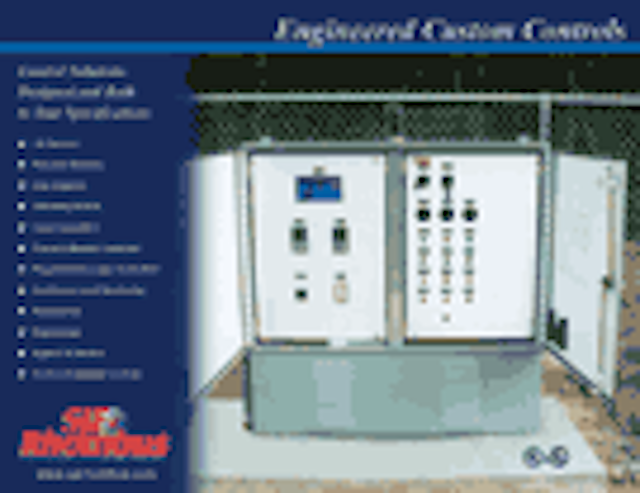 Click here to enlarge image
SJE-Rhombus® designs and manufacturers control panels for a wide variety of municipal applications, including sanitary sewer, stormwater and leachate lift station applications. From motor starter panels to complex system integration, the company's engineers work with utilities to design and build control/monitoring systems to individual specifications, including variable frequency drives (VFDs), programmable logic controllers (PLCs), telemetry/SCADA, pressure boosters, etc.
SJE-Rhombus Controls
Detroit Lakes, MN Tel: 888-342-5753 Web: www.sjerhombus.com
Hot standby system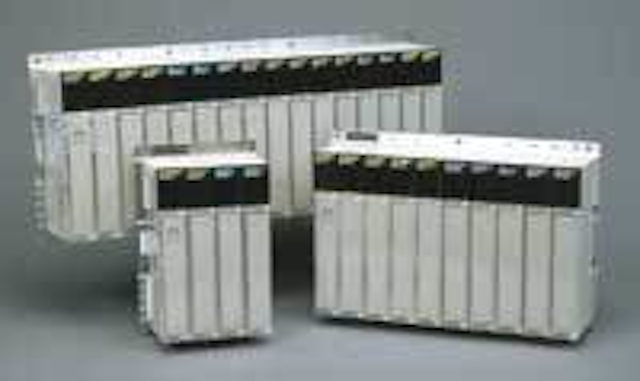 Click here to enlarge image
For hot standby applications, Schneider Electric's Telemecanique® brand Modicon® QuantumTM PLC is a benchmark for the industry with more power, increased memory and the ability to run extremely complex calculations. The system performs hot standby functions such as implementing a switchover from the primary to the secondary system in one logic cycle to ensure that the secondary system can pick up the process immediately so no critical information is omitted. It transfers all of the data from the primary system to the secondary on every logic scan so when the secondary powers up, it will take control of the process seamlessly without any process upset.
Schneider Electric
Water Wastewater Competency Center
Nashville, TN
Tel: 888-778-2733
Web: www.squared-water.com
Laboratory services
MWH Labs is now EPA-approved to perform both Assessment and Screening Monitoring under the newly required UCMR2 testing program. This new testing is scheduled to commence in January 2008 for utilities whose systems serve a population of more than 10,000 people. With this new testing, the company will evaluate potential harmful contaminants in water systems to identify future health risks and problems with drinking water. Having served as the EPA lab contractor for UCMR1, the company has extensive related experience to assist with both planning and testing for a sampling program. For over 30 years, MWH Labs has offered a wide array of testing capabilities, ranging from low-level drinking water analyses to leading-edge work with emerging contaminants like nitrosamines and endocrine disruptors.
MWH Labs
Tel: 800-566-5227 Web: www.mwhlabs.com
Business software
Wonderware, a business unit of Invensys, has unveiled a unified software platform called the Wonderware System Platform. The System Platform supports simplified and consistent operations across a wide range of operations and facilities by delivering a common set of application software services. The platform is designed to make it easier for information and automation personnel to normalize their integration and application generation issues to rapidly adjust to the ever-changing needs of their customers.
Wonderware
Lake Forest, CA
Web: www.wonderware.com
Diesel generators
A new 250 kW diesel generator set from Cummins Power Generation is certified to meet EPA Nonroad Tier 3 emissions regulations, making it suitable for all nonroad and many stationary applications in the U.S. Nonroad applications include rental generator sets or temporary installations of less than one year. Generators with the Tier 3 option produce very low emissions of nitrogen oxides, hydrocarbons, carbon monoxide and particulate matter without the need for aftertreatment strategies. The generator set is designed for emergency standby and prime power applications in all areas of the U.S and in a majority of the non-attainment areas that will require Tier 3 certified generator sets after January 1, 2007.
Cummins Power Generation, a subsidiary of Cummins Inc.
Minneapolis, MN
Tel: 763-574-5942 Web: www.cumminspower.com
Packaged membrane treatment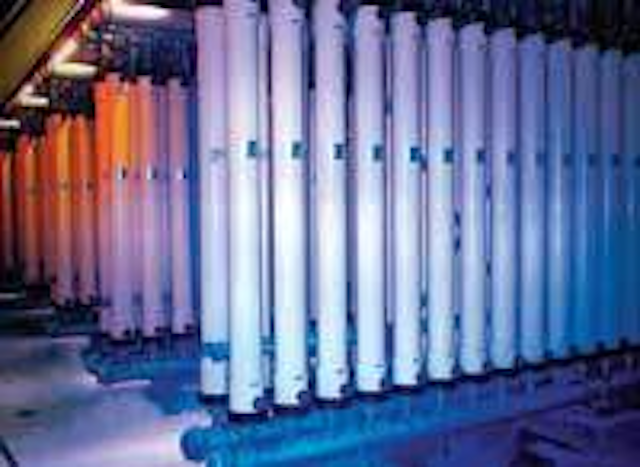 Click here to enlarge image
Pall's AriaTM microfiltration membrane water treatment systems come in sizes ranging from 25 gpm to 100 mgd, and are designed to meet current EPA regulations such as the Long Term 2 Enhanced Surface Water Treatment Rule and the Arsenic Rule. They are available in both packaged and custom systems. With over 150 North American installations, the systems are proven to remove 6 log of Giardia and Cryptosporidium, and produce turbidities less than 0.1 ntu in any application.
Pall Corp.
Tel: 888-428-5597
Web: www.pall.com/water
Emergency gas shutoff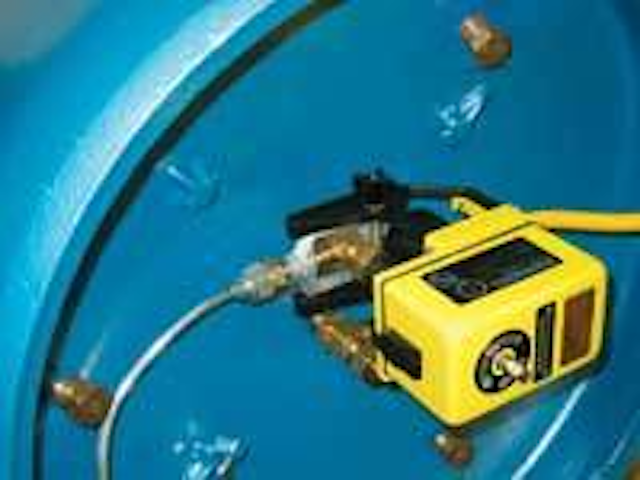 Click here to enlarge image
Eclipse Actuators quickly close toxic gas valves on 150 lb. and ton cylinders in less than one second when activated by remote sensors. This actuator system will then provide a closed contact to signal that the valve is closed and sealed. The operator can then visit the site to correct the condition, check the gas connections, and manually reopen the valve to start the gas system. The Eclipse is a battery-operated actuator and allows an operator or remote gas sensor to shut off leaking toxic gas without requiring the operator to enter the hazardous atmosphere.
Halogen Valve Systems
Irvine, CA
Tel: 877-476-4222
Web: www.halogenvalve.com
Butterfly valves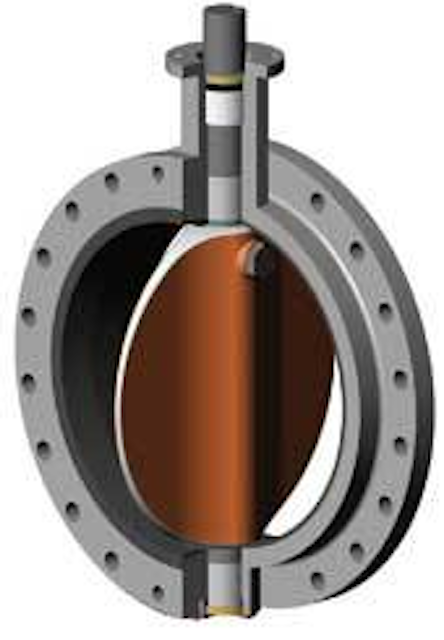 Click here to enlarge image
The K-Flo 500 Series from Crispin Valve is a heavy-duty resilient seated butterfly valve line in full compliance with AWWA C504 for use in municipal, power and industrial applications. Every valve is tested for performance, as well as seat and body leakage; and all of the valves meet or exceed the latest AWWA C504 standards and requirements. The 500 Series valves are available in flanged or mechanical joint configurations, and in sizes 3" thru 20". The K-Flo 47 Series butterfly valve is a large diameter valve line designed for a wide variety of liquid and gaseous applications. With over 50 years of service in the field, the series design is fully compliant with AWWA C504 requirements.
Crispin Valve
Berwick, PA
Tel: 800-247-8258
Web: www.kflovalves.com
Membrane products
Click here to enlarge image
Hydranautics manufactures reverse osmosis (RO), nanofiltration (NF) and ultrafiltration (UF) membrane products for water treatment applications around the world. Its membranes are either spiral or capillary configuration and available in a variety of diameters and lengths to meet a wide range of applications. The company is one of the few membrane manufacturers to achieve ISO-9001 Quality Systems Certification. In 1987, Hydranautics became part of Nitto Denko, a multi-billion-dollar corporation headquartered in Osaka, Japan. Since 1980, Nitto Denko and Hydranautics have filed a total of 64 patents in membrane technologies.
Hydranautics
Oceanside, CA
Tel: 800-272-7873
Web: www.membranes.com
Membrane filtration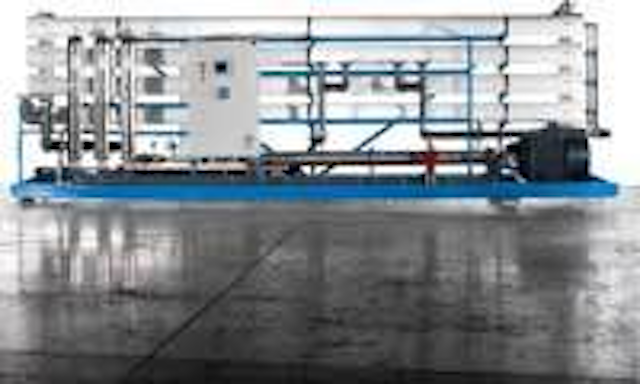 Click here to enlarge image
GE Water and Process Technologies offers desalination systems, including seawater reverse osmosis (SWRO) and brackish water reverse osmosis (BWRO). The SWRO systems are designed to recover 25-35% of the feed as purified water, which keeps the concentration factors low. The BWRO membrane technology converts previously unusable water to resources for drinking water by removing dissolved minerals and salts from the brackish water supply. It also reduces the TDS and total hardness and removes arsenic, color, perchlorate, and radium.
GE Water and Process Technologies
Trevose, PA Web: www.gewater.com
Resins, membranes
Dow Liquid Separations offers DowexTM ion exchange resins and FilmtecTM reverse osmosis (RO) and nanofiltration (NF) elements. Dowex ion exchange resins offer solutions for trace contaminant removal, including nitrate, perchlorate, uranium, radium, organics, chrome and emerging contaminants. In 2005, Dow Liquid Separations launched AdsorbsiaTM GTOTM titanium-based arsenic removal media, offering improved performance and cost advantages in arsenic removal.
Dow Chemical Co., Liquid Separations
Midland, MI
Tel: 800-447-4369 Web: www.dowex.com
Alarm software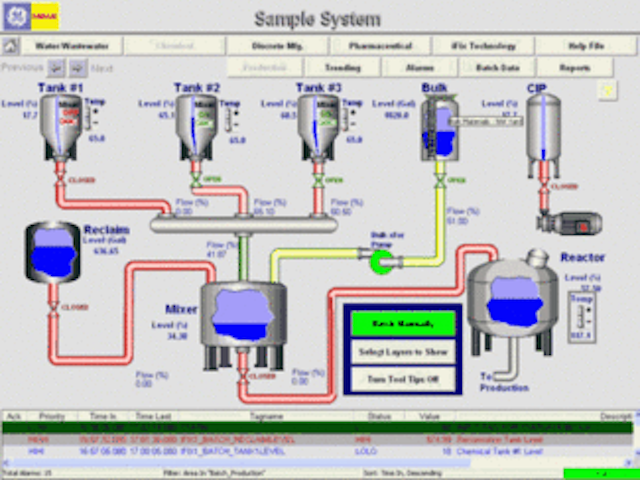 Click here to enlarge image
GE Fanuc Automation has introduced an email notification product called Alarm and Event Express. This add-on utility, for the company's Proficy HMI/SCADA iFIX product, will selectively distribute various system alarm and event messages via email to remote users. It is a free option to GE Fanuc customers with current support contracts and will integrate with a variety of the company's HMI/SCADA products and versions.
GE Fanuc Automation
Web: www.gefanuc.com
Ultrasonic flowmeter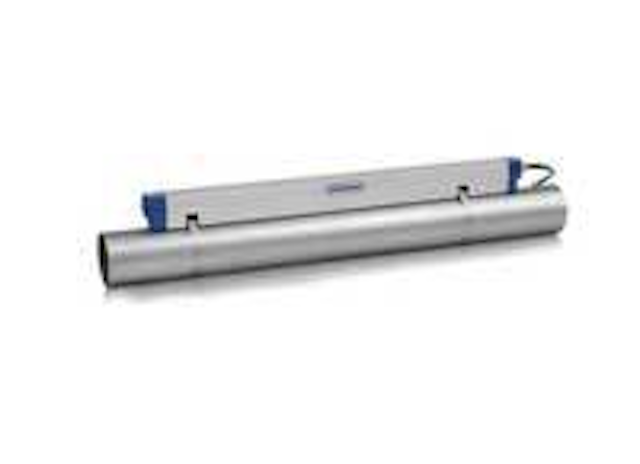 Click here to enlarge image
Krohne has introduce its new Optisonic 6300 clamp-on ultrasonic flowmeter. The new meter features improved measurement accuracy, ATEX Approval, an extended temperature range and the ability to handle smaller line sizes. One new feature is the integrated display, which allows signal quality to be shown in real-time during the calibration of the signal transducer. The meter can be installed without special tools. Its clamp-on mechanism was formulated to offer the strength necessary to aid installation in industrial applications. Available in three sensor sizes, the meter can cover pipe diameters from ½" to 160". Additionally, two other sensors are available for extreme temperature applications, ranging from 23 to 392 degrees F.
Krohne Inc.
Tel: 800-356-9464
Web: www.krohne.com/northamerica
Industrial computers
Panasonic Computer Solutions and Cingular Wireless have introduced the Panasonic Toughbook CF-29, the first Toughbook with Cingular's 3G BroadbandConnect service built-in. Using the laptop, field technicians and mobile professionals in the utilities industry can wirelessly access critical information at broadband speeds when in UMTS/HSDPA-based BroadbandConnect coverage areas. The laptop provides seamless, high-speed EDGE network coverage outside of those areas. UMTS/HSDPA is the global standard and natural 3G evolutionary path for GSM (Global System for Mobile Communication) providers with UMTS services already offered by 95 commercial networks in 45 countries, and an additional 67 networks in deployment, planned or licensed.
Panasonic Computer Solutions Co.
Tel: 800-662-3537
Web: www.panasonic.com/toughbook
Water quality testing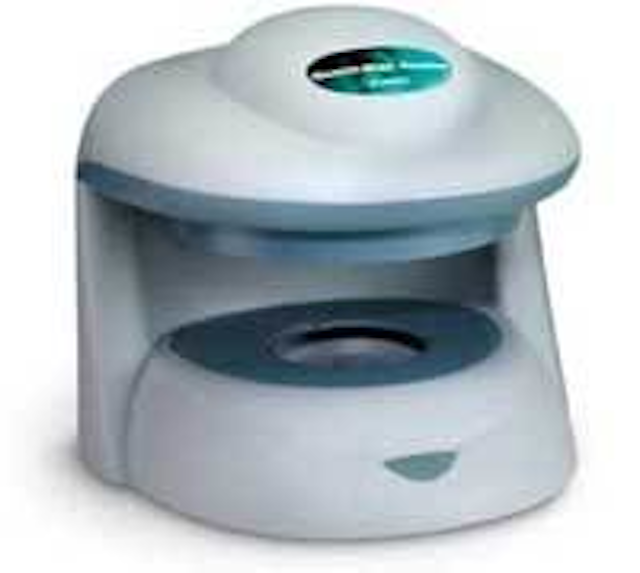 Click here to enlarge image
IDEXX Laboratories has launched the Quanti-Disc® Reader for the Quanti-Disc® test, a new method for testing Total Viable Counts (TVC) in water. The method produces results that correlate with the International Standard ISO 6222 Yeast Extract Agar pour plate method incubated at 36° ± 2°C for two days or at 22°C ± 2°C for three days.
IDEXX Laboratories Inc.
Westbrook, ME
Tel: 800-321-0207 Web: www.idexx.com/water
Data management tools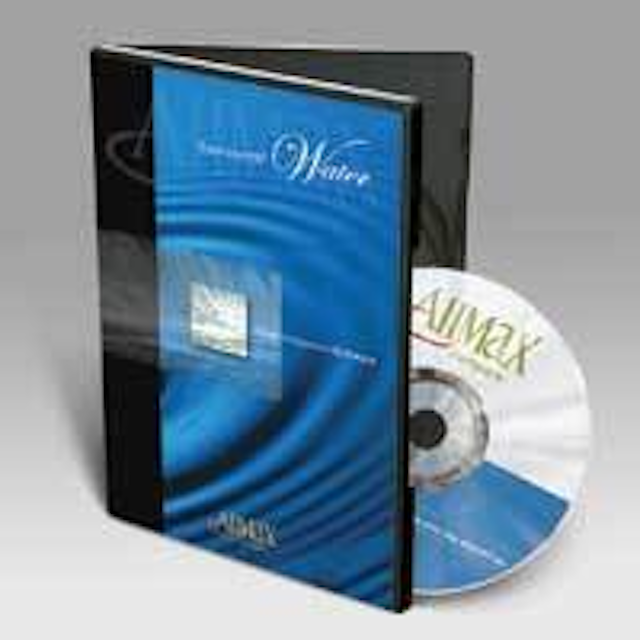 Click here to enlarge image
The new Operator10® v8.16 data management software upgrade can be set up for single, multi-user or client server, for any plant or treatment facility. The software was designed to save time, provide maximum flexibility, enable users to streamline processes and standardize company data. Water, wastewater and pretreatment modules can be purchased separately or as a suite.
AllMax Software Inc.
Tel: 800-670-1867 Web: www.allmaxsoftware.com
Arc flash protection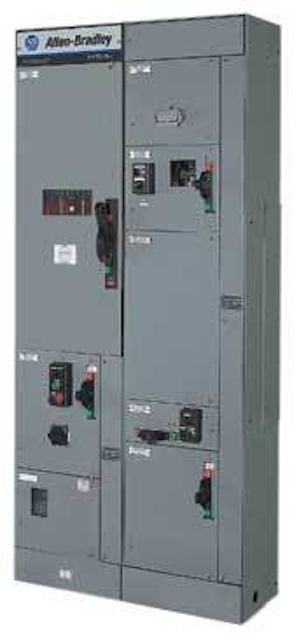 Click here to enlarge image
The new Allen-Bradley Centerline 2100 motor control center (MCC) ArcShield option helps reduce arc flash hazards while providing users with increased protection against internal electrical arcs. This version of the MCC from Rockwell Automation provides arc flash protection in a low-voltage MCC (up to 600 volts). The system features a reinforced enclosure and special arc-containment door latches that, when properly latched, allow safe internal pressure relief and help keep the doors from unlatching during an arcing fault.
Rockwell Automation
Bloomington, MN
Tel: 800-223-5354
Web: www.rockwellautomation.com
Water quality software
Schlumberger Water Services has released AquaChem, version 5.1, a software package designed for managing, analyzing and plotting water quality data. Part of the Waterloo Hydrogeologic Software (WHS) suite of products, it is now enhanced with a multitude of upgraded features including integrated tools and enhanced functionality to save time when working with vast amounts of water data.
Schlumberger Water Services,
Waterloo Hydrogeologic
Waterloo, Ontario
Tel: 519-746-1798
Web: www.waterloohydrogeologic.com
Briquette chlorinator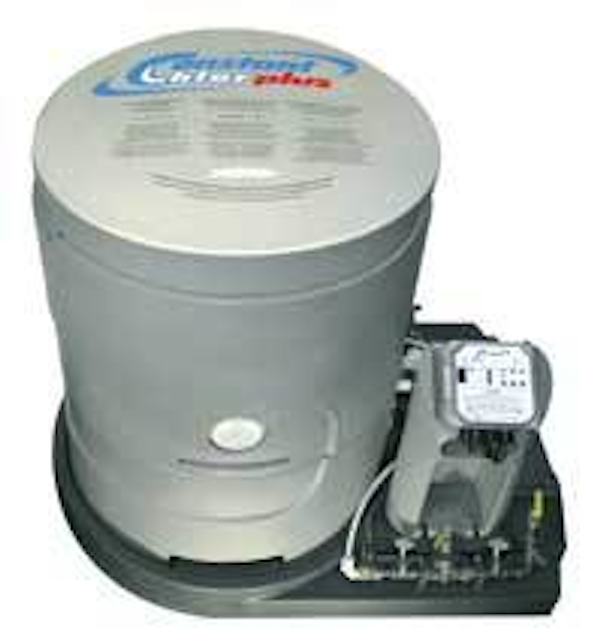 Click here to enlarge image
Designed for sanitizing municipal or private drinking water, wastewater and for other water disinfection applications, Arch Chemicals' Constant Chlor® Plus Briquette Chlorinator automatically delivers a consistently accurate dose of available chlorine. The chlorinator uses the company's dry calcium hypochlorite briquettes. The system can deliver up to 250 pounds of available chlorine daily through a solid-state, controlled spray cycle. Easy to install and maintain, the chlorinator is SCADA- and modem- compatible for use with manually controlled or speed/stroke controlled pumps. With its 220-pound briquette capacity, the system destroys harmful organic matter and disease-producing organisms while controlling slime and odors.
Arch Chemicals, Inc.
Norwalk, CT Web: www.archchemicals.com
AMR system
Datamatic has introduced MosaicTM, the first AMR system supporting a migration path through walk-by, mobile and true mesh network collection methods using the same endpoint, a Mosaic-class Firefly. Although most utilities will move quickly to full mesh network functionality, the system can operate indefinitely using any mixture of collection methods. Each endpoint functions as both a meter interface unit and a repeater. Data is "hopped" between endpoints as they create multiple, redundant pathways to the gateway. The mesh is "self-healing," in that it is designed to reroute around issues without user intervention. Mosaic systems also require far fewer (and far less expensive) gateways than traditional network designs. Endpoints store hourly consumption for 365 days; available on demand. Users can define conditions that trigger the endpoints to transmit detailed usage data.
Datamatic Ltd.
Plano, TX
Tel: 800-880-2878 Web: www.datamatic.com
Storage tanks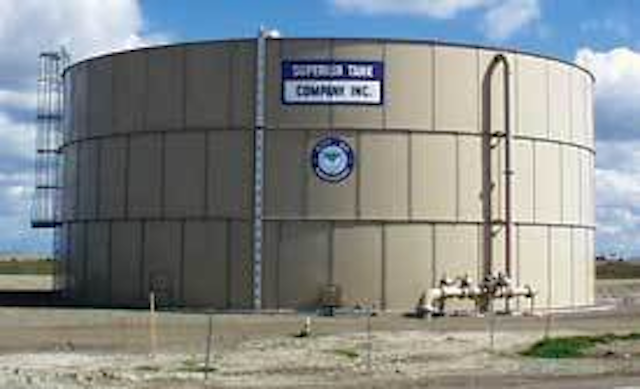 Click here to enlarge image
Superior Tank Co. manufactures and installs bolted and welded steel storage tanks used in the potable water and wastewater market. Tanks can be designed per AWWA D103-97 and D-100, NFPA-22 and Factory Mutual (FM) specifications. Bolted tanks can receive either hot dipped galvanized or factory applied thermoset fusion bonded powder coatings. Stainless steel bolted tanks are also available. Capacities range from 20,000 to 2.5 million gallons. The tanks can be shipped by containers around the world and are easy to assemble with minimal labor, equipment and tools. Turnkey projects also are available.
Superior Tank Co.
Rancho Cucamonga, CA
Tel: 800-221-8265
Web: www.superiortank.com
On-line ammonia measurement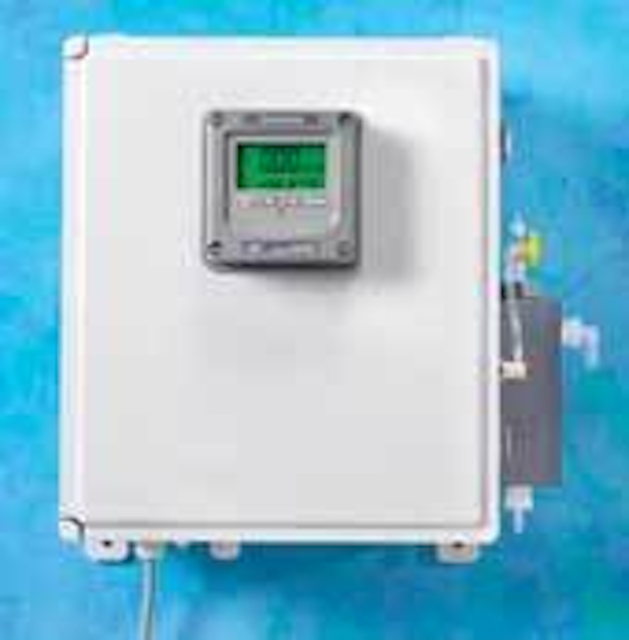 Click here to enlarge image
Analytical Technology Inc. (ATI) has just developed a completely new approach to on-line measuring of ammonia that is less expensive and much simpler than current conventional monitoring equipment. The new Q45N Dissolved Ammonia Monitor uses reaction chemistry that converts ammonia in solution to a stable monochloramine compound equivalent in concentration to the original ammonia level. The chloramine concentration is then measured with an amperometric sensor that responds linearly to chloramines while eliminating interference from excess free chlorine in solution.
Analytical Technology Inc.
Collegeville, PA
Web: www.analyticaltechnology.com
AMR network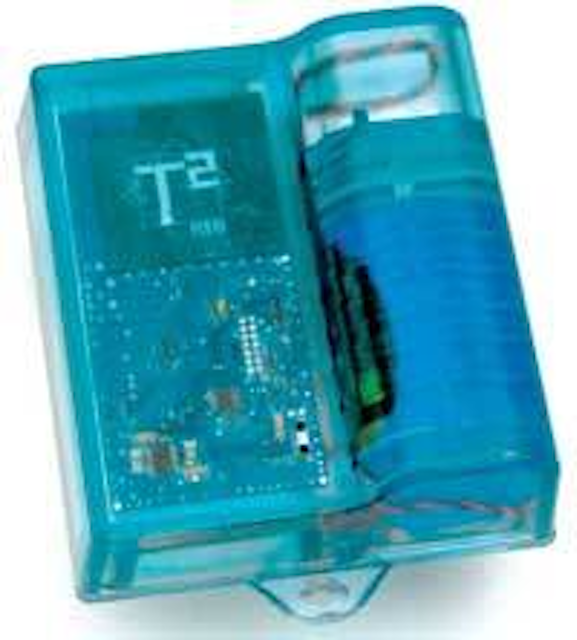 Click here to enlarge image
Transparent Technologies offers an automatic meter reading system that allows utilities to start with a drive-by system initially and later migrate to a two-way wireless broadband network using the company's NexusNet. The system allows customers and the utility to remotely read meters, get account status details and retrieve account datalogging charts. The system, compatible with most meters on the market today, can provide irrigation violation monitoring and leak detection, plus monitor for backflow, register failure, low battery strength, tampering and zero use by customers.
Transparent Technologies
Boulder, CO
Tel: 720-406-1294
Web: www.transparenttech.com
DAF system
ITT Leopold's Clari-DAF system eliminates taste-and odor-causing algae and other low-density particles that are difficult to remove by gravity sedimentation. The system uses a process in which air is dissolved into water under high pressure. Upon release of the pressurized air into the bottom of the system's chamber, millions of microbubbles are created like the ones in milky white water. The countless microbubbles attach themselves to pinpoint floc particles and float them to the surface for removal with a mechanical skimmer or by hydraulic overflow. A Clari-DAF system is applicable to virtually any stored body of water, especially colored water, algae-laden water, turbid water, water with high seasonal iron and manganese content and low temperature water. The system typically removes 97 percent of algae and 96 to 99 percent of turbidity.
ITT Advanced Water Treatment, FB Leopold Co.
Zelienople, PA
Tel: 724-452-6300
Arsenic removal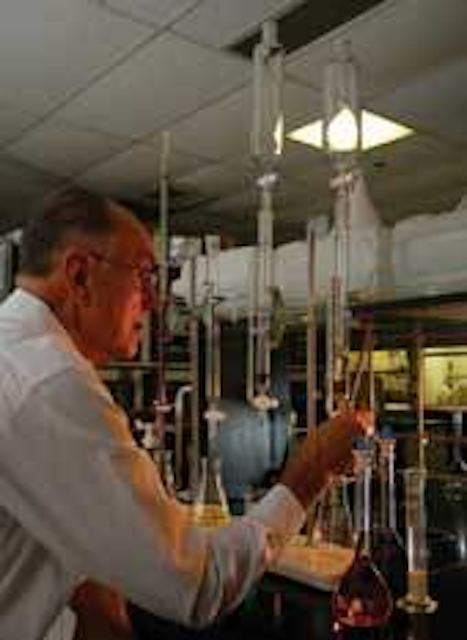 Click here to enlarge image
Purolite recently introduced a regeneration service for its arsenic removal media, ArsenXnp. The media is NSF/ANSI 61 certified, and comes in a typical resin bead form. This means it is easy to handle, has no dusting or break up, and provides good hydraulics. Once the media has been installed, it does not need to be backwashed. It can reduce arsenic levels to less than 1 ppb. The media is regenerated at Purolite's facilities, which have been NSF/ANSI 61 certified.
Purolite Co.
Bala Cynwyd, PA
Tel: 800-343-2500
Web: www.purolite.com
Ceramic epoxy lining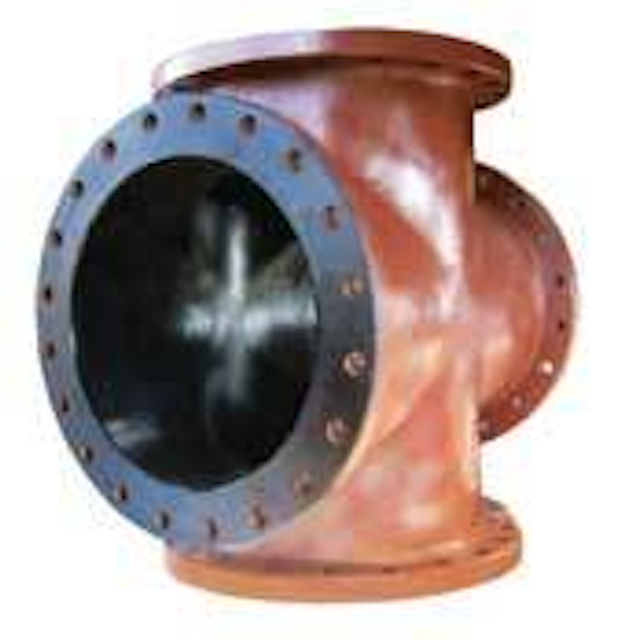 Click here to enlarge image
Star© Pipe Products has become a certified applicator of a Ceramic Epoxy lining for ductile iron fittings. The lining is called SP-2000W and is a non-toxic, environmentally safe alternative that is also NSF/ANSI 61 certified. The lining is 100% solids, with no VOCs. It is recoatable and has an adhesive strength of greater than 2,000 PSI,
Star Pipe Products
Houston, TX
Tel: 800-999-3009
Web: www.starpipeproducts.com
UV disinfection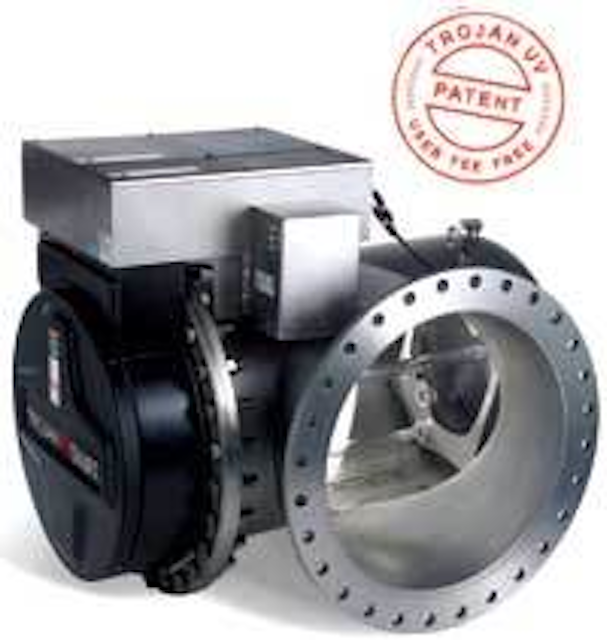 Click here to enlarge image
The TrojanUVSwiftTM ultraviolet disinfection system has demonstrated its installation flexibility and performance around the world in hundreds of installations. Available in multiple inlet/outlet diameters, it is well suited for drinking water disinfection projects - new and retrofit applications - for a wide range of flow rates. The system can be upgraded to treat the compounds responsible for seasonal taste and odor events and other chemical contaminants.
Trojan Technologies
London, Ontario, Canada
Tel: 888-220-6118
Web: www.trojanuv.com
Streaming current detector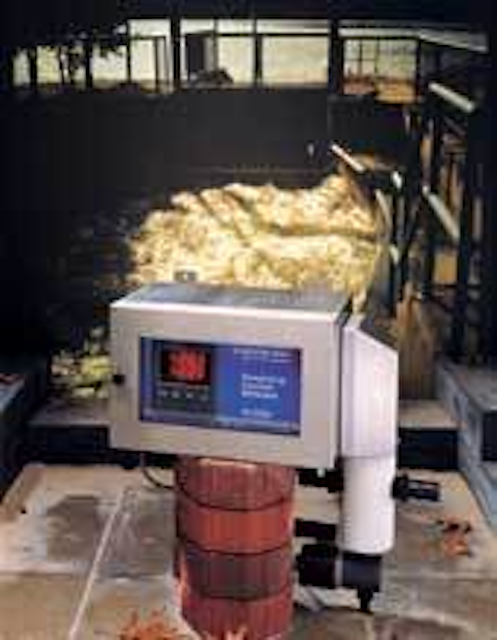 Click here to enlarge image
Milton Roy's Streaming Current Detector is a dynamic analyzer used in polymer and other chemical dosing applications. By measuring residual ions in the flow, precise dosing of polymers and coagulants to sludge processing and other water-related processes can be performed. This maximizes the treatment while significantly reducing the costs of chemicals and wear on plant processing equipment. The optional PID internal controller allows for flow-paced dosing under normal operating conditions.
Milton Roy
Tel: 215-441-0800 Web: www.miltonroy.com
Ultrasonic flowmeters
Click here to enlarge image
GE Sensing offers the Panametrics range of ultrasonic liquid flowmeters for municipal water and wastewater applications. The AquaTransTM Series and the TransPort® PT878 transit-time ultrasonic flowmeters provide state-of-the-art flow measurement capability in rugged packages. They share the advantages of accuracy, reliability, ease of installation, no pressure drop and no annual calibration requirements. The AquaTrans AT868 and UTX878 are low-cost transmitters with clamp-on or wetted transducers capable of a flow measurement range of 0.1 to 40 feet per second and a turndown ratio of 400 to 1.
GE Sensing
Billerica, MA
Web: www.gesensing.com
Algae monitoring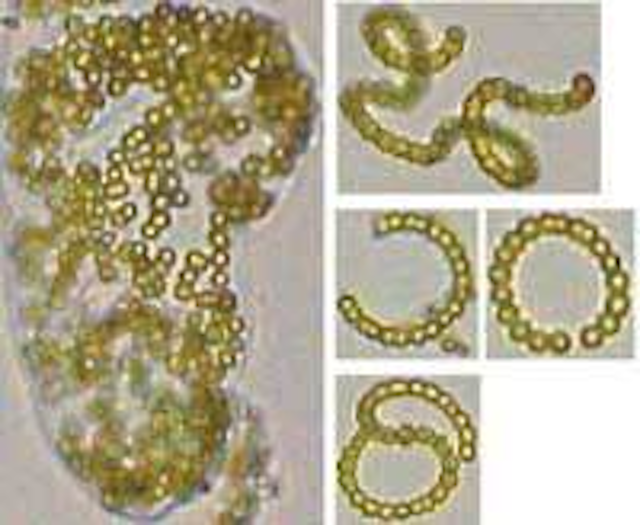 Click here to enlarge image
The new algae monitoring FlowCAM® from Fluid Imaging Technologies features a customized series of specifications that enable water quality engineers to automatically detect, image and identify algal cells in real time in seconds. The portable system is set up with a 30mW 473 nm blue solid-state laser, digital firewire progressive scan CCD color camera and proprietary software. The system offers sample processing by both fluorescence and light scatter simultaneously to ensure that every algal cell and particle are detected, imaged in hi-res full color, identified, counted and measured while discriminating algal from non-algal particles.
Fluid Imaging Technologies Inc.
Yarmouth, ME
Tel: 207-846-6100
Web: www.fluidimaging.com
HDPE pipe fusion
Click here to enlarge image
McElroy has introduced its newest HDPE pipe fusion machine, the TracStar 630. Above ground or in the ditch, the new machine is designed to simplify large diameter butt fusion. It is specifically designed for in-ditch close quarter work. The carriage has four jaws with a removable 3-jaw carriage and top loading heater and facer to maximize functionality within limited space. It is mounted on independently controlled, self-propelled tracks and features a wireless remote driving control.
McElroy Manufacturing Inc.
Tulsa, OK
Tel: 918-836-8611
Web: www.mcelroy.com
AMR systems
Master Meter is an AMR technology innovator and principal water meter manufacturer delivering technology-driven meter revenue solutions to the North American utility marketplace. Its ConnectionFreeTM wireless 3G AMR technology is deployed across water, gas and electric utility platforms. Measurement solutions include CFD-technology-derived positive displacement, multi-jet, turbine and compound products that are available in a wide range of sizes and configurations.
Master Meter Inc.
Mansfield, TX
Tel: 800-765-6518
Web: www.mastermeter.com
Water circulation system

Click here to enlarge image
Pump Systems Inc. offers the SolarBee solar powered floating circulator, which can operate solely on energy from the sun. The system can draw up to 10,000 gpm from a specified depth and distribute it across the top of the water for a near laminar flow providing long distance coverage as well as continuous surface renewal. The circulator system can draw water from over 100 feet or as little as 1.5 feet below the surface and be installed in water depths as shallow as three feet.
Pump Systems Inc.
Dickinson, ND
Tel: 866-437-8076
Web: www.solarbee.com
Prestressed concrete tanks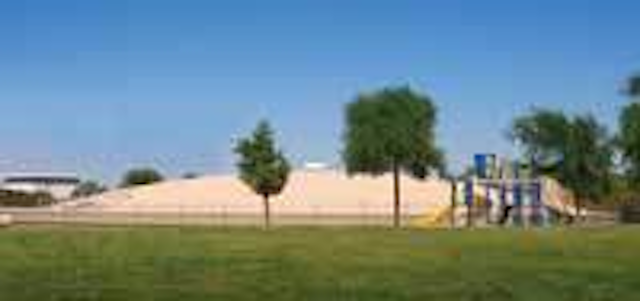 Click here to enlarge image
Preload provides prestressed concrete tank design and construction. The company has completed more than 3,000 tanks of various types, sizes and designs. Built to the AWWA D110, Type III Standard for Circular Wire-Wound Prestressed Concrete Water Tanks, Preload tanks require no routine maintenance or repainting and provide a long service life. They are offered in a wide variety of shapes, sizes and architecturally treated styles to complement any rural, urban or suburban setting.
Preload Inc.
Hauppauge, NY
Tel: 888-773-5623
Web: www.preload.com
Pipeline inspection system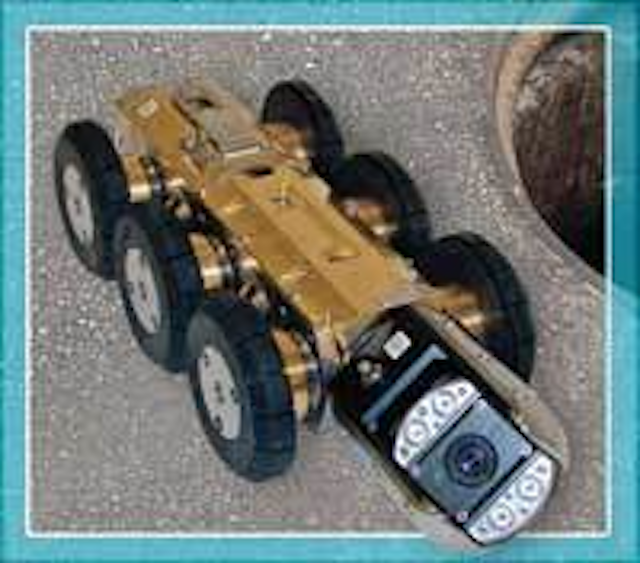 Click here to enlarge image
The steerable Compact Pipe Ranger (CPR) camera transporter is designed to traverse 1000' + under normal pipe conditions to inspect 6" relined pipe through 30" diameter pipe. When assembled with the CUES OZIII zoom pan and tilt camera, the compact length enables the unit to negotiate most difficult entry conditions and standard sweeps. The optical zoom pan-and-tilt camera is used in conjunction with the steerable CPR to inspect relined sanitary and storm sewers and connects directly to the CPR transporter with no exterior wires or cables. The OZIII offers built-in directional field replaceable lighting to enhance the details of a CCTV inspection. It provides up to 40:1 optical/digital zoom, automatic focus, remote focus and iris control to assure the best quality video within varying pipe conditions.
CUES
Orlando, FL
Tel: 800-327-7791
Web: www.cuesinc.com
Pump scheduling software
Click here to enlarge image
Derceto is a unique software product, operating under SCADA, that enables water utilities to control their energy costs through optimal pump scheduling. The software has produced savings of 15% or more in annual energy costs for clients from Maryland to California. Its pump schedules also use pumps more efficiently delivering as much as 14% in energy reduction.
Derceto
Cherry Hill, NJ
Tel: 856-779-7978 Web: www.derceto.com
Flow logger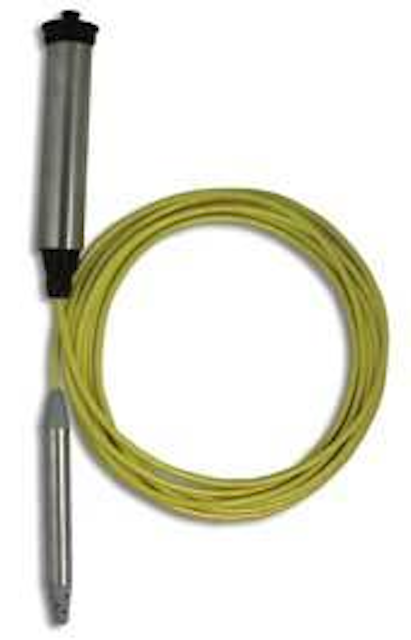 Click here to enlarge image
Global Water's FL16 is designed for flow data collection for applications such as inflow and infiltration studies, stormwater and wastewater collection systems, open channels, and a host of other gravity flow systems. Features include USB and Serial communication options, programmable depth-to-flow conversion tables, and telemetry compatibility. The device can hold 81,759 recordings in memory. The specially engineered, non-fouling water level sensor works in depths as little as ½" and allows for deployment in manholes and other difficult to access areas without the need to enter the confined space.
Global Water Instrumentation
Gold River, CA
Tel: 800-876-1172
Web: www.globalw.com
Water monitoring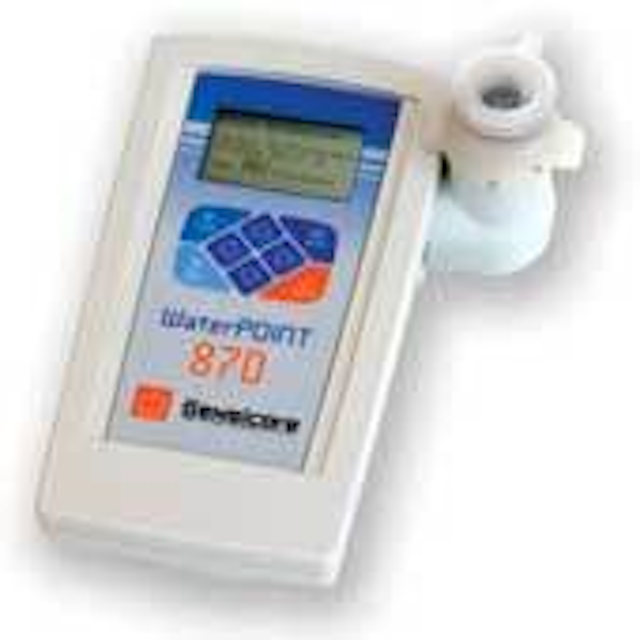 Click here to enlarge image
Sensicore has added new capabilities to its WaterPOINT 870 handheld water analysis system that significantly reduces calibration time. The reduced complexity of calibration and simplified use model improves precision, correlation and temperature compensation and results in improved accuracy overall. These latest improvements allow field personnel to get up and running quickly, increasing the number of sites that can be tested in a day and reducing the overall time required to achieve actionable results in the field.
Sensicore
Ann Arbor, MI
Web: www.sensicore.com
Fiberglass couplings
CertainTeed now carries U.S. Patent No. 7,108,295 for its fiberglass couplings used with restrained-joint PVC water and sewer pipe. The newly patented high-pressure coupling expands the size range of the Certa-Lok system to 16", and is available for use with the CertainTeed C905/RJ and Yelomine pipe. With its unique spline-locking design, Certa-Lok forms a full-strength joint instantly in all weather conditions.
CertainTeed Corp.
Valley Forge, PA
Web: www.certainteed.com
Venturi flow meters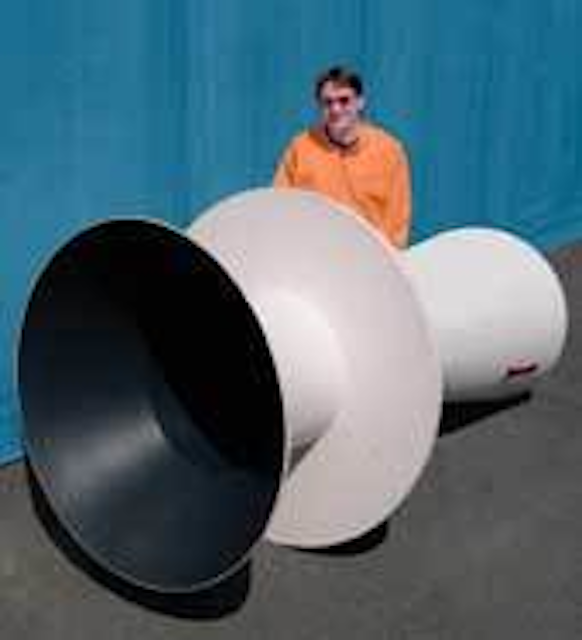 Click here to enlarge image
A full line of corrosion-resistant venturi flow meters for use with a wide range of line fluids, pressures, and temperatures are being introduced by Westfall Manufacturing. The Westfall 2300 Series Venturi Flowmeters are made from corrosion-resistant epoxy vinyl ester fiberglass or stainless steel for insertion within a pipe line to measure the flow rate of various fluids at temperatures up to 350°F, depending upon the specific resin. Featuring no moving parts, these differential producing venturi tubes can be fabricated in sizes up 120" diameter and provide at least ±0.75% accuracy.
Westfall Manufacturing Co.
Bristol, RI
Tel: 888-928-3747
Web: www.westfallmfg.com
Water analysis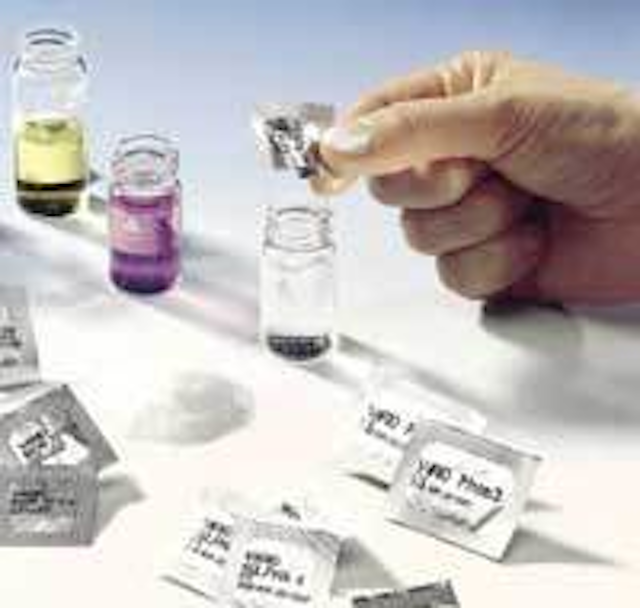 Click here to enlarge image
Orbeco-Hellige manufactures laboratory and field instrumentation for water and wastewater analysis. From alkalinity to zinc, the company offers a complete line of products for analysis including: single and multi parameter colorimeters; test kits; turbidity meters; powder, liquid and tablet reagents as well as instruments for measuring BOD and COD. New products for AWWA's ACE07 include: SC400 Colorimeters; Aqua Comparator Test Kits; Series 200 pH, Dissolved Oxygen and Conductivity meters; TR125 Thermoreactor; Powder Pack and Tube Test Reagents.
Orbeco-Hellige Inc.
Farmingdale, NY
Tel: 800-922-5242
Web: www.orbeco.com
Peristaltic pumps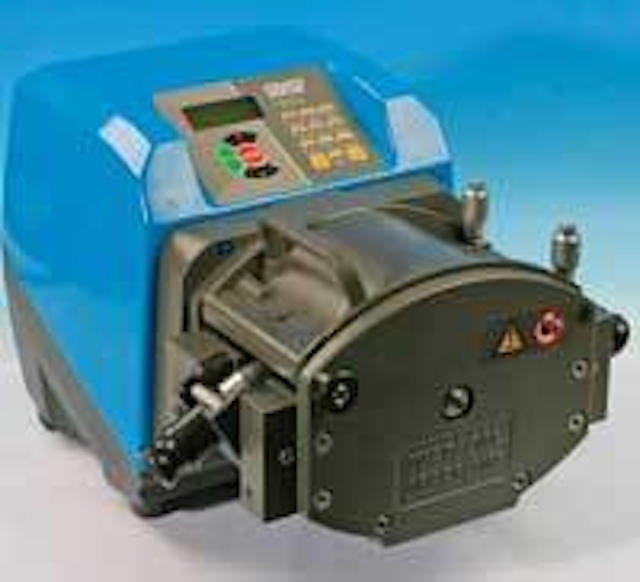 Click here to enlarge image
Watson-Marlow Bredel, a manufacturer of peristaltic pumps, will showcase its environmental processing solutions, including its new 720 Series peristaltic pumps, at the AWWA 2007 Annual Conference and Exposition. The company's pumps offer a solution for tough environmental applications. Unlike other pump types, the highly abrasive nature of sludge and slurries does not affect pump life. Each pump is virtually maintenance-free with no seals to replace, no check valves to clog and no rotors and stators to wear out. Also, hose replacement is simplified with a self-loading design. The 720 Series is designed for accurate metering and dosing of corrosive, abrasive and sensitive fluids, and is ideal for the transfer and metering of sodium hypochlorite, ferric chloride, sodium bisulfite, alum, fluoride, carbon and lime slurries, polymers, aqueous ammonia, potassium permanganate and caustic.
Watson-Marlow Bredel Pumps
Tel: 800-282-8823
Web: www.watson-marlow.com
Insertable valve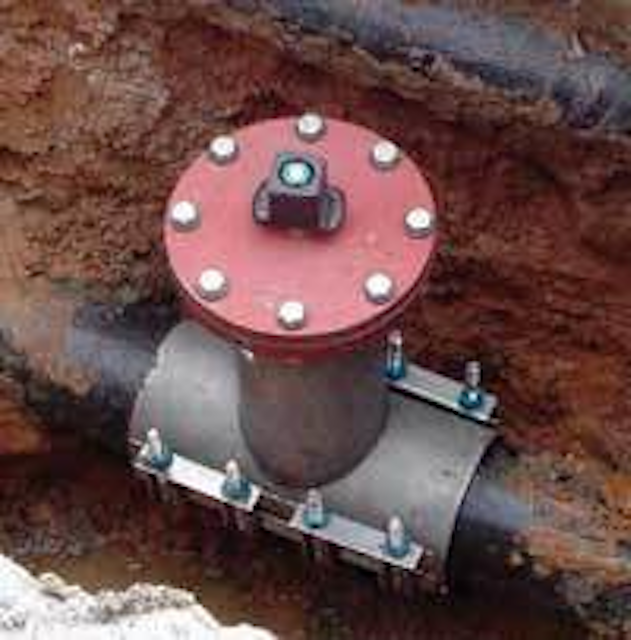 Click here to enlarge image
The new Insta-Valve® Plus from Hydra-Stop®, a division of ADS LLC, is an insertable resilient seat wedge valve. The valves can be used to stop flows in all types of pipe (4" to 12") including potable water mains, wastewater force mains, low pressure gas lines, and industrial applications. The valves can be installed using existing Hydra-Stop equipment or as a standalone system. Users simply install the fitting, make a line tap, then install the valve. The use of advanced materials and new technologies in this valve replacement system make it durable and resistant to breakage and leakage.
Hydra-Stop
Tel: 800-538-7867 Web: www.Hydra-Stop.com
Pressure, level, flow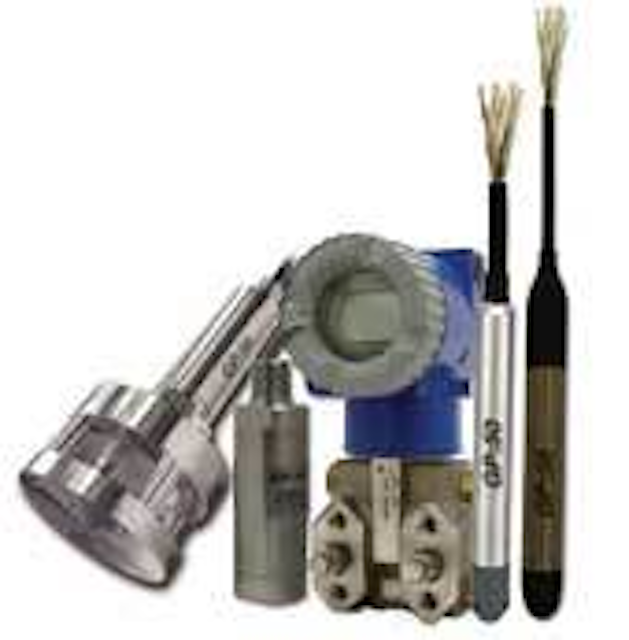 Click here to enlarge image
GP:50 will display a complete family of Pressure, Level and Flow transmitters designed for the municipal water treatment market. On display will be the Model 311-M351 which offers a flush, non-clogging, stainless steel level transmitter used for sludge level in lift stations, and the submersible Model Series 313 used for weir, reservoir, tank or pond level measurement.
GP:50
Grand Island, NY
Tel: 877-774-4751
Web: www.gp50.com
Butterfly valves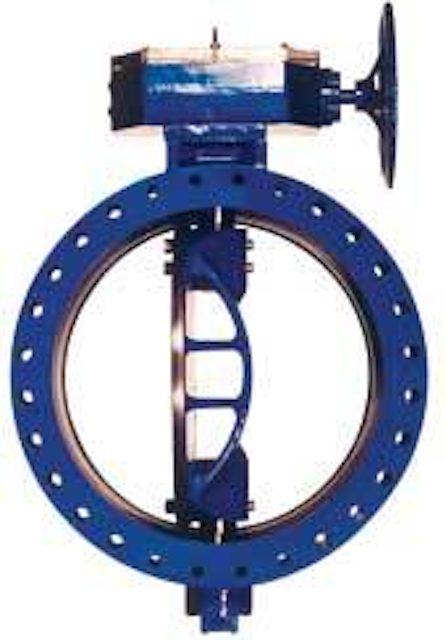 Click here to enlarge image
The Pratt Triton Butterfly Valve has a rubber seat located in the body that reduces performance problems related to corrosive buildup in valve body and pipeline. The E-Lok seat can be adjusted and/or repaired in the field without dewatering the pipeline or removing the valve from the line. The flow-through disc design allows more strength, less weight, and greater free flow area. Higher Cv : lower head loss results in energy savings.
Henry Pratt Co.
Aurora, IL
Tel: 630-844-4000
Web: www.henrypratt.com
Microfiber filter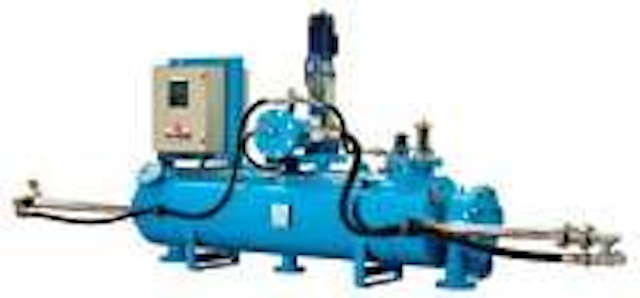 Click here to enlarge image
The AMF2 Microfiber Filter is an automatic self-cleaning water filter for treatment as fine as 2 micron. It provides TSS, NTU and SDI reduction as well as effective removal of Giardia cysts and Cryptosporidium. The filter provides cartridge performance without cartridge replacement. It outperforms traditional sand media systems and is environmentally friendly in that no chemical treatment is required for the self-cleaning process. It is ideal for pre-filtration for RO and other sub micron systems. The filter removes dirt particles as water flows through multi-layered microfiber cassettes. These are attached to collector pipes which allow the processed water to flow from the filter via the outlets.
Amiad Filtration Systems
Oxnard, CA
Tel: 800-969-4055
Web: www.amiadusa.com
Backflow preventers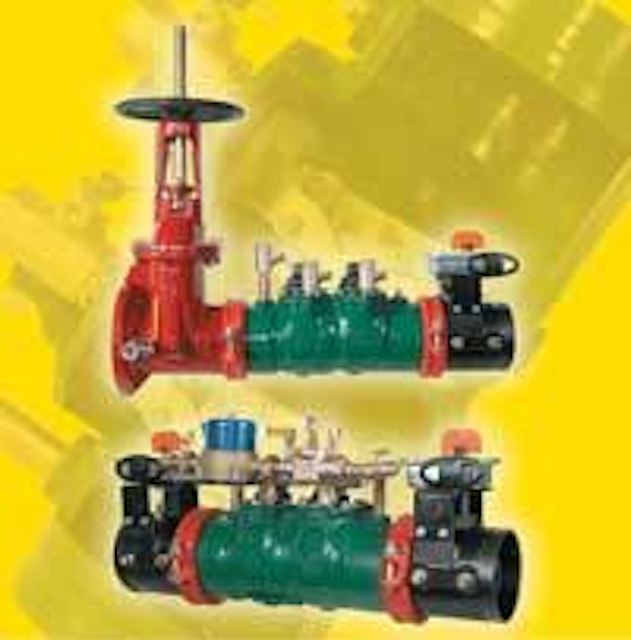 Click here to enlarge image
The new Apollo® 4SG Series Backflow Preventers from Conbraco offer reliable back-pressure and back-siphonage protection and a lay length that ranks as the shortest on the market for the popular 6" size. Available from 2 ½" to 8" diameter, the new backflow preventers feature a patented swing-check design for improved flow performance and an epoxy-coated ductile iron body that resists corrosion. The units offer a nearly flat flow curve. Built with grooved end connections, they connect easily to both gate valves and butterfly valves. The products are available in two configurations. Series 4SG-100 models are double check devices. Their modular check valves offer replaceable seats and reversible EPDM seat discs. Top-mounted test cocks assure easy testing. The 4SG-600 Series consists of double check detector assemblies.
Conbraco
Matthews, NC
Tel: 704-841-6000
Web: www.conbraco.com
Security monitoring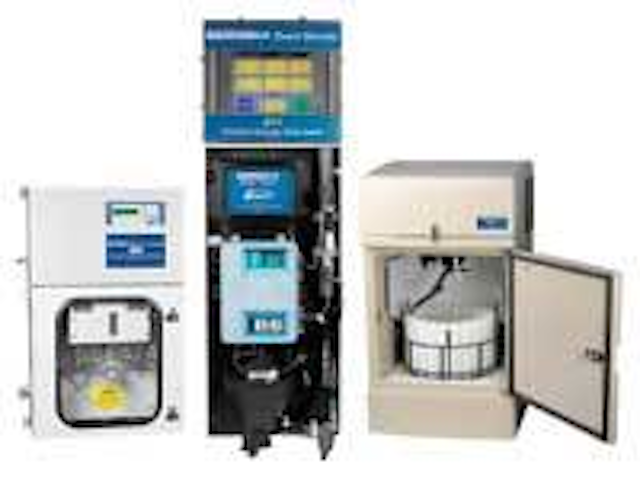 Click here to enlarge image
Hach Company has received Safety Act Designation and Certification from the Department of Homeland Security (DHS) for GuardianBlueTM - an early warning monitoring system designed to help cities protect their drinking water systems from terrorist contamination attacks and real-world events. The Safety Act provides litigation protection for users and their contractors. Certification signifies the Department of Homeland Security approved the system as anti-terrorist technology. Hach's certification is based on a review of three years of test data including government testing using actual warfare agents. The GuardianBlue Early Warning System is now available for installation into water distribution systems. The system can detect, alert and classify contaminants from cyanide and pesticides to ricin and VX.
Hach Homeland Security Technologies
Loveland, CO
Tel: 800-604-3493 Web: www.hach.com
Coagulant charge analyzer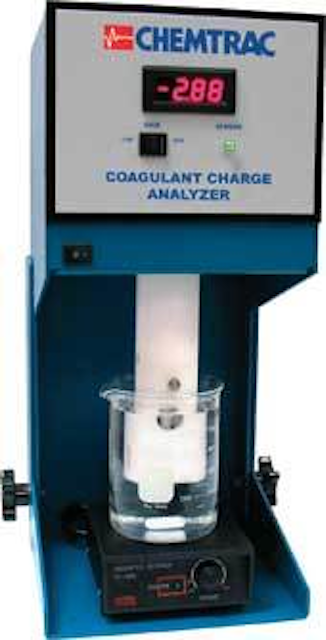 Click here to enlarge image
Chemtrac's Coagulant Charge Analyzer (CCA3100) offers water treatment operators a titration procedure to determine the optimum coagulant dose faster and more accurately than jar tests (5 minutes or less). Water treatment plants have used the company's Streaming Current Monitors for on-line coagulant and polymer feed control since 1985. The CCA3100 brings the same streaming current measurement technology into the laboratory and allows operators to determine target doses. The system is easy to use and ensures reproducible results between operators.
Chemtrac Systems Inc.
Norcross, GA
Tel: 770-449-6233
Web: www.chemtrac.com
AMR system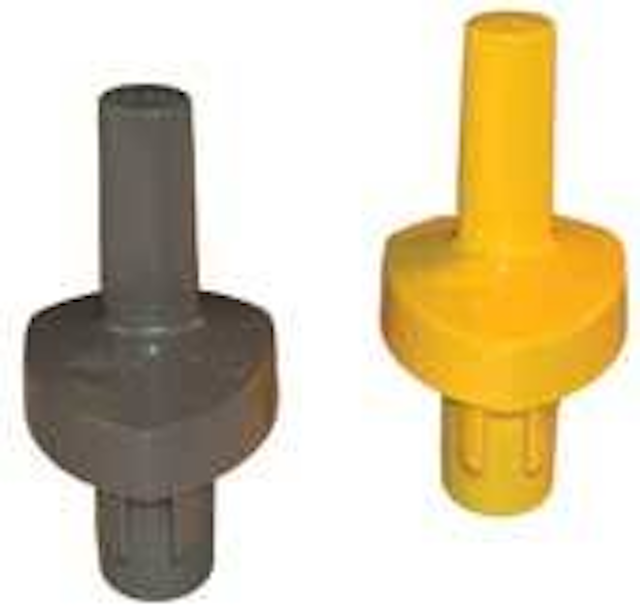 Click here to enlarge image
The Hot Rod Radio Frequency Transmitter from Hersey Meters operates in the unlicensed 900 MHz radio frequency band. No FCC license is required. Bubble-up transmissions from the transmitter occur on dynamic channels every two seconds allowing the Street Machine Receiver almost four times as many opportunities to read the device when compared to other AMR devices transmitting at much longer intervals. A large battery matches the transmitter life to the recommended change-out interval of the meter to which it's attached.
Hersey Meters
Cleveland, NC
Tel: 704-278-2221
Web: www.herseymeters.com
Pipe flushing software
Click here to enlarge image
MWH Soft has introduced InfoWater UDF, a comprehensive ArcGIS-centric pipe cleaning and maintenance software system for water distribution systems. The software lets users generate detailed reports of flushing sequences showing which hydrants and valves should be manipulated for optimal cleaning while avoiding excessive pressure drops (e.g., below 20 psi) and high velocities (e.g., above 8 ft/sec) in the system. It also computes minimum flushing time, total flushing volume and pipe length and available flow at the minimum residual pressure.
MWH Soft
Tel: 626-568-6868
Web: www.mwhsoft.com
Pressure regulator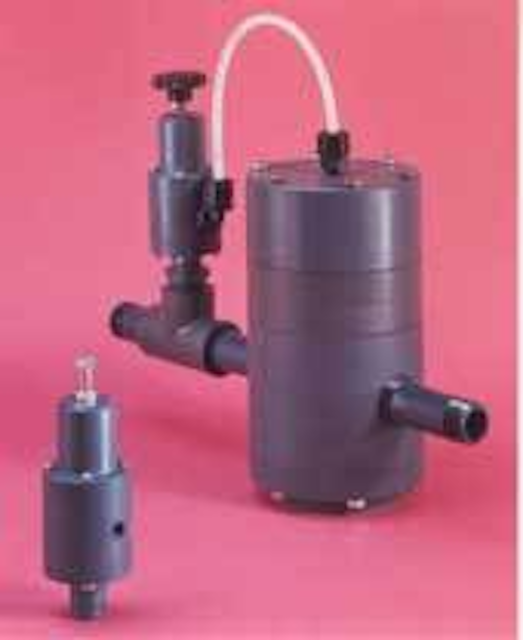 Click here to enlarge image
Plast-O-Matic Valves has introduced a new air-controlled pressure regulator, Series PRA, for highly corrosive and ultra-pure chemicals. The new design uses compressed air and two rolling diaphragms to control liquid pressure with greater accuracy than spring loaded regulators. Pressure regulators provide protection for valuable downstream instruments and filtration systems by converting fluctuating or excessive inlet pressure to a preset maximum downstream pressure.
Plast-O-Matic Valves Inc.
Cedar Grove, NJ
Tel: 973-256-3000 Web: www.plastomatic.com
Pipe restraints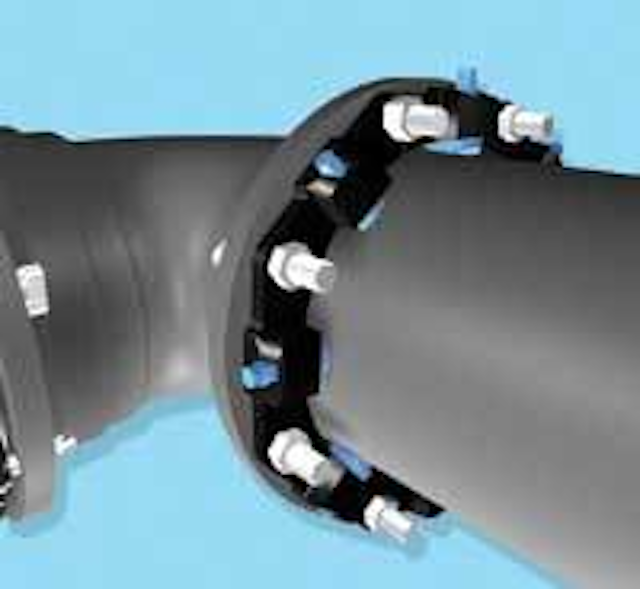 Click here to enlarge image
The Megalug® Series 1100 products from EBAA Iron are used on ductile iron pipe and steel pipe. Series 2000PV can restrain AWWA C900, C905 and IPS OD PVC pipes. Each product uses gripping wedges to add resiliency to pipeline designs. The company's Flex-Tend® flexible expansion joints are used to connect pipelines to tanks or other structures that may be vulnerable to damage from ground motion. They are capable of deflecting up to 20 degrees per ball in any direction while expanding or contracting. Its Megaflange® restrained flange adapter, series 210, is generous in its deflection limits and may be cut to length at the job site. It provides joint deflection up to 5o depending on pipe size and can be used on ductile iron, PVC and steel pipe. The wedges securely grip the pipe, and the easy disassembly allows for quick removal of values, meters or fittings.
EBAA Iron
Eastland, TX
Tel: 800-433-1716
Web: www.ebaa.com
Flushing system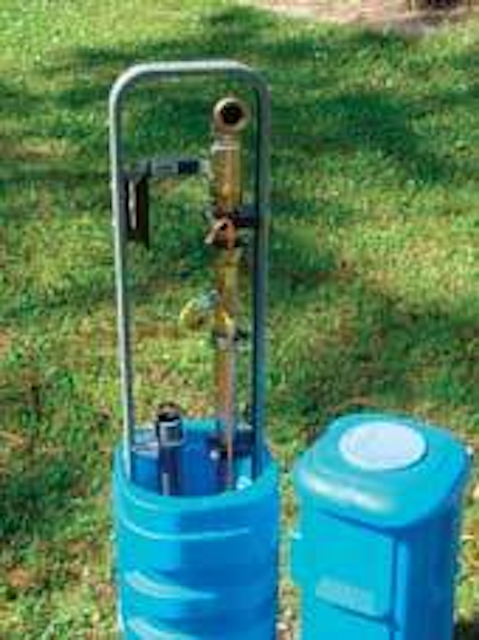 Click here to enlarge image
Hydro-Guard®, a manufacturer of automatic and programmable flushing systems, has introduced the latest in its Safety-Guard® line of bacteriological sampling stations, the BOSS (Blow-Off Sampling Stations). Enclosed in a self-locking, UV-protected, impact resistant, and self-supportive enclosure, the station is available with an internal curb stop or an internal curb stop with a drain; and can be equipped with either a 1" or 2" blow-off valve.
Hydro-Guard
Naples, FL
Tel: 877-864-8500
Web: www.hydro-guard.com
Membrane elements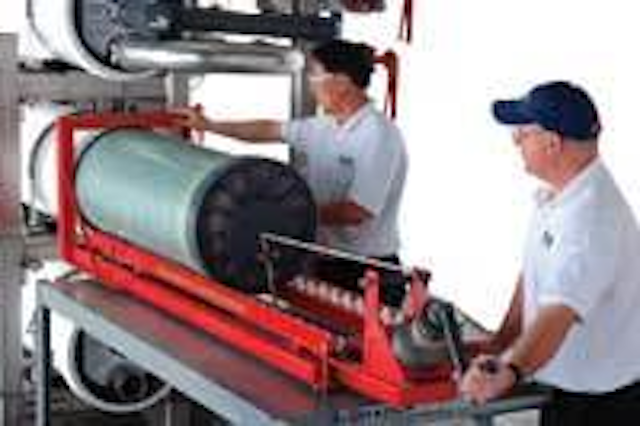 Click here to enlarge image
Koch Membrane Systems will display the MegaMagnum® element. The world's largest commercially available RO and NF element, it significantly reduces the cost, footprint and installation time of municipal and industrial water treatment systems. A single 18" x 61" spiral element contains 2,800 square feet of membrane surface area, compared to 400 square feet in commonly deployed 8" x 40" products. The elements are available from KMS separately or as part of a standard, packaged system. MegaMagnum systems require half the floor space of racks with 8-inch membrane elements. The company will also display the PuronTM MBR modules which are ideal for treating municipal effluent.
Koch Membrane Systems Inc.
Wilmington, MA
Plastic enclosures
Fibox's MNX enclosures protect electronic components operating in harsh environments. These corrosion resistant enclosures, made from polycarbonate (PC) and ABS, feature four body and five cover depths to offer 266 variations. A continuous gasket, molded in place on the enclosure's cover, ensures a waterproof fit with the enclosure body. MNX enclosures are available UL listed, and are rated NEMA 4X and IP66/67. All models meet the RoHS (Restriction of Hazardous Substances) directive. Applications include water and wastewater treatment and instrumentation.
Fibox Enclosures
Glen Burnie, MD
Tel: 888-342-6987
Web: www.fiboxusa.com
Free chlorine measurement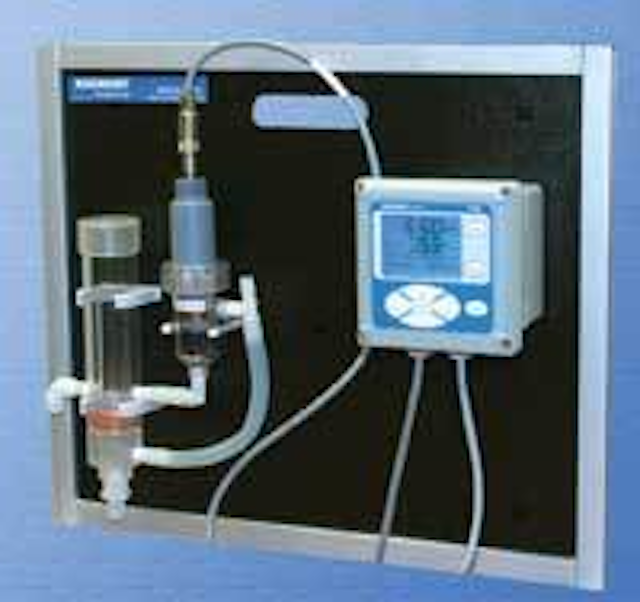 Click here to enlarge image
The Rosemount Analytical Model FCLi, which requires neither reagents nor an auxiliary pH sensor, is now available with the company's newest analyzer, the Model 1056. The analyzer has a high-contrast display, a built-in troubleshooting guide for warnings and faults, and an improved calibration menu. The principle of operation of the FCLi remains unchanged. An acidic fill solution adjusts the pH of the sample inside the sensor, producing a reading that changes less than 5% per unit change in pH. The instrument can be used in natural and treated water having pH as high as 10.0.
Emerson Process Management
Rosemount Analytical Liquid
Irvine, CA
Tel: 800-854-8257
Web: www.raihome.com
Dosing pumps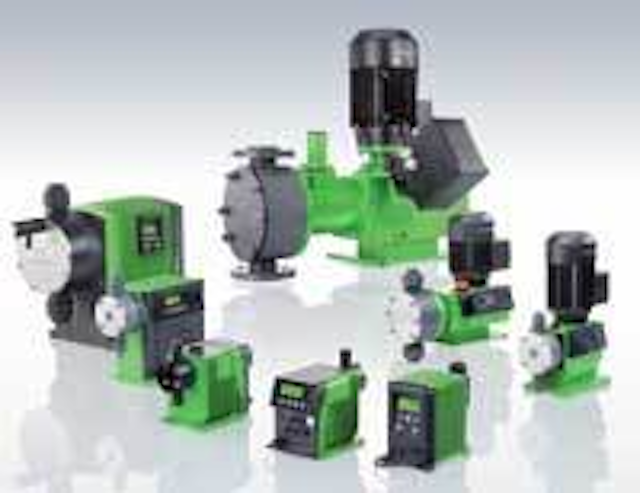 Click here to enlarge image
Grundfos offers pump solutions for the water treatment and chemical feed industries including piston/diaphragm metering pumps; sensors and controls; accessories; and products for disinfection and water treatment projects. Along with metering pumps, the company provides centrifugal pumps, packaged pumping systems, and much more. With the new, large DME 375 and 940 pumps, Grundfos Digital DosingTM covers most dosing needs with only nine models, with capacities from .00066 up to 248 gph. The dosing pumps have turndown ratios of up to 1:1000, enabling each pump to deliver a broad spectrum of doses. Simple, logical user-interface displays make it easy to set the required dose in any of 14 pre-programmed languages.
Grundfos Pumps Corp.
Web: www.grundfos.com
Video surveillance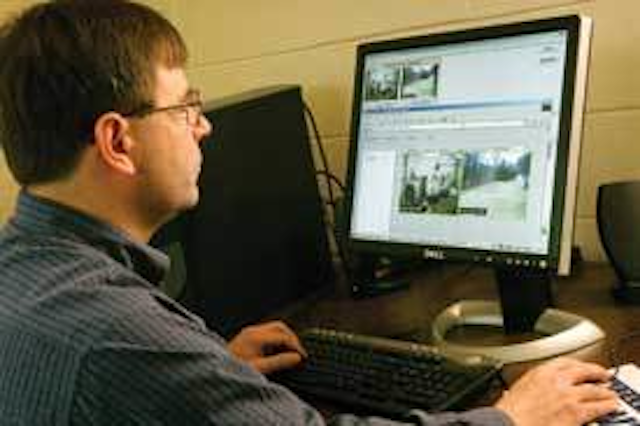 Click here to enlarge image
The Longwatch Video Surveillance System provides operators with the visual information they need to monitor and manage remote facilities, like well fields, pumping stations, and water towers. Operators receive automatic video alarm notification that can be used to verify if an intrusion warrants immediate action, no response, or is a false alarm. Unlike traditional stand-alone security systems that use closed-circuit or broadband networks for video transmission, the Longwatch system can use existing SCADA low-bandwidth communications networks to transmit video. It allows operators to manage both system and security alarms on the same system.
Longwatch
Norwood, MA
Tel: 781-255-7400 Web: www.longwatch.com
Hydrant locks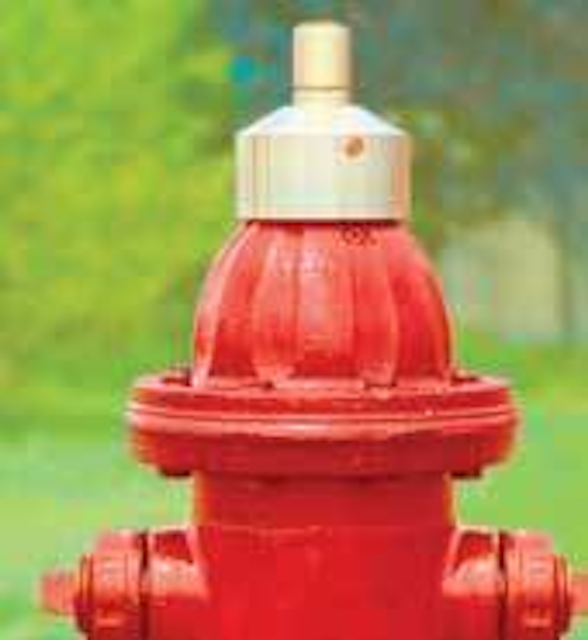 Click here to enlarge image
McGard's Intimidator® Fire Hydrant Lock protects against unauthorized access and usage. The operating wrench is equipped with a standard fireman's tool and the company's operating key head. No modifications are needed to the operating stem of the hydrant. The lock will fit most hydrant styles, and is environmentally sealed and electro-plated to resist the elements.
McGard Special Products
Orchard Park, NY
Tel: 888-888-9192 Web: www.mcgard.com
Level transmitter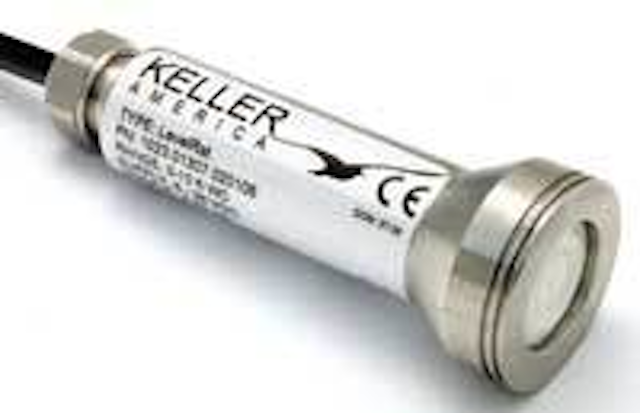 Click here to enlarge image
Keller America has introduced the LevelRatTM, a lift station level transmitter with a non-fouling, flush KynarTM diaphragm. Specifically designed for applications that would clog or foul a conventional level transmitter, the device operates in nasty environments common in sewage lift stations and other greasy/slurry installations. The transmitter is also available with an optional lightning protection package. Transmitters so equipped carry a lifetime guarantee against damage from voltage surges, including those induced by nearby lightning strikes.
Keller America Inc.
Tel: 877-253-5537
Web: www.kelleramerica.com
Package treatment system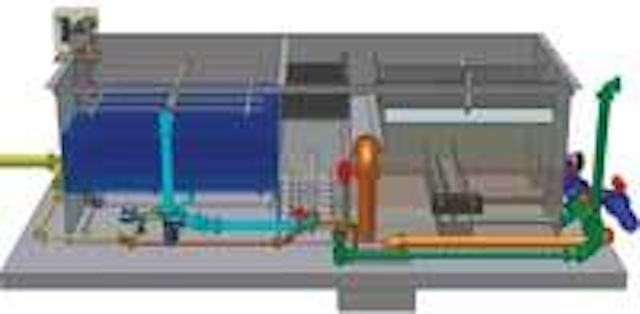 Click here to enlarge image
The Trident® HS system will be part of the Siemens Water Technologies exhibit at the 2007 AWWA ACE. The multi-barrier packaged treatment unit addresses the Long Term Enhanced Surface Water Treatment Rules and other regulations. A high-rate two-stage clarification system removes both settling and non-settling solids while providing built in redundancy. After clarification, treatment is completed with an integral media filter and UV disinfection unit. A to-scale model showing the four major treatment stages will be on display. Since its introduction in 2005, the system has continually proven its effectiveness at reducing turbidity, color and TOC in surface water supplies. The unit provides pretreatment for NF/RO high pressure membrane systems. The two-stage clarifier may also be used to provide micro- or ultra-filtration membrane pretreatment. In addition to drinking water treatment, the Trident HS design is ideal for ultra low-level phosphorus reduction and water re-use for wastewater applications.
Siemens Water Technologies
Ames, IA
Tel: 515-268-8546
Web: www.siemens.com/water
Mixing system
Click here to enlarge image
Tideflex Technologies' Tideflex® Mixing System (TMS) greatly improves the quality of drinking water in finished water storage reservoirs. The system is a combination of Tideflex® Check Valve technology and a proprietary piping manifold system. It can be installed in new or existing water storage tanks of all shapes and sizes to eliminate stagnation and short-circuiting. Operating on the differential pressure that is already in place, it keeps energy costs low, while the all-elastomer construction of the check valve reduces maintenance.
Tideflex Technologies
Carnegie, PA
Tel: 412-279-0044
Web: www.tideflex.com
Restrained compression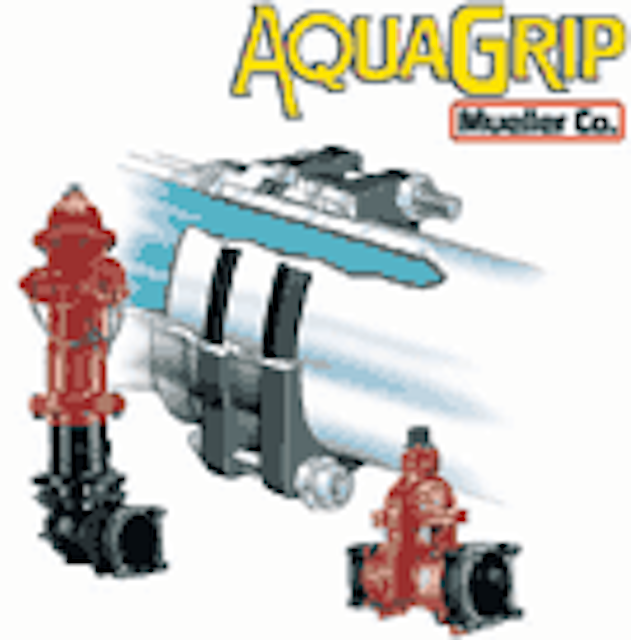 Click here to enlarge image
The AquaGrip® connection is easy to use. Users simply stab in the pipe and tighten a few bolts. No disassembly, no extra pieces, no special torque, and no special training required. The connection is available exclusively from Mueller on the Centurion Fire Hydrants and Resilient Wedge Valves.
Mueller Co.
Decatur, IL
Tel: 800-423-1323
Web: www.muellercompany.com
On-site hypochlorite
Click here to enlarge image
MIOX now offers the best salt and power conversion efficiencies in the industry, with a total redesign of its mid-size units. New features include expandability up to 500 pounds of chlorine within the same footprint; ease of conversion between mixed oxidants and hypochlorite; air-cooled power supplies; integrated hydrogen dilution air system (optional); and improved controls package. Hypochlorite and mixed oxidants generated on site can be used for disinfection of both drinking water and wastewater. System payback typically occurs within 1 to 3 years.
MIOX Corp.
Albuquerque, NM
Tel: 505-343-0090
Web: www.miox.com