PRODUCTS & SERVICES TANKS, STRUCTURES
Chem-Tainer transport tanks are UV stabilized for extended outdoor usage, comply with FDA regulation 21cfr177.
Aug 1st, 2007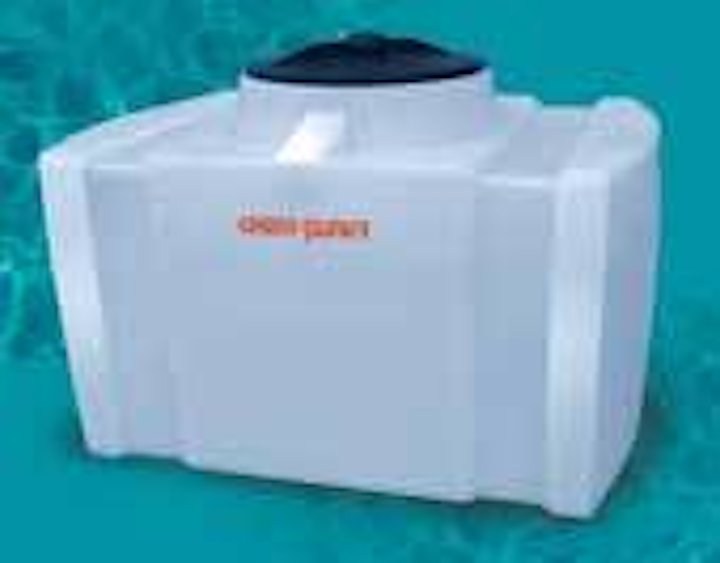 Transport tanks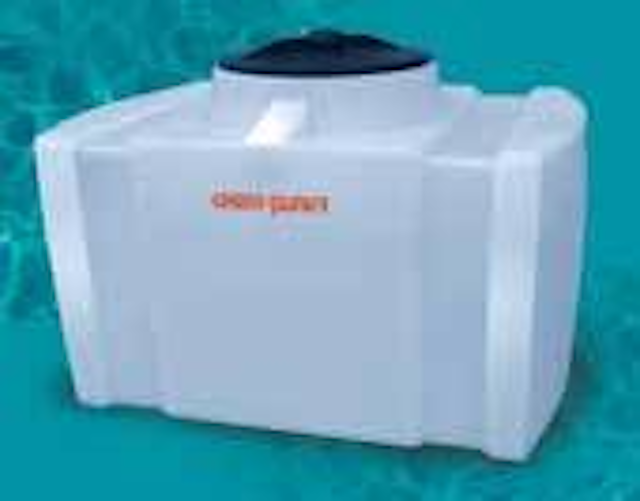 Click here to enlarge image
Chem-Tainer transport tanks are UV stabilized for extended outdoor usage, comply with FDA regulation 21cfr177.1520©3.1 & 3.2 and are translucent for product level viewing. These low profile portable tanks are designed for liquid storage and non-DOT regulated transport applications. The rectangular shape saves space and does not require a cradle for support.
Chem-Tainer Industries
West Babylon, NY Tel: 800-275-2436 Web: www.chemtainer.com
Stormwater storage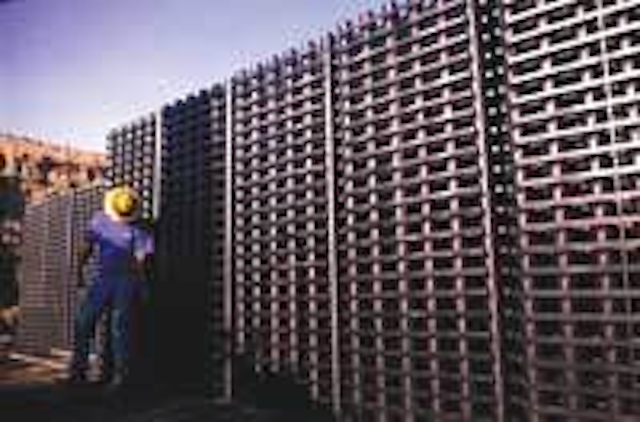 Click here to enlarge image
Rainstore3, from Invisible Structures, is a plastic structure used to store stormwater underground. Made from injection molded plastic, a single panel contains 36 vertical columns and supports H-20 loading, allowing the construction of driving areas, parking lots, or other small structures above the system. Built-in compression fittings allow units to be stacked to a variety of depths up to 84".
Invisible Structures Inc.
Golden, CO Tel: 800-233-1510 Web: www.invisiblestructures.com
Prestressed concrete tanks
Click here to enlarge image
DYK Inc. offers prestressed concrete liquid storage tanks. The company has extensive combined expertise in the design, prestressing and construction of buried or architecturally enhanced water and wastewater storage tanks. Its engineering and planning services produce stronger, more attractive tanks with greater seismic reliability and a longer lifespan. Over the past 40 years, the company has worked with clients in well-known municipal and private facilities worldwide to complete the construction of over 3 billion gallons of liquid storage in individual tank sizes ranging from 80,000 gallons to 40 million gallons.
DYK Inc.
El Cajon, CA
Tel: 800-227-8181
Web: www.dyk.com
Storm drain markers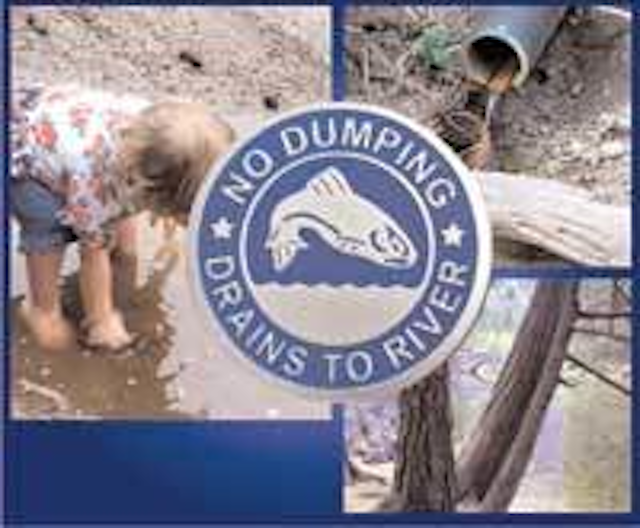 Click here to enlarge image
Almetek Industries offers 3-D embossed storm drain markers. The stainless steel markers will adhere to any surface and are guaranteed to last up to 30 years. The sand-blasted back side and turned down edges provide an excellent adhesion point that prevents displacement and theft. Installation is simple. Anyone, including young volunteers, can install them.
Almetek Industries Inc.
Hackettstown, NJ
Tel: 908-850-9700 Web: www.almetek.com
Rainwater storage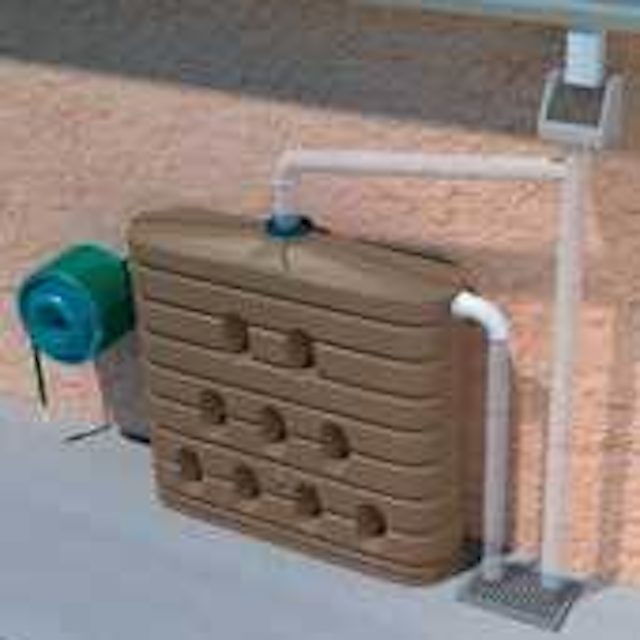 Click here to enlarge image
Bushman, a provider of rainwater harvesting and storage systems, now offers SlimlineTM and round above ground and below ground packages, plus pumps and a full line of accessories. Constructed of rotational-molded polyethylene, tank capacities range from 300 to 3,000 U.S. gallons. The tanks are available in a selection of colors to complement the installation site and are UV stabilized to prevent color fading.
Bushman USA
Temecula, CA Tel: 866-920-8265 Web: www.bushmanusa.com
Prestressed concrete tanks
Preload provides prestressed concrete tank design and construction. The company has completed more than 3,000 tanks of various types, sizes and designs. Built to the AWWA D110, Type III Standard for Circular Wire-Wound Prestressed Concrete Water Tanks, Preload tanks require no routine maintenance or repainting and provide a long service life.
Preload Inc.
Hauppauge, NY Tel: 888-773-5623 Web: www.preload.com
Aluminum domes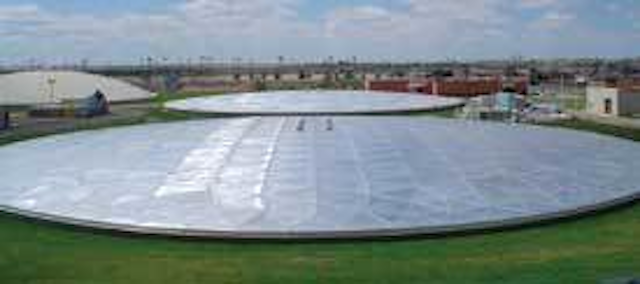 Click here to enlarge image
Temcor has supplied two 228 diameter column-supported Aluminum Domes to the Osage Water Treatment Plant in Amarillo TX. The low-rise domes (7) replaced concrete roofs over 600,000-gallon potable water tanks. Temcor cover systems are built entirely of aluminum, are virtually maintenance-free and naturally resistant to chlorine and other corrosive vapors. Airtight designs contain vapors to protect the environment and the domes' light weight results in reduced foundation and construction costs.
Temcor
Tel: 310-523-2322
Web: www.temcor.com
Stormwater vaults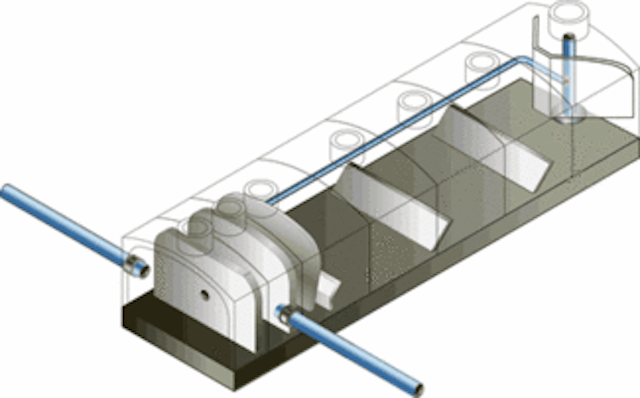 Click here to enlarge image
The StormVaultTM volumetric separation system from CONTECH Stormwater Solutions provides stormwater capture and treatment. By capturing, holding, and slowly releasing stormwater runoff, volumetric separation enhances gravimetric separation of particulate pollutants while minimizing downstream erosion and stream degradation. The system provides treatment and storage in one structure, comes backed with documented field performance, and reduces effluent TSS concentrations to 20mg/L regardless of influent concentrations. It's ideal for sites with high discharge rates and high sediment loads.
CONTECH Stormwater Solutions Inc.
West Chester, OH
Tel: 800-338-1122
Web: www.contechstormwater.com
Stormwater detention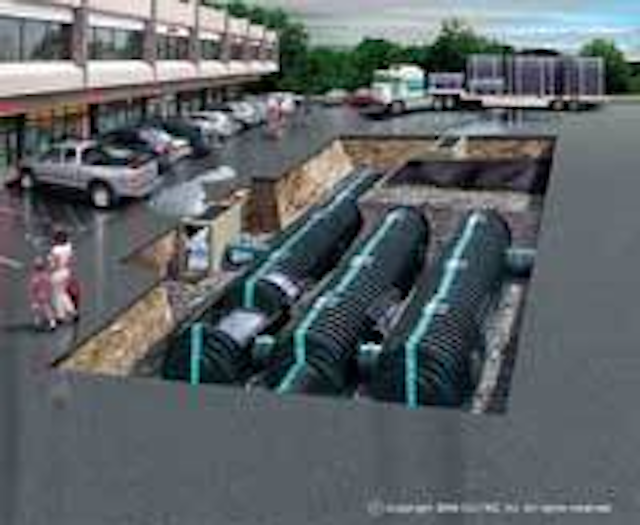 Click here to enlarge image
Cultec's new Recharger® V8TM stormwater detention/retention chambers are designed to increase the water storage capabilities of underground stormwater systems. With a capacity of more than 25% greater than other models, the chambers can be used for retention, detention, recharging, or controlling the flow of on-site stormwater run-off.
Cultec Inc.
Brookfield, CT Tel: 800-428-5832 Web: www.cultec.com
Storage tanks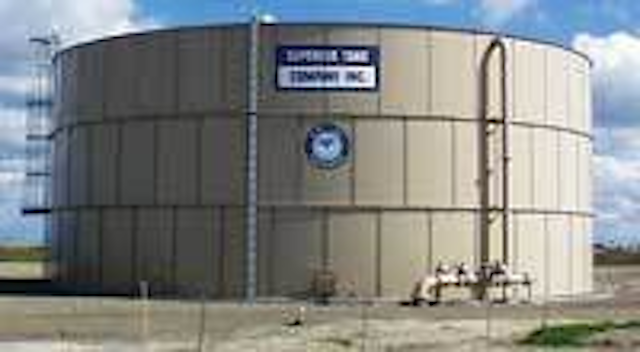 Click here to enlarge image
Superior Tank Co. manufactures and installs bolted and welded steel storage tanks used in the potable water and wastewater market. Tanks can be designed per AWWA D103-97 and D-100, NFPA-22 and Factory Mutual specifications. Bolted tanks can receive either hot dipped galvanized or factory applied thermoset fusion bonded powder coatings. Stainless steel bolted tanks are also available.
Superior Tank Co.
Rancho Cucamonga, CA Tel: 800-221-8265 Web: www.superiortank.com
Manhole repair
Sauereisen Manhole ChimneySeal No. F-88 is a chemical-resistant, elastomeric lining composed of a fiber-reinforced, asphalt-modified urethane. The lining prevents the inflow and infiltration of groundwater into the chimney section of manholes. It also accommodates horizontal and vertical movement of the substrate due to freeze/thaw cycles. It can significantly reduce the cost of treating additional sewage volume that originates as inflow through voids and cracks along manhole grade rings and chimneys.
Sauereisen Inc.
Pittsburgh, PA
Tel: 412-963-0303
Web: www.sauereisen.com
Powder coatings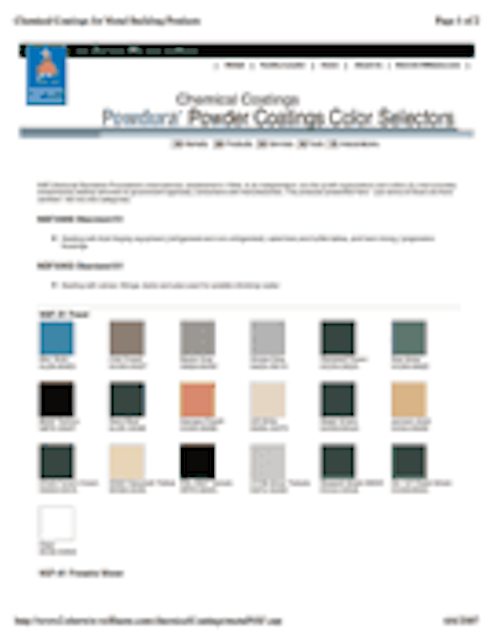 Click here to enlarge image
A new online color selector is now available from Sherwin-Williams Chemical Coatings Division to assist coatings specifiers in selecting powder coatings in NSF/ANSI Standard 61 Colors for valves, fittings, tanks and pipe used for potable (drinking) water. To access the color card, go to www.sherwin-williams.com/oem and click on Color Selectors, Powdura National Sanitation Foundation Reference Card. The file can be accessed and printed in PDF format.
Sherwin-Williams Chemical Coatings Division
Cleveland, OH
Tel: 800-524-5979
Bolted tanks
Columbian TecTank specializes in the turnkey production of bolted and shop-welded tanks, from design, fabrication and factory coating/thermally curing to field erection and service. The tanks are used for sludge storage and as clarifiers, equalization tanks, trickling filters, and anaerobic and aerobic digesters, just to mention a few possible applications.
Columbian Tec Tank
Kansas City, KS
Tel: 913-621-3700 Web: www.columbiantectank.com
Tank level monitoring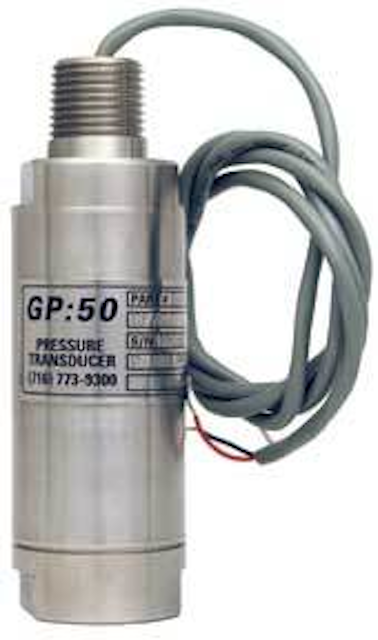 Click here to enlarge image
GP:50's Model series 311 level (hydrostatic pressure) transmitter is designed to accurately measure bowl level in water towers. High zero suppression provides the offset needed to null stack level and provide an accurate bowl level. The stainless steel pressure transmitter is available in 4-20mA output with optional process and electrical connections and lightning protection.
GP:50
Grand Island, NY
Tel: 877-774-4751
Web: www.gp50.com
Polyethylene tanks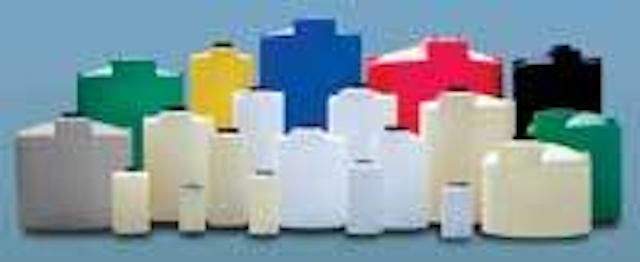 Click here to enlarge image
Assmann Corp. offers a line of corrosion and chemical resistant tanks and containers. Constructed from virgin high-density crosslink or FDA-compliant linear polyethylene, the tanks and containers are used to store and transport corrosive and hazardous materials. They provide low temperature impact resistance, are UV stabilized and come in wide range of capacities and colors. Custom rotational molding, accessory fittings and custom colors are available.
Assmann Corp.
Garrett, IN
Tel: 888-357-3181
Web: www.assmann-usa.com
Fall protection grating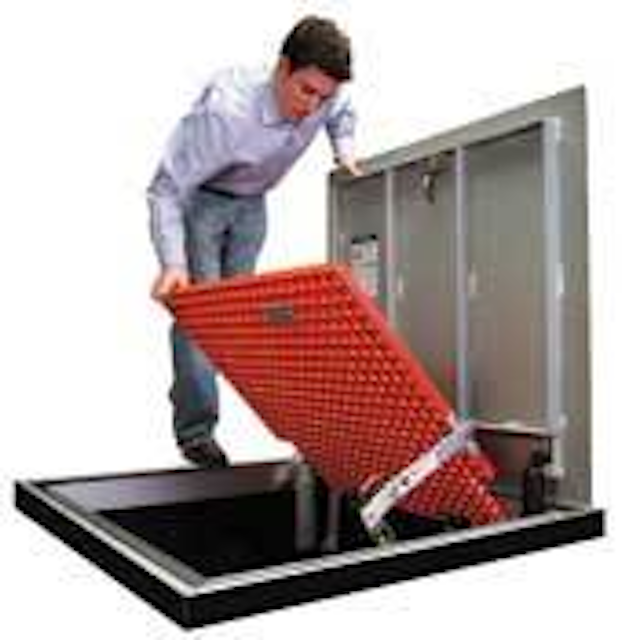 Click here to enlarge image
Bilco now offers a fall protection grating option for its line of floor, vault and sidewalk doors. The grating is constructed of corrosion-resistant fiberglass and includes lift assistance and an automatic hold-open arm for ease of operation and user safety. It is equipped with stainless steel hardware and is rated for a 300 PSF live load. The company offers the grating option on both standard and special size doors. Kits are available for field installation.
Bilco Co.
New Haven, CT
Tel: 203-934-6363
Web: www.bilco.com
Tank coating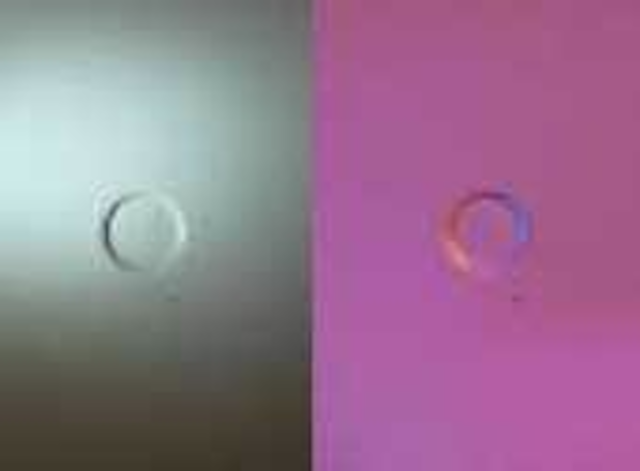 Click here to enlarge image
Sherwin-Williams offers its Duraplate® UHS Ultra High Solids Epoxy with fluorescing Optically Active Pigments (OAP), allowing tank lining applicators to check the coating instantly for pinholes, holidays and other discontinuities and verify uniform coverage and proper film thickness. The new formulation is the only product of its type meeting the requirements of NSF Standard 61 for potable water tanks of at least 1,000 gallons. The coating uses Duraplate UHS Epoxy as the vehicle to hold the pigment, and is available as a single- or multi-coat application. A 'civilian' application developed from a technology supplied to the U.S. Navy, the fluorescing technology has doubled the service life of marine ballast storage tank coatings simply by illuminating insufficient film thickness wherever it occurs.
Sherwin-Williams Industrial and Marine Coatings
Cleveland, OH
Tel: 800-524-5979
Level control valves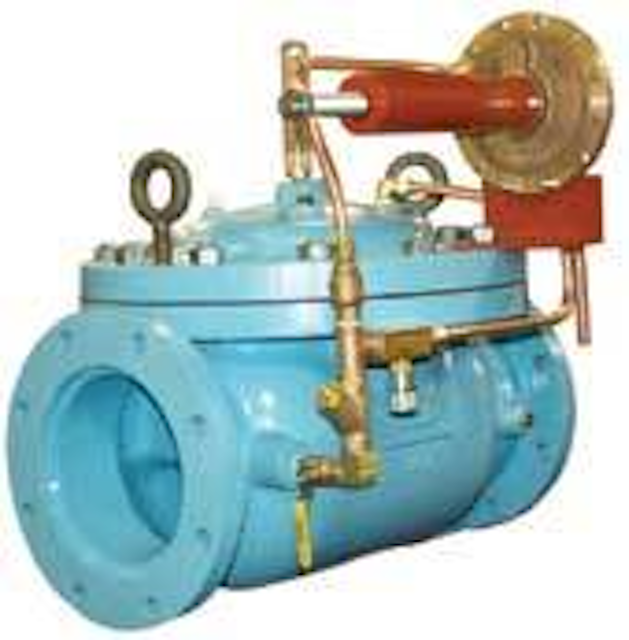 Click here to enlarge image
OCV Control Valves manufactures a variety of level control valves for use in water storage tanks and reservoirs. Depending on the application, the company can provide the Model 3333 Two-Way Altitude valve, which senses tank head pressure to control water levels, or the Series 8000 On/Off Float valve that monitors levels through a rotary disc float control that implements an on/off type action. The Model 3333 and Series 8000 are designed to operate automatically from line pressure and maintain a desired level in a tank or reservoir by opening and filling the tank when fluid is below the high level point and closing tightly when the desired level is reached.
OCV Control Valves
Tulsa, OK
Tel: 888-628-8258
Web: www.controlvalves.com
Relief valves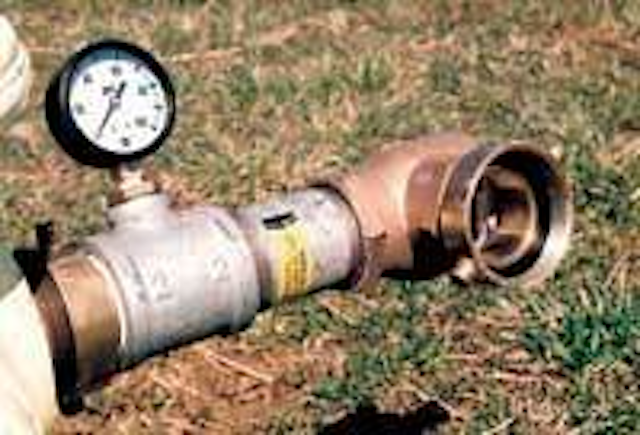 Click here to enlarge image
Norman Noe offers fire hydrant brass relief valves that are used to help relieve and adjust mains pressure when a water tank is off line for maintenance or during an emergency. The 2 ½" ASE valves are preset at 65 psi but can be adjusted from 0 to 120 psi. They are equipped with a pressure gauge and a fire hose adapter on the discharge end to help direct the discharge water.
Norman Noe Co.
Nineveh, IN
Tel: 317-933-2274
Web: www.normannoewatertankinspection.com
Tank overflow assembly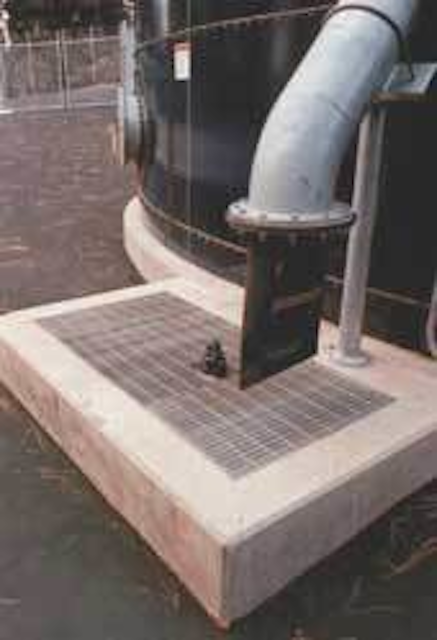 Click here to enlarge image
The Tideflex® tank overflow assembly protects against infiltration and human tampering. Installed inside the overflow pipeline and hidden from view, the Tideflex® valve allows the overflow to drain freely while protecting against airborne pathogens. The assembly comes ready to weld into the overflow pipe and consists of an oversized valve to minimize headloss, reducers and spool piece. Assemblies are available for overflow pipe sizes from 6" through 16". Designs for other pipe materials, including ductile iron and PVC, are available.
Tideflex Technologies
Carnegie, PA
Tel: 412-279-0044
Web: www.tideflex.com
Stainless steel paint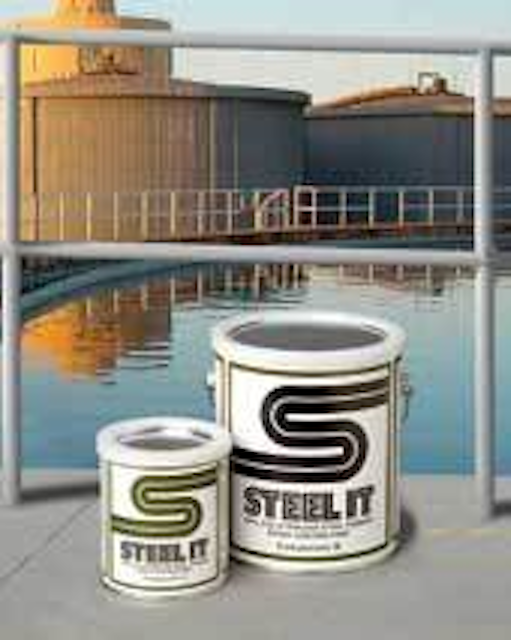 Click here to enlarge image
A stainless steel epoxy paint system for protecting above-water structures that must resist water, salt air, detergents, and solvents is available from Stainless Steel Coatings Inc. The Steel It® Stainless Steel Epoxy System consists of an epoxy primer and finish coating with a 316L stainless steel leafing pigment that creates a gray satin finish which resists water, salt air, detergents and solvents. Ideally suited for fabricators and builders of above-water railings and other structures, the coating is durable and chip resistant and can be applied by brush, roller, or spray gun.
Stainless Steel Coatings Inc.
So. Lancaster, MA
Tel: 978-365-9828
Web: www.steel-it.com