Products & Services: Software & Systems
Datastick Systems has released version 1.7 of the Datastick Spectrum software suite...
Aug 1st, 2007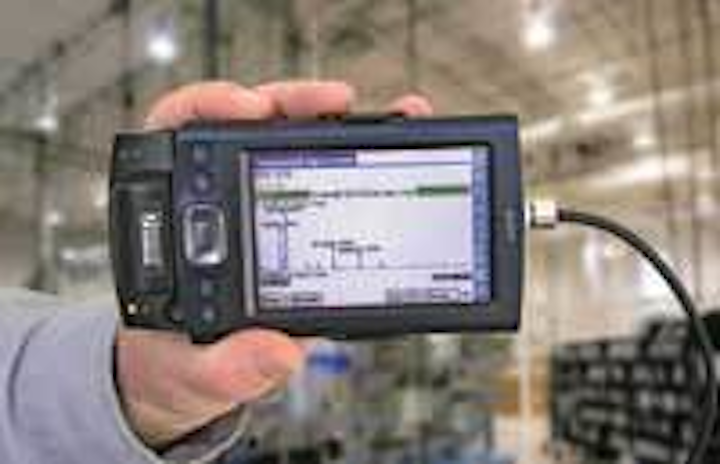 Vibration analysis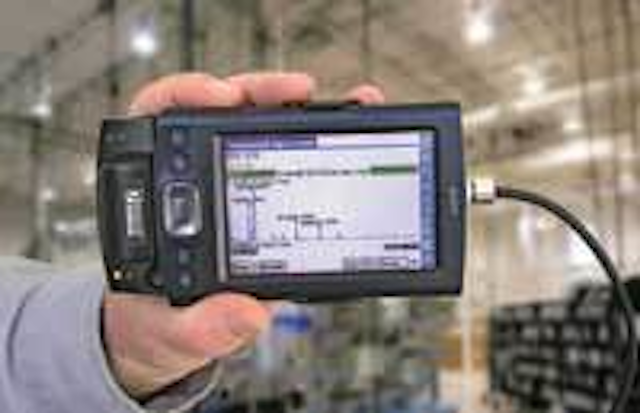 Click here to enlarge image
Datastick Systems has released version 1.7 of the Datastick® Spectrum software suite − including the completely new Datastick Review software utility − for its PDA-based VSATM-series Vibration Spectrum Analyzers for predictive, conditions-based maintenance. The suite includes software for vibration data collection and analysis, Datastick Manager file-management utility, and a new utility called Datastick Review. With Datastick Review, the user can compare past vibration measurements with current measurements on the handheld itself for immediate historical analysis.
Datastick Systems Inc.
Campbell, CA
Tel: 408-871-3300
Web: www.datastick.com
Asset management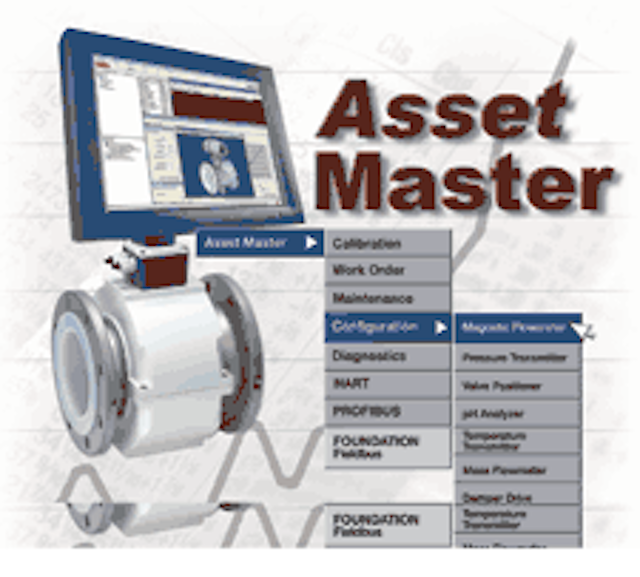 Click here to enlarge image
ABB has released Asset Master, a new field device management and optimization software that can run on desktop computers. The software can manage up to 500 ABB and non-ABB devices, depending on the Fieldbus configuration. In the water and wastewater industries, these devices can include flowmeters, analyzers, actuators, control valves, and positioners − typical instrumentation that can be wired to a Fieldbus.
ABB
Warminster, PA
Web: www.abb.com
AMR management
Neptune provides utility automation systems that allow customers to migrate from legacy meter reading systems to the latest technology in a seamless fashion. Its ARB® Utility Management SystemsTM provide utilities with a hybrid approach that allows a blending of walk-by, mobile, and fixed network, or any combination of these AMR technologies to best suit meter reading and billing cycles. The system can provide accurate and intelligent data, improve operational efficiency, and enhance measurement capabilities.
Neptune Technology Group Inc.
Tallassee, AL
Web: www.neptunetg.com
Power system monitoring
The PowerCommand iWatchTM100 Web-based monitoring tool from Cummins Power improves power system reliability by allowing operators to supervise and control generators and transfer switches from any location. Using a laptop or desktop computer, this tool provides monitoring of all generator and transfer switch functions via the Cummins Power Generation PowerCommand® network.
Cummins Power Generation
Minneapolis, MN
Tel: 763-574-5942
Web: www.cumminspower.com
AMR system
Itron has announced the commercial availability of Mobile Collector Lite (MCLite) running MV-RS v7.8 software, a flexible solution to water utilities interested in capitalizing on the value attained in a drive-by data collection system. The portable drive-by AMR tool uses the Itron FC200 handheld computer with an external radio to gather consumption and tamper data from ERT-equipped electricity, gas and water meters. A single MCLite can read up to 10,000 meters on a single route.
Itron Inc.
Liberty Lake, WA
Web: www.itron.com
Pipeline inspection software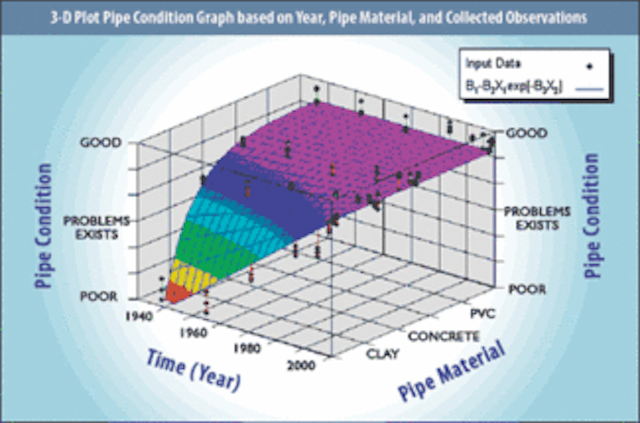 Click here to enlarge image
CUES, a provider of pipeline inspection equipment and asset inspection/decision support software, has released the new Universal Scoring Module. This decision-support tool helps people make informed, defensible decisions about determining which pipes/structures to fix in the short and long term. Working in collaboration with consultant engineers, the company designed the module to determine what pipes to fix and when.
CUES
Orlando, FL
Tel: 800-327-7791
Web: www.cuesinc.com
Enterprise software
Telvent Miner & Miner has released ArcFMTM Solution version 9.2. The upgraded enterprise GIS solution is designed for editing, modeling, maintaining, and managing facility information for water/wastewater utilities. This release is also certified with ESRI's ArcGIS® 9.2. New features include Underground Facility Management, which improves the ability to manage the internal representation of underground structures including manholes and vaults by allowing users to create, edit, and view the internal structures.
Telvent Miner & Miner
Fort Collins, CO
Tel: 970-223-1888
Web: www.telvent.com
Plant-wide data monitoring
GE Fanuc Automation, a unit of GE Industrial, offers ProficyTM HMI/SCADA - iFIX® 4.0. The system is designed for the comprehensive monitoring, control and distribution of plant-wide data. A key component of the Proficy automation software platform, iFIX 4.0 delivers enhanced functionality including improved third-party PLC integration, and both Developer and Operator productivity enhancements.
GE Fanuc Automation
Charlottesville, VA
Tel: 800-433-2682
Web: www.gefanuc.com
Meter management software
MeterTrac software is designed for managing meter serial numbers, transponder ID's, meter sizes and types. It allows users to directly bar-code scan the meter and transponder numbers into a database that matches them up with the finance department's account numbers and street addresses. The database allows users to then create a tear-resistant label that is wrapped around the cable connecting the meter and transponder. The label can then be used as the work order for the installer, telling them where the combination is to be installed.
Vintage Water Works Supply
Healdsburg, CA
Tel: 707-431-7473
Web: www.vintagewws.com
Membrane design software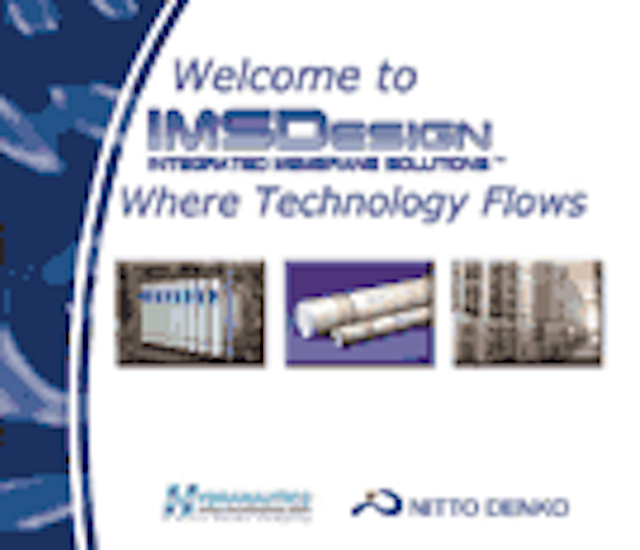 Click here to enlarge image
Hydranautics has released IMSDesign 2007 - a free membrane projection program that allows the user to design an RO or UF system using the company's membranes. The new software includes many previous features which enhance the user's ability to design multiple desalination systems, including second pass pH adjustment, the highest boron rejecting seawater and brackish water membranes in the industry, and the ability to design a split partial two pass seawater system.
Hydranautics
Oceanside, CA
Tel: 760-901-2500
Web: www.hydranautics.com
Energy management software
Itron has released a new version of Enterprise Energy Management (EEM) SuiteTM v3.6, which combines a set of software tools to help large enterprises manage energy and water usage in a single Internet-based solution that can be shared across multiple facilities. Features include: Emissions Reporting Module; Integration with Energy Star's Automated Benchmarking; and Enhancements to Rate Analysis Reports. A Cumulative Summary Report tool allows the operator to track the cumulative variance between two time periods (e.g. this year vs. last) or two bill scenarios (actual vs. budget).
Itron Inc.
Liberty Lake, WA
Web: www.itron.com
Modem software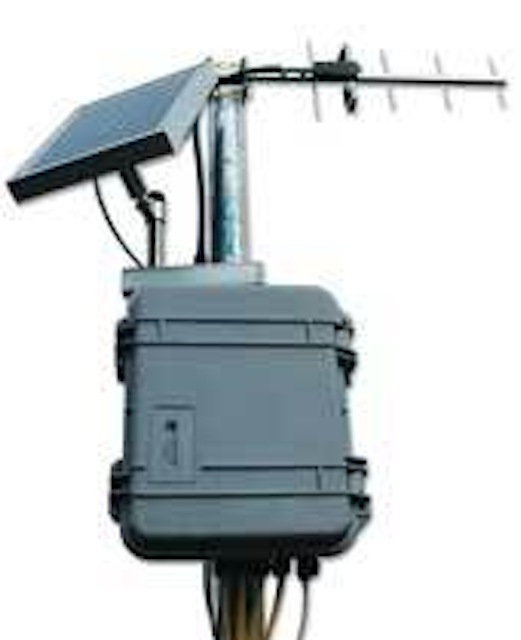 Click here to enlarge image
Global Water's new "Global Access" radio modem software provides all the functionality of the company's Global Logger II software, but is expanded to simultaneously monitor multiple remote data loggers, as well as providing all of the features of the "Global Flow Monitor". The flow monitor function allows users to correlate water level and flow for most flumes or weirs using equations or custom lookup tables; as well as calculate the flow and velocity in partially full round pipes using the Manning's equation.
Global Water
Gold River, CA
Tel: 800-876-1172
Web: www.globalw.com
Customer information system
Systems & Software, a Customer Information System (CIS) Solution provider for utilities, has released its next-generation software solution, enQuestaTM 3e. With a combination of enhanced business performance, outstanding usability and cutting-edge technology built using service-oriented architecture (SOA), the system is already in use at utilities.
Systems & Software Inc.
Colchester, VT
Web: www.systemsandsoftware.net
Disinfection monitoring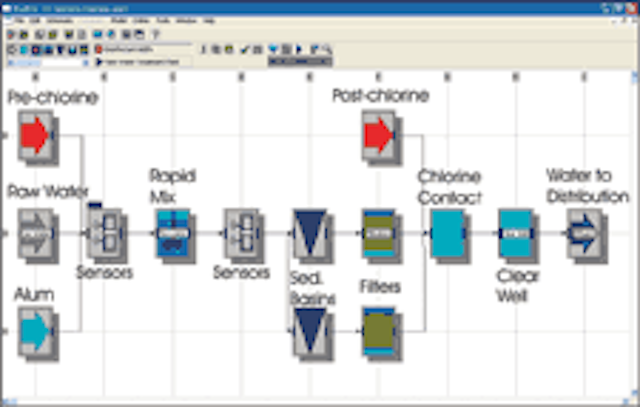 Click here to enlarge image
Hydromantis' WatPro software simulates drinking water disinfection using the EPA's CT approach, with the value-added benefit of estimates of disinfection by-product (DBP) formation. The City of Toronto recently integrated the software program with the Supervisory Control and Data Acquisition (SCADA) system at its FJ Horgan filtration plant on Lake Ontario, the first municipality in North America to adopt this pro-active approach for combined on-line CT and DBP monitoring.
Hydromantis Inc.
Hamilton, ON, Canada Tel: 905-522-0012 Web: www.hydromantis.com
HMI/SCADA software
Schneider Electric has enhanced its HMI/SCADA software offering with the introduction of VijeoTM Citect®, the new supervision software developed in collaboration with Citect Pty Ltd, a Schneider Electric company. The software responds to all types of production automation, infrastructure or electrical distribution solutions requiring HMI/SCADA. In addition, it meets the requirements of stand-alone control stations as well as redundant supervision systems. The software gives users a permanent and upgradeable investment since its scalable architecture allows a system to develop over time without the risk of becoming outdated.
Schneider Electric
Palatine, IL
Tel: 800-392-8781
Web: www.us.telemecanique.com
Valve data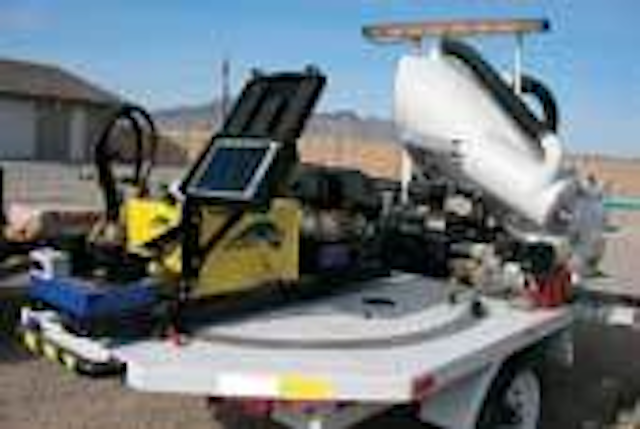 Click here to enlarge image
Now users can include a "data collection" system with their Pacific Tek vehicle mounted valve operator. The system features a Windows-based tablet computer that stores information in "real time" as the valves are exercised. The software and associated database can serve as an infrastructure management system from which users can print out reports of historical activities.
Pacific Tek Inc.
Santa Ana, CA
Tel: 800-884-5551
Web: www.pacific-tek.com
Meter reading software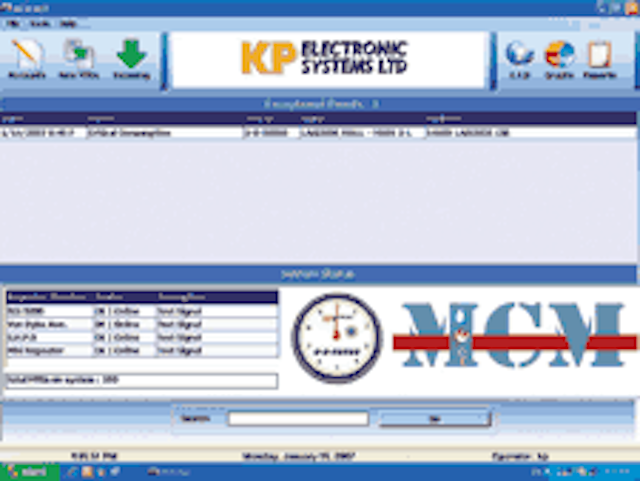 Click here to enlarge image
KP Electronics has introduced a new version of its MCM automatic meter reading software. The software collects and processes signals from the company's Mega-NetTM AMR Fixed Network. Real-time leak and tamper message notifications allow operators to take immediate actions to correct a problem.
KP Electronics Inc.
North Wales, PA Tel: 888-542-7460 Web: www.kpelectronics.com
Corrosion control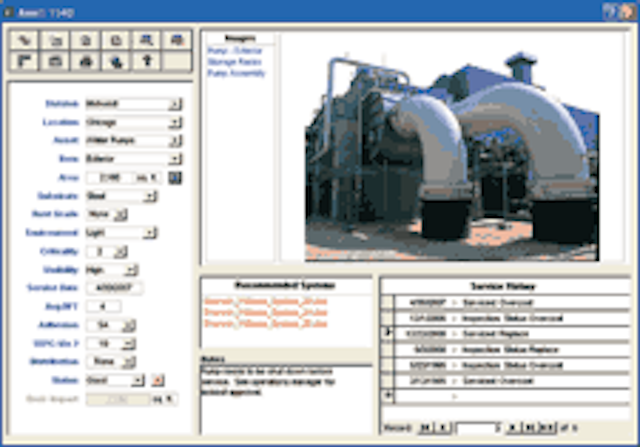 Click here to enlarge image
Sherwin-Williams has developed Site SurveyTM software that allows users to catalog and evaluate plant assets, estimate current and future maintenance painting expenses, and generate cost comparisons for various budget scenarios. The reports created allow customers to understand the current corrosion status of their facilities and identify maintenance priorities, actions, costs, and savings over a 10-year period.
Sherwin-Williams Industrial and Marine Coatings
Cleveland, OH Tel: 800-524-5979
Flushing software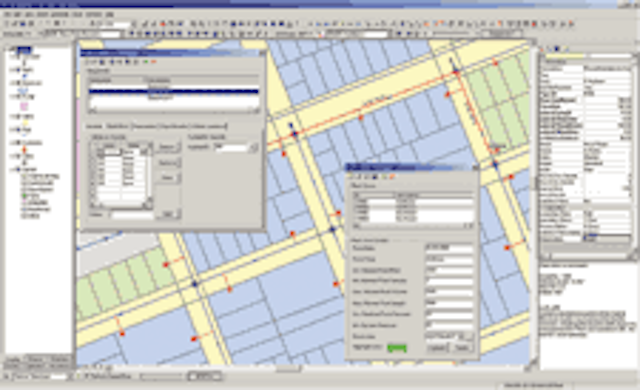 Click here to enlarge image
MWH Soft has introduced InfoWater UDF, an ArcGIS-centric pipe cleaning and maintenance solution for water distribution systems. The automated unidirectional flushing software can help utilities restore hydraulic capacity and improve water quality. It lets users generate detailed reports of flushing sequences showing which hydrants and valves should be manipulated for optimal cleaning while avoiding excessive pressure drops (e.g., below 20 psi) and high velocities (e.g., above 8 ft/sec) in the system.
MWH Soft
Broomfield, CO
Tel: 626-568-6868
Web: www.mwhsoft.com
Automation controller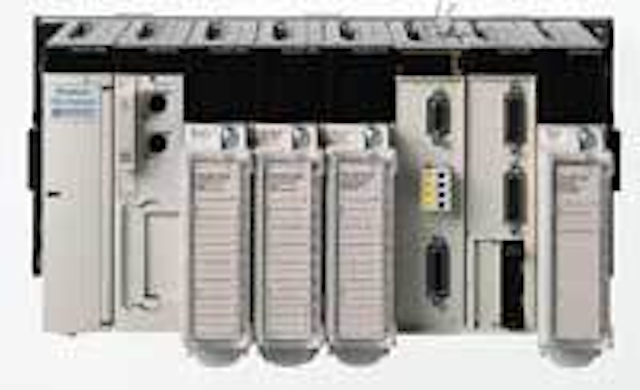 Click here to enlarge image
The Telemecanique® brand Modicon® PremiumTM programmable automation controller (PAC) from Schneider Electric is optimized for demanding OEM-based process control and machine applications in water and wastewater. With 2048 discrete I/O, its networking capability, and reliance on UnityTM programming software, it is robust enough to handle stand alone or networked applications without sacrificing processing power and reliability.