Flying High from Oxford - Jet Engine Inspired PRV Development
Spun out of Oxford University, a new pressure reducing valve has been developed inspired from aviation technology.
Mar 1st, 2017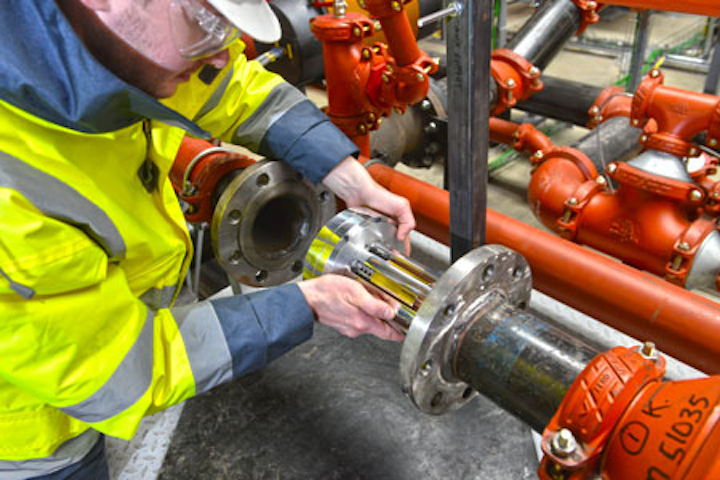 Spun out from Oxford University and trialled at Anglian Water, a new pressure reducing valve has been developed using a potable water approved polymer, completely reducing the weight. Inspired by the aviation industry, could this technology help utilities hit the sweet spot in network pressure management?
By Professor Tom Povey
Water companies are under increasing pressure to manage their networks effectively while still reducing costs.
In today's operating environment, this frequently means finding better ways of working without increasing overheads. For the water industry, that means careful network management.
For water utilities, pressure levels in water networks are something of a 'Goldilocks issue'. Too little of it leads to sluggish performance, dwindling water pressure and ultimately, irate calls to the customer service team. Too much of it leads to damaged infrastructure, network outages and – again – irate calls to the customer service team. Finding and maintaining that 'just right' sweet spot where the pressure is high enough to deliver a good service, yet not so high that it will wreak havoc is no easy feat.
Of course, a means to achieve these aims comes in the form of the many pressure reducing valves (PRVs) on the market but unfortunately, all have their limitations. And it was addressing these limitations that has recently brought together two of the biggest players on the UK utilities scene: Anglian Water and Morrison Utility Services with Oxford Flow, a spin-out from the engineering labs of Oxford University.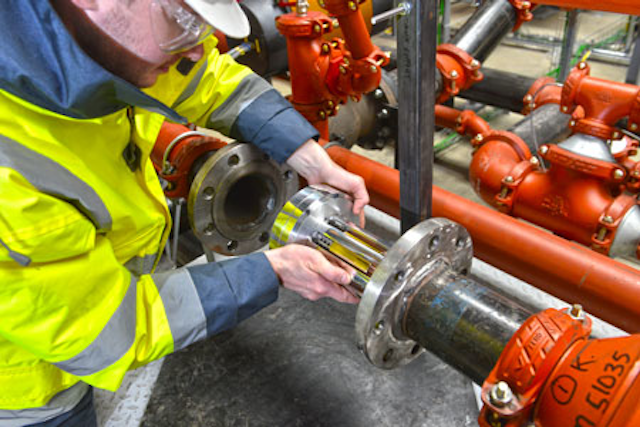 While at first glance, keeping showers running and kettles boiling across the nation might not seem to have much in common with jet engines, the PRV patented by Oxford Flow in 2015 originated from research into heat transfer in jet engines taking place at Oxford University's world-famous Osney Mead Thermo-Fluids laboratory.
The team was getting frustrated by the fact that no PRV on the market was able to withstand the very high pressures being used in the course of the research. Returning to engineering first principles, a solution was developed to solve the issue. The end result was a valve with commercial possibilities so obvious that the spin-out company Oxford Flow was quickly established.
The developed device uses a balanced sensing piston that eliminates the Achilles' heel of the conventional PRV design – the diaphragm. The IP Series for water is manufactured from a potable water approved polymer. This means that the unit is considerably lighter and smaller than the equipment it replaces, around 4 Kg for a DN100 valve versus around 40 Kg for a traditional valve. As a result, the unit does not require deep trenches for access and installation, reducing both costs and carbon output.
Technical benefits include reduced hunting and minimum head-loss at full flow - the IP Series PRV achieving a minimum pressure head loss of just 0.2 bar g compared to 0.5 bar g for the best of the competitors.
Pipe dreams to reality: Professor Tom Povey says the PRV originated from research into heat transfer of jet engines
This contributes to a calmer network which has many benefits in the area of pressure management - because the flow of water can be very tightly controlled, this leads to fewer leaks and burst water mains, meaning less water is wasted and minimised disruption to customers. The fact that the PRV only has one moving part also means it is much less prone to malfunction, while the fact that pressure throughout networks reduced the risk of cavitation.
In the long term, this means that pipes last longer, water supplies are more reliable and utility companies have reduced excavation costs as they need to access broken kit much less frequently.
Utility Anglian Water and Morrison Utility Services are putting the PRV through its paces at a test rig at the Grafham water treatment works.
Fionn Boyle, innovation project manager at Anglian Water Services says it's the reduced maintenance schedule that could "help us to significantly reduce both costs and down time".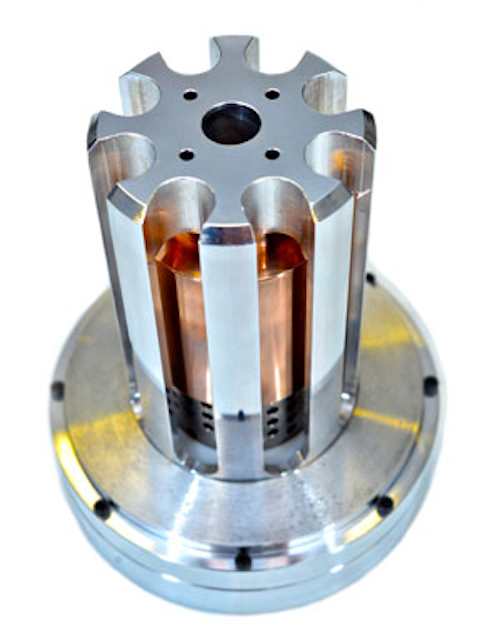 "Second, the device offers significantly reduced head-loss, which could enable 'fine tuning' in pressure optimisation. Finally, because of its light-weight design and the reduced need for maintenance, it could help us to significantly reduce our carbon output, a goal that is increasingly important to us, given our business aim of reducing embodied carbon by 60% by 2020."
Boyle adds: "So far, we've been impressed. It performs well under a range of conditions and the ease of installation encourages our field technicians to adopt the technology. Testing is still ongoing, but we certainly think this device could have multiple applications in the water industry."
Tony Hanks, water technologies innovation manager at Morrison Utility Services, adds: "The costs are comparable to many other devices on the market, and yet it offers so many additional benefits. For example, it is significantly easier to install and offers a maintenance free-schedule of up to 15 years. And because it weighs 4kg rather than 30kg, there are a lot of health and safety and cost benefits.
"Personally, I've been very impressed. The fact that the device is drawn from aviation technology is impressive and it's great to see a really revolutionary new design that isn't just a tweak or variation on existing models. There's already been significant interest in the UK water market and I anticipate that eventually the use of the Oxford PRVs will simply be business as usual for many water and gas companies in the utilities sector."
Professor Tom Povey is the technical director of Oxford Flow.
More Water & WasteWater International Current Issue Articles
More Water & WasteWater International Archives Issue Articles