Pumps
Six Tsurumi pumps are being used to clear water and sediment during the construction of a new metro line in Rennes, France.
Aug 7th, 2015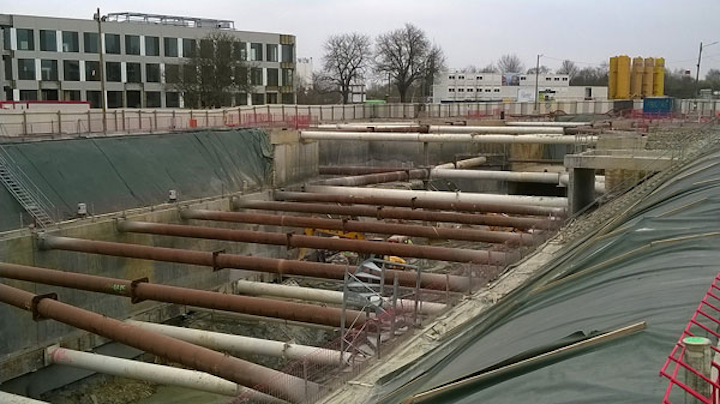 Tsurumi pumps on track in France metro development
Six Tsurumi pumps are being used to clear water and sediment during the construction of a new metro line in Rennes, France. A single-phase LB480 light duty drainage pump is working in conjunction with a HS3.75S submersible contractor's pump to move water loaded with sand and earth. A single phase NK3-22L compact contractor's pump is also working at the site at a flow of up to 50 m3/h. A three-phase KTZ35.5 is also providing a tough, durable performance in a variety of dewatering activities at the site. These dewatering pumps are capable of pumping from a maximum depth of 25m, offering a variety of heads ranging up to 48.5m with flow of up to 146 m3/h. www.tsurumi.eu
*************
4" dewatering pump set
BBA Pumps has launched its BA100K - a diesel driven 4" solids handling pump. With a capacity of over 190 m3/hour (836 US GPM) and a maximum head of 22 mwc (73 ft.), this is a compact, dry self-priming dewatering and sewage pump. It includes a free passage of 82 mm (3.23") and the unit is driven by a single-cylinder diesel engine with a calculated maximum fuel consumption of 1.75 litre/hour. The service interval for the new BA100K has now increased from 500 operational hours to 1500 hours. www.bbapumps.com
*************
TEMPUFLO - HIGH TEMPERATURE WATER (HTW) SERIES
MP Pumps has expanded its Tempuflo® centrifugal line to include pumps designed specifically for Hot Water applications. The Patented Tempuflo HTW Series joins the HTO Series, by offering four models ranging from 1 HP to 20 HP. The isolator technology combined with the heat exchanger limits the seal cavity to a maximum temperature of 190°F (88°C) while the process fluid temperature reaches 400°F (204°C). www.mppumps.com
*************
7000 Series Mechanical Metering Pumps
Neptune has launched mechanically actuated pumps featuring operational characteristics suitable for the dosing of alum and ferric chloride in water/wastewater-treatment applications. The pumps eliminate the use of contour plates on the liquid side of the diaphragm, which the company said results in a straight-through valve and head design that allows improved flow characteristics. They have been designed to handle clear liquids with viscosities. The capacity of the 7000 Series pumps is manually adjustable via micrometer dial while the pump is running. This allows the pump to produce flow rates ranging from 10 gph to 450 gph (38 L/hr to 1,710 L/hr) at head pressures up to 150 psi (10 bar). www.neptune1.com
*************
KEPL tests high speed high pressure pumps for Saudi Aramco
Kirloskar Ebara Pumps Limited (KEPL) has finished testing #2500 pressure class pump designed and manufactured for Saudi Arabian oil giant, Saudi Aramco. Testing of 10-stage high speed and high pressure API BB5 Pumps took place at Kirloskarvadi, Maharashtra. KEPL pump model 150 X 100 (A) DCD has been designed for high pressure fluid handling applications. API 610 BB5 pumps are multistage centreline supported heavy duty double casing diffuser. This pump was designed with motor rating of 900 KW having the capacity of 92 m³/ hr and 1603.9 meter differential head achieved at a speed of 4483 Revolutions per Minute (RPM). http://kepl.in.net/
*************
Pentair actuator for ball and butterfly valves
Pentair Valves & Controls has launched its Keystone F89 pneumatic rack and pinion actuators. The F89 series has been designed to serve as a complete solution for all quarter turn applications in industries such as chemical, processing, mining and power.
The F89 series is an enhanced offering and succeeds the previous models. Direct mounting on butterfly valves eliminates the need for a bracket kit, which reduces valve package cost and overall dimensions for users. All models include dual travel stops as standard, which allow for independent, easy and accurate adjustment of the close and open position.
Up to 12 pre-compressed captive springs provide improved maintenance safety and are designed to accurately match specific ball and butterfly valve torque requirements. In addition, F89 actuators provide an improved spring torque. Powder coating of the springs also protects against corrosion, further reducing maintenance requirements. Optimised for the Pentair quarter turn valve range, the F89 forms part of a fully tested and installation-ready valve automated package.
http://valves.pentair.com/valves/
*************
Alternative to solenoid valves
German company Bürkert has expanded its supply of components for fluid control with a new series of electrically controlled motor valves. The new motor valves offer an ideal alternative to the known solenoid valves in less dynamic applications which do not require response times in the millisecond range. The motor actuated valves from Bürkert have closure times of only 2.5 seconds (about 4 seconds for disc valves). The compact valves can be used with combustible gases at pressures from 0 to 3 bar, with neutral gases and liquids up to 6 bar. Seals of FKM or NBR and a body of polyphenylene sulfide and polycarbonate make them very robust. The compact valves are designed for an ambient temperature from -10 to 60 °C and fluid temperatures from 0 to 70 °C.
*************
Smallest proportional valve in the world?
Viking AT, LLC has launched its piezo micro valve with proportional control, based on its ViVa valve actuator. Viking's team was able to shrink its ViVa Mechanical Amplifier to accommodate this micro valve. This small device comes in at 5.5mm x 18.50mm x 22.61mm as a driving proportional flow valve for controlling liquid hydrocarbons and has further been tested for use with air, nitrogen, helium and other gasses. Using the company's miniature ViVa valve actuator, the micro sized valve can offer exceptional proportional control with ultra-low, less than 1 mW power consumption, according to the company. Highlights of the new ViVa® piezo actuator driven Micro Valve include current design operating with flow rates from 7 LPM at 140 PSI and ability to operate from 10 -- 150PSI.
*************
Seated knife gate valve
US valve company DeZURIK's has launched a KGC-BD Bi-Directional Resilient Seated Knife Gate Valve, which features a patented perimeter seat design that provides bubble-tight shutoff in either direction, even on dead end service. The KGC-BD Bi-Directional Knife Gate Valve combines a one-piece rubber molded seat with an insert, a spline and a puck that work together to lock the seat securely into the valve body. Available in sizes 2-36" (50-900mm) the valve is designed for isolation and on/off applications in the paper, chemical, mining, power and wastewater industries. It is designed to handle clean, dirty, viscous and corrosive liquids, sludge, fibrous slurries, clean and corrosive gases.
More Water & WasteWater International Current Issue Articles
More Water & WasteWater International Archives Issue Articles