Corrosion Control
Thermoplastic fluid flow technology company Asahi/America's Poly-Flo® co-extruded double containment piping system is available in black advanced polyethylene (PE) and euro grey polypropylene (PP-R).
Nov 1st, 2016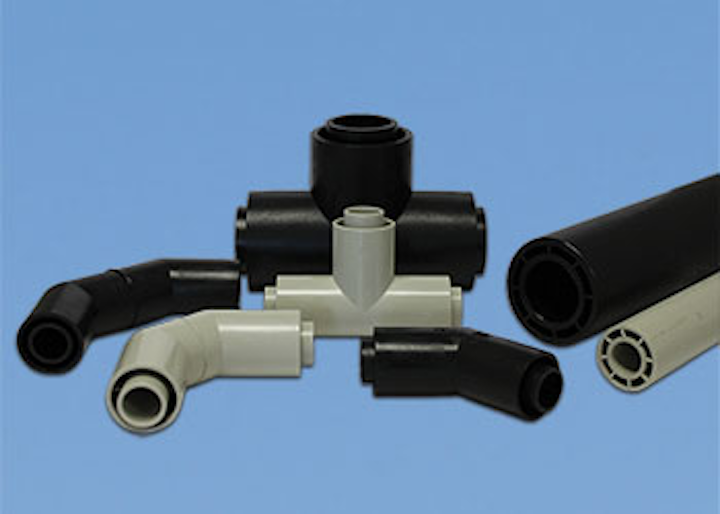 UV resistant piping system for tough conditions
Thermoplastic fluid flow technology company Asahi/America's Poly-Flo® co-extruded double containment piping system is available in black advanced polyethylene (PE) and euro grey polypropylene (PP-R). The Poly-Flo is said to be ideal for installations with space constraints and systems where thermal expansion and contraction are present.
Supplied as a complete system, it includes full pressure fittings, drainage fittings and machined fittings. This system is available in 1x1-1/2", 2x3" and 4x6" and operates up to 150psi at 68oF.
The unitary construction of Poly-Flo helps prevent failures often seen in fabricated double wall systems. Design and installation considerations are minimized because Poly-Flo reacts like single wall systems, the company said. This is especially important in installations with fluctuating temperatures or applications like directional drilling where opposing forces act on the carrier and containment pipes.
Black advanced PE Poly-Flo is well-suited for outside, above ground applications because of its UV resistance, and it performs well in underground installations because of its resistance to crack propagation. Due to its high pressure rating, euro grey PP-R Poly-Flo is ideal for applications running at higher temperatures.
Corrosion inhibitor meets EPA criteria
Rivertop Renewables's sodium glucarate produced by the company's breakthrough oxidation technology has been listed on the U.S. Environmental Protection Agency's Safer Chemicals Ingredients List (SCIL). Chemicals on the SCIL have been certified by the EPA as safer than traditional chemical ingredients, helping formulators secure the Safer Choice label for end products sold to industry and consumers. Rivertop's product, manufactured at DTI in Danville, Virginia, is the first chemical with corrosion inhibiting properties to secure full approval for the SCIL. Sodium glucarate is said to enable superior performance from two Rivertop products. Waterline™ CI is designed to be a high-performing alternative to phosphorous-based corrosion inhibitors in the water treatment industry. www.rivertop.com
Epoxy coated actuator housing for corrosion resistance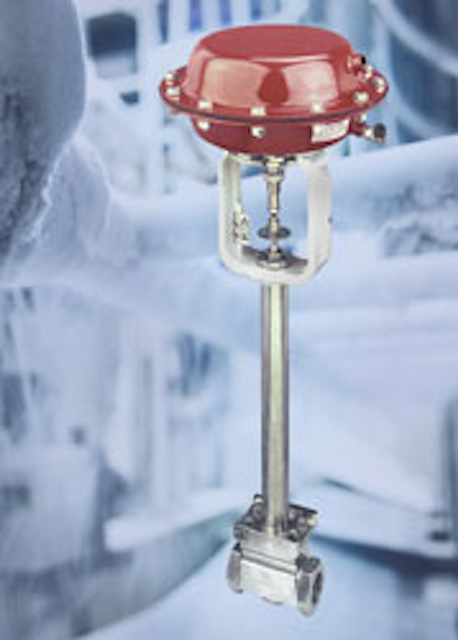 Available from liquids handling specialists PUMP ENGINEERING, the extensive Badger Meter range includes models such as the Series 9000, an ANSI Class 300 globe style valve with bolted bonnet and post-guided inner valve. They are also available as specially configured options, for example Orion Control Valves which have extended bonnets for optimum protection against extreme temperatures.
These valves are available in 1", 1½" and 2" pipe sizes with body, bonnet and inner-valve in 316 S/S as standard, or in Alloy C as an option. The standard valve body, configured as a flangeless / NPT version, enables installation using NPT fittings or can be clamped between matching companion flanges. www.badgermeteruk.com
EcoShield super barrier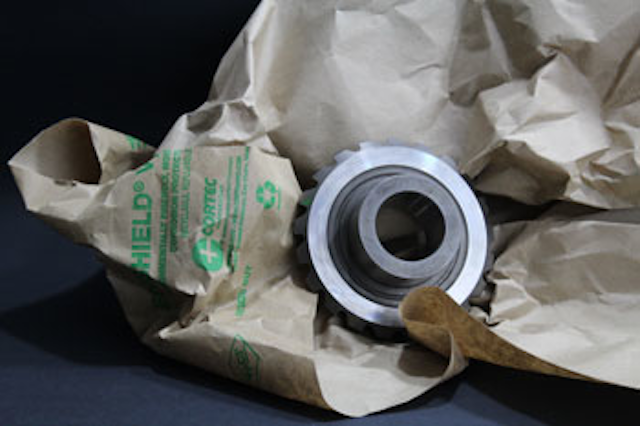 Cortec Corporation has developed a new Super Barrier version of its EcoShield® VpCI®-144 paper for protecting metal parts from corrosion. It combines the corrosion protection of VpCI paper coating with a high gloss water-based barrier coating that prevents moisture from reaching metal parts wrapped inside the paper. The enhanced moisture barrier of the product has been designed as an environmentally friendly alternative to polyethylene and waxed papers.
The Super Barrier combines corrosion protection, moisture barrier properties and oil and grease resistivity into one material to protect both ferrous and non-ferrous metals. This eliminates the need to inventory multiple types of papers for different types of metal.
New modeling application for water
Innovyze has released InfoNet Generation V17, a comprehensive set of smart asset performance and condition modeling applications for water, wastewater, and storm water networks. The latest release significantly extends key features and provides customer-requested functionalities that improve the software's business analytics and data management tools. Advances also include enhanced capital and operational planning; expanded data support for NASSCO PACP, MACP and LACP V7.0; and support for UK Flood Defence Management and ArcGIS 10.4.
InfoNet is a purpose-built asset management modeling and data analysis system for water distribution, wastewater collection and stormwater networks. It's designed to enable users to view, manage, integrate, validate, analyse and report on their network data to obtain accurate, up-to-date, auditable information on network infrastructure and performance. With formats that are easy to use and comprehend, InfoNet enables well-informed, swift, cost-effective and action-oriented decision making for both day-to-day operational management and long-term network planning.
InfoNet includes sophisticated predictive analytics that can identify the pipes in the network that have degraded the most significantly, as well as the local regions where rehabilitation is most urgently required. Users can then create reliable, cost-effective risk-based capital improvement plans that enhance operational efficiency and quality of service and keep assets performing at peak condition while making the most of limited budgets.
InfoNet V17.0 further extends the software's powerful capabilities with a number of new features and enhancements. In response to requests from customers, support for Flood Defence Management is now included, with a new Flood Defence Survey object type. This allows users to record and report essential condition information related to flood defense structures. A new Geocoding feature has been added to provide the ability to zoom the GeoPlan to street and road locations by providing access to Google Maps, Bing Maps and OpenStreetMap search engines.
Endress+Hauser named Global Company of the Year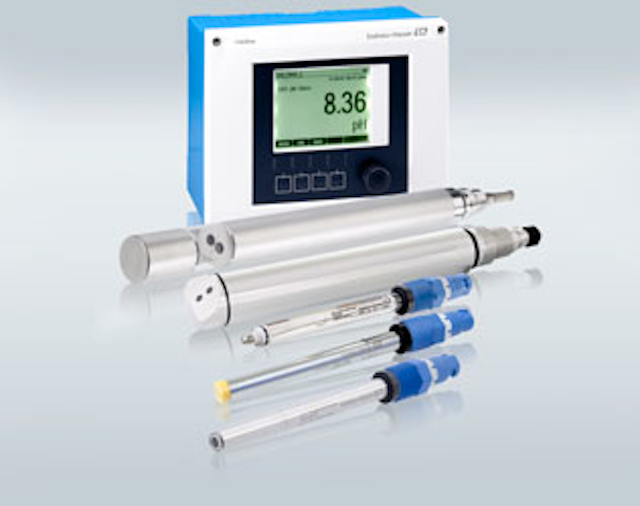 After extensive market and competitor research, consulting firm Frost & Sullivan awarded Endress+Hauser as global Company of the Year Award for water analysis instrumentation, based on an independent study. The company scored 9.25 points out of a possible 10.
"This award confirms that we have revolutionized liquid analysis with our products," said Dr. Manfred Jagiella, MD of liquid analysis specialist Endress+Hauser Conducta based in Germany. "A well thought-out overall concept and perfect interaction between all components ensures reliable measurements, simple operation and low total costs of ownership."
Endress+Hauser relied on acquisitions to bolster the process analytical business with state-of-the-art technologies such as Raman and laser absorption spectroscopy. The Group has also opened the door to laboratory analytical business through the takeover of Analytik Jena AG.
Graphical programming for process monitoring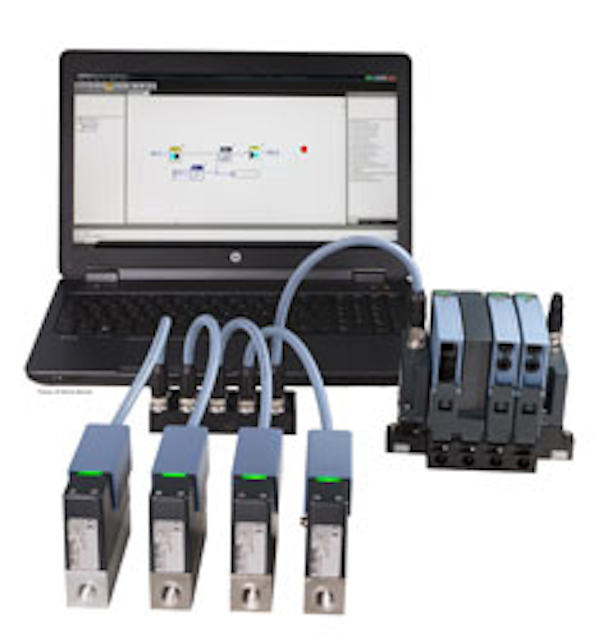 Bürkert supports the "Industry 4.0" development with the Efficient Device Integration Platform (EDIP), which enables intelligent networking down to the sensor and actuator level. The I/O modules now make it possible to integrate all sensors and actuators in EDIP networks. In addition, the graphical programming interface f(x) offers virtually unlimited possibilities for the individual implementation of customer requirements.
EDIP combines and standardises the hardware, software and communication of Bürkert products. The modular design of the platform allows the adaptation of devices according to individual customer requirements and also enables short delivery times. The customer also benefits from a standardised product interface that provides a convenient operation and display concept, faster and easier start-up and the uncomplicated transfer and backup of device settings.
The introduction of the Type ME24 I/O modules and the Type 8922 graphical programming f(x) supplement the existing features of EDIP to include completely new capabilities.
More Water & WasteWater International Current Issue Articles
More Water & WasteWater International Archives Issue Articles