New Products
The SignGuardian™ provides a fast, secure, attractive, safe, tamper resistant and waterproof means to hang signs and banners.
Nov 1st, 2010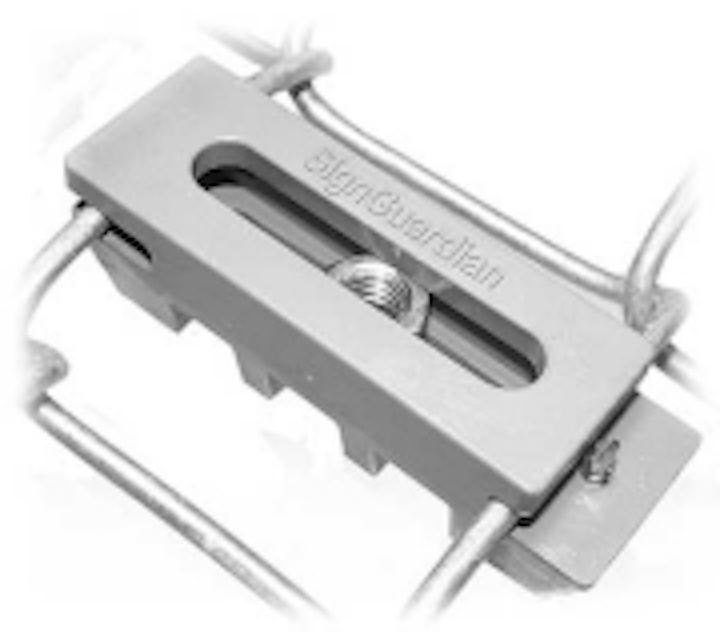 Vandal-proof signage
The SignGuardian™ provides a fast, secure, attractive, safe, tamper resistant and waterproof means to hang signs and banners. It works on standard 2-inch chain-link fence and another model works on poles. The unit is easy to install: just slide the Sign-Guardian™ onto the fence and tighten the set screw. Once a sign is attached by the 1-Way R™ bolt, the exclusive Lock-On feature™ provides the security. A special removal bit is required to remove the bolt.
P&C Tech Products
Sterling, MA
978-479-0022
www.signguardian.com
Self-cleaning filter
Miller-Leaman's automatic, self-cleaning Turbo-Disc Filter is suited for filtering reuse water for irrigation and industrial use, stormwater, cooling tower water, well water, surface water, and other environmental applications. The lightweight, three-dimensional, polypropylene disc media is available in multiple micron sizes and uses a minimal amount of backwash water, approximately 10 gallons of water per pod.
Miller-Leaman Inc.
Daytona Beach, FL
800-881-0320
www.millerleaman.com
Stormwater chamber
A new StormTech® chamber from Advanced Drainage Systems Inc. (ADS) is now available for use in deep cover underground commercial and municipal stormwater management systems. The StormTech DC-780 is designed in accordance with the AASHTO LRFD Bridge Design Specifications for live and dead loads. It also meets the design requirements of ASTM F 2787 and the product requirements of ASTM F 2418 . ADS, the world's largest producer of corrugated highdensity polyethylene (HDPE) pipe, completed its acquisition of StormTech LLC in March 2010. The chamber is made using an injection molding process to ensure uniform wall thickness throughout the chamber. It features more than 46 cu ft of bare chamber storage capacity can be used in systems requiring up to 12 feet of cover.
ADS – StormTech
888-892-2694
www.ads-pipe.com
Check valve
The CheckMate™ Inline Check Valve is ideal for backflow prevention and odor mitigation. In outfalls, stormwater, CSO and SSO applications, the Check-Mate's™ custom-engineered, all-rubber unibody design eliminates costly backflow from oceans, rivers and interceptors. The valve's unique elastomer fabric-reinforced design provides a proven record of maintenance-free performance, cost savings and results that no other inline check valve can match. The major advantage of the check valve is its extremely low headloss. The valve can open to a near full pipe diameter. This maximizes the flow capacity of the outfall, which is particularly beneficial in low-lying areas where limited driving head is available. The valves are readily available in 4" to 72" sizes.
Tideflex Technologies
Carnegie, PA
412-279-0044
www.tideflex.com

Stormwater sampler
The I-CHEM collects a full one-liter sample of first flush stormwater within the first 30 minutes of a rain event in compliance with EPA sampling requirements. A floating ball valve seals off the sample collection port to prevent co-mingling with runoff water as well as volatile analyte loss. Water flows through the sampler's collection funnel directly into a Nalgene® sample bottle, so no sample transfer is necessary before transport to the lab. The I-CHEM can be securely mounted in a stormwater ditch, stream, or storm grate outfall.
Forestry Suppliers Inc.
Jackson, MS
800-360-7788
www.forestry-suppliers.com
Sewer force main inspection
Sahara® technology was originally developed for leak detection in pressurized water mains, and is now quickly becoming the industry standard for sewer force main inspections as well. It allows the line to remain in service and inspections to take place at any point in time. Utilities benefit from a live main inspection process as there is often no redundancy to their pressurized sewer lines and service shutdowns can be complicated and costly. It's able to consistently locate the smallest leaks in any pipe material and locate pockets of trapped gas where hydrogen sulphide gas can build up and deteriorate the inside of the pipe wall. In addition, the actual location of the sewer main can be accurately mapped in real time as the Sahara ® sensor travels through the pipe.
Pressure Pipe Inspection Company
Mississauga, ON
www.ppic.com
Advanced stormwater filtration
The Purus Stormwater Polishing System (previously known as the AquiPlus) provides the most advanced level of stormwater treatment, and is designed for challenging stormwater conditions or targeted pollutant removal. With this level of stormwater pollutant removal possible, the Purus polishing system is ideal for industries where higher concentrations of specific pollutants are unavoidable or where more stringent or watershed specific water quality standards apply.
StormwateRx
Portland, OR
800-680-3543
www.stormwaterx.com
Modeling software
MWH Soft announced the immediate release of version 11 of InfoWorks workgroup management modeling software for wastewater, stormwater, drinking water, and river systems. For stormwater engineers, InfoWorks SD allows users to model stormwater flows through a complex environment with a diversity of underground and overland structures and paths — applying the same high-quality function and analysis to both open channels and closed conduits. New features in Version 11 include: updated hydrology methods, additional run options, enhancements to the Open Data Import Centre, improved compatibility with HEC, overall performance increases and much more.
MWH Soft
626-568-6868
www.mwhsoft.com
Web-based weather stations
Onset's weather stations save you time and money by offering plug-and-play convenience and research-grade performance. The systems feature rugged design for long-term use in harsh environmental conditions; plug-and-play Smart Sensors that eliminate complicated wiring and programming; choice of web-based and standalone systems. The weather stations are ideal for agricultural research, crop management, ecology studies and more.
Onset Computer Corporation
Bourne, MA
800-564-4377
www.onsetcomp.com
Vacuum sewer technology
AIRVAC is a manufacturer of specialty components used in vacuum sewer systems. These components include vacuum valves, valve pits and vacuum station equipment. The company offers complete start-to-finish project services, including preliminary system layout and design, cost estimating, detailed design assistance and construction supervision.
AIRVAC
Rochester, IN
574-223-3980
www.airvac.com
GIS mapping
The newest version of Accela Automation ® software offers new GIS mapping functionality that allows water utility maintenance workers to create and edit geospatial data — both online and offline — right from the field. The software lets field teams dynamically add or modify the locations, attributes, and maintenance histories of their infrastructure assets into the main GIS database, either in real-time, or in disconnected mode with synchronization at the end of the day.
Accela Inc.
www.accela.com
Lift stations
The ReliaSource® 6x6T aboveground lift station is the newest addition to the Gorman - Ruppline of fully customizable, compact and preengineered packaged stations. This unit comes standard with all the existing features of the 6x6, but with an additional 3' of height that allows for more options.
Gorman-Rupp, Mansfield Division
Mansfield, OH
419-755-1011
www.grpumps.com
Sediment sampling
The manually-driven, end-filling SBS Sediment Sampler is perfect for discrete interval sediment sampling in rivers, lakes, wetlands, and estuaries. To obtain a sample, simply lower the sampler to the surface as a dual tube or drive the sampler down to the desired depth where sampling is to begin below the surface. Once sampling is complete, the sampler disassembles easily for fast access to the sample liners that can then be capped off for transport to the lab. The sampler can take continuous or discrete samples from the sediment surface to 400 feet in depth.
Forestry Suppliers Inc.
Jackson, MS
800-360-7788
www.forestry-suppliers.com
Wastewater modeling software
MWH Soft has announced the immediate availability of InfoSewer Generation V6 for ArcGIS 10 (Esri, Redlands, CA). The release is the first sewer network analysis, design and management software for ArcGIS 10 and is certified by the National Association of GIS-centric Software. Ideal for planning, designing, analyzing, and expanding sanitary, storm and combined sewer collection systems, the program can be effectively used to model both dry-weather and wetweather flows and determine the most cost-effective and reliable method of wastewater collection.
MWH Soft
626-568-6868
www.mwhsoft.com
Rain gauge recorder
Telog Instruments offers the 32 series of wireless RTUs, featuring an innovative new wireless modem, exceptional battery life, small size and low power consumption. The RG-32 Rain Gauge Teloger will monitor a tipping bucket rain gauge for up to five years on a single, user-replaceable D cell lithium battery, making two cellular calls to a host computer per day.
Telog Instruments
Victor, NY
585-742-3000
www.telog.com
Permeable concrete paving system
Hanson Hardscapes introduces the AquaPave® Permeable On-Site Stormwater Source Control System, an environmentally sensitive and affordable permeable interlocking concrete paving solution. The system eliminates stormwater, cleaning and removing more than 99 percent of all hydrocarbons (oil, gas and diesel) and 97 percent of other pollutants such as heavy metals, while supporting groundwater recharge and creating a durable and hard permeable surface with an attractive finish. The paving system is able to provide maximum drainage, largely reducing excess stormwater runoff quantities at a rate of 2.5 liters per second, or 354 inches per hour, while improving its quality. The product is currently available in Virginia, Georgia, Indiana, Maryland, North Carolina and Ohio.
Hanson Hardscapes
Ashland, VA
www.hansonhardscapes.com
GIS imagery tools
GeoImaging Tools for ArcGIS®, version 2.0, offers accurate and highly automated tools for correcting raw satellite imagery. With the GeoImaging Tools Image Correction Module, ArcGIS users will benefit from rigorous, automated multisensor support and be able to correct raw imagery using sensor model information, optionally with automatic GCPs and tie points from reference data such as chip databases, reference mosaicas, or vectors. Higher levels of registration accuracy are achievable via block bundle adjustments. Users also have the option of saving the correction parameters and create mosaic datasets for direct use with ArcGIS for on-the-fly processing, reducing data duplication.
PCI Geomatics
Richmond Hill, ON, Canada
www.pcigeomatics.com
Submersible transducers
Pressure Systems has introduced TruBlue, a new line of submersible transducers that measure water level and water quality, and offer more memory and a longer battery life. Featuring power-conserving microprocessor technology, the TruBlue 555 Level is specifically designed for long-term measurement of water levels in environmental and watershed management applications including groundwater, surface water, canal and harbor monitoring.
Pressure Systems
Hampton, VA
800-328-3665
www.trubluemonitor.com
Polymer mortar pipe
Centrifugally cast, fiberglass-reinforced, polymer mortar Hobas pipe is inherently corrosion resistant and can last 100 years or more. Key applications are sanitary and storm sewers, potable water and corrosive environments. Leak-free, push-together joints help reduce installation time and costs. Benefits include inherent corrosion resistance, improved hydraulics, light weight, and high strength.
Hobas Pipe USA
Houston, TX
800-856-7473
www.hobas.com
Pipe inspection system
Using a combination of laser profiling, underwater sonar profiling and highresolution HDTV imaging, the Flyeye pipeline inspection system from Cues collects and processes data on internal pipeline conditions including debris level, ovality, H2S erosion, lateral location, and damage without requiring flow diversion, flow interruption, or manhole ring removal. Reports and video images provide a complete data package to rank risk and evaluate defect severity.
Cues Inc.
800-327-7791
www.cuesinc.com
Flood wall
The Rapid Deployment Flood Wall (RDFW) is an expandable, stackable, modular wall made of tough, lightweight, environmentally responsible Eastman Spectar™ copolyester plastic pellets that are extruded into sheet by Spartech Plastics. The components are die cut and assembled by Geocell. The RDFW harnesses the strength of compressed sand or other locally available fill. It is a faster, less expensive and less labor-intensive alternative to the task of filling and stacking sandbags in flood conditions. The flood wall can be constructed by as few as two people, and can be reused and recertified up to three times.
Eastman Chemical Company
Kingsport, TN
www.eastman.com
Sewer cleaner
Designed for public utilities and prof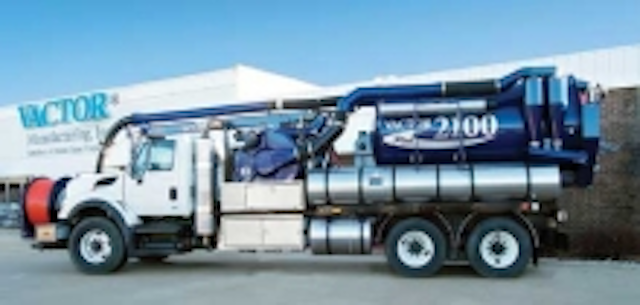 essional contractors cleaning entire wastewater and sanitary systems, the Vactor 2100 Plus from Vactor Manufacturing features increased vacuum performance and improvements to operator comfort and control, air routing and filtration efficiency and fuel efficiency. "Smart Truck" concept features have been integrated on the sewer cleaner, including internal monitoring systems that enable the operator to monitor and troubleshoot flow and pressure, blower temperature and oil level, drive system idle and open vacuum relief.
Vactor Manufacturing
800-627-3171
www.vactor.com
Environmental monitoring
Teledyne Isco offers the 2105 Interface Module, which can be used by environmental monitoring professionals to interface monitoring and recording instruments. Multiple inputs enable the unit to make intelligent decisions and provide an automatic response to field condition changes. The module connects directly to Teledyne Isco 2100 Series flow meters, ADFM Pulsed Doppler flow meters and Isco Rain Gauges. It can also be used with non-Isco instruments that have SDI-12 or Modbus output, and connected to other existing input devices.
Teledyne Isco
Lincoln, NE
800-228-4373
www.isco.com
Root control
Duke's Root Control is a full-service root control company. Through application of its proprietary herbicide, Razorooter II, over 2,000 U.S. municipalities have benefited from extended pipe life, reduced SSO occurrences, and maximized asset value. The company can customize a root-control program that integrates CMOM into each municipality's O&M plan. Its EPA-registered products do not negatively impact downstream treatment facilities and are shown to not cause cancer (U.S. EPA R.E.D. Facts, July 1995).
Duke's Sales & Service
Syracuse, NY
800-447-6687
www.dukes.com
More UWM Articles