WEFTEC® EXHIBITOR PRODUCTS
A new series of universal digital panel meters that feature user adjustable, sunlight readable LED displays for outdoor applications is being introduced...
Jul 1st, 2004
Digital panel meters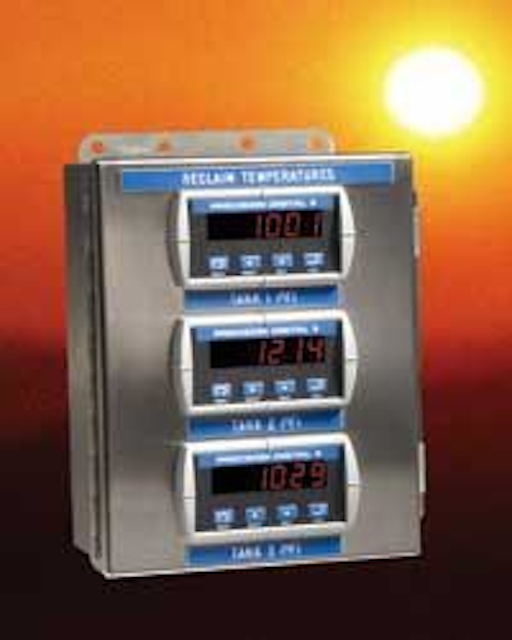 Click here to enlarge image
A new series of universal digital panel meters that feature user adjustable, sunlight readable LED displays for outdoor applications is being introduced by Precision Digital Corp. The Trident Digital Panel Meter is a solid-state unit with a Type 4X, NEMA 4X, IP65 front that features a 4-digit, 0.56'' 7-segment sunlight readable LED display that provides eight levels of brightness for day or night viewing.
Precision Digital Corp.
Natick, MA
Tel: 800-343-1001
Web: www.predig.com
Corrosion-resistant door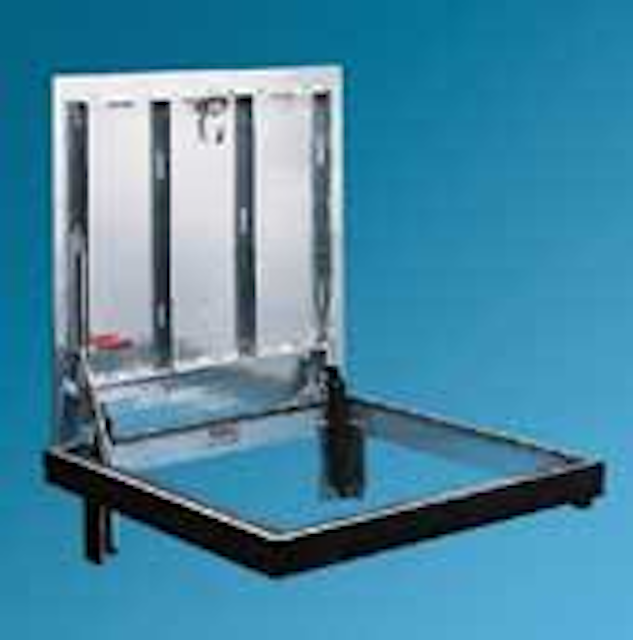 Click here to enlarge image
Bilco's J-AL Door, ideal for most corrosive environments, is a durable solution for wastewater treatment facilities. Available in single- or double-leaf design, the aluminum door is designed to provide access to areas located underground or beneath/between floors. The door is easily operated by a single person, and functions dependably in harsh environments. Special anti-corrosion hardware includes forged aluminum hinges, a 5086 aluminum cover plate, electrostatically coated compression springs and advanced composite spring housing assemblies.
Bilco Co.
New Haven, CT
Tel: 203-934-6363
Web: www.bilco.com
Multi-probe digital controller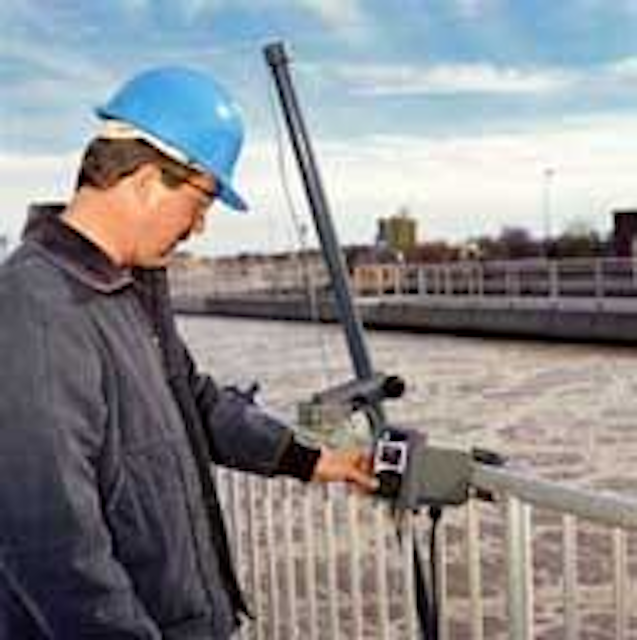 Click here to enlarge image
The flexible sc100 Controller accepts any two sensors – in mix-or-match arrangement – from Hach digital sensors now available, including for pH, ORP, conductivity, dissolved oxygen and turbidity, without special cabling, configuration or software. Weighing a mere 1.6 kg, the controller is housed in a NEMA-4X/IP66 metal enclosure with compact, 1/2 DIN dimensions. It provides operators with menu-driven software for control and interface functions.
Hach Co.
Loveland, CO
Tel: 800-227-4224
Web: www.hach.com
Industrial analyzers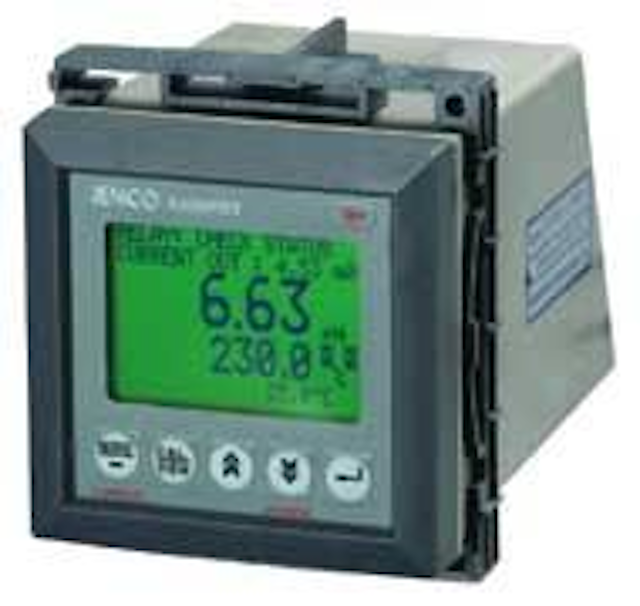 Click here to enlarge image
Jenco Instruments introduces its new 6308/6309 line of single and dual parameter industrial analyzers for pH, ORP, conductivity, dissolved oxygen and temperature. This series features a programmable graphical LCD, up to five hysteresis programmable relays, a single parameter assignable programmable 4-20 mA output and RS-485 interface. Used as an analyzer, the 2-wire RS-485 interface will allow password protected remote control and access and multiple unit system integration.
Jenco Instruments Inc.
San Diego, CA
Tel: 858-578-2828
Web: www.jencoi.com
Condensate filter
Click here to enlarge image
Disposing of compressed air condensate is a major environmental concern. This oil/water mixture is classified as hazardous waste and cannot be discharged into municipal wastewater systems unless the oil and contaminants are removed. The Kaeser Condensate Filter (KCF) is designed to filter out oil and other contaminants making the water safe for disposal. The key to the KCF function is the three-stage, self-contained plastic filter cartridge, which is convenient for replacement and disposal.
Kaeser Compressors Inc.
Fredericksburg, VA
Tel: 800-777-7873
Web: www.kaeser.com
Laser alignment system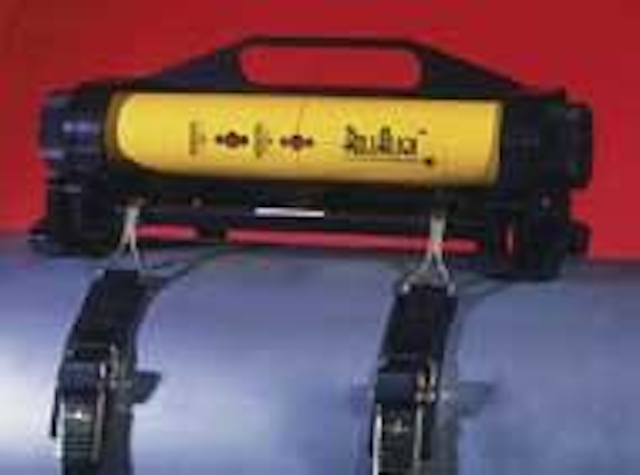 Click here to enlarge image
Ludeca's RollAlign is a visual laser tool to facilitate quick yet accurate field replacement of process rolls in industry. A Laser Emitter unit mounted on a reference roll projects two Class 2 fanned 635nm laser lines onto a Reflector unit mounted on the roll to be moved, allowing the operator to view both the vertical angle (pitch) and horizontal angle (parallelity) as the roll is adjusted into alignment.
Ludeca, Inc.
Miami, FL
Tel: 305-591-8935
Web: www.ludeca.com
Hazardous gas shutoff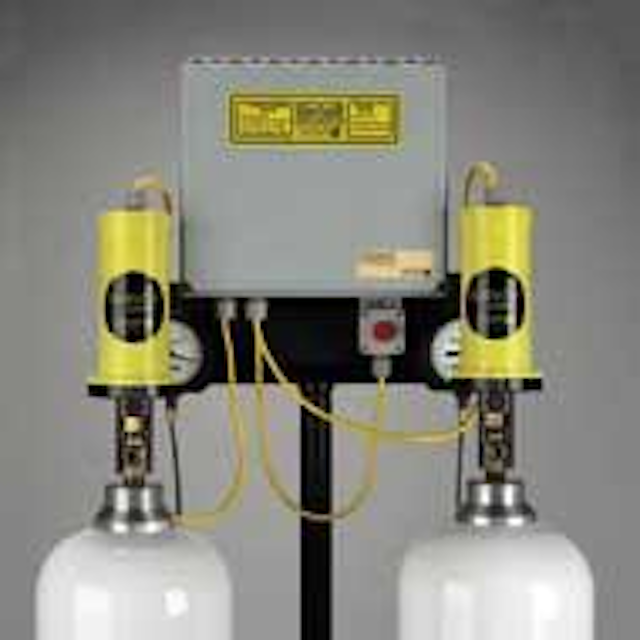 Click here to enlarge image
Halogen Valve System announces a new dual-torque Terminator Actuator™ that closes and torques hazardous gas 150-lb. cylinder valves in an emergency in three seconds. This microprocessor controlled and sequential operated system applies 20 to 30 ft.-lbs. for actuator testing and 40 to 50 ft.-lbs. during an emergency close situation to the valve stem as recommended by the Chlorine Institute.
Halogen Valve Systems
Irvine, CA
Tel: 877-476-4222
Web: www.halogenvalve.com
Flow systems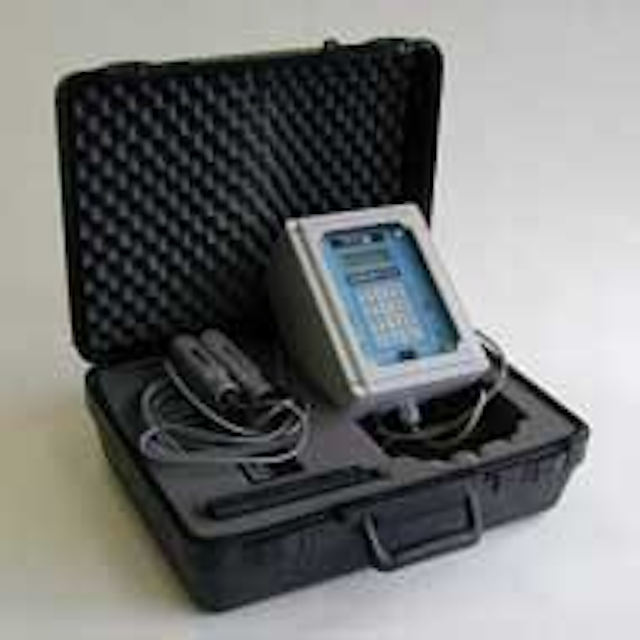 Click here to enlarge image
EMCO Flow Systems includes the Advanced Energy® brand of precision flow meters and controllers. Field proven for over 35 years, the company's product line offers solutions for liquid, gas and steam measurement, accommodating pipe sizes from 0.25 to 100''. EMCO products provide a wide range of metering solutions to diverse industries, including the military, hospitals, universities, and many Fortune 500 companies.
EMCO Flow Systems
Fort Collins, CO
Tel: 800-446-9167
Web: www.emcoflow.com
Remote monitoring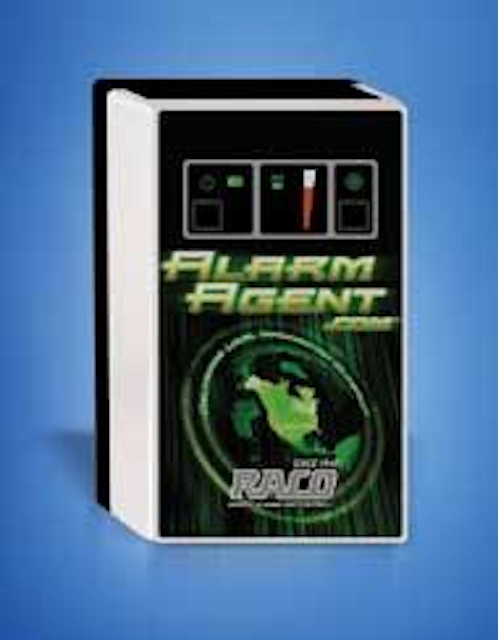 Click here to enlarge image
RACO has expanded its product line with the development of a new wireless remote maintenance, monitoring, control and alarm notification system, AlarmAgent.com. This cost-effective, easy-to-set-up service will allow field, plant and other personnel to collect, access and view data from their monitored equipment 24 hours a day, from any Internet-connected PC or other web-enabled device, via a secure central website. All hardware and interface software has been internally designed and developed by the company's engineers to be used exclusively with the system.
RACO Mfg. and Eng. Co., Inc
Emeryville, CA
Tel: 800-722-6999
Web: www.racoman.com
Ultrasonic level sensor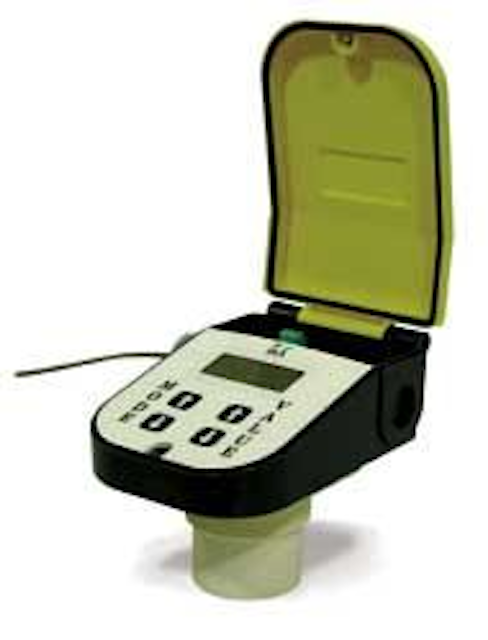 Click here to enlarge image
Scientific Technologies' Automation Products Group has introduced the LPU-2127 Loop Powered Ultrasonic Level Sensor. Designed for tank/bin continuous level measurement and environmental monitoring, the sensor's versatility, low maintenance and non-contact operation makes it ideal for a variety of applications and harsh environments. It is not affected by the color/ translucency, dielectric constant, specific gravity or viscosity of the target. It has a detection range for liquids of 1-25 ft. and for solids of 1-10 ft.
Scientific Technologies Inc.
Logan, UT
Tel: 888-349-7098
Web: www.stiapg.com
Electrochlorinators
Click here to enlarge image
Pepcon Systems ChlorMaster electrochlorinators provide on-site sodium hypochlorite generation for use in a variety of applications including wastewater disinfection, marine organism growth control, potable water chlorination, and odor control systems. The company's electrolytic cells are installed worldwide for use with sewage treatment plants, sewage collection systems, desalination plants, water treatment plants, onshore and offshore oil production facilities, power plants, and chemical plants.
Pepcon Systems
Cedar City, UT
Tel: 435-865-5045
Web: www.pepconsystems.com
Water, wastewater pumps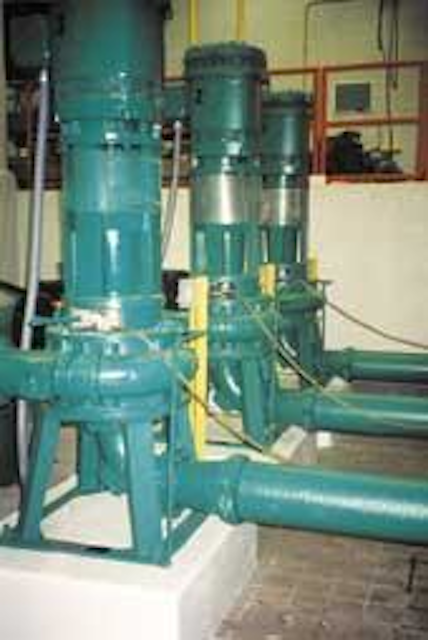 Click here to enlarge image
In addition to its full line of modern, high-performance pumps for water and wastewater duties, Patterson Pump Co. will feature its Forceline® NCS Series non-clog sewage pump, now offered with Zero Flush Technology. This will be in conjunction with the new Prime-Pac™ Prepackaged Sewage Pump Station, by its business unit, Flo-Pak®. Both systems may be viewed in the same booth.
Patterson Pump Co.
Toccoa, GA
Web: pattersonpumps.com
Main cleaning system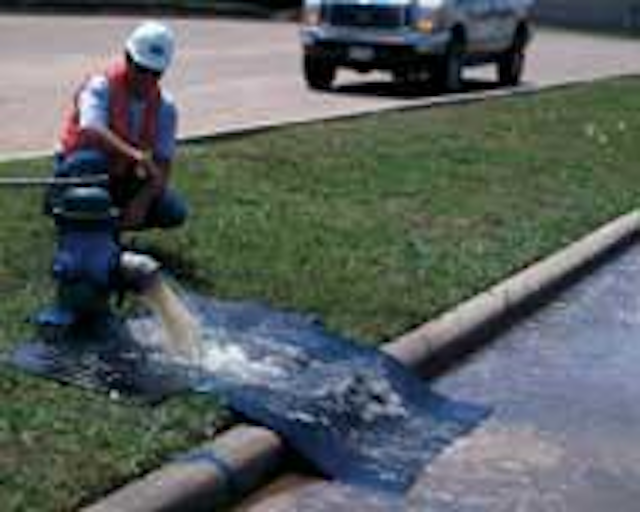 Click here to enlarge image
Air Scouring™ is a patented water main cleaning method that provides cleaner water and extended water main life. Clean, compressed air alternated with slugs of water are injected into the line, removing sediment and mineral scale. Flow capacity and water quality are improved. No pigging or disassembly of the water main is necessary.
Severn Trent Services
Ft Washington, PA
Tel: 215-997-3760
Web: www.severntrentservices.com
Dewatering services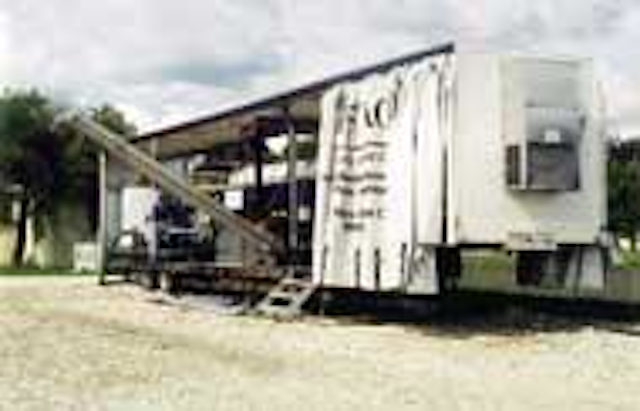 Click here to enlarge image
Synagro provides mobile dewatering services. Municipal and industrial generators of biosolids and other liquid organic wastes can use the service for many applications, including managing emergency situations, seasonal demands, and production spikes. Synagro also provides monitoring analysis and operating records necessary to demonstrate regulatory and contractual performance.
Synagro
Houston, TX
Tel: 866-794-7411
Web: www.synagro.com
Decanting centrifuge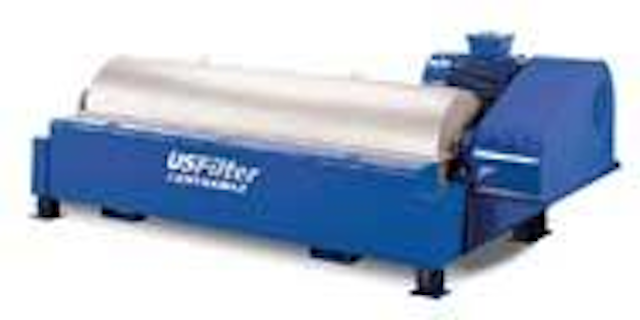 Click here to enlarge image
USFilter Dewatering Systems offers a state-of-the-art horizontal decanting centrifuge. The Centramax centrifuge provides a cost-effective solution for dewatering chemicals, fermentation broths and industrial waste continuously. This centrifuge offers plant managers high reliability while requiring low maintenance. The automatic centrifuge control system, ACCS, allows the operator to "fine tune" the high g-force centrifuge system to deliver optimum performance.
USFilter Dewatering Systems
Holland, MI
Tel: 800-245-3006
Web: www.usfilterdsg.com
Trash pumps
Click here to enlarge image
Sewage, debris and chemical discharge have always been an unfortunate byproduct of the dewatering industry. Thompson Pump has created the ideal solution by developing the Enviroprime® system for its dry prime, compressor-assisted trash pumps. The system prevents blow-by – sewage, debris and chemicals – from discharging onto the ground, keeping the surrounding environment clean and safe.
Thompson Pump & Manufacturing
Port Orange, FL
Tel: 800-767-7310
Web: www.thompsonpump.com
Waterproof testing meters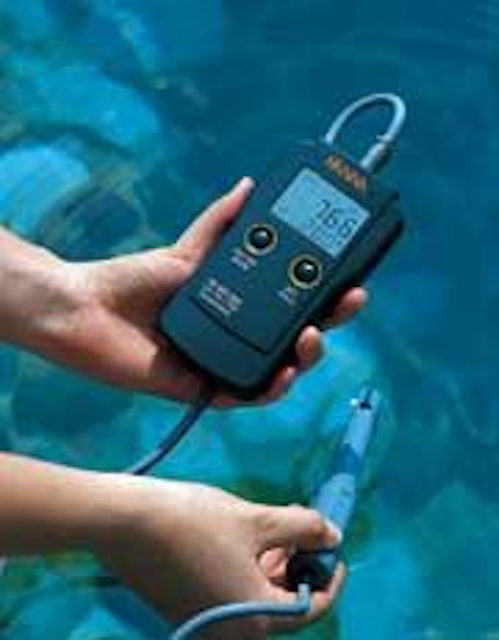 Click here to enlarge image
Hanna Instruments produces a line of waterproof meters for water quality testing. The meters can measure multiple parameters anywhere in seconds with a single rugged probe. The HI 991300 and HI 991301 measure multiple ranges of pH, TDS, EC and temperature. Easy-to-use, two-button meters offer °C or °F display with ß from 1.8% to 2.4%,
Hanna Instruments
Woonsocket, RI
Tel: 401-765-7500
Web: www.hannainst.com
Self-priming pumps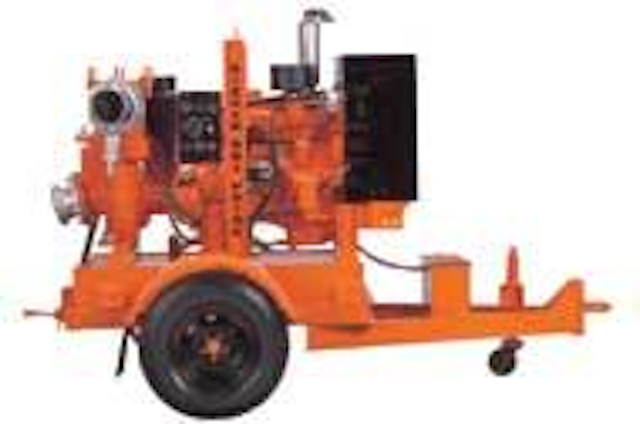 Click here to enlarge image
Dri-Prime™ automatic self-priming pumps, in sizes from 2'' to 16'', achieve maximum flows to 10,000 gpm, heads to 600' and solids handling to 5'' diameter. Used in bypass pumping in industrial facilities as well as other water/ wastewater applications, units are available in high-volume, high-head and jetting models; with diesel engine or electric drive; and sound attenuated enclosures.
Godwin Pumps
Bridgeport, NJ
Tel: 856-467-3636
Web: www.godwinpumps.com
Industrial dewatering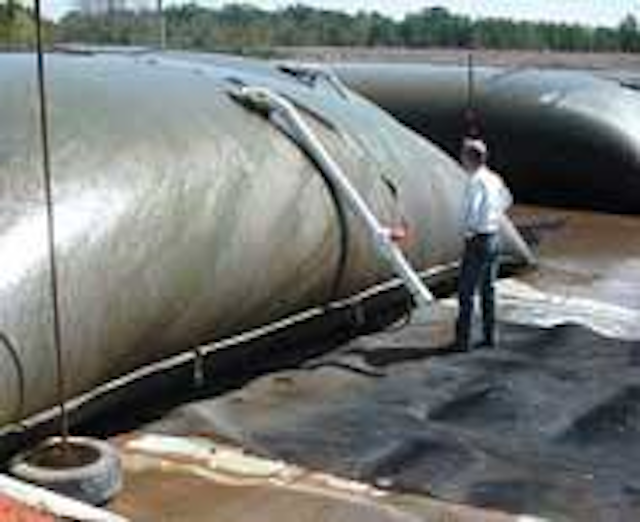 Click here to enlarge image
Geotube™ technology from Miratech provides cost-effective, high-volume industrial dewatering or remediation. The high-strength system is first filled with sludge. Fabric confines the solids, and allows water to drain. Decanted water is often of a quality for reuse or release without additional treatment.
Miratech/Div. of Ten Cate Nicolon
Commerce, GA
Tel: 888-795-0808
Web: www.geotube.com
New cyanide test kit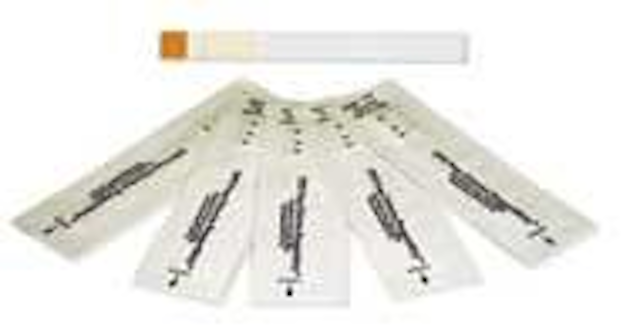 Click here to enlarge image
Industrial Test Systems, manufacturer of the world's first EPA-recommended strip for Free Chlorine in drinking water, just released its ReagentStrip Cyanide kit. Designed for monitoring effluents and surface waters, this new test requires as little as two minutes for cyanide colorimetric analysis. Color reading can also be made using a colorimeter or spectrophotometer for more precise determination. Detection sensitivity is 0.01 ppm (mg/L), with a range to 1.0 ppm.
Industrial Test Systems Inc.
Rock Hill, SC
Tel: 800-861-9712
Web: www.sensafe.com
Permanent curb markers
The das Curb Marker® can be permanently applied to most flat surfaces (concrete, asphalt, cast iron). Permanently mark manholes, service lines, confined space entry, and storm drains. Available in over 50 stock titles or custom made for just about any application.
das Manufacturing, Inc.
Valrico, FL
Tel: 800-549-6024
Web: www.dasmanufacturing.com
Wastewater pumps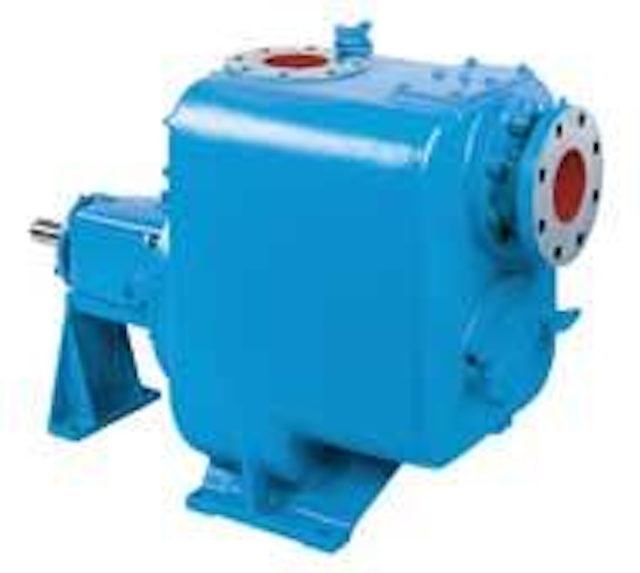 Click here to enlarge image
The Trash Hog® solids handling, self-priming centrifugal pump line from Goulds Pumps, an ITT Industries company, was developed to handle municipal and industrial wastewater. Able to process solids up to 3'' in diameter, it is ideal for sewage lift stations, sewerage treatment plants and industrial processes. The pump features a non-clog impeller, removable wearplate, lightweight 6'' cleanout cover and adjustable bearing carrier.
Goulds Pumps/ITT Industries
Seneca Falls, NY
Tel: 800-734-7867
Web: www.gouldspumps.com
Pinch valve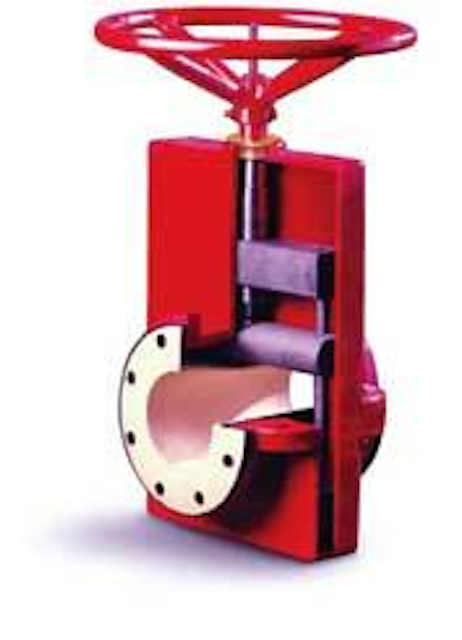 Click here to enlarge image
The Red Valve Series 75 Pinch Valve is designed to eliminate the problems associated with ball and plug valves in tough slurries and sludge applications. The full port design eliminates dead spots or crevices, seats or bearings.
Red Valve Co. Inc.
Carnegie, PA
Tel: 412-279-0044
Web: www.redvalve.com
Rail systems
Conery Mfg. Inc. has published its 2004 Catalog, featuring the new Freeflow design of Base Elbow Rail Systems for 1.25'' and 2'' pump systems. Additionally, the company recently updated its website.
Conery Mfg Inc.
Ashland, OH
Tel: 419-289-1444
Web: www.conerymfg.com
Multifunction hybrid flowmeter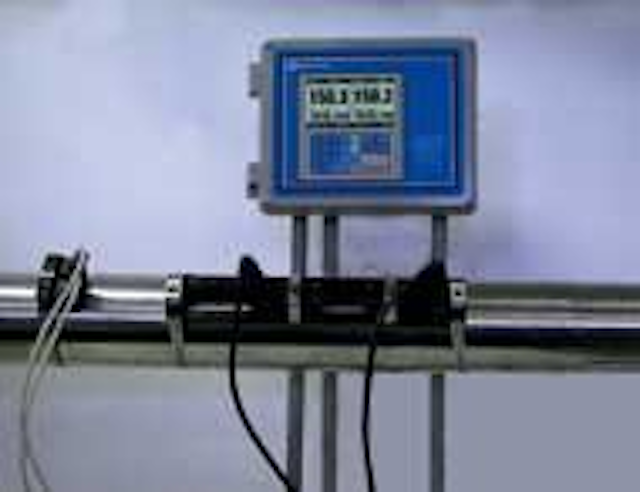 Click here to enlarge image
System 1010N provides accurate, non-intrusive mass and volumetric flow measurement in full pipes. Simple to install as no pipes are cut or operations interrupted, the flowmeter is field programmable for two modes of operation: Wide-Beam™ Transit-Time or Reflexor (Fast Fourier Transform Doppler) for quick adaptation to changing conditions. Transit-Time operation is the preferred mode for relatively homogeneous liquids in 1/4''- 360'' pipes.
Controlotron Corp.
Hauppauge, NY
Tel: 800-275-8479, x235
Web: www.controlotron.com
Grease liquefier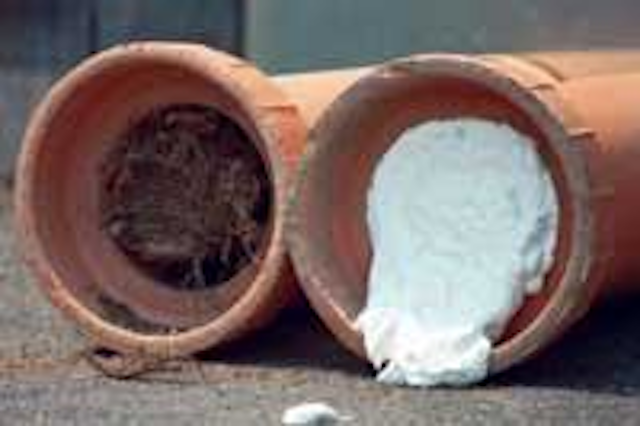 Click here to enlarge image
Duke's Sales & Service provides a Grease Liquefier, Jet Power II, designed to solve grease problems in wastewater collection systems. The product dissolves grease on contact and homogenizes it so it cannot re-coagulate. It is non-petroleum based, biodegradable, non-caustic, non-acidic and non-corrosive. It is safe and can be applied with your own jetting equipment.
Duke's Sales & Service, Inc.
Syracuse, NY
Tel: 800-447-6687
Web: www.dukes.com
Chlorine/pH monitor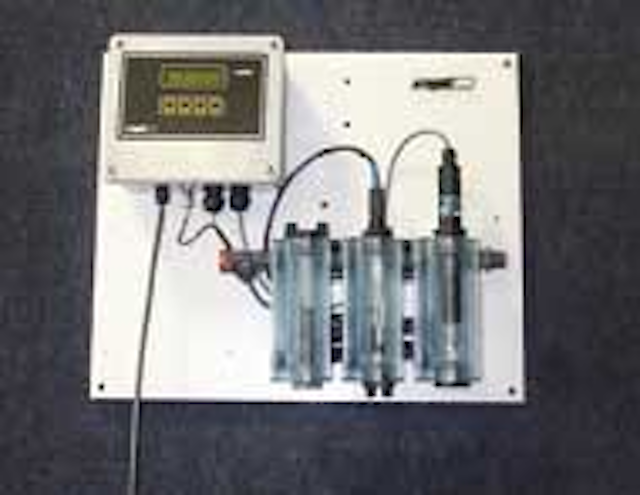 Click here to enlarge image
The new Eagle Chlorine/pH Monitor combines monitoring of two common water parameter into a single instrument for reduced installation and maintenance costs and simplified system startup. The monitor measures both chlorine residual and pH simultaneously and has separate isolated 4-20 mA outputs for each parameter for remote indication, recording or data logging. In addition, each parameter has two user-configurable alarms.
Eagle Microsystems, Inc.
Pottstown, PA
Tel: 800-780-8636
Web: www.eaglemicrosystems.com
H2S gas scrubber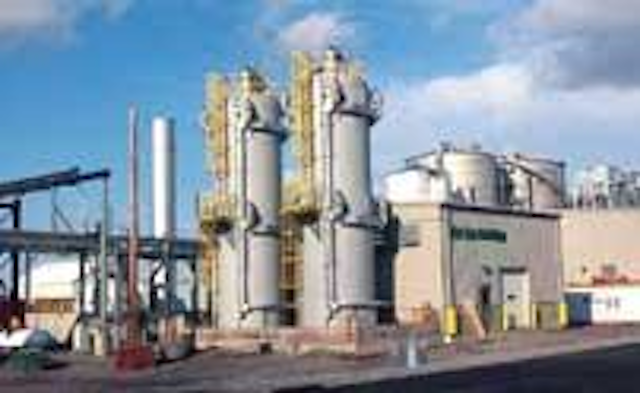 Click here to enlarge image
Biothane Corp. offers its Biopuric Hydrogen Sulfide Gas Scrubber technology to reduce sulfide contaminants contained in biogas through biological degradation. This simple process reduces odors, toxicity and corrosiveness of these off-gases for easier handling and usage. Use of chemicals is dramatically reduced or eliminated with the process, resulting in significantly lower operating costs compared to conventional scrubber technologies.
Biothane Corp.
Camden, NJ
Tel: 856-541-3500
Web: www.biothane.com
Fiberglass buildings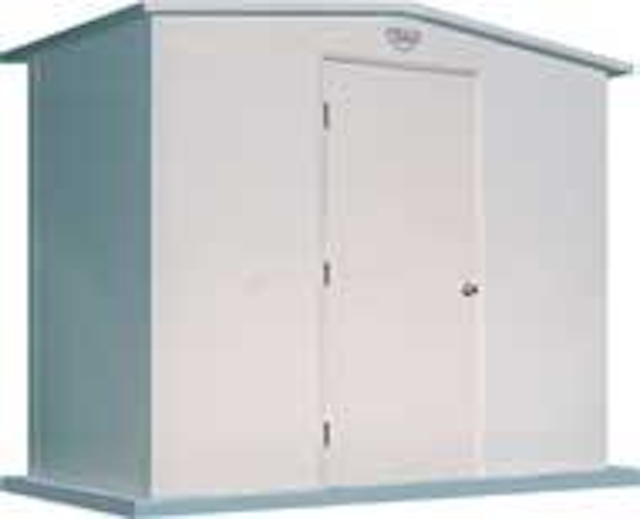 Click here to enlarge image
AEGIS™ offers weather-tight fiberglass buildings specifically designed to house mechanical equipment and/or supplies. The buildings feature shock-resistant, non-conductive construction which consists of a fiberglass composite "sandwich" of internal and external sheets of fiberglass laminated to a Polyisocyanurate foam insulation core, colored UV-resistant gel-coated exterior and an inside reflective white gel coat finish.
AEGIS
Jacksonville, FL
Tel: 888-852-3447
Web: www.aegisshelters.com
Dry polymer prep system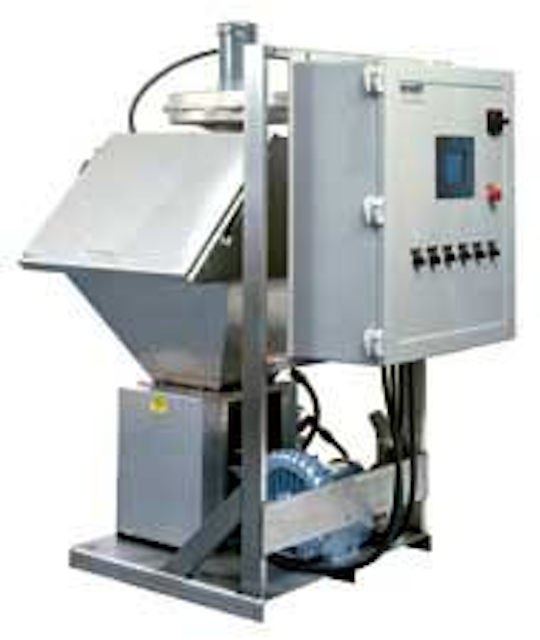 Click here to enlarge image
The dynaJET™ dry polymer preparation technology from Aqua-Aerobic is designed to accurately meter dry polymer to a pneumatic conveyance system where it's dispersed prior to wetting. The dispersed polymer then becomes completely engulfed in the wetting chamber where complete polymer-particle wetting takes place.
Aqua-Aerobic Systems Inc.
Rockford, IL
Tel: 815-654-2501
Web: www.fluiddynamicsinc.net
Peristaltic pumps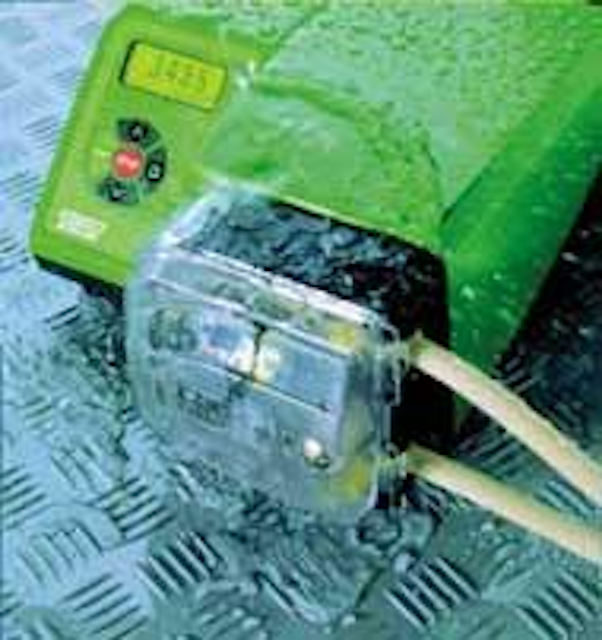 Click here to enlarge image
Watson-Marlow Bredel, a manufacturer of peristaltic pumps, will introduce its 520 NEMA 4X line of tubing pumps at WEFTEC 2004. With a NEMA 4X washdown sealed enclosure, the new pumps offer reliability and performance under harsh metering conditions. Designed for accurate metering, dosing and transferring of corrosive or sensitive fluids, the series is ideal for chemical metering in water and wastewater treatment applications.
Watson-Marlow Bredel Pumps
Wilmington, MA
Tel: 800-282-8823
Web: www.watson-marlow.com
Monitoring system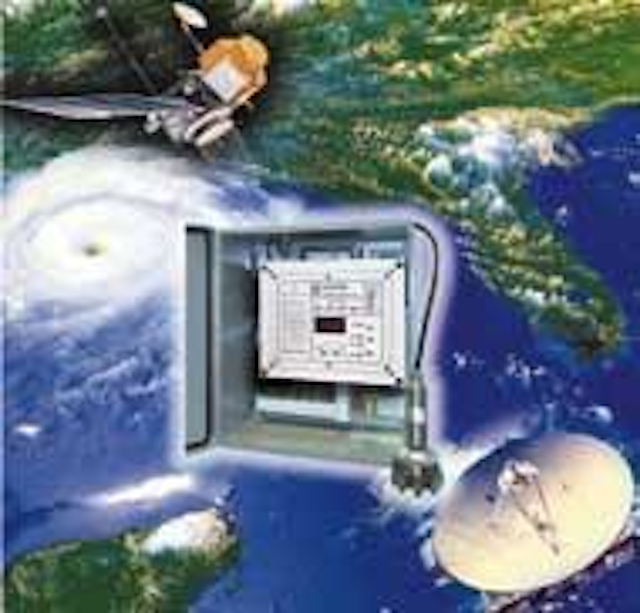 Click here to enlarge image
The Blue Ribbon Internet Messenger Model MS2-SAT monitors and controls the various functions of up to four pumps in a lift station. It detects pump failures, process levels, high or low water alarms, loss of station power, and other anomalies as they occur. Iridium-powered technology, the same as used by the U.S. Dept. of Defense, provides the user with a "real time" data link. Uninterrupted global communication is facilitated by a 66-satellite network, 24/7.
Blue Ribbon Corp.
Winter Park, FL
Tel: 877-677-8899
Web: www.blueribboncorp.com
Sludge dewatering aids
GE's Novus shear-resistant polymers improve centrifuge efficiency for increased throughput in dewatering industrial sludge. They are especially suited for biological and oily wastewater sludges in organic chemical, oil refining, steel, aluminum, mineral, food and pharmaceutical industries. Some chemical and industrial sludges with oil, water and solids aren't easily dewatered, and centrifuges are increasingly used to separate these materials.
GE Infrastructure Water & Process Technologies
Trevose, PA
Tel: 215-942-3208
Web: www.gewater.com
Plug valve
The Pratt Ballcentric Plug Valve, available is sizes ranging from 3''–36'', is designed specifically for wastewater applications. The round port design, available on sizes 3''-20'', offers less resistance to slurry, sludge and fluid flow resulting in better flow characteristics and less pressure drop across the valve than other types of eccentric plug valves. The company designs, develops, manufactures and markets butterfly, rectangular, ball, nuclear, industrial, cone, sleeve and energy dissipating valves as well as valve actuators, control systems and couplings.
Henry Pratt Co.
Aurora, IL
Tel: 877-436-7977
Web: www.henrypratt.com
Double-wall tanks
New, cylindrical double-wall tanks from Assmann eliminate chemical spills and prevent dome collapse without the expense of lined concrete containment. The company's molding process provides a heavier-top sidewall and dome to prevent dome collapse, while the primary inner tank and a secondary locked-on outer tank ensures against chemical spills. Constructed of molded high-density crosslinked polyethylene or FDA-compliant linear polyethylene, the double-wall tanks provide an outer shell containment that equals 120% of primary tank capacities which exceeds
Assmann Corp.
Garrett, IN
Tel: 888-357-3181
Web: www.assmann-usa.com
Odor control media
Biorem now offers an improved formula for its Biosorbens™ biofilter media. The new media, now warranted for up to 20 years, provides odor removal at residence times as low as only 20 seconds. The single stage, homogeneous biofilter media is able to handle a wide range of odor-causing contaminants including H2S, mercaptans, DMS and DMDS. With guaranteed immediate odor removal upon start up, high inlet concentrations and even under shock loading conditions, the system is compact and low maintenance.
Biorem
Guelph, ON Canada
Tel: 800-353-2087
Web: www.bioremtech.com
Large submersible pumps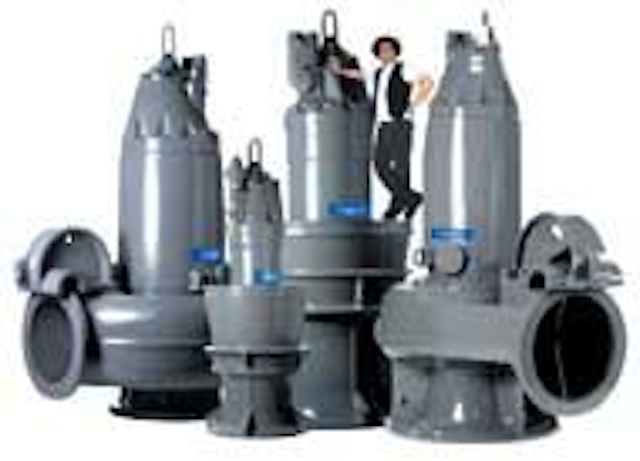 Click here to enlarge image
ITT Flygt is active in the design, manufacture and application of large scale electric submersible pumps. Since 1985, the company has successfully installed nearly 4,000 units sized from 100 hp through 800 hp and 8'' through 32'' discharge in the United States totaling more than 725,000 installed horsepower in both wet-pit and dry-pit configurations.
ITT Flygt Corp.
Trumbull, CT
Tel: 203-380-4700
Web: www.flygtus.com
Chemical dosing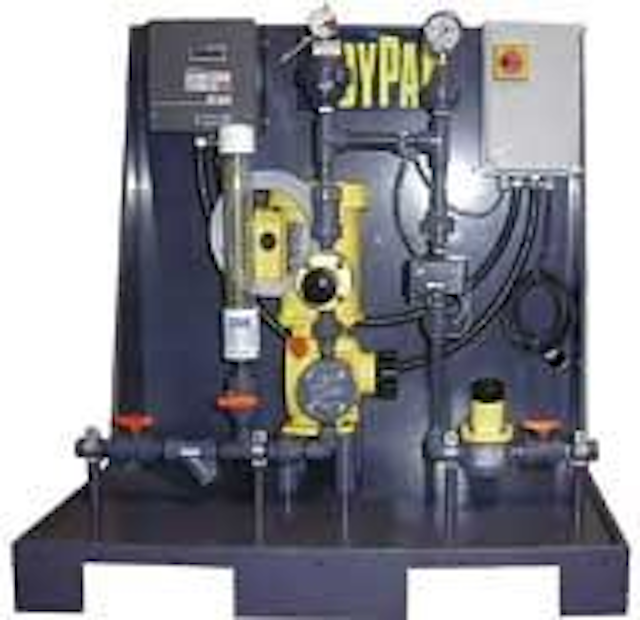 Click here to enlarge image
Milton Roy USA has released the RoyPak Setpoint family of pre-engineered systems packages for chemical dosing and fluid handling. The new system provides the company's family of metering pumps with flow display, analog inputs and outputs, variable AC motor control and a variety of SCADA and computer interfaces for local and remote system control. System setpoints can be entered manually or through any of the communications portals.
Milton Roy USA
Ivyland, PA
Tel: 215-441-0800
Web: www.miltonroy.com
Headworks system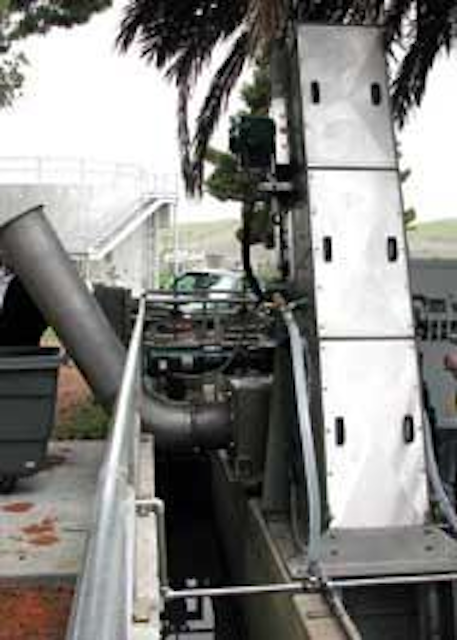 Click here to enlarge image
At this year's WEFTEC show JWC Environmental will construct a complete headworks screening system in its booth. The unique design is called Monster Separation Systems™, and combines a Finescreen Monster™ with a Screenings Washer Monster® to capture, remove, convey, grind, wash and compact unwanted wastewater solids. The integrated SWM puts screenings through a six-stage grinding, washing, screening and compacting process that removes nearly all fecal material and produces remarkably clean and dewatered discharge that is easier to handle and dispose.
JWC Environmental
Costa Mesa, CA
Tel: 800-331-2277
Web: www.JWCE.com
Spread spectrum radio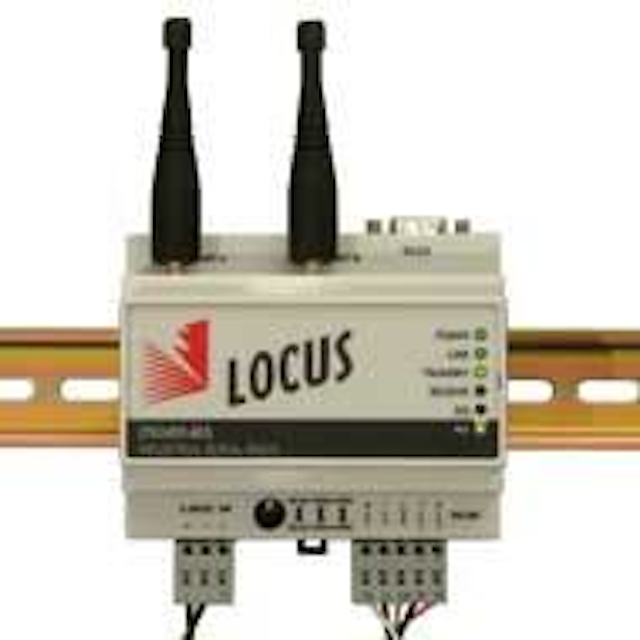 Click here to enlarge image
The Locus OS2400-485 is a frequency-hopping, spread spectrum radio that operates in the license-free 2.4 GHz band. Designed to succeed in high-interference environments, the radio can be configured to operate in point-to-point, broadcast or point-multipoint modes with addressable, multi-drop RS-485 operation built-in.
Locus, Inc.
Madison, WI
Tel: 608-270-0500
Web: www.locusinc.com
Tablet chlorination system
PowerPro® chlorination units by PPG Industries are designed specifically for use with Accu-Tab® System tablets and chlorinators. The Accu-Tab System's patented chlorinators and 3'' calcium hypochlorite tablets together allow for consistent and controllable chlorine dosages. The tablets are specifically formulated for controlled erosion. PowerPro units provide a compact, turnkey system based on any of the Accu-Tab chlorinator models.
PPG Industries, Inc.
Pittsburgh, PA
Tel: 800-245-2974
Web: www.ppgaccu-tab.com
Valve actuator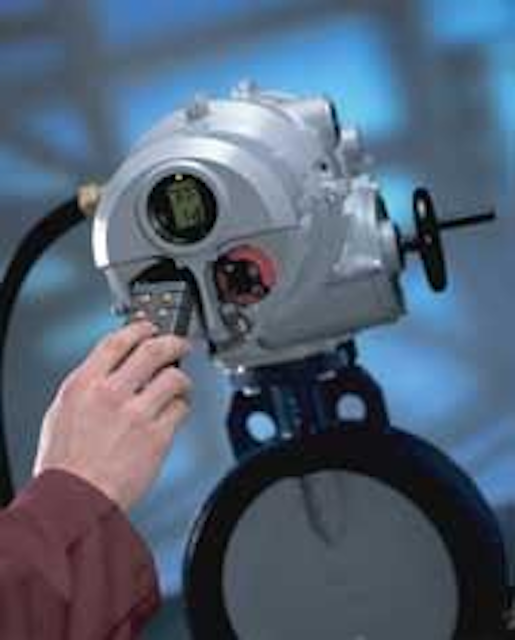 Click here to enlarge image
The new Rotork IQT electric, quarter-turn, non-intrusive valve actuator is suited for many of the quarter-turn valve applications in water and wastewater treatment plants. It is double sealed to provide a watertight enclosure and incorporates advanced electronic diagnostic and networking capabilities. Users can configure and set the non-intrusive actuator without removing its covers by using an intrinsically safe, point-and-shoot hand-setting tool, which is supplied with the actuator.
Rotork Controls, Inc.
Rochester, NY
Tel: 585-328-1550
Web: www.rotork.com
Grinder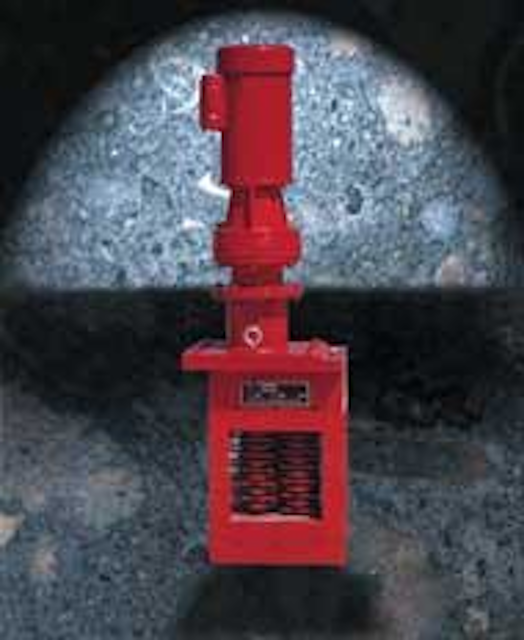 Click here to enlarge image
Moyno will introduce the new Series 4 Annihilator™ grinder as well as display its premier 2000 HS pump at the WEFTEC exhibition. The new grinders are twin shaft solids reduction units designed for performance in a variety of industrial and municipal applications. It now offers new features including optimized cutter combinations, one-piece flange housing and a quick change cutter cartridge.
Moyno, Inc.
Springfield, OH
Tel: 877-486-6966
Web: www.moyno.com
Emergency valve actuators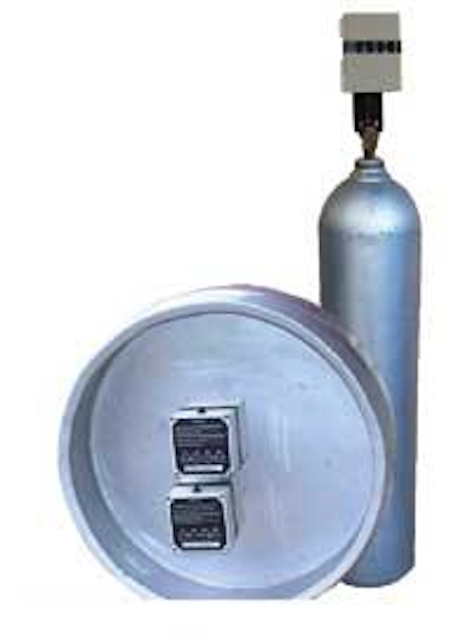 Click here to enlarge image
Robo-Control® manufactures battery-operated actuators to remotely open and close hazardous gas cylinder valves such as chlorine and sulfur dioxide. The actuator mounts to the valve without interfering with existing hardware or dispensers and has LED indication of valve position. Some actuators can have I/O for SCADA and integral leak detection.
Robo-Control Inc.
Bridge City, TX
Tel: 409-697-2666
Web: www.robo-control.com
Ultra-capacity control valve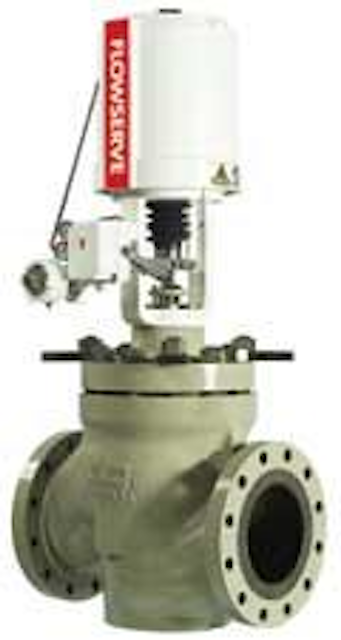 Click here to enlarge image
The Flowserve Mark 100 globe control valve delivers higher capacity in a smaller valve than similar conventional valves in sizes 6"-16" and pressure classes 150-600 psi. A wide, streamlined gallery increases capacity an average of 15% over competing valves (e.g., tested capacity for 10" Mark 100 comparable to catalog capacity of others' 12" valves). Available with a full range of noise and cavitation reduction severe service trims, the valve is applicable to a range of industries: chemical manufacturing, oil & gas production, and power generation.
Flowserve Corp., Flow Control Div.
Springville, UT
Tel: 801-489-2605
Web: www.flowserve.com
Diaphragm pumps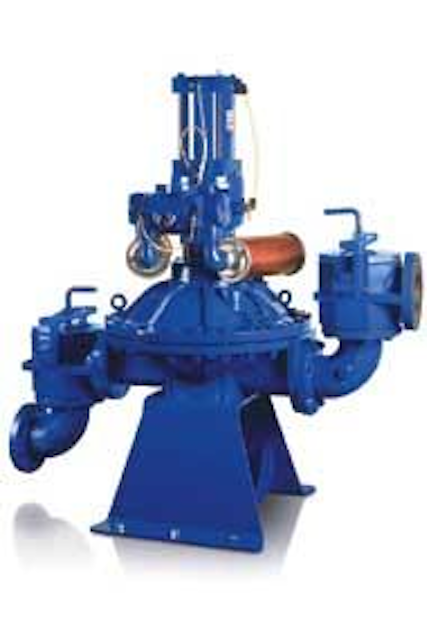 Click here to enlarge image
Gorman-Rupp has announced a new line of Ramparts integrated control (iC) air-driven diaphragm pumps. These pumps are designed for handling heavy sludge and slurries found in industrial and wastewater applications. The pumps have the following features: run-dry capabilities without damage; infinitely variable flow controls; corrosive, abrasive, viscous and shear-sensitive media handling abilities, and protection from damage due to operation against closed valves.
Gorman-Rupp Co.
Mansfield, OH
Tel: 419-755-1011
Web: www.gormanrupp.com
In-line solids disintegrator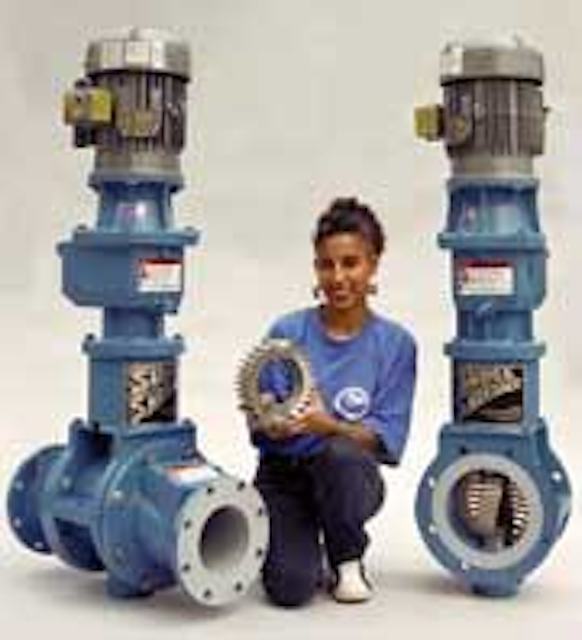 Click here to enlarge image
The Super Shredder® in-line disintegrator easily reduces tough solids directly in sludge or raw sewage lines. It combines unsurpassed grinding capabilities with streamlined, easy-to-maintain features and provides a high level of open-area to fluid flow. Ideal for applications requiring a heavy-duty, size-reduction processor to handle high flows with minimal headloss.
Franklin Miller Inc.
Livingston, NJ
Tel: 973-535-9200
Web: www.franklinmiller.com
DO sensor, transmitter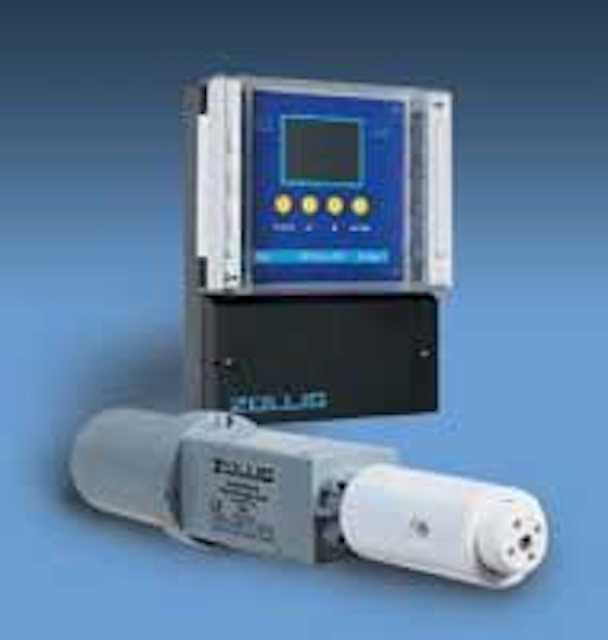 Click here to enlarge image
The Züllig dissolved oxygen system, available from Emerson, significantly reduces cleaning and calibration frequency in harsh industrial and municipal wastewater treatment environments. This non-membrane galvanic sensor has two insulated electrodes continuously polished by a rotating diamond grindstone. The self-cleaning process eliminates the tasks of cleaning and replacing membranes and replenishing the electrolyte solution.
Emerson Process Mgmt,
Rosemount Analytical Inc., Liquid Division
Irvine, CA 92606
Tel: 800-854-8257
Web: www.raihome.com
Diaphragm seal guarantee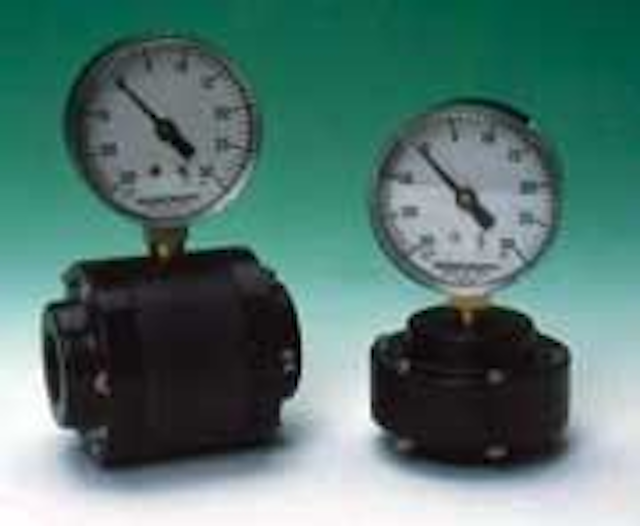 Click here to enlarge image
Sentinel Diaphragm Seals have protected all forms of system instrumentation from corrosive process flow environments for years. Now, they're also unconditionally guaranteed. They're available in a range of chemically resistant materials and models. The Sentinel Flow-Thru offers an inline design to prevent clogging of viscous process fluid and "dead-leg."
Blacoh Fluid Control
Riverside, CA
Tel: 800-603-7867
Web: www.blacoh.com
Conveyors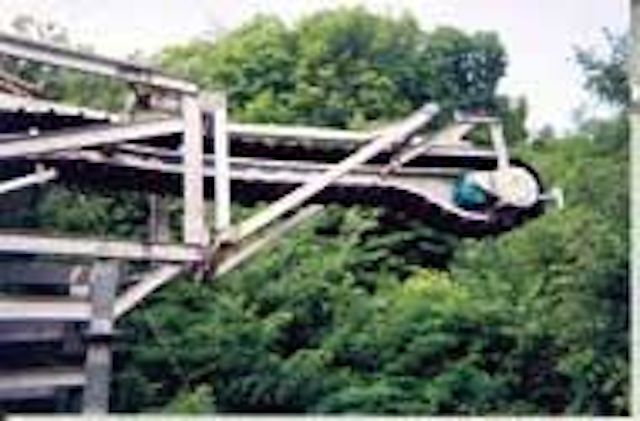 Click here to enlarge image
Conveyors manufactured by Serpentix that turn, twist, climb, flex, and telescope in and out as used by hundreds of wastewater treatment plants to transport sludge, grit, screenings, and biosolids. The company will display its shaftless screws, container handling systems, and complete dewatering equipment solutions specifically for smaller municipalities.
Serpentix Conveyor Corp.
Westminster, CO.
Tel: 800-466-7979
Web: www.serpentix.com
Encapsulating coupling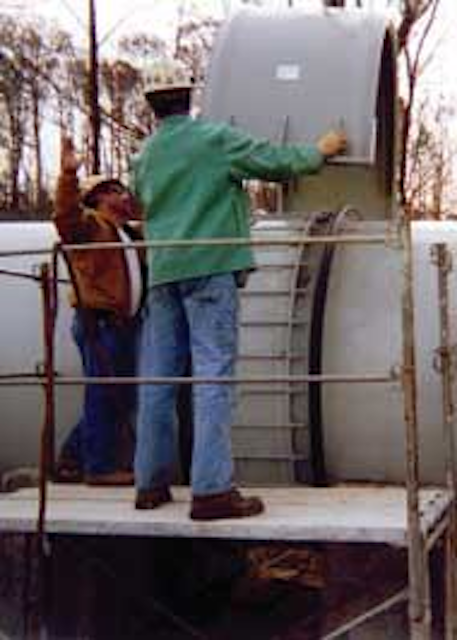 Click here to enlarge image
Victaulic Depend-O-Lok now offers a bolted, split-sleeve, two-segment encapsulating coupling to enclose failing pipeline joints without removing the failed joint, moving the pipe or taking the system off-line. Unlike traditional methods of repairing leaking bell and spigot joints or leaking couplings, the encapsulating coupling does not require draining the line, moving or removing sections of pipe, or replacing the leaking joints or couplings with new pipe or couplings.
Victaulic Depend-O-Lok Inc.
Easton, PA
Tel: 610-559-3300
Web: www.victaulic.com
UV disinfection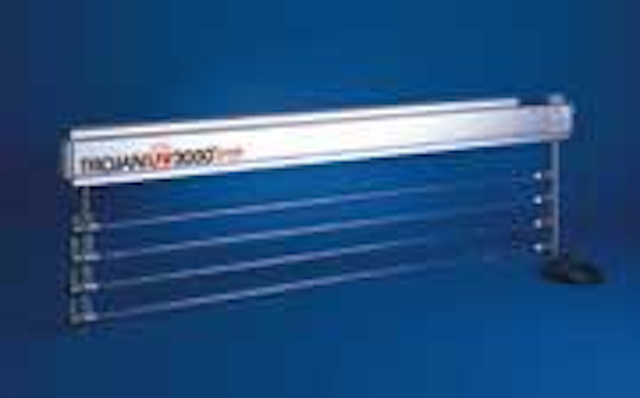 Click here to enlarge image
TrojanUV™ systems provide municipal wastewater treatment plants with an alternative to chlorination. The company offers a wide range of UV systems with options for multiple combinations of flow rates and disinfection goals. The projects range from the low-flow Package Treatment Plant (PTP) for small municipalities to the TrojanUV4000™Plus for large municipalities, with peak flows greater than 10 mgd.
Trojan Technologies
London, ON, CANADA
Tel: 519-457-3400
Web: www.trojanuv.com
Level transducer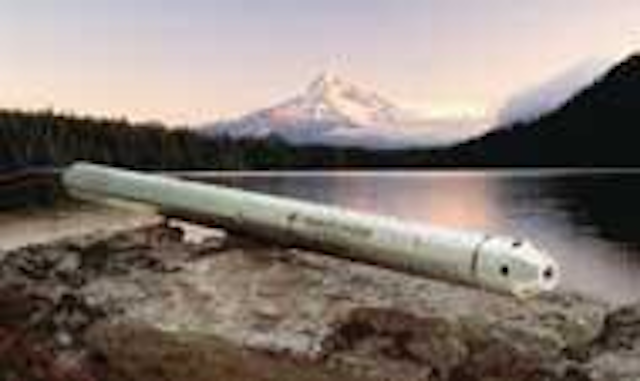 Click here to enlarge image
Pressure Systems has introduced a new submersible hydrostatic level transducer that includes internal data logging functionality. The new Series 550 waterMONITOR is specifically designed for measuring water levels in environmental and land management applications, such as groundwater, surface water and open channel level measurement.
Pressure Systems, Inc.
Hampton, VA
Tel: 800-678-7226
Web: www.pressuresystems.com
Rotary blower packages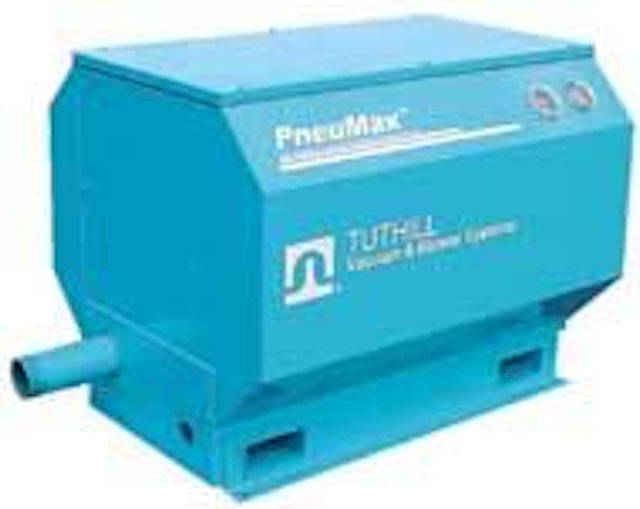 Click here to enlarge image
The Tuthill PneuMax rotary blower packages include the Competitor® models 3002, 3003, 3006 and 4002. They offer flow rates to 300 CFM and pressures to 15 PSIG or vacuums to 16" Hg gauge. The packages include a 85 dB(A) integral noise enclosure pre-installed at the factory and an instrumentation panel including pressure and filter restriction gauges. An automatic V-belt tensioning system is designed to provide proper belt tension for the entire service life of the belts.
Tuthill Vacuum & Blower Systems
Springfield, MO
Tel: 800-825-6937
Web: www.tuthill.com
Respirometer
The Strathkelvin Instruments ASR (Activated Sludge Respirometer) is designed to test for toxic shock loads coming into a wastewater treatment plant. The instrument is robust, simple to use and can screen an effluent in under 15 minutes.
Strathkelvin Instruments Limited
Glasgow, Scotland
Tel: +44 (0) 141 576 5080
Web: www.strathkelvin.com
Wastewater pumps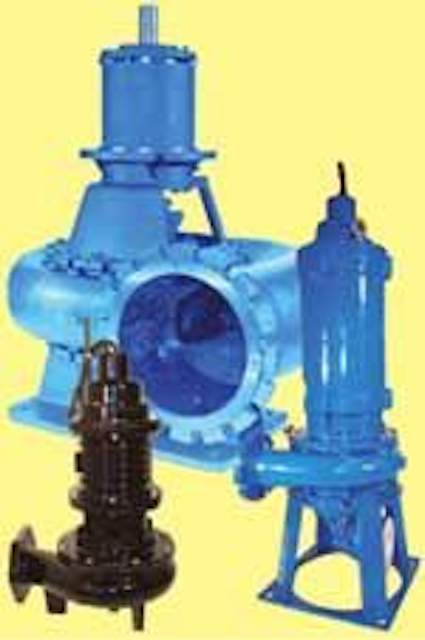 Click here to enlarge image
Yeomans Pump offers a line of engineered solids-handling pumps for municipal and industrial installations where efficient handling of sewage, sludge, light slurries and other water-based solids-bearing mixtures is required. High capacity/head capability and large solids handling provide coverage for a wide range of performance requirements. Models are available in dry-pit, submersible, submersible dry-pit and suspended wet-pit configurations.
Yeomans Pump
Aurora, IL
Tel: 630-236-5500
Web: www.yccpump.com
Plastic filter housings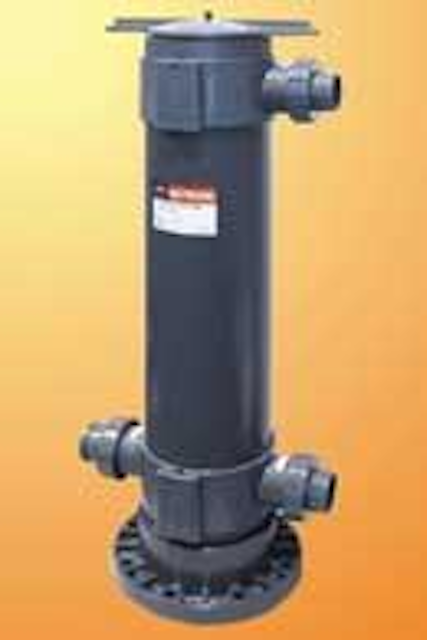 Click here to enlarge image
Now corrosive and ultrapure filtration applications in all industries can take advantage of the corrosion resistant, non-contamination benefits of a plastic filter housing. New PVC and CPVC plastic bag filter housings from Hayward will never rust, corrode, or contaminate the process media.
Hayward Industrial Products, Inc.
Elizabeth, NJ
Tel: 908-351-5400
Web: www.haywardindustrial.com
Tractor composter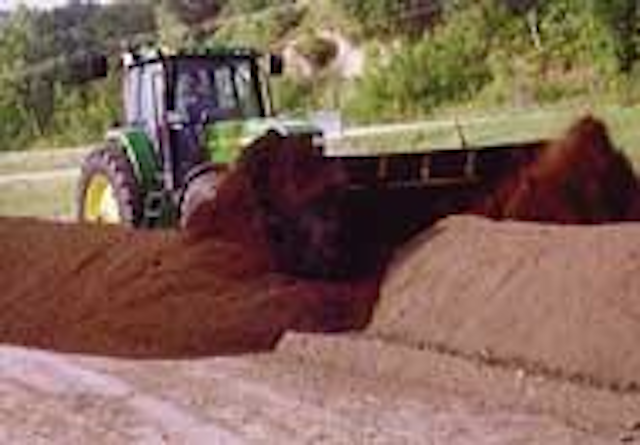 Click here to enlarge image
Brown Bear has introduced a revised model of its farm tractor composter. The PTOPA35C-10.5 unit is designed to be attached to the front of 100-160 hp farm tractors. The composter requires a front 3-point hitch, 1000 RPM PTO, and creeper transmission. It is available for ISO and counter ISO PTO shaft rotation. It is designed to compost biosolids, yard waste, manure and other organics.
Brown Bear Corp.
Corning, IA
Tel: 641-322-4220
Web: www.brownbearcorp.com
Modeling software
DHI offers Mike Urban, GIS-based model building and management software that can be used for modeling and design of water distribution networks and wastewater and stormwater systems. Water distribution functions include water quality, fire flow, real time control and water hammer simulations.
DHI Inc.
Newtown, PA
Tel: 215-504-8497
Web: www.dhi.us
Cylindrical fine screens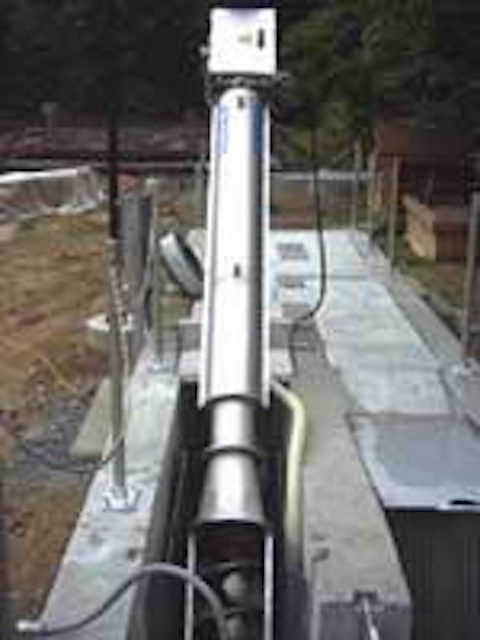 Click here to enlarge image
Hi-Tech offers a line of cylindrical fine screens for use in wastewater treatment. Major components in the screen are constructed from 304 stainless steel. Each screen is shop assembled, test run and shipped complete to the job site.
Hi-Tech Environmental, Inc.
Birmingham, AL
Tel: 800-264-7005
Joint restraints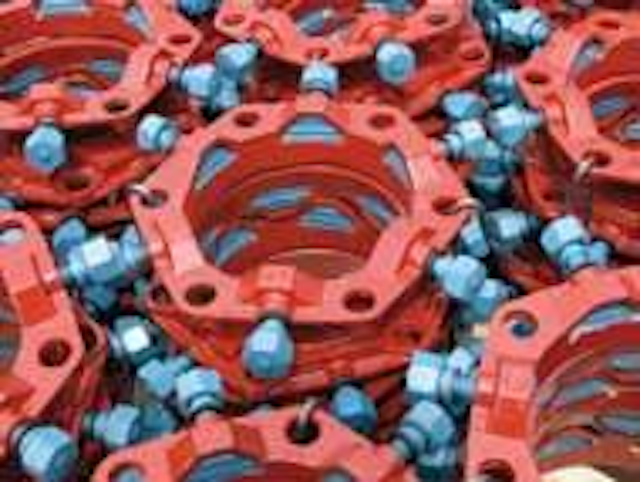 Click here to enlarge image
Mega-Bond®, a dual-process coating system for improved corrosion and impact resistance, is now standard on joint restraints from EBAA Iron. Restraint bodies receive a specially formulated powder coating (blue for PVC applications, black for ductile iron), electrostatically applied and heat cured. Gripping wedge assemblies receive two coats of fastener class liquid Xylan® coating in blue, heat cured after each coat.
EBAA Iron Sales Inc.
Tel: 800-433-1716
Web: www.ebaa.com
Maintenance services program
Infilco Degremont, a water and wastewater treatment equipment supplier, has announced a new ancillary services program called INFILCare(SM). The program is designed to help facility managers extend the life of their equipment, protect their processes, and maximize their overall operations. Plant managers can choose their level of service and frequency of mechanical and process evaluations.
Infilco Degremont
Richmond, VA
Tel: 804-756-7600
Belt filter press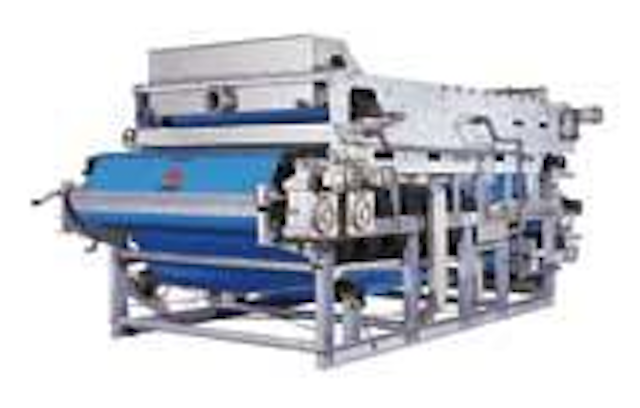 Click here to enlarge image
Ashbrook's Klampress® belt filter press is now available in a 3- belt configuration that increases throughput volumes and increases dewatering and thickening capabilities. The 3-Belt version provides the addition of an independent gravity deck, and gives operators the option of: operation in the gravity belt thickener (GBT) mode or operation in the belt filter press (BFP) mode – independently. With the new system, high-speed thickening capabilities are independent of dewatering speeds.
Ashbrook Simon-Hartley
Houston, TX
Tel: 800-362-9041
Web: www.ashbrookcorp.com
Sludge pumps

Click here to enlarge image
seepex has developed a new type of open-hopper pump-to-transport extremely viscous products and dewatered sludge cake. The BTH pump can transport materials up to three million cPs and municipal wastewater sludge with over 50% solids. It has been used on mineral slurry cakes from plate-and-frame filter presses with over 80% solids and waste sludge up to 45% consistency.
seepex, Inc.
Enon, OH
Tel: 800-695-3659
Web: www.seepex.com