PRODUCT SHOWCASE
Tekleen® water filters, available from Automatic Filters Inc., are automatic, self-cleaning water filters and strainers.
Jul 1st, 2004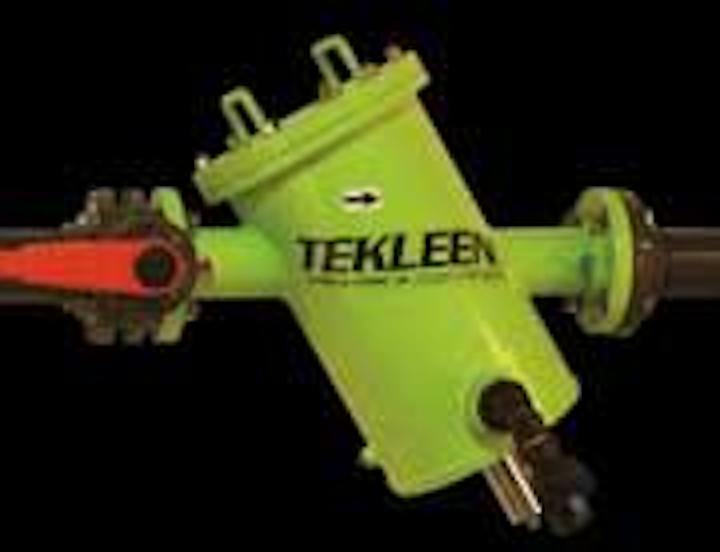 Automatic filters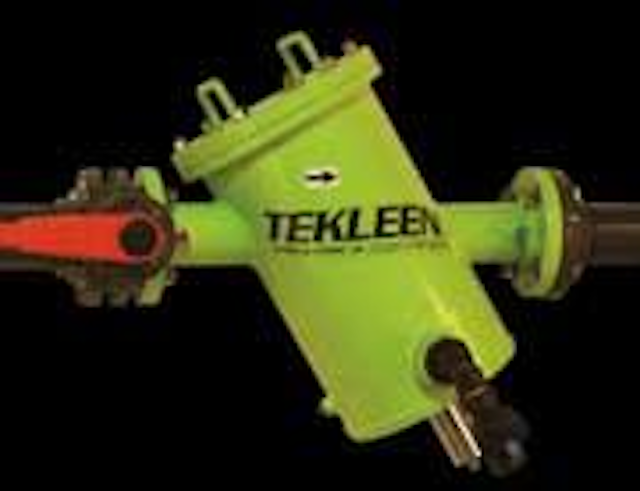 Click here to enlarge image
Tekleen® water filters, available from Automatic Filters Inc., are automatic, self-cleaning water filters and strainers. The filters do not require cleaning and replacing cartridges, bags, screens, & spray nozzles. Rinsing lasts only five seconds and uses less than two gallons of water without interrupting the main flow. The company offers SST filters at carbon steel prices.
Automatic Filters, Inc.
Los Angeles, CA
Tel: 800-336-1942
Web: www.tekleen.com
Digital panel meters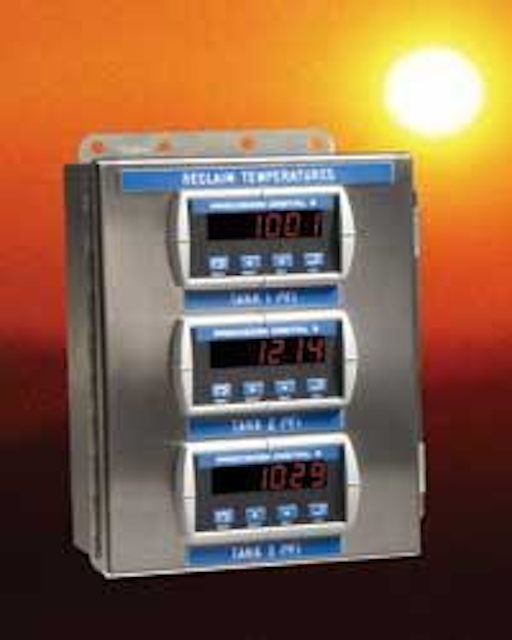 Click here to enlarge image
The Trident Digital Panel Meter, from Precision Digital Corp., is a solid-state universal digital panel meter with a Type 4X, NEMA 4X, IP65 front featuring a 4-digit, 0.56'' 7-segment sunlight readable LED display with eight levels of brightness for day or night viewing outdoors. Full function programmability can be done remotely using a computer. Calibrated for process voltage and current inputs, 100 ohm RTDs and for most common thermocouples, the unit is UL/C-UL and CE listed.
Precision Digital Corp.
Natick, MA
Tel: 800-343-1001
Web: www.predig.com
Level switch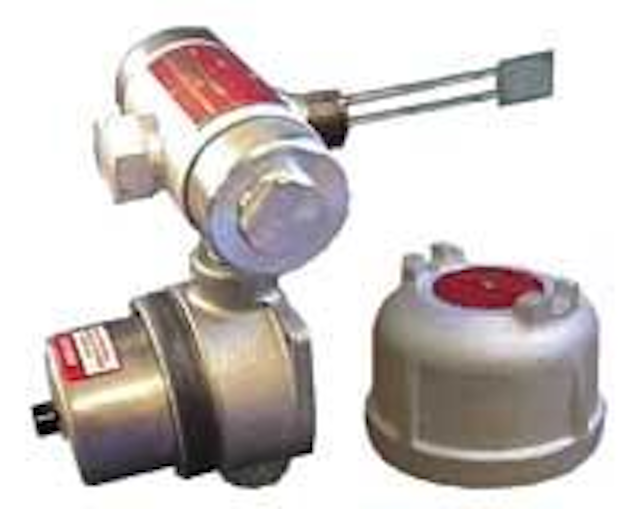 Click here to enlarge image
Automation Products offers the Dynatrol® RH-Series Liquid Level Detector Switch for liquids and slurries. Specifically designed to monitor high, intermediate or low point level detection, they are applicable to a wide range of services and are available in corrosion-resistant coatings. The level detectors are built in the USA and are approved for CL I, Groups C & D; CL II, Groups E, F & G, and CL III services. The compact detectors have no moving parts, require no adjustments, and are virtually wear-free. They can be installed in almost any position through a 3/4'' half-coupling on a vessel or in piping. The separate receiver is placed at any convenient location.
Automation Products, Inc.
Houston, TX
Tel: 713-869-0361
Web: www.dynatrolusa.com
Fine screens
Click here to enlarge image
The Spiralift SLD screens, washes, transports and compacts channel-borne wastewater solids. The system, available from Franklin Miller, can be installed in existing channels and is an alternative to complex fine screens. In the SLD, a duplex Taskmaster® Titan™ grinder finely reduces all incoming solids. Next, the Spiralift screen captures, conditions and conveys solids out of the channel while leaving essential organic materials in the flow. The SLD employs an oversized 14" diameter screen basket constructed of stainless steel for extended life and improved washing.
Franklin Miller Inc.
Livingston, NJ
Tel: 800-932-0599
Web: www.franklinmiller.com
Level switch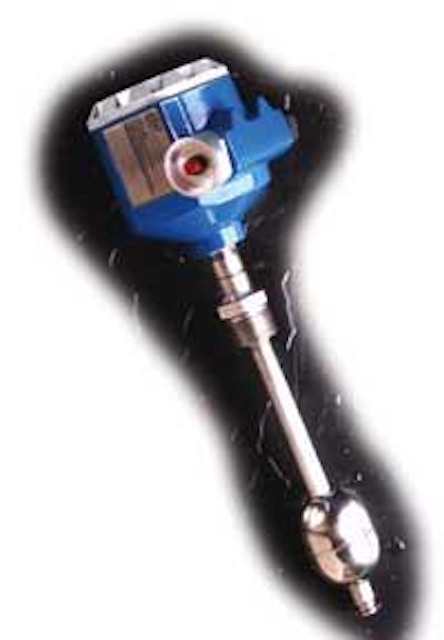 Click here to enlarge image
K-TEK, a manufacturer of level instrumentation for liquid and bulk solids detection, has announced the MS50, the latest version of the company's low-cost float level switch. Priced up to 25% less than competitive models, the switch is designed to handle a wide range of applications, including sump level control, alarms and shutdowns. Each switch features application-specific float designs that optimize performance and reliability in the fluid being measured.
K-TEK
Prairieville, LA
Tel: 225-673-6100
Web: www.ktekcorp.com
Doppler sensor system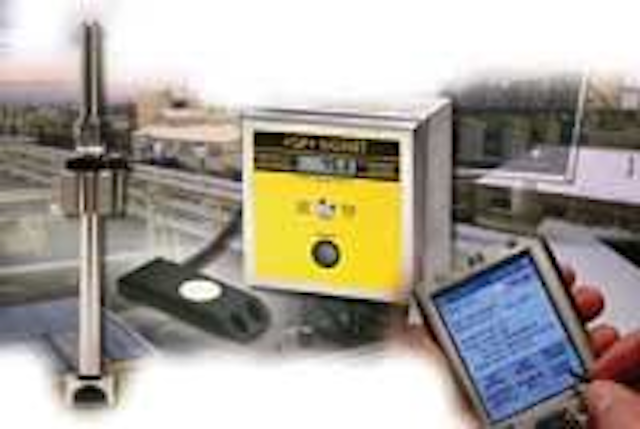 Click here to enlarge image
For added flow measurement accuracy of the entire flow stream in industrial, wastewater and municipal water systems, George Fischer Signet Inc. introduces the new 3300 Series Ultrasonic Flow Monitoring System, expanding use of Doppler ultrasound technology with Advance Spectrum™ signal processing. The system operates from 9 vDC or AC with a power converter; an optional solar panel battery-charging unit is available for unattended operation for up to seven years. Other features include: vandal-resistant configuration via dual passwords for local or remote data downloads; availability of up to four 4-20 mA outputs for interface with loggers, telemetry systems or PLCs as well as an RS-232 local connection to laptops or pocket PCs.
George Fischer Inc.
Tustin, CA
Tel: 800-854-4090
Web: www.gfsignet.com
Level control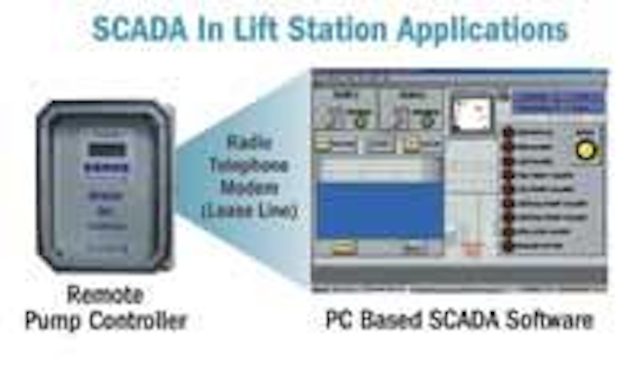 Click here to enlarge image
Sigma Controls has introduced its microprocessor based Model 9000PT Tank Level Transmitter/ Remote Telemetry Unit, offering accuracy of 0.1% and a large LCD display of tank level. The unit offers both analog (4/20mA) and digital (MVNET, MODBUS) outputs for remote level monitoring and pump control. These digital outputs can be transmitted via modem or spread spectrum (license free) radios to a Sigma Myriad Pump Controller. The Myriad Pump Controller receiving the level signals will operate and manage up to four (4) constant speed or variable speed pumps to maintain an accurate tank water level, and the controller's graphical LCD display and 5 key operator interface to permit full user configuration of pump functionality and alarm monitoring. In addition, the company's Infilink remote monitoring software can be used to view and change settings on the controller from any PC-equipped remote location.
Sigma Controls Inc.
Perkasie, PA
Tel: 215-257-3412
Web: www.sigmacontrols.com
Flushing device
Click here to enlarge image
Recently introduced, Safety-Guard™ is a patented line of automatic, programmable flushing devices developed specifically for indoor and outdoor industrial eye wash, safety shower and drinking fountain applications. The all-weather flushing system is designed to ensure compliance with the current OSHA and ANZI water flushing standards [29 CFR 1910.151(c) and Z358.1 (2004)]. Existing safety stations and drinking fountains can be retrofitted with the device. Several models are available, including outdoor units with freeze and scald protection, as well as self-activating thermal control valves for water temperature regulation.
Safety-Guard
Naples, FL
Tel: 239-254-2012
Web: www.safety-guard.biz