New Literature
To foster in-depth understanding of the new WasteWizard® and MiniWizard™ industrial fluid recycling systems, Osmonics, has released an interactive CD-ROM.
Nov 1st, 2002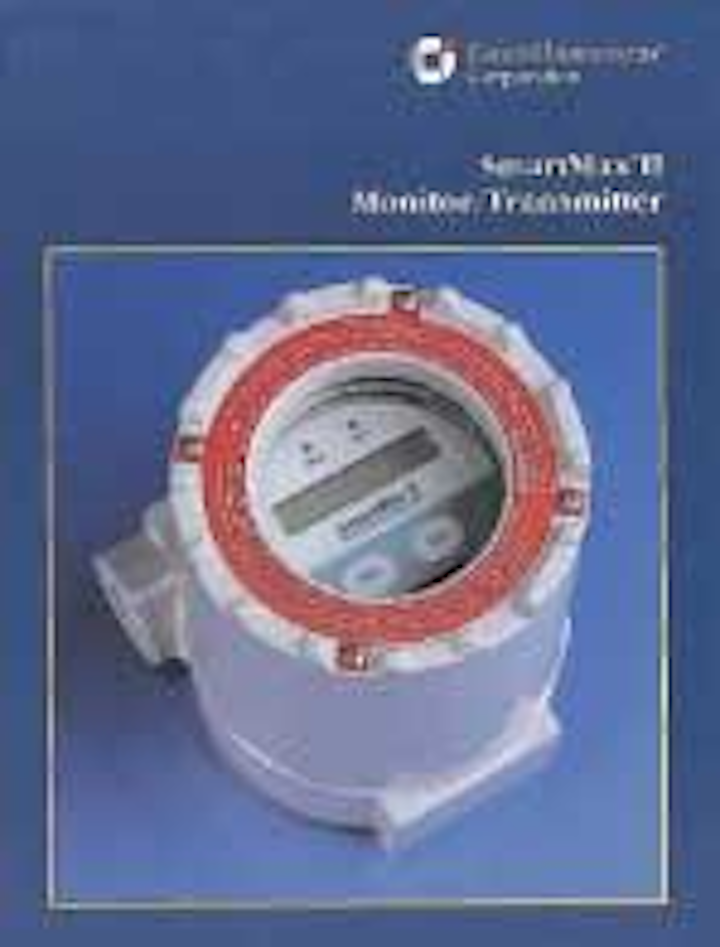 Fluid recycling
To foster in-depth understanding of the new WasteWizard® and MiniWizard™ industrial fluid recycling systems, Osmonics, has released an interactive CD-ROM. This resource provides information about applications of the new products, describes their mechanics and specifications, teaches users about chemical compatibility of the fluids they would like to recycle and generates cost-savings estimates. The WasteWizard Series systems were developed to purify and recycle spent industrial fluids. These systems employ a new filtration technology for recycling aqueous cleaner baths, mass-finishing compounds, mop water and other water-based industrial fluids in nearly any size metalworking and parts repair operation.
Osmonics Inc.
Minnetonka, MN
Tel: 800-848-1750
Web: www.wastewizard.com
Storm, wastewater control
Offering a range of low cost, sustainable control solutions for stormwater and wastewater volume and quality, Hydro International has detailed its products and services in a new corporate brochure. As well as the product philosophy of low energy requirements, no moving parts and minimal maintenance, based on a core technology of applied vortex energy, the brochure provides the company's background, its commitment to research and development and its product ranges.
Hydro International
Portland, ME
Tel: 207-756-6200
Web: www.hil-tech.com
Access doors
U.S.F. Fabrication has introduced its new interactive Web Site at www.usffab.com. The site incorporates a unique feature called the Design Wizard that allows users to design floor access doors for their particular application. Then, users can print the specifications as well as download drawings in Auto Cad format, which can be printed as customer drawings. Also, the site includes: a Quote Request section, a Cross Reference Chart to all of the major floor access door manufacturers, a Product Page that shows all of the products that U.S.F. Fabrication manufactures with links to drawings and photos, a Glossary of terms used in our industry, and a list of Contacts in the Company.
U.S.F. Fabrication
Hialeah, FL
Tel: 800-258-6873
Safety shutoff systems
Halogen Valve Systems offers a free planning kit on its automatic shut off systems for Chlorine and SO2 cylinder and ton container valves. The Eclipse Actuator™ mounts directly to standard container valves without special tools. The battery—operated actuator will close a chlorine valve in less than one second in response to signals from leak detectors, earthquake sensors, and local or remote "panic buttons." The latest Fire Codes recognize and approve the "automatic-closing fail-safe shutoff valve" system in lieu of a scrubber treatment system.
Halogen Valve Systems
Irvine, CA
Tel: 877-476-4222
Web: www.halogenvalve.com
Electromagnetic pumps
Micropump® now offers its new Integral Series® product catalog, featuring comprehensive information on the Integral Series product line, which combines a pumphead, brushless DC motor and electronic controller into one complete package. In a quick reference format, the catalog describes Micropump's patented Integral Series technology and offers illustrations for clarification. The catalog also provides dimensional drawings of each product, along with pump performance specifications, available materials of construction and optional configurations. The free catalog explains how the series integrates a traditional rotary positive displacement pump design with a patented, brushless DC motor technology comprised of an electronic controller and a stator. The motor is an integral part of the pump, featuring a rotating electromagnetic field that moves pumping parts without physical contact.
Micropump Inc.
Vancouver, WA
Tel: 360-253-2008
Web: www.micropump.com
Microfiltration
USFilter has developed a new brochure — "Memcor® Microfiltration - The Key to RO Efficiency" — detailing the benefits of microfiltration pretreatment to reverse osmosis (RO) and nanofiltration (NF) systems. Effective in many challenging water treatment applications, Memcor® microfiltration technology can be adapted to meet a variety of potable, wastewater, or ultra-pure water treatment needs. Its continuous microfiltration (CMF) and continuous microfiltration-submerged (CMF-S) technology is ideal for pretreatment to RO and NF. The brochure features a number of actual installations that use microfiltration.
USFilter Memcor
Towson, MD
Tel: 760-804-5844
Web: www.usfilter.com
Gas monitoring
A new color brochure describes Control Instruments' SmartMax® II standalone, digital control monitor for hazardous gases and vapors. The units can continuously monitor the readings from up to four same-type sensors. The monitors work with a wide range of sensors for applications such as combustible gases, toxic gases, hydrocarbons and oxygen.
Control Instruments Corp.
Fairfield, NJ
Tel: 973-575-9114
Web: www.controlinstruments.com
Control valves
Leslie Controls has released a new Control Valve Handbook. The manual details the company's line of general and severe service control valves, including linear, rotary, three-way and electric actuated valves. The handbook describes valve sizes ranging from 1/2 in. to 16 in. with pressure ratings from ANSI 125 to ANSI 4500 class. Control valve spec sheets are provided for each style valve, and data for valve and actuator sizing is given.
Leslie Controls Inc.
Tampa, FL
Tel: 813-978-1000
Web: www.lesliecontrols.com
Structural linings
Hobas Pipe offers a brochure on Channeline Sewer Systems, custom manufactured, fiberglass-reinforced, polymer mortar sections used as structural linings for the rehabilitation of sewers and culverts with non-circular profiles, and pipelines with tight curves or other irregular features. The liners are suitable for a variety of non-pressure applications including water, sanitary and storm water.
Hobas Pipe USA Inc.
Houston, TX
Tel: 800-856-7473
Web: www.hobaspipeusa.com
Air diffusers
Red Valve's newly updated Air Diffuser brochure introduces the new Tubeflex® Fine Bubble Air Diffuser, designed for oxygen transfer in waste treatment processes. The diffusers feature a hollow core for reduced buoyancy and a flexible connection to eliminate breakage. Like all Red Valve air diffusers, they incorporate Tideflex® Check Valve technology to prevent clogging of the header pipe and reduce maintenance needs. The brochure also details the company's new coarse and fine bubble aeration system — a combination of the mixing benefits of its coarse bubble product line and the aeration benefits of its fine bubble product line.
Red Valve
Carnegie, PA
Tel: 412-279-0044
Web: www.redvalve.com.
Laboratory equipment
Kimble-Kontes, a manufacturer of laboratory glassware and apparatus, has published an eight-page Rotary Evaporator Accessories Brochure. The brochure features safety coated flasks; heavy wall flasks and uniquely shaped recover flasks with square beaded joints for superior clamping; rotary traps with square beaded joints; Dewar-type vacuum traps; bump traps; and freeze drying apparatus.
Kimble-Kontes
Vineland, NJ
Tel: 856-692-8500
Web: www.kimble-kontes.com
Level transducers
Pressure Systems Inc. has announced the availability of a new datasheet detailing the company's recently developed Series 510 smart hydrostatic level transducer, which is compatible with a wide variety of Modbus devices. The datasheet outlines specific applications of the transducer, which include inventory tank gauging and water/wastewater level monitoring. Specifications of the Series 510 included in the datasheet are the 1200, 2400 or 4800 baud operation with an accuracy of ±0.10% TEB (total error band), the supply voltage of 6 to 28 vDC, and current draw of 10 mA active, as well as pressure ranges from 0-5 psig through 0-100 psig and availability of custom pressure ranges.
Pressure Systems Inc.
Hampton, VA Tel: 800-328-3665 Web: www.pressuresystems.com/510.html
Shaft couplings
A new international catalog in CD-ROM format from Lovejoy details 11 categories of shaft-to-shaft power transmission couplings, with separate metric sections for categories that hold widest global appeal, and a library of illustrated installation instructions. An engineering data section features pre-selection criteria charted for initial comparison of performance capabilities across all coupling lines, an illustrated tutorial explaining shaft misalignment, plus relevant formulas and equations, safety information and more.
Lovejoy Inc.
Downers Grove, IL
Tel: 630-852-0500
Web: www.lovejoy-inc.com
Progressive cavity pumps
A new brochure is available on seepex progressive cavity pumps, made in a vertical construction for custom installation in pits and sumps. The pump casings and universal joints are designed to accommodate pressures to 175 psi and capacities to 1300 gpm. The "semi-submersible" pumps can be constructed of carbon steel, 304-316 or duplex stainless steel, titanium or Hastelloy C4. A variety of elastomers and mechanical seals are available. Requests publication "E."
Seepex Inc.
Enon, OH
Tel: 937-864-7150, ext. 17
Web: www.seepex.com
Fine screening
Literature from Franklin Miller describes its line of Spiralift screening/processors. These units provide fine screening and conditioning of sewage solids and facilitate disposal of captured screenings. The units grind, screen, wash, convey and de-water wastewater solids — all in one integrated system. The Spiralift family of processors combines the power of Taskmaster grinders with state-of the art shaftless screw technology. The units are available for channel screening installations, engineered septage receiving systems or as enhancements to existing mechanical bar installations.
Franklin Miller Inc.
Livingston, NJ
Tel: 973-535-9200
Web: www.franklinmiller.com
Instrumentation guide
Eurotherm, a manufacturer of industrial instrumentation for the process control and data acquisition industries, has launched a new web site that provides product and application information. The site features product selectors that locate, specify and create part numbers, as well as an online store for purchasing supplies. Visitors to the site can access application notes, tutorials and download product manuals and software.
Eurotherm Inc.
Leesburg, VA
Tel: 703-234-6548
Web: www.eurotherm.com
Pumps, grinders, filtration
Netzsch has unveiled its newly redesigned web site, www.netzschusa.com. Simple application questionnaires and laboratory request forms for all the company's product lines, including NEMO® Progressing Cavity Pumps, Grinding and Dispersion Equipment and Filtration Systems, are incorporated into this new site. By completing these forms, a visitor is immediately in contact with the company's sales and laboratory staff. All product literature is available to download, allowing a visitor to automatically receive information about the company's machines and systems.
Netzsch Inc.
Exton, PA
Tel: 610-363-8010
Membrane specification sheets
To complement its array of microporous filtration membranes for original equipment manufacturers, Osmonics has developed a series of 10 membrane specification sheets. Each product data sheet includes the membrane's features, performance characteristics, applications and quality production process. In addition, an SEM photograph of the membrane appears on each data sheet. Hard copies of the data sheets may be ordered as well as downloaded online.
Osmonics
Minnetonka, MN
Tel: 952-988-6343
Web: www.OsmoLabStore.com
Water analysis handbook
Hach's 4th edition of the Water Analysis Handbook is now available. The free water analysis book contains 1,260 pages of information, including 200+ step-by-step procedures, a guide to chemical analysis, and a laboratory practices guide. This edition contains procedures for the new DR/2500 Spectrophotometer, electrochemical procedures for the sensION family of products, and titrimetric procedures for Hach's Digital Titrator. The new Total Organic Carbon test is included and the process analysis section has been revised. Microbiological testing is now a separate section and contains instructions for the USEP—approved m—ColiBlue coliform test. New procedures for THMs, TPH, Atrazine, and the Test 'N Tube product line are also included. Request literature code #WA01.
Hach Co.
Loveland, CO
Tel: 800-227-4224
Web: www.hach.com
Biosolids Treatment
CB&I has issued a new Biosolids® brochure that describes the benefits, features and applications of the Egg-Shapped Digesters (ESD™) for biosolids treatment, as well as the optional AeroTherm™ process for two-stage digestion. The company's gasholders can round out the system by storing the gas by-product to maximize beneficial reuse.
Chicago Bridge & Iron Co.
Plainfield, IL
Tel: 815-439-6010
Web: www.chicagobridge.com